Travis Goodreau
https://www.safehome.org/security-advisors/travis-goodreau/
Best Cellular Home Security Systems
Cellular monitoring is one of the latest technologies in home security. Monitoring is conducted via cellular networks, providing numerous benefits. Check out the best cellular home security systems below.

1. SimpliSafe – Best Cellular Security System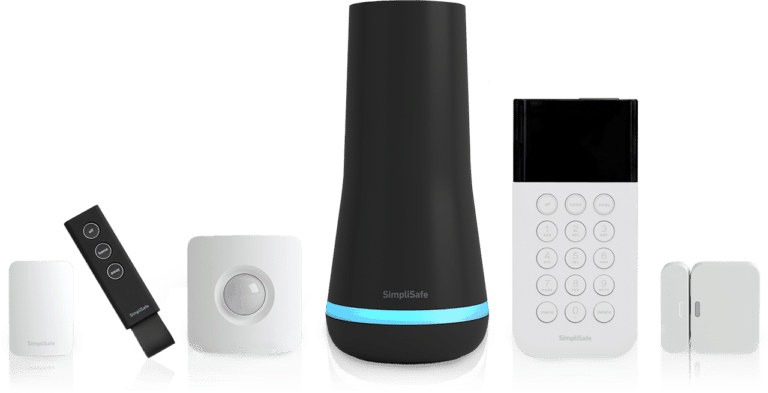 SimpliSafe is an easy to use DIY installation with no contract, no hidden fees, and a 60-day money-back guarantee. Additionally, SimpliSafe makes their own products so there's no middleman markup which saves you even more money. And, they've recently redesigned their equipment to be smaller, faster, stronger, and loaded with all-new safeguards built for a cellular connection then backed up with Wi-Fi.

Searching for simplicity?
SimpliSafe is 100% wireless and powered by cellular technology -- making it a great option for reliable home security. Get SimpliSafe and enjoy DIY installation, no contracts, and low monthly fees!
Pros
Alarm Works Without Monitoring
Low Equipment Costs
Professional Monitoring Available
Wireless and Cellular
DIY Installation (no wiring and no tools required)
Remote Control (arm, disarm, self-monitoring)
No Long-Term Contracts
Free Shipping (with free return shipping as well)
60-Day Money-Back Guarantee
Cellular Alerts
Environmental Disaster Protection (fire, gas, freeze, flood)
Covers Homes of All Sizes
30-Day Video Storage (optional)
SimpliCam Indoor Camera (with night vision and microphone)
Intelligent Motion Detection Algorithm (for those with pets)
Constant Diagnostic Check-Ins
Cons
No Home Automation (except for Alexa and August Locks)
Up-Front Equipment Cost
Proprietary Equipment
SimpleSafe is one of the fastest growing home security companies in the country, they have an A+ rating with the Better Business Bureau, and are currently providing home security to over 2-million customers. Not to mention they manufacture their own equipment so they can pass those savings on to you.
This company offers some extremely affordable equipment and monitoring services. The SimpliSafe equipment packages start at $99 and their monitoring packages start at $14.99/month. You can either select one of their packages or customize your own.
SimpliSafe is an award-winning, no-frills wireless, portable, home security system that works exceptionally well. The equipment is easy to install with no tools or wiring required. This system is 100% cellular (wireless) so no landline is needed. The SimpliSafe equipment also works, whether you opt for a monitoring package or not. Additionally, there are no contracts to sign, they offer free shipping, a 60-day money-back guarantee, and will even pay for the return shipping if needed. And, they frequently offer discounts on select packages, making them even more affordable.
2. ADT – Best Cellular Backup

ADT has a 140-year history in the home security industry and has six redundant monitoring centers across the country. So if one ever loses power, another call center can seamlessly take over so you are never without service. ADT is known for their reliability and they have a $500 theft protection guarantee. So if your home is ever burglarized while your system is armed, they will pay $500 towards your insurance deductible. Here is a quick summary of the ADT pros and cons.

Looking for reliable cellular security?
Go with this heavy-hitter in home security and get 150 years of innovation and a cellular security connection you can count on! They also offer professional installation and home automation.
Pros
Six Redundant Monitoring Centers
Free Shipping and Free Returns
Cellular Connection
Free Installation
Six Month Money-Back Guarantee
Customizable Plans
Home Automation Features
Voice Recognition, Interactive System
High-Decibel Siren
Environmental Disaster Sensors
Medical Alert System Available
Pet-Sensitive Motion Sensors
Battery Backup (24-hours)
Continual System Diagnostic Checks
Indoor and Outdoor Video Cameras (optional)
Cons
Long-Term Contract Required
Varying Positive/Negative Customer Service Experiences
Installation Requires a Technician (but ADT pays for this)
At first glance, ADT appears to be more expensive, and it is. However, their products and services along with their flexibility and customization justify the higher price. Basically, you get what you pay for. They offer a wide variety of features from which you can choose to start with or add on to later. For example, you can opt for a security system, video cameras, environmental sensors, a medical alert option, and as many home automation features as you want.
The ADT security packages start at $27.99/mo. and what you get will depend on which equipment, options, and the length of contract you choose.
3. Vivint – Best Home Automation


Vivint has some of the best cellular home security systems on the market along with top-quality equipment and home automation features as well. Vivint also provides you with professional installation (required) except for the outdoor and doorbell cameras which have a small fee. Additionally, the Vivint equipment is noticeably advanced; however, it's extremely easy to use. They also have cellular monitoring with two-way voice communication. And if you opt for their premium service, you will also get a lifetime equipment warranty as well.
Pros
100% Wireless
Customizable Security Packages
Indoor and Outdoor Video Cameras
Doorbell Camera with Two-Way Voice
No Activation Fee
Professional Installation (required)
100% Cellular and Encrypted WiFi
Environmental Protection (fire, smoke, flood, carbon monoxide)
24/7 Continuous Video Recording
Local Cloud Storage
Home Automation (thermostat, locks, garage door, etc.)
Remote Access and Control (through an app)
Battery Backup
Voice Controls
Lifetime Warranty (with Premium plan)
Flexible Financing Options for Equipment
Medical Alert Option Available
Cons
Requires Professional Installation
No DIY Option Available
Fee for Installation (unless they are offering a special which is common)
Vivint is a leading security and smart home technology provider with more than one million customers throughout the U.S. and Canada. With Vivint you have two options, you can either choose from one of their packages or customize your own. They will set up a consultation with you so together you can discuss a package that will meet your particular needs. This means you will only be paying for the equipment you need and not for those you don't.
Vivint has four packages with two different ways to pay. Their packages range from $11.83/mo. to $29.83/mo. plus a service fee. Or, you can pay for the equipment up front. Their upfront options range from $709.98 to $1789.83. Additionally, Vivint has a Flex Pay program that is basically a payment plan, but it also has some additional advantages as well. With Flex Pay, there's no activation fee, no installation fee, lower service plan price points, and after the financing term, your monthly payment drops. The Flex Pay financing options are either a 42- or 60-month contract with approved credit.
4. Frontpoint – Easiest Installation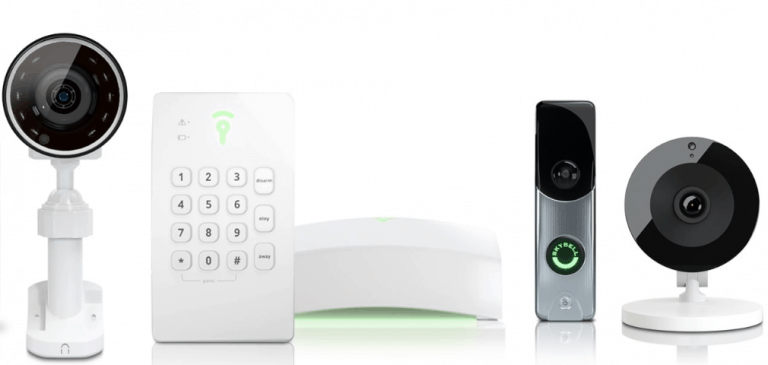 Frontpoint is an industry leader that provides high-quality home security systems you can install yourself. And they give you plenty of customizable features and options for your money. Additionally, they provide some of the best customer service in the industry and will happily answer any and all your questions no matter what time you call. Here is a quick summary of the Frontpoint pros and cons.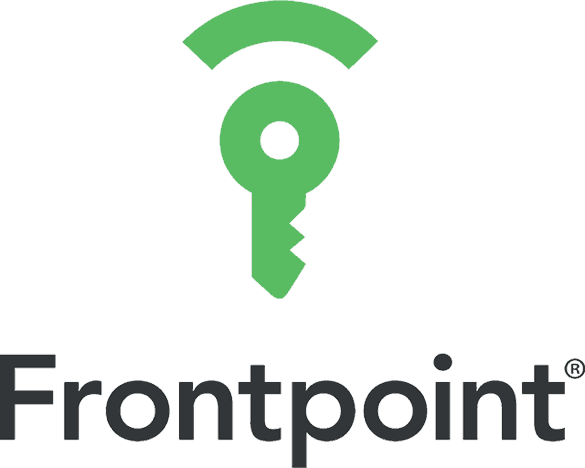 Ready for ultra-easy DIY installation?
Frontpoint offers easy DIY setup. And the cellular systems connect you to monitoring agents when it matters most. Frontpoint is easy, affordable, and is known for A+ customer service!
Pros
DIY Wireless Equipment
100% Cellular Monitoring
Cellular Activity Alerts
Home Automation Options
Affordable Pricing
No Landline Required
30-Day Money-Back Guarantee
3-Year Equipment Warranty
Excellent Customer Service
Environmental Disaster Protection
Optional Indoor and Outdoor Video Surveillance Cameras
Non-Proprietary Equipment
Equipment is Portable (ideal for renters)
Automated System Checks (every 60 minutes)
Geo-Location Notifications and Actions
Cons
Long-Term Contract Required
No Landline Option Available
No Broadband Option Available
Requires a Credit Check (this could raise the price)
Frontpoint has an A+ Better Business Bureau rating and is one of the most popular DIY home security/automation companies in the industry. They offer affordable prices and send you a package with customized (pre-configured) equipment that can be immediately installed and used in less than 30 minutes with no special skills or tools required.
A 1-year or 3-year monitoring contract is required and they start at $34.99/mo. They also have three different equipment packages that start at $99.00. In addition, they have a wide variety of security and home automation options available, including indoor and outdoor video surveillance cameras with night vision, environmental disaster sensors, geo services, and an app you can use to access, monitor, and control your system remotely. Additionally, this equipment is user-friendly and easy to install.
5. Alder – Best Response Times


Cellular monitoring is all the rage these days — and for good reason. It means you get reliable monitoring with speedy response times if (or when!) a break-in occurs. But Alder takes it to another level with their 4G LTE cellular monitoring. Rest assured, you and your family will be securely connected to Alder's emergency monitoring personnel when you need them most. Alder's wireless systems also offer easy DIY installation, a touchscreen control panel, smartphone controls, and it's all backed by solid guarantees. Here are Alder's pros and cons:
Pros
 4G LTE Cellular Monitoring
 No Landline Required
 Wireless, DIY Setup
 3.4 Second Response Times
 Free Pro Installation Option
 Affordable Monitoring Plans
 Touchscreen Control Panel
 Smartphone Controls
 Optional Security Cameras
 Environmental Sensors
Cons
 Slightly Expensive Upper-Tier Plans
 Must Call to Purchase System
 Prices Not Listed Online
 Contracts May be Required
Cellular monitoring matters, perhaps now more than ever. Of course, Alder users understand this, and they benefit from the most secure and reliable cellular connection around. But there's more to these systems — like video surveillance options, home automation features (Alexa and Z-Wave compatible), and let's not forget the equipment itself. Almost all of Alder's devices are made in-house. This translates to high-quality, innovative products that just so happen to be covered by a lifetime guarantee. Not bad at all.
But one of the most impressive things about Alder is their commitment to customer satisfaction. It's one thing to have your home and family secured, but it's another thing to be backed by a company that truly cares. We get that sense with Alder — from their CEO down to their monitoring agents, they hold strong values that permeate through their whole operation. For these reasons and more, Alder gets our pick for the best cellular home security system available.
6. Protect America – Most Affordable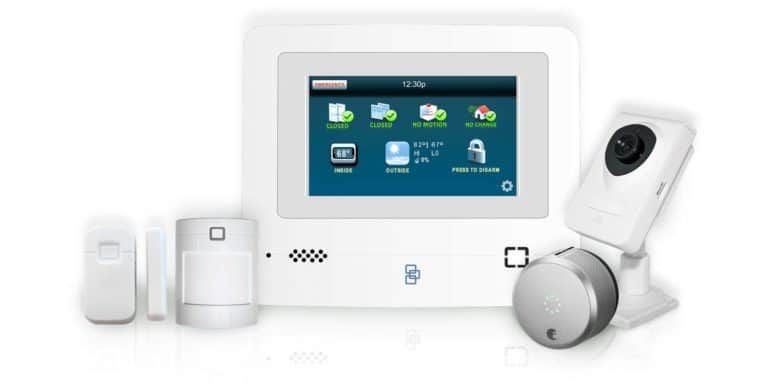 Protect America has been in business for 25 years and offers DIY home security and home automation equipment, a lifetime equipment warranty, a price match guarantee, and something no one else offers, which is a lifetime rate lock. Additionally, they also don't require any activation fees or installation fees either. They also provide you with up to $1400 in free equipment including a wide variety of interactive home automation features.
Pros
DIY Installation (under an hour)
No Upfront Costs
24/7 Professional Monitoring
Three Redundant Monitoring Centers
Lifetime Equipment Warranty
Landline and WiFi Monitoring
No Activation Fees
No Installation Fees
Lifetime Rate Lock
Price Match Guarantee
Home Automation Features (garage door, lights, thermostat)
Indoor/Outdoor Video Cameras
Two-Way Audio
Amazon Echo Dot Integration
Pet-Friendly Sensors
Environmental Disaster Sensors (fire, smoke, carbon monoxide, water, flood)
Wireless Video Surveillance Camera with Night Vision
Up to $1400 in Free Equipment
Cons
36-Month Contract
Cellular Monitoring Adds to the Cost
Credit Check Required
Protect America has been in business since 1992 and provides their services in the U.S. and Canada. They offer cellular service; however, they also have a landline option that's a little bit cheaper if you prefer. Protect America will provide you with all the equipment you need for free and they don't have any hidden or upfront fees. And you can access, monitor, and control everything remotely from the mobile app.
The Protect America monitoring plans start at $19.99/mo. which is cheaper than most of their competitors. And, they have plenty of add-on equipment as well. Additionally, Protect America has three redundant monitoring centers so if one loses power, your system will immediately be handled by another one with no interruption in service.
Benefits of Cellular Home Security Monitoring
Cellular home security monitoring is currently the most popular form of monitoring available and for good reason. The benefits of cellular home security monitoring are unequivocally valid and not just advertising fluff.
The most important benefit of cellular home security monitoring is the fact that it's wireless. That means your security system will have fewer vulnerabilities because there are no lines that can be cut and your system isn't dependent on your internet connection. So a cellular signal is always on and continuously monitoring your system.
Additionally, with a cellular signal, you won't have to pay for a landline, your system can be serviced remotely, all communications are encrypted, and you can receive activity alert text messages, which is something you can't do with a landline.
Features of Cellular Based Home Security Systems
The following are common features found in home security systems with cellular monitoring:
Motion Detectors
Cellular home security systems often include motion detectors that pick up on any unexpected movements during the late hours or when you are away from home.
Mobile Alerts
Most security systems today will provide you with a mobile app which will send alerts to your mobile device whenever activity is detected. This will enable you to respond to any situation immediately and accordingly.
Arm/Disarm Security
By arming your security system, you are activating it and basically telling it to begin monitoring. And by disarming your security system, you are setting it to stop monitoring.
Wireless
A wireless home security system is one that doesn't require your equipment to be integrated with your electrical wiring. The installation of wireless security equipment is usually installed using adhesives, which is perfect for renters or those who don't want to drill holes in their walls/ceilings. Additionally, a wireless system provides an extra layer of security because there are no wires that can be cut and all communications are encrypted.
Entryway Sensors
An entryway sensor is a two-piece magnetic circuit device. One piece is placed on the window or door frame and the other piece is placed in the same location of the corresponding window or door. These magnetic circuits touch when the entryway window or door is closed. When the window or door is opened and the magnetic circuit connection is broken, an alarm will go off and you, the monitoring center, and/or the authorities will be notified.
Glass Break Sensors
A glass break sensor is one that is placed on the glass of any window or door. They are designed to detect any type of glass intrusion. So when someone breaks the glass of any window or door that has a sensor on it, an alarm will go off and you, the monitoring center, and/or the authorities will be notified.
Control Panel
Most security system alarm panels are either a manual pushbutton panel or a digital touchscreen panel. They are generally installed on the wall near an entry door. The control panel basically controls all phases of your home security system. Most security systems these days can also be accessed using a mobile app so you can control them remotely.
Home Automation
Home automation is what enables you to control your security system and other functions of your home automatically and remotely adding a great deal of convenience to your busy lifestyle. Most home automation devices are voice-controlled. You can tell them, or program them, to arm/disarm your security system, lock or unlock the doors, turn on/off the lights, thermostat, garage door, appliances and more.
Remote Access
You will be capable of remote access to your home security/automation system when you use an associated mobile app. These apps will provide you with the ability to access, monitor, and control almost all the features of your system, including being able to view real-time video feeds.