Founded way back in the 1870s, ADT Security Services is by far the oldest and most-established home security provider in the U.S.1 With longevity comes trust, and this is what some customers are looking for more than anything. Today, ADT serves 8 million customers and counting. From our experience, they offer reliable service, professional installation, and the best guarantee in the business.
Up until recently, ADT only offered security systems that required professional installation. In 2020, however, ADT began offering DIY cameras, and just this year, ADT went one step further with ADT Self Setup, their first complete DIY security system.
Key Features
Wireless or hardwired
Pro or DIY installation
Intrusion protection
SMART emergency response
Home automation
"There are a few great home automation features that actually provide additional layers of security to your home. I like that ADT's Pulse Home Automation + Video integrates all their best home security products with smart home features."
Learn more about Travis and our methodology →

ADT Pricing
With ADT, you need to pay attention to three main costs: the monthly monitoring fee, additional equipment charges, and an installation fee. Let's begin with the monitoring fee. In a nutshell, expect your monitoring fee to cost you anywhere from $45.99 to $59.99 per month, depending on which package you choose.
Frankly, those prices are a little above average, but then again, ADT isn't an average home security provider. It's a cut above the rest, as you'll see throughout this article. So while you'll pay slightly more if you go with ADT, you'll find yourself with a premium service and total home protection in the long run.
That said, with ADT's new Self Setup packages, which are all DIY, monitoring plans are a little cheaper, ranging from $24.99 and $34.99, which is a substantial savings over their professionally installation systems.
Despite their recent leap into the DIY market, ADT is still considered to be part of the "old-guard" of home security companies. Unlike newcomers such as Ring or SimpliSafe, ADT doesn't require you to purchase their equipment outright. Instead, you can finance it over time, which can be a plus. When you finance, you'll pay monthly for both your equipment and your monitoring service.
Does ADT offer customer-friendly policies? It's a mixed bag. You will be required to sign a long-term contract, but you will also receive a generous six-month money-back guarantee. And don't forget, you will receive some of the highest-quality equipment on the market. You can read more about their equipment selection in our full review of ADT.
| ADT Packages | Price |
| --- | --- |
| Secure Home | $45.99 per month |
| Smart Home | $49.99 per month |
| Video and Smart Home | $59.99 per month |
If you go with ADT, they offer three main security packages that combine security equipment with ADT monitoring. We found that these three package options offer something for everyone.
Installation
ADT requires professional installation of their equipment, which costs between $99 and $199 depending on which package you choose. This may seem like a lot of money to spend, but the company is known for having highly-trained technicians who go above and beyond to get the job done right.
We've experienced their exceptional service ourselves. The technicians ADT sent us were efficient and friendly, plus, they stuck around after the installation to help iron out any kinks with the system. That premium, white-glove service makes ADT stand out. It's a bit old-fashioned, but sometimes, old-fashioned is exactly what people want. For the person who doesn't want to fuss with set up or has a medical condition limiting their ability to install a system on their own, ADT is a great option.
Did You Know: Companies like ADT that offer professional installation are more likely to include a guarantee and an extended product warranty.
Add-On Equipment Costs
You'll also have to factor in ADT's soaring costs for add-ons and upgrades. Big-name manufacturers like GE and Honeywell make ADT products.2 So expect to pay upwards of $60 for a single entryway sensor, approximately twice the price of the industry average. Almost all of ADT's equipment, from their environmental sensors to their security cameras, are more expensive than the competition. Nevertheless, these devices are also superior to other products we've tested. So if your budget allows, it might make sense to buy with quality in mind and enjoy your equipment for the long haul.
Are ADT Packages Right for Me?
ADT may not be the best fit for the younger crowd looking for cheap and nimble home security, nor for people who move around often. The company's equipment is pretty permanent; once it's installed, you get the most out of what you paid by staying put and using the system for years.
That being said, if you want ADT's premium service but with more flexibility, the company has DIY home security offerings under the ADT Self Setup name (formerly known as Blue by ADT).
We had some experience with the system when we tested the Blue by ADT Doorbell Camera — which unfortunately is no longer being offered but was replaced with a better model, the Google Nest Doorbell (battery). Still, ADT's DIY offering is worth a closer look. Before you go either way, though, let's dig deeper into ADT packages and pricing.
Did You Know: While ADT isn't the best system for folks who move around often, they do offer a moving program with some pretty impressive deals if you happen to be relocating with ADT. Read all about it in our breakdown of the ADT Moving program.
ADT Packages
As you read through the following options, remember, you can upgrade or modify these plans to better suit your needs. That's a nice thing about ADT. They provide flexible package options, not just one-size-fits-all plans like other companies.
But before digging into the different packages, here are a few key ADT stats to consider:
ADT Features
| | |
| --- | --- |
| Days Tested | 30+ |
| Installed By | Professional |
| Cost | $28.99+ per month |
| Best For | 24/7 Monitoring |
| In Business Since | 1874 |
And with that, let's break down ADT's package options to see if there's a fit for you.
ADT Basic
ADT Basic is, as the name implies, the most basic home protection offer from ADT. It's priced reasonably at $28.99 per month and it includes professional monitoring through either a landline or cellular connection. It also supports fire, carbon monoxide, and flood monitoring if you choose to purchase the devices necessary (i.e. fire alarms, CO detectors, flood sensors).
In our experience, $29 per month is a touch pricey for basic home protection. A lot of the systems we've tested offer similar features for around $20 per month. Still, remember that you won't have to pay for ADT's equipment upfront, while most of the newer alarm companies require users to purchase a system outright. It may come down to your payment preference. Do you want to pay a larger chunk of money up front to decrease your monthly payments or skip the initial fee and pay more each month? The answer may help you determine if ADT is right for you.
ADT Smart Home
ADT Smart Home comes with everything the basic plan offers, plus home automation and remote arming and disarming. It costs $45.99 per month, which isn't bad for total home security and smart home controls. This option definitely gave us greater command over our system. It includes the ADT Pulse app (now called ADT Control) for remote access and controls. You'll also enjoy instant alerts sent straight to your smartphone, notifying you of any suspicious activity.3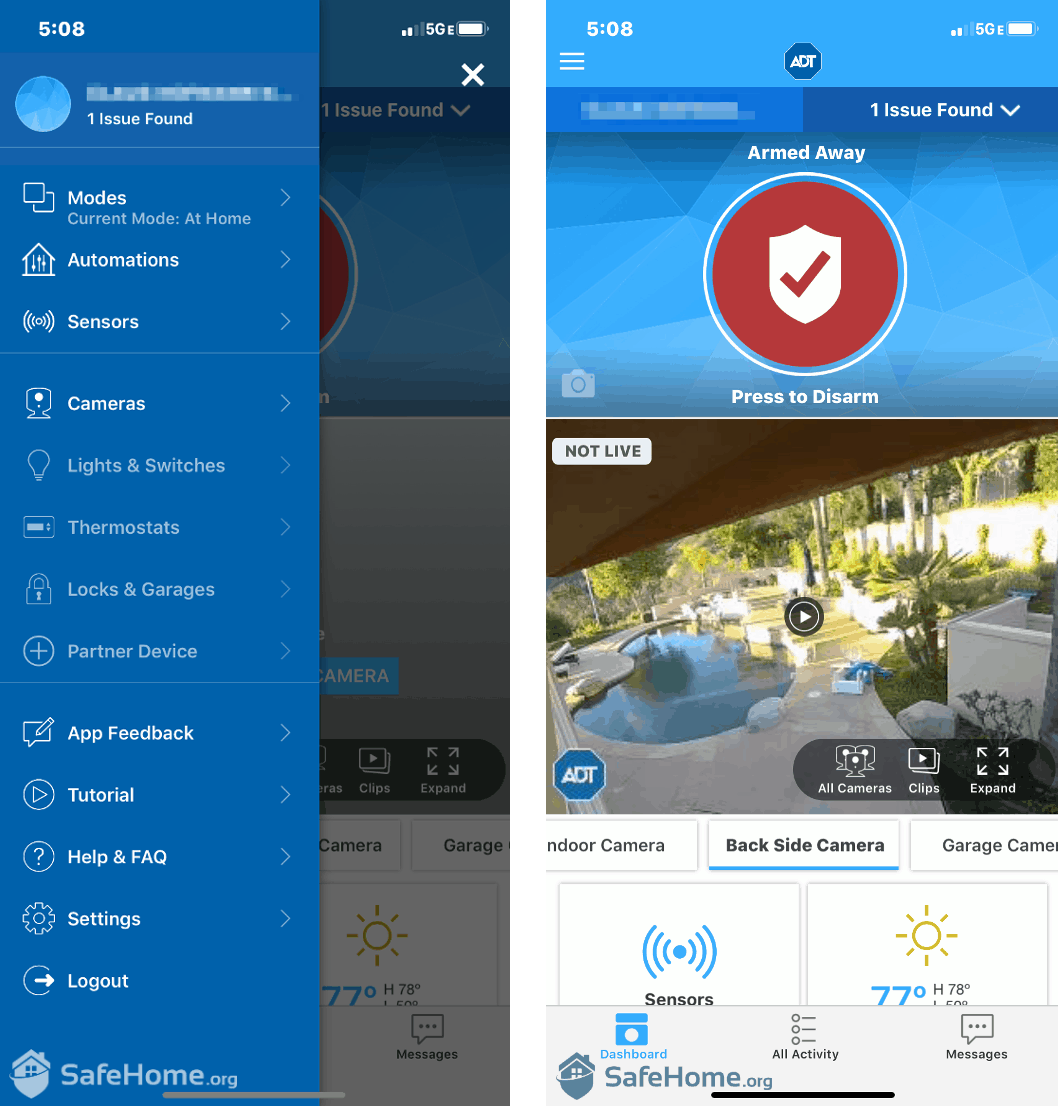 As far as smart home features go, ADT uses Z-Wave technology to power your smart home equipment. This functionality allows you to control various home commands on one platform directly from the convenience of your smartphone. Overall, we think this package is quite the upgrade from ADT's base package, and it only costs $9 more per month (plus the cost of equipment). In our experience, the Smart Home plan is where ADT begins to offer true value.
Pro Tip: In late 2022, ADT announced a partnership with State Farm Insurance. The two companies will be working together to develop new smart home security products that are even better at preventing accidents and detering intruders.
ADT Video and Smart Home
Finally, the ADT Video and Smart Home plan combines the features from the other packages with ADT's Remote Secure Video upgrade. This package gives you access to video support if you want to set up security cameras around your home. But it comes at a healthy price increase, putting your expenditure at $59.99 per month, plus equipment costs, as there's no video monitoring without video cameras.
With ADT Video and Smart Home, you'll be able to tap into live video monitoring, allowing you to view your video feed from your ADT cameras, anywhere, any time. This plan worked well for us during testing, but it's a bit pricey for our taste, especially considering some companies offer video monitoring for only $10 per month.
FYI: If you move frequently, you can easily transfer your ADT security service to a new location.
Upgrades and Add-Ons
You can customize your ADT system with the following add-ons, upgrades, and accessories:
Additional entryway sensors
Motion detectors
Security cameras
Video doorbell cameras
Environmental sensors (fire, flood, CO)
Garage door controllers
Smart door locks
Smart thermostats
Smart lighting
Smart switches and plugs
Panic buttons
And more
"Good lighting in itself is a great crime deterrent, but smart lighting takes security a step further by providing motion detection alerts in the event a light is triggered. I like to see these lights installed in the backyard or along the side of your house."

As far as features go, you can expect the following from ADT's packages:
| | |
| --- | --- |
| MOBILE ALERTS | Wireless security customers can get mobile alerts from ADT alarm systems and emergency operators. Mobile alerts plus remote control and monitoring give customers control from virtually anywhere. |
| 24-7 MONITORING | Each ADT monitoring plan includes 24-hour service to dispatch police and first-responders. |
| WIRELESS SECURITY | ADT specializes in both wireless and hardwired security. Wireless equipment installation leaves no permanent marks. Wireless ADT plans can support remote monitoring, remote control, and home automation. |
| SURVEILLANCE CAMERAS | Optional security cameras let you monitor your home from virtually anywhere in the world. Stream live video and access saved clips with your mobile phone, tablet, or desktop computer. |
| PROFESSIONAL INSTALLATION | ADT professionally installs its security systems to ensure that customers are well-protected. Get professional installation of your wireless or hardwired system! Customers can also transfer their equipment from other security companies. |
| HOME AUTOMATION | Home automation provides extra security, plus it saves time and money. Use biometric voice recognition and ADT's mobile app to automate your home's alarm, lights, thermostat, and more. |
| REMOTE CONTROL | Control your wireless security remotely with the ADT mobile app and ADT keychain remotes. Each ADT keychain remote has four buttons: Arm, Disarm, Panic, and LED Light. |
| HARDWIRED SECURITY | An international leader in hardwired security, ADT has installed millions of systems. Installation is professionally done whether you're getting ADT monitoring for the first time or transferring your service to a new home. |
Current Deal
ADT packages are a touch expensive compared to other brands we've tested. In fact, this may be ADT's Achilles' heel. On the other hand, ADT doesn't shy away from offering deals in the form of waived installation fees or a percentage-off discount on monthly plans. Right now, for instance, if you go with a cheaper DIY Self Setup package, ADT is offering 30 percent off site-wide. I've been following ADT for years and I'll just say this is a whopping savings you don't see too often with companies like ADT.
But that doesn't meant ADT doesn't throw out specials from time to time, so if you're considering them, it's definitely worth researching ADT's latest deals and promotions.
Did You Know: Some insurance companies offer a discount on home insurance if you have a monitored home security system like ADT installed.4
Overall Value of ADT
Throughout our research and testing, ADT shined in several categories. Their packages and pricing are straightforward, and their monitoring costs are reasonably priced for what you get, especially the ADT Smart Home plan. Also, the company offers a generous 6-month, money-back guarantee, which is the best guarantee we've seen in the industry (certain restrictions apply). Overall, ADT users can expect their dollars to stretch with these products and services. All in all, the value is certainly there for those who can afford it.
But it bears repeating — ADT isn't for everyone. If you're the type who prefers no contracts and cheap monitoring, or free self-monitoring for that matter, then we recommend looking at systems offered by Ring, SimpliSafe, or Abode. With these brands, you'll spend more money initially, but you'll own the equipment from day one, and you'll only be on the hook for $10 to $20 per month for monitoring. With that said, if you value 24-7 monitoring from true professionals, and you plan to live in your home for several years, then ADT likely has the ideal package and plan for you.
ADT FAQs
Does ADT require Internet?
No, not all ADT packages need Internet access. You will need an Internet connection if you want to use home automation and smart home devices in your ADT home security package.
ADT is short for American District Telegraph, the original name of the company when it was founded all the way back in 1874.
Yes, ADT does offer security system devices that have Wi-Fi connections, but most of them need to be powered via a wired AC connection.
Does ADT require professional installation?
Yes, ADT requires professional installation. An ADT technician will visit your home to install the equipment.
How much is ADT's professional installation?
ADT's professional installation typically starts at $99 and increases in price depending on the equipment you decide to have installed.
Does ADT require contracts?
Yes, ADT requires contracts. ADT's required contract length starts at 24 months and varies depending on your location and agreement terms.
Is professional monitoring required?
Yes, professional monitoring services are required when you sign up with ADT.
Does ADT work with Alexa?
Yes, ADT works with Amazon's Alexa voice assistant.
Does ADT work with Google Assistant?
Yes, ADT works with Google Assistant.
What is the monthly cost of ADT?
The monthly cost of ADT starts at $28.95 a month and increases in price depending on the equipment and, packages and plans you decide to go with.
What happens to my ADT system if the power goes out?
If the power goes out, your ADT system will run on a battery backup for up to 24 hours.
Does ADT have panic buttons?
Yes, ADT has panic buttons. You can get an ADT panic button pendant and wear it around your neck or as a wristband.
Does ADT charge early termination fees?
Yes, ADT charges early termination fees so it's important to review your agreement before cancelling.