ADT Equipment Packages
We've talked about the first two major costs to consider when buying an ADT system: The monthly monitoring cost, which includes the Quality Service Plan for the equipment, and the installation cost. Now let's talk about the third one, the equipment cost, which is the most likely to run up your bill.
When buying ADT equipment, you'll have to start with a package. There are three options, which are Build Your Own, Smart Home, and Video and Smart Home. We found that these three package options offer something for everyone.
As you read through the following options, remember, you can upgrade or modify these plans to better suit your needs. That's a nice thing about ADT. They provide flexible package options, not just one-size-fits-all plans like other companies.
ADT Build Your Own Package
The ADT Build Your Own Package, as the name implies, is sort of an open-plan blueprint for building a personalized ADT security system. In truth, though, it is a basic home protection offer from ADT that can protect even a small family house.
This package includes a digital touchscreen panel, three door/window sensors, and one motion sensor. And the price? $599 if you pay in full up-front. This is pricey, considering that when we reviewed SimpliSafe, we were able to start with a basic package with one motion sensor and one door/window sensor for around $250.
Comparing ADT's pricing with SimpliSafe's pricing, however, is like comparing apples and oranges. Big-name manufacturers like GE and Honeywell make ADT products.1 SimpliSafe's products are made in-house. It's not that SimpliSafe's hardware is bad – they have one of the best DIY-installed security systems – but there's a difference in quality if you compare it to equipment built by world-class manufacturers like GE and Honeywell.
Another thing to note is that while SimpliSafe and most DIY security systems like Ring Alarm require an up-front payment, ADT is more flexible. You can choose to pay in installments up to 60 months, and if you do, you'll hardly notice the equipment cost. Here's a sample computation based on the listed included equipment:
| Build Your Own payment options | Price |
| --- | --- |
| Full price | $599 |
| 24-month financing | $24.96 per month |
| 36-month financing | $16.64 per month |
| 60-month financing | $9.98 per month |
ADT Smart Home Package
The ADT Smart Home package adds one key element to the ADT system: smart home automation.
This package comes with the same basic set of equipment included in the Build Your Own package, but it adds a smart door lock and opens up the possibility for you to add other smart home devices like smart thermostats, smart speakers, and smart displays. Those features definitely gave us greater command over our system. In addition, it let us pair our existing smart home devices, particularly those with Z-Wave wireless technology, to the ADT system.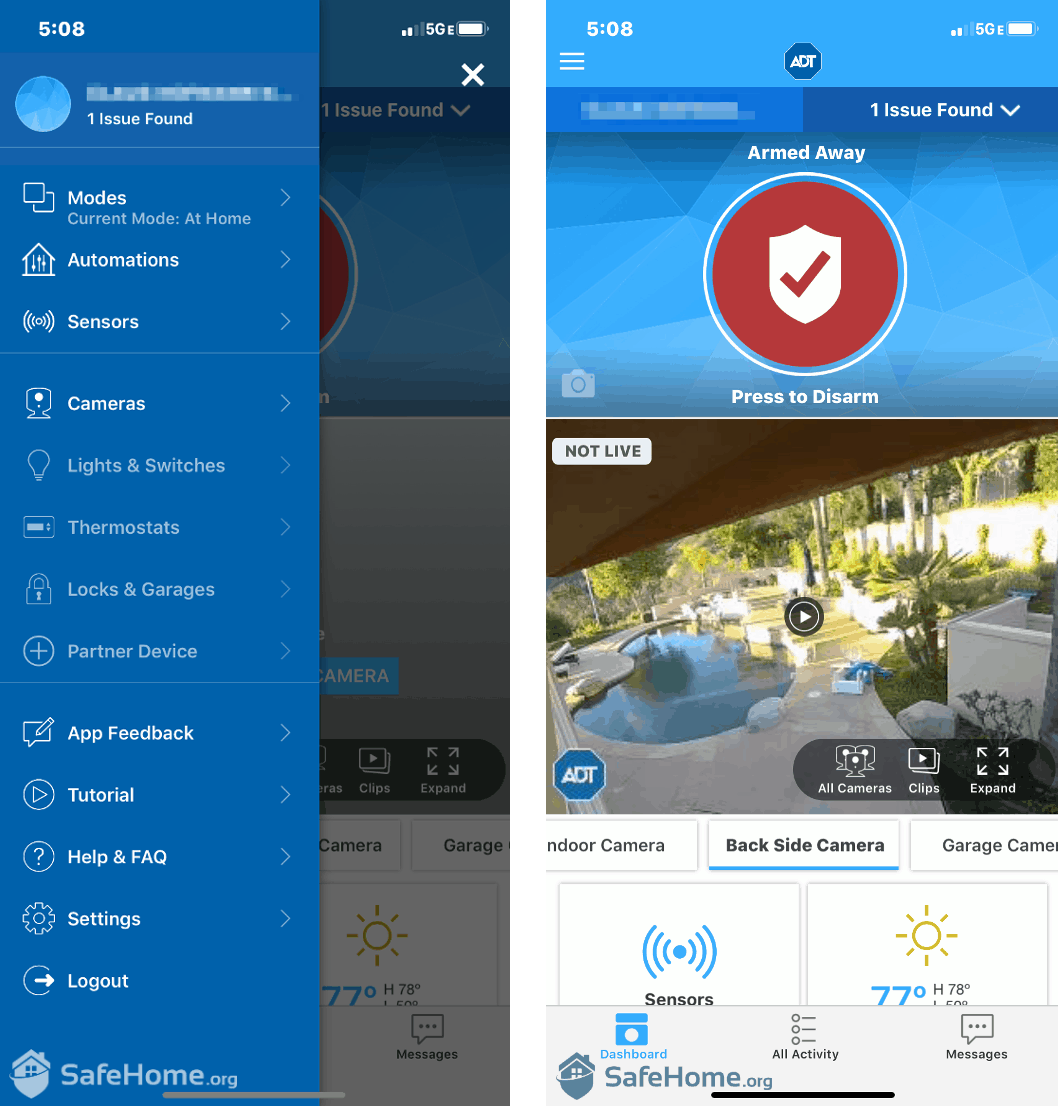 As for controlling the system, we used the ADT Control app, through which we received instant alerts sent straight to our smartphones, notifying us of any suspicious activity.2 It was also through the app that we created automations, like locking our doors everytime we armed the system at night or turning on lights at precisely 6 p.m.
To fully enjoy the smart home features, you'll need to add more smart home devices from ADT or pair compatible third-party Z-Wave products. But with the included equipment, here's how much this package will cost:
| ADT Smart Home payment options | Price |
| --- | --- |
| Full price | $849.99 |
| 24-month financing | $35.38 |
| 36-month financing | $25.38 |
| 60-month financing | $14.15 |
Overall, we think this package is quite the upgrade from the basic equipment included in the Build Your Own package. With 60 months financing, it's only $5 more per month than the previous month. In our experience, the Smart Home plan is where ADT begins to offer true value.
Pro Tip: In late 2022, ADT announced a partnership with State Farm Insurance. The two companies will be working together to develop new smart home security products that are even better at preventing accidents and deterring intruders.
ADT Video and Smart Home
Finally, the ADT Video and Smart Home plan is the ultimate package from ADT, which combines basic home security, smart home features, and video monitoring features. It also comes at a healthy price increase, but we found that ADT offers deals for this package more frequently than the other packages. For example, you could receive free equipment or discounts.
The addition of video monitoring features allowed us to add security cameras to our security system. These cameras were from Google Nest, as ADT forged a strong alliance with Google3 to be able to offer and integrate Google Nest products with their security system.
As we discussed in our Google Nest Cam review, the sleek cameras from the internet giant are some of the smartest in the industry. They include features like person detection and facial recognition, although the latter is hidden behind a paywall called the Nest Aware cloud subscription service.
The good news is, ADT's monitoring service for the Video and Smart Home package includes that subscription, so you won't have to pay an extra fee to Google. You'll have access to the full suite of features of the Nest Cams.
Another thing to note is that ADT offers video verification. In a break-in scenario, ADT's monitoring center agents can check-in via the cameras to confirm the alarm, relay it to the authorities, and potentially deliver faster emergency response.
The ADT Video and Smart Home package includes:
1 digital control panel
3 door/window sensors
1 motion detector
1 smart door lock
1 Google Nest Cam (battery)
1 Google Nest Doorbell
| Video and Smart Home payment options | Price |
| --- | --- |
| Full price | $1,158 |
| 24-month financing | $48.25 per month |
| 36-month financing | $32.17 per month |
| 60-month financing | $19.30 per month |
For a more detailed explanation of what ADT cameras can do, check our full ADT security camera review. Also check out our Nest Doorbell review for a detailed write-up of the smart doorbell's features.
Are ADT Packages Right for Me?
ADT's packages are well-put-together, and as we said earlier, we think there's something for everybody here. The fact that they are customizable alone makes them scalable for any size home.
That being said, ADT's equipment is pretty permanent; once it's installed, you get the most out of what you paid for by staying put and using the system for years. Plus, there's the lengthy monitoring contract to consider. ADT may not be the best fit for the younger crowd looking for cheap and nimble home security, nor for people who move around often.
If that's you, stay around until the last part; ADT may have something for you so you can enjoy its excellent protection through the monitoring service and equipment, minus the contract and the high costs.