Travis Goodreau
https://www.safehome.org/security-advisors/travis-goodreau/
Best DIY Home Security Systems of 2021
Fast, easy, and affordable. That's the name of the game for do-it-yourself home security systems. You can be up and running in 30-minutes or less, even if you've never touched a wrench in your life. See our favorite DIY options below.

DIY home security solutions are available and they can help you to easily update and protect your home. A variety of options exist today. Some of the best systems allow you to install them in a short amount of time, often in just 30 minutes. Once in place, you can count on them to provide you with exceptional service and ample protection. But, numerous options exist. Which one is right for your needs? Here's our breakdown of the best DIY home security systems for 2021.
1. SimpliSafe – Best DIY Home Security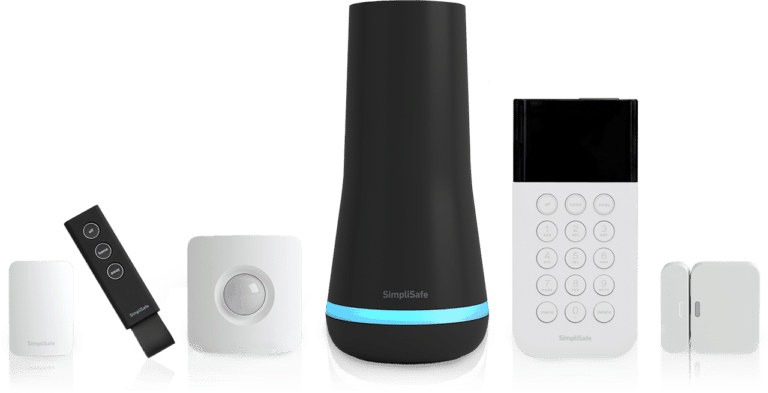 If you want flexibility and affordability, you are going to love SimpliSafe especially in an industry that's full of fees and long-term contracts neither of which SimpliSafe requires. Then, on top of that, SimpliSafe enables you to customize your setup and continue to build on your system at your own pace. And all their equipment is very easy to install. In addition, SimpliSafe has recently redesigned their system to include smaller equipment, more range, it's five times faster, fifty percent louder, and has more safeguards. It's also ready right out of the box without requiring any tools and you don't have to drill any holes in your walls, you simply plug in the Base Station, place your sensors, and you're ready to go. It doesn't get much better than that!

Want plug-and-play home security?
The name doesn't lie! SimpliSafe is the best option for DIY installation. Get up-and-running in 30 minutes or less with total home security. And enjoy affordable, no-contract peace of mind!
Pros
Free Shipping and Free Returns
No Contracts
Five Equipment Packages Available
Professional Monitoring and Self-Monitoring Options Available
Easy DIY Installation
Cellular and Wi-Fi Connectivity
Customizable Systems
60-Day Money-Back Guarantee
Three-Year Equipment Warranty
Environmental Water, Smoke, Freeze, and Carbon Monoxide Sensors Available
Cons
No Cameras Included with Any of the Equipment Packages (have to be purchased separately)
Limited Smartphone Controls with the Self-Monitoring Option
No Home Automation Options
Limited Features Unless You Choose a Monitoring Plan
No Outdoor Camera Equipment Options Available
The newly redesigned SimpliSafe is available in five different packages which range from $230 to $490 and will support up to four SimpliCams which are $99 each. The monitoring plans are free for the self-monitoring plan, $14.99 per month for the Standard plan, and $24.99 per month for the Interactive plan. In addition, there is a $4.99 per month optional camera plan that gives you the added capability of being able to record, download, and share footage. But the push alerts and the live camera feed are free.
The SimpliSafe app only offers limited capabilities and you can't use it to control your system remotely. In addition, both the Standard plan and the Interactive plan both offer 24/7 cellular monitoring. And the Interactive plan provides you with SMS/email alerts and gives you the capability of being able to setup special alerts for things such as safes, cabinets, file cabinets, etc.
Another huge benefit of the SimpliSafe system is that it's extremely easy to setup and install. And the base unit includes a siren, a 24-hour battery backup, and a SIM card you can use for cellular communication. Then, when you're ready to add-on to your system, SimpliSafe has a variety of indoor cameras (SimpliCams) and other features you can purchase individually as needed. In addition, the only feature you actually have to have Wi-Fi access for is the cameras. The rest of their equipment doesn't require Wi-Fi to work.
2. Alder – Best Response Times


No one wants to fuss or bother with complicated installation. That's why more people are turning to Alder for their easy DIY wireless systems. Setup is a cinch, and it's just as easy (actually, easier) to take it down and move it with you. But don't let the ease-of-installation fool you, these home security systems come stacked with some pretty neat features — like touchscreen control panels, a modern mobile app, and even camera and home automation options. Here are Alder's pros and cons: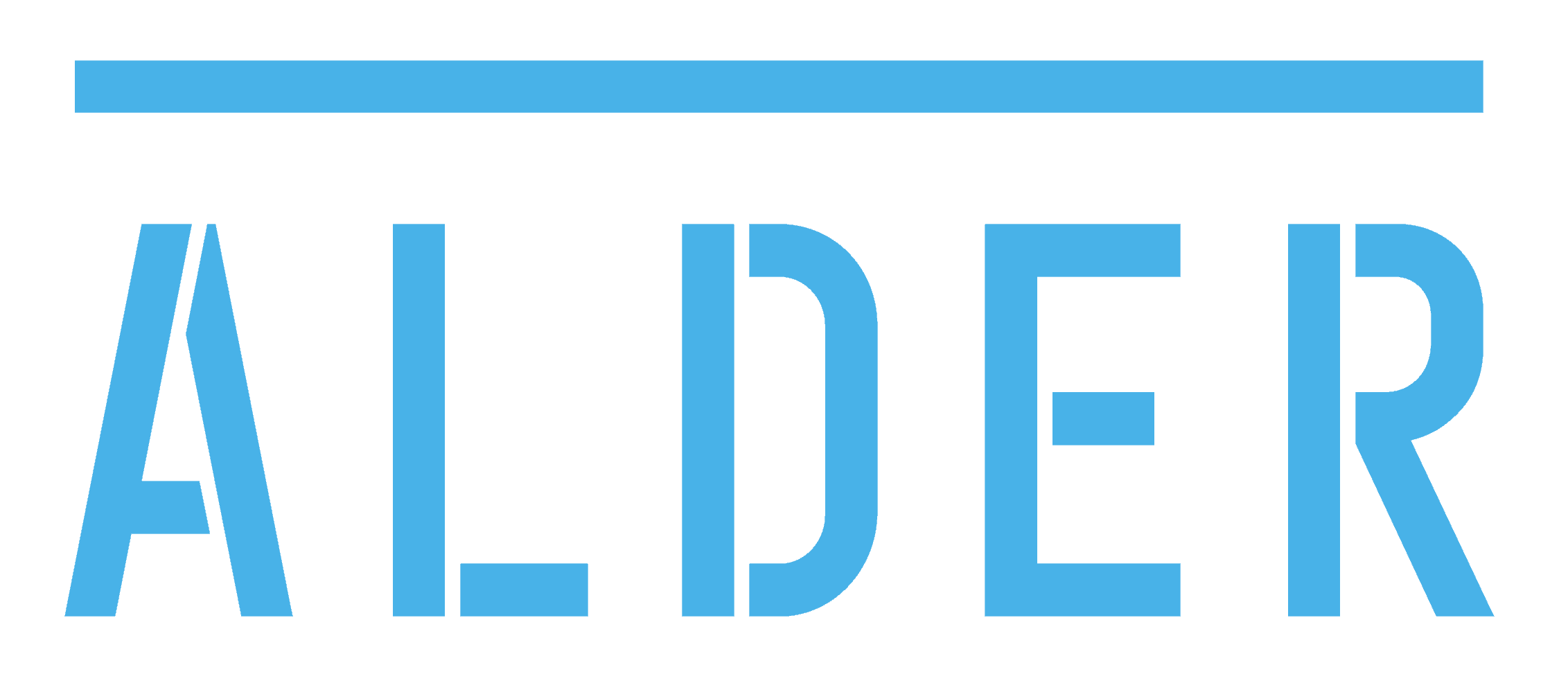 Want quality home protection with easy DIY installation?
Alder's wireless DIY systems take the guesswork out of installation. 10-20 minutes is all it takes, and you'll be up-and-running with quality security equipment, super-fast response times, and lots of helpful features.
Pros
 Easy DIY Installation
 100% Wireless Systems
 Instant Mobile Alerts
 4G LTE Cellular Monitoring
 3.4 Second Response Times
 Affordable Monitoring Plans
 Touchscreen Control Panel
 App-Based Mobile Controls
Cons
 Pricey Upper-Tier Plans
 Prices Not Listed Online
 Must Call in to Purchase
 Contracts May be Required
The people wanted easy do-it-yourself installation. So Alder gave it to them… in spades! These wireless systems can be unboxed and mounted in place in a matter of minutes. But if you so desire, you can opt for Alder's free professional installation option. It's just one of the ways they go above-and-beyond to serve their customers. Now, installation aside, Alder also offers reliable 24/7 professional monitoring powered by 4G LTE cellular. If a break-in or emergency occurs, they'll be in touch in a matter of seconds (actually, 3.4 seconds on average!). Now that's fast.
Alder does require its users to sign a contract, but this typically isn't a deal-breaker. After all, most people keep their home security systems in place for several years anyway, and Alder's contracts come with a rate-lock guarantee so your price won't suddenly spike out of nowhere. Finally, you'll enjoy some of the best features of any system we've tested. These features include a modern touchscreen control panel, instant alerts sent to your smartphone, security camera options, and lots of smart home capabilities using Alexa and Z-Wave. Now you can see why Alder is our favorite DIY security system out there.
3. Frontpoint – Quickest DIY Setup Time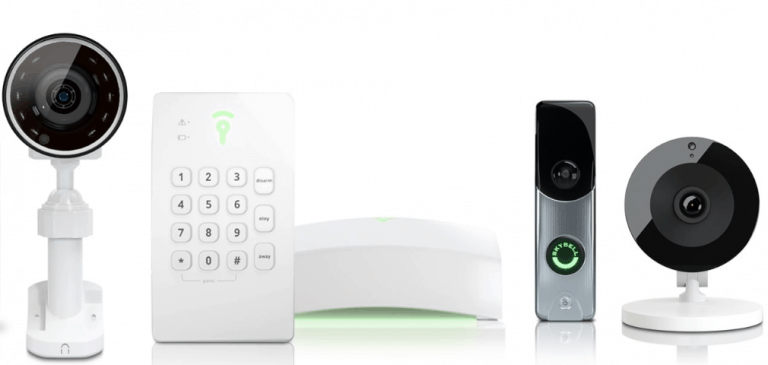 Frontpoint offers a good product and excellent customer service. This is a big component of the success Frontpoint has to offer. Consumers can expect to get 24-hour access to customer service when they need it. The company offers a highly competitively priced service, too. For those with good credit history, low costs are an excellent reason to use this service. For those with questions, the company is also very much ready to help. Key aspects of Frontpoint's services include: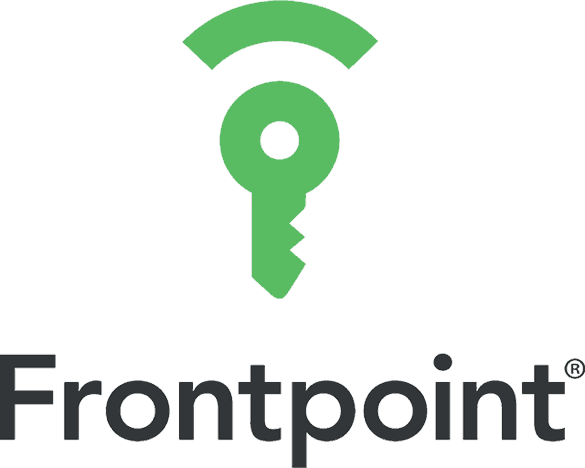 Ready for the fastest setup available?
No drilling, no wiring, no headaches! Get quality home security and automation without breaking a sweat. Frontpoint is surprisingly affordable, and is known for the best customer service around.
Pros
Affordability
Wireless Connection
Excellent Customer Service Team
30-day money back guarantee
No Landline Required (uses cellular alerts)
Home Automation Options Available
Indoor and Outdoor Cameras
Intrusion Protection Built In
Environmental Protection
Remote Control Access
Cons
No Availability of Landline Use
Credit Check Completed
Long-Term Contract
As noted, Frontpoint's biggest benefit is its ability to offer a very well designed system with ample customer service. They value their customers' business, and it shows with the comprehensive level of one-on-one attention offered. If you want to work with a people-first company, this is an excellent choice.
Costs range from Frontpoint. The average monitoring price will cost between $35 and $50. The higher quality of system and access to customer service can help to make this slightly higher price worthwhile, though. Overall, there is an activation fee of $199 for the system. This is the only upfront fee an individual will need to pay. The company has several plans to select from – the long-term contract can be a concern for some. But there are various options in terms of costs and coverage.
Another nice benefit of Frontpoint's product is the range of options available to you. Homeowners can select from various features including keypad access, window sensors, door sensors, control panels and much more. This type of versatility helps homeowners find the right product for your need. Even with numerous options like this, the company's product is still very easy to install, which is why it is one of the best DIY home security systems available today.
The innovative solutions available – such as touchscreen control panels and crash and smash protection, really help to make Frontpoint a leader. They also offer features such as life safety and live video streaming, which is helpful to many people.
From a DIY perspective, Frontpoint is an excellent choice requiring only a matter of minutes to install. There is no need to have a technician visit the home to install it. The company claims it takes about 30 minutes to install the standard system.
4. Abode – Best DIY Security with No Contract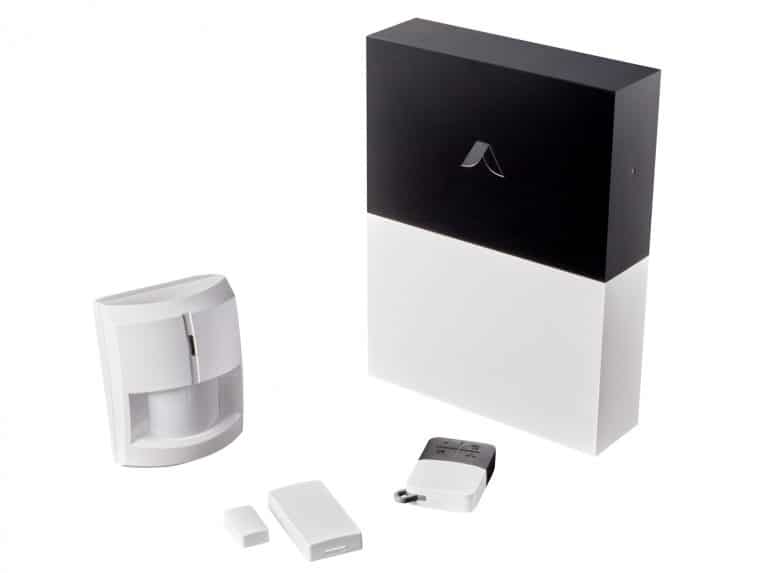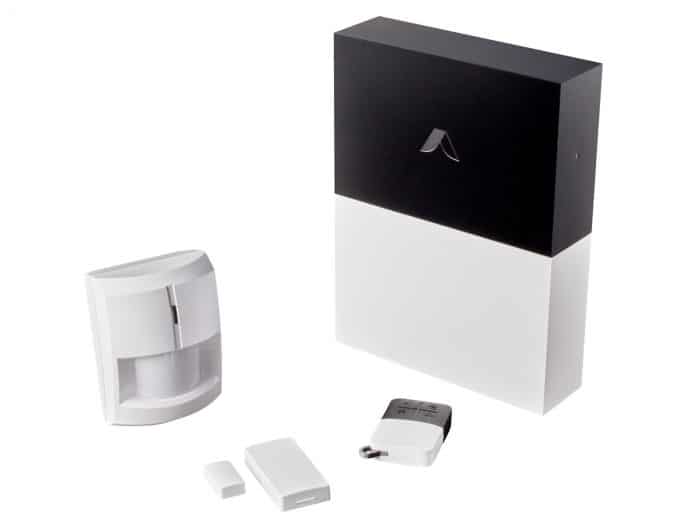 If you're looking for an affordable, easy to install home security system with a multitude of add-ons, Abode might be just what you've been looking for. And, Abode doesn't require you to sign any long-term contracts. Additionally, Abode offers flexible plans ranging from on-demand monitoring, free options, and premium plans as well. With Abode, you also have the option of adding home automation features, including environmental disaster protections, and more. Here are a few of the Abode pros and cons.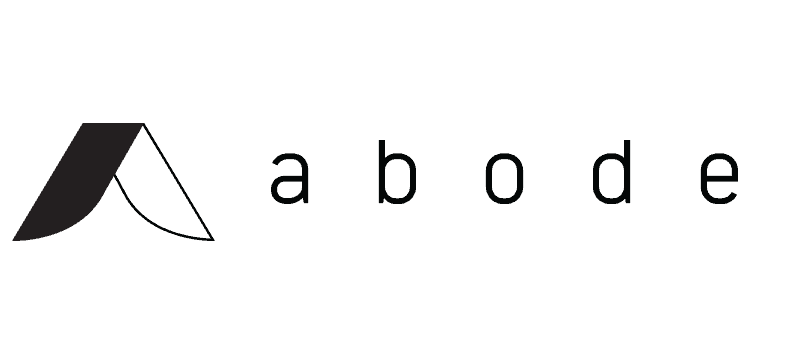 Looking for no-contract home protection?
Abode systems are totally customizable, and they never require a contract. Go with Abode and experience home security the way it should be -- easy, affordable, and flexible!
Pros
Extremely easy installation
30-day return policy
Many third-party home automation devices supported
Z-Wave, IFTTT, Google Assistant, Alexa, and Nest compatible
Self, professional, and on-demand monitoring available
Cons
Add-on purchase required for full coverage benefits
Premium customer service phone support only on upper-tier plan
Shorter warranty than competitors (one year)
Extended warranty only available on upper-tier plan
The concept of the Abode home security system is for you to begin with a basic equipment starter package, then add onto and customize a system based on your specific needs. This is great if you want to gradually grow your equipment into a whole-house security/home automation system. And Abode makes it easy to do just that. In fact, Abode is one of the easiest DIY installations on the market. Additionally, the Abode system is compatible with many, 100's in fact, third-party devices.
Another great feature of the Abode system is they don't limit your monitoring options. Abode offers a free self-monitoring option that can be used with every one of their starter kits. You can also opt for a professionally monitored system. Alternatively, Abode also offers on-demand monitoring as well.
The free option also includes three days of video storage, a self-monitoring app, support for up to 160 devices, unlimited user accounts, and more. The next tier package comes with all that plus 14 days of video storage, 4G cellular backup, and more. The top tier gives you three months of video storage, as well as 24/7 professional monitoring, an unlimited warranty, and premium live customer support.
Abode's monitoring packages range from free to $8.30 per month and from free to $100 when paid yearly and purchased with a starter kit. Additionally, you can purchase on-demand monitoring for three days or seven days for $8 and $15 respectively. And their two starter equipment packages range from $159-$199, and they have a third package as well that is $259. But as we mentioned above, Abode has a multitude of add-on equipment you can purchase as well that ranges from $20 for their remote key fob up to $112 for their HD streaming Abode Cam.
5. Link Interactive – Best Online Installation Guide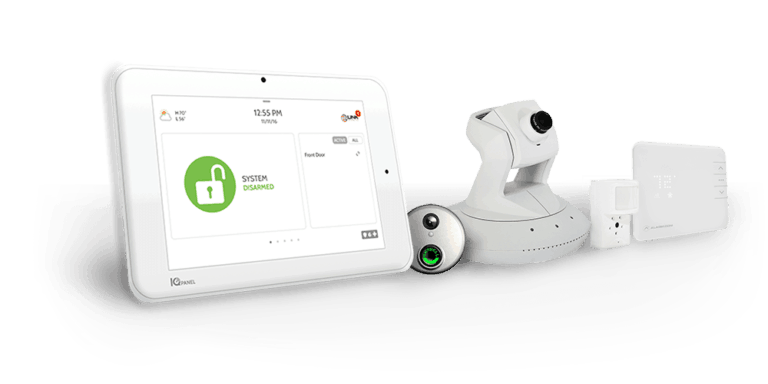 There's much to love about Link Interactive overall. This is an easy to install home security system with top quality equipment and an overall good level of customer service. You can pick and choose features to fit your needs. The monthly costs are rather straightforward and competitive, though there are some upfront costs to manage. The company offers some nice perks to customers, but there are a few limitations to make note of:
Pros
A Very Easy Installation
Home Automation Features Available
Wireless Equipment
No Landline Required
Indoor and Outdoor Cameras
Environment Disaster Prevention
Smartphone Control
Intrusion protection
Cons
Upfront Costs
Long Term Contract
Limited Equipment Warranty
There are several reasons that Link Interactive is a top DIY home security system. First, it offers a competitive price for its live monitoring service. The costs range across three packages from $31 up to $45. The downside is there are several upfront costs here. They range from $180 up to $560 depending on which package you select. This can make it a bit more expensive to get in place. One benefit is that homeowners can select the right contract length for their needs. The company offers one, two, and three-year contract options.
The company has a good product to offer, though. One of the clear advantages it provides is its flexibility. The customer chooses what he or she desires. You will find this can make your home exactly what you want and need it to be. The company's offerings include cellular access. Features include crash and smash, fire alarms, and instruction alarms. Higher quality components include 2-way voice communication and video monitoring and streaming access.
The highest level of home security comes from the company's Elite package. For those who want ample options to choose from to customize their home security, this is why Link Interactive is a good fit. It offers up to 43 sensors, remote access and control, HD and night vision capabilities, scheduled video footage, and video recording. It also offers control lights and locks along with geo services and thermostat control. You pay a bit more for these features, but for many they are worthwhile.
However, all of these features do not complicate the overall installation process. There is no technician needed to set up the system – though you can reach out for help if you need it. You can also change up the system and layout without any help. The process length depends on the number of features you invest in. Most homeowners will get the system in place in a matter of 30 minutes to an hour for the basic package.
6. Brinks – Least Tools Needed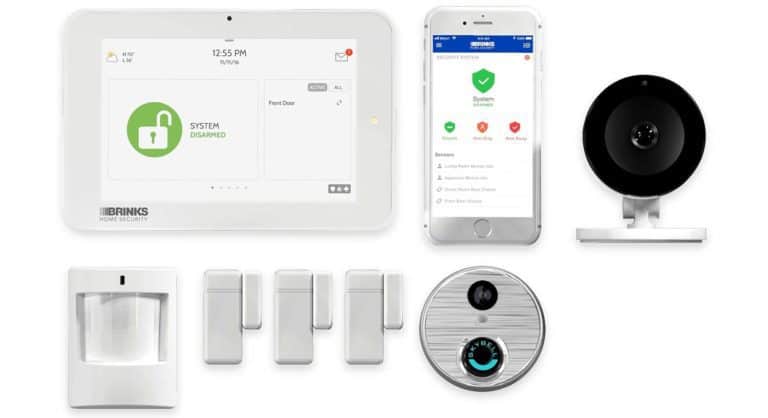 Brinks has been a well-respected home security industry leader since 1983. So needless to say, their DIY home security systems are top notch and they are known for their competitive pricing. In addition, they are also credited with having the fastest monitoring service in the country with an average response time of 30 seconds using their ASAPer system versus the 5.5 minute response time of traditional monitoring centers.
There are many features and options aside from the Brinks response times that make their systems a top contender.
Pros
Wireless Touchscreen
DIY Installation and Easy Setup
Free Shipping
30-Day Refund Policy
2-Year Warranty
Smart Home Hub Compatibilities
Unbeatably Fast Response Times
Wi-Fi and Cellular Signal (no landline required)
Hands-Free Disarm
Rate-Lock Pricing
Add-On Products Available
Smartphone Controls
LiveVoice Assist
Can Be Used With or Without Professional Monitoring
Cons
36-Month Monitoring Agreement
Live Video Streaming and Cloud Storage Only Available on the Upper Tier Package (but that package is only $10 more per month than the lower one)
Only the Upper Tier Package Comes With Video Cameras and a Video Doorbell
The Brinks DIY home security system's biggest feature is it's 30 second response time which blows away the competition whose response times are in the five minute range. In addition, they offer a price lock guarantee, so you don't have to worry about your monthly rates increasing. They also offer a 30-day refund policy and a two year warranty so if for any reason you're not satisfied, you can cancel and if anything breaks within two years, they will replace it for free.
Brinks also offers their equipment packages for free with their monitoring subscriptions; however, they don't require you to subscribe to their professional monitoring services to use their equipment, but if you self-monitor you will have to pay for the equipment.
Brinks offers two monitoring packages which range from $29-$39 per month. The lowered tier package comes with limited basic equipment and the upper tier package comes with a much broader range of equipment including video cameras, a doorbell camera, and cloud storage. So for $10 more per month, the upper tier package is well worth the extra cost.
Another great feature is that the Brinks system comes with hacker protection, unlike most alarm panels. They also offer a hands-free disarm feature that uses your smartphone to disarm your system once you're within range. In addition, this system doesn't require professional installation as it comes with an extremely easy DIY installation with no tools or any special skills required. Furthermore, when you order your system, Brinks will ask you a few simple questions and based on your answers will program your system for you. So when you receive your system, it's already setup and ready to go.
7. Scout – Best DIY Installation Support Team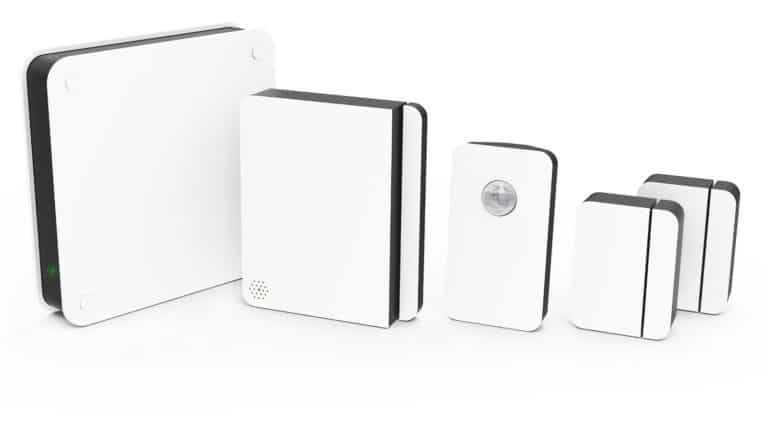 Scout is simple, and that is why many people think it is one of the best DIY home security systems available. It is affordable, offers good monitoring service, and a fantastic level of customer service. There are some limitations to this company's service and product, but for most people installing their first system, it is an excellent choice overall. It does have limited features, but for those just getting started, it still works just fine.
Pros
Very Competitive Rate
No Long Term Contract
Easy to Install
60 Day Money Back Policy
Mobile Control
Wireless Equipment
Works with Smart Home Devices
Cons
Upfront Equipment Fee
Limited Range of Some Systems
No Professional Installation Service Available
Scout is a young and up and coming company. It connects to the home's Wi-Fi router and 3G cell chip as a backup plan. The system is very easy to install and it works with other smart home systems including the Echo and Nest. There are some limitations to this plan and service, but overall, it is an excellent choice for consumers looking for a quality product at a competitive price.
Pricing is a good fit for most. The company does have a $300 upfront cost for the equipment purchase. However, the Always On basic package is just $10 a month. The higher valued package is $20 a month – making it a very reasonable option overall. A very nice benefit is the lack of a long-term contract – you can start and stop your service whenever you want to do so.
Though it does not offer as many features as other companies, Scout has a few key benefits to offer. This includes email and SMS notifications, push notifications to mobile devices, and mobile app access through Android and iOS systems. The company uses UL-certified monitoring centers and will dispatch police to your home as necessary.
Overall, Scout is a reliable and good option. In the long term, this company is likely to add new features to make it even more robust. When it comes to do it yourself installation, Scout is simplistic. There is no option for getting professional installation directly from the company. However, the system is capable of being installed in under 30 minutes for most homes. In addition, once in place, it is simple to alert other connected devices – like Nest or Echo – of its presence. It really only takes a few minutes to get the entire system set up.
Best DIY Home Security Systems – Overview
| Best DIY Home Security System | Setup Time | Tools Required | Installation Support |
| --- | --- | --- | --- |
| 1. SimpliSafe | 5+ minutes | No | Online + Over the Phone |
| 2. Frontpoint | 30+ minutes | Yes | Online + Over the Phone |
| 3. Abode | 30+ minutes | Yes | Online + Over the Phone |
Do-It-Yourself Home Security Systems
The best home security systems used to require hardwiring and professional installation. This put security out of reach for most renters, and it locked homeowners into long contracts. Some of the best modern wireless systems are designed for easy self-installation and give customers more flexibility. Here are points to consider about DIY security for renters and homeowners.
Renters
Completely wireless and cellular DIY home security systems have advantages over those with hard wiring and landline connections. Most importantly, wireless systems are less vulnerable to being disabled by criminals. Renters in particular also prefer wireless systems because 1) wireless sets don't require adding holes to rentals' walls and 2) wireless equipment is portable. When you move to another home, you can take your wireless security system with you. Whether you rent or own your next home, you can use the wireless set with month-to-month monitoring or lock in a rate for a year or longer.
Homeowners
Homeowners, unlike renters, can choose any type of home security system. Why are so many opting for wireless? The DIY aspect has big appeal — many homeowners love their privacy — plus the cost of wireless security equipment has dropped. Most importantly, wireless systems are generally the most secure. They even include mobile apps to let you remotely monitor system activity and control the alarm, locks, lights and other home features. Wireless security systems are so effective that homeowners can get big insurance discounts with proof of installation and monitoring.
Benefits of DIY Home Security
Adding home security to your home is of growing value to most people today. It keeps your family safe while also helping you to maintain peace of mind in an increasingly worrisome world. However, do it yourself installation of home security systems offers its own benefits. For many people, the investment in a home security system is only possible when they do not have to pay extensively for installation, as the best DIY home security options have shown. But, why is it so beneficial? Here are a few key reasons most homeowners benefit immediately from these solutions:
Costs
Beyond a doubt, installing it yourself keeps costs as low as possible. You do not have to pay to have a professional come to your home and install the system. Many of these systems are easy enough to install by a handy homeowner. This alleviates much of the cost associated with these system's labor costs. Professional systems cost significantly more while providing similar services. Instead, you will pay for what you want – the system itself. You may find there is no cost to calling the company for help with installation as well.
Contracts
Many of the DIY home security systems are straightforward investments. Unlike professionally installed systems, there are no long-term, monthly contracts to pay. This can help to significantly reduce the overall cost. If the company does have a contract, it will typically be a month to month plan. This makes it easier for the homeowner to terminate the contract without expensive fees. It also allows you to switch systems or make changes as you would like to, keeping you in control of your home's security.
Installation
These specific do it yourself home security systems are easy to install. Some manufacturers have designed these systems to work with existing electricity and connectivity solutions. They are not much different than installing a new computer onto your home's network, for example. They do not require experience with home security systems – even if you have never had one previously, you likely can install one into your home on your own. There are no expensive tools to buy or large scale remodeling projects to worry about. These companies broke down the process to make sure the instructions were clear and easy to follow. Additionally, they make it easy for you to get help. Most offer a no-cost helpline and customer service representatives to help answer all of your questions. If you find it necessary to get help, you can call and speak to a representative.
Flexibility
These DIY home security systems are particularly beneficial for those homeowners who want flexibility. You may decide to change the location of a camera or update to a newer model down the road. Because they are so easy to install, they are also easy for you to move. Most often, you can adjust easily as well. If a camera is off a bit, it takes just a moment to make the adjustment. You do not have to call out a professional to do so. Overall, companies build them to ensure they are very easy to use and flexible enough for any type of space. More so, if there is a problem with a broken lens or another component, it is typically easy and affordable to replace just that component. Again, this is faster and less expensive than other systems.
Features
Most do it yourself systems offer ample features. They are designed to be fully integrated, helpful systems. Though features differ from one company's product to the next, they are quite versatile overall. Below, you will see some of the features and security solutions available to you from the top-rated systems. As you can see, they are typically modern, updated, and innovative features designed to meet your needs.
How to Choose a DIY Home Security System
Having a home security system is the single most important thing you can do to protect your family and your property. But as you know, sorting through all the available information can be time-consuming due to the number of options and the vast amount of data out there. That's why it's much easier to use a review website such as this one where all the information has been compiled and broken down into easy to read bits of information.
Here are five suggestions for choosing the right home security system for your particular situation.
How Easy Is It to Install?
The main reason people buy a DIY home security system is that they are generally easy to install. However, that's not the case with all of them. Therefore, be sure to review the installation instructions before deciding on which one you feel you can install yourself.
Does It Come with Customer and/or Technical Support?
Even though most DIY home security systems are easy to install, there is still a chance you might need to clarify something or if an issue comes up that is unique to your installation. Therefore, it's important the brand you choose has a customer service and/or technical support department you can contact if you have a question.
Is the Brand You've Chosen Reputable?
Before you make a purchase, be sure to review any given company's equipment quality and reputation first. You need to know if the equipment is going to hold up and if the equipment fails that your chosen brand will stand behind their products.
What is the Right System for Your Installation?
Every installation will have its own unique situation. For example, how many cameras will you need? Do you need indoor and/or outdoor equipment? Do you have pets that could trigger false alarms? Do you want your system to be monitored or not? Make sure you write down all the specifics that pertain to your situation. Then look for a DIY home security system that will meet those needs.
Yes, we realize you have probably already thought about this; however, if you don't spend some time comparing your options, you could end up not getting the most for your money. That's why it's so important that you take advantage of the side-by-side comparisons that can be found on reputable review websites. Being able to see all the most popular brands, their options, and pricing side-by-side is the best way to make sure you are getting the most for your money.
The Pros and Cons of a DIY Home Security System
Weighing the pros and cons of a DIY home security system before you buy one is the best way to make sure you are getting exactly what you need and avoid buying something you don't.
Pros
Generally, there are few recurring monthly fees if any at all.
No installation fees.
They are usually less expensive.
Most of them are wireless.
They are portable so if you're a renter or move a lot, you can take it with you.
They usually come with smartphone controls via a mobile app.
Most can be self-monitored at no charge using your mobile device.
Many are compatible with other smart home features.
Most will send you mobile phone alerts if activity is detected.
You will not be bound to an installation schedule because you can do the install on your own time.
With a DIY home security system, you won't have technicians in your home.
Cons
You will have to do the installation yourself.
Add-ons and extras can get expensive.
Self-monitoring eliminates the option of your security system automatically contacting the police if suspicious activity is detected. You will have to do this yourself.
Some systems have limited support.
Generally, the repairs to your system will be up to you.
Most DIY home security systems have limited warranties.
With a DIY system, the upfront costs are usually higher. However, most of the time, you won't have to pay any recurring monthly fees.
If you install the system incorrectly, it will be up to you to fix it or pay someone to fix it for you. However, this is rare because most DIY systems are extremely easy to install.
The Most Frequently Asked Questions About a DIY Home Security System
Do I Need an Alarm Permit When Installing a DIY Security System in My Home?
If you are installing a DIY or another type of security system in your home, you don't need a permit for the installation. However, you will need a permit to activate and use your system, even if you plan on self-monitoring because the police might still have to come out if someone reports a loud alarm going off in your home. Every locality is different; therefore, it's best to check with your county to learn exactly what is and isn't required.
Can I Still Get a DIY Alarm System If I'm a Renter?
Well, that depends. If you are a renter, you will need to get your landlords permission (in writing) before purchasing and installing an alarm system. Your landlord might have restrictions due to privacy issues, etc. So be sure to ask first.
If your landlord approves your request for an alarm system, make sure you ask him/her to provide you with the exact specifications in writing before you buy your new system. You will need to know if he/she will require that the system be a wireless installation, if it needs to be professionally installed, where you can and can't place it, if there are any policy forms to sign, and if you will have to leave it with the rental when you move. This will help make sure you aren't charged for damages or have any other surprises going forward.
Will Installing an Alarm System Decrease My Homeowners Insurance?
Yes, in most cases. Most insurance companies will offer up to a 20% discount on their homeowner's insurance policies if you install a security system regardless of whether it's a DIY system or not. However, the discount will probably be less if you skip the monitoring.
Is a DIY Home Security System Tax Deductible?
No, a home security system, regardless of whether it's a DIY system or not, is not tax deductible. However, if you have a home business, you can deduct part of that cost as a business expense. We are not tax professionals; therefore, you should contact your accountant for more information if you run a home business and want to deduct a part of your home security expenses.
Are DIY Home Security Systems Better Than Professionally Installed Systems?
There isn't a right or wrong answer to this question. It really depends on your particular situation. So it's best to look over the pros and cons of each, as well as reviewing the side-by-side brand comparisons, your available tools, skill set, and budget to determine which route is best for you.
What Are the Different Types of DIY Home Security Systems?
There are several variations of DIY home security systems. For example, you have some that are proprietary and will only work with their brand's equipment. Then you have those that can be integrated with third-party security equipment such as Adobe which is compatible with Z-Wave, Zigbee, and other Wi-Fi technologies. So if you want a DIY security system that is compatible with a wide variety of equipment, you will need to look for those brands whose equipment is not proprietary.
Are DIY Home Security Systems Pet Friendly?
Some DIY security systems are more sensitive than others. Therefore, if you have a pet, you should look for systems that offer pet immune motion sensors. Pet-friendly motion sensors use body mass, speed,  movement, and body temperature using infrared technology to determine whether something is a threat. Therefore, if you have a pet, and especially if you have a pet over 40 pounds or so, you should look for an alarm system that has pet-friendly sensors. Doing so will help prevent false alarms.
Will a DIY Home Security System Help Me Keep An Eye on My Pets When I'm Away?
Well, yes and no. All DIY home security systems that come with a camera and live-streaming will enable you to keep an eye on your pets. However, there are also pet specific systems such as the Petcube, etc. that are not actually security systems, but are interactive video cameras that will let you monitor, talk to, and remotely play with and dispense treats to your pet. These pet specific cameras are great for pets with separation anxiety or those who are bored and/or displaying destructive behaviors, etc.
Do Any Home Security Systems Come with Medical Alert Features?
Yes, more and more home security systems are starting to offer medical alert features with their alarm systems. Therefore, if you have the need for a medical alert button, you should look for a brand that offers that feature. Then you should carefully go over the included medical alert features, their specifics, and their fees to make sure you're getting the one that's right for you.
If the Power Goes Out, Will My DIY Home Security System Still Work?
Many wireless DIY home security cameras communicate via a cellular connection; therefore, you won't lose your security system if the power goes out. However, if you happen to have a DIY home security system that's hardwired, most of those have a battery backup option that will give you a set amount of time that your alarm will function after the power goes out.
If My Internet Goes Out, Will My DIY Home Security System Still Work?
It depends on what kind of wireless system you have. If your system uses the internet or Voice over Internet Protocol (VoIP) then no, your security system won't work if the internet goes down. However, many DIY wireless security systems with a Wi-Fi connection use a cellular signal as a backup. So in that case, yes, your wireless security system will work if your internet goes down.
Can DIY Home Security Systems Be Remotely Controlled?
Yes, in fact, most DIY home security systems are mainly controlled remotely using a mobile device and the brand's associated app. The app will allow you to remotely access, monitor, and control most, if not all, your home security devices so you can react accordingly to any situation or perceived threat.
How Does a DIY Wireless Home Security Camera Work?
A wireless home security camera works by transmitting the camera's video using a radio transmitter (RF). The video is then sent to a receiver that is connected to either a local or cloud storage.
How Are DIY Security Camera Videos Stored?
There are two types of security camera video recording storage options which are local and cloud. The local storage option, which is free, stores your video recordings internally in the device itself or externally to a hard drive. With the local storage option, your storage capacity is limited and the video camera will record over your pre-recorded videos once it has reached capacity. The cloud storage option, which is usually not free, is more flexible, because you can store as much video as you are willing to pay for.
Do DIY Home Security Systems Have Home Automation Features?
Some DIY home security systems are compatible with home automation systems. The question is what particular system is it compatible with? Some brands have proprietary equipment that only works with their brand of products. Other brands design their equipment so that it's compatible with a variety of third-party products. Therefore, if you already have some home security or home automation equipment, you should look for those that are compatible with what you have or plan to buy.
Are DIY Wireless Home Security Systems Reliable?
The nice thing about DIY home security systems is that they don't have any wires that can be cut which is a good thing. However, a wireless system is more vulnerable to being hacked and their connections aren't as stable as a hardwired system. But, with that being said, most of today's DIY wireless home security systems are more advanced than they used to be so this is becoming less and less of a problem.
Pro Tips on Installing DIY Security Cameras
Where to Install Security Cameras
When determining the locations you want to install your cameras, as with all wireless technology, it's important to remember one thing: A wireless camera must be within range of a dependable Wi-Fi signal to work properly. And by "work properly," what we really mean is that the cameras have to be able to "wake up" and capture the action at a moment's notice. Otherwise, they won't help much in your overall security setup. Wireless technology does this for the most part, but it's also prone to occasional slowdowns and signal interruptions.
A great many security cameras out there are easily identifiable by what purpose they serve. This really helps us, as testers and reviewers, understand where we should install them in our home. At the risk of stating the obvious, we know the camera should be installed outside if it has "outdoor" in the name. We're not talking brain surgery here, after all.
Pro Tip: A good security camera often includes some form of built-in lighting, either through infrared LEDs or integrated spotlights. The Ring Spotlight outdoor camera, for example, works nicely over a driveway or in a garage.
But even without the added lighting, setting up cameras around your home's exterior not only makes practical sense, it also makes a huge difference in terms of our peace of mind. So we always suggest including a few solid, weatherproof outdoor cameras with any home setup.
The same goes for indoors, too. If you're not sure where to install your cameras, we've found that an entry-level system like Blink does the job. The technology, in our tests, was consistently reliable, and the installation is a breeze thanks to flexible wire-free cameras that you can set up basically anywhere.
How to Install Security Cameras Outside
Installing DIY outdoor security cameras, nowadays, is usually pretty simple. We've come across dozens of outdoor cameras that are easy to install anywhere, like the Canary Flex camera with magnetic hardware and battery power. Other cameras, including the Reolink Argus 2 and the DIY-heavy SimpliCam from SimpliSafe, offer weather-protective outdoor covers either included in or as add-ons to their camera packages, so you can "dress them up" for the elements.
We recommend wireless cameras like this for folks who are likely to adjust or relocate their cameras as their needs or surroundings change, but that's certainly not the only configuration out there.
Did You Know: Installing a security camera outside usually only requires a couple of screws, a screwdriver, and a step ladder. They can usually be set up in a matter of minutes.
Even the more complex cameras we've reviewed still didn't give us too much grief when it came time to install them. That's mostly thanks to the detailed instructions most systems include to ensure you get your cameras properly connected, no matter your skill level.
That said, if it's a wired system you're looking to install, you might find this a more complex process if you're not particularly handy. We always encourage folks to contact the camera company as soon as they encounter trouble with an installation. Of course, it's usually easy to return a camera to the manufacturer for a refund if it doesn't work out; this is, fortunately, one of the more forgiving industries when it comes to return policies.
Features of DIY Home Security Systems
Wireless DIY security systems offer the same benefits of hardwired systems, and more!
Here are the essential features and extras to consider.
Control Panel
Several DIY wireless home security systems include a quality Control Panel. This feature lets you arm and disarm the system, and they often have a 'panic' button if you need to connect with emergency operators. Certain control panels offer live-voice assist, and still others have modern touchscreens that put your home security and home automation controls in one sleek device.
Entry Sensors
The best DIY home security systems truly excel when it comes to Entry Sensors. These magnetic sensors are placed on door frames and windows. When the system is active and the magnets separate, the alarm sounds and you will likely receive an alert. DIY systems come with easy-to-install (velcro mounted!) entry sensors. You'll have them up in no time flat.
Motion Detectors
Chances are your DIY security system will bundle in motion detectors. These infrared devices are simple to setup and work around-the-clock to monitor the inside of your home. The moment it senses movement, the alarm sounds and alerts send. And don't worry about your Shepherd tripping the sensor. Most devices are smart enough to distinguish between pets and people.
Glass Break Sensors
Burglars break windows. It's in their nature. So it's important to outfit your home with Glass Break Sensors. The sensors have built-in microphones that listen for the sound frequency of breaking glass. When it detects glass breaking, it sounds the alarm and sends alerts. This DIY feature is often sold as an upgrade, but it's worth it. Don't pass on glass break sensors.
Panic Buttons & Pendants
Panic Buttons are another top feature for DIY home security systems. Users can strategically mount these around their home. Put them in the bathroom, the kitchen or garage — and don't miss a beat when a break-in occurs. Panic buttons are especially helpful for seniors who live alone, and often come built-in to control panels, keychain fobs, and necklace pendants.
Remote Control
DIY home protection from a keychain? It almost sounds too good to be true. But Remote Control puts your security commands on a tiny remote perfect for a keychain. Arm and disarm the system, hit the panic button, and simply enjoy the controls that fit in your pocket or purse. It's the 21st century after all, and we'd expect nothing less.
Mobile Access
DIY wireless home security systems almost always offer Mobile Access — an impressive feature powered by a companion app. Simply login to the app to access your controls. You can arm and disarm the system, monitor activity, view live-stream camera feeds, and even control home automation features. Seriously… what's not to love about Mobile Access?
Home Automation
The best DIY home security systems are compatible with home automation features. We're talking everyday household features — like heating and cooling, lights, door locks, and more — now made possible to control with your smartphone (and in some cases your voice!). Often these features fit seamlessly into your wireless home protection ecosystem. Your life just got a whole lot easier.
Cellular Monitoring
It's no secret that hardwired home security systems have their limitations. Lines can be cut and power can go out. But today's best DIY alarm systems are powered by cellular monitoring. They get their juice from cellular signals (similar to your phone), which just about guarantees around-the-clock uninterrupted protection. Get 24/7 home security the modern way — only with cellular monitoring.