Travis Goodreau
https://www.safehome.org/security-advisors/travis-goodreau/
Best Outdoor Security Cameras of 2021
Outdoor security cameras are a great first line of defense and a way to ensure your delivered packages are safe and secure. Check out our list of the top outdoor security cameras below.

Nearly one-third of Americans have had packages stolen, according to USA Today. If you are looking for a way to prevent theft and watch over your property, outdoor security cameras are a great solution.
There are a wide variety of outdoor security cameras on the market. Features on outdoor security cameras range from infrared night vision to motion alerts. Some home surveillance cameras even allow you to send images of the burglar or thief to your local law enforcement. Here is a look at the best outdoor security cameras available right now.
1. Lorex – Best Equipment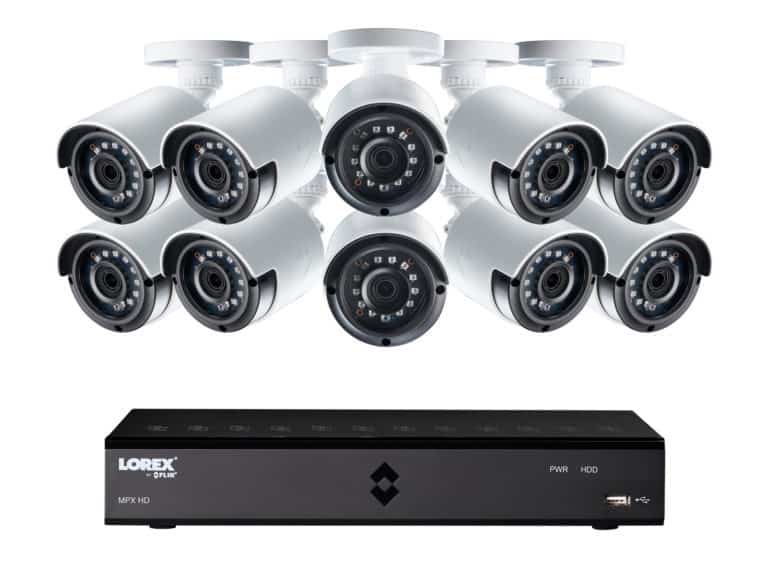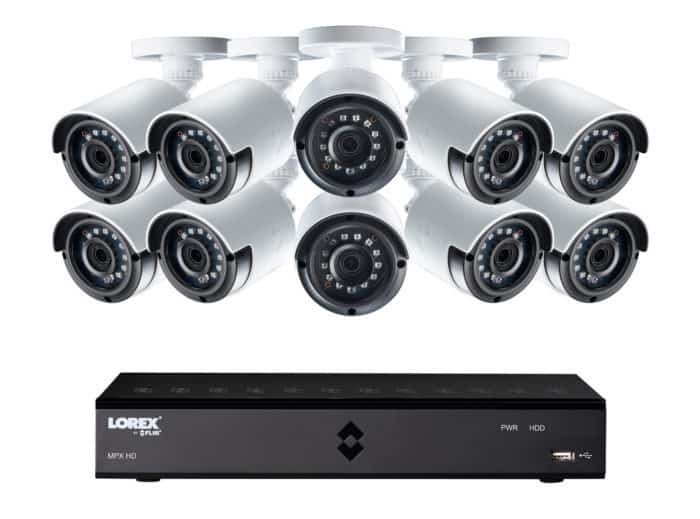 Outdoor security cameras are built tough to weather the elements. Lorex has a complete range of outdoor cameras that range from the very high-tech PTZ Camera. This camera features color night vision and 25× optical zoom. It is great for larger properties or in situations where more advanced security might be needed.
The 3 MP Camera by Lorex is a greater mid-range surveillance camera. It features a motorized varifocal lens, night vision and an adjustable field of view.
Pros
Ultra HD resolution
Infared color night vision
3X Zoom lens on some models
Excellent clarity in low lighting
Extreme cold resistance
Vandal resistant
Cons
Lacks many of the "smart" features of other outdoor security cameras.
No voice control, motion alerts or 2-way talk.
Harder to install than some other outdoor cameras
If you are looking for more advanced security features like vandal-built construction, 2k resolution, and optical zoom, then you should take a look at Lorex outdoor security cameras. They also operate in very extreme weather, which makes them excellent for anyone who lives in a more extreme area weather-wise. However, it is important to note that Lorex cameras do not have features like remote access, Alexa voice control, or two-way talk. Lorex outdoor cameras are also not compatible with smart home devices.
2. Ring Cameras – Best Outdoor Cameras for Alexa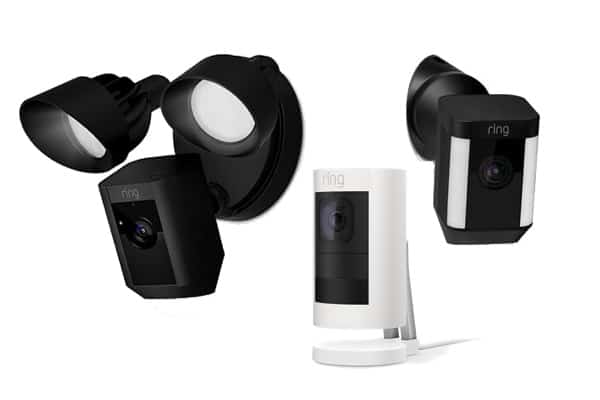 The Ring Camera is an excellent outdoor home security camera built to link easily with an existing Ring Video Doorbell or work as a stand-alone system. Ring is designed well to handle the elements and can provide an easy-to-use and install design that many property owners can appreciate.
Pros
Simple to install
Very reliable for all types of outdoor conditions
Clear, crisp night vision
Excellent HD video quality and zoom
Competitive pricing
Cons
Best bet is a subscription for long-term recording, which is not free
The Ring Camera is a superior outdoor home security camera for numerous reasons. Ring, which has worked hard to become a well-known player in this industry, is recognized for its Ring Video Doorbell. The Ring Camera links to the doorbell if you have both, creating a simple way to monitoring the various areas around your home you need to, from garage doors to the backyard. This is a feature-filled camera, but it is also one of the more affordable outdoor security cameras, as well.
Easy to mount and connect (with wireless options available), this system is simple to get in place right away. Once there, you can begin taking advantage of the various features. That includes the HD video quality, including the night vision. There's a good level of zoom provided with the camera as well, which means that even in the dark, you can get a clear idea of who is present. The motion-activated notifications are also very responsible, but you can turn them on or off as you need to. Other features include the two-way talk feature, which includes noise cancellation, and the siren – which is sure to deter anyone from coming any closer to your home.
It's simple to link your outdoor Ring Camera to home automation, including the Amazon Alexa platform. The app is also very easy to use and lets you turn on or off your system anywhere, receive notifications, and get a live view at any time.
When it comes to costs, the Stick Up Camera, which is available as wireless, plug-in, or solar, is the lowest-costing option. The Stick Up Camera operating on batteries is $99.99 regularly. The Spotlight Cam, also available as battery or solar power, is priced at $229 to $249 depending on your power options. There's also a potential $3 or $10 subscription fee for recording the video. Still, this is a very low cost for a comprehensive home security solution that works for most homes.
3. Nest Cam – Best Google Outdoor Cameras
Nest makes two outdoor security cameras — the new Nest Cam Outdoor IQ and the Nest Cam Outdoor. Both allow you to easily monitor your outdoor space rain or shine. They are waterproof and durable. Nest Outdoor Cams plug into A/C power, so you don't have to worry about dead batteries.
Nest Outdoor Cam IQ uses artificial intelligence to distinguish a person from an animal or car. You can get instant alerts on your phone or smart device when the surveillance camera detects motion or a loud sound. Activity zones allow you to get alerts for specific areas, like your front porch or driveway. Both cameras feature a built-in speaker and microphone. So, you can provide instructions for the delivery person or inform a burglar that you are calling the police.
Don't worry if you miss alerts. With the Nest app, you can watch the past three hours of footage. Thumbnail images provide crucial snapshots of important events. So, you don't have to watch an entire three hours of footage to see if anything important has happened. If you subscribe to the Nest Aware service, you can create and share video clips with neighbors, the police or anyone else. You can also create and share time-lapse videos.
Pros
Easy plug-and-go installation
Works with other Nest products
130° Wide-Angle View
True 1080p HD
8x Zoom
Night vision
2-Way speaker and microphone
Instant alerts available
Store up to 30 days of footage
Weatherproof
Cons
You'll need a Nest Aware subscription to get instant alerts or share footage.
Requires A/C Power
Requires Wi-Fi Connection
The Nest family of outdoor cameras are a good choice if you already use the Nest family of products as they are compatible with other Nest smart home products. A Nest Outdoor Cam is also a good choice if you want to add more products later on — like the Nest Learning Thermostat.
The Nest Outdoor Cam is a good solid surveillance camera for both outdoor home security and monitoring. It offers quite a few useful features like night vision, instant alerts, and a wide-angle view. The main disadvantage is that you'll need to purchase the Nest Aware subscription to get things like cloud storage, time-lapses, and intelligent alerts.
4. Arlo – Best Wireless Outdoor Camera System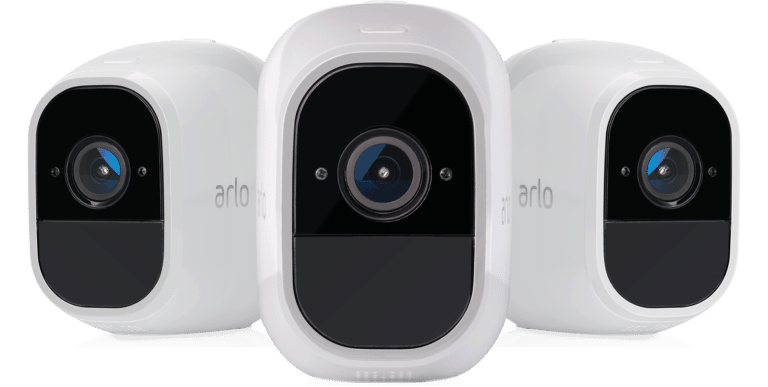 Arlo offers several outdoor security cameras. The Arlo Pro camera is IP65 certified weather-resistant. It is also completely wire-free so you can place it anywhere outdoors. There are no cords nor wires to worry about. The video is HD-quality and integrated night vision automatically switches on at night. So, you'll always get the best picture possible. Two-way audio lets you listen-in and talk back to people.
The Arlo Pro 2 is the newest outdoor security camera in the lineup. This camera features flexible power options. So, you can use it with the battery or plug it into a power outlet if you'd rather not worry about recharging it. This camera works with Google Assistant, Amazon Alexa, and Stringify.
For a completely mobile outdoor security camera that you can place anywhere, consider the Arlo Go. This camera can be placed absolutely anywhere. It is completely wire-free and weatherproof. It features long-lasting rechargeable batteries. To use the Arlo Go, you need to have an LTE mobile plan.
With all of Arlo's outdoor security cameras, you get 7 days worth of video recording for free for up to five cameras. You can also connect a USB drive to the base station for local storage. One of the unique features of Arlo's outdoor cameras is the 100db siren. This loud siren can help scare away criminals before a crime even happens.
Arlo's outdoor security cameras feature intelligent artificial intelligence-based smart detection. So, the cameras can distinguish between a person, car or another object.
Pros
Wirefree outdoor video monitoring
Loud 100db siren (Arlo Pro and Arlo Pro 2)
Rechargeable battery
Night vision
Local backup storage (via USB)
2-Way audio
Intelligent detection
Cons
Cloud subscription plans are pricey
You'll need a cloud subscription plan to get smart notifications and extended cloud storage.
LTE mobile plan required for the Arlo Go.
Arlo Outdoor Home Security Cameras are a great option for anyone who wants wireless outdoor cameras. These surveillance cameras can be placed just about anywhere making them good for home security but also for monitoring wildlife and other purposes. One of the things to keep in mind is that you will need a mobile data plan for the Arlo Go.
5. Blink – Easiest Set-Up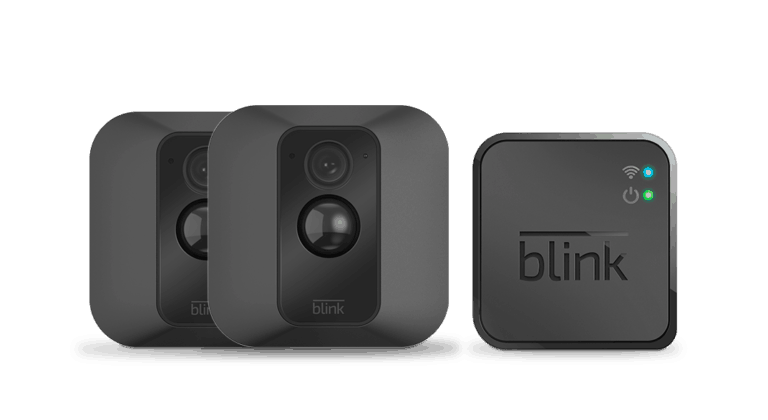 The Blink XT2 is the latest wireless home security camera from Blink. It is great for both outdoor and indoor use. Blink offers a great deal of versatility. You design an outdoor home security camera system that works for your needs. Blink offers a one, two, three and five camera system.
The Blink XT2 outdoor security camera features HD video so you can get a great view of your outdoor space with minimal distortion. The home surveillance camera is motion-activated. When armed, it will send alerts to your phone whenever the sensor is triggered. Instant alerts are sent right to your phone and they include a photo so you know how to respond. A built-in temperature sensor lets you monitor the outdoor temperature. You can both see and hear what is happening at your home thanks to the built-in microphone. There is a built-in Led illuminator for low-light situations.
Pros
HD Video
Motion Detection
Live View
Temperature Sensor
Infrared Night Vision
Weatherproof
Instant Alerts
Built-in microphone
Amazon Alexa voice control
Cons
Blink does not offer integration with other smart home devices (aside from Amazon Alexa).
The Blink XT camera is a great option if you are looking for a versatile outdoor home security camera. Because it can be used both indoors or outdoors, you have more flexibility. Although Blink does not currently offer smart home integration with other devices, they have recently added Amazon Alexa support so a greater degree of integration may be on the horizon.
6. Zmodo – Cheapest Outdoor Cameras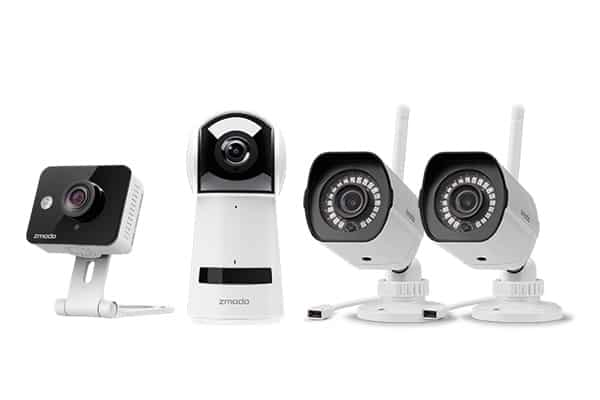 Zmodo offers a variety of outdoor security cameras. There is the 1080p Outdoor
Wi-Fi Camera. This is one of the newer offerings in Zmodo's lineup of outdoor cameras. It offers sharp 1080p HD video, night vision, motion detection, and remote viewing. There is also a 720p version of this camera. These home surveillance cameras connect to Wi-Fi. With Zmodo, you get 36 hours of free cloud storage. Zmodo allows you to set pre-determined viewing areas, which helps to cut down on false alarms.
Another offering is the Zmodo Sight 180 Outdoor video doorbell. It also features night vision, 1080 HD video, motion alerts and has a wide 180-degree lens. Zmodo also just introduced the Snap Pro, which is a wire-free 1080p camera. It features electromagnetic mount and is weatherproof, which means that you can place it anywhere outdoors. This outdoor security camera is available for pre-order now but will not ship until January 2019.
Pros
Weatherproof design
Set-up using simple QR code
Two-way audio
Night vision
Motion alerts
Remote access
Cons
To use the app, you must have iOS 9.0 or later or
Android 4.0 and up.
You'll need a cloud-storage plan to establish motion detection zones, have extended clip storage and view time-lapse clips.
Zmodo offers several outdoor security cameras — all very affordable compared to similar outdoor cameras. You get 12 hours of free cloud storage. There are no fees or hidden charges. The picture quality is pretty great on the cameras. The software supports multiple cameras. Therefore, consider Zmodo if you want an affordable outdoor surveillance camera. You can customize your outdoor security camera setup to best suit your needs. There are also several cloud storage plans to choose from and start at just $4.99 a month.
How to Power an Outdoor Security Camera
Setting up security cameras around the exterior of your home has numerous benefits, but up until the last 5-10 years or so, it often involved complicated installations and hardwiring done by a professional.
These days, with an emphasis on wireless DIY technology, almost anyone can add outdoor cameras to their home – whether it's an entire system of cameras rife with advanced features, or one high-tech gadget that can automatically pan and tilt over an area to get up-to-the-second coverage. And it's all controlled via a mobile app.
That's all easy enough, but if you're wondering how to power outdoor security cameras, it's important to remember that not all outdoor cameras are powered the same way. In our review repertoire, we've tested PoE (Power over Ethernet) cameras, wire-free (battery) cameras, plug-in cameras, hardwired cameras, and the most popular configuration, wireless cameras.
We suggest doing an in-depth perimeter check around your home, paying special attention to the location of power outlets. This is especially crucial if you have a "wireless" camera that needs to be plugged into a wall.
Wait… a wireless camera that needs to be plugged into a wall? But I thought it was … wireless?
Yes, terminology in the security camera industry can get a bit confusing, especially when it comes to wireless, Wi-Fi, and wire-free cameras. It's hard to keep all those W's straight, so here's a quick cheat sheet.
Wired, Wi-Fi, or Wired Free? Which is which?!
Wireless cameras are powered over the Internet, but they sometimes require plugging into a standard AC outlet.
Wi-Fi cameras are wireless cameras, but not all wireless cameras are Wi-Fi cameras.
Wire-free cameras are completely wireless cameras that run on batteries.
Still confused? Here's an example: The Blink wireless camera system we reviewed most recently includes a battery-powered indoor camera, a small plug-in camera, a battery-powered outdoor camera, and a sync module. Since they're wireless, we got the whole thing online in under 30 minutes. That's a lightning-fast install, owed mostly to the fact that the indoor and outdoor camera are both powered by two extended-life AA batteries that last up to two years.
And, zeroing in on the outdoor camera for a moment, we had a device that worked without wires, which gave us lots of flexibility. Who needs wires, anyway?
This is a typical configuration, but keep in mind you can also buy a wireless kit from another brand that includes more than cameras – like a SimpliSafe system, for instance, with alarms, sensors, and cameras that you can set up in DIY fashion. In this industry, it's all about your needs and preferences.
Of course, as with any battery-powered technology, you do have to remember to change batteries or recharge the batteries from time to time. This is no different than any wireless electronic device, and many cameras we've reviewed send us reminders through their mobile app that the battery is low.
Ring's wireless cameras, which include battery and plug-in devices, take a similar approach to Blink's. But after reviewing both brands, we did notice one big difference: Ring's battery cameras use a rechargeable battery pack, not the extended-life batteries Blink uses.
We've found advantages to both setups. But here's our bottom line: Powering outdoor security cameras should not be too difficult for the average homeowner, thanks to built-in, state-of-the-industry wireless technology.
How to Hide Security Cameras Outside
An outdoor security camera is one of the most vital tools in our home security setup. We've reviewed a ton of them – floodlight cams, spotlight cams, stop-speeding-down-my-cul-de-sac cams, all kinds of cameras for all kinds of functions and purposes. We highly recommend them for dimly lit backyards, for front porches and patios, or beamed onto outdoor recreation areas like swimming pools and playsets.
But what if you need a camera you don't want would-be burglars to see? What if you're dealing with someone more brazen, who isn't spooked by deterrents like this? If you're wondering how to hide security cameras outside, read on!
For times when you need a more discreet setup, we're sharing three ideas on how to put your outdoor camera into incognito mode:
Put it in a birdfeeder or lawn ornament. This might require some creative underground wiring if your camera has a power cord, but if you're handy with underground wiring, you could choose this option for some nice 3-dimensional coverage for your yard.
Install a camera with outdoor lighting. Our favorite one is the Ring Floodlight Cam, which gave us powerful outdoor lighting for our dark and spooky backyard. As a two-in-one device, Ring Floodlight looks much less like a camera and much more like an attractive light fixture.
Go green! Hide the camera in shrubbery or tree branches. Quick pause, though – we always dole out this one with a word of caution. You'll want to keep checking on this camera pretty frequently, as it's very easy for branches and leaves to move around out there, possibly blocking your live feed.
If you're willing to put in the time and flex your creative muscles, you're sure to find a nice hiding spot for your outdoor camera.
FAQs About Outdoor Security Cameras
Do outdoor cameras record sound?
Yes, some of the best outdoor cameras will capture sound. Not all systems will automatically pick up on audio, though. This depends on the settings you select and the system itself.
Do outdoor cameras have 2-way audio?
Yes, many outdoor cameras will provide two-way audio for you. This means you can talk back-and-forth with a person outside. This is ideal if you need to ask someone to leave or you do not feel comfortable opening the door.
Can you control outdoor cameras with a home security system?
Yes, you can control outdoor cameras using a home security system. Most outdoor cameras integrate with a complete home security offering in some capacity.
Do outdoor cameras have night vision?
Yes, most outdoor cameras have night vision. Look for cameras that include infrared LED night vision for the best possible results. Some companies go further and offer color night vision. This provides a higher level of clarity but isn't necessary for all people
Are outdoor cameras waterproof?
Yes, some outdoor cameras are designed to be waterproof. However, most other cameras are designed to be weatherproof or water-resistant. Be sure to check the specific terminology before buying.
Do outdoor cameras require professional installation?
No, not all outdoor cameras require professional installation. Installation requirements depend on the type of home security cameras or system you purchase.
Do the outdoor home security cameras work with Alexa?
Yes, some outdoor cameras work with Alexa as well as other smart home assistants.
Do outdoor cameras record and store video?
Yes, some outdoor camera systems will offer long-term storage either in the cloud or in a local hard drive.
Features of the Best Outdoor Security Camera Systems
Most outdoor home security cameras are equipped with night vision, motion sensors, and high-resolution video capability. Here are some other features of outdoor security cameras that you should look for when shopping for one.
Motion Detection
Any security camera worth its salt has to have effective motion detection. Modern-day cameras are known to include features that can be customized to fit our needs, and it can usually be done simply through the camera's mobile app. From adjusting sensitivity to mapping out privacy zones to distinguishing between people, animals, and vehicles, we have more options than ever to get the most out of our outdoor cameras.
Two-Way Talk
Cameras without two-way audio, or two-way talk, are becoming more rare as the security industry evolves. We've made no secret of our love for this feature, for one main reason: there's nothing like using our own "outside voice" to spook potential burglars. Relatedly, it's especially helpful for times when you're trying to make an unwanted visitor think you're home … when maybe you're not.
Night Vision
Seeing at night has gotten a whole lot easier in outdoor security cameras thanks to full-color night vision. Not every camera has it – most indoor cams don't – but monitoring your space at night in full color is an experience that, in our opinion, can only be seen to be appreciated.
High Resolution
We tend to pay extra attention to video quality when choosing security equipment. These days, we'd be hard pressed to find a security camera without high-resolution video; the lowest we've seen is a standard 720p SimpliCam, which still records in high resolution but not quite as sharp as the industry-standard 1080p, or HD. For us, HD is essential for any camera; a camera that records in up to 1080p resolution will most likely give you smooth, reliable footage with lots of detail. Higher resolutions, like 2K, 5MP, or 4K, are certainly impressive, but keep in mind that they're by and large unnecessary in DIY cameras.
Video Recording
As wireless technology continues to dominate the industry, we have seemingly endless flexibility in terms of how we want to record our video footage. Now, we're no longer limited to just a hard drive like an NVR/DVR system for storing footage around the clock; many cameras these days record motion-activated video clips as an easy way to monitor your home yourself.
Cloud Storage
Cloud security technology has propelled simple security cameras into smart home devices. It's not as expensive as it once was to store camera footage in the cloud; a monthly subscription from Ring Protect, for example, to store video footage starts at only $3.49 per month. Plans offered by other brands tend to be a bit pricier, but the bottom line is: if you don't have an option for local storage like an NVR or microSD, the cloud is always a nice alternative.
Built In Siren
As new cameras are released into the market each year, we're finding more and more of them offered with built-in sirens. This is an encouraging development for us, for one key reason: sirens are one of the most effective active deterrence tools. In many cameras, including Arlo, Ring, and the beloved Nest, the siren can be activated manually or set to activate when motion or sound is detected, all through the mobile app.

Live View
Front door, back door, and everywhere in-between — this feature allows you to remotely tap into your outdoor security camera and watch the activity unfold. Live view capability is great for those who travel often, and it's especially well-suited for the curious consumer. So pull up a chair and pop some popcorn, the live stream is about to start.
Weatherproof
Looking for an outdoor security camera that can weather the fiercest storms? You'll want to go with a weatherproof camera. Sun, wind, rain, sleet, snow (even very feeble tornados) — the elements have never met such a worthy adversary. Weatherproof outdoor home security cameras are built with quality materials that last and last.