Best Outdoor Security Cameras of 2019
Outdoor security cameras are a great first line of defense and a way to ensure your delivered packages are safe and secure. Check out our list of the top outdoor security cameras below.
Nearly one-third of Americans have had packages stolen, according to USA Today. If you are looking for a way to prevent theft and watch over your property, outdoor security cameras are a great solution.
There are a wide variety of outdoor security cameras on the market. Features on outdoor security cameras range from infrared night vision to motion alerts. Some home surveillance cameras even allow you to send images of the burglar or thief to your local law enforcement. Here is a look at the best outdoor security cameras available right now.
1. Nest Cam – Best Overall Outdoor Cameras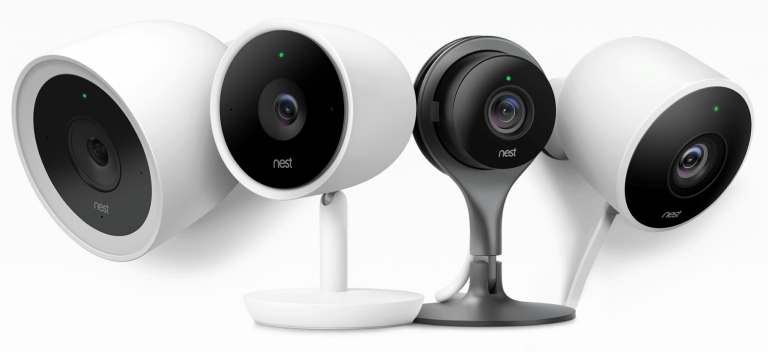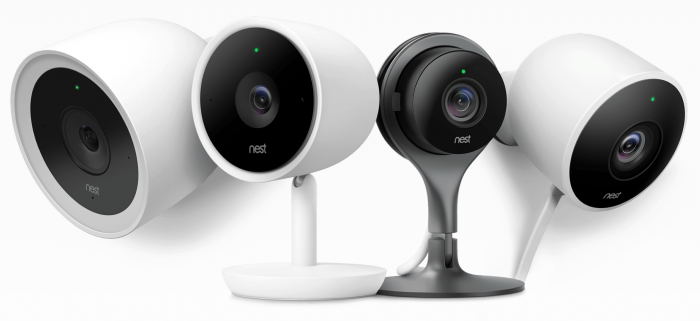 Nest makes two outdoor security cameras — the new Nest Cam Outdoor IQ and the Nest Cam Outdoor. Both allow you to easily monitor your outdoor space rain or shine. They are waterproof and durable. Nest Outdoor Cams plug into A/C power, so you don't have to worry about dead batteries.
Nest Outdoor Cam IQ uses artificial intelligence to distinguish a person from an animal or car. You can get instant alerts on your phone or smart device when the surveillance camera detects motion or a loud sound. Activity zones allow you to get alerts for specific areas, like your front porch or driveway. Both cameras feature a built-in speaker and microphone. So, you can provide instructions for the delivery person or inform a burglar that you are calling the police.
Don't worry if you miss alerts. With the Nest app, you can watch the past three hours of footage. Thumbnail images provide crucial snapshots of important events. So, you don't have to watch an entire three hours of footage to see if anything important has happened. If you subscribe to the Nest Aware service, you can create and share video clips with neighbors, the police or anyone else. You can also create and share time-lapse videos.
Pros
Easy plug-and-go installation
Works with other Nest products
130° Wide-Angle View
True 1080p HD
8x Zoom
Night vision
2-Way speaker and microphone
Instant alerts available
Store up to 30 days of footage
Weatherproof
Cons
You'll need a Nest Aware subscription to get instant alerts or share footage.
Requires A/C Power
Requires Wi-Fi Connection
The Nest family of outdoor cameras are a good choice if you already use the Nest family of products as they are compatible with other Nest smart home products. A Nest Outdoor Cam is also a good choice if you want to add more products later on — like the Nest Learning Thermostat.
The Nest Outdoor Cam is a good solid surveillance camera for both outdoor home security and monitoring. It offers quite a few useful features like night vision, instant alerts, and a wide-angle view. The main disadvantage is that you'll need to purchase the Nest Aware subscription to get things like cloud storage, time-lapses, and intelligent alerts.
2. Arlo Outdoor Camera – Best Outdoor Wireless Camera System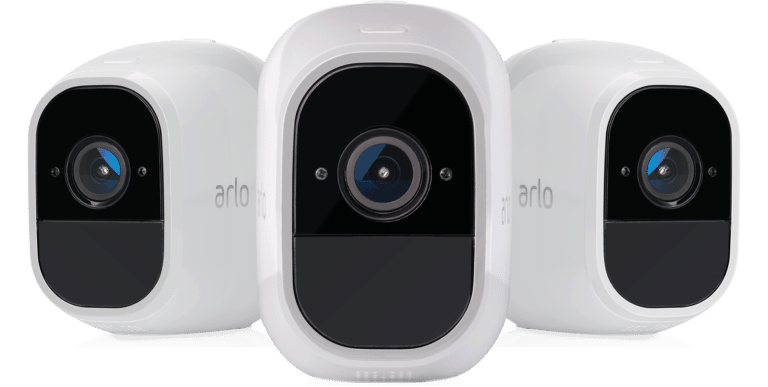 Arlo offers several outdoor security cameras. The Arlo Pro camera is IP65 certified weather-resistant. It is also completely wire-free so you can place it anywhere outdoors. There are no cords nor wires to worry about. The video is HD-quality and integrated night vision automatically switches on at night. So, you'll always get the best picture possible. Two-way audio lets you listen-in and talk back to people.
The Arlo Pro 2 is the newest outdoor security camera in the lineup. This camera features flexible power options. So, you can use it with the battery or plug it into a power outlet if you'd rather not worry about recharging it. This camera works with Google Assistant, Amazon Alexa, and Stringify.
For a completely mobile outdoor security camera that you can place anywhere, consider the Arlo Go. This camera can be placed absolutely anywhere. It is completely wire-free and weatherproof. It features long-lasting rechargeable batteries. To use the Arlo Go, you need to have an LTE mobile plan.
With all of Arlo's outdoor security cameras, you get 7 days worth of video recording for free for up to five cameras. You can also connect a USB drive to the base station for local storage. One of the unique features of Arlo's outdoor cameras is the 100db siren. This loud siren can help scare away criminals before a crime even happens.
Arlo's outdoor security cameras feature intelligent artificial intelligence-based smart detection. So, the cameras can distinguish between a person, car or another object.
Pros
Wirefree outdoor video monitoring
Loud 100db siren (Arlo Pro and Arlo Pro 2)
Rechargeable battery
Night vision
Local backup storage (via USB)
2-Way audio
Intelligent detection
Cons
Cloud subscription plans are pricey
You'll need a cloud subscription plan to get smart notifications and extended cloud storage.
LTE mobile plan required for the Arlo Go.
Arlo Outdoor Home Security Cameras are a great option for anyone who wants wireless outdoor cameras. These surveillance cameras can be placed just about anywhere making them good for home security but also for monitoring wildlife and other purposes. One of the things to keep in mind is that you will need a mobile data plan for the Arlo Go.
3. Blink XT2 Outdoor Camera – Easiest Set-Up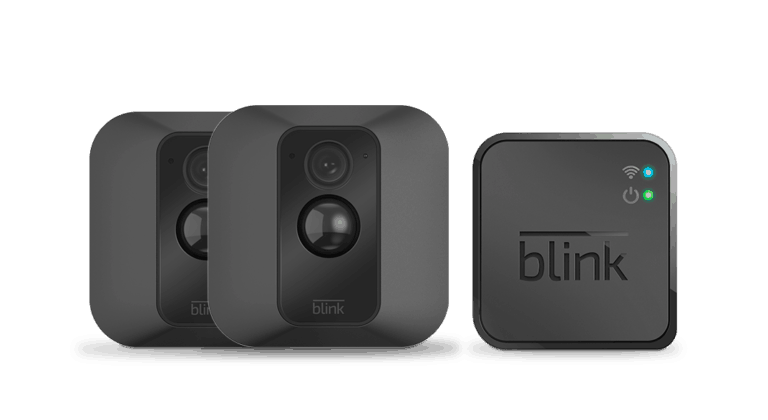 The Blink XT2 is the latest wireless home security camera from Blink. It is great for both outdoor and indoor use. Blink offers a great deal of versatility. You design an outdoor home security camera system that works for your needs. Blink offers a one, two, three and five camera system.
The Blink XT2 outdoor security camera features HD video so you can get a great view of your outdoor space with minimal distortion. The home surveillance camera is motion-activated. When armed, it will send alerts to your phone whenever the sensor is triggered. Instant alerts are sent right to your phone and they include a photo so you know how to respond. A built-in temperature sensor lets you monitor the outdoor temperature. You can both see and hear what is happening at your home thanks to the built-in microphone. There is a built-in Led illuminator for low-light situations.
Pros
HD Video
Motion Detection
Live View
Temperature Sensor
Infrared Night Vision
Weatherproof
Instant Alerts
Built-in microphone
Amazon Alexa voice control
Cons
Blink does not offer integration with other smart home devices (aside from Amazon Alexa).
The Blink XT camera is a great option if you are looking for a versatile outdoor home security camera. Because it can be used both indoors or outdoors, you have more flexibility. Although Blink does not currently offer smart home integration with other devices, they have recently added Amazon Alexa support so a greater degree of integration may be on the horizon.
4. Zmodo – Cheapest Outdoor Cameras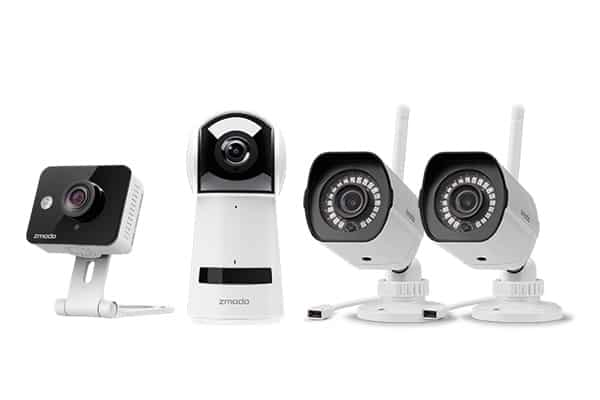 Zmodo offers a variety of outdoor security cameras. There is the 1080p Outdoor
Wi-Fi Camera. This is one of the newer offerings in Zmodo's lineup of outdoor cameras. It offers sharp 1080p HD video, night vision, motion detection, and remote viewing. There is also a 720p version of this camera. These home surveillance cameras connect to Wi-Fi. With Zmodo, you get 36 hours of free cloud storage. Zmodo allows you to set pre-determined viewing areas, which helps to cut down on false alarms.
Another offering is the Zmodo Sight 180 Outdoor video doorbell. It also features night vision, 1080 HD video, motion alerts and has a wide 180-degree lens. Zmodo also just introduced the Snap Pro, which is a wire-free 1080p camera. It features electromagnetic mount and is weatherproof, which means that you can place it anywhere outdoors. This outdoor security camera is available for pre-order now but will not ship until January 2019.
Pros
Weatherproof design
Set-up using simple QR code
Two-way audio
Night vision
Motion alerts
Remote access
Cons
To use the app, you must have iOS 9.0 or later or
Android 4.0 and up.
You'll need a cloud-storage plan to establish motion detection zones, have extended clip storage and view time-lapse clips.
Zmodo offers several outdoor security cameras — all very affordable compared to similar outdoor cameras. You get 12 hours of free cloud storage. There are no fees or hidden charges. The picture quality is pretty great on the cameras. The software supports multiple cameras. Therefore, consider Zmodo if you want an affordable outdoor surveillance camera. You can customize your outdoor security camera setup to best suit your needs. There are also several cloud storage plans to choose from and start at just $4.99 a month.
5. Lorex – Best Equipment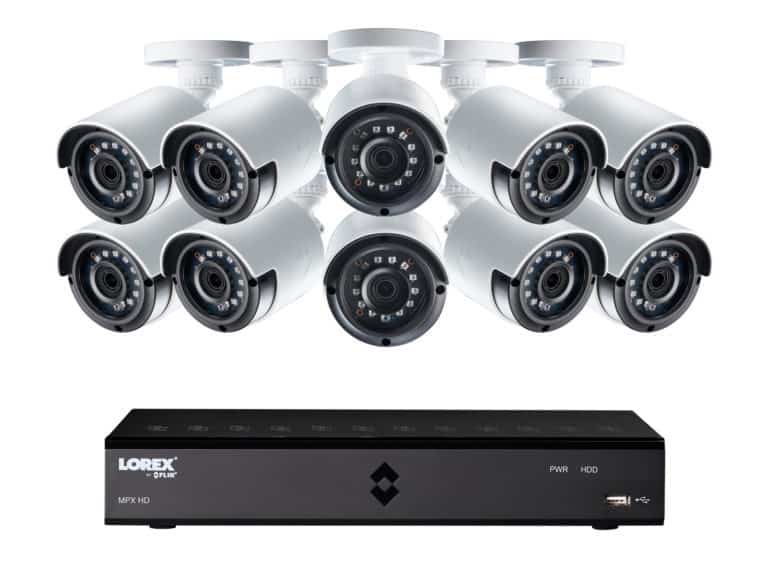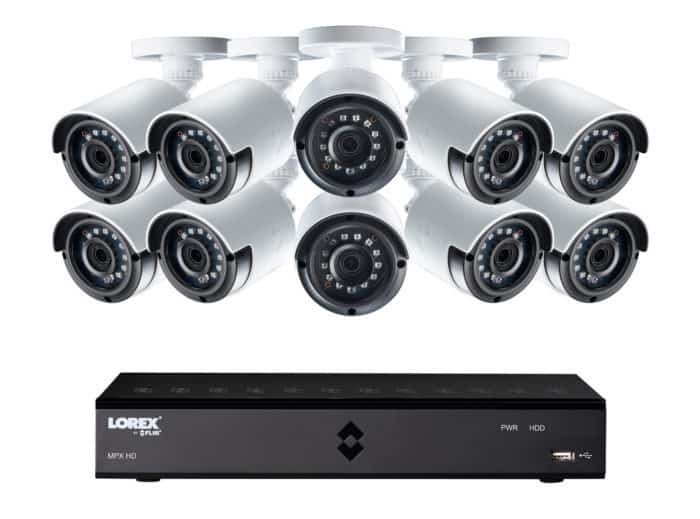 Outdoor security cameras are built tough to weather the elements. Lorex has a complete range of outdoor cameras that range from the very high-tech PTZ Camera. This camera features color night vision and 25× optical zoom. It is great for larger properties or in situations where more advanced security might be needed.
The 3 MP Camera by Lorex is a greater mid-range surveillance camera. It features a motorized varifocal lens, night vision and an adjustable field of view.
Pros
Ultra HD resolution
Infared color night vision
3X Zoom lens on some models
Excellent clarity in low lighting
Extreme cold resistance
Vandal resistant
Cons
Lacks many of the "smart" features of other outdoor security cameras.
No voice control, motion alerts or 2-way talk.
Harder to install than some other outdoor cameras
If you are looking for more advanced security features like vandal-built construction, 2k resolution, and optical zoom, then you should take a look at Lorex outdoor security cameras. They also operate in very extreme weather, which makes them excellent for anyone who lives in a more extreme area weather-wise. However, it is important to note that Lorex cameras do not have features like remote access, Alexa voice control, or two-way talk. Lorex outdoor cameras are also not compatible with smart home devices.
Features of the Best Outdoor Security Camera Systems
Most outdoor home security cameras are equipped with night vision, motion sensors, and high-resolution video capability. Here are some other features of outdoor security cameras that you should look for when shopping for one.
Motion Detection
Motion detection is important because it allows the camera to start recording when motion is detected. Many cameras can also send instant notifications to your phone or tablet when the motion sensor is triggered. Some high-tech outdoor security cameras can tell the difference between motion from animals, cars and humans.
Two-Way Voice
Two-way voice is a great feature on outdoor security cameras because it allows you to have back-and-forth conversations with anyone who is in the camera's field of view.
Night Vision Cameras
Night vision enables the camera to "see" in the dark. Some cameras are enabled with color night vision, which produces color images in the dark. Infrared LED night vision will allow you to see the clearest images in the dark.
App Control
With app control, you can operate and monitor your outdoor security cameras from your smart device. Many apps allow you to see and hear through the camera's 2-way talk feature, create and share time-lapse videos and more.
High Resolution
The resolution of your outdoor security camera is very important. High-resolution outdoor security cameras provide crystal-clear images and footage. With high-resolution, it is much easier to detect and identify people and objects.
Video Recording
Most outdoor security cameras offer video recording. Some cameras continuously record and others record when motion is detected or a sound is heard.
Cloud Storage
Many outdoor security cameras offer video recording storage via a cloud. The amount of cloud storage can vary greatly depending on the cloud-storage plan that you choose.
Live View
With live view, you can see live video recordings on your outdoor security camera.
Weatherproof
A weather and waterproof outdoor security camera is essential if you want it to last. Some outdoor security cameras are made to withstand even the toughest climates.