Travis Goodreau
https://www.safehome.org/security-advisors/travis-goodreau/
Best Outdoor Security Systems
Secure the perimeter. The best home security companies offer outdoor systems for an added hedge of protection. These systems act as your first line of defense in deterring intruders. See our favorites below.

Do you want to keep an eye on your house and yard while you are not home? Installing a security system for the outdoors can help keep you aware of what is going on outside your home. There are a variety of home security systems that will help you keep an eye on your home. Do you want to get notified every time someone rings your doorbell even if you are not at home? Want to see a real-time view of your front yard anytime? Outdoor security systems will let you do that and much more. We have narrowed down the best outdoor security systems. Here is a closer look at each system.
1. Vivint – Best Overall Outdoor System (Editors Choice)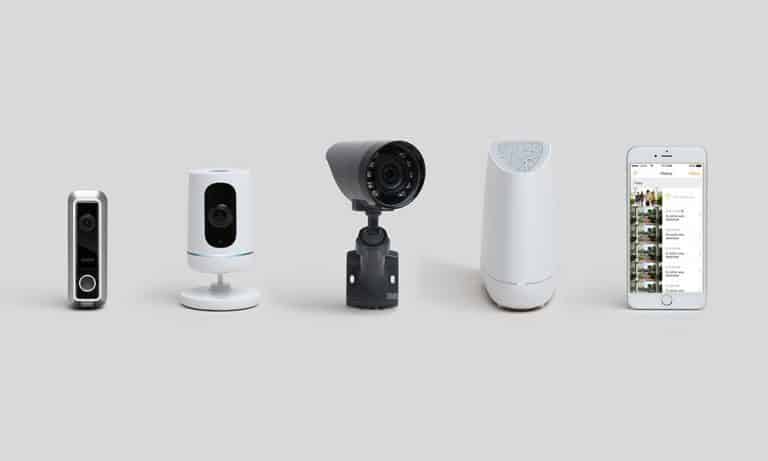 Vivint is one of the top home security systems that you can buy. They offer almost everything that you could possibly want to secure indoors and out. Conduct outdoor surveillance and remotely monitor your property with the Vivint outdoor camera. The camera has infrared LED night vision, Wi-Fi connectivity and motion detection. It also offers crisp, clear images. You can use the Vivint app to monitor events on the outdoor camera. Vivint allows you to protect your property from smoke and fire with 24/7 monitoring for smoke, fire and carbon monoxide.
Pros
Outdoor security and surveillance
Smart home control
Compatible with Amazon Alexa and Google Home
24/7 video recording
Voice control, mobile control and keypad control
Garage door control
Smart locks
Doorbell camera with 2-way talk
Outdoor camera with HD resolution
Playback DVR
Vivint smart app
Custom notifications
Professional installation
24/7 professional monitoring
Cons
Monthly monitoring is required to access most features
Monthly monitoring is pricey
The basic starter kit does not include outdoor or doorbell cameras
Must pay an additional fee to playback, save and download outdoor video clips
Vivint delivers excellent outdoor home security but the price tag can be hefty depending on what features you choose. Although Vivint now offers a month-to-month plan, you will still be required to pay for monthly monitoring to access most features include instant alerts and remote control of your outdoor cameras and video doorbell.

Want to really keep intruders away?
Vivint is your best option, hands down. Vivint's suite of outdoor security cameras have crisp image quality, night vision, remote viewing, 2-way talk and more. Criminals don't beware!
2. ADT – Best Outdoor Automation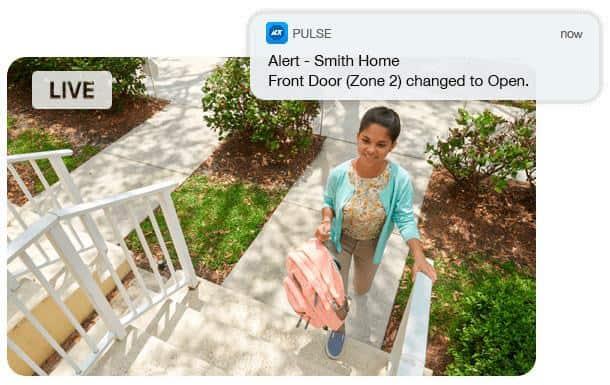 ADT is one of the more well-known and popular home security systems. The company has more than 8 million customers and offers reliable outdoor home security and protection. The company offers a range of accessories that are great for outdoor use, such as outdoor motion detectors.
Pros
24/7 Professional monitoring
6-month money-back guarantee
Secure remote video surveillance
Remotely arm and disarm your system via the app
Email and text alerts and notifications
Fire and smoke monitoring
Supports a wide variety of third-party apps
Cons
Expensive system
Monthly monitoring is required
Top tier plan required for video monitoring
ADT is best for those who want a trusted, recognizable name in home security and are willing to pay more for that peace-of-mind. The company offers great customer service and several different promises. If your home is burglarized while the system is armed, then ADT will pay a portion of your homeowner's insurance deductible. ADT also offers a 6-month money-back guarantee. You can get your monitoring fees refunded within the first six months if you are not happy with the service.

Ready for comprehensive outdoor security?
The biggest name in security now offers outdoor motion detectors, doorbell cameras, and top-quality outdoor security cameras. And you can control it all on the highly-rated Pulse mobile app!
3. Frontpoint – Best App Control

Frontpoint offers DIY home security, which makes it easy to design, set up and control all aspects of your home's security, both indoors and outdoors. Frontpoint's professionally monitored home security system includes a variety of home security and awareness tools that make it a solid choice for outdoor monitoring. The video doorbell lets you see who is at your front door anytime. Using the convenient app, you can receive notifications when someone is at your front door. The doorbell camera also offers two-way talk. Frontpoint also offers a wireless weatherproof outdoor camera that lets you keep watch over the outside of your home.
Pros
24/7 professional monitoring
30-day no-risk money-back guarantee
Self-installation, no tools required
The system is pre-configured for your home
Wire free design makes it easy to move the system
Frontpoint mobile app for control of your system
Three monitoring plans to choose from
Outdoor cameras offer video streaming
Night vision enabled outdoor cameras
Smart video doorbell with two-way talk
Very helpful and friendly customer service
Cons
Monthly monitoring contract required
Live video monitoring and recording only available on top-tier plans
High priced monthly monitoring fees
Frontpoint is ideal for customers who are looking for DIY customizable outdoor home security. It is also great if you travel away from home often as the Frontpoint app allows you to conduct surveillance and control your system from afar.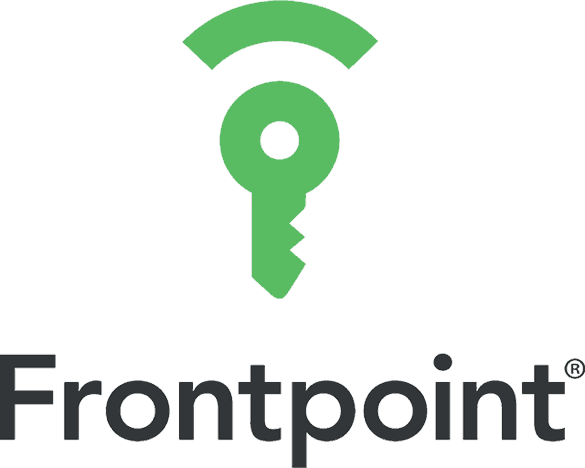 Looking for app-controlled outdoor security?
Protect the exterior of your home with Frontpoint. And put the controls in your pocket or purse with their modern mobile app. Frontpoint comes stacked with the best app around!
4. Ring – Most Affordable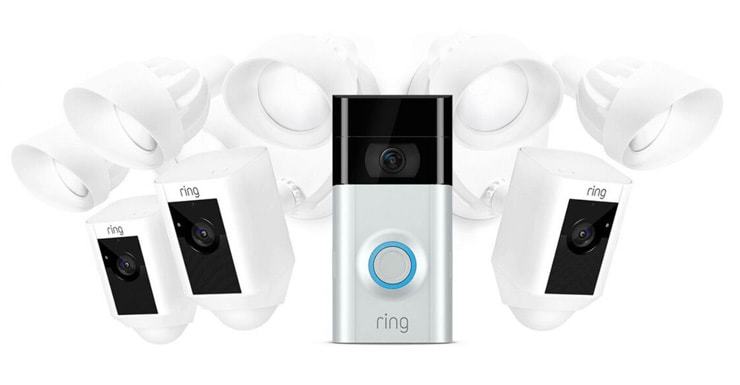 Known for their doorbell cameras, Ring recently introduced a complete home security system. The Ring home security system is a cheap, DIY system that offers a surprising amount of features for the price. This system is ideal for protecting and monitoring your home inside and out. You start with a 5 piece system and then add more components to fit your needs. For outdoor security, Ring's video doorbell is one of the best on the market. Ring offers a variety of outdoor cameras including a floodlight camera that features an ultra bright floodlight and siren. There is also a Spotlight Cam Solar that can be connected to solar power for constant use. These cameras, along with the Ring app, allow you to monitor your property in clear HD anytime. Ring can be used both with and without professional monitoring.
Pros
Affordable outdoor home security
No contracts required
Simple to set up and use
Quality components
Smartphone control via the Ring app
Offers both battery powered and wired devices
Customizable to fit any home
Instant smartphone alerts and notifications
Optional professional 24/7 monitoring available
No cancellation fees or costs to move service
Designed to work with popular third-party devices
Cons
Professional monitoring costs extra
Limited smart home options
You'll likely need additional sensors and equipment for complete outdoor coverage
No Apple HomeKit support
The Ring home security system is a good option for anyone who wants affordable outdoor security and doesn't mind the DIY install. This system is also a good option for customers who plan to move as you can change or add-on to the system at any time.
5. Arlo – Best Outdoor Cameras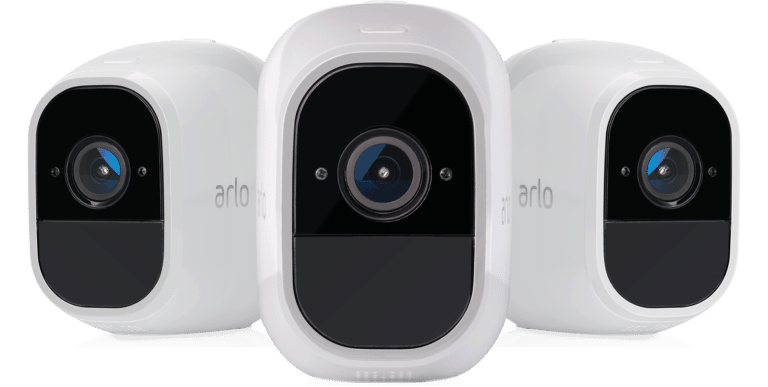 Arlo smart home security cameras provide high-quality HD video anytime day or night. You can watch over your entire property with the range of home security cameras from Arlo. Arlo's mobile cameras do not require AC power or Wi-Fi to use. Arlo also offers a 100 percent wireless outdoor security light that works with Amazon Alexa. You can schedule or automate outdoor lighting whenever you will be away from home.
Every Arlo outdoor camera includes the Arlo Basic monitoring. This allows you to keep 7 days worth of sound and motion-triggered recordings for up to five outdoor or indoor cameras.
Pros
Sharp, HD-quality video
Easy-to-install
IP65 certified weather-resistant
View live videos anytime from the app
24/7 video recording available
Free Arlo app available for Android, iOS, web browser and Apple TV
Free basic plan with free cloud storage
Wireless, smart-controlled, LED lighting available
Outdoor cameras feature 7-day cloud recording and two-way audio
The Arlo Q line of cameras offer 24/7 cloud video recording
Powerful motion and sound detection
Many smart features and automations available
Connect up to five cameras for free
Supports up to 15 cameras on one account
Easily share videos with neighbors, friends and family
Cons
Requires a hub, which must be purchased separately
Expensive
Can access outdoor cameras and lighting from just one device at a time
With the Arlo home security system, you can be sure that every angle of your home is covered. Arlo is ideal for almost any customer who wants comprehensive home security coverage outdoors and doesn't mind paying a bit more for it.
Outdoor Home Security Systems
Nowadays, you can find outdoor home security systems with all kinds of features ranging from night vision to smart home integration. Here are some important outdoor home security features that can help you monitor your outdoor area.
Outdoor Security Cameras
Outdoor security cameras are available with a variety of features and capabilities. Some of them are wireless and others need to be wired into an existing light fixture. You can choose from features like HD-quality video, smartphone monitoring and control, night vision and more.
Outdoor Motion Sensors
Outdoor motion sensing security lights can send an alert to your cell phone or sound an alarm when motion is detected outdoors. These sensors are usually pet and animal-friendly.
Outdoor Security & Flood Lights
These can be used as part of your landscape security to enhance the safety of your security. You can use motion-activated security and flood lighting to save electricity. Some of these types of lighting work via solar power.
Garage Door Alarms
A smart garage door alarm can send a notification to your smartphone or tablet when your garage door is opened. The secure technology helps prevent unauthorized garage entry.
Pool Alarms
Pool alarms can be used to enhance the safety and security of your pool area. A pool alarm can alert you to the presence of children or other people around your swimming pool.
Features of Outdoor Home Security Systems
If you want to know what is going on outside your home when you are not there, an outdoor home security system is best. When choosing an outdoor home security system, look for the following important features.
Arm/Disarm Security
Every home security company lets you arm and disarm your outdoor security system, but some let you do it in style. Head to your control panel, equipped with modern touchscreen technology, and arm/disarm there. Or better yet, open your sleek mobile app and arm/disarm from pretty much anywhere in the world. There's even remote control keychain-sized devices that'll do the trick.
Door Locks
Smart Door Locks serve as the sentinel of any outdoor security system — they're always on guard. These electronic locks are easy-to-install and offer remote entry, locking, and unlocking. The best smart door locks allow for app-based monitoring of your entryway. View real-time activity logs to keep tabs on your home, issue virtual keys to friends and family, and more.
Mobile Alerts
Who's that creeping in your front yard? Find out with Mobile Alerts. This value-packed feature compliments the best outdoor home security systems. Get helpful mobile alerts anytime your system detects suspicious activity. These alerts are triggered by outdoor security cameras, doorbell cameras, motion detectors and lights. Mobile Alerts keep you in the loop when it matters most.
Remote Access
At work and got a hankering to check your outdoor security camera? Maybe you're on vacation in Italy and want to ensure all is well back home. Remote Access lets you access, monitor, and control your home security and automation system from your smartphone. It's the single most effective way to keep a finger on the pulse of your home security status.
Doorbell Cameras
No outdoor security system is complete without a Doorbell Camera. This feature monitors the comings and goings of your entryway and sends helpful mobile alerts. The best doorbell cameras offer two-way talk, an impressive option that lets you speak and listen to visitors. If it's just the mailman, say hello. If it's a bad guy trying to break-in, tell him to scram or else.
Night Vision Cameras
Night Vision Cameras transform your average outdoor security system into a Fort-Knox secure force-field. OK — at the very least, they let you see at night. Get crisp, clear imaging of your front yard, back yard, side yard, and entryway. The best night vision security cameras are powered by infrared LED technology. Criminals don't stand a chance.
Motion Detection
Many companies offer outdoor lighting and security cameras with built-in motion detection. Any time these devices detect movement, they will send an automatic alert and can even be set to sound the alarm. Certain motion detectors feature facial recognition technology, while others can distinguish between people and pets. Get hooked up with motion detection for a more robust outdoor security experience.
Outdoor Lights
Expose burglars in the act with Outdoor Lights. The best outdoor lights integrate seamlessly with outdoor security camera systems. The moment they detect motion, a flood of light washes over the scene and the camera begins recording. Go with a high-end system and receive helpful mobile alerts along with instant recordings, sent straight to your smartphone.
Garage Door
Smart garage doors let you open and close them from anywhere in the world. This impressive outdoor security and automation feature even sends mobile alerts if (and when!) you forget to close your garage before heading into work. The best smart garage door openers feature a nifty permissions option, allowing you to give out multiple access codes to friends and fam.