On its website, Vivint's tagline reads: "When home security meets smart technology, you get powerful peace of mind." We think they nailed it. Vivint is hands-down one of the most sophisticated security systems today, with its touchscreen control panel, advanced home automation features, and smart sensors. And as you might expect, this advanced system requires professional installation.
And those features keep getting better. Vivint's latest Smart Deter technology is designed to proactively drive lurkers away from your property before they get too close.
That premium experience, however, comes at a premium price, and today, we'll discuss exactly how much a Vivint system costs. But first, here's a quick background on Vivint and how it's paving the way for the future of home security.
Vivint has been around since 1999. But in 2011 Vivint began to innovate smart home security systems. Their equipment is modern and well-designed. In fact, Vivint just launched a fresh lineup of cameras that includes the new and improved Vivint Outdoor Camera Pro and Video Doorbell Pro, the new Indoor Camera Pro, and an outdoor camera accessory called the Spotlight Pro.
Vivint also continues to offer every smart home feature and integration you could imagine. This includes smart lighting and temperature control, smart security sensors, and smart door locks. And you can control everything using their award-winning Vivint Smart Hub panel and Vivint mobile app.2
Given its features, it's not shocking to see Vivint's premium pricing on packages and plans. For some, that's not a big issue, especially since the benefits certainly outweigh the costs. But because of its higher pricing, it's not for everybody. So you need to have an understanding of what exactly you're getting. In this guide, we'll share with you all about Vivint's equipment packages, monthly plans, and how much it all costs. We'll also touch on the drawbacks of Vivint, as we want you to walk away fully informed.
"From an installation perspective, it's important to have a professional technician identify access points and crucial areas to protect around your home. I've seen homeowners install their DIY security systems in unnecessary locations. Because of this misstep, the cameras ultimately didn't capture the crucial angles or the evidence needed to help solve their case. So Vivint's professional installation is a true benefit."
Learn more about Travis and our methodology →

Key Features
Wireless & Cellular
Professional Installation
Intrusion Protection
Environmental Protection
Remote Control
Vivint's Pricing
Vivint's website is certainly slick, but one thing it won't do is give you a quote you can hold in your hands. If you're sold on Vivint — and there are many good reasons — you'll have to reach out to the company to get an official offer.
That said, you can definitely get a ballpark idea of what to expect. Our guide will walk you through Vivint's pricing system from top to bottom, including the three main areas you need to pay attention to: equipment fees, monthly monitoring fees, and Vivint's one-time installation fee. Here's a breakdown of each.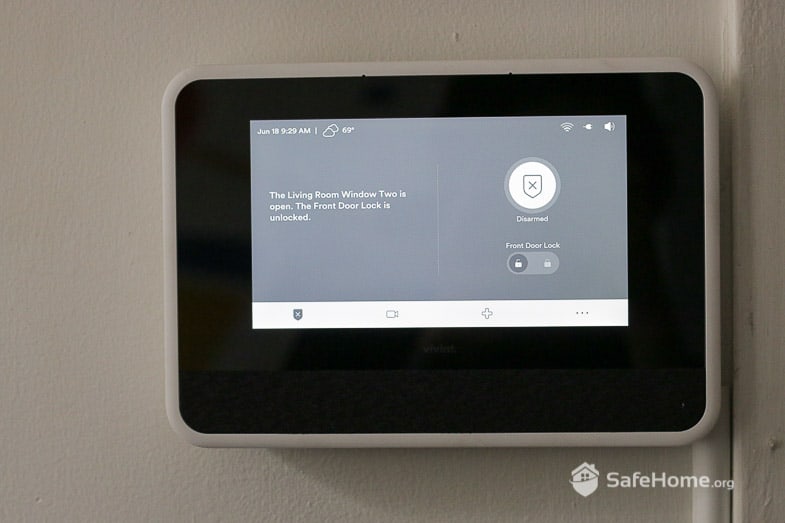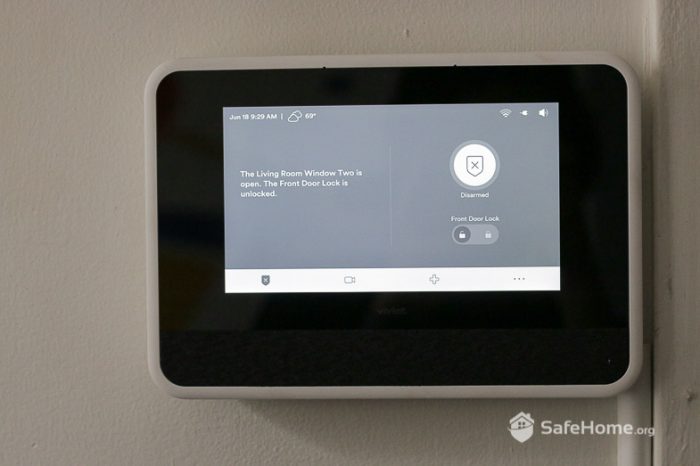 Equipment Fees
As is true with most systems, equipment is the biggest expense. A security system from Vivint starts at $599 and can cost as much as $1,789. That's expensive, considering SimpliSafe's cheapest packages cost about $200.
That said, the difference with Vivint is that you don't have to pay the entire amount upfront. You can if you want, but you can divvy up the payment with Vivint's Flex Pay plans. If you do, a 60-month financing option will cost you about $10 to $30 per month. Not bad.
At any rate, Vivint's equipment is top-notch, so even though they're a bit more expensive, you get what you pay for.
| Vivint Equipment Package | Upfront Cost | Price Per Month |
| --- | --- | --- |
| SkyControl Starter Kit | $599 | $9.98 |
| Home Security System Bundle | $709.98 | $9.98 |
| Smart Home Control Bundle | $1,049.95 | $9.98 |
| Video Security Bundle | $1,379.95 | $23 |
| Smart Complete Bundle | $1,789.92 | $29.83 |
Monthly Monitoring Fees
If you're looking for a home security system with optional monitoring, Vivint might not be for you, because you don't have a choice here. All Vivint security systems require monitoring.
To be honest, this isn't a problem for many homeowners who aren't looking to take their home security into their own hands. For anyone in the latter camp, Vivint is worth looking into, with monitoring plans ranging from the cheapish $29.99 to the more pricey $44.99 per month. We've tested each of Vivint's three plans, so keep reading for recommendations. In the meantime, here's a quick breakdown.
| Vivint Monitoring Plan | Price |
| --- | --- |
| Smart Security Monitoring | $29.99 per month |
| Smart Home Monitoring | $39.99 per month |
| Smart Home Video Monitoring | $44.99 per month |
Keep in mind, these prices are average — maybe even on the low end — compared to other premier home security systems. But here's the kicker: Other companies include base equipment in their plan packages. ADT's plans, for instance, cost a little more, but each plan includes three or more sensors and a touchscreen controller. With Vivint, everything's à la carte, which means a heftier start-up bill, but a more customizable all-around package.
Professional Installation Fee
Finally, Vivint requires professional installation that costs $99 for all plans and packages. From what we've seen, this cost is standard in the industry and certainly not a deal-breaker. After all, having your system installed by a professional technician will ensure everything is set up and networked properly.
When all is said and done, you'll pay anywhere between $40 per month and $75 per month for home security and automation with Vivint. If you purchase the equipment upfront, you can pay as little as $29.99 per month for professional monitoring, as Vivint doesn't offer a free self-monitoring option. Vivint charges a premium compared to the market as a whole. But when measured against similar high-tech systems, Vivint prices are par for the course, especially considering the features and technology. You can read more about Vivint's features and tech in our full Vivint review here.

Pro Tip: If you purchase Vivint equipment upfront, the remaining monthly fee makes Vivint as cheap as some DIY systems.
Beyond those three main pricing factors, there's one more cost factor to consider: Vivint's add-ons and upgrades. We cover these equipment options below, but brace yourself, as Vivint gets expensive when you start customizing your system with extra devices. Thankfully, the upgrades and add-ons are 100% optional.
Vivint Equipment Packages
Pricing is one thing. What you get for your money is something else. After putting Vivint's packages through the paces, I found that it made sense to pay a little more for the bells and whistles of home automation and security cameras. You get more value out of your system that way. That said, no one around here is thumbing their nose at Vivint's basic starter kit. It's one of the best around and you can always build it out.
SkyControl Starter Kit – $9.98 per month or $599 upfront
This kit comes with the Vivint Smart Hub touchscreen control panel, two smart entry sensors, one motion sensor, and two Google Home Minis. The Google Home Mini offer is a fairly recent addition, allowing you to control your system using only your voice. This package also includes Vivint's award-winning Vivint Smart Hub and app. Using the app, you can control all of your devices from your smartphone.3 We have to say, this selection is pretty impressive for a starter kit. Also, Vivint allows for a wide range of customizations. But at a $600 price point, we'd like to see a few more door and window sensors included.

Did You Know: You can use your voice to lock and unlock your doors, turn on and off lighting, arm and disarm your system, and perform other commands using Google Home Minis and smart devices.4
Home Security System Bundle – $11.83 per month or $709.98 upfront
This package includes everything in the starter kit (sensors, touchscreen controls, and Google Home Minis), plus a Vivint smart smoke detector that integrates with the Vivint Smart Home system. In our experience, this device automatically unlocked our smart locks when triggered, allowing firefighters to access the home quickly during an emergency.5 It can also shut off your HVAC system to starve a fire of oxygen. And, of course, the Vivint monitoring center is immediately notified. This bundled system addresses multiple types of security — not just the threat of break-ins.
Smart Home Control Bundle – $17.50 per month or $1,049.95 upfront
This bundle includes everything in the other packages, plus smart home devices like Vivint's Element Thermostat, a smart door lock, and a smart garage controller. Truthfully, we didn't love this option, especially for the price. We've found that most folks don't care about certain smart tech — like a smart garage door opener. So you're probably better off choosing from Vivint's à la carte options for better flexibility.

Tip: Save money by looking for affordable third-party home automation devices that integrate into Vivint systems.
Video Security Bundle – $23 per month or $1,379.95 upfront
This bundle packs quite a punch, and it's hands-down one of our favorites from Vivint. Why? Because it includes cameras; lots of them. On top of everything in the starter kit, the Video Security Bundle includes the Vivint video doorbell, Outdoor Camera Pro, and indoor camera. If you're in the market for cameras anyway, you'll save over $100 by choosing this bundle.
Vivint cameras are some of the best cameras around, particularly the Outdoor Camera Pro. For one, the hardware is impressive. The resolution is set at 1080p, but it has a 4K image sensor with HDR that is excellent at capturing smaller details. The software is another great thing about the camera, as it uses artificial intelligence to detect and ward off would-be intruders.
In addition, the Indoor Camera recently replaced the Ping. It has better detection features and video quality than Ping, plus it has a built-in slot for a memory card for local storage. .
Smart Complete Bundle – $29.83 per month or $1,789.92 upfront
The Smart Complete Bundle comes with all of the home automation devices and video cameras listed in the above bundles and packages. It makes sense for people who want to install state-of-the-art home security and automation. But at $1,789.92, it exceeds the budget for most Americans. With that said, the interest-free, 60-month financing does reduce the price to a more reasonable $29.83 per month. If you'd rather customize your entire system, we recommend purchasing Vivint's Starter Kit and adding equipment as you go.
So that's the word on bundles with Vivint. Before we pivot to Vivint's monitoring options, let's take a moment to focus on some quick stats on this popular brand:
Vivint Features
| | |
| --- | --- |
| Days Tested | 100+ |
| Best For | Home Automation |
| Best Feature | Smart Hub |
| Monthly Cost | $30+ |
| Installed By | Professional |
Now, on to monitoring.
Vivint Monitoring Plans
Vivint offers three professional monitoring plans, all of which provide 24-7 professional monitoring, mobile app control, live service, and tech support. The Vivint Smart Security plan costs $29.99 per month. The Smart Home plan costs $39.99 per month. For video capabilities, the Smart Home Video plan costs $44.95 per month.
Unfortunately, all of Vivint's plans require a 4- or 5-year contract if you finance your equipment. We recommend trying to avoid long-term contracts whenever possible. But the only way to sidestep Vivint's contracts is to purchase the equipment outright. In our research, we found that Vivint is strict when it comes to early termination of service, as you can only get out of your contract if you file for bankruptcy… or die.6 If you finance with Vivint, expect to be in it for the long haul. Here's a roundup of Vivint's plans:
Vivint Smart Security Plan – $29.99 per month
24-7 professional monitoring
Mobile app for remote access
Smoke and CO monitoring
Supports a medical alert system
Vivint Smart Home Plan – $39.99 per month
24-7 professional monitoring
Mobile app for remote access
Smoke and CO monitoring
Supports a medical alert system
Smart home features & integrations
Vivint Smart Home Video Plan – $44.99 per month
24-7 professional monitoring
Mobile app for remote access
Smoke and CO monitoring
Supports a medical alert system
Smart home features & integrations
Supports video monitoring
Vivint Add-On Equipment Prices
One of the things we like most about Vivint is that they make it easy to customize a system to suit your tastes. You can choose from a myriad of add-ons and upgrades, and their systems harmonize with hundreds of third-party devices. For instance, you can connect Philips Hue smart lights, Kwikset smart locks, and the Nest thermostat into one interconnected system.7 Vivint also offers compatibility for smoke detectors, garage controllers, and an ever-increasing list of smart home integrations.
Vivint smart devices include:
Element thermostat
Lighting control module
Car Guard (GPS tracker & diagnostic tool)
Smart garage controller
Video doorbell cameras
Indoor and outdoor cameras
Vivint works with smart platforms and devices, such as:
Google Home
Nest Thermostat
Amazon Echo
Kwikset Smart Locks
Philips Hue Smart Lights
And more!
Vivint also works with Z-Wave compatible devices, which opens up seemingly endless home automation opportunities.8 However, keep in mind that you'll pay good money for this smart equipment. So if you're on a budget, these might not be the best plans for you. Otherwise, you can purchase a fully-loaded Vivint kit, or go with the Vivint SkyControl Starter Kit and customize your system over time.
| Vivint Equipment | Equipment Type | Cost |
| --- | --- | --- |
| Vivint Smart Hub | Control | $399.99 |
| Door or Window Contact Sensor | Sensor | $50 |
| Recessed Door Contact Sensor | Sensor | $50 |
| Wireless Door Tilt Sensor | Sensor | $50 |
| Wireless Glass Break Sensor | Sensor | $100 |
| Garage Door Controller and Sensor | Sensor | $99.99 |
| Wireless Smoke Detector | Sensor | $100 |
| FireFighter Smoke Alarm Detector | Sensor | $100 |
| Flood or Temperature Home Disaster Sensor | Sensor | $100 |
| Passive Infrared Motion Sensor | Sensor | $100 |
| Wireless Carbon Monoxide Detector | Sensor | $100 |
| 4 Button Key Fob Remote | Remote | $50 |
| Panic Button | Remote | $50 |
| Garage Door Controller | Remote | $99.99 |
| Vivint Smart Drive | Storage | $249.99 |
| Ping Indoor 1080p Wi-Fi Security Camera | Camera | $199.99 |
| Vivint Indoor Camera Pro (coming soon) | Camera | $199.99 |
| Vivint Outdoor Camera Pro | Camera | $399.99 |
| Vivint Doorbell Camera Pro | Camera | $249.99 |
| Vivint Spotlight Pro | Outdoor Camera Accessory | $249.99 |
| Kwikset Smart Lock | Lock | $179.99 |
| Nest Thermostat | Thermostat | $249 |
| Element Thermostat | Thermostat | $169.99 |
Vivint Features and Tech
It's not a stretch to say Vivint is the most feature-rich home security system that we've tested, especially in the smart home category. While this news is exciting for many folks, others might find Vivint to be somewhat intimidating and overwhelming. In our experience with Vivint's SkyControl panel (which is now called the Smart Hub), it's easy to arm and disarm your system, control your cameras, view your live-video feed, adjust thermostats, and more. It's all integrated into one smart hub command center for convenient navigation.
You can also take Vivint's SkyControl panel on the go with the Vivint Smart Home app, one of the highest-rated apps in both Apple and Google Play app stores.9 This award-winning mobile app puts the power of the SkyControl panel in the palm of your hand. We liked the app, but we didn't find anything ultra innovative about it compared to other companion apps we've tested.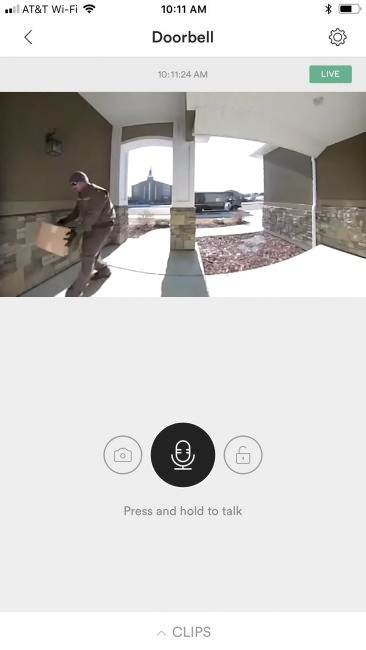 Other standout features from Vivint include instant mobile alerts, reliable cellular monitoring, keychain remote controls, disaster protection, hands-free voice control, and remote garage control. Overall, Vivint offers plenty of features if you're willing to make a sizable investment.
"One thing to keep in mind with Vivint is that sometimes the latest and greatest technology isn't for everyone. Features like Geofencing are excellent tools when utilized properly, but they can also be overkill for families looking for more basic features. I've spoken with homeowners who turned off their alerts and notifications because they were receiving too many, only to one day come home and find their home broken into."
| | |
| --- | --- |
| MOBILE ALERTS | In the event of a possible security breach or fire emergency, Vivint's monitoring service immediately sends text alerts to notify alarm owners and their listed contacts, such as neighbors and relatives. |
| 24-7 MONITORING | Vivint provides 24-hour security monitoring using high-quality cell radio networks. Cellular monitoring is more secure than landline monitoring because it eliminates the opportunity for criminals to cut communication wires. |
| WIRELESS EQUIPMENT | Vivint security equipment is 100% wireless. It won't cause your home to be cluttered with cords, and installation usually doesn't require adding holes to walls. You can easily move your equipment to a new residence. |
| SURVEILLANCE CAMERAS | Vivint's doorbell cameras allow you to view and respond to visitors using a mobile connection from anywhere in the world. Vivint also provides standard indoor and outdoor cameras. |
| PROFESSIONAL INSTALLATION | Professional technicians help ensure that Vivint security equipment is free of defects and set up properly. Installation may be available within a few hours of ordering your security service. |
| SMART HOME OPTIONS | Vivint streamlines home management with an app for arming your residence, controlling lights, adjusting the thermostat, and more. Voice recognition technology is among the options. |
| DISASTER PROTECTION | Smoke alarms are most effective when they're monitored. For comprehensive home protection Vivint provides monitored smoke sensors in addition to home security equipment. |
| REMOTE CONTROL | Keychain remote controls make it convenient to arm and disarm your system without using the touchscreen control panel. Keychain remotes also have panic buttons that directly connect with emergency dispatchers. |
| VOICE RESPONSE | Vivint has partnered with Amazon Echo to offer home automation equipment that responds to voice commands. Get hands-free control of your thermostat, lights, security system and more! |
| REMOTE GARAGE CONTROL | Ever wonder if you forgot to close your garage door? Vivint security can alert you when the garage door is left open. Vivint's mobile app lets you open or shut the garage door from anywhere. |
Current Vivint Deals
Starting at $599 for an equipment package, Vivint home security is certainly not cheap. However, the company often runs deals and promotions throughout the year. Our experts and editorial team stay on top of the latest Vivint offers, and we share them as they become available. These deals might include discounts on packages and à la carte products. We've even seen deals on Vivint's monthly monitoring plans. You can read all about the current Vivint deals and promotions here.
Overall Vivint Value
We've personally tested hundreds of home security systems, and we found Vivint to be one of the most high-tech, sophisticated systems out there. It's almost as if Vivint is a few years ahead of other home security brands when it comes to features and tech. However, this progress comes at a price. Users can expect to pay between $40 and $75 per month for home security and automation. But if this expenditure fits your budget, Vivint will protect your home and family, as well as make your life a little more convenient.
We believe Vivint's biggest drawbacks are its prices and contracts. The equipment packages can reach nearly $2,000 or more with add-ons. This cost can be broken into smaller monthly payments, but then you'll have to sign a 60-month contract to get the goods. That's five whole years! Some people won't mind this commitment at all, while others won't even consider it. All in all, if you have the money to spend, and you want one of the best home security and automation systems on the market, if not the best, then Vivint is likely a great fit for you.
Vivint FAQs
Does Vivint offer indoor and outdoor cameras?
Yes, Vivint offers indoor and outdoor cameras, as well as a video doorbell. In May 2022, Vivint announced its fresh lineup of security cameras that includes a revamped Outdoor Camera Pro and Video Doorbell Pro, the new Indoor Camera Pro, and a smart light accessory to the Outdoor Camera Pro called the Spotlight Pro. Prices of these cameras range from $199.99 for the Indoor Camera Pro to $399.99 for the Outdoor Camera Pro. All the new cameras can store footage locally to a microSD card, which is sold separately.
Are Vivint outdoor cameras wireless?
Yes, Vivint does offer wireless outdoor cameras with advanced features such as Active Deterrence, person detection, and a built-in warning system and siren.
Do Vivint cameras require a Wi-Fi connection?
Yes, Vivint cameras run off a home's Wi-Fi connection and network.
Does Vivint require a landline?
No, you do not need to have a landline telephone line to use Vivint home security. The company's home security system operates using wireless connectivity.
What devices can I use to access my Vivint cameras?
A number of smart home devices working with Vivint cameras. Once you link them, you can connect Amazon Alexa devices, Z-Wave devices, Google Home devices, and Apple HomeKit components to your Vivint home security system.
How much does Vivint cost?
The monthly cost for Vivint's monitoring services are based on the plan selected. The Smart Security Service starts at $29.99 per month. The Smart Home Service starts at $39.99 per month. Also, keep in mind that you can finance your Vivint equipment, which may add to your monthly cost if you decide to do so.
Do you pay for Vivint equipment?
Yes, you pay for Vivint equipment. The company allows consumers to customize the equipment they decide to include, giving you control over the costs. You can also finance the purchase of your Vivint equipment. If you sign a five-year contract, you do not have to pay for the equipment costs upfront.
Does Vivint require a contract?
Yes, Vivint does have contracts. Most systems require a four or five-year service agreement for financing your Vivint equipment. You can avoid the contract if you decide to purchase your equipment upfront.
Can Vivint be used without monitoring?
No, Vivint cannot be used without monitoring. The company's professional monitoring service is a part of its pricing plan and subscription costs.
Can you use Vivint cameras without the monitoring service?
No, you cannot use Vivint cameras without the monitoring service. The company requires users to maintain the monitoring service in order to keep using the cameras and other equipment.