Vivint's Pricing
One thing we'll say about Vivint's pricing is that it's not exactly transparent. We can certainly understand why — these are bespoke systems designed for your property and personal security needs. That said, you're going to have to reach out to the company to figure out the actual dollars and cents.
Pro Tip: Like we said above, Vivint isn't the cheapest option out there. But there are plenty of opportunities to save. Check out our guide to Vivint's sales for all the most up-to-date information.
What we can offer you, though, is a ballpark idea of what to expect. Here we're going to walk through their equipment pricing from top to bottom focusing on three areas you'll need to pay attention to — Vivint's equipment fees, their monthly monitoring fees, and the one-time installation fee. Let's jump into it.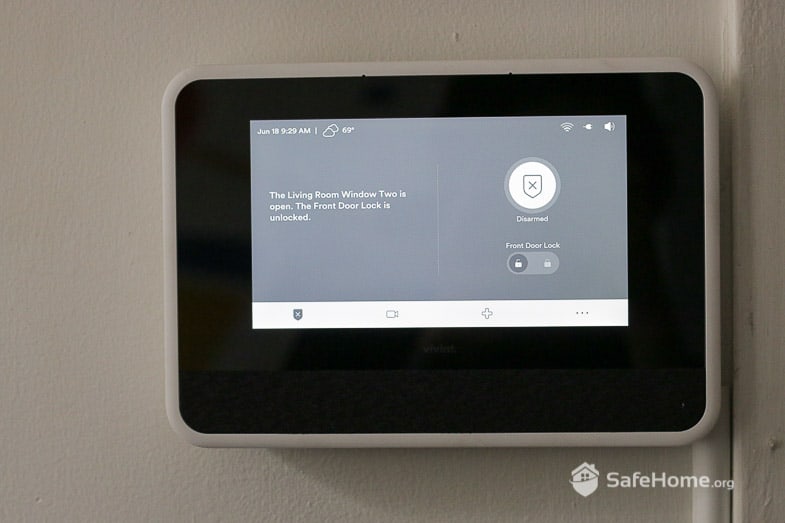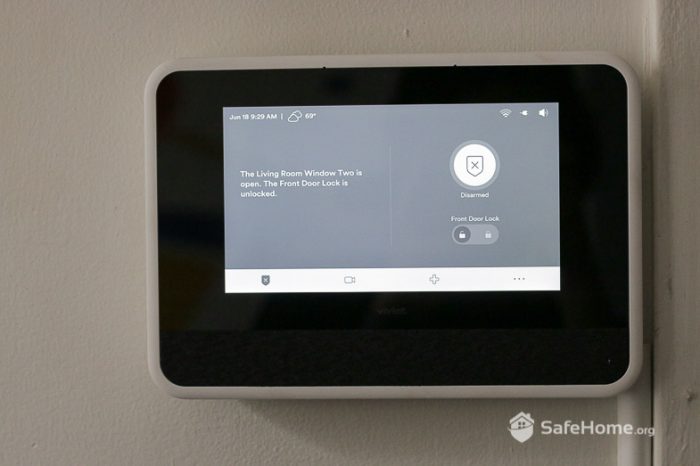 Equipment Fees
As is the case with most security systems, your biggest cost with Vivint is going to be the equipment itself. Exactly how much are you going to pay? It's a good question, and unfortunately one that we can't easily answer here.
Since your Vivint system is going to be customized for your specific security needs, your total bill is going to be dependent on how much equipment you purchase. A townhome is going to need less protection than a sprawling estate, right?
We will say, though, that you should expect to pay at least $1,000 at the end of the day. Now you might balk at that number, especially when you consider a DIY brand like SimpliSafe's cheapest packages will run you about $200.
Don't freak out just yet about the costs, though. Vivint doesn't force you to pay for everything up front. With their Flex Pay plan, you can split everything up over the course of 60 months. There are, of course, some stipulations, but at the end of the day you're looking at between $10 and $30 per month for the equipment. Now things are looking a little more palatable.
At any rate, Vivint's equipment is top-notch, so even though they're a bit more expensive, you get what you pay for.
Vivint Package Pricing
| Vivint Package | Monthly Price | Upfront Price |
| --- | --- | --- |
| Basic | $10.00 | $599.00 |
| Premium Plus | $37.17 | $2,229.92 |
| Premium | $21.34 | $1,279.96 |
Keep in mind you can always customize these packages, or you can build out your own custom security kit.
Monthly Monitoring Fees
Monitoring with Vivint is relatively straightforward. Whichever package you select, it will include 24/7 monitoring that costs $51.47 per month.
The good news is that these prices are about square with the industry averages — maybe a little lower, even, when you compare them to other high-end home security providers.
Here's the thing, though: Other companies will include base equipment in their packages. ADT's plans cost a bit more, but each of those packages includes three or more sensors as well as a touch-screen control panel. With Vivint, everything is à la carte. The benefit there is that you have a much more customizable package. The drawback, of course, is a larger startup bill.
Professional Installation Fee
Finally, Vivint requires professional installation that costs $99 for all plans and packages. From what we've seen, this cost is standard in the industry and certainly not a deal-breaker. After all, having your system installed by a professional technician will ensure everything is set up and networked properly.
When all is said and done, you'll pay anywhere between $40 per month and $75 per month for home security and automation with Vivint. If you purchase the equipment upfront, you can pay as little as $29.99 per month for professional monitoring, as Vivint doesn't offer a free self-monitoring option. Vivint charges a premium compared to the market as a whole. But when measured against similar high-tech systems, Vivint prices are par for the course, especially considering the features and technology. You can read more about Vivint's features and tech in our full Vivint review here.
Pro Tip: If you purchase Vivint equipment upfront, the remaining monthly fee makes Vivint as cheap as some DIY systems.
Beyond those three main pricing factors, there's one more cost factor to consider: Vivint's add-ons and upgrades. We cover these equipment options below, but brace yourself, as Vivint gets expensive when you start customizing your system with extra devices. Thankfully, the upgrades and add-ons are 100% optional.