Written By: SafeHome.org Team | Updated: August 2023
Time is of the essence when it comes to fires at home. In two short minutes, a fire can become life-threatening. In five minutes, flames can engulf an entire home. Of course, prevention is just as important. From January 1, 2018, to January 1, 2023, a five-year period, the news media reported a total of 11,180 home fire deaths in the United States. Many, if not all, were avoidable.
It's essential for residents and families to become familiar with how fire spreads, the leading causes of home fires, and various fire safety methods. Awareness has resulted in fewer fire deaths in past years, but the number is still pretty high, especially considering that residential fires are preventable.
Staying safe from fires at home begins with you. Take action with the tips below.
Insight from the Experts
Curious to see what the professionals have to say about fire prevention at home? Here are some interesting bits of insight from fire officials: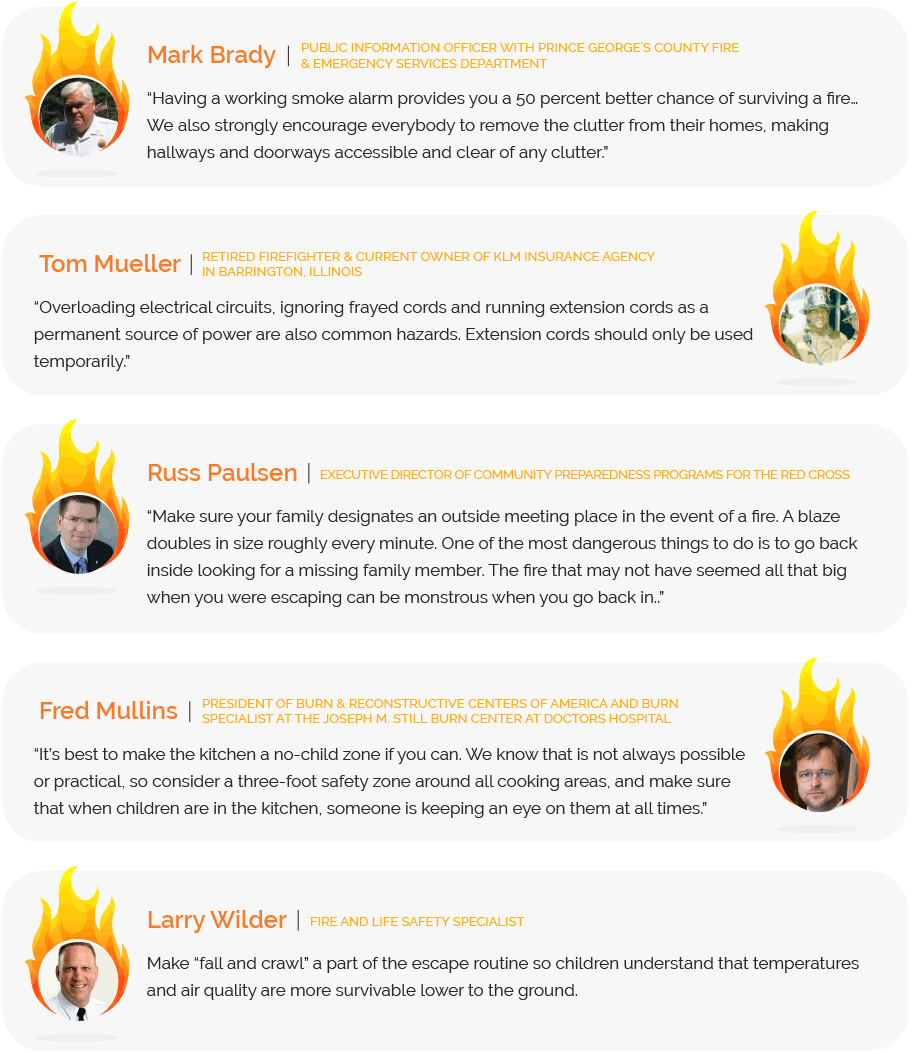 Fire: Fast Facts
Before we get into the details of fire prevention at home, let's go over fundamental facts to understand fires better.
Shocking Statistics about Home Fires
Fire Safety Tips
In any discussion about fire safety, we always start with the facts. They are indisputable, after all.
Here are a few, courtesy of the American Red Cross:
Every day, 7 people die from a house fire. Children and the elderly are the most impacted.
About 80% of all civilian deaths from fire occur in the home.
The No. 1 cause of most house fires is unattended cooking.
As homeowners, we might not be able to prevent every single opportunity for a house fire. These things do happen, but fortunately, we have a great number of fire safety tips and tricks at our disposal to be as prepared as we possibly can.
According to a fire safety report, cooking, heating, and electrical equipment are three of the biggest factors in fire injury or death. So that's always something to keep in mind: Knowing more about fire risks will help you protect your home.
Do you know if your smoke detectors are wired? Do they have a battery? If so, how long are they supposed to last? Have you labeled your smoke detectors or created a schedule to check in on them? These are all important questions when thinking about fire safety tips.
5 Tips for Preventing a Residential Fire
House fires are preventable. Every homeowner and family member should take the time to do the following to ensure fire safety.
Common Causes of Fire at Home
Avoid starting a fire by getting to know common causes:
A Quick Note on Home Fire Sprinklers
The Home Fire Sprinkler Coalition offers a video with top-and-bottom comparisons of a home fire in a house with sprinklers and a home fire in a house without sprinklers. It gets the point across better than a long list of numbers might (also notice the disorienting, pitch-black effect of fire mentioned earlier). In a nutshell, fire sprinklers significantly increase your family's odds of safe escape. They contain or put out fires, and minimize property damage.
Many homes don't have them, but they're worth considering if you have the means to install them. If you're looking for a new place to live, you might prioritize residences that already have sprinkler systems. If you are building a home from scratch, new-construction sprinklers cost about $1.35 per square foot of space. It's possible to retrofit sprinklers into your existing home, although it costs more.
Conclusion
You might think that these fire safety tips are common sense. However, it's easy to overlook them especially when you're busy and stressed about work, the holidays, and more. The most basic precautions can slip through the cracks of daily life. So, whether you're reading this piece for knowledge or to get a much-needed reminder, know that you can never take it too safe with fire prevention at home. Taking the necessary measures saves a ton of hassle and your precious belongings and your loved ones!
Additional Resources
The following resources should expand your fire prevention and safety knowledge in multiple areas.
Fire sprinklers could save your life. This resource explains why, discusses the costs and types of fire sprinklers, and how they're useful for senior citizens, people with disabilities, children, and pets.
Check out Sparky the fire dog, courtesy of the National Fire Protection Association. A dalmatian, Sparky debuted in 1951 and offers fun ways for kids to learn about fire. The website has free apps and a section for parents. It's complete with resources such as a fire inspection checklist and how to make a fire escape plan.
National Fire Protection Association: Public Education
Learn about fire causes and risks, including regional and behavioral risks, and specific groups at risk. Take tangible steps to stay safe, including in high-rise buildings and nursing homes—no guesswork needed.
Research fire prevention, including the most recent studies on fire detection and suppression. Investigate U.S. fire statistics, state fire profiles, and other data.