Travis Goodreau
https://www.safehome.org/security-advisors/travis-goodreau/
Best Home Security Systems for Pet Owners
If you have one or more pets, you should consider a pet-friendly home security system. These systems come with pet-sensitive motion sensing to reduce false alarms. See a list of our favorite pet-friendly systems below. Fido will thank you.

Anyone who has a pet will tell you their pets are as much a part of their family as their kids. And if you don't have any kids, you know that your pets are your kids. So it only makes sense that when shopping for a security system, one of the things you are probably looking for is the best home security systems for pet owners. Why? Because they're family!
1. SimpliSafe – Best Overall Pet Friendly System (Editors Choice)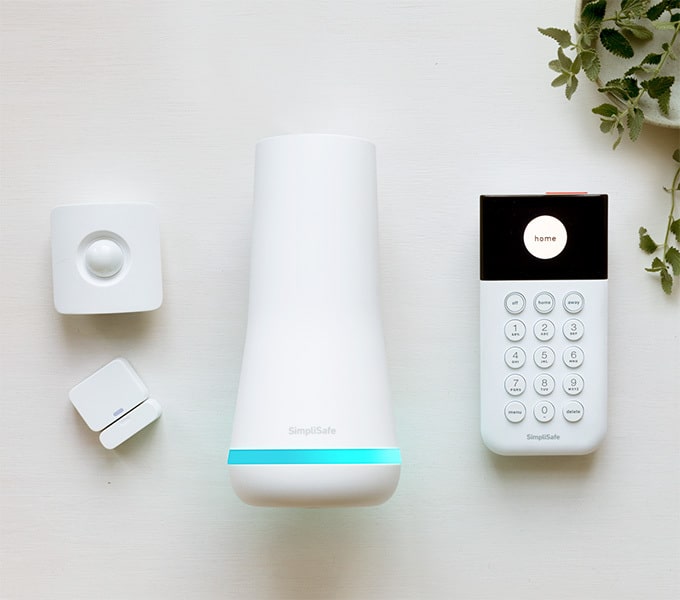 SimpliSafe offers pet-friendly security systems that have sensors with a higher weight range than most other pet-friendly security systems. SimpliSafe's motion sensors are good up to about 50 pounds, whereas other pet-friendly security system sensors are only good for up to about 30-40 pounds.  Additionally, they come with some popular features that make them one of the best home security systems for pet owners and they're an overall great home security system as well.
Pros
Motion Sensor Identification (30-50 pounds)
Portable
Low Monthly Rates
Easy DIY Wireless Installation
No Long-Term Contracts
Indoor Video Monitoring
Fire/Smoke/Carbon Monoxide Monitoring
Cellular Alerts
Alarm Works Without Monitoring
60-Day Equipment Trial
Award-Winning Monitoring Services
Long-Lasting Battery Backup
Cons
No Home Automation
Up-Front Equipment Expense
Proprietary Equipment
If you don't like signing long-term contracts, you will love SimpliSafe because they don't have a contract requirement. In fact, they give you the option of a self-monitoring plan free of charge or a professionally monitored plan for a minimal monthly fee. Additionally, their equipment is very easy to install and works whether you opt for a monitoring plan or not. In fact, all you have to do once you receive your system is plug in the base station, place your sensors in the desired areas, then adjust the settings with your computer. That's it! The SimpliSafe website also has a five-minute setup video you can watch as well.
The SimpliSafe equipment packages range from approximately $229-$499 and come with a three-year warranty. They are also portable, very user-friendly, and easy to install. Additionally, SimpliSafe gives you 60 days to try everything out and if for any reason you aren't satisfied, you can return the equipment and receive a full refund for your purchase.
2. Vivint – Best Home Automation Features


Vivint offers a wide variety of pet-friendly home security equipment options such as motion sensing cameras you can use to monitor your pets and home automation equipment you can use to lock and unlock your doors for pet sitters. They also offer some advanced pet-friendly options aside from video monitoring such as fire/smoke and carbon monoxide monitoring.
Pros
Motion Sensor Identification
Indoor and Outdoor Cameras
Video Monitoring
Sleek Contemporary Equipment
Environmental Disaster Protection
Lifetime Warranty
Cellular and/or Landline Connections
Remote Access
Home Automation
Doorbell Camera with Two-Way Voice
Cons
Professional Installation Required
Long-Term Contract Required
Short Trial Period
Above-Average Monthly Cost
Vivint is a high-end home protection company with a focus on home automation. The Vivint equipment is 100% wireless and every package comes with professional installation. That means a technician will connect your system to a powerful cellular network or landline for emergency coverage and monitoring
Vivint has three equipment packages and two monitoring plans that require either a four- or five-year contract. Additionally, each plan comes with home security and environmental protections such as fire and carbon monoxide. And the top two tier plans support video security and home automation with voice commands for hands-free control.
There is one thing that could limit potential Vivint customers though as Vivint requires a minimum credit score of 600 if you want their services. However, if you don't qualify, you can opt for their monitoring-only contract. Another thing to keep in mind is that Vivint is one of the few alarm companies where you might be able to negotiate prices. Especially if you have a contract with another home security company. Or, if you are a new Vivint customer, you might be able to negotiate waivers for any number of things. So go ahead and give it a try. What do you have to lose?
3. Frontpoint – Best DIY Install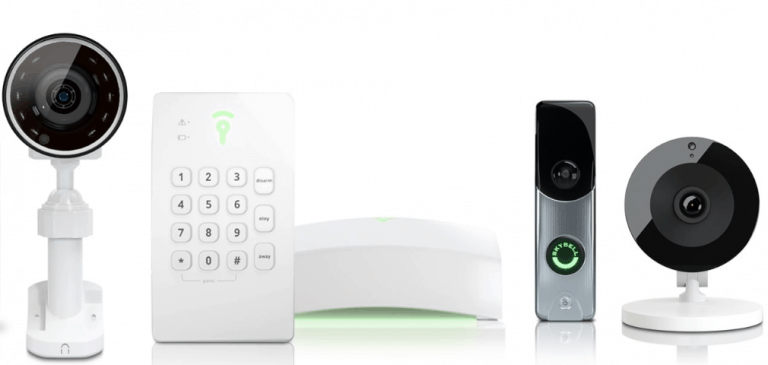 Frontpoint has pet-sensitive motion detectors for pets up to 40 pounds. Their pet-friendly alarm systems also come with 24/7 environmental sensors for fire/smoke, flood, and carbon monoxide that will send an alert to the monitoring station if such activity is detected. Frontpoint also offers video monitoring, home automation, and more. So you can rest a little easier when you leave your pets at home.
Pros
Competitive Pricing
Exceptional Customer Service
Video Monitoring
Home Automation
Environmental Disaster Protection
Motion Sensor Identification (up to 40 pounds)
DIY Wireless Installation
Cellular Alerts (no landline required)
Optional Indoor and Outdoor Cameras
Equipment Is Not Proprietary
30-Day Money-Back Guarantee
Cons
Might Not Be An Option for Homes with Pets of More Than 40 Pounds
Long-Term Contract Required
Credit Check Could Raise Prices
No Landline Option Available
Frontpoint is often rated as one of the best security companies for emergency monitoring; however, they might not be an option for those with pets over 40 pounds. However, for households with smaller pets, they have generous equipment packages, competitive prices, and their equipment is extremely easy to set up. Additionally, their customer service is exceptional and better than most.
Frontpoint has three equipment packages that range from $199-$350. They also offer three monitoring plans with either a one- or three-year contract which ranges from $34-$50 per month. However, to get the equipment package pricing, you have to sign a three-year agreement. You can also customize a package if you prefer. The Frontpoint equipment is DIY and can be set up in about 30 minutes, so there's no need for professional installation.
4. Protect America – Most Affordable Pet Friendly System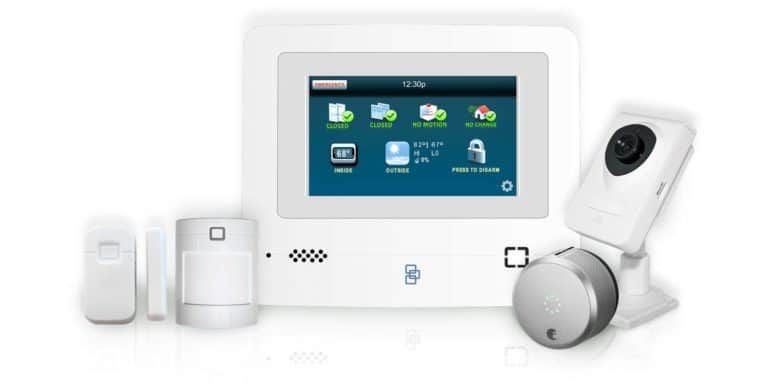 Protect America offers animal-proof motion sensors for pets up to 40 pounds. However, if you have larger pets, the company suggests you opt for its glass break sensors instead. This will help eliminate the possibility of receiving false alarms triggered by your pets. They also offer video monitoring, fire/smoke and carbon monoxide monitoring and a wide variety of home automation features.
Pros
Motion Sensor Identification (up to 40 pounds)
Low Price Guarantee
DIY Wireless Equipment
Cellular, Wi-Fi, or Landline Monitoring
Indoor Video Cameras
Environmental Disaster Protection
Home Automation
Smartphone Controls
Equipment Replacement (as needed) Policy
14-Day Trial Offer
Cons
Three-Year Contract Required
More Expensive Than Most Average Cellular Monitoring Prices
Starter Fees
No Outdoor Video Cameras
Customers Only Lease Equipment (they don't own it)
Protect America is another one of the best home security systems for pet owners. Mainly because of the motion sensors, indoor camera options, and home automation features. All Protect America equipment is wireless and they offer a price match guarantee so you know you are getting the best deal possible. However, they do have an automatic renewal policy; therefore, you have to give them a 60-day notice of cancellation at the end of your existing contract or it will be automatically renewed.
Protect America security offers a 14-day trial, their equipment fee is $99 for the basic set up, and they will repair or replace faulty equipment as needed. Please note, you can cancel your Protect America contract within the first 30-days, but they will charge you a $19.95 account activation fee if you do so. Also, you don't own the equipment, so you will have to return that equipment when you cancel your monitoring plan.
Protect America has five available security equipment packages which range from $19.99 to $42.99 per month. And, their equipment can be installed in less than an hour and without the need for special tools.
5. Petcube – Best Pet Interaction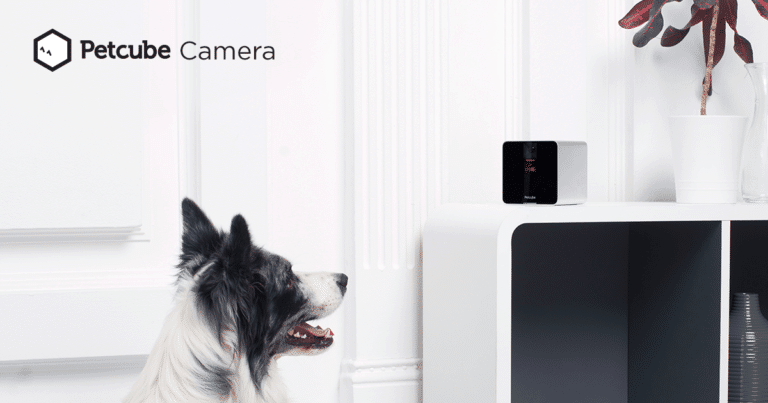 If you are a pet owner, you are going the love the Petcube concepts. They offer an interactive Wi-Fi pet camera system that enables you to monitor, play, talk, train, and reward your pet (with dispensable treats) remotely. They have two different types of cameras and each has a different function.
Pros
Wireless
DIY Installation
Remote Control Capabilities
Wi-Fi and 3G Cellular Alerts
Optional Video History Storage
Laser Autoplay Mode Now Included (new feature)
Cons
Pet Monitoring Only (no home security option available)
Extended Video Storage Options Are a Bit Pricey
Wi-Fi Setup Can Be Problematic at Times
The two Petcube options are the Petcube Bites which allows you to see and talk to your pet, as well as remotely fling them treats that are dispensed from the camera. They also have a Petcube Play, their bestselling pet cam, that comes equipped with a laser toy so you can remotely interact and play with your pet in 1080p HD. Additionally, they also have Pet Camera Packs which are multiple pet cams and a variety of accessories. In addition to that, they have monthly plans ($4.99-$24.99 per month) available that give you the option of storing your video history along with a multitude of other valuable apps, subscriptions, offers, and discounted shopping options at any one of their preferred providers.
The Petcube cameras are probably the most innovative interactive video camera options out there for pet owners and one that is a "must have" for most of them.
Features of Pet Friendly Home Security Systems
Home security systems that are ideal for pet owners have all or some of the following features:
Wireless or Wired
Go with a wireless pet-friendly home security system, and you'll enjoy simple DIY setup with no pesky wires to hide. Hardwired systems, on the other hand, often require professional install and lots of drilling and splicing circuitry. Both types of security systems have their advantages, but wireless is fast-becoming the popular choice for pet owners.
Expandable
Pet owners tend to value variety, options, and upgrades. So it's wise to purchase a pet-friendly home security system that is expandable. An expandable system allows for seamless integration of third-party devices. Add indoor and outdoor cameras, smart locks, automatic garage door openers, and other home automation features. With an expandable system, you're only limited by your imagination.
Remote Viewing
Is Sparky behaving today? Find out with Remote Viewing. This feature allows you to view live video from your smartphone. See what your pets are up to, and even talk to them using PetCube or a similar feature. Remote viewing also becomes mighty helpful when you're alerted of a security breach. Pipe in your voice to tell porch pirates and intruders to get lost.
Entryway Sensors
Entryway Sensors are a standard feature included with pet-friendly security systems. The magnetic sensors are easily mounted on doors and windows. When the magnets separate, the alarm sounds and mobile alerts are sent. Sure, your St. Bernard helps to deter criminals. But entryway sensors monitor every last entry point in your home — a job too big for even the most loyal hounds.
Motion Detectors
Today's pet-friendly security systems have cracked the code when it comes to motion detectors. Traditional motion detectors sounded the alarm at any movement — people or pets. But modern motion detectors can easily distinguish between, say, Aunt Sherry and Shiloh the shepherd. When suspicious activity is detected, these pet-sensitive detectors sound the alarm and send real-time alerts.
24/7 Monitoring
Cats don't exactly make the best home security guards. Thankfully, the top pet-friendly security systems offer 24/7 Monitoring. A reasonable monthly fee gets you around-the-clock home protection from the pros. If there's ever a security breach, the monitoring center is alerted and emergency personnel responds within seconds. Pet owners looking for a robust home security experience should consider 24/7 monitoring.
Mobile Control
Monitor your pets and property from anywhere in the world with Mobile Control. This feature comes standard with most pet-friendly home security systems. Simply open the mobile app to access, monitor, and control your system to your heart's content. Depending on your plan, you can view live-streaming video, use two-way talk to comfort lonely pets, arm and disarm the system, and more.
Control Panel
Your Control Panel is your command center. The best devices in this category offer wide-window touchscreen technology, well-designed icons, two-way talk, and ultra-easy navigation. Almost every control panel includes a siren and panic button. Go with a premium pet-friendly security system that offers premium control panels. And remember, you can access these same features on-the-go with mobile control.
Night Vision
Even dogs can't see in the dark. That's where Night Vision truly excels for pet owners looking for home security. Thankfully, most indoor and outdoor camera systems come stacked with infrared LED night vision technology. This allows you to capture night-time video as if it were broad daylight. Don't let criminals have their way. Stop them in their tracks with night vision.