Travis Goodreau
https://www.safehome.org/security-advisors/travis-goodreau/
Best Home Security Systems for Garages
Since many people store vehicles, tools and other valuables in their garages; securing a garage door is important. Check out our list of the best garage door security systems below.

If you have a garage, then it is important to keep it secure to prevent theft and burglaries. Unfortunately, the garage is an often overlooked gateway for thieves. If your garage is attached to your home, then it is even more imperative that you secure it from thieves. The garage door is the entryway that many people use the most. It is easy to drive away and forget to put it down. Fortunately, home security technology has come a long way. Many alarm systems allow you to open and close the garage door when you are away from home. Others can send alerts to your phone when the door is ajar. Here are the best home security systems for garages.
1. ADT – Best App Control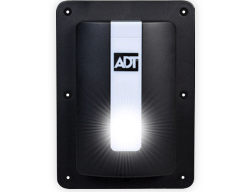 ADT offers alarm systems customized for your home. The systems are customized in a way that works best for you and your budget. ADT's Garage Door Monitor allows you to check on your garage door anytime. You can use your smartphone to check whether your garage door is locked and get alerts when it is opened. ADT also allows you to automate garage door functions using Amazon Alexa and modes. You can ask Alexa to open and close your garage door.
ADT offers several outdoor security cameras that you can use to keep an eye outside your garage. They are motion-activated and provide crisp, clear images and weather-proof design.
Pros
Customizable alerts and notifications
24/7 professional monitoring
Live video footage and recorded clips
Control from virtually anywhere
6-month money-back guarantee
Indoor and outdoor video monitoring
140+ years of experience
Smart home control
Live stream from mobile device available
Cons
Expensive system
Monthly monitoring is required
Top tier plan required for video monitoring
ADT is a well-known security company that has been in business for more than 140 years. This makes ADT a great option for anyone who wants reliability and expert customer service. They can help you design the perfect security system for your budget and needs.
While ADT offers an excellent product, it is more expensive than some DIY systems on the market. However, you are paying for a well-known product that comes with a 6-month money-back guarantee.
2. Vivint – Best Home Automation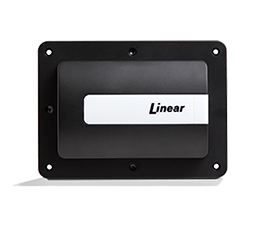 Vivint offers comprehensive home security and automation. The company offers everything that you need to secure your garage, and keep a watch on the rest of your home too.
Vivint's Smart Garage Door Opener allows you to open and close your garage door from anywhere, receive notifications and alerts when the door is left open and prevent unauthorized entry.
The Smart Garage Door Opener is part of a complete home security system that allows you to secure and monitor your home. The SkyControl Panel is the hub and controls the system. You can add smart locks, garage door control, outdoor cameras and more to the system.
The Total Front Door package lets you control your garage door, smart lock and doorbell camera from anywhere. It comes with professional installation and includes access to the Vivint Smart Home app. Vivint offers 24/7 monitoring. It also works with Google Home, Amazon Echo and Nest Thermostat.
Pros
Complete home security and automation
24/7 professional monitoring
High-quality video monitoring and recording
Extensive smart home integration.
Cons
Equipment is expensive unless you purchase a monthly monitoring contract
Monthly monitoring costs are expensive
There is a charge with installation/activation
Vivint's Smart Home Security Systems combine security and surveillance, 24/7 professional monitoring and smart home control in one easy-to-use system. This system is an excellent choice for anyone looking for solid garage door security.
The price tag for Vivint's Smart Home security system is pricey depending on what features you choose. Plus, Vivint requires a monthly monitoring contract unless you purchase the equipment up front. To gain access to Vivint's features, you will need to have a monitoring monthly plan.
3. Frontpoint – Best DIY Garage Security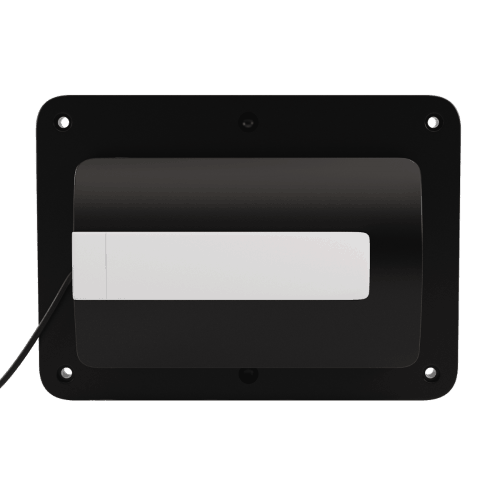 Frontpoint offers advanced home security equipment and sensors, excellent customer service and 24/7 professional monitoring. You can design a customizable home security system that gives you exactly what you want. The price-lock guarantee means that the cost of monitoring your Frontpoint home security system will never increase.
Frontpoint is one of the top home security systems for garages because the system allows you to remotely operate your garage door. Simply pair the Frontpoint Garage Door Controller with your current garage door opener and you can open and close your garage door from anywhere in the world. You can receive notifications and alerts whenever your garage door is opened or closed. Simply check the Frontpoint App to see the status of your garage door. The Frontpoint Garage Door Controller features a built-in sensor that detects moving objects within the area. If a moving object is detected, a visual and audible warning is triggered.
Frontpoint also offers a wireless Wi-Fi Outdoor Camera that can be used to monitor outside your garage. It features 40-feet of detection in night vision mode.
The Frontpoint system is easy to install. All the security system components are configured. The sensors are already preprogrammed so the devices are ready to use right out of the box. You won't need to break out special tools for wiring or drilling. Everything is super simple to install.
Pros
Easy DIY setup
Professional, 24/7 monitoring
Wire free home security
Powerful encryption
Fully-integrated home automation
Redundant backups for power outages
Price lock guarantee
Cons
Upfront costs for equipment.
Requires a one-year or three-year monthly monitoring contract.
Top-tier plan required for live video recording.
Frontpoint offers a customizable DIY home security system that includes excellent garage security features like a smart home garage door opener and outdoor camera.
With Frontpoint, you will be required to purchase the equipment upfront. Although Frontpoint's security system is pricier than some competitors, it works well.
Why Garage Door Security Is Important
Of all of your outside doors, your garage door is probably one of the most at risk when it comes to security. Garage door openers usually feature an emergency release lever. This lever has a cord that hangs down. All you have to do is pull the cord and the door opens. Anyone with a clothes' hanger can reach into your garage and pull the cord. Once thieves break into your garage, it is usually pretty easy to gain access to the inside of the home.
A home security alarm can significantly increase your garage security. Add outdoor cameras to the exterior of the garage and you have a very secure access point.
Garage Doors & Home Automation
The newest home security offerings on the market feature not only security but automation, as well. So, you can open and close your garage door while you are at work or away on vacation. Many also feature automatic notifications and alerts that let you know if you left the door open or if someone is moving around inside your garage.
How to Make Your Garage Door Smart
If you're wondering how to really make your garage door smart, you should start by going with a home security system that offers a garage door sensor. The companies we highlight above each offer a smart sensor that mounts to your garage ceiling. You'll also want to download the mobile companion app offered by the security company you choose.
Armed with the app, you'll be able to control your garage door from pretty much anywhere in the world. Heading to the airport to catch a flight but wondering if you've forgotten to close the garage? No problem. Just pop into the app to see your garage door status, and a simple flick of the thumb makes your home safe and secure.
Another thing to consider to make your garage door smart is purchasing a garage door sensor that's Z-Wave compatible. If it works on the Z-Wave protocol, you'll be able to set all types of home automations. For instance, want your smart lights to come on when the garage door is opened? You can do that with Z-Wave. Want your smart locks to automatically lock when your garage door closes? You can do that, too. As you can see, there are lots of ways to make your garage door smart.
Features of Garage Security Systems
When choosing a garage security system, look for the following important features. These are some of the most helpful features of garage security systems.
Specialized Alert Zones
Specialized Alert Zones is a great feature that comes with select garage security systems. Configure custom alert features for areas of the home that house high-value items (like your garage). It's a wise choice to get a home security system with Specialized Alert Zones, especially if you live in a larger home, or keep a fancy car or expensive tools in your garage.
Door Locks
Step into streamlined home protection with Door Locks. A garage security system that features smart door lock capabilities lets you remotely lock and unlock your door. Many offer helpful mobile activity alerts and notifications. If someone attempts to gain access to your home through your garage, you'll be the first to know with a door locks feature.
Mobile Alerts
The technology that ties it together. Mobile Alerts is a garage security feature that keeps you in the loop. Whether at work, visiting family in another state, or halfway around the world on vacation — these alerts ping your smart device when you leave your garage door open or ajar (it happens). Remember, if you give a burglar an inch, they'll take a foot and your stuff.
Remote Access
Open sesame. It's really that easy with Remote Access, an impressive feature for many garage door security systems. Need to let the kids in after school? How about the dog walker? Remote Access allows you to remotely open and close your garage door, anytime, from anywhere, for any reason. Look for Remote Access — a feature that does not disappoint.
Entryway Sensors
Entryway Sensors come standard with home security systems that work with garage doors. Strategically place these magnetic sensors on door frames, windows, and even your garage door. When the magnet sensors separate, the alarm sounds and mobile alerts are sent. Entryway Sensors are simple but highly-effective when it comes to stopping break-ins.
Motion Detectors
Here's another brilliant feature for ultimate garage security. Motion Detectors are mounted in your garage and elsewhere in your home. When they detect movement, the alarm sounds and alerts are sent. Many are powered by sophisticated technology — the type of tech that can distinguish between people and pets and even offer facial recognition. Add this extra layer of protection to keep burglars at bay.
Outdoor Cameras
The best garage security systems come stacked with Outdoor Cameras, or camera compatibility. This feature lets you keep a finger on the pulse of your home. Most criminals won't even bother touching your home if they see a camera. But just to be sure, get infrared LED night vision for crystal clear imaging, even in the darkest hours of night.
Outdoor Lights
Shed some light on the situation and send burglars packing with Outdoor Lights. Outdoor Lights are triggered by motion, illuminating your garage door, driveway, and any suspicious activity. Smart outdoor lights will even integrate with garage security cameras. The best systems automatically flood an area with light and begin recording when motion is sensed. Criminals hate it. Homeowners love it.
Garage Door Control
Transform your garage door into the smartest garage door on the block. With Garage Door Control, you can remotely open and close your garage door — no matter where you are in the world. But sophisticated functionality is what sets this feature apart from the remote access feature. With Garage Door Control, give permissions to multiple users, track activity via nifty mobile app, and more.