Best States to Raise Children
How Safe Is Your State To Raise Children?
Written By: SafeHome.org Team | Updated: July 20, 2023
For any parent, the safety of their children is their single biggest concern. People want their kids to live in places where they can lead long lives filled with health and happiness. And while each family's choice about where to raise children is without a doubt based on dozens of individual factors specific to those families, some U.S. states do tend to present a better picture for children than other states.
Our team of experts analyzed data across a range of state-level measures — child abuse, homicides, school shootings and poverty — to create a ranking of the most (and least) safe states to raise children in the U.S.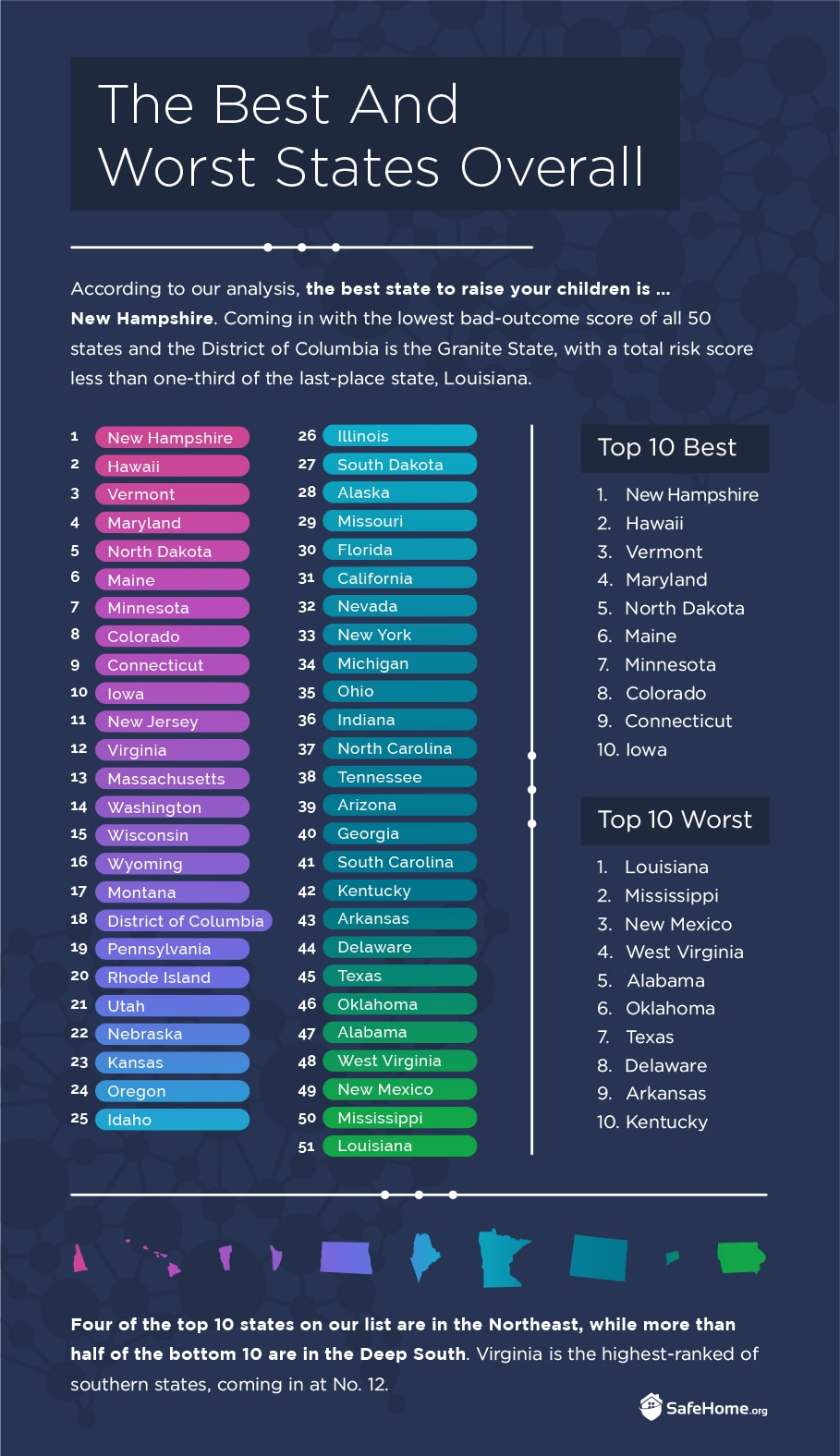 Rounding out the top 10 are, in order, 1. New Hampshire, 2. Hawaii, 3. Vermont, 4. Maryland, 5. North Dakota, 6. Maine, 7. Minnesota, 8. Colorado, 9. Connecticut and 10. Iowa.
The state that scored worst on our list was Louisiana, and it was beaten by 50. Mississippi, 49. New Mexico, 48. West Virginia, 47. Alabama, 46. Oklahoma, 45. Texas, 44. Delaware, 43. Arkansas and 42. Kentucky.
Child Abuse And Maltreatment
There is no broad national definition of what is considered child abuse, and the national data that is available covers medical neglect, physical abuse, psychological maltreatment, sexual abuse and other forms of abuse perpetrated against children by caregivers.
However, many states do not report some forms of abuse to federal databases. For instance, in 2016, only 40 states reported medical neglect, while all of them reported some data overall. This is a signal that perhaps authorities or reporting bodies in those states aren't educated enough about what medical abuse is, or it could be that the states simply don't distinguish.
Neglect is by far the most common type of child abuse reported in the U.S., accounting for nearly 65 percent of child abuse cases.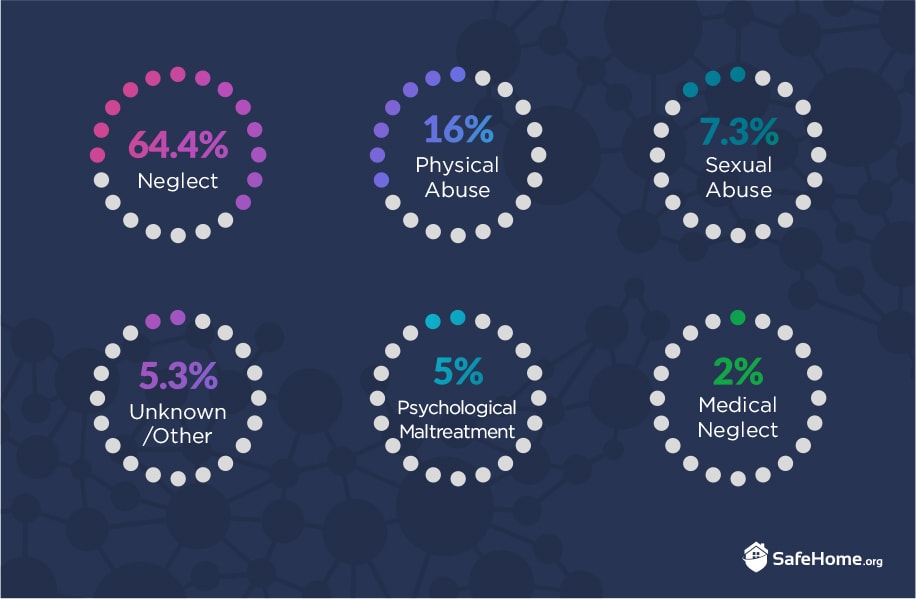 There are major variations in which states are best and worst for each major type of child abuse reported, Hawaii ranks in the top 5 for each category, meaning it has relatively low rates of child abuse across all the areas reported. Massachusetts, which is in the top 15 overall for child safety, actually has the highest neglect rate reported; West Virginia's physical abuse rate is the highest; and Arkansas has the highest rate of reported sexual abuse.
A report of child abuse is made every 10 seconds in the United States, and the U.S. has among the worst child abuse and neglect records in the industrialized world.
Child abuse and neglect have long-term consequences, with the emotional and psychological scars lasting long after bruises have healed. Studies have repeatedly tied traumatic childhood events (abuse, incarceration of a parent or mental illness and addiction in the family, among others), to poor adult health and even premature death.
If you see something, say something. Report suspicious behavior to police, local agencies or call the Childhelp National Child Abuse Hotline at 1-800-422-4453.
Learn more about the signs of child abuse here.

Other Bad Outcomes
There are hundreds of considerations that affect a child's chances of living a safe and happy life. For our overall ranking, we've included poverty, as it's often a predictor of a host of other issues.
Let's take a closer look at those other issues (not all necessarily are tied to poverty) as well as taking a closer look at the states' poverty statistics.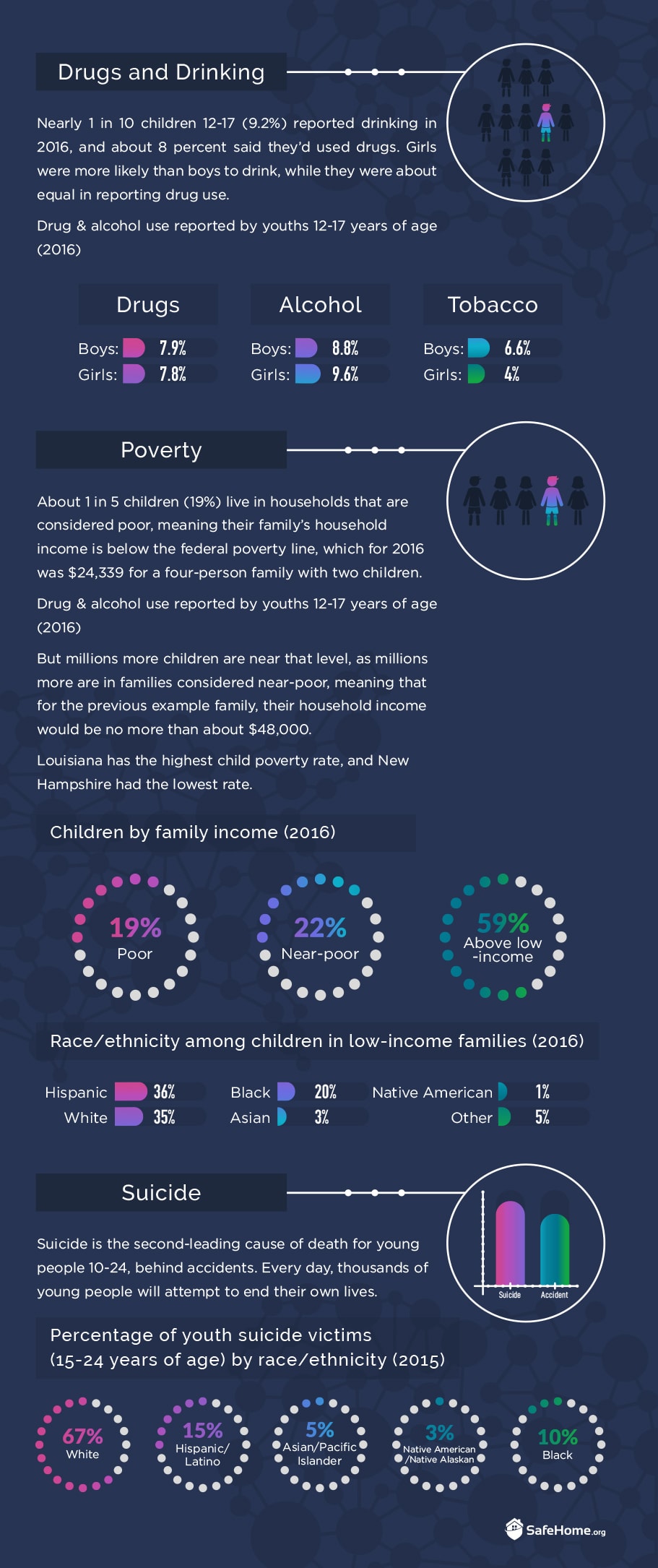 Better-Informed Parenting
There's never any guarantee that your kids will grow into healthy, well-adjusted, kind individuals, and there's no doubt that's every parent's toughest job. The good news is we live in an age when pretty much all the information you could possibly need is right at your fingertips. So whether this study helps you in deciding where you want to raise a family or you're interested in other data points that can help you make an informed decision, deciding where to live shouldn't just be a matter of throwing darts at a map.
About This Ranking
To create a simple analysis, we used the following four measures:
1

Child abuse: Rates of children being subjected to neglect, physical or sexual abuse or psychological maltreatment. It's important to note that state definitions of what constitutes abuse differ, and, as explored earlier, most instances of abuse are neither reported nor investigated. However, this measure does reveal some broad trends.

2

Homicides of children: The rate at which juveniles are killed in each state (well, most states; Florida has not published this information, so that state's youth homicide rate is unavailable).

3

School shootings: Using Washington Post data, this takes into account the rate of injuries and deaths caused by school shootings since the Columbine massacre in 1999. It's important to note that no national governmental database exists on this subject.

4

Poverty: The rate at which children live in poverty in each state, meaning how many people under 18 live at homes where household income falls below the federal poverty line.
What's not in the ranking: The four areas we measured — child abuse, homicides, school shootings and poverty — are quite broad, and that's on purpose. Each of those measures can be understood as a proxy for broader societal problems, and we wanted to create a ranking that would be easy to understand without a degree in advanced mathematics. For instance, though we discussed broad figures, we did not include kidnappings in the overall ranking. That's because, much like for child abuse laws, kidnapping does not have one single blanket definition.
The incidents per 100,000 population were then added together to create the total ranking, meaning the higher a state scores, the worse off the children in that state appear to be.
Fair Use
All the data we used for our study can be found at the links throughout the text, and if you want to share this study with your readers, please be sure to link back to this page.