Best Identity Theft Protection Services for Families
Family comes first. So protecting their identities from fraudsters is always a wise investment. See which identity theft protection plans for families made the top of our list.

1. Identity Guard

Want the best all-around family plan?
Identity Guard uses cutting-edge technology to protect everyone in your family, young and old! So if you want cyber-bullying alerts, password protection, and more, Identity Guard can't be beat.
Identity Guard is one of the best-rated identity theft protection services for families on the market today. And for good reason. Their proactive approach, extensive list of services, and affordable pricing make Identity Guard an attractive option from all angles. We're going to break down why they're our favorite for families, but first, let's take a quick look at their pros and cons.
Pros
Multi-bureau credit monitoring
Retirement and Investment Account Monitoring
Change of Address Alerts
Family Plan Covers Everyone in Household
Affordable Family Plans
Safe Browsing Tools
High-Tech, AI-Based Dark Web Monitoring
Cons
Mobile App Could be Better
Social Media Monitoring is Limited
No Direct Focus on Children
It's no secret that we love Identity Guard. They've been around for more than two decades and they've spent that time refining their approach to identity protection. And their recent partnership with IBM has only made their offerings more powerful. Leveraging the power of Watson Artificial Intelligence, Identity Guard is able to stay one step ahead of fraudsters and protect your family against the ever-evolving threats of identity theft.
Did You Know: Artificial Intelligence is helping protect families by making identity theft services smarter. By analyzing billions of data points, patterns emerge and protections can be built to respond to threats as they evolve.
One of the best things about Identity Guard's family plans is that they cover everyone living in your household. Just have a new baby? They're covered. Do mom and Dad live in the mother-in-law suite out back? Yep, they're covered, too.
And this coverage is extensive. When we reviewed Identity Guard, we found they offered triple-bureau credit monitoring, financial account alerts from all angles, change of address monitoring, and home title watches. Each member of the family will also receive a risk assessment report to help you better understand how your behaviors and habits contribute to the likelihood you'll become a victim.
And unfortunately, if you're unprotected, that likelihood is very high. According to recent research, there's a new victim of identity theft every two seconds.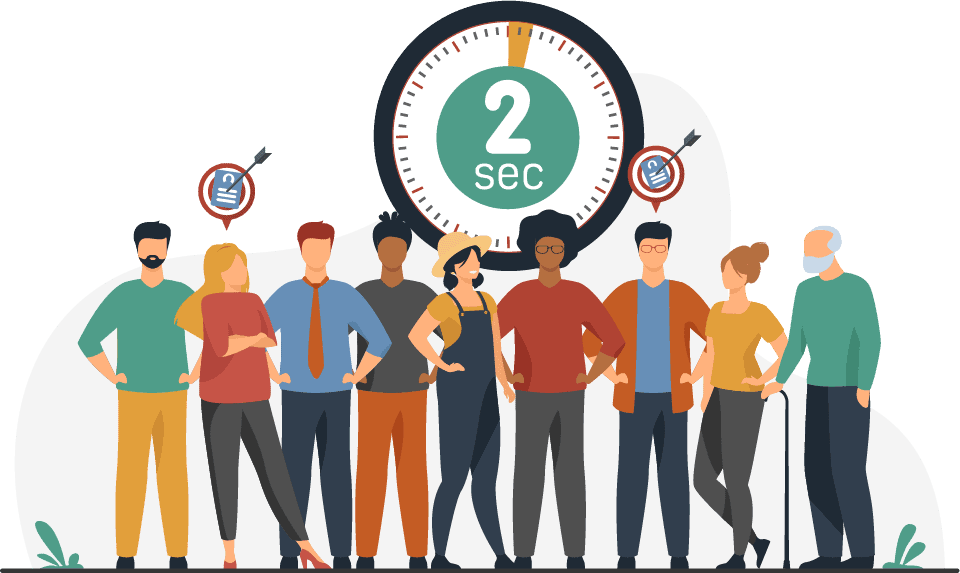 We don't say this to scare you, only to impress upon you the importance of protecting yourself and your family from a mounting, invisible threat. A great starting place is our guide to Identity Guard's tiers of service.
2. LifeLock

Ready for the best junior plan?
Protect the kiddos from identity theft with LifeLock! The LifeLock Junior plan delivers everything from internet security to credit monitoring, and even sex offender registry is available.
A leader in the identity theft protection industry, LifeLock offers more than 15 features to protect your identity and help you recover from identity theft. Their three main areas of focus are your credit files, your social security number, and other personal information. For those who simply do not have time to monitor their own credit and accounts, LifeLock provides excellent protection and will alert you of any suspicious activity.
NortonLifeLock is one of the most well-known identity theft protection services in the industry. When we tested the service for our NortonLifeLock review, we found one of the most extensive lists of features on the market today. Their cybersecurity protections alone are worth the price of admission, and their comprehensive suite of financial protections and identity monitoring only sweeten the deal. Before we talk about why NortonLifeLock is a great choice for family protection, though, let's look at the good and the not-so-good.
Pros
Comprehensive Family Protection
"School Time" for Kids
Focus on Device Security
Coverage for Two Adults and Up to Five Children
Robust Cybersecurity Protections
Individualized User Experiences
Well-Designed Mobile App
Cons
Somewhat Pricey
Platform is a Little Disorganized
Some Functions Only Work with Windows
One of our favorite things about NortonLifeLock is their prioritization of cybersecurity. They're one of the few identity theft protection services on the market today to offer a full suite of protections including password vaults, antivirus software, and even access to a virtual private network. This is great news for parents with children who are active online — you can better protect your kids by deploying these features.
Did You Know: A Virtual Private Network spoofs the location of your internet-connected advice by routing traffic through encrypted channels. This means your web traffic and IP addresses can't be tracked.
NortonLifeLock also recently released a tool to help parents with kids who are learning virtually. Called "School Time," this parental control feature helps kids stay focused on their work by only allowing access to an approved list of websites during school hours. This can help parents who are working remotely ensure their kids are staying focused and on task.
It can also help prevent your kids from getting into trouble online. Screen time has skyrocketed now that school work and socialization has moved almost exclusively online, increasing the likelihood of exposure to all sorts of nefarious characters.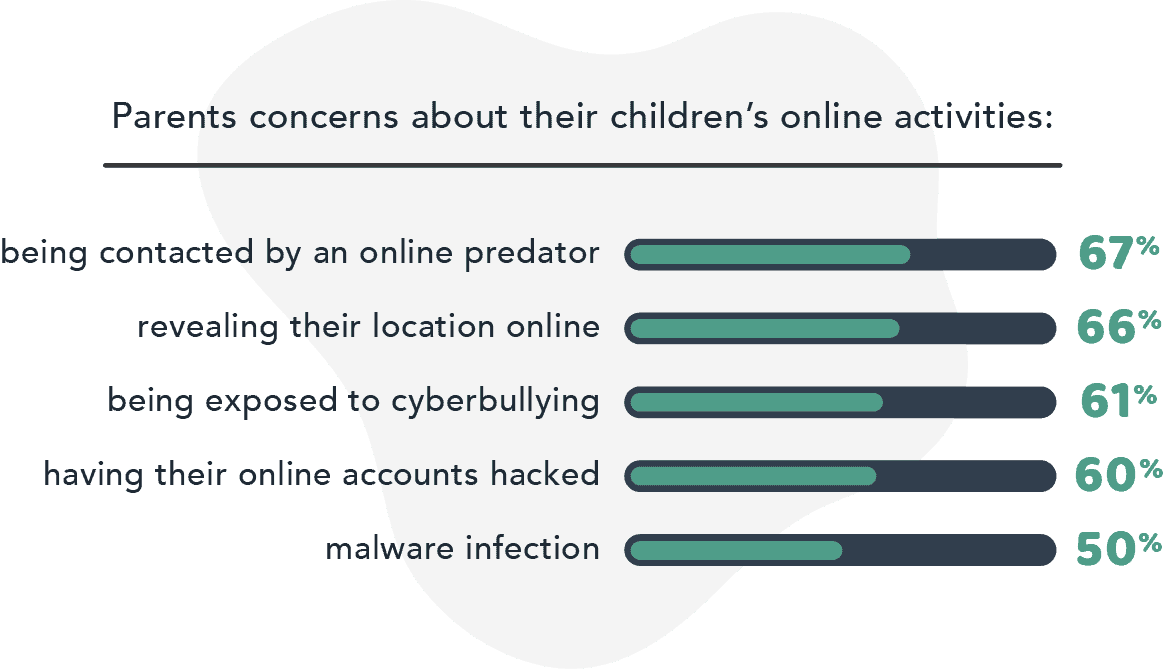 NortonLifeLock offers a tremendous amount of services through nearly as many different plans, so it's easy to pick and choose what would be best for your family. It's also easy to become overwhelmed sifting through everything. We recommend taking a look at our breakdown of NortonLifeLock's plans, services, and pricing to get your arms around everything.
3. IdentityForce

Looking for social media monitoring?
IdentityForce now offers ChildWatch, an impressive monitoring service for the little ones we love. ChildWatch comes free with adult plans, and it's loaded with great features like social media monitoring.
Simply put, IdentityForce is a workhorse. They boast a solid list of features with some surprises to boot like access to a virtual private network, a credit score simulator, and credit freeze functionality. Before we get going, though, let's take a quick look at their pros and cons before we get into why they're a great choice for families.
Pros
Unlimited Child Monitoring
Powerful Social Media Monitoring
ChildWatch Protections
Smart Social Security Number Tracker
Multi-Bureau Credit Monitoring
Free Trial Period
Credit Tracking
Cons
Slightly Confusing Set-Up
App Could Be Updated
A Little Pricey
Right off the bat, IdentityForce does an excellent job with what we consider to be the primary functions of any identity theft protection service — financial account monitoring, multiple-bureau credit reporting, dark web scanning, it's all there, and it all works really well. For more information on that, check out our in-depth IdentityForce review. For the purposes of this guide, though, we're going to be looking at why they're a great choice for families.
First of all, they offer monitoring for an unlimited number of children making it a great option for bigger families that aren't trying to break the bank. They also offer a special "ChildWatch" feature, which prioritizes protections for kids. This is important, as a recent study from Carnegie Mellon found that children are 51 times more likely to become the victims of identity theft than adults.
Did You Know: It's estimated that child identity theft costs families a total of $540 million in out of pocket expenses every year.
IdentityForce also does a great job of monitoring the social media accounts of everyone included in the family plan — this is great news for the parents of socially-active teens who don't want to pry, but who also want to protect their kids online. IdentityForce will keep an eye out for inappropriate or dangerous activities and alert you should something untoward pop up.
They offer a few different tiers of protections for families, so if you're interested, a good place to learn more is our guide to IdentityForce's services and pricing.
4. Experian IdentityWorks
Experian IdentityWorks is a solid service for any family looking to protect its members from the threat of identity theft, and since it's offered from one of the major credit monitoring bureaus, you're going to find their financial and credit monitoring to be comprehensive. Let's take a quick look at Experian IdentityWorks' pros and cons before we see if they might be the right service for you and your family.
Pros
Backed by Credit Bureau Experian
Coverage for Up to Ten Children
Triple Bureau Credit Monitoring
Single Parent Options Available
Social Network Monitoring
Financial Account Activity Alerts
Robust Financial Planning Tools
Change of Address Monitoring
Cons
Top-Tier Coverage is a Little Expensive
Platform Design is Outdated
Some Functionality is Flawed
When we reviewed Experian IdentityWorks, we found not only solid core protections but we also had access to an extremely robust set of financial monitoring and planning tools. Experian IdentityWorks really runs the gamut in this regard — from payday loan monitoring to large balance change alerts to dormant accounts scanning to new credit inquiry notifications, they really have your finances covered. These are all great protections for families with complicated financial histories or those who might be recovering from hardships.
They're also a great option for single-parent families — especially those with lots of children. They break their services up in such a way that one adult can purchase a plan for themselves and their kids, or include a partner as well. This flexibility is important, and something we commend Experian IdentityWorks for offering.
Did You Know: It's important to review your credit reports every year. The Federal Trade Commission estimates that one in five adults has an error on one or more reports that may be negatively impacting their score.
They also offer quite a few protections like social media monitoring and resources like credit score tracking and financial planning to help families stay safe and on the right track. To learn more about their offerings, you can read our guide to Experian IdentityWorks' pricing and services.
5. Zander Insurance
When we tested and reviewed Zander, we found them to be a bit of a wild card. They have a unique approach to identity theft protection that doesn't involve any sort of credit monitoring, instead, they focus on privacy protections and robust identity monitoring. While we disagree that credit monitoring isn't important, they're doing something right. The company reports a 100 percent restoration success rate. Let's take a quick look at Zander's pros and cons before we explore their family package.
Pros
Extremely Affordable
Unlimited Number of Children Covered
Experienced Restoration Staff
Numerous Types of ID Theft Covered
Single-Parent Plans Available
Three-Year Check-Up for Victims
Proactive Monitoring and Alerts
Cons
No Credit Monitoring
Poorly Designed App
Somewhat Buggy Platform
Like we said above, Zander doesn't offer credit protections. If that's important to you, they might not be a good fit. That said, though, they do offer some pretty powerful protections on the privacy side of things. Financial fraud, medical ID theft, tax fraud, social security fraud, employment fraud… the list goes on and on.
Did You Know: One of the ways medical ID theft occurs is when a fraudster gains access to your medical identity to file phony insurance claims in your name. This can lead to your insurance premiums skyrocketing, or losing medical coverage altogether.
Zander's next big selling point is two-fold. Not only do they offer coverage for an unlimited number of children, that coverage is extremely affordable at less than $20 per month. If you wanted to protect your family from identity theft but didn't think you could afford the expense, now you have no excuse.
Another thing we love about Zander is their focus on recovery. Not only will they reimburse you up to $1 million in stolen funds, but they're also going to check in with you for three years to make sure you don't become the victim of identity theft again.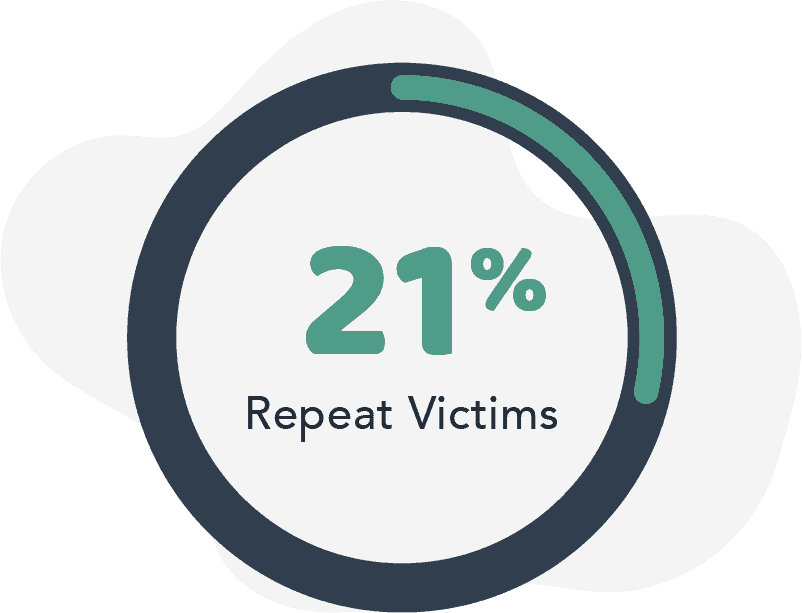 To get a better understanding of what they bring to the table, you should peruse our breakdown of Zander's services, plans, and pricing. They might be the best choice for you and your family.
Why Should I Consider Family Protections?
Identity theft doesn't occur in a vacuum. If a criminal can get their hands on the personal information of one family member, it's likely they can and will use it to extract the information of others. Add to that the fact that children and the elderly are the primary targets of identity thieves, and you'll start to understand why you should seek out protections for everyone, not just yourself.
That said, it can be difficult to pinpoint exactly what protections are best when you're looking to keep the whole family safe. And with the multitude of identity theft protection services available on the market today, how can you decide which product is right for you?
What Features Should I Look For?
When you're shopping around for identity theft protection services, there are a few core features you should be on the lookout for. We always recommend plans that offer triple-bureau credit monitoring, financial account alerts, and dark web scanning. Beyond that, though, it's really a matter of deciding which features work best for your situation.
For example, do you have a teenager in the house that likes to spend a lot of time online? You might want to consider a service that offers robust social media monitoring. Does your family always have the latest and greatest new gadgets? Look for a service that offers cybersecurity protections and device security. Are you recovering from financial hardship or looking to rebuild your credit? There are plenty of services on the market that offer robust financial planning tools and resources.
Ultimately it's about understanding the risk factors for your particular situation and finding a plan that works best for you. We recommend taking a look at our identity theft protection comparison tool as a starting point.
What are the Consequences of Not Protecting My Family?
In a word, they're dire. If you choose not to protect your family from the threat of identity theft, you run the risk of not only your own financial ruin but the ruin of your children as well.
Some forms of identity theft are quick — someone steals your credit card information and uses it to make a few large purchases, maxing you out and stressing you out. But some are much slower burns, and these are the ones you really want to protect against.
For example, with kids, it's possible for an identity thief to rack up hundreds of thousands of dollars worth of credit card debt, take out loans in the child's name, even set up utilities using their identities. And this will only come to light much, much later once the child is old enough to start opening financial accounts of their own or apply for credit cards. The damage, which occurred years prior, is already done, and their family is left trying to untangle years worth of financial chaos. A true nightmare scenario.
With that in mind, it's important to take family protections seriously. Identity theft is a growing problem, and it's unwise to think it can't happen to you or your loved ones. Protect yourself today.
How To Protect Yourself from Identity Theft, and How to Protect Your Family
As the growing threat of identity theft becomes more apparent to more consumers, many people (and families!) are wondering how they can best protect themselves. The bad news is that identity theft can happen to anyone, but the good news is that with a little extra vigilance and developing a few better habits, you can dramatically decrease the likelihood you'll become a victim.
For starters, consider investing in a subscription to an identity theft protection service from a reputable vendor. There are dozens of these services on the market, and each of them has a multitude of different offerings. We suggest looking at products that offer triple bureau credit monitoring, dark web scanning, financial account alerts, and some form of cybersecurity protection. If you're looking for a place to start — NortonLifeLock, Identity Guard, and IdentityForce are all solid choices. As you see from our top 3 list above, these are popular options for families.
Did You Know: Identity theft prevention services aren't going to break the bank for most folks. A run-of-the-mill service with decent protections will only run you around $10 to $15 per month. When presented with the alternative, that cost is more than reasonable.
Don't want a subscription service? That's fine. There are still ways you can protect yourself from ID theft. One of the best ways is to place a credit freeze on your reports at all three credit bureaus. This will prevent fraudsters from opening accounts or taking out loans in your name. Be aware, though, this also prevents reputable entities from accessing your files, so you'll need to lift the freeze if you're planning on applying for a new credit card, securing a mortgage, or purchasing a car.
You're also going to want to go over your credit reports at least once a year. You're legally entitled to a free copy of your credit report annually. Be on the lookout for accounts you don't recognize or missed payments you made. Your credit score is also a great indicator of identity theft activity — if it starts to go down unexpectedly, it's a good tip that something's up. Check those about once a month.
You can also mitigate your risk in your day to day life by taking some preventative precautions. Always check your mail once a day. If something you were expecting doesn't show up — particularly if it's a bank statement or a utility bill — contact the issuing organization. If they sent it out but it never showed up, it might be in a fraudster's hands. Additionally, never throw anything that has your personally identifying information away without shredding it first.
Keep high-value items like your passport and social security card under lock and key — these should never be in a place where anyone other than yourself would have access to them. The same goes for your devices. Don't leave your phone on the table when you get up to use the bathroom, and don't leave your laptop in your car when you're running into the pharmacy.
Did You Know: We tend to think identity theft happens in digital spaces with hackers breaking into networks to steal your account numbers. While that does occur, you can also be victimized by a criminal of opportunity swiping your backpack when you're not looking.
Additionally, avoid giving information out to organizations that don't need it — particularly if you suspect they have weak cybersecurity protocols. Limit your exposure. No, your tennis league probably doesn't need your social security number.
Finally, take precautions when you, your spouse, and your children are online. If you can, invest in a virtual private network (VPN) that will secure and encrypt your internet connection. Barring that, employ antivirus software, and practice good digital hygiene.
Make sure your passwords are strong and unique for each account and be wary of unsavory online vendors. Limit the personal information you share on social media and most of all, don't respond to emails asking you for your personal information no matter how legitimate they look. No reputable company is ever going to ask you to email them your password. Period. It's wise to teach your kids this as well.
We know it sounds like a lot, but we promise none of these suggestions are overly burdensome. We don't say this to make you feel paranoid, but to give you methods by which you can approach this threat with the gravity it deserves. You don't have to get scared, but you do need to get serious to protect your family from fraudsters.
Features of Identity Theft Protection Services
Once thieves have access to your personal information they can open accounts, drain your bank account, open and charge credit cards, and a multitude of other acts that destroy your credit and take an emotional toll as you experience financial stress, anxiety, and emotional volatility. With identity theft service providers constantly changing and trying to stay ahead of fraudulent activities, it's important to find a provider that best fits your needs. Here are features and extras to consider:
SSN Monitoring
These nine digits can be used in nefarious ways — ways that can take a toll on your family. Fortunately, most identity theft protection services for families now offer SSN Monitoring. This feature scours the internet to ensure your family's digits don't fall into the wrong hands. If a criminal does get a hold of your SSN, you'll be immediately alerted.
Dark Web Monitoring
The bad news is that the 'dark web' is a hotbed of non-stop criminal activity. The good news is that many identity theft protection family plans include Dark Web Monitoring — a sophisticated feature that searches for your family's sensitive information on dark websites, chat rooms, databases, etc. Safeguarding your family is always a top priority.
Social Media Monitoring
How much sensitive information do children share online? It's hard to know as they live, eat, and breathe in the digital age. And a first stop for fraudsters is straight to social media platforms to scrape this personal data. Look for a Social Monitoring feature, and get timely alerts when your family's privacy is at risk.
Identity Restoration
Identity theft restoration is one road you do not want to travel alone. Even with the best identity theft service for families, fraud still happens. So the question becomes: now what? Identity Restoration, that's what. This feature puts a team of dedicated experts in your corner to restore your family's identity to pre-fraud status. You'll hardly need to lift a finger.
Identity Theft Insurance Coverage
Victims of identity theft pay a steep price. That is, if they don't have Identity Theft Insurance. This feature could easily pay for itself a thousand times over if anyone in your family is targeted. You, your spouse, your children — even your elderly parents — can get up to $1 million in coverage. Talk about peace of mind.
Address Change Verification
Identity thieves have countless tricks up their sleeves, one of which is to divert your family's mail in an attempt to pilfer your personal information. Stop them in their tracks with Address Change Verification. This feature monitors USPS address change requests linked to your identity. If suspicious activity occurs, rest assured you'll be notified.
Nationwide Potential Cyberbullying Alerts
The idea of cyberbullying hits all-too-close to home for parents. That's why certain identity theft protection services for families offer this helpful feature. These alerts go nationwide, so you can rest easy knowing that your child is safe no matter what state, city, or town you live in. Reduce the risk of your child becoming victimized by cyber-bullies online.
Loan Application Monitoring
Cybercriminals don't discriminate. If they get their hands on your personal information — or the sensitive info from anyone in your family — they can take out a loan in your name with relative ease. With Loan Application Monitoring, your protection service will monitor credit card and bank account applications, to loans and other financial inquiries and applications.
File-Sharing Network Searches
Low-life criminals often use file sharing networks to acquire personal information from individuals and families alike. Be proactive in safeguarding your family's good name with this helpful feature. Identity protection services now leverage advanced tech to offer File Sharing Network Searches — an option that monitors popular networks to ensure your information doesn't surface where it shouldn't.