Best Identity Theft Protection Services for Children
Children are more likely to become the victims of identity theft than their parents. The best way to keep them safe is to enroll them in identity theft protection services now.

1. Identity Guard
Identity Guard is one of our all-time favorite identity theft protection services. They offer a wide range of protections built using IBM's Watson artificial intelligence platform. Their threat-response is dynamic and their services comprehensive. Before we break down why they're great for kids, let's take a look at their pros and cons.
Pros
Comprehensive Family Plan
Data Breach Notifications
Criminal and Sex Offender Monitoring
Risk Management Tools
Financial Fraud Alerts
Social Security Number Monitoring
Basic Cybersecurity Protections
Cons
Limited Social Media Monitoring
App Could Use Work
No Direct Child Focus
One of the exciting things we found when we reviewed Identity Guard is that their family plan covers everyone living under one roof. Got two kids in an apartment? Great, they're covered. Got eight kids and two sets of grandparents on your compound? No worries, they're all covered, too. This is great news for large families looking to protect everyone without breaking the bank — some of the services that charge per-child can get pretty pricey pretty quickly if you have lots of little ones.
We'd also like to point out Identity Guard's data breach notification system. A data breach happens when an organization you've shared your personal information with gets hacked, and their records are sold on dark web marketplaces. Why does this matter for my kids? Glad you asked.
Because one of the primary places your child's personal information likely appears is in school records and medical offices — two of the primary targets for hackers aiming to swipe as much personal information as easily as possible. If your child is exposed in a data breach, you're going to want to know about it as quickly as possible.
Did You Know: If you or your child's information has been exposed via a data breach, there's a 20-percent chance it will result in some sort of identity theft.
Identity Guard has a lot more to offer. For a more complete look at their offerings, we suggest you take a look at our guide to Identity Guard's services and pricing.
2. NortonLifeLock
When we tested and reviewed NortonLifeLock, we found it to be in a class all its own. Their robust cybersecurity protections coupled with powerful identity theft protections and real-time monitoring capabilities make them a formidable force in the fight against identity theft. Before we look at their child-specific offerings, though, let's have a look at the pros and cons.
Pros
Comprehensive Cybersecurity Protections
Social Security Number Monitoring
School Time Function
Focus on Device Security
Up to Five Children Protected
Well-Designed App
Customizable User Experience
Cons
Platform can be Disorganized
Somewhat Pricey Services
Costs Increase After a Year
NortonLifeLock's core functions are beyond reproach and their add-ons and perks are noteworthy, but we want to talk about their child-specific functionality. And right off the bat there are a few neat things to point out.
First, NortonLifeLock offers powerful cybersecurity protections that will keep your kids safe while they're browsing, while keeping hackers out of your network. We're talking encrypted password vaults, virtual private network access, webcam protections, and antivirus software just to name a few features. If your kid is old enough to surf the Internet, you can rest assured they won't expose your network to malware or bad actors.
Did You Know: NortonLifeLock can prevent hackers from remotely accessing your webcam. Didn't even know that's a thing? It is, and it's really creepy.
They also recently started offering a new tool called "School Time" which allows parents to toggle access to certain websites on and off during certain hours of the day. Super helpful for parents who need to work from home while their kids are participating in remote learning to stay safe during the pandemic. Protecting your kids while helping them make good grades? It doesn't really get much better than that.
Keep in mind, NortonLifeLock has a ton of features across various pricing plan structures. To keep it all straight and see what might work best for you, head over to our breakdown of NortonLifeLock's tiers of service.
3. IdentityForce
This is another one of our favorite identity protection services, particularly for parents looking to protect their children. In our IdentityForce review, we found they offered robust social security monitoring, fraud alerts, and social media protections that will ensure the whole family is protected, but they also have a keen interest in protecting children specifically. Let's unpack that after we look at the pros and cons.
Pros
Unlimited Number of Children Protected
Powerful Social Media Monitoring
Smart Social Security Number Tracking
ChildWatch Protection
Free Trial Period
Credit Tracking
Financial Tools and Resources
Cons
Set Up Can Be Tricky
Disappointing App
A Little Costly
Like we said above — IdentityForce overs comprehensive protections from all angles, but they also prioritize the protection of children in a couple of different ways. For one, their family plans extend to an unlimited number of children, so they're immediately standing head and shoulders above many other services in the industry.
They also offer a special "ChildWatch" feature that prioritizes the protections of children, watching out for instances of their social security numbers or any other identifying information being used inappropriately.
Did You Know: According to recent research, it's estimated that the out-of-pocket expenses for families dealing with the theft of their children's identities is upwards of $540 million per year.
Finally, they offer some of the best social media monitoring on the market today. If they're enrolled in the family plan, IdentityForce will keep an eye on their social media platforms for inappropriate or even dangerous activities. This is great for parents who want to make sure their kids aren't engaging in risky online behaviors, but don't want to pry too heavily into their kid's privacy.
Like the rest of the services on this list, the company offers various pricing structures so families can stay on budget while keeping everyone safe. To get started, have a look at our IdentityForce services and costs guide.
So now that you're up to speed on what the best identity theft protections for children are, let's discuss why these services are necessary in the first place.
Why Are Children Often the Targets of Identity Theft?
When people think of identity theft, they usually associate it with adults and their social security numbers, their finances, and other personal assets. We can see why people think this way. After all, adults are the ones with the credit cards, the retirement accounts, the deed to the house, etc. It makes sense that they'd be the primary targets of identity thieves, right?
Well, yes and no.
Yes, there's more to immediately gain by attacking an adult, but adults also have protections in place. Even if you're not using an identity theft protection service, your bank account is still password-protected, you still keep your credit cards in your wallet, and if thousands of dollars suddenly go missing, you're going to address it immediately.
On the other hand, a child's identity is a blank slate. Apart from a social security number and some medical records, a young child doesn't have much of anything by way of an established financial history. When a hacker steals the personal information of a child, there are very few hurdles to clear when building a fraudulent identity.
Did You Know: It's unsettling, but a significant number of child ID theft cases are perpetrated by someone close to the child. This might be a family friend, a coach, a mentor, or even a member of the family.
Using a child's social security number as a foundation, the thief can open credit cards, retail accounts, buy vehicles, and make other large purchases — pretty much anything and everything they set their mind to. And since a child probably won't be using their credit for their own purposes for many years, that gives an enormous window of opportunity in which to operate before the crimes are discovered.
That's why it's so important for parents to be hyper-vigilant when it comes to protecting their child's identity. They should protect it as much, if not more so, than their own.
How Can I Best Protect My Child from Identity Theft?
The best way is to enlist the help of one of the identity theft protection services above, but beyond that, there are other ways to protect your child's identifying information from falling into the wrong hands.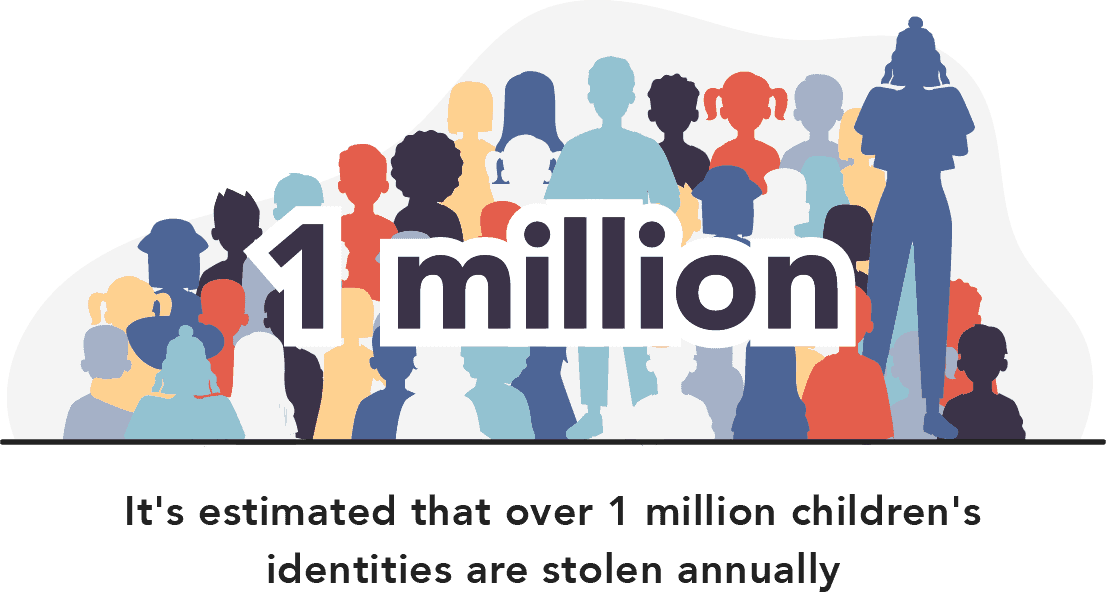 For one, you can place a freeze on a child's credit before they are old enough to use it. Contact the three credit bureaus — Experian, TransUnion, and Equifax — to understand your options and to get started. It might seem like overkill, but with the stakes this high, do you really want to take the risk?
Also, be vigilant in where and to whom you provide your child's personally identifying information. If their school is asking for their social security number, for example, ask why they need it and how it will be stored. See if a less risky form of identification will be acceptable such as the last four digits or their date of birth. Ask for a copy of the school's privacy policies and ask about opting out of their director information program if they have one. As a general rule, the fewer people who have access to your child's personally identifying information, the safer they will be.
If your children are older, make sure they're aware of the dangers of posting personal information on social media. If you trust them to shop online, keep an eye on their purchases and review account statements with them so they can develop an understanding of what normal activity looks like, and how fraudulent activity might appear.
The name of the game is vigilance. You want to shore up your defenses as best you can, and keep an eye out for anything suspicious. Remember — if it seems out of the ordinary, it pays to investigate.
Features of Identity Theft Services for Minors
Here are some of the most common identity theft services for minors:
SSN Monitoring
Keep an eye out for this feature when searching for ID theft protection for children. SSN Monitoring is powered by AI and other advanced technology. It scours the internet and online databases to see if your child's SSN is being used, bought, sold, traded, etc. It also taps the USPS and other hotspots where your child's identity might be at risk.
Black Market Surveillance
It might seem far-fetched that your child's personal info would be sold on the Black Market. But the truth is, this is happening night and day. Black Market Surveillance searches illicit websites, forums, chat rooms, internet databases, and newly created sites for suspicious activity and the buying and/or selling of your child's personal information.
Social Media Monitoring
Youth today are especially susceptible to fraud via social media. That's why Social Media Monitoring has become a popular feature offered by ID theft companies. Social monitoring leverages AI and other sophisticated tech to search social media platforms, the dark web, hacker forums, and elsewhere. If your kid's identity falls into the wrong hands, you'll be the first to know.
Dark Web Monitoring
Children are at great risk of their personal information being dealt with diabolically. But Dark Web Monitoring can counteract the fraudsters' most clever ploys. This form of cyber monitoring most often comes with alerts so that you can take immediate action if your child's sensitive information makes it to the dark side of the web.
Identity Theft Insurance Coverage
Get peace of mind for the kiddos (and your pocketbook!) with ID theft insurance coverage. If your child's identity becomes compromised, this feature covers the related costs. Identity theft happens, and it's rarely cheap to fix. So it's nice to know you'll be reimbursed — sometimes up to a $1 million — for the steep price.
Identity Restoration
Not to be confused with ID theft insurance, this restoration feature actually restores your child's identity in the aftermath of fraud. Identity restoration often includes full-service assistance from a dedicated investigator. The aim is to completely recover your child's identity, and clear their name of any damage caused by fraudsters.
Lost Wallet Protection
If you're a parent to a teenager, you know they often carry a purse or wallet -- sometimes with sensitive information inside. If this is your child, you'll benefit from lost wallet protection. If for any reason their wallet grows legs, if you will, this feature helps to cancel or replace their bank cards, social security cards, driver's license, etc.
Credit File Detection
Believe it or not, a kid's credit is a prime target for criminals. So identity theft protection services offer a helpful feature that monitors significant changes to their credit file and credit activity. This value-packed option will send an alert the moment suspicious activity is detected, allowing you to take action before it's too late.
File Sharing Network Searches
Protect your child against file sharing across a variety of networks and platforms. This feature offered by ID theft services for children searches file-sharing networks to ensure your child's sensitive information isn't being sold or traded for fraudulent purposes. This option is especially important for parents with teenagers in their household.