Services and Features
Arguably the most important feature that distinguishes Identity Guard is that it uses IBM® Watson™ artificial intelligence. You may remember Watson from stunts like its big Jeopardy! win over Ken Jennings and Brad Rutter. Watson is good for much more than winning Jeopardy!, of course. It's a powerful AI that is most often used in B2B projects like this one (that's a bit different than Alexa or Siri, both of which are usually consumer-facing AIs).
The core of Identity Guard's services, and what it primarily uses Watson for, are its monitoring services. So what does it monitor?
Dark Web Monitoring
Identity Guard says it uses Watson to scour the "Dark Web," the sketchy portion of the internet that is encrypted and accessible only by special browsers like Tor. You may know the Dark Web from its roles in various shady transactions and scandals, including the infamous celebrity nudes leak of 2014. When crooks buy, sell, and trade private stuff without its owner's consent — whether that means a celebrity's private photograph or your social security number — the Dark Web is usually where it happens. So it makes sense that Identity Guard would try to patrol this part of the internet. Identity Guard is not the only identity theft protection service offering this feature, but it seems to be more efficient at it than others.

Risk Management Report
Identity Guard's plans each offer a "Risk Management Report." But what the heck is that?
Once you have an Identity Guard account, you'll be able to log into Identity Guard's online dashboard and view some basic information about your identity and Identity Guard's monitoring (we'll talk a bit more about this in our "User experience" section). Under the "Reports & Scores" drop-down menu, Identity Guard customers can click "Risk Management Score" and view a brief report from Identity Guard that attempts to evaluate the customer's overall risk of identity theft.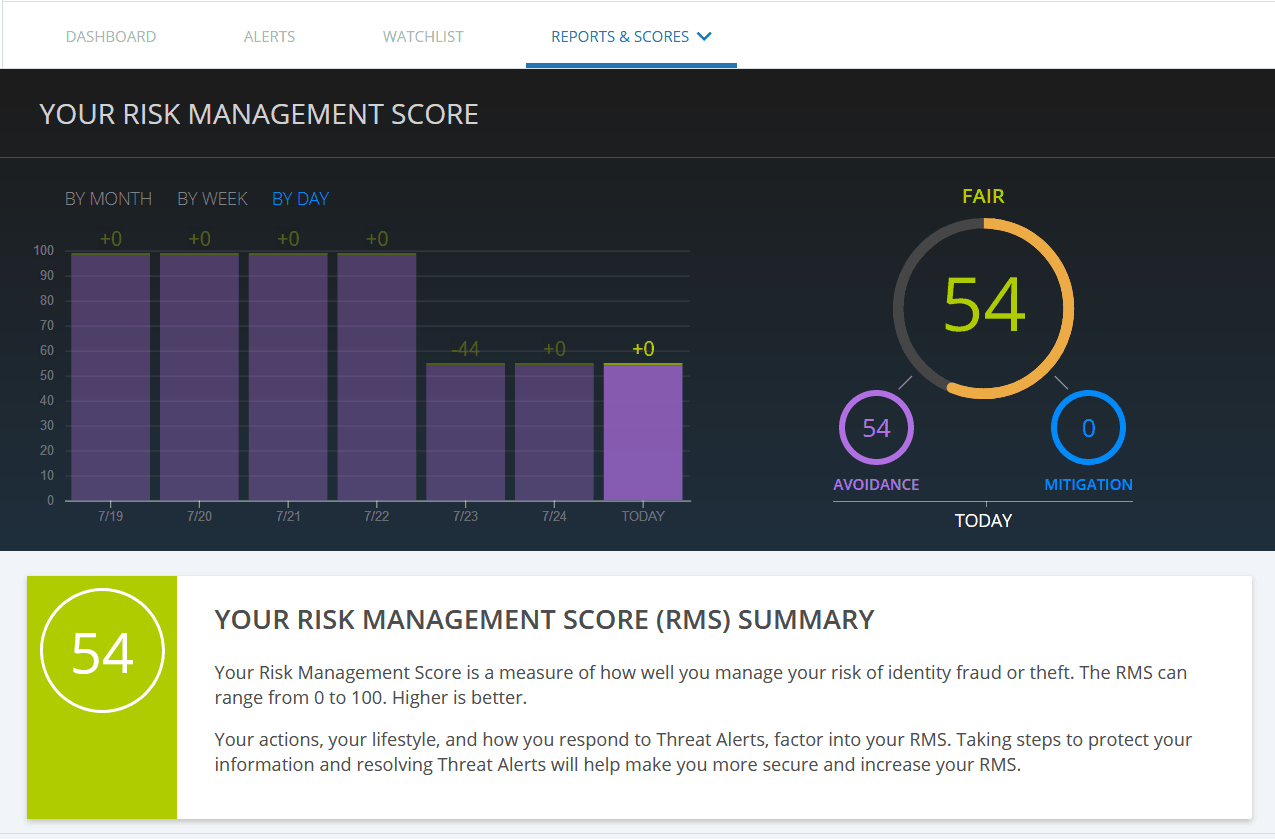 According to Identity Guard, a Risk Management Score takes into account "Your actions, your lifestyle, and how you respond to Threat Alerts." The "actions" and "lifestyle" portion of this equation seems to come from the so-called "Threat Questions," which can be accessed in a different tab within the dashboard. These form a sort of online quiz and ask things like which operating systems you use and which social media sites you have accounts with.
Safe Browsing Tools
Identity Guard also offers "safe browsing tools" in the form of a browser extension. The browser extension alerts you with pop-ups when you've wandered somewhere with a security issue (such as a site without HTTPS). It also blocks trackers, ads, and data mining programs. It worked pretty well. One thing that I appreciated about the browser extension was how simple it was to quickly whitelist a site ("whitelisting" means that you'll allow ads from a site, which is a nice way to support your favorite sites financially — and is sometimes necessary with sites that block content when they detect ad blockers).
Anti-Phishing Mobile App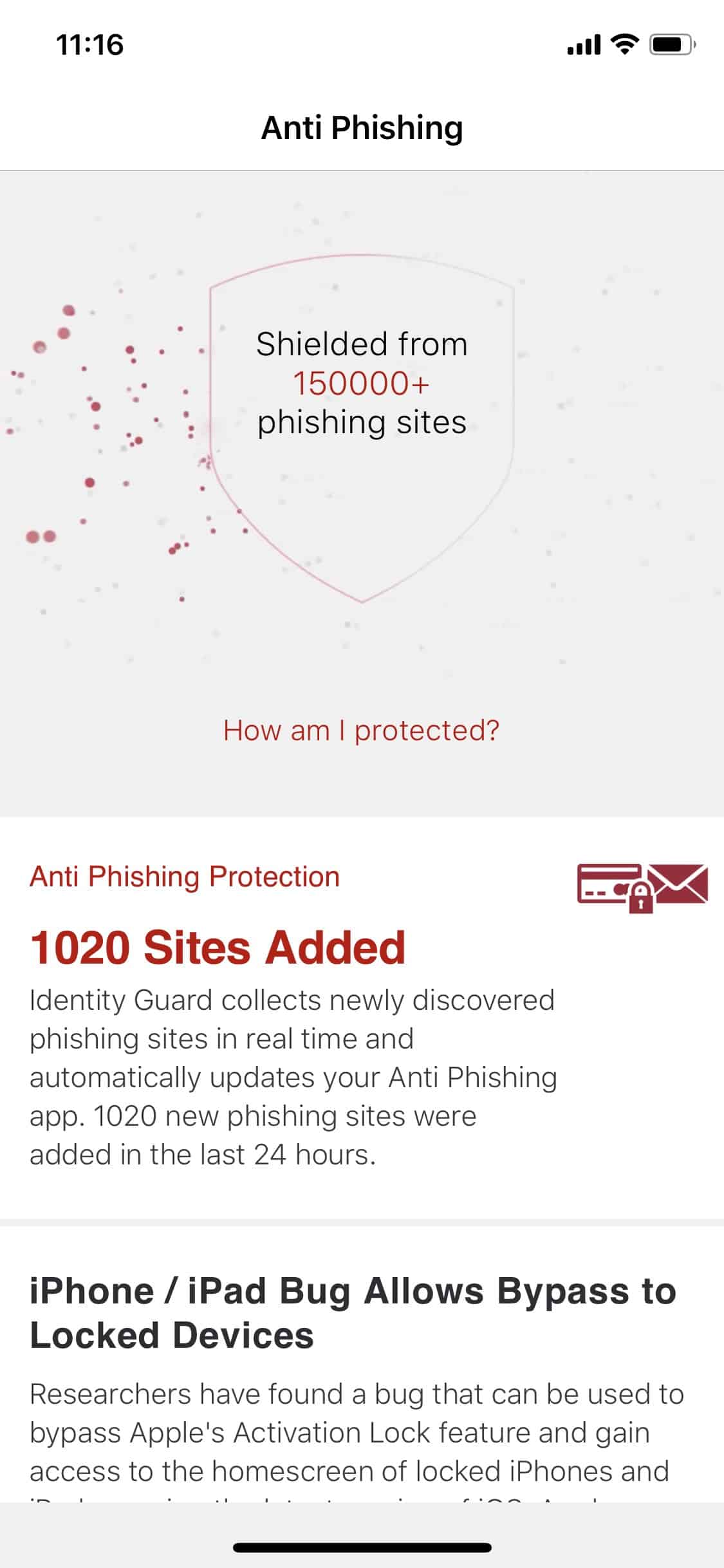 Identity Guard's anti-phishing mobile app is a nice additional feature that is free to use for anyone, not just members.
Credit Monitoring
Depending on your price tier (more on that in a bit), Identity Guard can also monitor your credit and/or give you your score* monthly. This is a very important aspect of identity monitoring, because identity thieves will frequently use stolen identities to take out big loans or lines of credit — which, of course, they have no intention of paying back.
Address Monitoring
Identity Guard will monitor changes of address for customers in its higher tiers. This is a pretty important feature, so it makes sense that Identity Guard offers it in their higher tiered plans.
Social Insight Report
What you do on social media can increase your risk of identity theft (and, for that matter, of real-life robberies and other crimes). Identity Guard's answer to this unfortunate reality is the "Social Insight Report," which is available to customers who have the priciest of Identity Guard's plans.
To get your Social Insight Report, you'll have to give Identity Guard permission to access your Facebook account. Watson will then analyze your Facebook presence and, after a wait, you'll see your Social Insight Report in all its glory.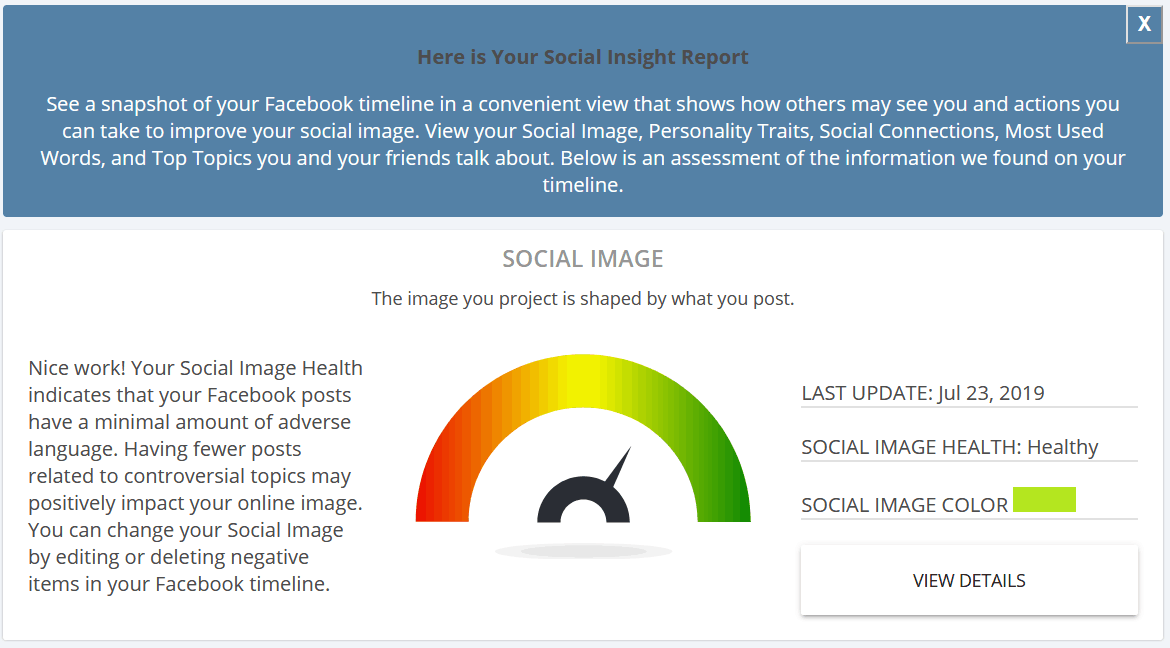 So what's in a Social Insight Report? It seems to primarily be an assessment of how controversial and inappropriate your social media presence may be. I was given a high score and commended for the fact that my posts "have a minimal amount of adverse language."
How do Identity Guard's Features and Services Stack Up?
These features and services are really groundbreaking things — in fact, the use of IBM® Watson™ AI is something no one else in the industry is doing. With Identity Guard and its competitors, the idea is that you're making life a little more convenient by having a service do all of this checking for you. You're also getting these checks run more often than you would if you did them all yourself: Identity Guard says that Watson is "constantly" scanning on your behalf.
Identity Guard's list of services is lengthy and more comprehensive than those offered by some competitor services.
Plans and Pricing
Identity Guard offers three main plans. They are "Value," "Total," and "Premier," and they are Identity Guard's entry-level, mid-level, and top-tier plans, respectively. Let's break those down in a bit more detail, shall we?
Value ($7.20 per month OR $79.99 per year for individuals, $11.99 per month OR $119.99 per year for families):
Dark Web monitoring
Risk management report
Safe browsing tools
Anti-phishing mobile app
Total ($15.99 per month OR $159.99 per year for individuals, $23.99 per month OR $239.99 per year for families):
All of the above, plus:
Monthly credit score
Address monitoring
3-bureau credit monitoring
Tax refund alerts
Premier ($19.99 per month OR $199.99 per year for individuals, $27.99 per month OR $279.99 per year for families):
All of the above, plus:
3-bureau credit report
Social insight report
Identity Guard is definitely targeting the lower end of the price points we usually see on identity theft protection services. The prices are pretty low and they do beat most of the competition: LifeLock, for instance, charges $9.99 per month for its cheapest plan, and that's only for the first year (after that it's $14.99 per month, significantly more than the price of Identity Guard's cheapest plan). High-end plans from competitor services can top $30 per month for individuals, while Identity Guard while Identity Guard doesn't even hit that price point with its top-tier family plan.
It's hard to find a service as affordable as Identity Guard's "Value" plan, but the more typical coverage of the "Total" plan can be had for prices that are similar to competitor offerings.