Editor's Note: SimpliSafe systems are currently up to 30 percent off.
SimpliSafe stands out in a crowded home security market, and there's a reason for that. By cutting out the middlemen — the local dealers working with corporate alarm companies — SimpliSafe is able to offer affordable DIY security systems. In fact, we're pleased to report that right now all SimpliSafe packages are 30 percent off. Plus, the company throws in a free indoor camera with every system purchase that includes professional monitoring, even with Build Your Own systems.
SimpliSafe also distinguishes itself by forgoing the long-term monitoring contracts required by traditional alarm companies like ADT and instead offers affordable month-to-month subscriptions. Regardless of the size of the system, the monthly cost is $28 per month, and because SimpliSafe loves to entice with special deals, the first month is free. There is a downside, though: SimpliSafe monitoring only works with its own equipment, which you'll have to pay for upfront (although, again, they're pretty cheap).
Before digging in, though, here are few quick stats on SimpliSafe:
SimpliSafe Features
| Best For | DIY Installation |
| --- | --- |
| Difficulty Level | Very Easy |
| No. of Packages | 5 |
| Price | $183.72 |
| Days Tested | 15 |
| Customizable? | Yes |
And now, let's get to the bottom line: How much is this all going to cost?
We'll break down everything you need to know in this review. We'll start with equipment and monitoring costs, and then discuss which fees are required and which ones are optional. You'll also find advice on how you can save. For a more in-depth look at SimpliSafe, particularly the system's features and capabilities, check out our SimpliSafe review.
Key Features
Wireless & Cellular
DIY Installation
Intrusion Protection
Environmental Protection
Remote Control
SimpliSafe Pricing
It's crazy how much times have changed. Now you can buy a security system online, including SimpliSafe. You start by choosing a system. You can either start from scratch with the Build Your Own option or choose from one of the pre-customized kits.
One of the things we love most about SimpliSafe is that the company always offers a range of options. You choose from seven different systems, so you can be sure of finding one to suit your particular needs. Live in a small apartment? The four-piece Foundation kit is $244.96. Need a more robust system? At $509.86, the Haven's 14 pieces can cover even the largest homes. Want ultimate security with indoor and outdoor cameras included in your kit? Take a look at the Beacon or the Lighthouse for $699.90 and $464.93 respectively. Of course, those are regular prices. Right now, SimpliSafe is offering 20 percent off of all their kits, so actual prices range from $196 to $560.
| SimpliSafe Packages | Discounted Price (20% off) | Regular Retail Price | Equipment Quantity | Perks |
| --- | --- | --- | --- | --- |
| The Beacon | $559.92 | $699.90 | 11 pieces | Includes 2 wireless outdoor cameras and 1 indoor camera |
| The Lighthouse | $371.94 | $464.93 | 8 pieces | Includes 1 wireless outdoor camera and 1 indoor camera |
| The Haven | $407.89 | $509.86 | 14 Pieces | Equipped to monitor for unexpected water damage and fires |
| The Knox | $375.90 | $469.87 | 13 Pieces | Great for large homes with 4+ bedrooms |
| The Hearth | $315.93 | $394.91 | 9 Pieces | Equipped with an extra 105dB siren |
| The Essentials | $219.96 | $274.95 | 6 Pieces | Most affordable price for all the essentials of home security |
| The Foundation | $195.97 | $244.96 | 4 Pieces | Perfect for small apartments and single-family homes |
Discount Alert: SimpliSafe frequently runs discounts. We have seen sales that discount systems up to 60 percent off. Currently they are offering systems at 30-percent off, as reflected in the prices above. In addition, you will get a free indoor camera with any of the seven systems — as long as you include professional monitoring with your purchase.
SimpliSafe's lineup of equipment includes various sensors and other useful devices and features with each package. Unless you live in the Farnsworth House, you'll probably want to start with one of their basic monitoring packages — a base bundle like The Foundation ($245) or The Essentials ($275) — and if you do live in the Farnsworth House,1 glass sensors are $34.99 each when purchased individually. You can still add on extras to these starter bundles, so don't worry about things being an exact fit.
"Simplisafe offers some great additional equipment packages for your home. One feature I'm a big fan of is the panic button. This button sends a silent audible alarm to the monitoring center alerting them of an emergency. Situationally, this is an outstanding feature that I would have installed under a nightstand or table."
Learn more about Travis and our methodology →

SimpliSafe Packages
The Beacon
The Beacon is designed for homeowners whose main priority is protecting against break-ins and want the ultimate in security equipment for assurance. It includes 2 wireless security cameras with 1080p HD video and a 140-degree field of view and an indoor camera with motion detection. The system, at $699.90, doesn't come cheap, but with SimpliSafe's frequently run discounts, it becomes much more affordable.
Key Stats and Specs:
Contains Base Station, Keypad, 4 Entry Sensors, 2 Motion Sensors, 2 wireless outdoor security cameras, 1 free indoor camera
Covers security inside and out
24-7 alarm monitoring
No contracts
The Lighthouse
For those who want indoor and outdoor security cameras without the expense that comes with the Beacon, the Lighthouse is a system to consider. It offers one outdoor camera with 1080p HD video and a 140-degree field of view and one indoor camera with motion detection. Before discounts, the system costs $464.93.
Key Stats and Specs:
Contains Base Station, Keypad, 3 Entry Sensors, 1 Motion Sensor, 1 wireless outdoor security cameras, 1 free indoor camera
Covers security inside and out
24/7 alarm monitoring
No contracts
The Haven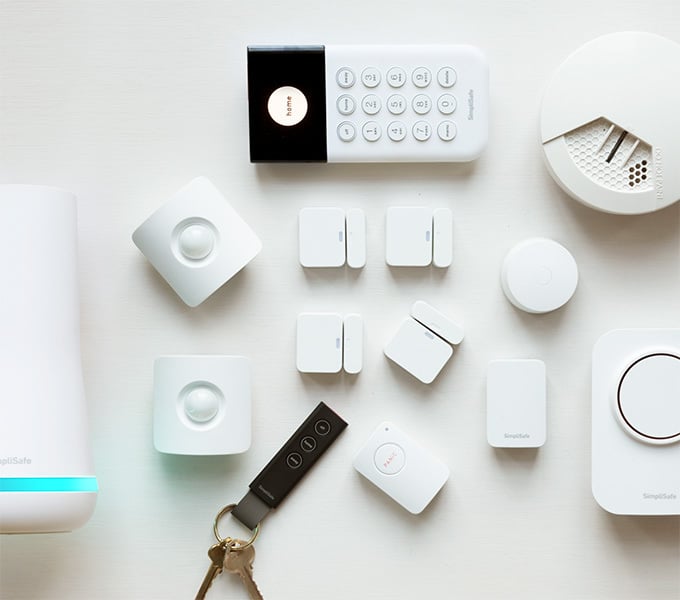 The Haven, which costs about $510 before discounts, is best for customers who want comprehensive disaster protection. It may be on the pricier end of the spectrum, but that's because The Haven monitors not only for break-ins and security breaches but for fires and water damage as well. It provides basic intrusion protection, plus a panic button that you can put in a convenient place so that you can summon help immediately in the event of a disaster or medical emergency.
Key Stats and Specs:
Contains Base Station, Keypad, 4 Entry Sensors, 2 Motion Sensors, 1 105dB Siren, 1 Water Sensor, 1 Temperature Sensor, 1 Panic Button, 1 Key Fob, and 1 Free Indoor Camera
Covers security and disaster monitoring
24-7 alarm monitoring
No contracts
The Knox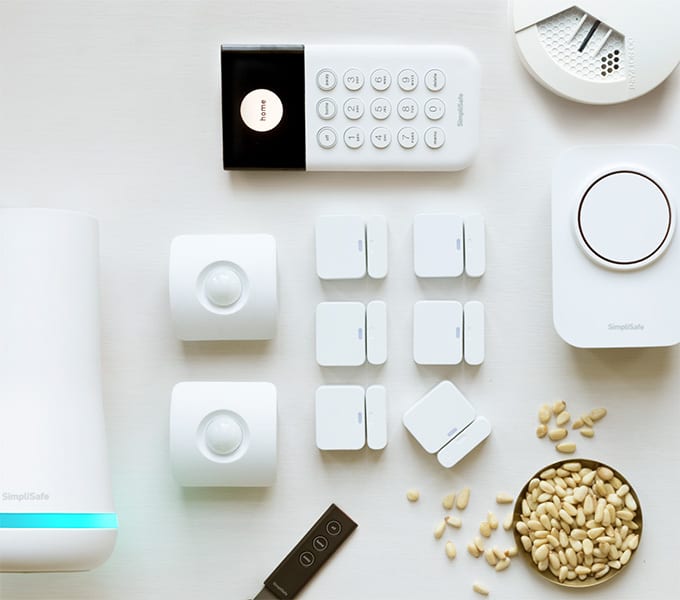 Offered at $470, the Knox is designed to protect large homes with 4+ bedrooms. With twice as many entry and motion sensors as SimpliSafe's next-largest bundle (The Hearth), you'll receive six entry sensors to secure all the main entryways of a larger home and two motion sensors to cover hallways or large areas. Note, The Knox package actually has more entry sensors than The Haven, but it lacks some of the disaster detectors.
Key Stats and Specs:
Contains Base Station, Keypad, 6 Entry Sensors, 2 Motion Sensors, 1 105dB Siren, 1 Key Fob, and 1 Free Indoor Camera
Covers security and smoke detection
Best for homes with four or more bedrooms
24-7 alarm monitoring
No contracts
The Hearth
SimpliSafe's Hearth system is a great middle ground. It includes more pieces of equipment than the more basic systems, but it's not too expensive either. At $395 without discounts, it's certainly worth the price. The Hearth package includes three entry sensors. It also comes with a motion sensor, a siren, and a key fob.
Although the base station has a built-in siren, the auxiliary siren covers more ground. It has a rated loudness of 105 dB, which is about as loud as snowmobiles, so it's plenty loud. The ear-piercing sound could easily scare away intruders, and if it doesn't, it increases the likelihood of your neighbors noticing. Maybe they'll call the cops for you if you aren't home.
Key Stats and Specs:
Contains Base Station, Keypad, 3 Entry Sensors, 1 Motion Sensor, 1 105dB Siren, and 1 Key Fob, and 1 Free Indoor Camera
24-7 alarm monitoring
No contracts
The Essentials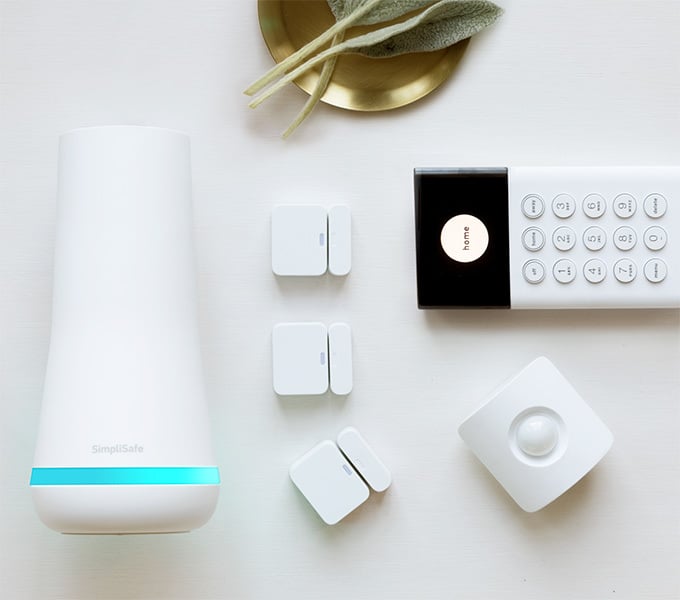 Selling for only $275, the Essentials package is perfect for those looking for all of the home security basics at an affordable price. Equipped with three entry sensors, a motion sensor, and 24-7 alarm monitoring, there's a good reason why this is SimpliSafe's most popular package.
Key Stats and Specs:
Contains Base Station, Keypad, 3 Entry Sensors, and 1 Motion Sensor
Home security basics for an affordable price
24-7 alarm monitoring
No contracts
The Foundation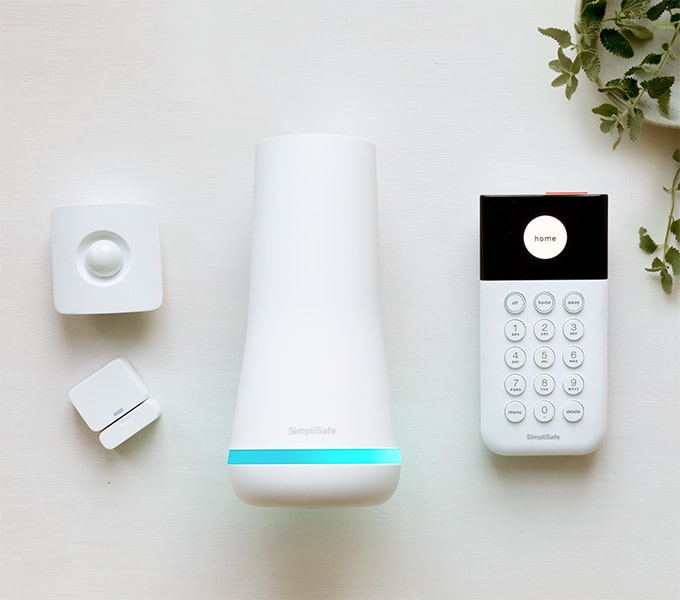 The Foundation package is perfect for renters or owners of smaller homes. For about $245 before discounts, the Foundation comes with a base station and siren, one keypad, one motion sensor, and one entry sensor. For those with more than one door or window to worry about, The Foundation package is an affordable way to get the must-have base station and keypad before tacking on extras ahead of checkout.
Key Stats and Specs:
Contains Base Station, Keypad, 1 Entry Sensor, and 1 Motion Sensor
Great for apartments or as a starting point for custom systems
24-7 alarm monitoring
No contracts
SimpliSafe Equipment
With SimpliSafe, you have the option to upgrade, add on, or customize your home security system. All in all, the costs of their device lineup is more or less the same as the industry average — give or take $5 to $10.
Pro Tip: Keep your base station near the center of your home, so crooks can't reach it without tripping a sensor first. The base station is responsible for alerting the monitoring center!2
Other than a couple of power cables, SimpliSafe's entire home security system is free of wired connections, including their cameras. If you're curious about SimpliSafe's 1080p HD camera, called the SimpliCam, check out our roundup of SimpliCam cameras. And you can read our hands-on experience with the device in our comprehensive SimpliCam review.
Note that SimpliSafe's wireless gear is designed to make installation and setup easy — which is a good thing because of SimpliSafe tasks customers with setting up their own gear.3 Below is a pricing summary of SimpliSafe's wireless equipment and devices:
| SimpliSafe Equipment | Equipment Type | Cost |
| --- | --- | --- |
| Base Station | Control | N/A |
| Keypad | Control | N/A |
| Entry Sensor | Sensor | $14.99 |
| Motion Sensor | Sensor | $29.99 |
| SimpliCam (Indoor camera) | Camera | $99.00 |
| SimpliSafe (Outdoor camera) | Camera | $179.99 |
| Glassbreak Sensor | Sensor | $34.99 |
| Panic Button | Remote | $19.99 |
| Smoke Detector | Sensor | $29.99 |
| Temperature Sensor | Sensor | $29.99 |
| Water Sensor | Sensor | $19.99 |
| Key Fob | Remote | $24.99 |
| 105 dB Siren | Control | $59.99 |
| Yard sign | Display | $3.99 |
SimpliSafe devices still work without a 24-7 monitoring plan in place. Unmonitored systems can still detect intrusions and sound an alarm on your property, but they won't send an alert out to a monitoring service. For SimpliSafe's monitoring partners to detect the issue and dispatch the authorities, you'll need to sign up for a monitoring subscription plan. For more on that, let's head on to the next section.
SimpliSafe Monitoring Plans
SimpliSafe's 24-7 professional monitoring plans are where they really shine. They offer two such plans — the Standard Plan ($17.99 per month or $0.60 per day) and the Interactive Plan ($27.99 per month or $0.93 per day) — that you can sign up for and cancel at any time. There are no long-term contracts or installation fees to worry about.
Monitoring Plans
Monthly Cost
Features
Standard
$17.99
– 24-7 live monitoring
– Advanced remote alerts (SMS, email, etc.)
– Remote arm and disarm
Interactive
$27.99
– 24-7 live monitoring
– Fast response for police, emergency medical, and fire department dispatch
– Unlimited video recording
– 24-7 monitoring for water, fire, and dangerous temperature detection
– Advanced remote alerts (SMS, email, etc.)
– Remote arm and disarm
SimpliSafe outsources its monitoring services to COPS,4 a company that focuses solely on monitoring. Some security companies do monitor their own systems, but SimpliSafe's approach is not unusual either.
Interactive – $27.99 per month
For just $0.93 per day, SimpliSafe's Interactive plan monitors and protects your home from burglars, unexpected water damage, and fire outbreaks. It also equips you with rapid response and dispatch to police, paramedics, or fire department personnel if a hazard occurs. It's quite cheap (and sometimes even cheaper!) by home security monitoring standards.
As you'd expect, this monitoring plan will keep your home monitored around the clock. It also includes some key perks. Opting for the Interactive subscription unlocks home automation options, which lets you control smart home devices connected to your system from anywhere with your smartphone. You'll also receive security alerts via email or text message, as well as friends and family alerts.
"SimpliSafe's Interactive plan unlocks all the essential features I like to see in a home security system. A standout feature for me is the visual alarm verification which instantly notifies you and the monitoring center with a live video feed when an alarm is triggered. Law enforcement can appreciate this feature because it can provide live updates of the criminal's whereabouts and activity inside a home."

We recommend going with the Interactive plan. Now, if you happen to own a business, this is definitely the plan you'll want to choose. The reason being is that you'll always be away from your brick and mortar business at night, and it's important to get those instant mobile alerts in case of a break-in. To find out more, read our in-depth guide on SimpliSafe for Business.
Standard – $17.99 per month
SimpliSafe's Standard plan will cover your monitoring needs 24 hours a day, seven days a week, for just $0.60 a day. It's really all you'll need in terms of security coverage, but it lacks some of the more advanced monitoring capabilities that its pricier sibling boasts. Overall, it's a solid monitoring plan that meets the basic requirements. If your system detects a problem, you'll get a call from SimpliSafe's monitoring partners. You can call off the alert with a verbal passcode. If you don't, the monitoring team will dispatch the authorities.
Camera Recording Plan – $9.99
If you're not up for paying the monthly fee for professional monitoring, you can opt to improve your self-monitoring experience with one of the camera recording plans instead. With one of these plans, your SimpliCam, SimpliSafe Outdoor Camera, or SimpliSafe Video Doorbell will record, store, and save motion clips to the cloud, allowing you to review footage of break-ins after the fact.
SimpliSafe used to offer the flexibility of several different cloud recording plans. The company now offers just one, for $9.99 a month. The good news, though, is that this plan comes with unlimited recording for five cameras. That means whether you have one camera or five, you'll pay the same low price. Of course, you don't get police, fire, or medical dispatch with this plan. For that, you'll need the Standard or Interactive plans. Still, this cloud recording ensures you'll have crystal-clear evidence to hand over to the police should anyone every try to break in.
Overall Value of SimpliSafe
SimpliSafe does not require long-term contracts, which differs from the approach of other home security companies like ADT. If you'd rather invest in your equipment upfront, avoid long-term contracts, and opt for affordable professional monitoring plans, then SimpliSafe is a great option for you. You can sign up for SimpliSafe's monitoring services on a monthly basis and cancel whenever you want. On the flip side, SimpliSafe does not use long-term commitments to spread out the cost of hardware and installation. However, their DIY installation and seamless wireless devices can make up for the upfront costs for many customers. SimpliSafe's value is most obvious to renters and people who might be moving within a few months.