Their Background
Founded in 2006 by two Harvard Business School students looking for a home security company that caters to renters, SimpliSafe builds home monitoring systems meant to be easy to set up independently and without the use of contracts. In recent years, it's been listed as one of the fastest-growing companies in Boston, and by 2015 had grown to 250 employees serving 300,000 customers.
SimpliSafe has been described by the Independent Central Station Alarm Association as providing some of the best monitoring in the industry. You can either choose a prepackaged kit of equipment or pick your gear a la carte. Either way, setup typically takes about 15 minutes, with equipment using a paint-safe adhesive to simply stick in place so you don't have to drill holes—another popular point among renters.
Key Features
Wireless & Cellular
DIY Installation
Intrusion Protection
Environmental Protection
Remote Control
What Sets SimpliSafe Apart
To avoid big markups, SimpliSafe builds its own security equipment, and both its equipment and monitoring costs are some of the most competitive around. Boasting systems that are wireless, cellular, and designed for easy DIY installation, SimpliSafe also offers a 60-day trial and, because there are no contracts, gives you the flexibility to change your type of monitoring from one month to the next in the event that your budget, or needs, change.
Features
Unlike the main control panel employed by most home security systems, the heart of SimpliSafe's set-up is the main console called the base station. It still has a keypad, but that simply controls power to your system; the base station simply comes out of the box, plugs into the wall, and stays lit around its base while communicating with any linked sensors and devices. Put it on a high shelf or countertop and you're good to go.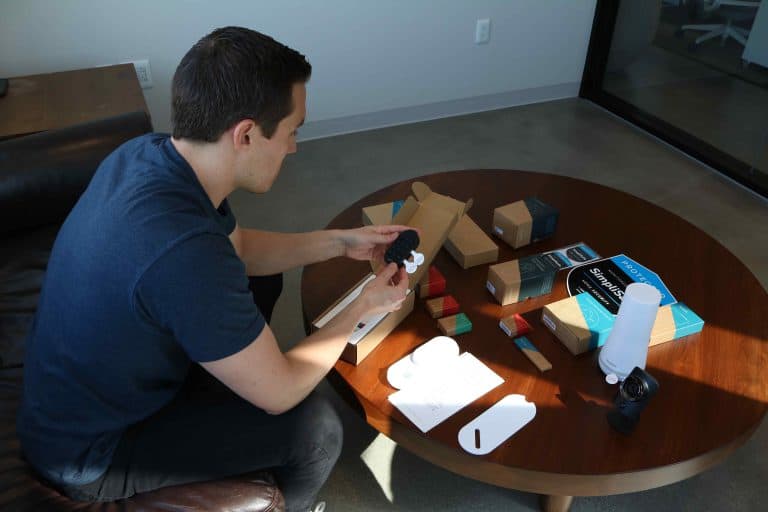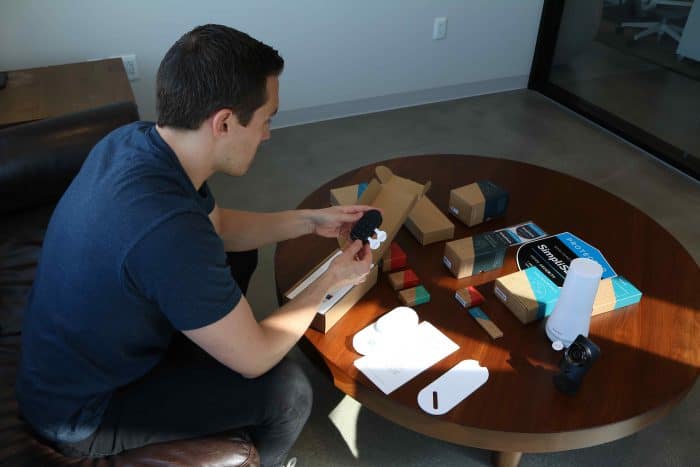 Speaking of communication, SimpliSafe uses both cellular and Wi-Fi connections. This means that if one goes down (i.e. you lose a cell signal or your Internet connection), your system doesn't stop or even lag. Even the base station is backed up by 24 hours of battery juice in the event of a power loss.
Another increasingly popular feature is what SimpliSafe calls "SmashSafe," meaning that if your keypad or base station are destroyed, an alarm still goes out to the monitoring center.
SimpliSafe also offers a mobile app for home automation. You have to subscribe to the most expensive monthly monitoring plan to get it, but it gives you much-needed control to remotely arm and disarm your system, view any live camera feeds, monitor environmental sensors, and receive alerts when people (like a child or babysitter) come and go. If you don't want to upgrade your monitoring plan, you can opt for a keychain remote, but you'll have less control and it only works within a close range.
| | |
| --- | --- |
| MOBILE ALERTS | SimpliSafe's mobile app puts the power of home security in the palm of your hand. Stay connected with alerts from motion sensors as well as flood sensors, carbon monoxide detectors and smoke detectors. |
| 24-7 MONITORING | SimpliSafe alarm systems can be monitored 24 hours a day to provide award-winning speedy service in case of emergency. |
| WIRELESS EQUIPMENT | SimpliSafe entryway sensors, video cameras and other security equipment is wireless. Installation leaves no permanent marks and the equipment can easily be moved to a new home. |
| SURVEILLANCE CAMERAS | The SimpliCam indoor video camera lets you save recordings and stream live video to mobile phones, tablets and computers. |
| DIY INSTALLATION | Maintain your privacy. With SimpliSafe no technician will visit your home. You can install the equipment yourself in about 15 minutes. |
| DISASTER PROTECTION | For all-around protection SimpliSafe can provide environmental sensors in addition to intrusion sensors. Get alerts in case of threat from water, carbon monoxide, smoke and fire. |
| REMOTE CONTROL | Extra safety and control come with keychain remotes. A free keychain remote works for arming and disarming, and it has a button for emergency calls. |
How Much does it Cost?
SimpliSafe's upfront equipment prices range from $229.96 for a 4-piece kit to $509.86 for a 14-piece kit. And the straightforward monitoring plans will only set you back $14.99 or $24.99 per month.
Compared to other home security companies, SimpliSafe has a pretty straightforward set-up broken into six carefully thought-out equipment packages and just two monitoring plans. Outside of that, you can order equipment a la carte through the "build my system" option and, thanks to the lack of contracts, even avoid monthly monitoring altogether if for whatever reason you want to rely on your equipment alone.
SimpliSafe Price and Packages
While you have the freedom to custom build your own security package, SimpliSafe has put together multiple tiers of equipment protection, and if you choose one of those, but prefer to tweak your coverage slightly, you can still add gear to each package.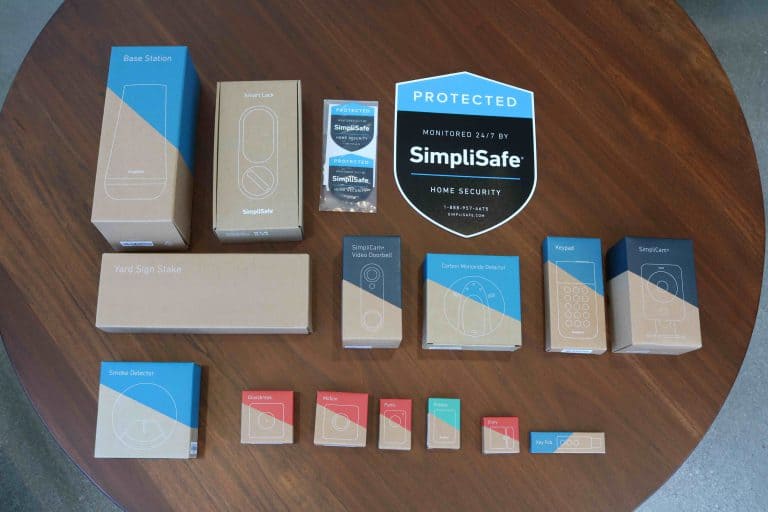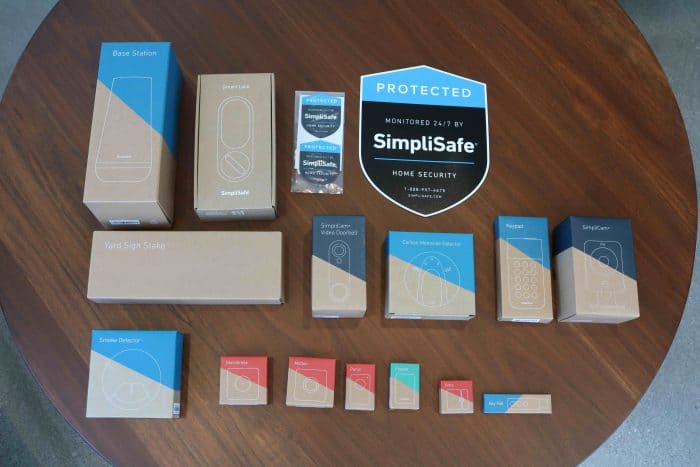 SimpliSafe equipment bundles start with a 4-piece "Foundation" set-up for just $229.96 and ends at the 14-piece "Fortress" package for $509.
| SimpliSafe Package | # of Pieces | Package Cost | Monthly Plan Cost |
| --- | --- | --- | --- |
| The Foundation | 4 | $229.96 | $0 – $24.99 |
| The Nook | 5 | $254.95 | $0 – $24.99 |
| The Essentials | 6 | $259.95 | $0 – $24.99 |
| The Bedford | 6 | $274.94 | $0 – $24.99 |
| The Homestead | 7 | $284.93 | $0 – $24.99 |
| The Sanctuary | 9 | $304.91 | $0 – $24.99 |
| The Bunker | 9 | $329.91 | $0 – $24.99 |
| The Oakstone | 12 | $359.88 | $0 – $24.99 |
| The Hearth | 9 | $374.91 | $0 – $24.99 |
| The Barrington | 8 | $388.93 | $0 – $24.99 |
| The Stronghold | 13 | $424.87 | $0 – $24.99 |
| The Keep | 11 | $443.90 | $0 – $24.99 |
| The Knox | 13 | $449.87 | $0 – $24.99 |
| The Stonefort | 16 | $484.84 | $0 – $24.99 |
| The Haven | 14 | $489.86 | $0 – $24.99 |
| The Fortress | 14 | $509.86 | $0 – $24.99 |
The Foundation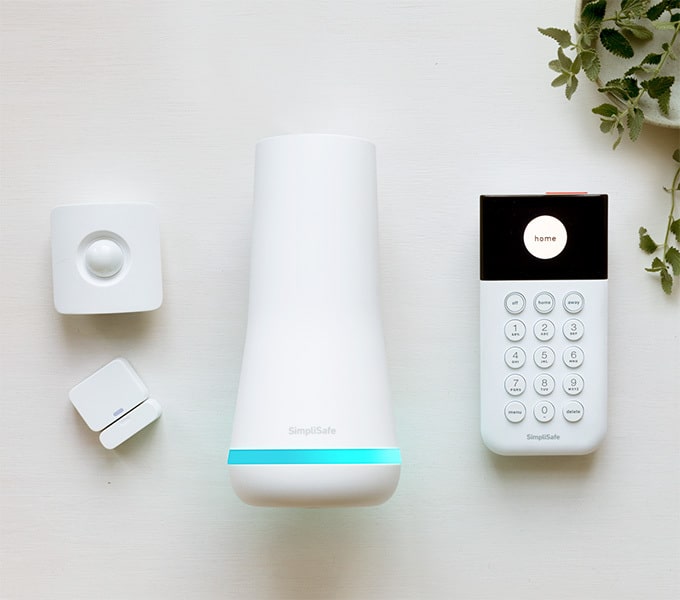 The Foundation package is perfect for renters or owners of smaller homes. For $229.96, you get a base station and siren, one keypad, one motion sensor, and one entry sensor. The base station emits a pale blue light around its base and alerts SimpliSafe's professional monitoring center in the event of a security breach. It also sounds an ear-piercing 95 dB siren. The wireless keypad can be placed anywhere, and it doesn't require power. It lights up when it is dark outside—you just touch the pad to wake it up. Everything is wireless, so you don't need a landline to run this.
Included Equipment:
Base Station
1 Wireless Keypad
1 Motion Sensor
1 Entry Sensor
The Essentials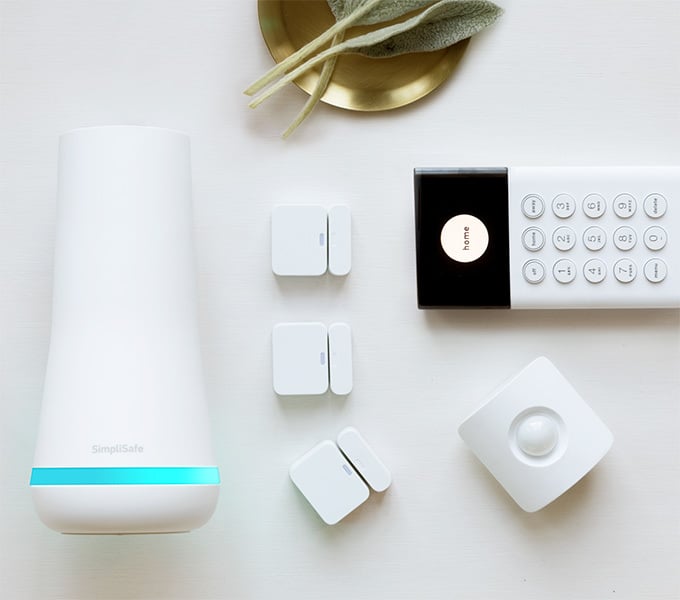 The Essentials is SimpliSafe's most popular package. It offers excellent protection for most homes and retails for just $259.95. It has all the Foundation's equipment but with three entry sensors instead of one. Like all of SimpliSafe's other systems, it comes with 24/7 monitoring.
Included Equipment:
Base Station
1 Wireless Keypad
3 Entry Sensors
1 Motion Sensor
The Hearth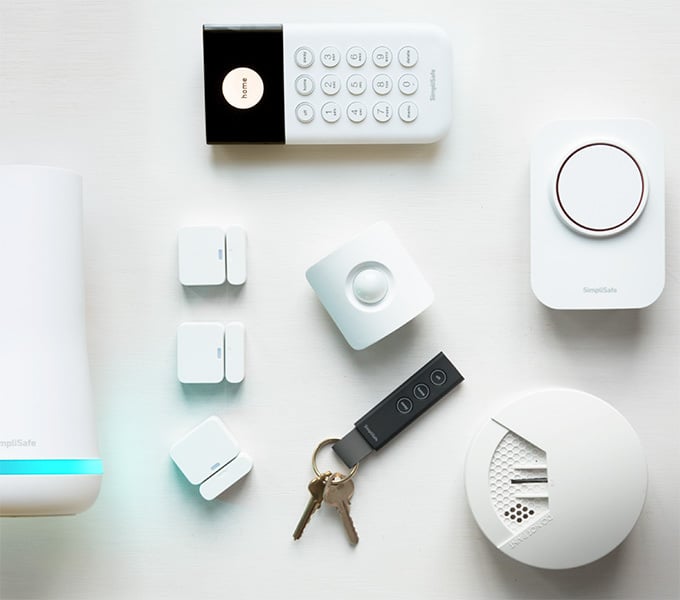 The Hearth includes all of the components that come with the Essentials package plus a smart smoke detector and a key fob. The siren has also been upgraded to 105dB. It's like being in the front row of an AC/DC concert and will surely make intruders run for the door.
Included Equipment:
Base Station
1 Wireless Keypad
3 Entry Sensors
1 Key Fob
1 Smoke Detector
1 Motion Sensor
1 105 db Siren
The Knox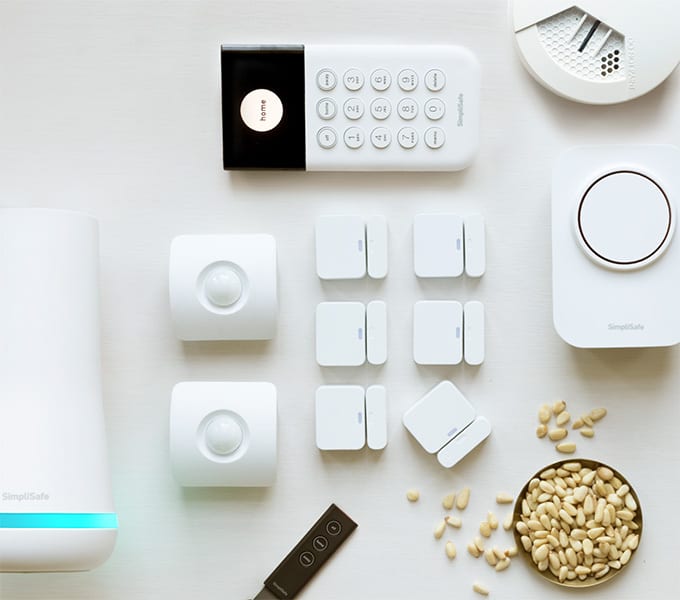 The Knox is ideal for larger homes with 4-plus bedrooms. Instead of three entry sensors, you get six to cover all the main entryways of a larger home. There are also two motion sensors instead of one, which can cover two hallways or large areas. The Knox runs $449.87.
Included Equipment:
Base Station
1 Wireless Keypad
6 Entry Sensors
2 Motion Sensors
1 Smoke Detector
1 105 db Siren
The Haven
The Haven is geared toward customers who want comprehensive disaster protection. It provides basic intrusion protection plus a panic button that can be placed in a convenient place so that you can summon help in the event of a disaster or medical emergency. The Haven also comes with a freeze sensor that will send an instant alert to your smartphone if indoor temps drop below 41 degrees Fahrenheit, which helps prevent your pipes from freezing.
Included Equipment:
Base Station
1 Wireless Keypad
1 Panic Button
1 Freeze Sensor
1 Water Sensor
1 Key Fob
2 Motion Sensors
4 Entry Sensors
1 105 db Siren
SimpliSafe Original Packages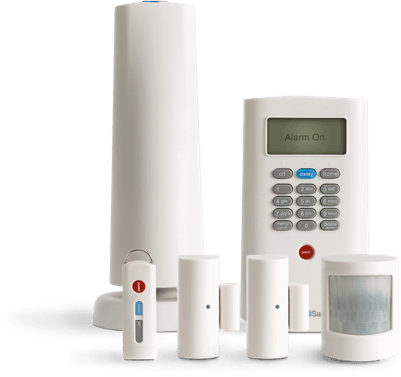 If you are looking to save some money, another option is to purchase a SimpliSafe Original package. You get a similar level of security as current SimpliSafe packages, but at a discounted rate with SimpliSafe's original (and award-winning) equipment. And you can still try it for 60 days and return for a full refund if you are not completely satisfied. The following are the four packages currently offered containing SimpliSafe Original equipment:
| SimpliSafe Original Package | # of Pieces | Package Cost | Monthly Plan Cost |
| --- | --- | --- | --- |
| The Starter | 6 | $244 | $0 – $24.99 |
| The Standard | 9 | $304 | $0 – $24.99 |
| The Elite | 11 | $334 | $0 – $24.99 |
| The Beacon | 13 | $519 | $0 – $24.99 |
Monitoring Plan and Monthly Costs
SimpliSafe offers just two different monitoring plans to choose from. The Standard is a mere $14.99 a month, one of the least expensive on the market, and it'll get you 24/7 live monitoring with a cellular connection to emergency responders. Want to step it up and include home automation and you'll pay $24.99 a month for the Interactive plan, which is still one of the least expensive monthly monitoring plans around. Btw, 24/7 professional monitoring is optional, giving you the freedom to forego monthly monitoring altogether if you want only your equipment in play.
| SimpliSafe Plan | Monthly Cost |
| --- | --- |
| Standard | $14.99 |
| Interactive | $24.99 |
Price List and Equipment Costs
If you'd rather put together your own package or add equipment, below is a chart of all of SimpliSafe's most up-to-date gear by cost.
| SimpliSafe Equipment | Equipment Type | Cost |
| --- | --- | --- |
| Base Station | Control | $114.99 |
| Keypad | Control | $69.99 |
| Siren | Alarm | $59.99 |
| Entry Sensor | Sensor | $14.99 |
| Motion Sensor | Sensor | $29.99 |
| Glassbreak Sensor | Sensor | $34.99 |
| Smoke Detector | Sensor | $29.99 |
| Freeze Sensor | Sensor | $29.99 |
| Water Sensor | Sensor | $19.99 |
| Key Fob | Remote | $24.99 |
| Panic Button | Remote | $19.99 |
| SimpliCam | Camera | $99.00 |
| Video Doorbell Pro | Camera | $169.00 |
| Smart Lock | Lock | $99.00 |
Looking for their Current Deal?
SimpliSafe almost always offers steep discounts on its refurbished home security systems, as well as deals for military families and even seasonal and holiday sales. To see all of SimpliSafe's current deals, promotions, and sales, check out our SimpliSafe deals page here.
How to Order
When ordering your security system, first determine which equipment and coverage you want, then sort out which package best applies to you (or if you'd prefer to order piece by piece), and then select the monitoring plan that best suits your needs (basically, determine whether you want home automation). It's that simple.
More About SimpliSafe
Today, SimpliSafe is still headquartered near the Harvard University area in Boston, Mass. The company builds its own equipment and meets high standards for product quality. Its emergency monitoring service is top-rank, but above all, SimpliSafe has built a reputation among renters. Its system setup takes just 15 minutes without the need for a professional, holes in the wall, or installation fees, and by not requiring contracts, you have the flexibility to pay for only the equipment or up to $24.99 a month for full-access 24/7 monitoring with home automation. See our full review of SimpliSafe.