Best Security Systems Without Monitoring
"Unmonitored" or "self-monitored" security systems allow you to keep tabs on your home via smartphone or tablet, and they can even trigger text alerts in the event of a system breach. Welcome to the new era of home security. See a rundown of your best options below.
The best self monitored, or unmonitored home security system provides you with many of the benefits of security without the higher costs. These systems are often accessible via a smartphone or tablet, but they still provide incredible access to your home. Check out how the best self monitored home security systems of 2019 rank.
Most homeowners want to ensure their home is safe, but doing so can seem like a high cost. It does not have to be. You do not have to give up peace of mind because a variety of solutions exist that keep costs lower while providing you with a good level of information and insight into your home's safety. Self monitored systems work by providing you with a link to what is happening at your home. While some are called unmonitored systems, they are, in fact, monitored. You do the monitoring. Most of these systems allow you to log into cameras or connected devices at your home from an app or internet connection. This allows you to take necessary action to protect your home. Here are our top 2019 home security systems for unmonitored support.
1. SimpliSafe – Best Overall Self Monitored System (Editors Choice)
SimpliSafe takes the crown for the best self-monitored security system. With a sleek and streamlined design, it's easy on the eyes, reliable, and offers DIY install. Get safe with SimpliSafe.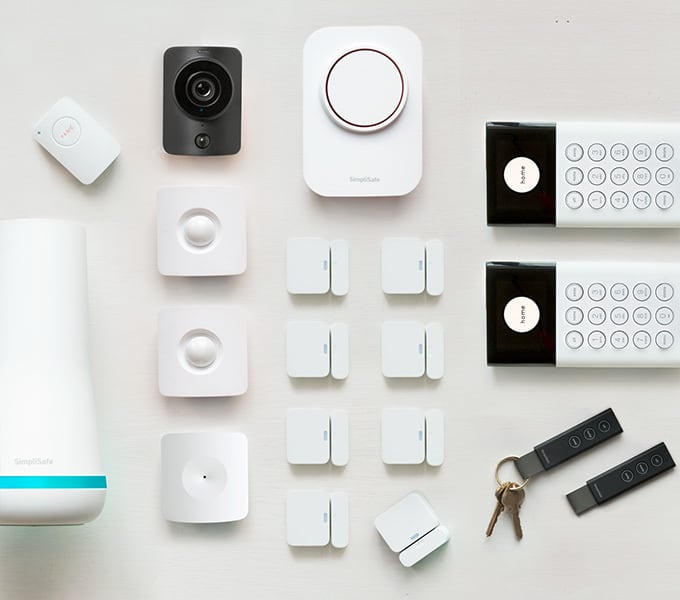 SimpliSafe is perhaps one of the most recognized home security solutions for those seeking a self-monitored option. The company creates its own security equipment. It does allow for a lot of consumer insight. The systems themselves are quite high in quality. These are wireless home security systems that make installation very easy. There are a few other key benefits to these systems you need to consider.
Pros
No monthly costs
Easy DYI installation
Long-term equipment trial available
No long-term contracts
Motion detectors
Mobile alerts
Very easy to use; ideal for beginners
Cons
Limited home automation features
The equipment is proprietary with fewer customizations
The system offers fewer upgrades
There is no doubt SimpliSafe is a reliable solution with high quality equipment and an overall quality design. The equipment itself is very durable and versatile. You can use it just about anywhere in or around your home. It links to your home's internet connection and sends you alerts – no matter where you place it. Use it on doors, windows, and anything else.
You can obtain monitoring from SimpliSafe if you decide to upgrade for about $25 per month. However, the self-monitored system is ideal for those who want a low cost solution overall. You can use the basic starter package features in all cases. This includes fire, flood, and carbon monoxide monitoring solutions. The system will send you either an email or a text message whenever there is any type of activity in the designated area. You can then determine if you should take action to rectify the system.
It also offers a 60 day money back guarantee. For many people who may be just starting out with home monitoring solutions, this may be an excellent benefit. When it comes to installing it, this is no problem for a handy homeowner. There is no hard wiring involved here. And, once in place, it is fairly easy to move the system from one area to the other, such as to move cameras.
There are no monthly contracts to worry about here. The company does offer a few key benefits. First, it offers things like intrusion protection and environmental protection. It offers the remote control users need to know what is happening at their home. SimpliSafe has a mobile app users need to download to access their system. Overall, it is a good option because it is reliable and built to handle the tough weather well.
2. Canary – Easiest to Install
Leave the tools in the shed! Canary is our top pick for easy, DIY install. This all-in-one, camera-based security system boasts 1080p HD image quality, motion detection, and other nifty features.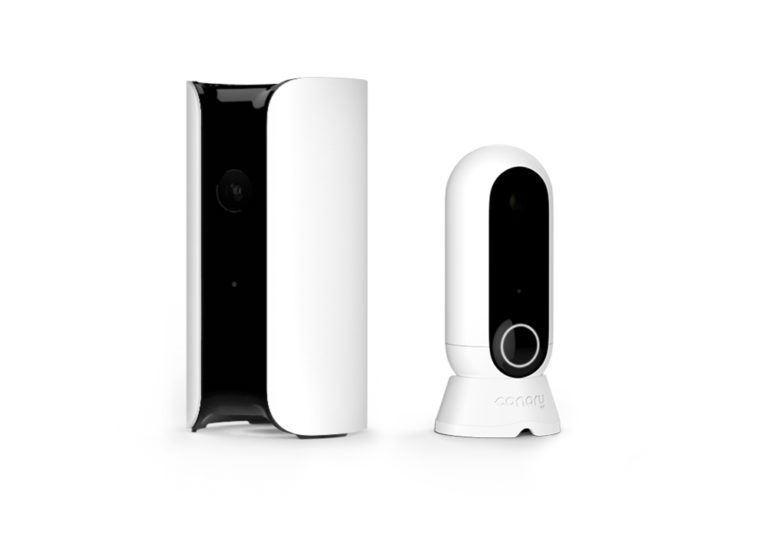 From a homeowner's perspective, there is much to love about Canary. It is often touted as the option security professionals enjoy because of its low cost and overall versatile product offerings. But, there is more to it than just this. The system is well designed. It comes with a fully functional video camera. It also features a high quality camera – giving you more vivid details than you may expect from other products. There are several key benefits here, especially in the overall design and installation of the system. Here are a few things to consider about the Canary home security system.
Pros
Very easy to install for most
Remote control access through a mobile app
Home automation upgrades and features available
Intrusion protection
Environmental protection included
One-touch Access to first responders
No monthly costs and no contracts to worry about
Cons
Upfront costs required
Some features are limited to monitored system including video downloads
Videos are only held for one day in the system
Canary is a solid go-to solution. It offers an all in one design. This means that everything that you need to do is done on one system. This helps to ensure the overall functionality is good. The company offers two versions of its product. One is a non-monitored solution and one includes monitoring. For those who decide to upgrade, realize that the monitoring solution is under $10 a month, making it highly affordable.
Like all systems, there are upfront costs. You will need to pay for the equipment itself. However, there are no contracts and no fees. More so, you do not need to hire anyone to install the system for you. This is an ultimate self installed solution. It is easy enough to install for most users but flexible enough to move and add to over time as well.
The Canary home security system offers some nice benefits. It is motion activated. Once there is motion detected with the system, it automatically turns on and begins recording. It also allows for the user to tap into the device using the mobile app. When you do, you can view the previous or current recording. You can also watch what is happening through the camera from the mobile app. This provides live connectivity 24 hours a day. However, the system will only record and maintain that recording for one day. This means users will need to review the video as soon as possible or risk losing access to it.
The equipment itself is very reliable and well designed. It is durable. It comes with a one year device warranty, which is good for the industry. Perhaps one of the best features here is the camera quality. Unlike other systems that have moderate quality in their cameras, the Canary cameras are 1080p HD cameras. This provides a very clear image and one you can easily enjoy using.
3. Abode – Best No Contract
Abode is our favorite no-fuss, no-contract home security system. Because contracts are so last year. And now with smart home automation features… you can see why it's all about Abode.

Abode is a home security system with a few key benefits. It is a DIY solution that provides for a very low price overall. Depending on what your needs are, you may find this system is an excellent option for low cost, ease of installation, overall features, and home automation. It does have some drawbacks, such as not offering all of the features of more advanced products, but it also does not charge a lot for the system, making it an excellent option for anyone looking for a self monitoring home security system. There are several things to know about it:
Pros
Wireless system with cellular monitoring upgrades, if designed
DIY installation is common
Home automation features are available
Environmental protection solutions in place
Overall affordable equipment charges, but no monthly fees
Cons
System does have upfront fees
It has a shorter return policy of 14 days
Limited flexibility and customization solutions
The Abode home security system is a highly desirable product with a low cost. It may not have as many bells and whistles of other systems, but it is still very much a self monitoring, reliable solution for home security. The company designed the equipment to be flexible enough for most needs and designed well enough to handle weather concerns. This is a professional grade system, but it does not have the high costs normally associated with such systems. Nevertheless, there are some key things users need to know about the Abode system before investing.
For example, it has a limited 14-day return policy. This can make it a bit more limited in terms of returns if you do not like the product. There are several bundled costs. Bundles charge based on the features within them. The costs range from $280 up to $640 (and these prices may rise).
There are many things to like about this system, though. For example, it offers on-demand professional monitoring if designed. It also is a wireless system that requires no actual hard wire installation. This makes it very much a do it yourself product. You can move it around to fit your specific needs as well. The company's overall service level is good, too.
At the time of this writing, the basic system will come with a gateway, motion center, mini door contact, remote key fob, and a secured by Abode Sticker. There may be discounts available, but overall this system keeps costs low. You will also find it is to be highly durable in the long term.
4. iSmartAlarm – Most Customizable
There's lots to love about iSmartAlarm. Choose from several wireless home security packages, and upgrade or expand to your heart's content. No monthly fees, no contracts, no problem.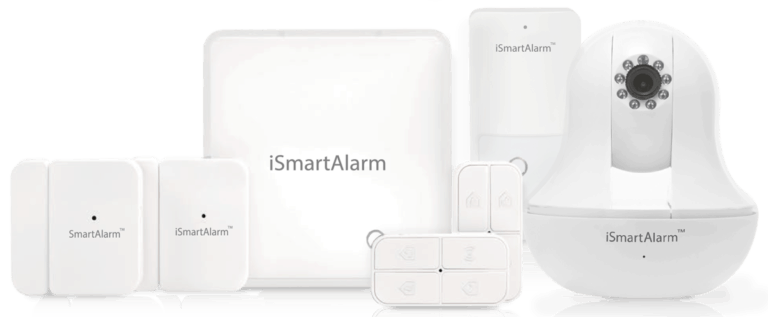 For many people, the selection of a home security system means focusing on quality. iSmartAlarm will not let you down here. This is a 100 percent wireless system, which helps to make the installation process very easy to do. It is affordable and does not have long term contracts to lock you into payment. You will need to consider the overall features and functionality here. The company's system is versatile and it is well known for providing an exceptional quality. Here is what you need to know about this system:
Pros
Wireless design
Easy DIY installation
Home automation features available
Upgrade to professional monitoring with medical response alerts
Wi-Fi and 3G alerts sent
Intrusion protection
Remote control access
Competitively priced
Cons
Upfront costs
Limited discounts available
Limited updates available
The iSmartAlarm is not an Apple product – that is important to know for those looking for connectivity. However, it has a lot to offer individuals. First, it is an easy to install solution. It does not require any type of hard wiring. The company does offer a one year warranty on the equipment, which is longer than most companies. This is the type of company you can feel good about working with overall.
The company does not charge a monthly fee. There is no long term contract. The systems themselves have prices ranging from $200 up to $500 depending on the features and devices desired. The company's product offers emergency text, as well as app, phone, and email alerts. In addition, users get remote access to their home through the mobile app. This is a very straightforward non-monitoring system.
It is possible to upgrade. The smart home video bundle adds more functionality. Users can also upgrade to more sensors and motion control features. The basic product comes with a CubeOne with built-in siren, four contact sensors, three remote tags, and three motion centers.
Most users will find this system is easy to use and install. It offers quality home monitoring providing the homeowner with the ability to easily click into their home from their mobile app to find out what is happening. The company's system offers limited home automation features, though. However, for those who want to start with a basic system and expand, the iSmartAlarm works well. It offers numerous ways to upgrade and expand monitoring.
About Unmonitored Home Security Systems
Below we consider pros and cons of unmonitored home security systems (see here if you're looking for companies with the fastest monitoring response times). Keep in mind that some security equipment can be used with and without professional monitoring, giving you month-to-month flexibility.
Benefits
Sometimes paying for professionally monitored home security isn't practical. Maybe you live in a secure apartment building, for instance, but would like a personal security camera for remotely checking in on your children, pets and service providers. Or maybe your budget is very tight and you can't always afford monthly monitoring. If you're confident that you or others would respond to an alarm, then an unmonitored security system could be effective. A high-decibel alarm can sound for a few minutes if sensors are triggered, and lights can be set off too. With smartphone-compatible security, you can also receive text alerts about possible intrusions.
Cost
Most systems are do it yourself installations. This means there is no cost to pay for installing the system. Additionally, as unmonitored systems, these home security options are very low cost overall. Once you purchase and install the system, you will only pay more if you decide to add features to it. As a result, self-monitored home security solutions are the most affordable option because they do not have ongoing monthly fees.
Home Automation
Most home security systems have home automation features. They generally rely on the ability to connect to your home's Wi-Fi or other internet access. As a result, they tend to be highly modern and upgradable. You may find new features added to some of these systems over time. Most are also IFTTT compatible. They are designed to provide secure access to your home through connectivity.
Fewer False Alarms
A nice benefit here is that there are fewer instances in which you have to worry about the system sending a false alarm to the local emergency teams. The difference here is that the system does not automatically contact the police or fire crew if it senses a problem. Rather, it contacts you. You can then log into the system using your smartphone. And, then, you call emergency response when you need to. There are fewer false alarms and less concern about these risks.
Control
There are various brands and each brand offers a number of different upgrade options. One of the nice benefits here is the added control homeowners receive. You can customize them to include more monitoring, or less. You also gain the ability to control when the system is monitoring, and when it is not. You can turn it on or off remotely. You can also gain more access to updates as they happen over time.
Drawbacks
If an alarm sounds but nobody responds, is that alarm truly useful? The biggest drawback of unmonitored security equipment is that it won't notify dispatchers. A second drawback is that unmonitored systems often rely on broadband Internet to send text alerts to the owners. Internet connections aren't as reliable as the cell radio connections used with monitored systems. Also, some equipment only runs off of mains power; look for security equipment with powerful backup batteries. People are becoming increasingly dependent on their smartphones, so it's nice to have a good mobile app which the companies with the best monitoring provide. Not paying for monitoring can be expensive if it allows for theft or bodily harm. Considering the peace of mind that monitoring provides, it seems like a good investment.
Convenience
The biggest problem with unmonitored system is just that – they do not have any ongoing monitoring in place. Homeowners do not have the luxury of a passive system. This means any time there is an emergency, the homeowner still has to push the button to get help. You must contact the police manually, which can mean it takes longer to get help to your home.
Level of Security
The level of security in a self-monitored system is less. While some companies promise excellence here, it is arguably not as secure as a professionally monitored system. If you cannot address the problem occurring, there is no way for the system to take action. For example, while you are sleeping or away form the home, you have less ability to get help without having to call for help directly.
No Home Insurance Discounts
While most home security systems offer some level of discount on homeowners insurance, self-monitored systems are far less likely to offer the discount you desire. Insurance companies typically only provide such discounts to those systems professionally installed and with monitoring.
Peace of Mind
While adding any security system is better than not having one at all, the best level of peace of mind comes form a monitored system. You have to remain more aware of your home security at all times. As a result, when you are traveling or even when you have the babysitter at the house, you still have to remain vigilant. This often means, in the long term, you gain less peace of mind about the security of your home.
Features of Home Security Systems Without Monitoring
Unmonitored home security systems are much like their monitored competitors,
but minus emergency connections to dispatchers. Here are some common features.
Wireless or Hardwired
When people set out to buy unmonitored alarm systems they typically choose wireless equipment for its easy set-up and flexibility. However, many unmonitored hardwired security systems can also sound alarms.
DIY
Wireless unmonitored security systems are designed for easy set-up. No tools are required and you won't need to wait around for a professional. DIY security also lets you choose just the components you want with kits and add-ons.
Mobile Alerts
To keep connected with wireless security equipment you can get automatic text alerts if sensors are triggered. Keep in mind though that alert systems using Wi-Fi connections aren't as stable as monitored systems using cell radio.
Remote Control
Control your alarm system from anywhere! Wireless systems are available with mobile apps that let you monitor activity as well as arm/disarm the system. Keychain remote controls also work with unmonitored systems.
Entryway Sensors
Setting up home security, your first task is protecting entryways. Monitored and unmonitored security systems feature magnetic sensors that guard windows and doors.
Motion Detectors
Infrared motion detectors provide backup to entryway sensors. Some motion detectors use pet-friendly technology to minimize false alarms. Some have short ranges but others detect movement hundreds of feet away.
Special Features
Essentials in a DIY security set are a control panel, entry sensors and motion detectors. Sets can be expanded with special features such as glass break sensors, environmental sensors and keyring remote controls.
Specialized Alert Zones
Besides protecting a home in general, a security system can guard micro-areas of a home. For example, you can get text alerts when a certain room is entered or when a liquor cabinet is opened.
Ownership
Self-monitored security equipment is owned by the user. In contrast, typically the security equipment that's provided with a long-term monitoring contract is owned by the monitoring company.