Written By: SafeHome.org Team | Updated: June 31, 2021
Low pay. Stressful work. Terrible schedules. People yelling "fake news!" at you — or worse. The modern American journalist has a largely thankless job, but it's one that nonetheless is crucial to any functioning democracy.
Outside of government, the press is the only industry specifically referenced in the Bill of Rights, and throughout our history, many of the worst abuses of power have come to light only after dogged reporters and journalists got involved.
There's no doubt that the past few decades have been tough on journalism in the United States. Newspaper circulation has plummeted, and newsrooms have shed thousands of jobs. In fact, between 2006 and 2017, employment in newspaper editorial departments fell by nearly 50%.
Adding to the average journalist's stress over whether they'll even have a job tomorrow is the continuing erosion of the public's trust in news media. While the numbers have ticked up over the past couple of years, public trust in the news media fell to just 32% in 2016, down from a post-Watergate high of 72% in 1976.
All is not lost, though: Enrollment at many major journalism schools, including Columbia, USC and Northwestern has risen over the past couple of years, which would seem counterintuitive if, as people suggest, the industry is dying.
The U.S. is a vast and complicated country, and the day-to-day reality in one place may bear no resemblance to what happens elsewhere. So we wanted to explore where the young journalists who will soon be starting their careers should consider looking for work.
You can jump to the bottom to see our complete methodology, but our rankings of best and worst states and cities for journalists plots every state and the 50 largest U.S. cities on a scale based on how difficult the life of a journalist is likely to be. The calculation includes things like ease of finding a job, typical wages, how expensive rent is and how likely attacks against journalists are. In our scale, higher numbers equate to a worse outlook.
Best & Worst States
for Journalists
It's reasonable to assume that a smart young journalist would simply head to the coasts to find media work; after all, cities like New York, Washington, D.C., and Los Angeles are media hubs. But those cities also are incredibly expensive, and journalism is a notoriously low-paying job, especially for inexperienced workers.
In fact, our analysis found that the middle of the country — Oklahoma, to be specific — is overall the best state for journalists.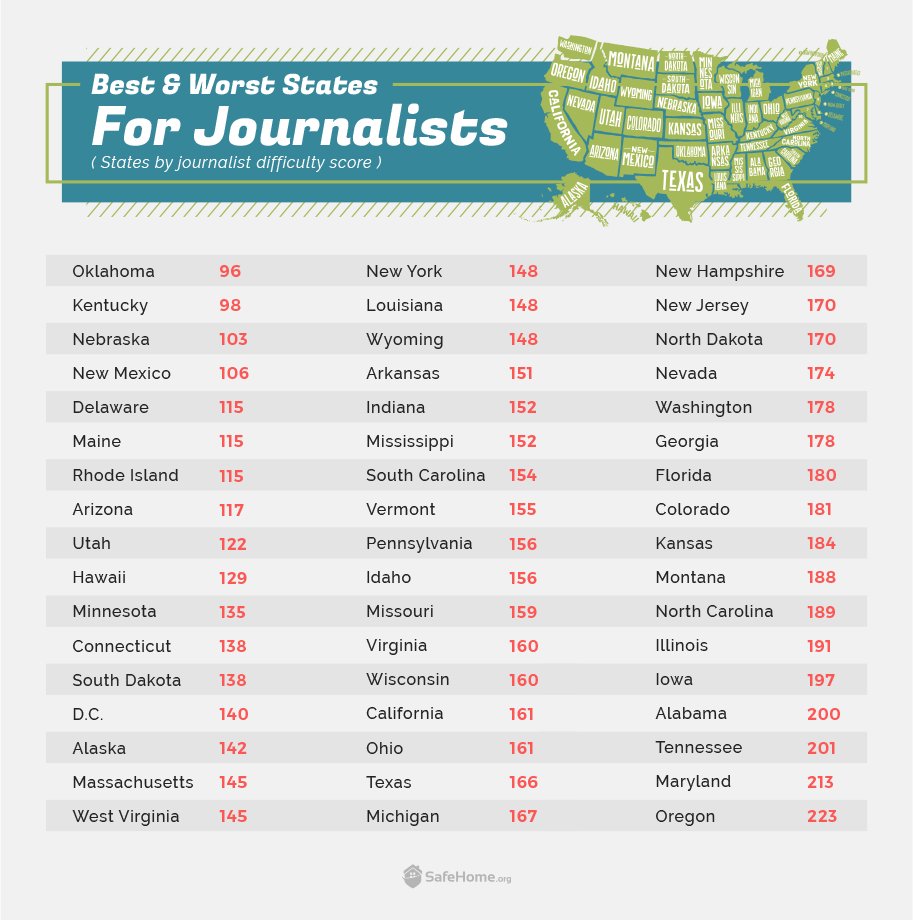 D.C., a traditional media hub and the nation's capital, ranks in the top 15, and New York, the country's other news media mecca, comes in at No. 18. The worst-performing state is Oregon with a score more than twice as high as Oklahoma's.
Let's break down results from each state, and you can jump to the bottom of the page to see more details on the methodology and data sources:

Best & Worst Cities
for Journalists
Understanding which states are the most friendly to journalists is only part of the story. After all, most of us don't really move to a state; we move to a city that just so happens to be in a particular state. And if our state-level list felt counterintuitive, never fear; when it comes to the best cities for journalists, the top two on the list are probably the exact ones you'd imagine:  Washington, D.C., and New York City.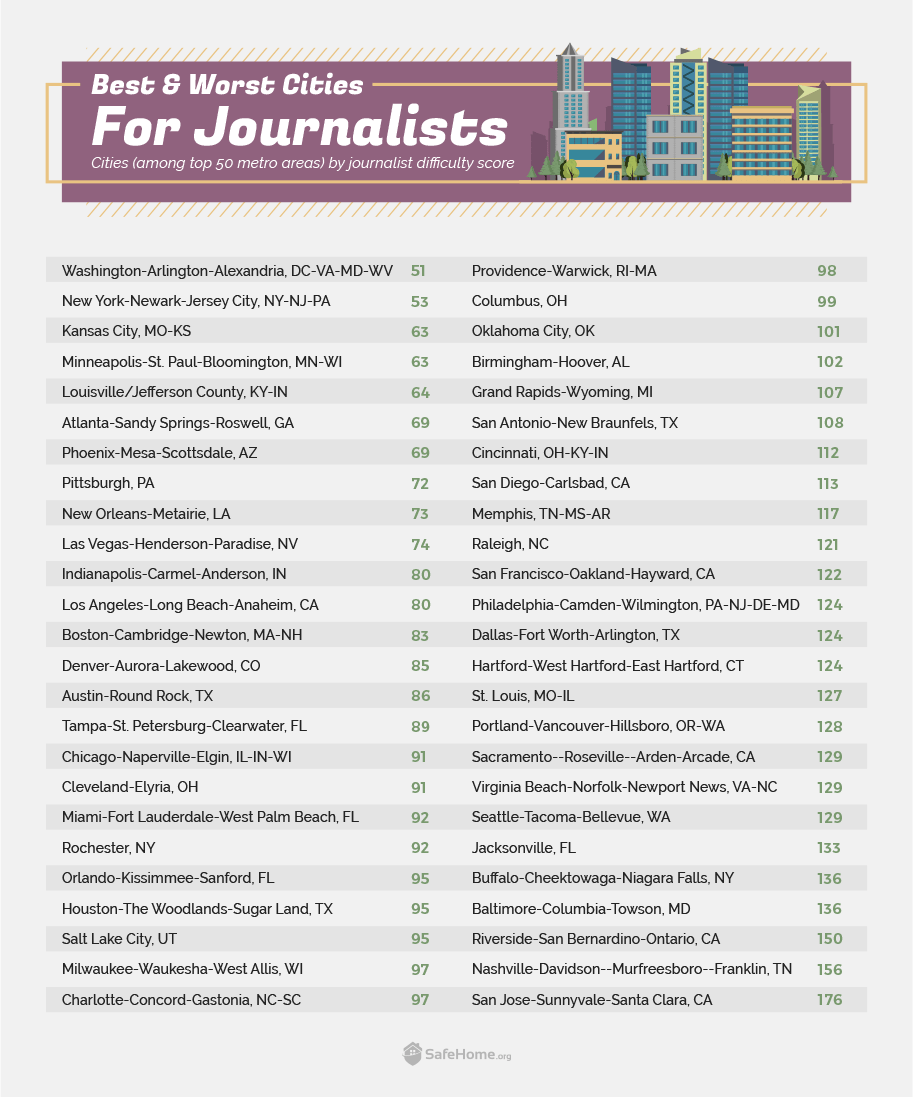 While D.C. and New York perform about as you'd expect given the sheer numbers of media jobs located there, the remainder of the highest performers seems surprising, as they're all relatively small cities: Kansas City, Minneapolis and Louisville round out the top five.
By far the worst city for journalists is San Jose, California, in the heart of Silicon Valley. The area's rankings across the categories are all at or near the bottom. Among the other low-performing cities, another (Riverside) is in California, but the remainder of the bottom five are all the way across the country — Nashville, Baltimore and Buffalo.
Employment & Earnings
Any dedicated journalist will tell you that money is not the reason they got into the news business. That's because journalism is not a lucrative industry (unless you own one of the handful of corporate newspaper chains). The average reporter earns just over $40,000 per year. Compared to a job with a similar skill set (public relations: $60,000), a typical reporter earns quite a meager living.
Still, journalism is tough work, and some places in the U.S. offer a much better outlook than others.
States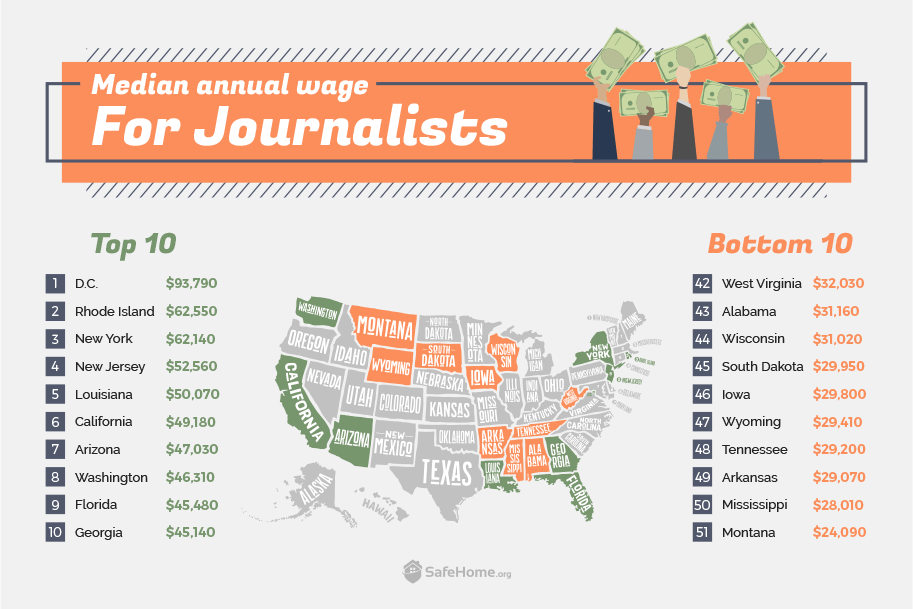 Note: For the reporter/correspondent occupation, the Bureau of Labor Statistics did not list a median income, so the overall median for the state was substituted.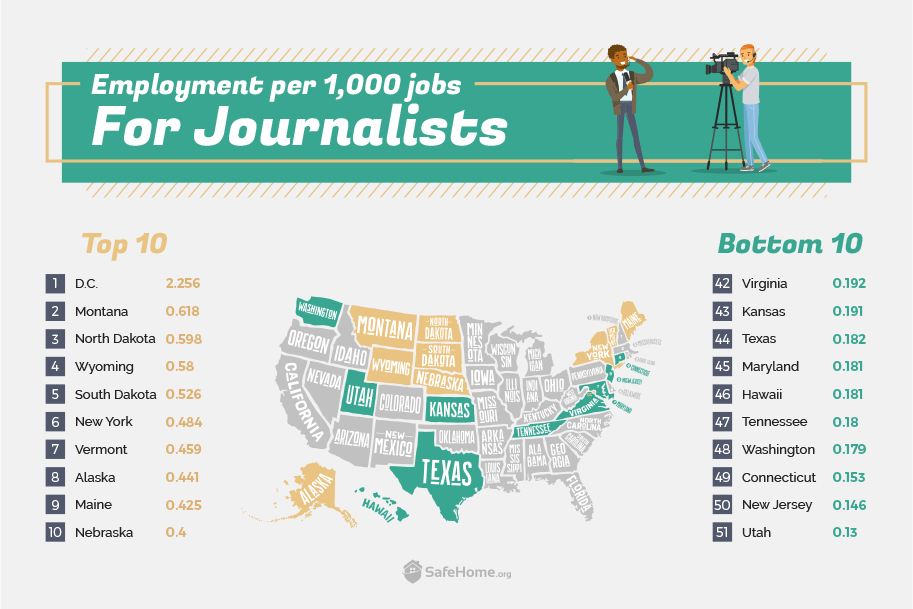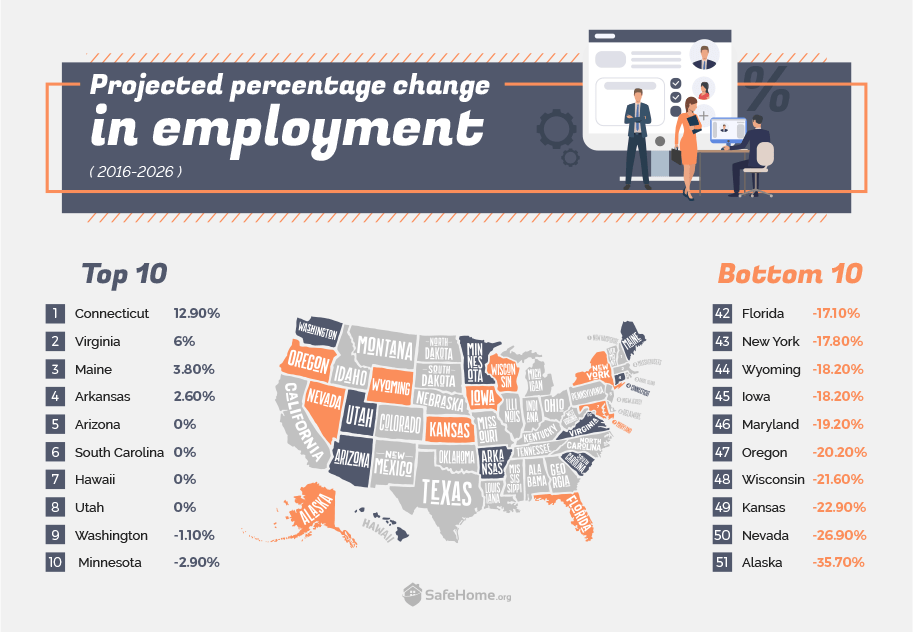 Cities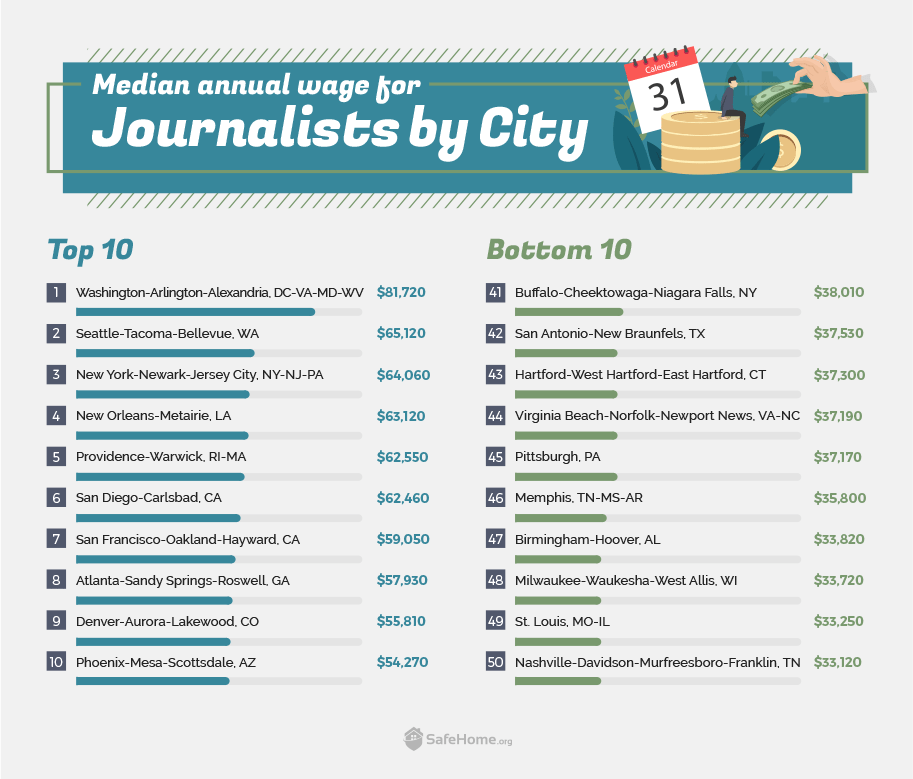 Note: Data for multiple cities was unavailable for the reporter/correspondent occupation, so the overall median for all occupations was substituted for San Jose, San Francisco, Baltimore and Buffalo.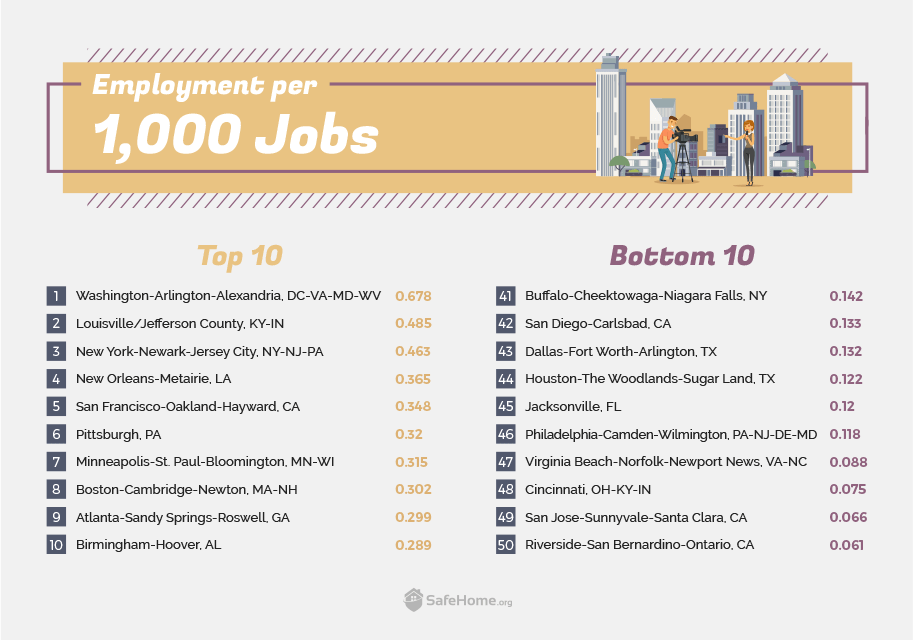 Cost of Living
A relatively low salary can be hugely offset by a low cost of living, and there's no doubt that many of the cities and states that generally are assumed to be prime targets for young journalists also are among the most expensive.
States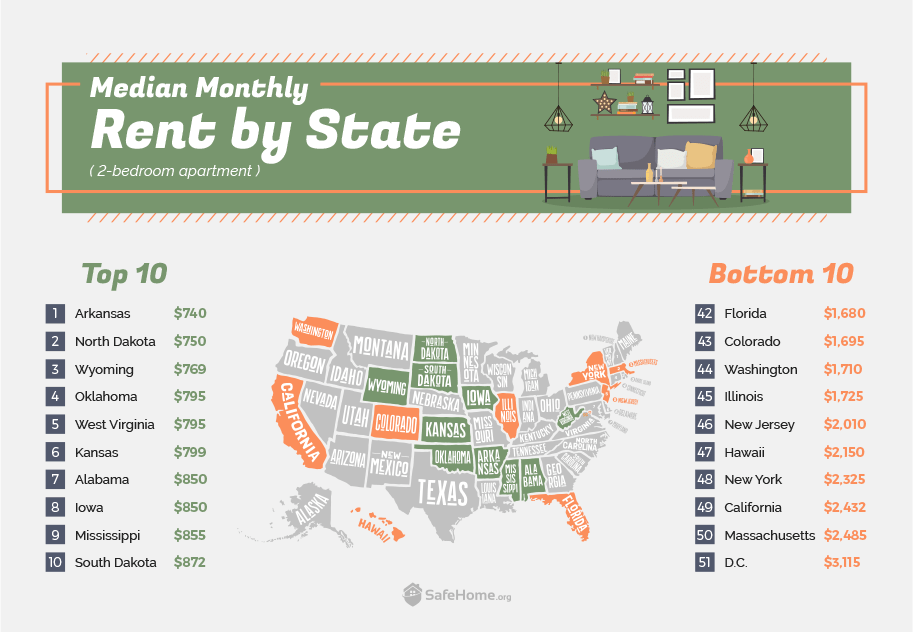 Cities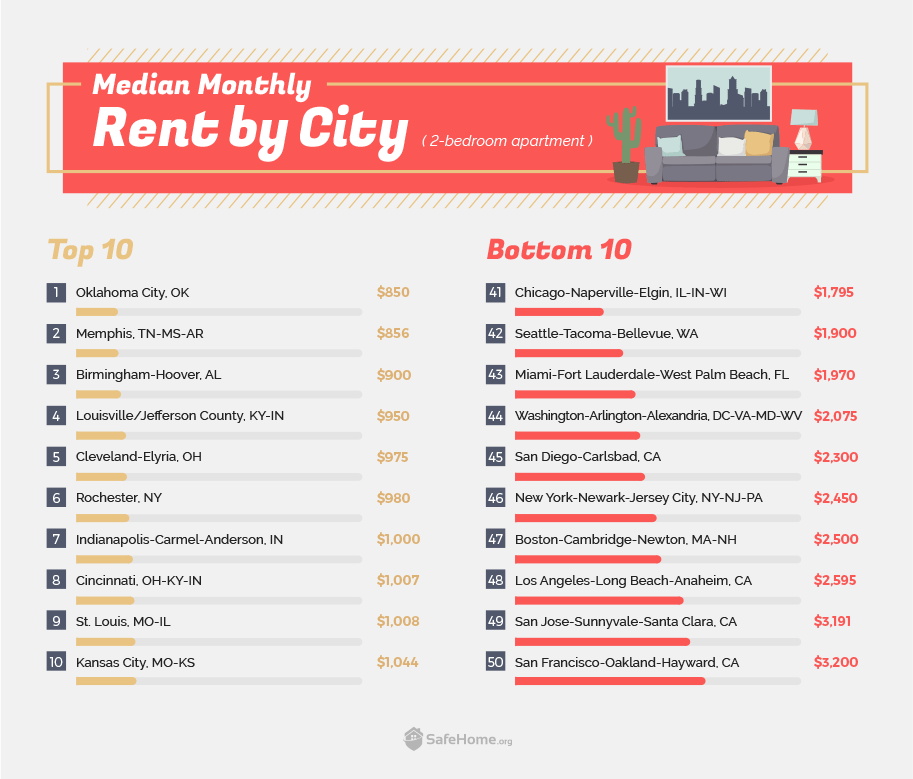 Circulation
While not all journalists work at newspapers, print news remains an important and helpful analog for understanding the health of the industry. More Americans get their news online than in print, but even those who get their news online, the original source is often a newspaper.
Still, circulation has seen sharp declines in recent years, falling about 10% between 2016 and 2017 and dropping by more than half since the '70s. Some papers, though, still see strong circulation numbers.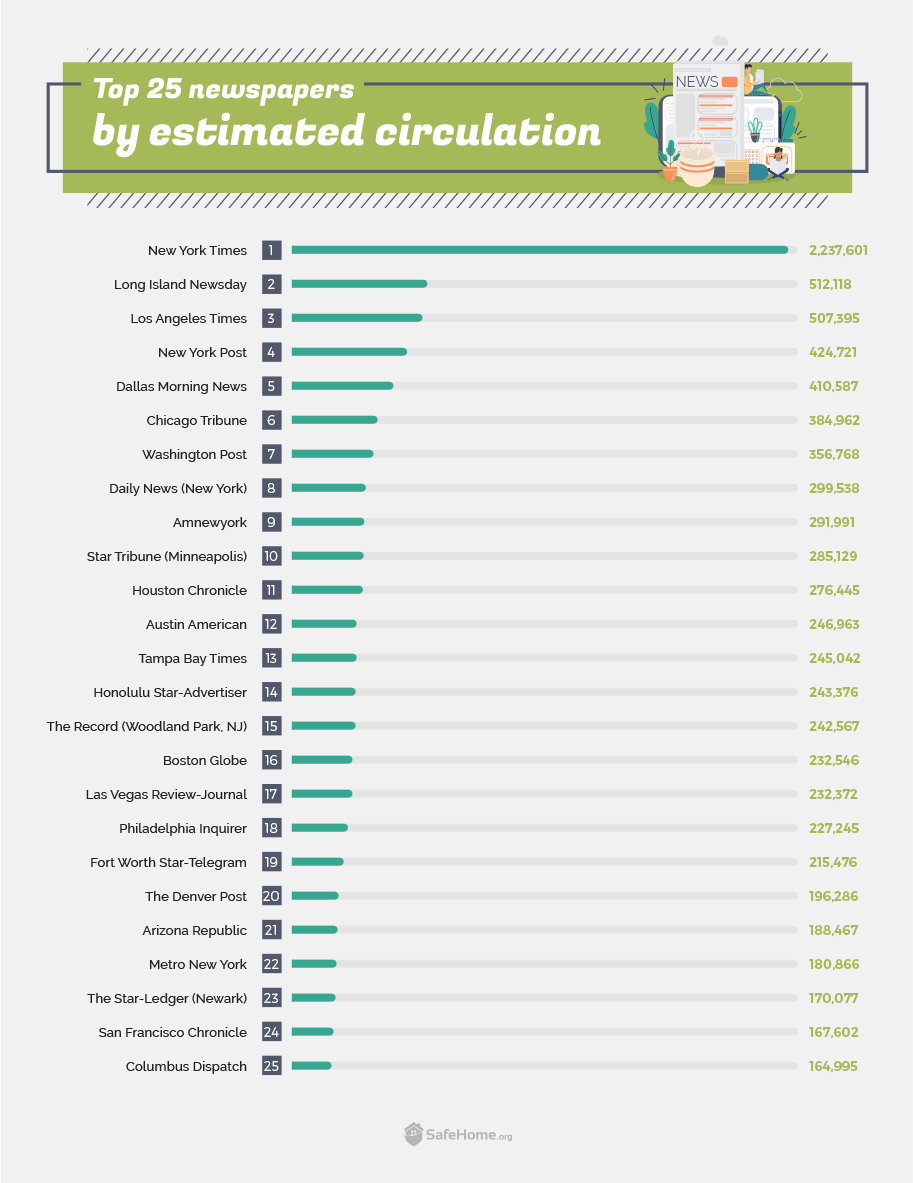 Two notable exclusions from this list are USA Today and the Wall Street Journal, which both are circulated across the United States. They each have average circulation figures of over 1.5 million.
States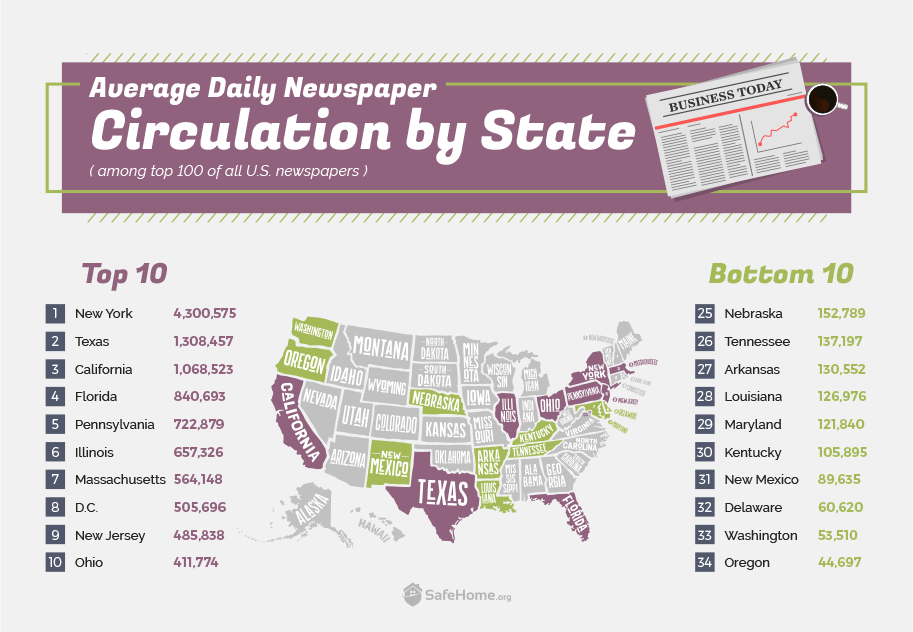 Note: This excludes the 17 states for which no papers are listed in the top 100 for total circulation.
Cities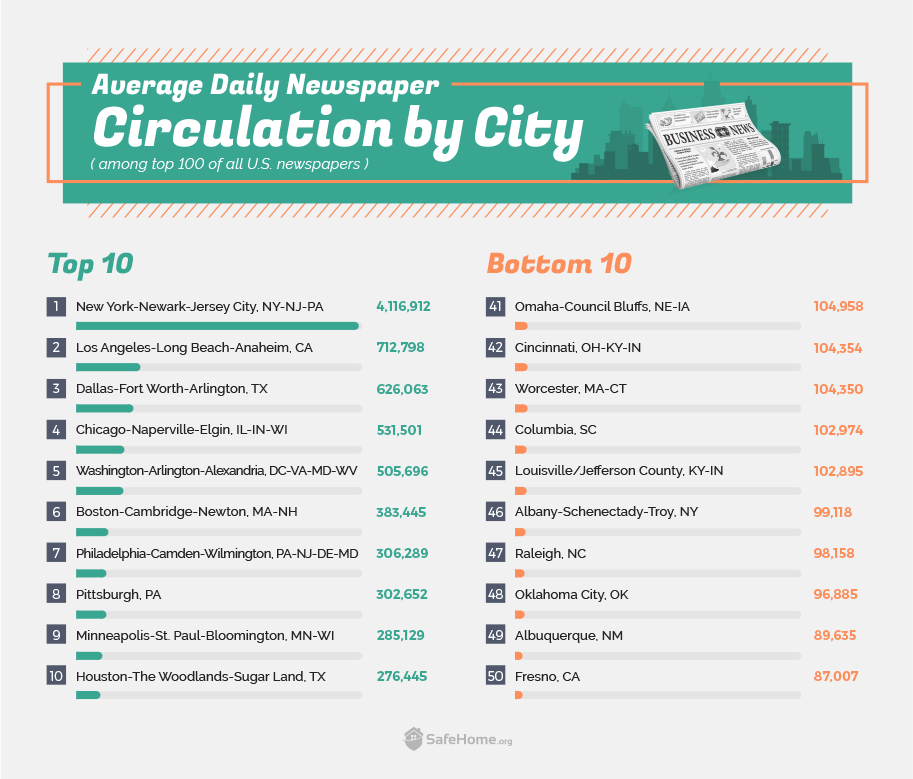 Attacks on Media
Even if you agree with his position, it's impossible to argue that President Donald Trump does not see the news media as his enemy. And while it's irresponsible to draw a direct correlation between the president's rhetoric and every attack on any journalist in the United States, there can be no doubt that general hostilities against the press have heated up. So far in 2019, 29 journalists have been physically attacked and since 2017, 46 reporters have been attacked while they were covering protests. In 2018, five journalists were killed, four of them during the horrific mass shooting of the Capital Gazette newsroom in Maryland.
The U.S. Press Freedom Tracker, a joint effort by the Freedom of the Press Foundation and the Committee to Protect Journalists, monitors attacks on the press, whether in the form of physical attacks, arrests, rhetoric or other attempts to restrain press freedom.
More than 300 incidents have been cataloged over the past few years, with the majority taking place or impacting journalists in D.C. and California.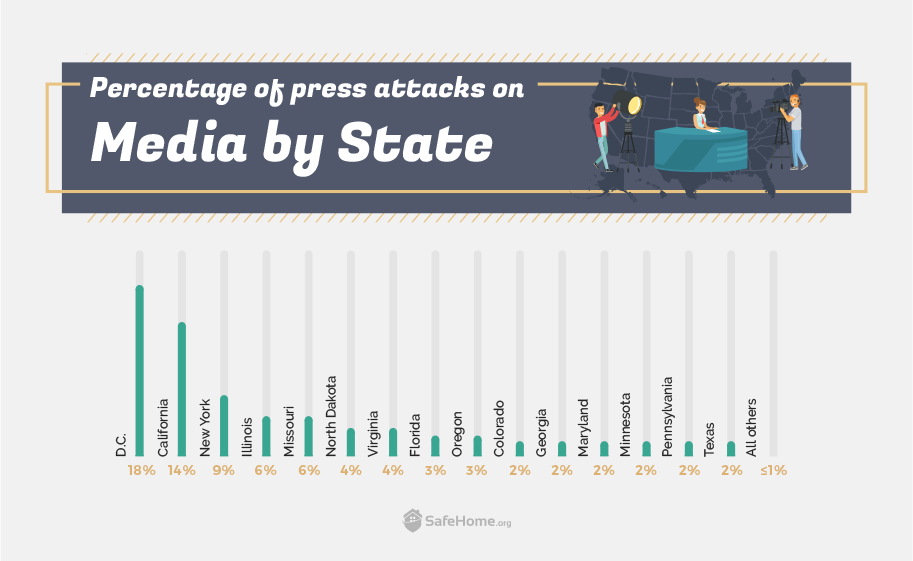 For many incidents, no city is listed, so this metric has impacted only the state rankings.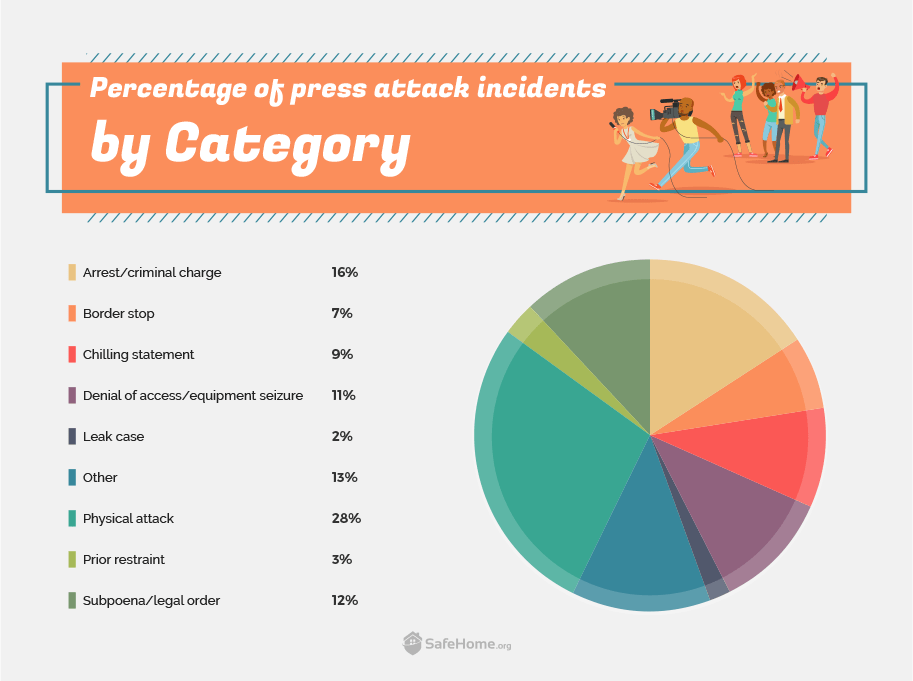 Conclusion
Without a free press, those who would seek to take advantage of the American public would likely be able to do so without fear of consequences. A strong, independent press holds those in power to account in a way that individual citizens cannot do.
The average American spends over an hour every day consuming news, whether in print, on TV or online. Behind each of those headlines and every one of those longform thinkpieces is a team of journalists who've decided to devote their lives to a job whose public perception ranks behind undertakers.
In this fractious age where news happens seemingly nonstop, it can be helpful to pause for a moment and consider that without a journalist, you wouldn't even know that news happened.
About This Story
To create our rankings of states and cities by how friendly they are for journalists, we used data from several sources:
For our state rankings, we used more metrics than for the city-level rankings because, quite simply, we could build a more robust database on the state level than the city level. To rank the states, we used the following metrics:
Employment (reporters and correspondents) per 1,000 jobs
Percentage change in employment (reporters and correspondents) 2016-2026
Percentage of all attacks on journalists in the past three years that took place in each state
Annual median wage for job (reporters and correspondents)
Median monthly rent (2-bedroom apartment)
Circulation of newspapers located in each state (among top 100 circulation papers)
To rank the cities, we used similar metrics but fewer of them:
Circulation of newspapers located in each city's metro area (among top 100 circulation papers)
Employment (reporters and correspondents) per 1,000 jobs in each metro area
Annual median wage for job (reporters and correspondents) in each metro area
Median monthly rent (2-bedroom apartment) in each city (some but not all included broader metro areas)
To calculate each state and city's total, we ranked each one in every category, assigning a number (1-51 for states, for instance) based on each state or city's ranking in the category. Those figures were then all added together to create the numerical score in which higher scores represent a more difficult situation for journalists.
For instance, the city with the best score — Washington, D.C, ranked in the top five for three of the four city categories but came in near the bottom for how expensive rent is. That makes D.C.'s total 83. The worst performing city — San Jose, California, ranked near the bottom in every measure (its best score was 34 out of 50) for a total score of 176, more than double Washington's score.
Fair Use Statement
The materials on this page are free to use for non-commercial purposes. If using or quoting anything you see here, please be sure to include a link back to the URL.