Travis Goodreau
https://www.safehome.org/security-advisors/travis-goodreau/
Best Business Security Systems
Protecting your business is one of the best investments you can make. Take a look at our best business security systems below.

If you own a business, a top-quality security system is not an option, it is a necessity. The market is full of business security systems that offer a wide variety of features and options designed for functionality and convenience. Here are the top three business security systems that are highly rated by our researchers, testers and consumers alike.
1. Vivint – Overall Best Business Security


Vivint has been in business for 20 years and has a wide variety of awards from well-respected companies such as J.D. Power, PCMag.com, U.S. News, Forbes, and more. They also offer more than just business security systems and are always adding new facets to their service lineup such as Vivint Car Guard, high-tech housing for adults with autism, and they have been added to the 2019 Forbes list of America's Best Employers for Diversity.
Pros
100% Wireless Security System
Automatic Updates
Automated Sensors and Detectors
Low Monthly Starting Price
"Plug and Play" Security System
Smart Automation Features Available
Cons
Customer Service Experiences Vary
Cellular Only Connection (could be problematic in remote areas)
Professional Installation Fees
Vivint has smart security, energy, and other smart controls that are 100% wireless. These features enable you to access, monitor, and control your security system remotely from a mobile device. This will allow you to make sure your employees are on-task and that everything is running according to your plans and goals.  They also offer motion-activated video which helps you monitor sensitive areas such as safes, your office, and the sales floor. If someone enters a sensitive area, the cameras will start rolling.
Vivint's smart features will also enable you to unlock your doors remotely with their electronic locks, which means you can avoid expensive key cards, traditional keys, and lockouts. With a Vivint system, you can program individual key codes for each employee so you will know who's coming and going at all times.
You will get all the equipment you need such as touchscreen panels, window and door sensors, motion detectors, non-emergency alerts, 24/7 monitoring, and Vivint has a wide variety of optional equipment as well.

Ready for streamlined business security?
Equip your business with Vivint's award-winning security systems. The wireless systems are easy to use and offer brilliant features like remote locking and unlocking, employee key codes, and more!
2. ADT – Best Small Business Security System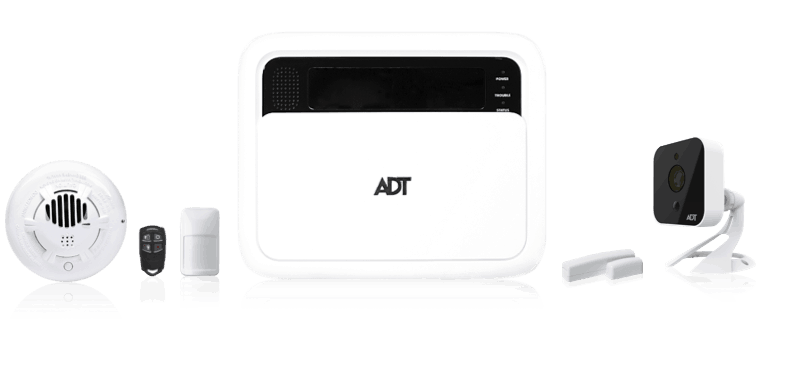 ADT has been in business for over 140 years and offers a number of business security options. Additionally, they have over 200 locations throughout the U.S. and Canada, not to mention they have over 7 million customers. ADT also offers a free security risk assessment for your business. You can select one of their security packages or customize a security solution of your own.
Pros
Free Security Assessment
Add-Ons Available (cyber security, access control, video verification)
Automation Features Available (on upper tier package only)
Environmental Controls Included on All Packages (climate, flood)
Remote Control Features (access, arm, disarm)
Hold-Up Alarm Monitoring Included on All Packages
Multiple Location Functionality
Cons
36-Month Contract Required
Installation, Activation, and Early Cancellation Fees
Interactive Video Only Available on Upper Tier Packages
ADT offers flexible solutions and affordable options for businesses. They also offer incentives, guarantees, and access to experienced experts in the security field. ADT has a wide variety of features including door and window, sensors, motion detection, glass break sensors, hold-up button, temperature controls, flood monitoring. They also offer video surveillance cameras with on-site or cloud-based video storage and business automation features which include climate controls, smart plugs, and lighting controls. And for your entry and exit security, ADT offers smart locks, keycard readers, and two-way communication intercoms. ADT's security systems allow you to schedule your automation features, and they come with a cellular backup system to keep your security system going if you ever lose your landline connection.

Want to secure a small business?
This security option is ideal for small businesses. The service includes environmental monitoring, holdup alarm monitoring, and various add-ons like cyber security and video verification.
3. Frontpoint – Best Home Business Security System

Frontpoint has extremely popular security equipment. They have been in business for 11 years and currently have an A+ rating with the Better Business Bureau. Frontpoint has been nationally recognized for best customer service and they include smart security in every system they offer.
Pros
100% Customization
Environmental Sensors (carbon monoxide, flood, smoke/heat)
Advanced Technology Systems
Smart Automation Features
Indoor/Outdoor Cameras
Professional Monitoring
Cons
No Dedicated Business Plans/Packages (you customize your own)
Build Your Own Business System Can Get Pricey (if you need coverage for a large area)
Camera Costs Higher Than Most (but they are quality cameras)
Since Frontpoint doesn't offer specific business plans, you are able to customize one to suit your particular business needs. Frontpoint prides themselves on producing high-quality security systems, and they go into great detail on their blog explaining how you can customize one specifically for your business. They state their systems are 100% wireless, they are easily customizable, portable and can be moved around to grow with your business.
Their indoor cameras have a range of up to 50 feet, include infrared technology, and record motion-activated clips. They also offer pan and tilt cameras, as well as outdoor cameras that can be synced with a smartphone app with a live feed so you will always be able to see what's going on day or night.
The Frontpoint equipment components combine security and automation features and come in a variety of price ranges with their most expensive premium indoor and outdoor cameras costing $199/ea.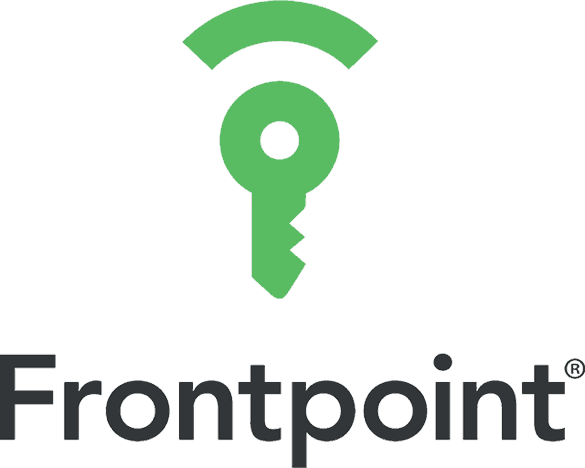 Searching for customized business security?
Custom make your own security system to fit your business. Frontpoint systems are 100% wireless and expandable. And they offer loads of automation capabilities. Talk about tailor-made!
Why a Security System is Important for Your Business
If you have a business, installing a top-quality security system is not optional. There are a number of reasons a security system is necessary; otherwise, you could risk losing everything.
Protect Your Property from Crime
A security system will help protect your business and your employees from crime. If you were to encounter a break-in it could cost you thousands of dollars in stolen assets which could take time and money to recover and/or recoup the losses if you are able to at all.
Protect Your Business from Fraudulent Lawsuits
Unfortunately, there are people out there who make a living at suing businesses for money. A well-placed security camera will serve as undeniable proof of the staged "accident." The same goes for employee/customer accusations of harassment, discrimination, etc.
Monitor Your Inventory
The best way to make sure your customers and/or employees aren't making off with your inventory is to use a security camera. A surveillance camera will help you monitor and control what comes in and what goes out of your place of business and whether it's being paid for…or not.
How Much Do Business Security Systems Cost?
As you could imagine, there is a broad spectrum of costs associated with a business security system. Some systems are available as package deals and others can be built and customized to fit your specific needs.
Business security systems come two different ways—a DIY installation or a professional installation. The DIY systems are usually wireless and fairly easy to install. A hardwired security system will almost always require professional installation due to the complexity of the electrical factors and wiring of the components.
Unfortunately, most business security system providers don't disclose the associated costs upfront which means you have to request a quote before you will even know if any given system will fit your budget. However, the overall costs will depend on how large of a coverage area you have. A top-quality DIY business security system can generally be purchased for less than $500. A professional installation will usually range somewhere between $100 for small business spaces all the way up to $2,000 or more for larger business spaces.
You can also expect an annual cost for your security equipment to run you about $300-$500. And the monitoring costs will generally run somewhere between $50-$300+ per month depending on the service plan you selected.
Features of Business Security Systems
Here are some of the most common business security system features and how they are used.
Specialized Alert Zones
Specialized Alert Zones is a powerful feature included with the best business security systems. For an added layer of security, protect 'micro-areas' and guard high-risk rooms with these specialized alert zones. Your system will alert you of any activity in these zones, and will even record real-time video if you have the right cameras. Recommended for businesses with high-ticket inventory.
Door Locks
Turnover happens. And it makes you wonder who has the keys to your business. Avoid instances of foul play with smart door locks. This business security feature automates your door locks, and many even boast a sleek keypad. Simply assign employees a key code and delete when needed. Most electronic locks even offer an incredibly useful activity report.
Security Cameras
The Security Camera is a key component to any business security system. Set up an ecosystem of surveillance cameras and rest easy knowing your livelihood is better protected from crime, fraudulent lawsuits, discrimination, and the like. It has never been easier and more affordable to outfit your business with indoor and outdoor cameras — many of which deliver features like pan, zoom, tilt, and cloud storage.
Mobile Alerts
Mobile Alerts are another must-have feature for the vigilant business owner. Thankfully, most business security systems include real-time mobile alerts with their plans. You'll receive helpful alerts if and when there's a security breach. And you can customize your alerts to be notified when customers and employees enter and exit your business, when detectors sense motion, when video begins recording, and more.
Remote Access
Most business security systems now offer Remote Access with a nifty companion app. Mobile apps put your security commands close-at-hand, no matter where you are. If your business is in Pittsburgh, but your vacationing in Palm Springs, simply login to monitor and control your business security system with a few taps of the screen. How's that for safe and sound?
Entryway Sensors
Entryway Sensors are the backbone of business security systems. You'll mount these magnetic sensors on door frames and windows. When the sensors trip, they will sound the alarm and send you an alert. If you have 24/7 monitoring, your system will also alert the monitoring center on your behalf. When the dust settles, Entryway Sensors dramatically reduce break-ins and loss of inventory.
Motion Detectors
Your business is your baby. That's why many business owners purchase Motion Detectors for an added layer of security. Strategically place these devices inside to protect extra-sensitive areas. The moment they detect motion, they sound the alarm and send real-time alerts. Some motion detectors even boast smart features like facial recognition. Stop a burglar in his tracks with motion detectors.
Security Lights
Security Lights are your first line of defense and a crime deterrent for businesses big and small. This feature often comes with advanced options like flood lights, motion lights, photocell sensitive lights, and the list goes on. As an added benefit, indoor and outdoor security lights help to protect your customers and employees from criminals lurking in the dark.
Tax Deductible
Let's be honest, a wise business owner keeps a close eye on taxes. And outfitting your business with security just so happens to be tax deductible. That's money in your pocket. Small- to medium-sized businesses can write off 100% of their security system purchases on an existing commercial building. This can lower your security system costs by a cool 25-30%. Not bad.