Travis Goodreau
https://www.safehome.org/security-advisors/travis-goodreau/
Best Medical Alert Bracelet Systems
Medical alert systems can be worn just about anywhere, including the wrist. See which medical alert bracelet systems make the top of our list.

Medical alert systems can save your life so why wouldn't you consider buying one? If you are active, there's even more reason to buy a medical alert system, but, only if you buy the right one. If you are active, you will need to look for the best medical alert systems worn as bracelets or other type of wearable device. However, most people prefer medical alert systems that can be worn as bracelets because they look like a watch which makes them more discreet than any other type of medical alert device on the market.
1. Bay Alarm Medical – Best Overall Medical Alert Bracelet (Editors Choice)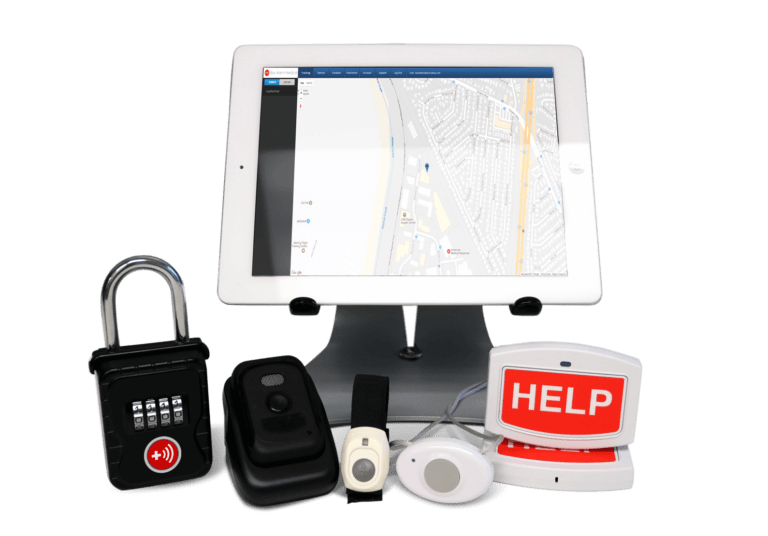 If you are active, Bay Alarm Medical is one of the best medical alarm systems worn as bracelets because they offer mobile GPS wristband options that are 100% waterproof. They also have automatic fall detection services available and an in-home + GPS bundle you can buy to make sure you are covered at all times no matter where you go. Additionally, they have a 4.7-Star user rating on Google, which is verifiable proof of their quality products and services. And, since they offer a 30-day risk-free trial, you really don't have anything to lose by giving them a try.
Pros
Three Redundant Emergency Monitoring Centers
30-Day Risk-Free Trial
Two-Way Talk Devices
Mobile GPS Help Buttons (on select packages)
Automatic Fall Detection Available
100% Waterproof  Wristband Help Buttons
Remote Phone Call Answering Feature
Nationwide Coverage Including Alaska and Hawaii
In-Car Medical Alert Feature
360° Protection Service Available
Battery Backup (32 hrs)
170 Languages Supported
Free Spouse Monitoring
Lifetime Equipment Warranty
Cons
Separate Fee for Automatic Fall Detection
Extra Charge for Cellular Option
Package Combinations Can Be Expensive
Bay Alarm Medical was founded in 1946 and has been family owned and operated ever since. Their monitoring centers are CSAA Five Diamond Certified and all their products are made in the United States. The Bay Alarm Medical wristbands are small, ultra lightweight, waterproof, have up to 1000 feet of coverage, as well as a 5-year battery life.
Bay Alarm Medical has four equipment packages that start at $19.95/mo. They offer at-home and on-the-go solutions which is what you want when looking for the best medical alert systems worn as bracelets. Their protection packages also start at $19.95/mo. and they give you the option of combining their packages at a reduced monthly rate. Bay Alarm Medical offers a wide variety of accessories and doesn't charge extra for spouse monitoring, which most companies do so this is a big plus.
Want the highest-rated alert bracelet?
Perfect for active seniors, the wrist-worn device offers GPS tracking, a waterproof design, and other life-saving features. This medical alert bracelet is sure to restore confidence and independence.
2. Medical Guardian – Best Medical Alert Watch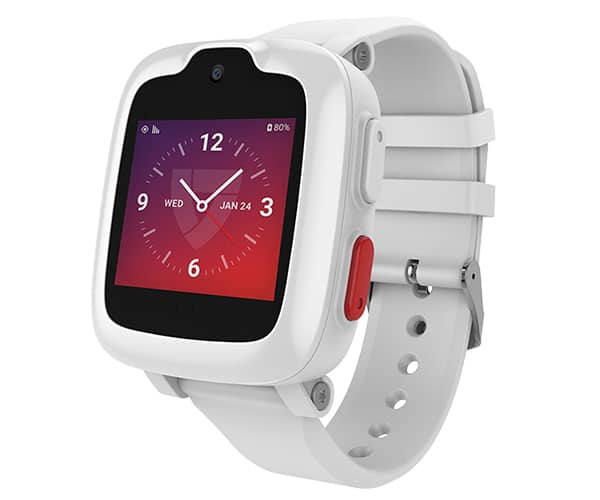 Medical Guardian has an A+ Better Business Bureau rating and they don't require you to sign any long-term contracts. They are also rated best-in-class for their customer service. Additionally, if you require a language other than English or Spanish, they can communicate with you using a translation service. Medical Guardian is equipped with state-of-the-art technology and a triple-redundant backup system so you will never be without assistance when needed. And, their water-resistant wristbands can be worn as a pendant or placed on the wristband and worn on your wrist as well.
Pros
No Hidden Fees
No Long-Term Contracts
Triple Redundant Backup System
Price-Lock Guarantee
Free Equipment
Nationwide Coverage
Landline and Cellular Options Available
Two-Way Talk
Fall Detection Available
Battery Backup (30-32 hrs)
TMA Five Diamond Certification
UL Listed and FM Approved
Multiple Languages Supported Via a Translation Service
100% U.S. Based Agents
24/7 Emergency Monitoring
Water Resistant
Cons
Premium Package is Pricey
Activity Sensors Available (only with upper tier package)
No Accessories Offered
The Medical Guardian wristbands come in white or black and they offer several different varieties as well. The pendant device can also be placed on the wristband and worn that way. Additionally, they have two other medical alert wristbands. One that is strictly a medical alert button that's worn on your wrist and the other that's actually a watch that has medical alert capabilities. One thing to note, however, is that the actual watch medical alert device combo isn't water-resistant.
Medical Guardian has three different at-home options that start at $29.95/mo. and three mobile options that start at $39.95/mo. with a fall detection option available for $10/mo. except for the Active Guardian plan which is their all-in-one plan that has the fall detection option included. You can connect with their services using a landline or through an available cellular option. All their on-the-go options are GPS enabled and if you opt for a premium package, they are Wi-Fi enabled as well. The at-home equipment has a range of 600-1300 feet and, of course, their mobile products all have an unlimited range.
Ready for a discreet alert watch?
Get Medical Guardian's wristband or alert watch. These mobile devices are sure to keep you or your loved one safe and sound. And you simply can't beat the A+ customer service.
3. GreatCall – Best Waterproof Bracelet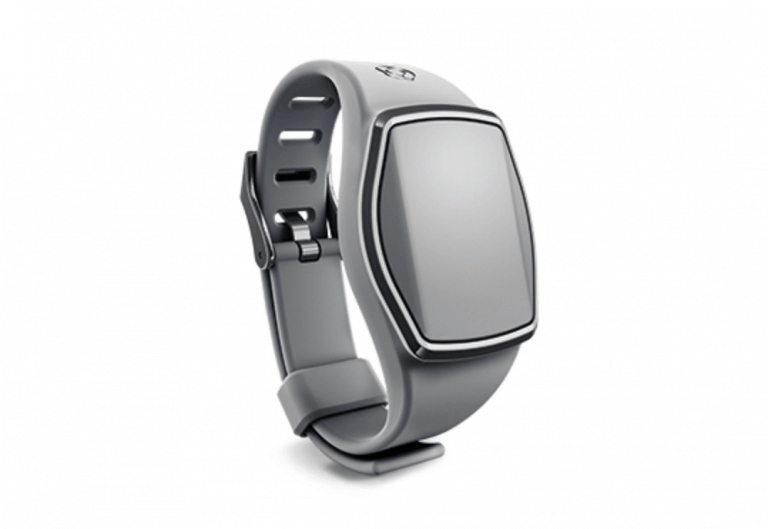 GreatCall has been offering medical alert services through their mobile phones for 13 years and now offers two different mobile medical alert devices in the form of a pendant or watch-like wristband as well. However, the only one that can be worn on the wrist is their Lively Wearable product (wristband), but it's 100% waterproof and it comes in different colors. GreatCall doesn't require you to sign an annual contract and they don't charge any cancellation fees either; however, they do charge an activation fee. Additionally, they offer fall detection and monitoring support for more than 100 languages.
Pros
No Annual Contracts
100% U.S. Based 5Star Agents
No Cancellation Fees
Free Shipping
Built-In GPS
Integrated Cellular Technology (no smartphone required)
Waterproof Devices
All-In-One Mobile Medical Alert Devices
Wide Variety of Available Accessories (for medical alert devices and phones)
Fall Detection
Additional Services (fitness tracker, GreatCall Link, personal operator, medication refill and reminders, weekly wellness calls, daily automated check-in calls, and more)
Product Replacement (if the device is lost, stolen, or broken)
Cons
Requires an Activation Fee
Basic Package Is a Monitoring Only Service (upper tier packages come with additional services)
Fall Detection Costs Extra
GreatCall has a good reputation in the medical alert services industry and they've been helping seniors for more than 13 years. They have two medical alert devices (but only one can be worn on your wrist) and either of those devices can be purchased for $37.49 then all you have to do is pay for the monthly monitoring fee. GreatCall has three Health & Safety Packages that start at $24.99/mo.  Additionally, GreatCall offers a wide variety of other services as well, such as a personal operator for unlimited assistance with daily tasks, MedCoach medication and refill reminders, 24/7 access to registered doctors and nurses, a GreatCall Link to help keep you connected to friends and family, weekly wellness calls, daily health tips, daily automatic check-in calls, brain games, a fitness tracker, product replacement, and a MyWorld service that will keep you up-to-date on all your favorite interests.
4. LifeStation – Easiest to Use Bracelet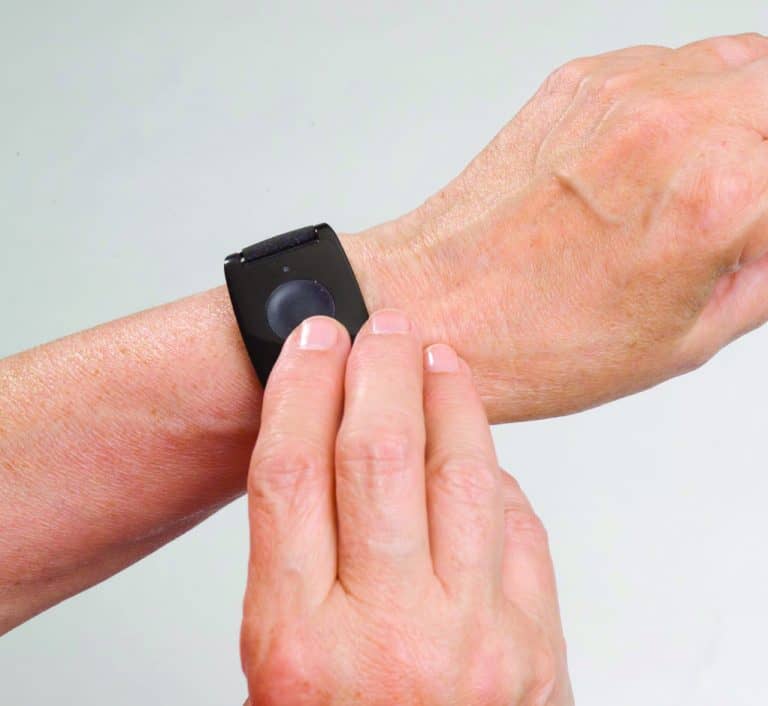 LifeStation was founded in 1977, is UL Listed, and CSAA Five Diamond Certified. LifeStation benefits include free shipping, no long-term contract, a price lock guarantee, no hidden fees, and no landline required. However, there is an additional fee for customers who don't have a landline. Additionally, they charge a  minimal fee of $3.99 for each additional user. But, the good news is that while their wristband options are limited, they do offer a medical alert button that can be worn on your wrist.
Pros
No Long-Term Contract
Average Response Time 20 Seconds
Price Lock Guarantee
30-Day Money-Back Guarantee
Mobile GPS with Enhanced Location Services (costs extra)
Waterproof Devices
No Hidden Fees
Landline and GPS Options
CSAA Five Diamond Emergency Monitoring Center
Weekly Automatic Equipment Testing (built-in)
Four Year Battery Life
Cons
Fall Detection Costs Extra
Non-Landline Option Costs Extra
Pendant Range is Only 500 Feet
Activation Fee Required (sometimes waived as an incentive)
LifeStation offers at-home and mobile options with GPS enhanced features. And, they have one medical alert device that can be worn on your wrist. They have three different plans which start at $25.95/mo. with discounted rates, if you pay quarterly or annually. They also have an automatic fall detection option available for an extra fee as well. Additionally, the LifeStation monitoring center is CSAA Five Diamond Certified and has some of the best response times in the industry at an average of 20 seconds. Additionally, LifeStation offers landline and non-landline options. And, they only charge $3.99 per month for any additional users so this can help save you money as well.
What To Look For in a Medical Alert System?
With so many brands out there, we know that for some people, shopping for a medical alert device can be nearly as intimidating as shopping for a car. Don't worry, we're here to simplify the process by sharing what to look for in a medical alert system.
Lots of variety exists within each of the three alert system categories (in-home, mobile, and hybrid). We're here to educate you on available features and tech so that you can decide on the best fit for yourself or your loved one.
People buy medical alert systems for protection, so the more protection the better, right? Not necessarily. We recommend identifying the user's needs, tastes, and budget when making a decision. No reason to buy a Cadillac when a Ford Fiesta has all you need.
For example, if you or your loved one never goes out alone, it may not be necessary to invest in a mobile system that includes location detection (unless they have dementia). Or if you live in a small, ranch-style home, it may not be necessary to have the maximum number of wall help buttons that a company offers.
At the same time, some features will be important and may help you to determine which system you choose. Now let's cover the different features that will help you to narrow down your options and find the right fit.
Comfortable Fit
It's important that your medical alert wearable, whether it's a wrist-worn bracelet help button or a necklace pendant, is comfortable to wear. Thankfully, most companies offer a 30-day money-back guarantee, so you can really take the device for a test drive. Whichever alert system you choose, be sure it's comfortable to wear on a daily basis, this way you or your loved one is more likely to wear it day in and day out.
Fall Detection
Some wearable devices include sensors that are designed to detect falls. Typically, when an alert that a fall has occurred is sent to a response center, an associate will contact the user to check on their safety. If the user does not respond, the associate will contact emergency services. This technology is a great addition to medical alert systems, but be aware that they do not always work perfectly. False alarms can occur. Also, most companies agree that the technology works best when worn on a lanyard or belt strap rather than a wristband. Expect to pay about $10 extra for fall detection, which we think is a fair price for the added layer of protection.
Signal Range
Range refers to the distance that a user who is wearing a help button can move from the base unit in an in-home system. It is important that the user be able to communicate with the base unit from every floor and room of their house as well as their yard (if they regularly use it) or driveway (if they like to collect their own mail or chat with a neighbor). Keep in mind that most in-home systems range from between 600 to 1,300 feet.
Response Time
Another thing to look for in a medical alert system is a fast response time. This is ever so important in the case of an emergency. How long does it take between the time that the user pushes a help button, whether at home or away, and the time that an emergency response center associate responds? The industry average is 30 seconds, and we wouldn't even consider a medical alert company that takes longer than 50 seconds to respond.
Location Detection with GPS
For mobile devices, it can be helpful to have location detection. Using a cellular system, the response center can locate the user in the case of an emergency. For example, a person who has fallen and hit their head, resulting in unconsciousness or confusion, would benefit from location detection with GPS. Other examples include an early-stage dementia patient who has become lost or a late-stage dementia patient who has wandered. Some companies even offer a caregiver's app so that location can be detected by the caregiver as well as the response center.
Two-Way Talk
Some wearable devices include the ability to speak directly into the device to a response center associate. Others simply have a help button that when pushed, directs a response center associate to either call predetermined emergency contacts or 911. On in-home systems, even if the wearable devices don't have two-way talk, the base unit likely will. However, it is important to consider how close to the base unit the older adult needs to be in order for their voice to register.
Keep in mind, the medical alert system doesn't need to be the Cadillac or the Ford Fiesta. Plenty of models exist in between. The important thing is that it offers reliable response and enough features to give you or your loved one the peace of mind you deserve.
Features of Medical Alert Systems Worn on the Wrist
Here are the different features of medical alert systems worn on the wrist and how they will benefit you.
24/7 Emergency Response
24/7 Emergency response is a must-have feature no matter the provider you choose. Medical alerts worn as bracelets deliver reliable coverage — simply press the help button and you'll be connected to friendly emergency response staff. And of course, if you have fall protection feature, your bracelet will automatically send the alert on your behalf.
Water Resistance
Wear it in the shower, wear it in the bath, and even wear it in the swimming pool. Water resistant — or better yet, waterproof — is a great feature built-into many medical alert bracelets. Now you or your loved one can stay safe in the most high-risk fall zone in the home… the bathroom.
Fall Detection
Fall Detection is typically offered as a paid upgrade with senior alert bracelets, but it's cheap and worth it. And by 'worth it' we mean life-or-death. This vital feature is capable of detecting a fall, even from low heights, at which point it automatically contacts the monitoring station. Fall Detection literally saves lives, every single day.
Multi-Lingual Support
If English isn't your first language, no problemo, you have plenty of options. Some emergency monitoring stations offer Multi-Lingual Support — an important feature that comes standard with many alert bracelets. The last thing you need is a language barrier standing in the way of emergency care. So find an alert bracelet with Multi-Lingual Support for you or your loved one.
Cellular Monitoring
You're searching for an alert bracelet, so it stands to reason that you or your loved one is an active senior on-the-go. Great! You're in good company. Cellular monitoring is a brilliant feature that does not require a landline. This means you get 24/7 coverage powered via cellular signal (like your cell phone). If you're tracking, that's untethered peace of mind.
Spouse Coverage
"Hey honey, what's that on your wrist?" It can happen that your spouse grows envious of your stylish medical alert bracelet. So it's a smart move to find a company that offers spouse coverage — a feature that makes it easy and affordable to add them to your plan. This way, they too can choose their own bracelet and enjoy coverage.
Nationwide Coverage
As mentioned above, cellular alert bracelets generally offer nationwide coverage. However, not all bracelets are powered by cellular signals. For instance, a landline connection — which is wired into your phone line — usually won't extend far beyond the home. So if you want coverage from Bakersfield to Boston, you need to ensure your specific alert bracelet offers nationwide coverage.
Long Range
The longer the range, the better. That's why cellular connections are king. But if you or your loved one stays at home, you likely don't need a long range medical alert bracelet. So a landline connection will serve you with a 500 ft - 1,500 ft range. If you want to go the distance, get a cellular plan with nationwide coverage.
GPS Location Services
Medical alert bracelets combine form and function. With this in mind, GPS Location Services is a great feature for active seniors. Using GPS satellites, your bracelet tracks your location in real time. Because you just never know. If you're lost, confused, or have an emergency situation, simply press the help button and emergency monitoring staff will take it from there.