Best Medical Alert Systems Worn as Bracelets
Medical alert systems can be worn just about anywhere, including the wrist. See which medical alert bracelet systems make the top of our list.
Medical alert systems can save your life so why wouldn't you consider buying one? If you are active, there's even more reason to buy a medical alert system, but, only if you buy the right one. If you are active, you will need to look for the best medical alert systems worn as bracelets or other type of wearable device. However, most people prefer medical alert systems that can be worn as bracelets because they look like a watch which makes them more discreet than any other type of medical alert device on the market.
1. Bay Alarm Medical – Best Overall Medical Alert Bracelet (Editors Choice)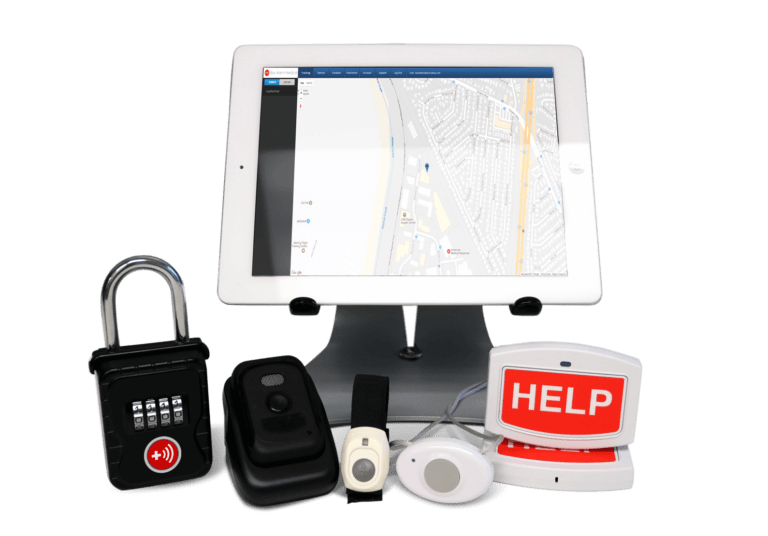 If you are active, Bay Alarm Medical is one of the best medical alarm systems worn as bracelets because they offer mobile GPS wristband options that are 100% waterproof. They also have automatic fall detection services available and an in-home + GPS bundle you can buy to make sure you are covered at all times no matter where you go. Additionally, they have a 4.7-Star user rating on Google, which is verifiable proof of their quality products and services. And, since they offer a 30-day risk-free trial, you really don't have anything to lose by giving them a try.
Pros
Three Redundant Emergency Monitoring Centers
30-Day Risk-Free Trial
Two-Way Talk Devices
Mobile GPS Help Buttons (on select packages)
Automatic Fall Detection Available
100% Waterproof  Wristband Help Buttons
Remote Phone Call Answering Feature
Nationwide Coverage Including Alaska and Hawaii
In-Car Medical Alert Feature
360° Protection Service Available
Battery Backup (32 hrs)
170 Languages Supported
Free Spouse Monitoring
Lifetime Equipment Warranty
Cons
Separate Fee for Automatic Fall Detection
Extra Charge for Cellular Option
Package Combinations Can Be Expensive
Bay Alarm Medical was founded in 1946 and has been family owned and operated ever since. Their monitoring centers are CSAA Five Diamond Certified and all their products are made in the United States. The Bay Alarm Medical wristbands are small, ultra lightweight, waterproof, have up to 1000 feet of coverage, as well as a 5-year battery life.
Bay Alarm Medical has four equipment packages that start at $19.95/mo. They offer at-home and on-the-go solutions which is what you want when looking for the best medical alert systems worn as bracelets. Their protection packages also start at $19.95/mo. and they give you the option of combining their packages at a reduced monthly rate. Bay Alarm Medical offers a wide variety of accessories and doesn't charge extra for spouse monitoring, which most companies do so this is a big plus.
2. MobileHelp – Best Selection of Bracelet Devices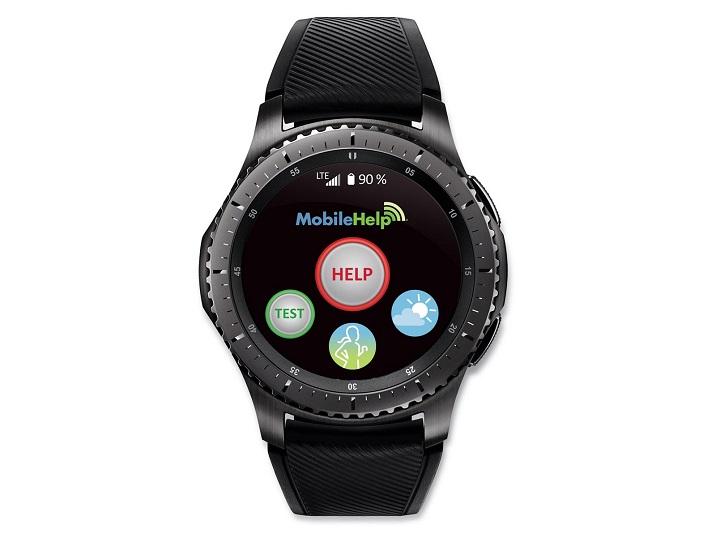 MobileHelp has an A+ Better Business Bureau rating and the technology they use works with or without a phone line which is important when you're looking for the best medical alert systems worn as bracelets, or any other type of medical device for that matter. MobileHelp is based in Boca Raton, Florida and offers their services in all 50 states. They also have a popular service called MobileHelp Connect, which is an event notification and online tracking platform that helps its users more easily communicate with family and caregivers.
Pros
No Contracts
No Hidden Fees
Automatic Fall Detection Available
FDA Registered
30-Day Money-Back Guarantee
Medication Reminder Services
Two-Way Talk
17-Second Response Time
30 Hour Battery Backup
Waterproof Wristbands and Pendants
Two Redundant Emergency Monitoring Centers
Free Shipping
Cons
Limited Range (600 feet)
Manual Equipment Testing (automatic testing not available)
Extra Mobile Devices Not Available (must purchase a separate SOLO system)
The MobileHelp wristbands (and pendants) are waterproof, very small, and fit nicely on your wrist. They also have a MobileHelp Smart, which is a watch with medical alert functions and, of course, is worn on the wrist. The smartwatch can be purchased for $349.95 and has a monthly monitoring fee of $24.95/mo. Additionally, MobileHelp has at-home and on-the-go medical alert solutions, as well as an automatic fall detection service for only $10/mo. Their packages start at $19.95/mo and each package price includes the fee for their monthly emergency monitoring services. They also offer additional discounts if you pay quarterly, semi-annually, or annually. MobileHelp has a wide variety of available accessories as well.
Additionally, they have a MobileHelp Connect service, which is no charge and a MobileHelp Connect Premium, which is $5/mo. that provides you with emergency and non-emergency alerts, 30 location requests each month, equipment replacement (if lost or damaged) a lifetime price guarantee and other product and service discounts, depending on which service you decide to purchase.
3. Medical Guardian – Best Medical Alert Watch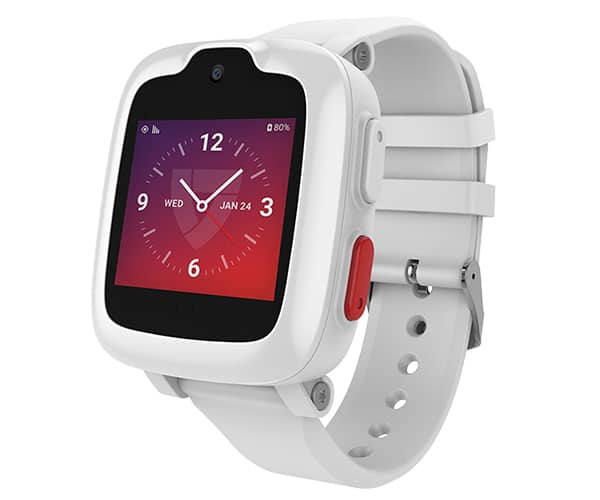 Medical Guardian has an A+ Better Business Bureau rating and they don't require you to sign any long-term contracts. They are also rated best-in-class for their customer service. Additionally, if you require a language other than English or Spanish, they can communicate with you using a translation service. Medical Guardian is equipped with state-of-the-art technology and a triple-redundant backup system so you will never be without assistance when needed. And, their water-resistant wristbands can be worn as a pendant or placed on the wristband and worn on your wrist as well.
Pros
No Hidden Fees
No Long-Term Contracts
Triple Redundant Backup System
Price-Lock Guarantee
Free Equipment
Nationwide Coverage
Landline and Cellular Options Available
Two-Way Talk
Fall Detection Available
Battery Backup (30-32 hrs)
TMA Five Diamond Certification
UL Listed and FM Approved
Multiple Languages Supported Via a Translation Service
100% U.S. Based Agents
24/7 Emergency Monitoring
Water Resistant
Cons
Premium Package is Pricey
Activity Sensors Available (only with upper tier package)
No Accessories Offered
The Medical Guardian wristbands come in white or black and they offer several different varieties as well. The pendant device can also be placed on the wristband and worn that way. Additionally, they have two other medical alert wristbands. One that is strictly a medical alert button that's worn on your wrist and the other that's actually a watch that has medical alert capabilities. One thing to note, however, is that the actual watch medical alert device combo isn't water-resistant.
Medical Guardian has three different at-home options that start at $29.95/mo. and three mobile options that start at $39.95/mo. with a fall detection option available for $10/mo. except for the Active Guardian plan which is their all-in-one plan that has the fall detection option included. You can connect with their services using a landline or through an available cellular option. All their on-the-go options are GPS enabled and if you opt for a premium package, they are Wi-Fi enabled as well. The at-home equipment has a range of 600-1300 feet and, of course, their mobile products all have an unlimited range.
4. GreatCall – Best Waterproof Bracelet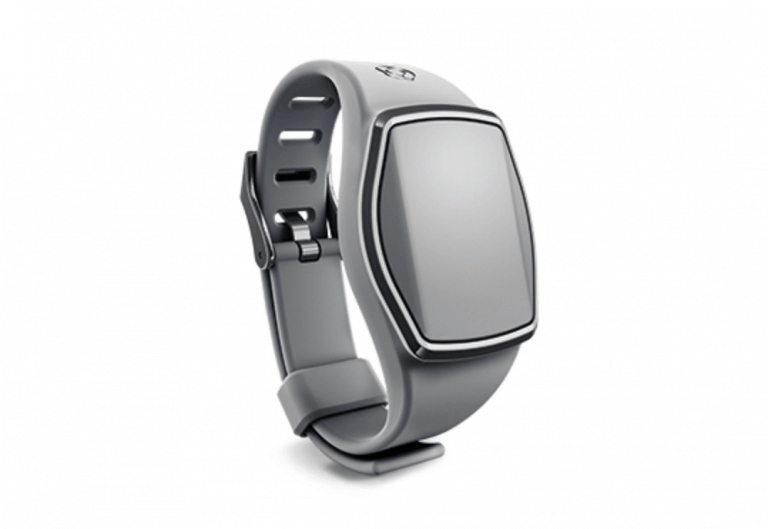 GreatCall has been offering medical alert services through their mobile phones for 13 years and now offers two different mobile medical alert devices in the form of a pendant or watch-like wristband as well. However, the only one that can be worn on the wrist is their Lively Wearable product (wristband), but it's 100% waterproof and it comes in different colors. GreatCall doesn't require you to sign an annual contract and they don't charge any cancellation fees either; however, they do charge an activation fee. Additionally, they offer fall detection and monitoring support for more than 100 languages.
Pros
No Annual Contracts
100% U.S. Based 5Star Agents
No Cancellation Fees
Free Shipping
Built-In GPS
Integrated Cellular Technology (no smartphone required)
Waterproof Devices
All-In-One Mobile Medical Alert Devices
Wide Variety of Available Accessories (for medical alert devices and phones)
Fall Detection
Additional Services (fitness tracker, GreatCall Link, personal operator, medication refill and reminders, weekly wellness calls, daily automated check-in calls, and more)
Product Replacement (if the device is lost, stolen, or broken)
Cons
Requires an Activation Fee
Basic Package Is a Monitoring Only Service (upper tier packages come with additional services)
Fall Detection Costs Extra
GreatCall has a good reputation in the medical alert services industry and they've been helping seniors for more than 13 years. They have two medical alert devices (but only one can be worn on your wrist) and either of those devices can be purchased for $37.49 then all you have to do is pay for the monthly monitoring fee. GreatCall has three Health & Safety Packages that start at $24.99/mo.  Additionally, GreatCall offers a wide variety of other services as well, such as a personal operator for unlimited assistance with daily tasks, MedCoach medication and refill reminders, 24/7 access to registered doctors and nurses, a GreatCall Link to help keep you connected to friends and family, weekly wellness calls, daily health tips, daily automatic check-in calls, brain games, a fitness tracker, product replacement, and a MyWorld service that will keep you up-to-date on all your favorite interests.
5. LifeStation – Easiest to Use Bracelet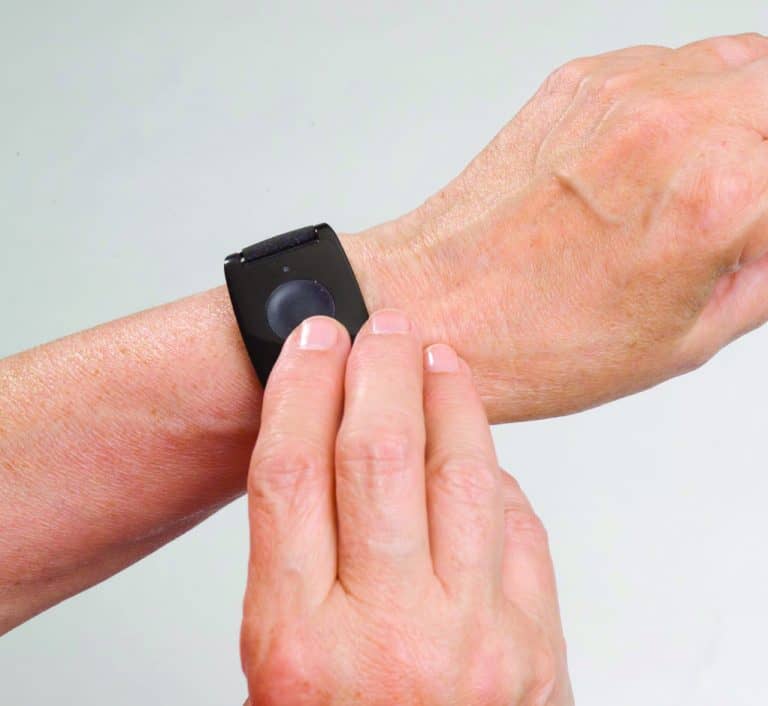 LifeStation was founded in 1977, is UL Listed, and CSAA Five Diamond Certified. LifeStation benefits include free shipping, no long-term contract, a price lock guarantee, no hidden fees, and no landline required. However, there is an additional fee for customers who don't have a landline. Additionally, they charge a  minimal fee of $3.99 for each additional user. But, the good news is that while their wristband options are limited, they do offer a medical alert button that can be worn on your wrist.
Pros
No Long-Term Contract
Average Response Time 20 Seconds
Price Lock Guarantee
30-Day Money-Back Guarantee
Mobile GPS with Enhanced Location Services (costs extra)
Waterproof Devices
No Hidden Fees
Landline and GPS Options
CSAA Five Diamond Emergency Monitoring Center
Weekly Automatic Equipment Testing (built-in)
Four Year Battery Life
Cons
Fall Detection Costs Extra
Non-Landline Option Costs Extra
Pendant Range is Only 500 Feet
Activation Fee Required (sometimes waived as an incentive)
LifeStation offers at-home and mobile options with GPS enhanced features. And, they have one medical alert device that can be worn on your wrist. They have three different plans which start at $25.95/mo. with discounted rates, if you pay quarterly or annually. They also have an automatic fall detection option available for an extra fee as well. Additionally, the LifeStation monitoring center is CSAA Five Diamond Certified and has some of the best response times in the industry at an average of 20 seconds. Additionally, LifeStation offers landline and non-landline options. And, they only charge $3.99 per month for any additional users so this can help save you money as well.
Features of Medical Alert Systems Worn on the Wrist
Here are the different features of medical alert systems worn on the wrist and how they will benefit you.
24/7 Emergency Response
The 24/7 emergency response feature is vital for any medical alert system. This is the monitoring feature that will immediately respond and call for help if needed when you press the help button or when a fall is detected (if you opted for fall detection services).
Water Resistance
Water resistance is a feature that allows a medical alert device to resist water to a certain extent. Medical alert devices are either water resistant or waterproof. Water resistant devices can't be submerged in water for extended periods of time but can get wet without being damaged. A waterproof device can be submerged in water without damaging the equipment. Check with your medical alert provider to confirm to what extent your chosen device will resist water.
Fall Detection
Fall detection is one of the most important features you can get with a medical alert system because this feature will automatically detect if you fall and will immediately contact the monitoring center on your behalf if you are not able to do so. Most medical alert companies offer their fall detection as an add-on service for a small monthly fee. However, there are a few of them that include fall detection services with their monthly monitoring fee.
Multi-Lingual Support
If your first language is not English, you will need to find an emergency monitoring center that has operators who can communicate in your language. Not all monitoring centers offer multi-lingual support. Therefore, if this is a service you need, you will need to specifically inquire if your language is available before making any commitments.
Cellular Monitoring
Cellular monitoring, unlike landline monitoring, uses a cellular signal to communicate with the monitoring center. Cellular monitoring is 100% wireless so there's no need for a landline or wiring of any kind. Cellular monitoring is an important feature if you are active and frequently away from your home. A cellular option uses a cellular signal to communicate with your device; therefore, you don't ever have to worry about being too far away from your base unit for your system to work. A cellular signal has a broader range so it will work from anywhere in the country.
Spouse Coverage
If you have a spouse or other people in your household who will need their own medical alert device and monitoring services, then you should look for a company that offers spouse coverage. Spouse coverage is usually offered as an add-on service, meaning the company will only charge you a small monthly fee to provide your spouse (or another person in your household) with their own medical alert device and monitoring. Some companies include this service for free and others don't. It's important that each person has their own device and monitoring because you both will not be together at all times. This leaves the other person without coverage when they might need it the most.
Nationwide Coverage
Some medical alert service companies offer nationwide coverage and some don't. Your plan will generally have nationwide coverage if you purchased a cellular option. However, landline services will usually not have the capability of nationwide coverage because their communication abilities depend on your local phone line.
Long Range
The range of any given medical alert system is referring to the distance between the base unit and the medical alert device (panic button), in which the device will still work. A range on the shorter side would be around 500 feet and could go up to 1300 feet or more. Therefore, you should look for a device that can accommodate the number of feet your particular situation will require. If you are active or need a longer range than what's available, you might need to go with a cellular communication option which generally has nationwide coverage because it uses a cellular signal to communicate.
GPS Location Services
The GPS location tracking feature uses GPS satellites in the sky to calculate your location and you don't need a home Wi-Fi service for it to work. Your device just has to be Wi-Fi enabled. GPS location services offer more accurate, real-time location tracking. This feature will help locate you if are lost, confused, or in the event of an emergency regardless of whether you are at home or on-the-go. You simply push the alert button and a monitoring center operator will assist you and send help if needed.