Travis Goodreau
https://www.safehome.org/security-advisors/travis-goodreau/
Best Medical Alert Systems with Fall Detection
Fall detection is an important feature of medical alert systems. See which medical alert systems with fall detection made the top of our list.

Medical alert systems can help you or your loved one summon help in an emergency. These provide reassure for seniors and their loved ones. Fall detection is ideal for seniors who are concerned about falling or a health problem when alone. This feature automatically alerts medical responders if a person falls — even if the medical alert button isn't pushed. There are many options available when it comes to medical alert systems with fall detection. Here's a look at the many options available.
1. Bay Alarm Medical – Best Overall Fall Detection System (Editor's Choice)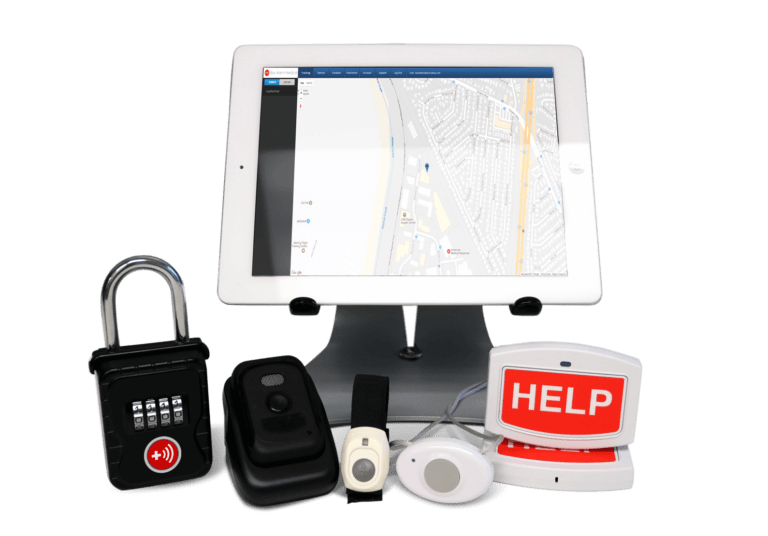 Bay Alarm Medical provides one of the most reliable and affordable life-saving medical alert systems with fall detection available on the market today. These systems are backed by a reliable, 24-hour medical alarm emergency center that is based in the USA.
You can choose an In-Home System, GPS Alert System, In-Home + GPS Bundle, In-Car Medical Alert and Fall Detection. Optional accessories include a wall button, lockbox and additional buttons for a spouse or another family member.
The Automatic Fall Detection Alarm System from Bay Alarm Medical automatically calls for help when you are unable to do so. It is compatible with both their Cellular and In-Home and medical alert systems.
Pros
A portable emergency response system
The base station can be used to answer calls
Landline and cellular options available
24/7 monitoring
30-day risk-free trial
Easy to install and use
Reliable, 2-way communication
32-hour battery backup
Optional GPS located-based medical alert for in-car use
Reliable fall detection technology
Pendants are 100 percent waterproof
Up to 1,000 feet range
Lifetime warranty
Cons
Additional pendants cost extra
The reset button is tiny
Bay Alarm Medical Alert System with Fall Detection is easy-to-install and offers reliable 24-hour emergency coverage. The system  is portable and versatile. There are a variety of options available for monitoring from landline monitoring to AT&T cellular.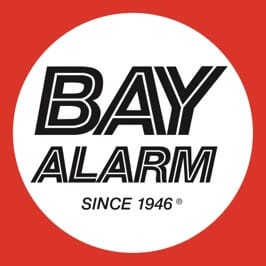 Ready for the best fall detection alerts?
Whether you need at-home or on-the-go fall detection, Bay Alarm Medical has the peace of mind you deserve. Get covered with reliable fall detection, highly-trained agents, and more.
2. Medical Guardian – Best Fall Detection Equipment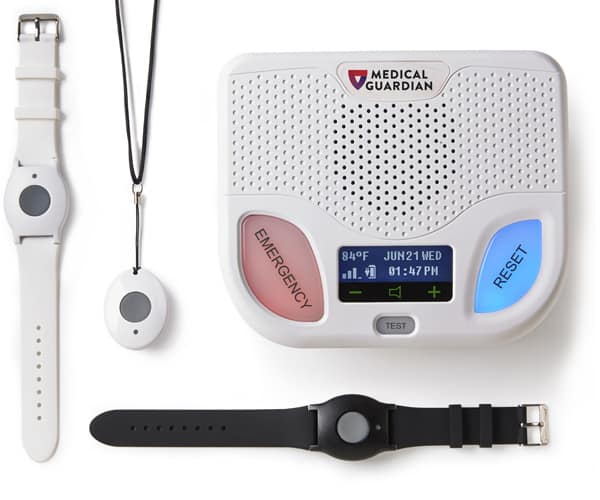 Medical Guardian medical alert systems with fall detection offer a choice of two different types of protection: on-the-go and at-home. The in-home medical alert system is ideal for seniors who spend the majority of their time at home. It can help you stay safe as you cook, read or go about your daily routine. The on-the-go system provides 24/7 monitoring for seniors who spend their time outside jogging, volunteering or gardening. If you are unsure of the right system for your needs, Medical Guardian offers a free online risk assessment to help you find the right system.
One of the most interesting options available is the Freedom Guardian, this smart watch provides users with a variety of features, such as advanced location tracking, reminders and alerts and text-to-speech messaging. Plus, this smart watch is simple, sleek and discreet.
Pros
Around-the-clock protection
Clear 2-way communication
Simple setup and activation
Power outage protection (32-hour battery backup)
Choice of landline or AT&T cellular monitoring
Waterproof medical alert buttons
100 percent US-based monitoring
Weatherproof lockbox available
Voice-activated wall button
Protection plan against lost, stolen or damaged devices
A large LED display screen on the base station
600 to 1,300 square feet range
Convenient customer care web portal
Fall detection is available on all systems
Cons
Pricey optional equipment and plans
The systems are not GPS-enabled
Medical Guardian offers comprehensive medical alert services and equipment. They have everything from in-home fall alert systems to all-in-one medical alert systems. These systems are ideal for a variety of lifestyles.
Searching for reliable fall detection?
Slip and falls happen. But Medical Guardian keeps you or your loved one safe. With location tracking, two-way talk, and other features, their fall detection is one of the best around.
3. GreatCall – Best Value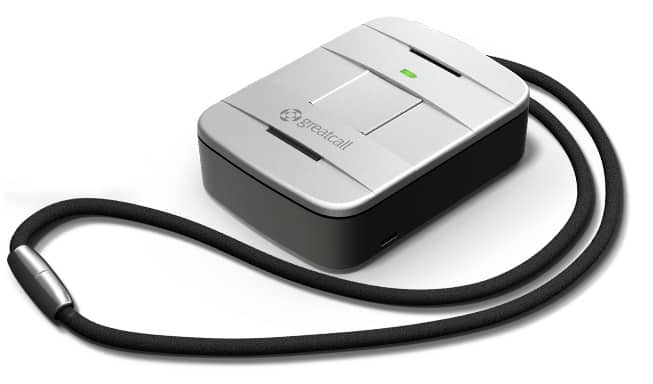 GreatCall offers safety and health devices and solutions for older adults and their family caregivers. GreatCall offers an array of simple-to-use mobile products that are ideal for active seniors.
GreatCall's services and products include Jitterbug Smart2, Jitterbug Flip, Lively Home, Lively Mobile and the Lively Wearable. GreatCall also offers an array of health, wellness and safety services including and 5Star Urgent Response and GreatCall Link.  5Star Urgent Response includes access to highly-trained agents that are available to help seniors anytime. The agents help assess the situation and provide assistance in the form of linkage to urgent care and more.
The fall detection feature from GreatCall works with the 5Star Service to detect a fall. When a 5Star Fall Detection device is worn, advanced technology senses any sudden movement. If the event that a fall is detected, then the device will automatically notify a Response Agent who will evaluate the situation and get you the help you need.
Pros
100 percent US-based customer service
Choose from a range of devices
No annual contracts
No cancellation fees
Highly-trained agents available to help anytime
24/7 access to registered nurses and board-certified doctors
Medication and refill reminders
Access to wellness experts and daily health tips
Fitness tracker available
Free product replacement
Cons
Pricey device fees and monitoring
Devices can be complicated to use
GreatCall offers several different medical alert products. You are not limited to an emergency pendant or necklace. Options include smartphones with emergency alert apps, a mobile alert device and a wearable. So, you can choose the option best for your lifestyle. These options are great for active, independent seniors. GreatCall's and award-winning approach to customer care helps seniors live more active and independent lives.
4. LifeStation – Most Experienced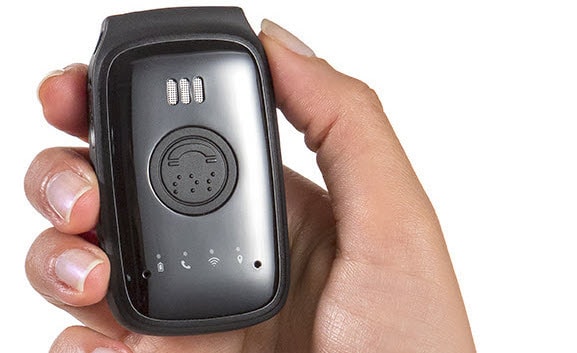 LifeStation medical alert system with fall detection provides 24/7 medical monitoring for seniors living at home alone. This service provides seniors with independence and their caregivers with peace-of-mind — all for less than $1 per day.
LifeStation offers a choice of systems: In-Home Traditional, In-Home Plus, Mobile with GPS and Fall Detection. The In-Home Traditional is great for seniors who want a basic system that works with their home telephone. While the Mobile with GPS plus offers help away from home. Fall detection is available with this system.  Additional users are just $3.99 per month.
LifeStation's Medical Alert Systems all come with free shipping, free activation and free equipment. There is no long-term contracts, hidden fees or taxes.
Pros
A UL-listed 24-hour monitoring center
Landline, cellular and GPS monitoring available
Two-way audio
Simple 5-minute equipment setup
Waterproof help button
24-hour customer support
Up to 32 hours of backup battery power
Automatic weekly system tests
System repair and replacement included
Optional bathroom and hallway button available
Lockbox available
No long-term contract
No charge for equipment
Low monitoring costs
Free shipping
Cons
No mobile app
Short portable help button range
Small help button
LifeStation offers a variety of Medical Alert Systems with Fall Detection for both on-the-go and at-home. These systems are affordable and trustworthy.
If you or a family member are in need of an in-home medical alert system, LifeStation's Medical Alert Systems with Fall Detection are a good bet. With the basic systems, all you have to do is plug the system in and request help when needed. If you cannot answer, then the agent will notify your contacts and then emergency responders.
The system offers solid response times and a reliable connection. Its portable help button does have a limited outdoor range. So, if the pendant range is important to you, then you might take this into consideration.
What is Fall Detection?
The basic function of fall detection is to automatically detect a fall and alert your monitoring agency — even if the button isn't pressed — so that they can seek help on your behalf, if needed.
Fall detection is built into pendants, hip-worn devices, bracelets, etc. The technology, while easy-to-use, is actually quite advanced. The typical fall detection device utilizes a range of accelerometers, detection sensors, and algorithms to sense a sudden change in velocity.
Seniors and Falls
Falls are all-too-familiar among the senior demographic. A staggering one-third of mature adults over the age of 65 fall each and every year. And many of these falls lead to severe injuries, and sometimes even death.
Thankfully, medical alert system providers now offer something called 'fall detection' with their service (typically as an upgrade). This technology is incredibly helpful for seniors who live alone and/or those who are prone to falls. It's also helpful for those who suffer from seizures and those with blood sugar issues.
Whether it's for you, or for a loved one in your care, there's no denying that fall detection adds an extra layer of coverage and peace of mind (though it's not without its controversy, as you'll soon see).
What Happens If a Fall Occurs?
In the event of a fall, the monitoring personnel on the other end are alerted. They can see that the alert came from someone who wears fall-alert technology, so they act accordingly. That is, they will call someone on your care list of contacts, or reach out to emergency responders.
Surprisingly, fall detection technology can even sense small falls of two feet or less. This means that if you or your loved one falls off a chair, off the toilet, or similar low-height places, you can rest assured you're covered.
Well, the truth is, the technology has yet to be perfected, and there are still some glitches (and thus the controversy). For instance, fast movement of any type — whether it's a fall or not — can sound the alarm. Also, some companies automatically cancel the alert if the sensors detect movement after the fall, assuming the person is conscious and doing fine. Of course, this can be a potentially fatal assumption, and in our opinion, shouldn't be a feature at all.
As you can see, the technology is still evolving, and is improving all the time. And even though devices with fall detection don't boast 100% accuracy, we believe that some fall protection is always better than no fall protection. But again, the technology is mostly geared toward seniors who are fall-prone, so you or your loved one may not need it.
What To Do When a Senior Falls?
A lot of people ask us what to do when a senior falls. And trust us, it's a very valid concern. Before we get into exactly what to do after a fall, here are three things not to do: panic, try to move the person yourself, or encourage the person to get up too quickly or in the wrong position.
If like us, you are not a health care worker, helping an injured loved one can feel overwhelming. Remembering those things you shouldn't do can be as important as recalling the things you should do.
A variety of injuries can result from a fall. So it is important to calmly evaluate the senior for possible injuries while staying calm and encouraging the senior to stay still. Things to look for include bleeding, bruising, pain response, loss of consciousness, or confusion.
If you determine that an injury has occurred, it is important to call for help immediately. For some, this may mean pressing the help button on the older person's medical alert system. This can be a quick and efficient way to call for emergency help. The emergency call center will have the individual's medical background and contact information on file. An associate can immediately call for assistance and be able to quickly relay the information at their fingertips. But if you're on the scene, we always recommend calling 911 directly, especially if an injury has occured.
If you can determine that injury has not been sustained, and the senior thinks they can get up, ensure you help them and use a procedure that will not cause injury to themselves or to you.
You can assist the senior in rolling onto their side and then getting up on their hands and knees. Let them move at their own pace. Place a sturdy chair in front of the person and ask them to place their hands evenly upon it, bringing them to a kneeling position. Next, place another sturdy chair behind the older adult. They should lean forward on the first chair, bringing their strongest leg forward, moving them into a lunge position. Using the first chair to lean into, allow the person to push themselves up and into a seated position on the second chair.
It is important to know what to do when a senior falls. But it is equally important to know what you can do so that falls do not happen in the first place. This might mean eliminating environmental hazards around the home and taking other precautionary measures.
Fall Safety Tips
It's one of those things that nobody thinks will happen to them. Until it does. One in three adults over the age of 65 falls each year, according to the National Institute on Aging. Some of these falls can have severe consequences. The National Council on Aging reports that every 11 seconds an older adult is treated in an emergency room following a fall.
As residents of the Midwest, we know that our harsh winters can create havoc for people walking across icy or snowy pavement. We keep a bucket of salt handy! But it isn't just bad weather that can cause falls, particularly for older adults.
What conditions put this older population at risk for falling, and is there anything that family members and friends can do to help keep our loved ones safe?
As a family member or caregiver, being cognizant of physical, behavioral and environmental risks is a great first step. Observing or asking questions of your loved one can help you determine if they are at a high risk of falling.
Determine the following of the senior:
Have they fallen before?
Are they advised to use a walker or cane?
Are they unsteady on their feet, or do they need assistance walking?
Do they need to push off from a chair with their hands in order to stand up?
Do they have difficulty stepping up from a curb?
Do they need to rush to use the bathroom?
Do they have numbness in their feet?
Do they ever experience dizziness or lethargy, perhaps as a side effect of medication?
Are they feeling depressed?
Any of these factors may increase a person's risk of falling. Let's now focus on some proactive steps that will help decrease the risk.
Muscle weakness, poor balance and gait problems can result from a variety of diseases and conditions including diabetes, heart disease, and Parkinson's disease. While many of these conditions cannot be cured, a physical therapist can help improve some of the symptoms.
Any older adult, whether suffering from a chronic condition or not, can also decrease their risk of falling through exercise. It is true that we lose muscle as we age, but it is also true that exercise can partially restore some strength and flexibility. The type of exercise an older adult participates in depends, in part, on the severity of the risk factor for falling.
For seniors who are at a lower risk, Tai Chi is often recommended to help improve mobility, balance, strength, flexibility and psychological health. For those with osteoporosis, weight-bearing exercise like walking is recommended. For those who are at a higher risk of falling, exercise while sitting in a chair might be recommended.
Another physical condition that could lead to falls is vision impairment. It is a good idea to visit an ophthalmologist annually to ensure your prescription is current. Other things to watch out for are tint-changing lenses, which can be dangerous for a senior when going from bright sunshine into a darkened building, and progressive lenses, which can sometimes cause difficulties on stairs.
Medications can also pose a problem. If you or your loved one is struggling with weakness or lethargy, a medication review may be in order. A medication or its dosage may need to be adjusted. Either of these side effects could contribute to a fall.
Next, let's talk about environmental factors. One of the easiest preventative measures that can be taken to decrease falls is by ensuring your home environment, or that of your loved one, is safe. Of course, if it is your family member's living space, it is important to realize that no one likes changes made to their living space without their knowledge beforehand. We sure wouldn't. So it's all in the approach. You know your loved one best, but a few adjustments that could be made to ensure safety include the following:
Increase lighting in the home, particularly in high-risk spots like the top and bottom of stairs.
Add night lights to the bedroom, hallway, and bathroom.
Add two secure rails to every staircase.
Install grab bars in the tub/shower and near the toilet.
Use a chair and handheld shower head in the shower if necessary.
Remove throw rugs, or secure them to the floor with double-sided tape.
A few other changes that could be made to decrease risk involve changes to daily living. Getting enough sleep is important. We recognize that this is not always easy as Circadian rhythms often change as adults age. Medical conditions such as Parkinson's disease and depression can impact sleep patterns, too.
Choosing appropriate footwear is also important to prevent falls. For those of us who like to dress fashionably, this can be a tough one. Who invented high heels anyway?! Aside from wearing low-heeled shoes, footwear should also be non-skid and rubber-soled. Avoid backless shoes, too.
Limiting alcohol is yet another way to decrease the risk of falls.
Finally, we always like receiving advice from other experts in the field. Ever considered a Falls Prevention Program? They can be found through local area agencies on aging, senior centers, the local YMCA, hospitals or health clinics. The programs often teach coping mechanisms to help deal with the fear of falling, fall prevention strategies, behavioral changes that can be made to prevent falls and safe exercise.
Falling doesn't have to be an inevitable part of aging, not if we make necessary adaptations for healthy bodies and peace of mind.
All right, now that you have a good sense of what to do in case of a slip or fall, you're probably wondering about the logistics of buying a medical alert system. What is the equipment cost? How about monitoring? And will you need to sign a contract? Next, we'll answer all these questions for you.
How Much Do Medical Alert Systems Cost?
Generally, the costs associated with medical alert systems fall into four categories: equipment costs, monthly monitoring fees, add-ons, and hidden fees.
Equipment Costs
These are the upfront, one-time fees you will pay in order to receive all necessary devices. This may include just a wearable device and a charger or it could encompass a base unit, wearable device, and multiple help buttons to place around the house. A few questions that may impact the price of the equipment include the following.
Is the system in-home, mobile, or a dual system?
Are you required to buy the equipment or are you leasing it?
Does the help-button have built-in two-way voice?
As you may have guessed, equipment costs come in at a range of prices. Typically, the devices that tend to be more sophisticated and run more expensive are mobile devices, like the $300 smartwatch from Medical Guardian. (This is an item you will own, not rent.) On the other hand, in-home devices tend to be a little less expensive. For example, ADT charges $15 for a help button with a wristband or necklace. Some in-home services don't charge an equipment fee at all. Be careful in your comparisons; however, as these are the same brands that might charge higher monthly fees, which we will talk about next.
Monthly Fees
These cover the cost of running a staffed response center and around-the-clock coverage. Associates from these emergency call centers are available 24/7 at the press of a button. Companies often offer several plans, the base plan starting as low as $20 per month, and upgraded plans running $40 to $50 per month. Some premium plans can run even higher.
Factors that will impact the price of the plan:
Is the system in-home, mobile, or dual? If it is a dual system, count on the monthly fee being higher, or even double. Makes sense – the system will likely be used more.
Does it include fall detection? Some companies include the cost in their monthly fee. Others charge an add-on price, usually $10 per month.
If it is an in-home system, does it operate from a landline or cellular connection? Some companies have two different rates with systems using cellular being charged an extra $10 per month. This is understandable, as we've found cellular connections to be faster and more reliable than landline or Wi-Fi connections.
Add-Ons and Upgrades
This will also affect the price you pay for an alert system. An a la carte menu of add-ons is often available. Items can be either charged a one-time cost or tacked on to the monthly fee. We have already talked about fall detection, but other add-ons include lockboxes, extra help buttons, or additional pendants. Some companies even offer decorative charms that a help button worn on a necklace can slip into.
Finally, be sure to look carefully for hidden fees (cha-ching). They usually come in the form of a one-time cost for activation, installation, or shipping/handling. Although these are one-time fees, they can still add up. Thankfully, many medical alert system companies don't charge any hidden fees.
Features of Medical Alert Systems with Fall Detection
If you're shopping for a medical alert system with fall detection, you might be wondering what features to look for. And with so many options — like wearable smartwatch technology that tracks steps and detects falls, to GPS devices that can summon medical help from anywhere — it can be hard to decide what features are really important.
Fortunately, we can help you narrow down what fall-detection features are most beneficial so that you can find a medical alert system that's right for you or your loved one.
24/7 Emergency Response
Around-the-clock emergency response is a critical feature of medical alert systems because an accident or illness can happen anytime day or night. Look for a system that has 24-hour US-based call centers with trained personnel.
Water Resistance
You'll want to find a device with fall detection that can be worn in the bath or shower. After all, this is where the majority of falls occur. Also, not having to worry about taking off your device when getting in and out of the shower is always a nice benefit.
Cellular Monitoring
Cellular monitoring is ideal for seniors who do not have a landline. With cellular monitoring, you can get reliable monitoring through a cellular network. Make sure that you have strong cellular service in your area.
Multi-Lingual Support
Multi-lingual support is ideal for non-English speakers. Medical alert systems offer support in a variety of languages from Spanish to Swahili. Each service varies so if this is important to you, be sure to check what languages are available.
2-Way Voice
It's important that your fall detection technology is backed up with a powerful 2-way speaker. This allows emergency operators to hear you and talk with you after a fall, and from remote areas in your home. Many 2-way voice units also function as a speakerphone, allowing you to receive calls without getting up.
Long Range Coverage
The range of coverage varies with medical alert systems. You want to choose a large enough range so that you are covered whether you are reading in your backyard or getting your mail. Basic systems provide a 600+ foot range. This easily covers most yards and homes. It is about two football fields placed end-to-end. If you need a longer range, then some systems allow you to add an extender to increase the coverage distance.
GPS Location Services
Falls happen outside of the home, too. That's where GPS location services are immensely helpful, and even life-saving. This is especially important for active seniors, as it can track and pinpoint your exact location in the event of a fall. Look for a medical alert system that has fall detection and GPS location services.
Spouse Coverage
A good feature for couples is spousal coverage. This allows you to add your spouse or other people in your home to your plan for little to no extra money.
Redundant Cell Centers
A medical alert system with fall detection is only as reliable as the call center. Redundant call centers provide backup coverage in the event that your region is impacted by, say, a natural disaster or major power outage. Be sure that your medical alert with fall detection has redundancy built into the service.