Best Medical Alert Systems With GPS
GPS location service can potentially save lives. See which medical alert systems with GPS made our list of favorites.
With new features, like fall detection and medication reminders, the benefits of a medical alert system should always be carefully considered to make sure you choose one that is most suited to meet your needs.  Check out how these medical alert systems made it to the top of the list for 2019.
The proven and trusted technology of GPS devices offers multiple benefits for people who spend time outside their home and on the go. They are designed with portability in mind and can fit in a purse, pocket, or be placed on the wrist or around the neck. A GPS medical alert system allows you to maintain independence and quality of life without changing your daily routine. Here's a look at our top 5 GPS medical alert systems for 2019.
1. Bay Alarm Medical – Best Overall GPS Medical Alert (Editors Choice)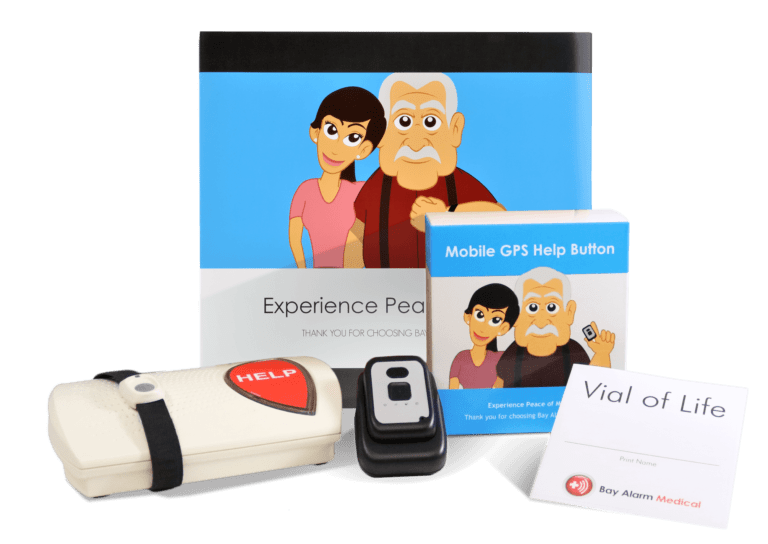 Bay Alarm Medical strives to provide affordable safety and peace of mind for you and your loved ones. The company includes free monitoring for spouses and other family members, so unsurprisingly, the company has received an overwhelming amount of positive reviews from customers. The company offers 24/7 monitoring, and trained professionals are always on standby. Every week professionals test your system with the push of a button to make sure you are protected. Key features that make Bay Alarm stand apart from the competition include:
Pros
1 Year Warranty
Mobile GPS Monitoring and Tracking
Multilingual Support
Up to 72 hours on a single charge
No long-term contract
Multiple Product Options
Easy installation
Positive reputation
Fall detection
Cons
Auto fall detection is not consistent
No in-house call monitoring center
The Bay Alarm Medical alert is available with upgrades, allowing you to easily expand protection. The system requires a base station and provides the option of a wristband or pendant worn around the neck. Both options are waterproof and include fall detection, which ensures the system calls the Bay Alarm Medical monitoring center to dispatch help. The GPS system will stay charged for up to 72 hours and the company offers a 30-day full refund.
Multiple levels of protection are offered to ensure your needs are met. The previous mentioned base and wristband/pendant are all included in the standard level package with an added Vial of Life magnet. The Vial of Life magnet is a leaflet that includes the client's medical and health information to assist first responders and family members in emergencies. Clients have the option of a cellular base or landline base and can purchase additional accessories at the standard level.
Upgrades in equipment for further protection are available. Bay alarm offers a wall accessory as an additional help button that can be placed on the wall of any room. The GPS alert system is an equipment upgrade that adds an additional charge and replaces the pendant in the standard level package. The one-time fee for the GPS upgrade is $49. Furthermore, the GPS pendant can be upgraded to add fall detection. When adding the fall detection pendant, customers will incur a monthly charge.
2. MobileHelp – Best Cellular Connectivity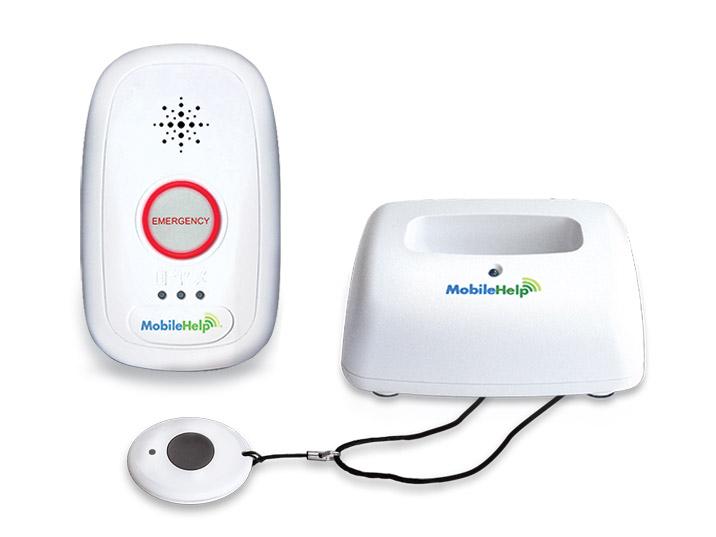 A leader in the medical alert industry and the makers of the first FDA-registered mobile medical alert device, MobileHelp has become a leader in being able to easily stay on top of the ever-changing and developing protection market. The company offers MobileHelp Solo, MobileHelp Duo, and a smartwatch, all with built-in GPS. With a simple press of a button, account information is received at the call center. Exact location coordinates allow emergency responders to send aid to your exact location. Here is a quick snapshot of at a few of the positives and negatives of MobileHelp.
Pros
No long-term contract
Response team is state-of-the-art
Pricing for all budgets
Accessory options for all needs
Medication reminder
Proven track record of service security
Free activation
Waterproof equipment
Cons
Operates only through AT&T Cellular Service
With the highest-rated emergency operators and the fastest call response times in the industry, it is no surprise that customers rave about the MobileHelp's exceptional customer service. MobileHelp's system and innovative equipment are simple to set up, and there are no installation fees. No activation fees make the system all the more advantageous. For the most part, it is a pretty straightforward medical alert service. Although the system doesn't offer a long list of additional features, such as carbon monoxide or fire monitoring, clients do have the option to add GPS monitoring and fall detection.
MobileHelp's Solo and Duo systems can be purchased for $37.95 and $41.95 respectively. MobileHelp offers the ability to take advantage of its services without having to sign a long-term contract. In addition, you won't have to pay for the cost of equipment. There are no shipping fees or activation fees, either. In addition, customers can return the equipment and request cancellation at any time. The company is one of first to offer a fully functional smartwatch as a medical alert device. The smartwatch operates as a touchscreen device with a direct line to the MobileHelp emergency center.
3. Medical Guardian – Longest Battery Life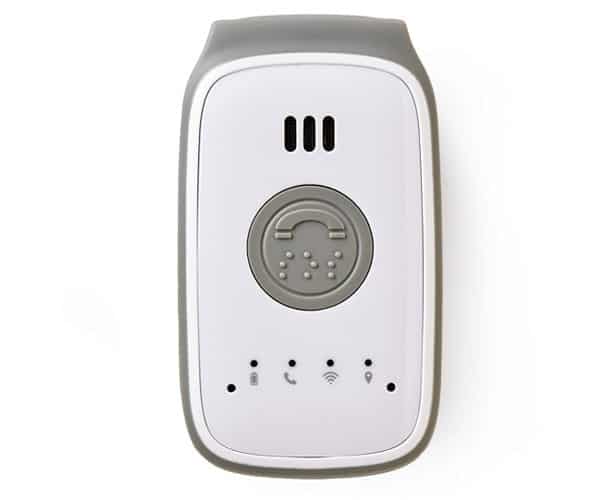 With a solid lineup of equipment and a price-lock guarantee, Medical Guardian makes it very easy to start protecting yourself or a loved one in medical emergencies. The Mobile Guard and Active Guard systems with GPS are a top choice for those who enjoy outdoor living and travel. Here is a quick look at the system's key features.
Pros
Provides 24/7 monitoring / U.S. based
No long-term contract
GPS enabled alert devices
Lifetime Warranty
Auto fall detection
Up to 72 hours on a single charge
Price lock guarantee
Both cellular and battery operated equipment
Waterproof
Unlimited range
Multilingual Support
Cons
Service cost not covered by Medicare
Difficult assembly
Medical Guardian is committed to providing emergency medical care while empowering seniors to live a life without limits. They offer solid round-the-clock protection and believe any system is only as good as its monitoring capabilities, and that's why Medical Guardian is dedicated to having a lightening-fast response team at their 24/7 monitoring center. The company takes pride in providing independence and dignity for its seniors. After reading through countless reviews, you'll quickly see why Medical Guardian is rated as a best in class for its customer service and customer satisfaction.
Both the Mobile Guard and Active Guard are GPS-capable. The devices can be worn as a belt pouch, neck pendant, wristband or placed in a purse. The Active comes with the more features than the Mobile Guard, such as fall detection and unlimited range. Active costs about $59.95 per month. Active Guard is Wi-Fi enabled as well, which makes location pinpointing even better. Both devices are highly water-resistant, and with U.S.-based monitoring facilities in fifty states and multilingual support, customers can have peace of mind knowing help is always within reach.
4. GreatCall – Best Features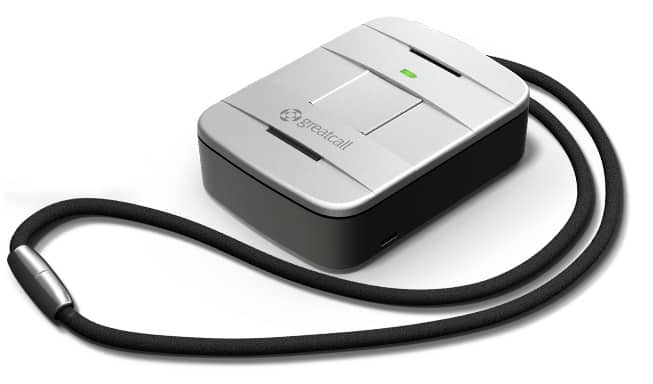 Lively Mobile is GreatCall's portable alert system that provides several service-level features, including fall detection and 24-hour response. The company is a leader in health and safety solutions for the active aging and offers fascinating services, apps, and add-ons. They provide easy-to-use mobile products and award-winning customer care, always striving to help their aging customers live self-supporting lives. Lively mobile is an excellent choice for a mobile system that is both reasonably priced and offers a wide range of services. Here is a glimpse at a few of its pros and cons:
Pros
100% U.S. based customer service
No annual contracts
No cancellation fees
GreatCall link
Medication reminder
Equipment status alerts
Fall detection
Solid two-way audio
Reasonably priced
Spot on GPS
Cons
Requires daily charging
Not stylish
Limited battery life
For a portable medical device, Lively Mobile is perfect for anyone who wants to feel protected both in and away from their home. Without compromising safety, and with unlimited one-button access to professionals who are highly-trained, families can rest assured that assistance is available in any situation for a loved one who wishes to remain independent.
A one-time device cost of $49, which is right there with the Bay Alarm Medical device, and several non-contract plans are available with Lively Mobile. For $24.99 per month, customers are provided 24/7 emergency response. To add the GreatCall Link, which allows family or caregivers to monitor your activities by use of the mobile app, and 24/7 access to doctors and nurses for medical advice, the monthly plan will cost $29.99. Customers receive a charging cradle, accessory clip, and magnetic lanyard with a Lively Mobile purchase. The fall detection feature is in the magnetic lanyard with built-in technology to detect sudden downward movement that connects you with a response team to assess the situation. Lively Mobile is a simple, affordable personal emergency response system that offers a 30-day trial period and money-back guarantee.
5. LifeStation – Most Affordable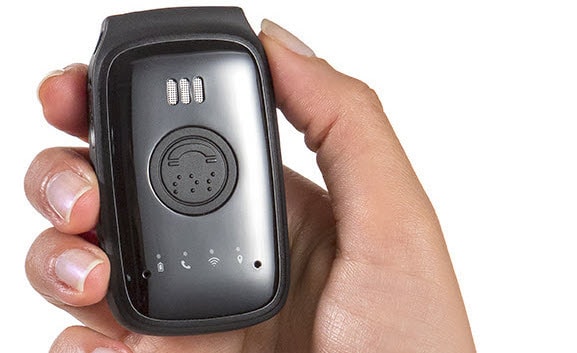 With over 40 years in the medical alert industry, and with products priced at less than $1 a day, LifeStation stands out for its affordability and reliability. With an extreme ease of set up, straightforward product selection, and a no-strings-attached 30-day guarantee, LifeStation is one of our favorites on our list of top medical alert systems for 2019. With LifeStation Premium Mobile and a pendant with five days worth of battery power, you can take emergency medical response with you wherever you go. Here's a look at the system's pros and cons.
Pros
Affordable pricing
True 30-day money back guarantee
No long-term contract
Extended battery life
Free equipment activation and shipping
Under a $1 a day
Well established company
Easy installation and use
Focused on medical alert
Unlimited range
Cons
No system smoke or carbon monoxide detector
Lacks tracking app
With its sole focus on providing its customer base with the most affordable emergency response, LifeStation has become an industry leader in the emergency response and individual safety industry. The LifeStation care specialist has phenomenal response times and offers compassionate aid when needed.
LifeStyle Mobile is combined into a single convenient piece of equipment and uses GPS to direct emergency personnel to your exact location. Even if you cannot speak, LifeStyle Mobile's locating capabilities can pinpoint your location and send help quickly. The service cost starts at $39.99 per month and for an additional $7 per month, fall protection can be added. Regarded as a top service provider, they are able to monitor customer interactions by maintaining their own in-house monitoring centers. With a long-standing reputation for quality service and equipment, excellent customer service, and a simplified cancellation policy, LifeStyle Mobile is a top choice for active seniors on the go.
Features of Medical Alert GPS Systems
Your options are large in number when choosing a medical alert system, with each one touting its unique pros and cons. Most all systems share the same basic features, but advancements in technology have made the choices numerous and the current systems are far beyond the basic pendants that enable a loved one to summon for help. The availability and option to wear a bracelet, pendant, or a watch, while having 24/7 medical support with the push of a button, has drawn a new audience of people with physical disabilities, as well. And thanks to GPS capability, medical alert devices have become appealing to parents who want a 24/7 push-button device available for their children in case of an emergency.
With the medical alert industry constantly changing and growing, it's important to find a system that best fits your needs. Here are features and extras to consider.
24/7 Emergency Response
Accidents can occur at any time and at any place. A medical alert system is the means to 24/7 medical care. Medical alert system providers offer around-the-clock response service so assistance is available whenever and wherever it is needed.
Fall Detection
In cases of a fall, stroke, heart attack or another medical emergency, a button is often unable to be pressed. If the user is hurt or unresponsive, fall detection provides automatic contact with a response team.
Extended Battery Life
Many wearable devices have the battery life of a week while some require a daily charge. It's important to know the standby battery life. An extended battery life means extended protection. Always choose a device with an extended battery life.
Spouse Coverage
Monitoring services extend the medical alert service to a family member or to the spouse a member.
Nationwide Coverage
No matter where you live or where you travel, nationwide coverage means protection and peace of mind from coast to coast.
GPS Location Services
A GPS device promotes mobility and independence. A user's location can be pinpointed within a few feet. Many systems keep a running history log as a list of previous locations.
Long-Range Coverage
A medical alert system with long-range coverage provides protection no matter where you are. Whether you're on a shopping trip or outside doing yard work, you can have ultimate peace of mind. Systems will vary in how far you can move from the base unit before relying on cellular service. Make sure to assess the long-range coverage of a system before you buy it.
Water Resistance
A high percentage of the falls in the elderly population occur in the shower or bath. A medical alert device that is water resistant allows users to bathe and shower without removing the device. In addition, adverse weather conditions should not deter medical protection for those who want to be independent and active. Water-resistant devices keep you protected no matter the weather.
Cellular Monitoring
Cellular-based systems do not depend on phone lines. Active seniors who travel or spend time outdoors have the freedom to move further from home when they opt for a system with cellular monitoring. GPS tracking is available on cellular-based systems as well. Consider which cellular network has the best coverage when choosing a device.