It's not everyday that we think about preparing our homes for emergencies, because who wants to think about the worst happening? However, every now and then, there will be moments when the worst does happen -- and we'll wish we were more prepared. This guide will help you prepare your home for common emergencies and disasters to allow you to live comfortably and with a peace of mind. While emergencies don't happen on a daily basis, it never hurts to have an emergency kit put together, and enough supplies on hand to keep you and your family safe and afloat until the situation gets better.
Starting with the Basics: Preparing an Emergency Kit
No matter where you live, it's important to have an emergency supplies kit readily available for use. This kit should include items you would need to survive for several days, and should be easily transportable. Say, if you need to leave quickly, you should be able to take this kit with you and go. Some important items to consider adding to your kit include the following:

These items are essentials that every household should have in their kits. Be sure to place items in easy-to-carry containers that are easily identifiable and labeling them accordingly, so that you can reach them conveniently when needed.
In addition to these kit essentials, it's also important to consider the area you live in and factor in other items that you may need. For example, if you live in an area where flooding happens frequently, you'll definitely want to go to the hardware store to stock up on some plywood for storms and any other items you may need. It's not a good idea to wait until the last minute because that's when everyone realizes they need those items and run over to grab them... which means the chances of things you need being sold out will be higher.
Remember that it is never too early to be prepared and buy emergency supplies. Natural disasters can hit people all around the world at unexpected times. With that said, if you have not yet looked into homeowner's insurance coverage options, now would be the perfect time to do so. Get a policy in place so that you can live with a peace of mind.
Preparing an emergency kit may look and sound simple, but depending on your circumstances, you may need more. The following resources outline the important items that should be in every emergency supply kit:
LA Times

This resource has a list of supplies that will come in handy not only in the home, but also in the car in case you need to travel.

Be Prepared California

This is another list of emergency supplies that may be useful to look at.

South Carolina Emergency Management Division: Family Emergency Kit

This resource has a printable checklist you can print out and have on hand for yourself and your family to make sure everything is readily available for use in the event that a disaster takes place.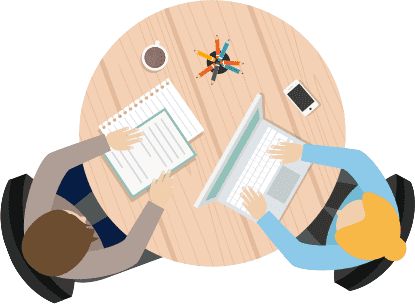 Creating a Plan
Unexpected disasters can be hard to plan for especially if you don't know what type of disaster will be happening and when, but it's always good to plan out what you can. For example, you and your family may plan on who will be picking up kids from school, where to meet, what to do if phones aren't working, etc. This way, if you have little kids, they won't be panicking if you're not around in the event of the disaster. By having a mutual understanding on more things within your family, the easier it will be to get through any disaster.
Usually, meeting at home would be a safe spot, but there may be instances requiring you and other household members to evacuate and stay out. In such cases, you'll need to plan for a back up safety spot to meet up. Sometimes during emergencies, making contact with others can be difficult. With that said, it would be smart to also plan on who to contact first in case your family is separated. This would help to keep communications efficient, especially during times when making phone calls may not be as convenient.
Depending on the emergency, you may also need to turn off your home's water, gas, and electricity. It would be wise to familiarize yourself with where all of these shut off valves are, so that when the situation calls for it, you know exactly where to go to safely turn everything off. Additionally, you will want to become aware of any and all safe evacuation routes you might need to take and inform your family members of them. Your neighborhood should also have local emergency shelters, so find out where they are located ahead of time to reduce stress and panic.
Naturally, disasters will be stressful and difficult to endure. However, planning ahead of time will help you stay calmer and allow you to think and act properly during any catastrophe. This not only involves planning for yourself, but also communicating with your loved ones to make sure they are safe and sound during such an event. For older adults having a plan in place is super critical as well. Following all of these steps and even having something like a medical alert system can be a lifesaver too.
For additional information on how you and your family can create a disaster plan, visit the following links:
Disaster Center

This website breaks down the importance of creating a family disaster plan, steps for safety, and more.

Emergency Preparedness & Response

See a more in-depth, step by step on how to create an effective family communication plan.

FEMA

Find out what information you need to have on hand in the event of an emergency and get additional tips for surviving disasters.
Disasters to Prepare For
There are a multitude of home disasters one should be familiar with and prepare for. Each type entails different protocols, and we have broken down some common ones below.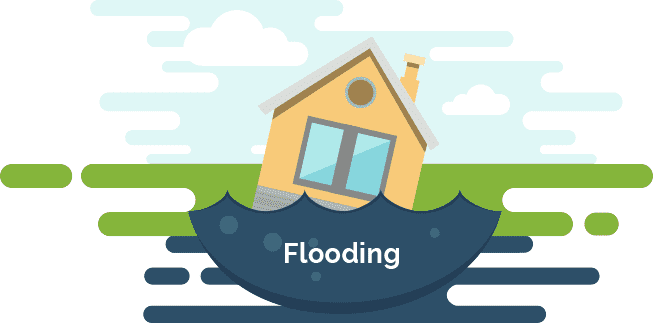 Depending on where you live, flooding can be a very frequent natural disaster. If your area consistently rains for days straight, you'll definitely want to be prepared for the worse just in case there's a flash flood.
In the event of a flood, you'll want to make sure to:
Be prepared to evacuate at any moment and have your emergency kit on hand, ready to go.
Stay out of floodwaters, and keep your kids out of them, too. If there's a flowing stream of water that goes above your ankles, it's time to stop and go a different route.
If there's a flash flood warning in your neighborhood, head towards higher grounds and stay there until it's safe to return.
Stay alert at all times, but especially at night time when it's harder to notice floods.
Keep in mind that standard homeowner's insurance does not cover damages resulting from flooding. As a result, it's important to make sure you have protection from them. You can find out more about how you can get flood insurance here.
Stay informed by listening to the radio and watching TV news for any flood warnings in your area.
Has a flood already happened in your neighborhood? The following tips will help you get through the disaster as smoothly as possible:
Keep your children and pets away from dangerous areas with floodwater.
Observe your surroundings to make sure there aren't wild animals that could potentially pose danger, such as poisonous snakes, as they occasionally will come into your home with floodwater.
Only enter your home after officials report that it is safe to do so.
Smell gas or hear a hissing noise? It's time to contact your fire department for further assistance.
If you're cleaning up, make sure that you are wearing proper protective gear to avoid any injury.
Maneuver your home carefully once you're safe to enter, to make sure that you don't injure yourself from collapsed or damaged areas.
Make sure your food and water are safe to ingest. If anything has come into contact with floodwater, it's best to assume the worst and discard the item. Better safe than sorry!
For additional information on how to protect your family and home from the negative consequences and results of flooding, check out the following resources:
HouseLogic

Learn about flood control and how to protect your home against flooding. This resource is filled with great tips on how to prevent your home from getting water damage.

BankRate

Floods can happen anywhere and essential to know the different ways you can protect your home from deteriorating from them. This link provides six smart ways.

The Washington Post

This article includes ten things you need to do to keep rainwater out of your home. This resource is great for flood prevention.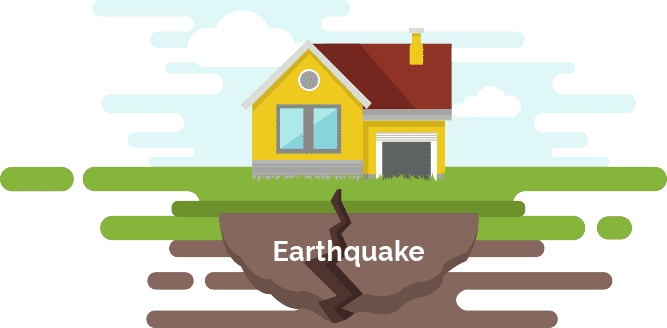 When the rock beneath the earth's surface shifts and breaks, the result is an earthquake. Earthquakes can happen anywhere at any time, which is why it's so important to be ready to protect yourself, your pets, and your children should one strike your area. Much of the United States have a moderate to high risk of earthquakes.
Keep yourself and your family safe by practicing the following to prepare:
Make sure that your wall decor is properly mounted so that they don't fall off and possibly injure anyone easily in the event of an earthquake.
Keep heavy items that may possibly fall away from beds and couches to avoid any injury in case these fall.
Make sure that light fixtures are secure.
Keep your emergency supplies kit somewhere easily accessible.
Determine safe areas of the home to drop, cover, and hold onto, and do practice drills with your family to make sure everyone is aware of what to do.
During an earthquake, you will want to:
Stay as calm as possible.
Avoid being near windows and glass in case they shatter.
Drop, cover, and hold onto a sturdy piece of furniture like a desk.
If you're indoors, stay in until the shaking stops. Then, exit when safe. Use stairs rather than elevators to avoid potential power outages, aftershocks, and other damage.
If you're outdoors, find a clear spot without anything above you and drop to the ground. Stay still until the shaking stops.
Avoid power lines, buildings, trees, and street lights if you are outside.
In a car? Safely pull over to an an open area and stop. Don't park under or near bridges, overpasses, and power lines if it's possible. Keep your seatbelt fastened and stay put until the shaking stops. Then, drive with caution.
After experiencing an earthquake, there are several things to keep in mind to keep you and your family safe:
Wear long sleeved tops and bottoms along with sturdy shoes and gloves to protect your body from injury. Depending on the severity of the earthquake, there may be broken objects around.
Clean up flammable liquids, bleach, and spilled medications right away.
Aftershocks are real. They can occur anytime after an earthquake.
If you feel an aftershock, do as you would a regular earthquake: duck, cover, and hold on.
Open drawers, cabinets, and closet doors carefully because some of your belongings may have shifted.
Stay out of damaged areas or buildings and keep an eye out for fallen power lines.
Drive with extra caution as often times, there are traffic light outages resulting from earthquakes.
Stay updated with news via a portable radio.
Keep your pets near and under your control.
Want to learn more about how you can protect yourself and your family from earthquakes? Take a look at the following informative resources:
Earthquake Country Alliance

This link breaks down the seven steps to earthquake safety.

National Geographic

Get a quick overview on earthquake safety tips and what you should do if shaking begins here.

Aichi

Find out more about the different precautionary actions you can take to protect yourself and your family from earthquakes.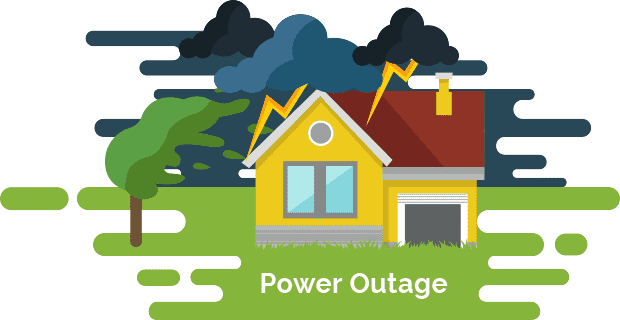 There's nothing more frustrating than a power outage that lasts a long time. Sometimes, power will be out for an hour or two, and these power outages don't require as much concern. However, if the outage lasts for more than a couple hours, you will have to start being concerned about perishable foods going bad.
In general, to prepare for a power outage, you'll want to make sure that you have the following:
Some non-perishable foods to snack on during the outage
Ice to keep your remaining perishable foods cold for as long as possible
A thermometer to make sure food is still fresh and safe to eat
Plenty of water for yourself, your pets, and your family
Flashlight to get around safely
First aid kit in case there are any injuries that occur in the meantime
Cell phone and as many battery packs as you have
Extra cash
Back up power for pets that rely on electric-powered life-sustaining equipment
A fully gassed up vehicle to get around
During a power outage, be ready to:
Keep your fridge and freezer closed for as much as you can and only open it when you need to take something out of it. An unopened fridge can stay cold for up to around four hours.
Eat food from refrigerator first, then use the rest in your freezer. An unopened freezer can keep your food cold for around 2 days.
Stay home as much as possible, as traffic lights will likely be non-functional and there will be more traffic (and as a result, accidents) on the roads.
Carefully turn off and unplug all electrical equipment, but leave one light on so that you will know when the power comes back on.
Use a cooler with ice to keep your items cold if the power outage lasts more than a day.
Keep your food in a dry and cool spot.
Disconnect appliances that may cause electrical surges when the power comes back on.
If there is any doubt about whether food is safe to eat during and after a power outage, it's best to throw it out, unless you have a thermometer around to measure the temperatures. Meats and fish that have been exposed to temperatures higher than 40 degrees fahrenheit for 2 hours or more are likely not safe to eat. Keep in mind that a lot of times, foods may not have any odor or sign of rotting, but can cause illnesses and discomfort after ingestion.
You can never be overly prepared for a power outage. With that in mind, we have compiled a list of useful resources to help you better prepare:
The Organic Prepper

This article mentions the important items you must have during a power outage, and why it's crucial to have them.

Back Door Survival

Find additional tips on how to survive a lengthy power outage.

Life Hacker

In an interview Q&A format, this piece shares insightful points on how to prepare for a power outage.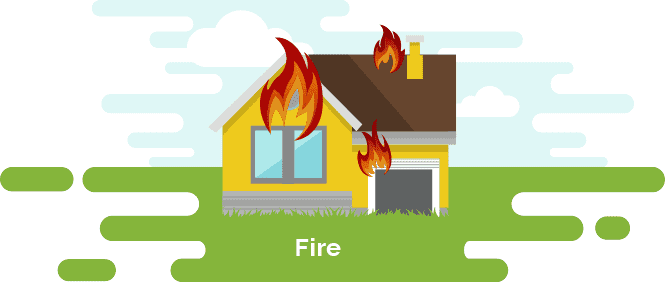 Unlike many natural disasters, house fires are actually preventable. By identifying and removing hazards in your home, you can avoid getting house fires. Working smoke alarms are so important to have in a home because 65% of home fire deaths occur because of malfunctioning smoke alarms. Home security systems with environmental monitoring are also a good way to protect against fires.
Here are some steps you can take now to help prevent fires and practice fire safety in your home:
Don't leave a stove running unattended.
Keep children and pets away from the kitchen, especially when cooking.
Make sure that all stoves and ovens are turned off before leaving the house.
Store items that catch on fire easily at least 3 feet away from anything that gets hot.
Turn off space heaters when you are going to bed or leaving the house.
Turn off hot appliances like curling irons and hair straighteners immediately after use, and keep them away from other items.
Replace your smoke alarms every decade.
Feed your smoke alarms new batteries yearly.
Set a timer to remind you to check on the oven if you're baking something.
Make sure that your smoke alarms are active and working.
Check the smoke alarms regularly to make sure they are still working.
Inform your children about smoke alarms and let them know what they need to do if they hear one go off.
Don't smoke in bed.
Familiarize yourself with escape routes and inform all family members.
Smoke alarms should be installed on every level of your house, including living areas and bedrooms.
In the event of a fire, it's important to follow your escape plan and exit safely if possible. Don't forget to make sure your kids and pets are safe with you as well. Refrain from touching door knobs that are hot. If the fire is blocking you from exiting safely, stay in the room with doors closed, with a wet towel under the door. Call 9-1-1 promptly to get assistance.
For more information on home fires and how you can prevent them, visit the following pages:
Ready.gov

Understand the basic characteristics of a home fire and learn more about what to do before, during, and after a fire.

National Safety Council

Learn about the importance of having working and up-to-date smoke alarms in the home.

U.S. Fire Administration

This is the ultimate home fire safety checklist. Make sure you are well-informed in each department so that you are best prepared for a home fire.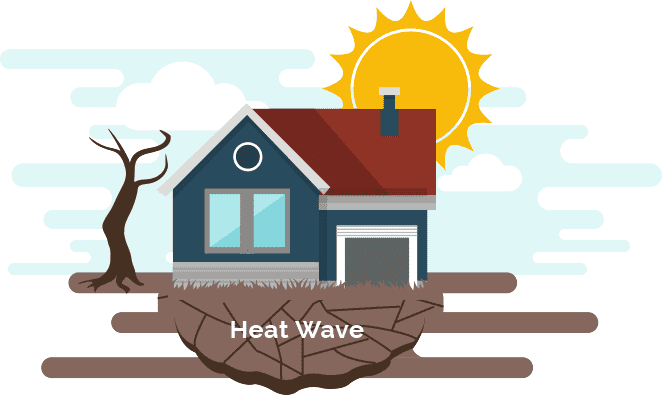 Excessively high temperatures can not only cause discomfort, it can also result in illness, fainting, and even death. In fact, studies have shown that excessive heat has caused more deaths than other catastrophes like floods in recent years. If you live in an area that is often warm, you'll definitely want to take measures to prepare for a heat wave.
There are many ways to prepare for a heat wave. To get you started, here are just some things to consider:
Check the weather forecast frequently and plan ahead.
Make sure that AC units are working if your home has them.
Check to make sure that fans are working, and if not, purchase new ones before the next heat wave hits.
Plan to wear appropriate and comfortable clothing. Bright, loose, and airy are best.
Try to stay indoors as much as possible, and keep your doors closed.
If you must go outdoors, be sure to wear sunscreen and reapply on time when necessary.
Don't have air conditioning at home? Plan to either stay at a friend's for the day or go somewhere local with AC. Some ideas include libraries, malls, and theaters.
Make sure that your kids and pets are safe from the heat by keeping them hydrated and in the shade.
Be sure to drink plenty of liquids to stay hydrated.
Discuss safety protocol with your household in the event a heat wave takes place.
Keep your home's windows and shades closed to keep the cool air in during the day, and open the windows at night if it's cool enough.
Heat waves are extremely hard to endure. Learn about how you can make surviving them more bearable with the additional resources below:
MedicineNet

Don't have air conditioning? Learn about how you can avoid heat exhaustion without AC here.

NY Times

Read up on some fun ways you can survive a heat wave and not get heat illness.

UnfrazzledCare

Find 20 tips to keep in mind to make a heat wave as bearable as possible.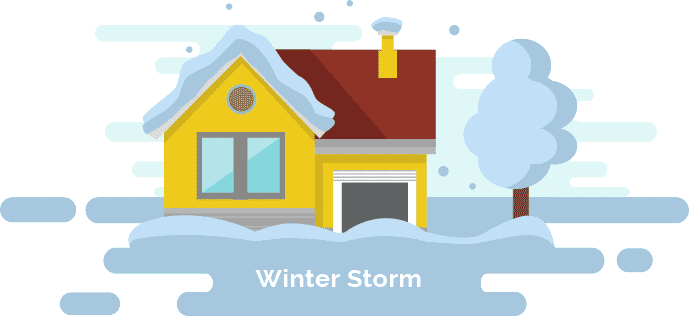 Winter storms can be very dangerous depending on the severity and where you live. If there is a blizzard outside, chances are, you're better off at home staying warm and cozy. Winter storms can be so severe, they can go on for several days at a time. With that said, it's important to be as prepared as possible before one hits so that you can be as comfortable as possible. During these storms, temperatures can drop extremely low, there may be freezing rain, and it can also be very windy out.
Sense a winter storm coming your way? Be sure to prepare for it by doing the following:
Make sure your home is well-insulated to keep the cold air, snow, and rain out.
Ensure that you have working heaters to stay warm at home.
Keep your pets indoors.
Have several layers handy and dress warmly. Don't forget hats, mittens, and scarves!
Go out as infrequently as possible. Traveling during a winter storm is not safe and accidents are much more prone to happening.
If you must travel, be sure to have your emergency kit on hand and ready for use.
Stay tuned with weather updates by listening to the radio.
Keep your car's gas tank full as this will prevent the fuel line from freezing when parked outside your home or in the garage.
Wear waterproof/rain boots if you must walk in the snow or rain.
Stay safe during a winter storm by learning more about them and how you can prepare with the resources below:
Accuweather

These useful tips can save your life from a severe blizzard.

Common Sense Homesteading

Learn how to keep warm when the power goes out or when it's freezing cold out.

The Weather Channel

Stranded in a blizzard? Get informed and see how to get through it the smart way.
Conclusion & Additional Resources
It's impossible to control the weather and stop catastrophes from happening. However, you can educate yourself and your family on the vital steps for emergency preparedness so that everyone can minimize risks and be aware of the safe routes should an emergency take place. The first step is to build a kit, and then become informed on the different disasters that may happen in your area. Once you have a plan in mind, it's a lot easier to act rationally when the time comes.
For additional information on how you can become better prepared for a natural disaster, visit the following links: