It's not every day that we think about preparing our homes for emergencies because who wants to contemplate the worst happening? However, every now and then, there will be moments when the worst does happen.
Hawaii in August 2023 is a grim example as fires wreaked unimaginable devastation in multiple areas. Shortly before the Hawaii fires, people in many states were buckling under extreme heat, with July 2023 being the hottest month on record since 1880.
This guide will help you prepare your home for common emergencies and disasters to allow you to live comfortably and with peace of mind. It is always a good idea to put together an emergency kit and to have enough supplies on hand to keep you and your family safe.

Did You Know? Natural disasters and property crime often go hand-in-hand, as post-disaster is the perfect time for criminals to burglarize unoccupied homes. So it's wise to choose one of the best home security systems like SimpliSafe. Also consider a top-rated security camera to monitor your home's exterior for good measure. If you must evacuate, you'll be glad you have it.
Starting with the Basics: Preparing an Emergency Kit
No matter where you live, it's vital to have an emergency supplies kit. This kit should include items you need to survive for several days and be easily transportable. If you need to leave quickly, you should be able to take this kit with you and go. Essential items to consider adding include the following:

Place items in easy-to-carry containers and label the containers accordingly for quick identification. Consider the area you live in and factor in other things you may need. If you reside in a place where flooding happens frequently, stock up on plywood for storms. Don't wait until the last minute when everyone realizes they need those items.
If you have not yet looked into homeowner's insurance coverage options, now is the perfect time to do so. It is never too early to prepare and buy emergency supplies. Natural disasters hit people all around the world at unexpected times.
Depending on your circumstances, you may need more supplies in your emergency kit than what we listed above. Check out the following resources:
Be Prepared California Kit suggestions include feminine supplies, a fire extinguisher, a tent, and a whistle to call for help. This resource contains a wealth of other information such as disaster plan development and tips for healthcare workers.
Ready.gov, Individuals with Disabilities This resource touches on kits for folks with hearing, sight, speech, mobility, sensory, or other disabilities.
American Society for the Prevention of Cruelty to Animals The ASPCA addresses multiple considerations for pets, including reptiles, horses, and extra-small animals such as hamsters.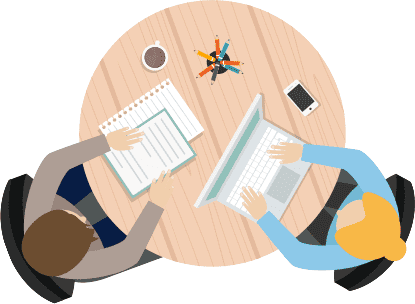 Creating a Plan
Disasters can be hard to plan for, especially if you don't know what type of disaster will happen and when but plan out what you can. For example, you and your family could hash out the details on who picks the kids up from school, where to meet, what to do if phones don't work, etc.
Evacuation routes: Map out evacuation routes and local emergency shelters. Have your family members practice taking these routes every few months.
Meeting spots: Create a plan that includes multiple locations to meet up after evacuation.
Contacts: Plan who to contact first in case your family is separated. School personnel, grandparents, and friends' parents could be on the list.
Shutoff valves: Depending on the emergency, you may need to turn off your home's water, gas, and electricity. Familiarize yourself with where these shutoff valves are and how to turn them off safely.
Disasters are stressful, but planning helps you stay calmer and think better. This is particularly true if your family includes members with disabilities or older adults. A medical alert system could be a lifesaver.
For additional information on how you and your family can create a disaster plan, visit the following link:
Disasters to Prepare For
There are a multitude of home disasters one should be familiar with and prepare for. Each type entails different protocols, and we have broken down some common ones below.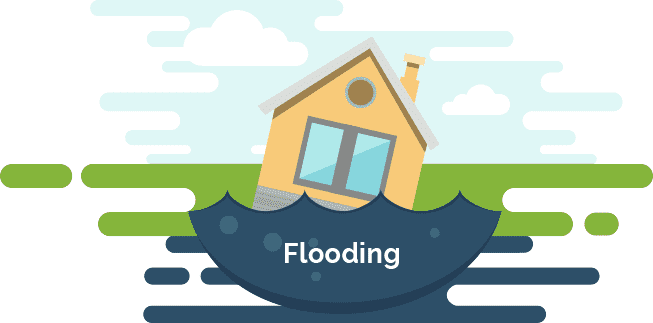 Some areas are prone to frequent flooding. Even a flash flood, which occurs in less than six hours, can lead to devastation. Plan ahead with these steps.
Be prepared to evacuate at any moment, and have your emergency kit on hand, ready to go.
Stay out of floodwaters. Keep your kids out of them, too. If a flowing stream of water goes above your ankles, opt for a different route.
Head toward higher ground if there's a flash flood warning in your neighborhood. Stay there until it's safe to return. Flood warnings are issued when flooding is about to occur or is already. A flood watch means floods are possible and to be prepared.
Stay alert at all times, but especially at night when it's harder to notice floods.
Keep in mind that standard homeowner's insurance does not cover damages resulting from flooding. You may be able to add flood insurance to your policy, and the National Flood Insurance Program offers coverage options.
Stay informed by listening to the radio and watching TV news for flood warnings. Many localities such as King County, WA, let you sign up for text alerts. The National Weather Service also offers wireless emergency alerts for a variety of disasters, including flooding. No signup is necessary.
Has a flood already happened in your neighborhood? The following tips will help you get through the disaster as smoothly as possible:
Keep your children and pets away from dangerous areas with floodwater.
Observe your surroundings to ensure there aren't wild animals such as poisonous snakes that could pose a danger. Snakes occasionally come into your home with floods.
Enter your home only after officials report it is safe to do so.
Contact your fire department if you smell gas or hear hissing noises.
Wear proper protective gear to avoid injuries while cleaning up.
Maneuver your home carefully to make sure you don't injure yourself in collapsed or damaged areas.
Exercise caution with food and drinking water. If anything has come into contact with floodwater, assume the worst and discard the item. Better safe than sorry.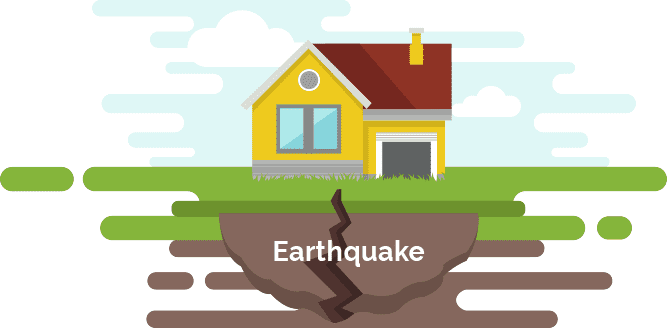 When the rock beneath Earth's surface shifts and breaks, the result is an earthquake. Earthquakes can happen anywhere at any time, and much of the United States has a moderate to high risk of these quakes. So, be ready to protect yourself, your pets, and your children. Take these steps:
Ensure that wall decor is mounted correctly to prevent it from falling and injuring people.
Keep heavy items away from beds and couches.
Check that light fixtures are secure.
Keep your emergency supplies kit somewhere easily accessible.
Determine safe areas of the home to drop, cover, and hold onto (drop to the floor, take cover under a sturdy item of furniture, and hold onto it).
Do practice drills with your family to make sure everyone is aware of what to do.
Do's and Don'ts During an Earthquake
Do stay as calm as possible.
Do drop, take cover, and hold onto a sturdy piece of furniture such as a desk.
Do stay inside until the shaking stops if you're indoors. Exit when it's safe. Use stairs rather than elevators to avoid potential power outages, aftershocks, and other damage.
Do safely pull over to an open area and stop if you are in a car. Don't park under or near bridges, overpasses, and power lines if possible. Keep your seatbelt fastened and stay put until the shaking stops. Afterward, drive with caution.
Do find a clear spot without anything above you and drop to the ground if you're outdoors. Stay still until the shaking stops.
Don't go near windows and glass in case they shatter.
Don't head toward power lines, buildings, trees, and streetlights if you are outside.
Earthquake safety continues after the earth stops shaking. You may have to contend with fallen power lines, weakened structures, and much more.
Wear long-sleeved tops and bottoms, sturdy shoes, and gloves. Broken objects may be scattered around, depending on how severe the earthquake was.
Clean up flammable liquids, bleach, and spilled medications right away.
Open drawers, cabinets, and closet doors carefully because some of your belongings may have shifted.
Stay out of damaged areas or buildings and keep an eye out for fallen power lines.
Drive with extra caution since earthquakes often cause traffic light outages.
Stay updated with the news via a portable radio.
Keep your pets nearby and under your control.
Be aware that aftershocks can occur at any moment. If you feel one, behave as you would during a regular quake: Duck, cover, and hold on.
Want to learn more about protecting yourself and your family from earthquakes? Take a look at the following resources:
Ready.gov This site is authoritative, even offering tips if you use a cane, walker, or wheelchair.
Earthquake Country Alliance This link breaks down the seven steps to earthquake safety.
Aichi This Japanese-focused resource includes guidelines if you're driving, on the train, or near the shore when a quake strikes.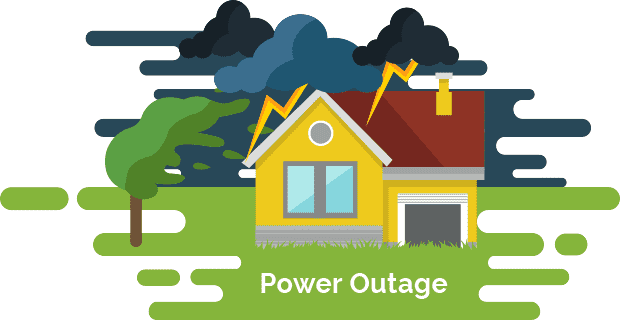 There's nothing more frustrating than a power outage that lasts a long time. Outages for an hour or two don't require as much concern. However, if the outage persists, your perishable foods could go bad. Keep the following supplies on hand to be prepared:
Nonperishable foods to snack on
Ice to keep your remaining perishable foods cold for as long as possible
A thermometer to make sure food is still fresh and safe to eat
Plenty of water for yourself, your pets, and your family
Flashlight to get around safely
First aid kit in case injuries occur
Cellphone and chargers
Extra cash
Backup power for household members who rely on electric-powered life-sustaining equipment
A fully gassed up vehicle to get around
During a power outage, be ready to:
Keep your fridge and freezer closed. Open them only to take something out. An unopened fridge stays cold for about four hours.
Eat from the refrigerator first, then use food in your freezer. An unopened freezer can keep food cold for about two days.
Use a cooler with ice to keep items cold if the power outage lasts more than a day.
Stay home as much as possible. Traffic lights will likely be nonfunctional, leading to higher traffic and more accidents.
Turn off and unplug all electrical equipment carefully. Leave one light on so you'll know when the power comes back on.
Disconnect appliances that may cause electrical surges when the power comes back on.
If there is doubt about whether food is safe to eat, throw it out unless you have a thermometer. Meats and fish exposed to temperatures higher than 40 degrees Fahrenheit for two hours or more are likely not safe. Keep in mind that foods may not have any odor or sign of rotting but can cause illnesses and discomfort after ingestion.
You can never be too prepared for a power outage. With that in mind, we have compiled a list of resources for further research:
Ready.gov This link is useful for general information. If you have medical devices powered by electricity, remember to talk to your medical providers about backup power options.
Centers for Disease Control and Prevention This resource touches on carbon monoxide poisoning, food safety, medications, extreme weather, first aid for electrical shocks, and other issues that occur with power outages.
Ready for Wildfire Power outages are common with wildfires. Cal Fire created this toolkit to help people dealing with both scenarios.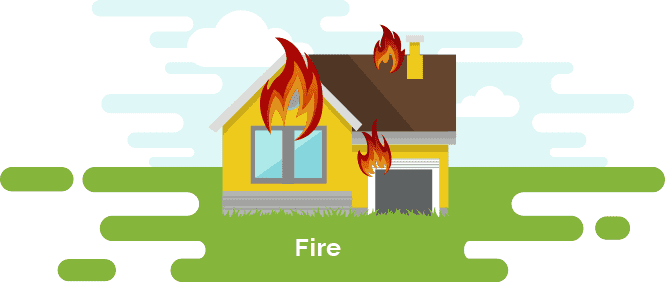 House fires are preventable. Wildfires are trickier, but you can still prepare for them. First, we'll address house fires. One step is to look into home security systems with environmental monitoring. Frontpoint and Vivint offer some of the best options with smart smoke detectors, CO sensors, flood and freeze sensors, etc. Read more in our hands-on Frontpoint review and Vivint analysis. Other tips include the following:
Attend stoves at all times.
Keep children and pets away from the kitchen, especially when you're cooking.
Make sure that all stoves and ovens are turned off before leaving the house.
Store flammable items at least three feet away from anything that gets hot.
Turn off space heaters when you go to bed or leave the house.
Turn off hot appliances such as curling irons and hair straighteners immediately after use and keep them away from other items.
Replace your smoke alarms every decade.
Feed your smoke alarms new batteries yearly.
Set a timer to check the oven if you're baking something.
Check the smoke alarms regularly to make sure they still work.
Inform your children about smoke alarms and let them know what to do if they hear one go off.
Avoid smoking in bed.
Familiarize yourself with escape routes, draw up house evacuation plans, and have your family members practice.
Install smoke detectors on every level of your house, including living areas and bedrooms.
During a fire, refrain from touching doorknobs that are hot. If the fire is blocking you from exiting safely, stay in the room with doors closed and a wet towel under the door. Call 911 for help.
For wildfire safety, stow flammable items such as lawn mowers, wood piles, and propane tanks at least 30 feet away from the home. To keep embers from jumping into your home, install 1/8-inch metal mesh screens under decks and under vents. Follow these lawn safety tips:
Maintain a 10-foot distance between the house and any foliage.
Keep tree limbs trimmed at least 10 feet above the ground to prevent ladder fuels. Ditto with branches hanging within 10 feet of your roof, chimney, or house.
Water your yard regularly to avoid dry grass that is vulnerable to ignition.
Install nonflammable vegetation and mulch instead of their flammable counterparts. Pine needles, pine bark, and large mulched areas are fire-friendly, so avoid them.
Plant flowers, vegetables, and other growth in smaller, irregular groups instead of large masses.
Clear patios, decks, and gutters of flammables such as pine needles and leaves.
Rake dead leaves and twigs.
If you evacuate, you may not have time to do much. If possible, move flammable furniture to the center of your house away from doors and windows. Turn on exterior and interior lights to make the house more visible and lean a ladder against the house to help firefighters.
If you might need to evacuate, arrange temporary shelter just in case. Gather fire tools such as axes, rakes, and buckets. Close doors, windows, shutters, blinds, vents, eaves, and pet doors. If you have flammable drapes or curtains, pack them up. Get dressed in long-sleeved shirts, long pants, and durable shoes. Wear gloves and use a handkerchief to protect your face. Grab outdoor hoses and fill pools, hot tubs, and large outdoor containers with water. Turn sprinklers on and keep them running.
For more information on home fire and wildfire safety, visit the following pages:
Ready.gov This link covers escape plans, smoke alarms, and other fire safety tips. It also has information for older adults and people with functional or access needs. Ready.gov has a wildfire counterpart covering quick evacuation, fire-resistant materials in and around the home, and returning home.
U.S. Fire Administration Go to this site for anything fire-related, including fire prevention printouts. Read about research USFA is funding to reduce the price tag of retrofitting homes with sprinkler systems. Read about how flooding can be a major obstacle to post-wildfire recovery and how to develop a community wildfire protection plan.
National Safety Council This excellent resource on home fires includes details on extinguisher use.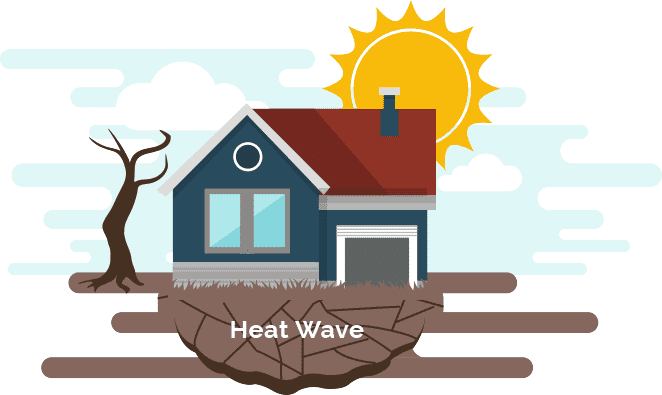 Extreme heat is the most deadly weather-related hazard. The CDC notes that more than 600 people in the United States die every year of heat-related causes. Even when death doesn't occur, excessively high temperatures cause discomfort and may result in fainting and illness.
These high temperatures are not getting any better, either. July 2023 shattered records for the hottest month, and the Phoenix area saw 31 days in a row of temperatures above 110 degrees Fahrenheit, breaking the previous record of 18 days in 1974.
All of these changes disrupt human health, agriculture, and other essential components of life. Fortunately, a bit of preparation goes a long way. To get started, consider these tips:
Check the weather forecast frequently.
Make sure your home's AC units are working if you have them.
Switch fans on to ensure they work. If they don't, purchase new ones before the next heatwave hits.
Gather at least a few changes of appropriate and comfortable clothing. Bright, loose, and airy are best.
Stay indoors as much as possible, and keep your doors closed.
Wear sunscreen and reapply it regularly if you must go outdoors.
Head to a friend's, the library, mall, or theater if your house does not have air conditioning. Check with your municipality or the Red Cross for cooling center locations.
Keep children and pets hydrated and in the shade.
Drink plenty of liquids to stay hydrated.
Keep windows and shades closed during the day so cool air stays inside. Open the windows at night if it's cool enough.
Discuss safety protocols with your household. For instance, no one should turn to a fan as their main or only cooling device. Residents should look out for heat illness symptoms such as a body temperature of 103 degrees F or higher, nausea, heavy sweating, and muscle spasms.
Heatwaves are tough. Learn how to make surviving them more bearable with the resources below:
MedicineNet Don't have air conditioning? Avoid heat exhaustion with box fans, buckets of water, and other tips.
Ready.gov Turn here for details on staying as cool as possible and recognizing heat-related illnesses.
Centers for Disease Control and Prevention Here is a primer on the interplay between heat and older adults. Learn why seniors are more vulnerable to heat illness and what caregivers can do.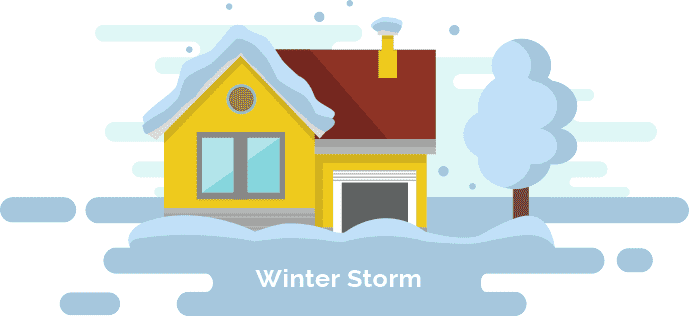 Winter storms can be very dangerous, depending on their ferocity and where you live. These storms can be so severe as to go on for several days at a time. To stay safe and comfortable while hunkering down, consider these tips.
Stock up on nonperishable food and water.
Make sure your home is well-insulated to keep the cold air, snow, and rain out. Caulking and weather stripping are helpful, too.
Ensure that your heaters work.
Live in one room to conserve heat and close the doors to unused rooms.
Keep your pets indoors.
Dress warmly in several layers. Don't forget hats, mittens, and scarves!
Test your smoke alarms and carbon monoxide detectors to ensure they're in good shape.
Stock up on batteries for flashlights and radios.
Use sleeping bags while sleeping, if possible.
Ensure an ample supply of essentials such as medications and toilet paper. Build your stockpile gradually if you cannot afford to buy everything at once.
Go out as infrequently as possible. Traveling during a winter storm is not safe, with accidents much more likely to happen.
Bring your emergency kit if you must travel. Stay inside the vehicle if you find yourself trapped.
Listen to the radio for weather updates and sign up for community warning systems.
Keep your car's gas tank full. Doing so prevents the fuel line from freezing when the car is parked outside your home or in the garage.
Wear waterproof boots or rain boots if you must walk in the snow or rain.
Know the signs of frostbite and hypothermia.
Run generators and grills outside only and away from windows to avoid carbon monoxide poisoning. Don't use ovens or stovetops to heat your house.
Shovel snow safely, and don't overexert yourself. Ideally, you'd push the snow rather than lift it. If you have a history of heart disease, get your doctor's OK before shoveling.
Prepare even more with the resources below:
Common Sense Homesteading Keep warm when the power goes out or when it's freezing cold outside.
The Weather Channel Stranded in a blizzard? Survive the smart way whether you're stuck in your car or on foot.
Ready.gov This is a one-stop site on winter storm preparedness and safety.
Conclusion & Additional Resources
It is impossible to control the weather and stop catastrophes from happening. However, you can educate yourself and your family on preparedness and safety. One key step is to build a kit. Another is to learn more about the different disasters that may happen in your area. After you create a primary plan, you can tinker with it a bit to address each disaster that could occur. For additional information on preparing for natural disasters, visit the following links:
Red Cross Create an emergency plan in three steps with free templates. Incorporate scenarios such as what to do if family members get separated and if you must evacuate your home.
Red Cross, Common Natural Disasters Across the U.S. See which types of disasters are more common in your region. For example, the West is at a higher risk of wildfires, earthquakes, landslides, volcanoes, and tsunamis. Meanwhile, the Mid-Atlantic region is predisposed to winter storms and hurricanes. No matter where you live, prepare for floods, extreme heat, power outages, thunderstorms, and other types of disasters.
Ready.gov Double-check that your emergency supplies kit is complete.