Services and Features
Like most identity monitoring services, LifeLock's core offerings are monitoring, alerts, and restitution for those affected by identity theft. LifeLock subscriptions also include the Norton 360 antivirus software.
But those are just general categories. Let's take a deeper dive into what LifeLock actually does.
Social Security Number and Credit Alerts
A typical identity theft scheme involves getting ahold of your social security number (along with some other, more basic information) and then applying for loans in your name. The thief makes off with the cash and leaves you on the hook for the loans, often with ruined credit. Naturally, this makes social security number monitoring and credit monitoring a big part of services like LifeLock. LifeLock will alert you if it spots anything unusual happening with your credit or sees your social security number anywhere that it possibly should not be.
LifeLock doesn't monitor all business transactions all over the world, since that isn't possible, but it does keep an eye on your credit score and claims to monitor sites on the Dark Web for evidence that your information is being bought and sold.
Norton 360 Security for Up to Five Devices
Norton 360 is an antivirus software program. The branding is a bit confusing here; Norton 360 was once offered alongside "Norton Internet Security," and both were later replaced by "Norton Security" branding. But Norton 360 seems to be the brand of choice once again, and products under the Norton Security brand are at the end of their life cycle: Norton recommends that users of Norton Security switch to the newer Norton 360 equivalents. In short, Norton 360 is the regular Norton antivirus software. LifeLock and Norton products are tied together, and you pretty much have to get some form of LifeLock along with your antivirus software if you buy a Norton product (and vice versa). So you don't have to worry that you're getting some slimmed-down version of Norton protection with LifeLock.
Norton 360 includes most of what you'd expect from an antivirus software, plus some nice extras. Norton's regular .exe program installs on your computer and sweeps for viruses and malware. There are also browser extensions, which range from useful password managers, Norton Password Manager, to secure browsing, Norton SafeSearch.
Norton's program makes it easy to spread your protection across multiple devices via an email link.
VPNs for Up to 5 Devices
Norton 360 comes with a VPN, which is a very welcome bonus. A VPN is a virtual private network, and it effectively hides your location and identity while you're on the internet. To be clear, this doesn't mean that the things you share on the internet are still hidden. If you type your email and password into a website, you're still relying on that website to stay secure; if it is compromised, you're still in trouble. But hiding your location and identity can keep sites from effectively tracking you with cookies, and it makes it harder to connect what you share and do on the internet to your real location and identity. Using a VPN is a good choice if you care about privacy on the web, and it's great to see it included here.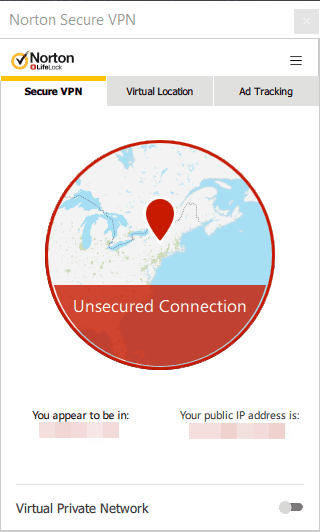 The VPN runs in a little window, which is a little cumbersome, but might be nice for VPN newbies.
Bank and Credit Card Activity Alerts
Along with your social security number and your credit, LifeLock will keep an eye on your bank and credit card accounts. LifeLock doesn't have access to your financial accounts from the get-go, of course, but it's easy to add accounts within LifeLock's web client or mobile app.
Alerts on Crimes in Your Name
With some plans, LifeLock will also keep an eye out for your name in police reports. It's worth noting here that police reports are not necessarily considered public records in the way that court reports are, so LifeLock's powers here are presumably a little limited.
Annual Three-Bureau Credit Reports and Credit Scores
LifeLock monitors your credit, but it also makes scores and reports available annually (depending on the plan, you may get reports from all three major credit monitoring bureaus or just once). As a security measure, LifeLock made me call them to activate the credit features of my account.
401(k) and Investment Activity Alerts
LifeLock can monitor investment accounts as well as bank accounts. To get this set up, you just have to log into your investment accounts through LifeLock's app. You can also tell LifeLock how much transactions need to total in order to trigger an alert.
24/7-Member Support
LifeLock has a lot of support materials online, but they also have a support department that you can call for help anytime. The support section is focused on tech support, but there are also identity "restoration specialists" there to help you (and we'll talk about them in the next section).
U.S. Based Restoration Specialists
If you become a victim of identity fraud, LifeLock will assign a "dedicated agent" to help you get things straightened up. An active case will appear in the "ID Restoration" tab in the LifeLock app.
Reimbursement for Stolen Funds and Other Financial Coverage
LifeLock covers its members for funds they lose due to identity theft, up to a certain amount. Coverage varies by plan (more on that later), and the amounts promised are earmarked for certain purposes. For instance, the baseline "Select" plan offers up to $1 million in coverage**** for "lawyers and experts," up to $25,000**** for "personal expense compensation," and up to $25,000**** for "stolen funds reimbursement." There are some exceptions found in the fine print, including some interesting ones, like the fact that the policy won't pay out if your identity theft incident is connected to terrorism in any way.