Editor's Note: Right now Identity Guard is offering up to 50% off of their premium plans. If you find out this service is right for you, just keep in mind that the discount ends tomorrow.
It's no secret that Identity Guard is a big name in identity protection, and that makes it a big deal to us. We've tested this popular brand, and we've learned a lot about their plans and pricing. We're here to break down all of the important details for you. We'll explain how Identity Guard works, what features are included, and which subscription options you should consider.
We discuss in our in-depth Identity Guard review why it's one of our top picks for identity protection out there. But you're probably wondering if they have options that work for your budget and preferences. So we're going to unpack everything you need to know about Identity Guard bundles, features, prices, and more. Let's dive right in.
Key Features
Our favorite features of Identity Guard

Criminal and Sex Offender Monitoring
Financial Account Monitoring
Risk Management Report
Safe Browsing Tools
Comprehensive Household Protections
Plans and Pricing for Identity Guard
There are key things you want from an identity theft protection service. First is monitoring so that you can spot suspicious activity right away. We also recommend a service that can help you restore your identity in case of identity theft. With help from professionals, your chances at succeeding in restoring your identity greatly improves. And lastly, you'll also need some sort of insurance policy. These are important safety nets to look for in any package you choose, as identity theft can cost you. Even though most victims don't lose money, the average cost of an identity theft incident is still well over $1,000.1
FYI: "Identity protection" doesn't mean crime-fighting — it means monitoring and recovery. We trust services like this because they keep tabs on our credit, social security numbers, and other important matters. Monitoring can spot threats fast, buying us time to protect ourselves by canceling credit cards, freezing credit files, etc. And if we are victimized, services like this can help us recover.
With Identity Guard, we think you'll get valuable protection at every price point. First, you'll get basic monitoring services with all plan tiers. We're also glad to see that recovery and insurance are standard across all price points, too. This is crucial, as there are tons of chores to think about if you ever fall victim to identity theft (reporting the incident, freezing credit files, filing a report to insurance companies, and more).2 And for obvious reasons, having insurance included in your package can really pay dividends.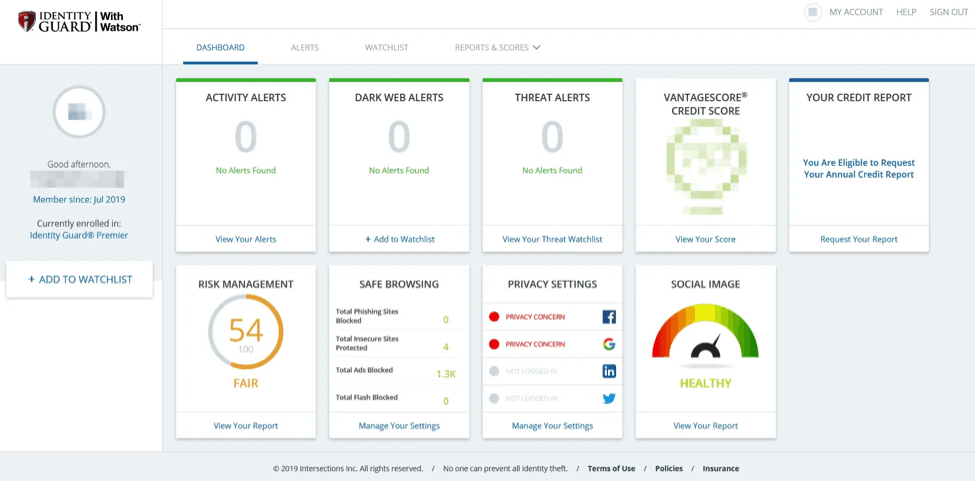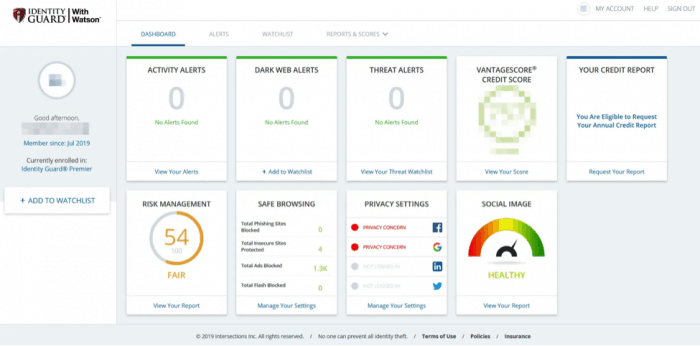 Identity Guard has really strong monitoring, recovery, and insurance, and it's priced really well. In fact, we've ranked Identity Guard as one of our best identity protection services list.
We think signing up with any of Identity Guard's services is better than having no protection at all. But that doesn't mean all plans are created equal. When deciding on a plan tier that makes sense for you, you'll want to look into the monitoring features offered. We'll talk more about this in a moment, but let's have a look at prices first.
Identity Guard Price Snapshot
| | Individual | Individual | Family | Family |
| --- | --- | --- | --- | --- |
| Plan | Monthly | Annual | Monthly | Annual |
| Value | $8.99 per month | $90.00 per year | $14.99 per month | $150.00 per year |
| Total | $19.99 per month | $200.00 per year | $29.99 per month | $300.00 per year |
| Ultra | $29.99 per month | $300.00 year | $39.99 per month | $400.00 per year |
So there you have it. To recap, Identity Guard costs $7.50 per month for individuals and $12.50 for families (when billed annually). The premium plans (Total and Ultra) cost $16.67 and $25 monthly, respectively. While the monthly pay-as-you-go plans do cost a couple of dollars more, they're also more flexible, so if you're not sure if you're going to stick around for the long haul, we always recommend month-to-month pricing. Otherwise, you can save up to $72 if you sign up for a whole year.
Identity Guard Plan Options
Identity Guard's three main plans are Value, Total, and Ultra. Each of these come in individual and family versions (they also come in annual or monthly billing options, as mentioned above). As far as selection goes, having three different options to choose from is typical for the industry. Now let's see which of the three options is most suitable for you.
Value Plan
The cheapest Identity Guard tier is the company's Value Plan. For individuals, this one costs less than ten dollars per month. We think there's a lot to like here, particularly in recovery and insurance coverage. We explained in our review that we were impressed by how the Value plan (and all Identity Guard options) include a "Risk Management Score." Having our risk assessed helps us know what steps to take to protect ourselves.
Pro Tip: Doing simple things like changing your passwords and using two-factor authentication can help to lower your risk of becoming a victim of ID theft and fraud.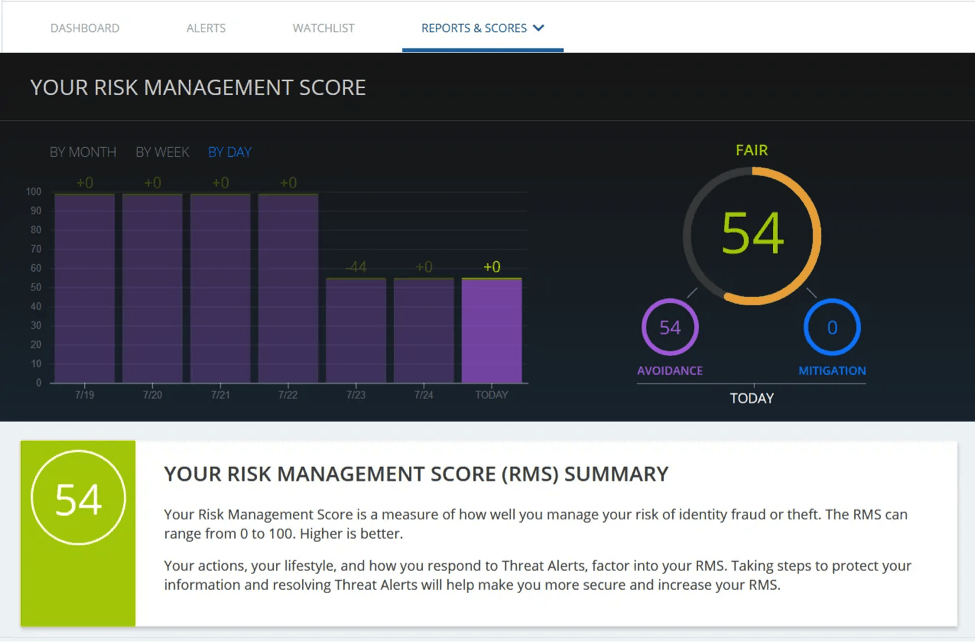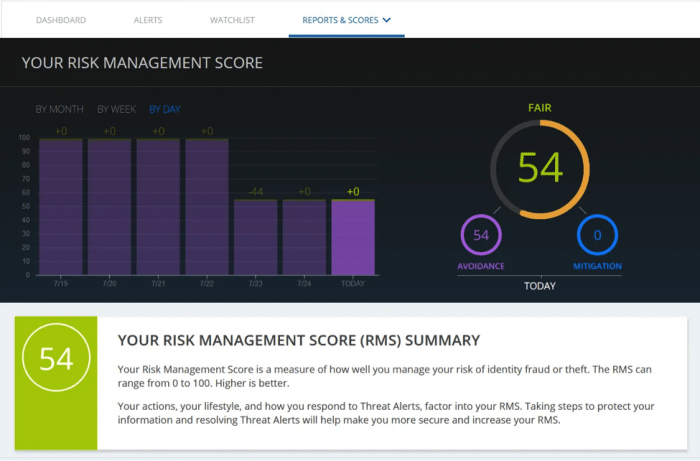 Monitoring matters a lot to us. Thankfully, the Value plan has you covered with identity monitoring backed by IBM's Watson artificial intelligence. This is one of Identity Guard's most unique features, and we're impressed that it's included even in the cheapest plan. But we worry that this option is missing some of the credit-related features that we usually look for.
Who it's best for: Budget-minded customers who care most about the safety nets provided by recovery and insurance coverage. The Risk Management Score and AI-powered identity monitoring are useful inclusions.
Did You Know: There are three main credit reporting bureaus: Equifax, Experian, and TransUnion. If someone tries to take out debt in your name or runs up a bill on your credit card, these agencies are likely to hear about it. But there's no guarantee that every piece of information goes to all three bureaus, so we recommend having monitoring in place for all three bureaus.3
Total Plan
Identity Guard's Total Plan builds on what the Value plan offers, and it also comes with important credit monitoring features. With Total, we enjoyed coverage that flagged and notified us of changes in our credit reports and scores across all three bureaus.
Who it's best for: Anyone who wants comprehensive identity monitoring and fraud protection.
Ultra Plan
Ultra includes everything that we got with the Value and Total plans. But it also comes with a full three-bureau credit report. We think this is a useful perk for anyone who wants to take a closer look at their credit details. If you're looking to improve your score or think you might take out a major loan like a mortgage sometime soon, this is a great option.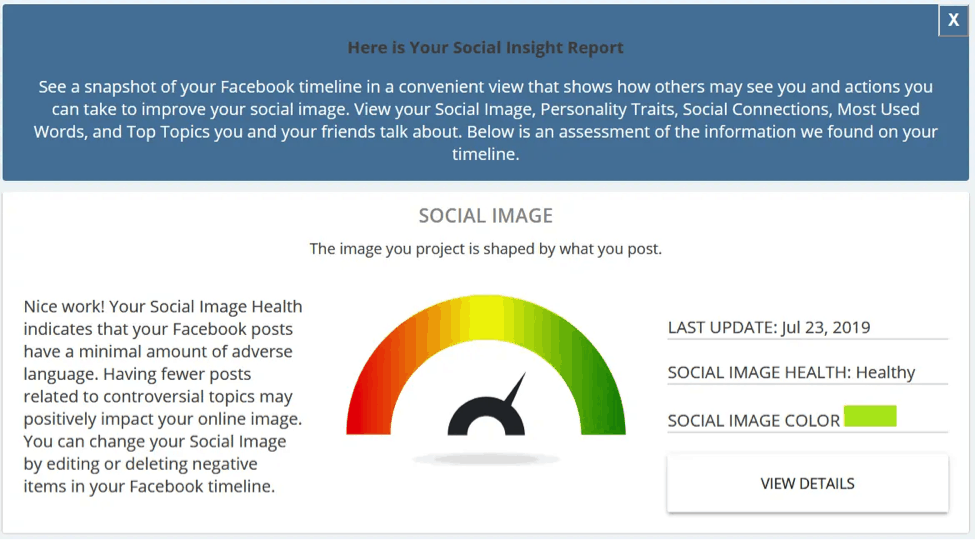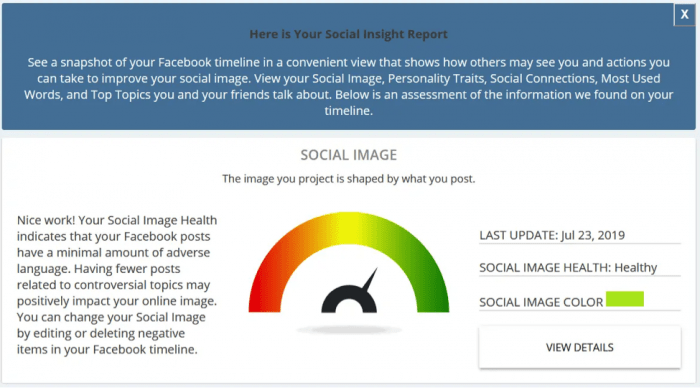 The Ultra plan also includes a "Social Insight" feature. This helps us monitor our social media presence, as it checks for threats to our reputation. Be careful what you post out there!
We enjoyed other new monitoring features at this tier, too, like home title monitoring and change-of-address monitoring.
Upgrading to Ultra also comes with improved recovery services like a white glove resolution concierge. "White glove" and "concierge" are terms companies use to refer to premium services that cover scheduling and other hassles. We deal with a U.S.-based customer care team no matter which plan we have, but the white glove resolution concierge service gives us a more fully-managed recovery process.
Note that the Ultra plan replaced Identity Guard's previous top-tier brand called "Premier."
Who it's best for: Customers who want personal finance help built into their identity monitoring, as well as those who are concerned about their social media presence.
Value, Total, and Ultra Family Plans
Note that with the individual plans, you'll get the regular features of each plan for one person. However, with the family plans, you'll get all of the features included in the package for yourself and for others living at your address.
Our tests showed that family plans are still very private. That is, we weren't able to see details about our other family members on our plan. We think you'll be comfortable sharing an account with the people you live with, even if you're not living with a spouse or long-term partner.
Pro Tip: Child identity theft is rare, but that doesn't mean it never happens. When it does, it can make a mess of your kid's future. The good news is that child identity monitoring tends to be pretty cheap. So we recommend you pick up some coverage for the kids.
Kids are welcome on the family option, too, although the monitoring features are limited to online account monitoring and Social Security monitoring. Another thing we noticed is that Identity Guard doesn't list any maximum number of children or adults for a family plan. Just remember that you can't add adults who don't live with you.
Who it's best for: This is best for married couples and adults with kids. We think it's also useful in other situations with adult family members in the house, whether you're rooming with a sibling or letting grandpa move in.
Identity Guard Deals Available Now
We think that Identity Guard offers a lot of value, but even more so if you can grab one of its deals. Right now, there aren't any noteworthy deals from Identity Guard, but just recently, we saw the company offer its plans at up to 50-percent off.
Meanwhile, here are the best prices we've found for Identity Guard.
Value
Total
Ultra
$8.99

/mo

$19.99

/mo

$23.99

/mo

View Packages
View Packages
View Packages
Services

---

Services

---

Services

---

$1 Million Insurance Coverage

$1 Million Insurance Coverage

$1 Million Insurance Coverage

Risk Management Score

Risk Management Score

Risk Management Score

Online Identity Dashboard

Online Identity Dashboard

Online Identity Dashboard

Dark Web Monitoring

Dark Web Monitoring

Dark Web Monitoring

Potential Threat Reporting

Potential Threat Reporting

Potential Threat Reporting

High-Risk Transaction Monitoring

High-Risk Transaction Monitoring

High-Risk Transaction Monitoring

Monthly Credit Score

Monthly Credit Score

Bank Account Takeover Monitoring

Bank Account Takeover Monitoring

3-Bureau Credit Monitoring

3-Bureau Credit Monitoring & Reporting

Social Insight Report

Options

---

Options

---

Options

---

Anti-Phishing Mobile App

Anti-Phishing Mobile App

Anti-Phishing Mobile App

Safe Browsing Extension

Safe Browsing Extension

Safe Browsing Extension

Family Coverage

Family Coverage

Family Coverage
Identity Guard's Overall Value
We found that Identity Guard offered us some great value across their different pricing tiers. For our money (and yours!), we think the best option is the Total plan. While their Value option is cheaper, the coverage offered by Total is much more complete. Whether you think it's worth it to upgrade to the Ultra plan is entirely up to you.
We think Identity Guard does well compared to the competition, too. Its lowest-priced option is one of the cheapest out there. Only Zander Insurance is cheaper. However, both Zander and Identity Guard's cheapest plans don't include credit monitoring. We dinged Zander for that in our Zander review.
If you ask us, though, what's more important is how much it costs to get full coverage (including credit monitoring). Identity Guard's Total plan does really well here, which completely makes up for the Value plan's lack of credit monitoring.
All About Identity Guard
We've been researching Identity Guard and testing their services for a long time. Identity Guard opened up shop way back in 1996.4 It was one of the first really good options for identity theft protection. Along with brands like LifeLock, Identity Guard is a part of the old guard (no pun intended) of identity monitoring services. We don't think that Identity Guard's old-school reputation is holding it back, though. The service has really kept up with the times, and its partnership with IBM Watson is a big deal in our eyes.
Identity Guard FAQs
How much does Identity Guard Cost?
Per month, the Value plan is $7.50, Total protection is $16.67, and Ultra protection is $25 if you pay yearly. This is fairly standard for the industry, but keep in mind that Identity Guard isn't one to shy away from offering deals and discounts. If you time your purchase right, you can get discounted rates for a whole year.
Is there much variation between plans?
Yes, Identity Guard's coverage varies pretty dramatically between their tiers of protection. Be sure to carefully go over each plan's offerings before selecting the one that's right for you.
Does Identity Guard offer a free trial?
Unfortunately, no. Identity Guard does not offer a free trial. We'd like to see this added to their policies. However, there's a money-back guarantee. If you cancel within 30 days of your purchase of an annual subscription, you'll get your money back.
Does Identity Guard monitor all three credit bureaus?
Yes, but only if you select the Total or Ultra protection tiers.
Does Identity Guard offer a mobile app?
Yes, Identity Guard does have a mobile app; however, the desktop experience is clearly prioritized.