Travis Goodreau
https://www.safehome.org/security-advisors/travis-goodreau/
Best Medical Alert Systems Worn as Watches
Today's top medical alert watches combine form, function, and even fashion. So if you're looking for peace-of-mind that you can wear on your wrist, have a peek at our best picks for medical alert watches below.

There are a variety of medical alert systems that can be worn as watches. If you are concerned about falling when you are alone or worried about a loved one, a medical alert system can provide peace of mind. These systems put you in touch with an emergency dispatcher who can contact a family member to help or even summon an ambulance if needed.
With the variety of medical alert systems on the market, it can be hard to choose the right one for your needs. Medical alert systems worn as watches are great for active seniors as many offer a variety of other features like heart rate monitors and more. Here are some of the best medical alert systems worn as watches.
1. Medical Guardian – Best Overall Medical Alert Watch (Editors Choice)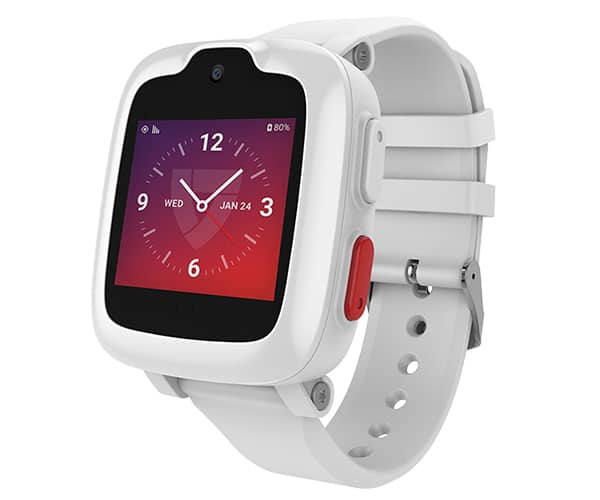 The Freedom Guardian by Medical Guardian is one of the best smartwatches on the market for seniors. It is a versatile medical alert smartwatch that offers exceptional day-to-day support for seniors. Plus, the Freedom Guardian is stylish and discreet. No one will know that it is a medical alert device.
The Freedom Guardian features integrated mobile phone support so seniors can easily get help from anywhere using cellular technology. Some of the features of the Freedom Guardian include advanced location tracking through GPS positioning and Wi-Fi, reminders and alerts for medications and other important tasks and events, a weather forecast app. The text-to-speech app is another great feature for seniors who want to keep connected with loved ones via SMS messaging.
Another great feature of the Freedom Guardian is the companion mobile app. This app can give caregivers and family members peace of mind knowing that they can get in touch with their loved one anytime through the companion mobile app.
Pros
Sleek and discreet design
Adjustable watch band
Oversized icons
GPS and Wi-Fi location tracking
Two color options — black and white
Companion mobile app
Low battery notifications
Cons
No fall detection available
The monthly monitoring charges are pricey
The Freedom Guardian is a great medical alert watch for seniors who are independent and active. It offers a lot of features that are specifically geared towards seniors like oversized icons and quick access to emergency services.
The Freedom Guardian may not be the best option for seniors who are prone to falls as there is no automatic fall detection available.
Searching for a senior-centric alert watch?
Freedom Guardian by Medical Guardian is made for the independent senior. You'll love the oversized icons, easy-to-use companion app, discreet design, and other senior-friendly features.
2. GreatCall – Best Low Profile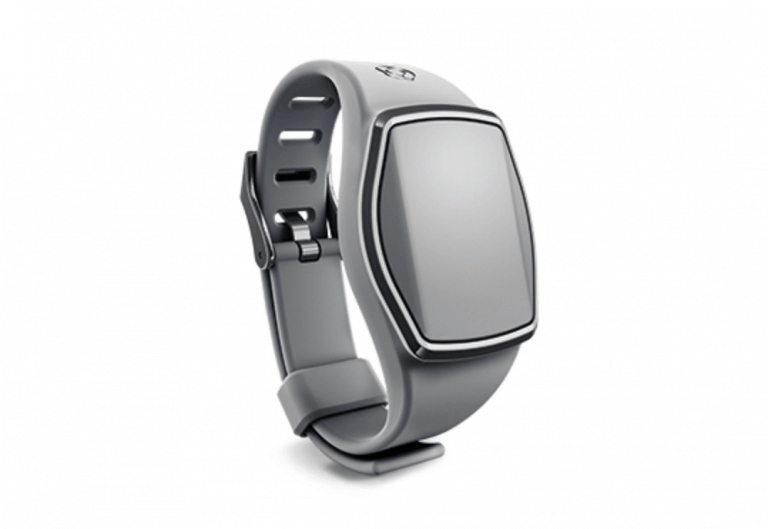 GreatCall's Lively Wearable offers a simple way for seniors to stay safe while on the go. This emergency alert button can be worn as a watch. It works with your smartphone so that you can get help whenever you need. When pressed, the button connects directly with GreatCall's 5Star Agents. The agents can notify family members or send help immediately.
The Lively Wearable features a sleek, discreet design. It never requires any charging. A replacement battery is included. The Lively Wearable is waterproof so you can wear it anywhere. It includes an app that lets you set daily challenges and goals. One of the things that sets the Lively Wearable apart from the competition is that it includes automatic fall detection.
The Lively Wearable is just $49.95 making it one of the more affordable medical alert watches on the market. The monthly monitoring starts at just $14.99.
Pros
Bluetooth connectivity
Fitness tracking including step counter
Affordable
Waterproof
Simple and easy-to-use design
Cons
You must have Android 4.4/iPhone iOS 8.0 or later
Battery performance is not the best
The GreatCall Lively Wearable is a great medical alert watch for seniors. It includes free automatic fall detection, fitness tracking, and a replacement battery. The Lively Wearable is a great option for seniors who are active. It features fall detection for free. Plus, it is waterproof so you can wear it anywhere from your garden to the beach, Precise GPS tracking ensures that emergency responders will always know where you are in the event of an emergency.
The GreatCall Lively Wearable may not be the best choice for seniors who have older cell phones as you must have iOS 8.0 or Android 4.4 or later to use this tracker.
3. Apple Watch – Best for iPhone Users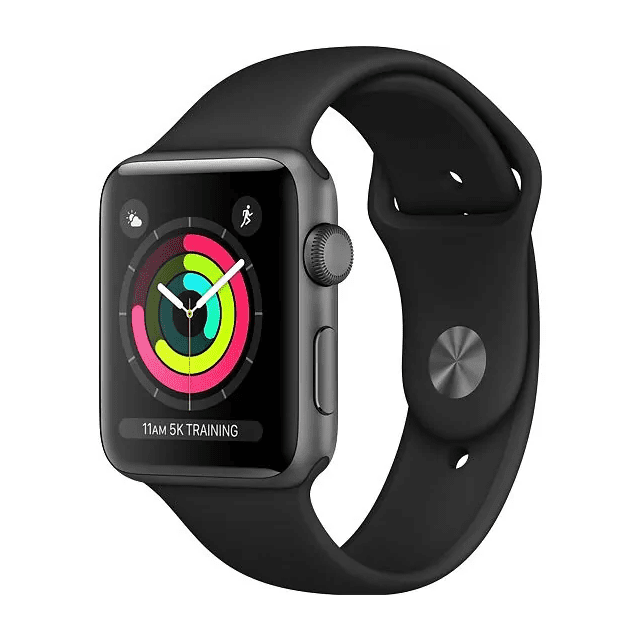 The Apple Watch is one of the best smartwatches on the market. Apple is well-known for producing some of the best technology available and the Apple Watch is no exception. It features a variety of features that make it great for everyday use.
Although not designed specifically as a medical alert device, the Apple Watch can be used as one. The emergency SOS Alert feature on the Apple Watch allows seniors to easily connect with family members, caregivers or emergency responders in case of an emergency.  Emergency SOS can send your current location to emergency responders. It also displays your Medical ID badge on the screen when pressed.
With the Apple Watch, seniors can proactively monitor health using a variety of tools, such as heart rate monitoring and fitness tracking. The Apple Watch also includes an ECG App that is can generate an ECG very similar to a single-lead electrocardiogram that is usually performed in the emergency room. This can provide peace of mind for active seniors and their family members. It can also help emergency responders in case of an emergency.
In addition to fitness and health, the Apple Watch is ideal for keeping in touch with friends and family members. The Apple Watch lets you take a call while out on a walk even if you do not have your phone. It lets you take calls, listen to voicemail and text right on the watch.
The Apple Watch features a variety of useful apps, like Maps, Calendars and Apple Pay.
Pros
Stylish and functional
Walkie-talkie app
Siri voice recognition included
Streams Apple Music and Apple Podcasts
Apple Pay available
ECG app
Cons
The Apple Watch is expensive
You must have an Apple smartphone to fully use the Apple Watch
The Apple Watch is one of the best smartwatches on the market. It is stylish and versatile. The latest Apple Watch, the Apple Watch Series 4 is a great watch for active seniors who have Apple smartphones. It provides a variety of health tools, including an ECG app.
The Apple Watch may not be ideal for seniors who do not have an Apple smartphone, as it only works with Apple iOS smartphones. Also, if you are not active, another medical alert watch might be a better choice for you, as the Apple Watch is expensive and includes a lot of extra tools and features that you might not need.
How Do Medical Alert Systems Work?
Need an alert system for someone who rarely leaves their home or yard? We've used plenty of those. Want a device that wears like a smartwatch? We've tested those too, as you can see from our list above. Don't want to fuss with multiple contraptions or new technology? Yep, we've seen products for these folks, as well.
Medical alert systems are designed to enable older adults to maintain their independence and age safely in place. If this is your first time learning about these devices, you will probably be amazed to see the variety of products for differing tastes and needs.
FYI: Maybe you've heard these systems referred to as Personal Emergency Response Systems (PERS). Different name; same around-the-clock protection for seniors.
Here's how medical alert systems work:
A medical alert system operates either via landline connection or a cellular connection (we prefer cellular connections). Most companies that sell medical alert systems offer one or more of three types of systems: in-home, mobile, and hybrid. Of course, smartwatch alert systems are hybrid; they can be used at home and on-the-go, and they are powered via a cellular signal (no landline required).
The in-home system is especially important for seniors who live alone. This type of system usually includes a base unit that should be placed in a central location in the house. The base unit is like the central nervous system; everything else runs through it. It might feel a little weird at first, but if you end up choosing one of these, you will be talking to a response center associate through this box-like communicator.
Many systems include a help button that you or your loved one will wear around the neck or wrist. Some, but not all, systems also include help buttons that can be placed in different locations around the house, usually in spots that are high risk for falls such as the bottom of the staircase. If you or your loved one is wearing a smartwatch style alert system, you won't have to worry about reaching a wall-mounted button, as help is right there on your wrist!
We think the mobile systems offer lots of value and peace of mind for seniors who are on the go. They come in various forms. Some are help buttons worn around the neck. Others are smartwatches, as noted, or help buttons that can be attached to a belt. And some are specifically made for cars.
Now, imagine that you are having a medical emergency, perhaps a fall or symptoms of a heart attack. You push a help button either on a button placed in your home or on your smartwatch. You often can communicate directly through this button. If the button does not include two-way talk, you can speak through the base unit.
A trained response center associate will respond to you, usually in 30 seconds or less, and ask you a few questions to assess the situation. If you are unable to speak, the associate will call 911 and your predetermined contacts. The response center also has your medical history and contact information on file, so they are able to quickly provide EMS important information.
Still not sure if this is something you want or need? Most companies offer a trial period of 30 days. And we definitely recommend having some sort of medical alert coverage as you or your loved one ages.
Features of Medical Alert Smart Watch Systems
Before selecting a medical alert smartwatch system, it is important to know what features are available. Here are some of the most important features of medical alert watches.
24/7 Emergency Response
Unfortunately, medical emergencies happen without warning, and often in the middle of the night. So having access to emergency responders at the push of a button is absolutely priceless. 24/7 emergency response isn't a luxury, it's a necessity. Look for this essential feature in your alert watch, and don't even consider a device without it.
2-Way Voice
Communication is key in times of crisis. If you experience a medical emergency, having a smartwatch with two-way voice makes all the difference. This feature connects you directly with emergency personnel, allowing you to talk and listen via your device or base station. Responders can gather the full story, and then take the best course of action to assist you.
Cellular Monitoring
Medical alert watches with cellular monitoring deliver on-the-go coverage. That's right, visit the grocery store, the driving range, or heck, travel to another state. Cellular monitoring has you covered. Alert watches with this technology use cell towers (just like a cell phone), so you can go forth knowing that help is literally close at-hand. Active seniors love this feature.
Extended Battery Life
Hold a charge for days! Medical alert watches with extended battery life are incredibly popular among active seniors. And for good reason. This feature allows you to go days — sometimes even weeks — without having to charge your smartwatch. Choose extended battery life on your alert watch, and keep moving with one less thing to think about.
Fall Detection
Nearly all alert watches offer fall detection as an upgrade. And it's worth every penny. The moment this feature detects a fall, it sends an automatic alert to the monitoring center. The emergency personnel then jumps into action, contacting a caregiver or first responders, depending on the situation. And to think all of this is built into a sleek and stylish watch.
GPS Location Tracking
Another feature for the active senior, GPS comes built-into many medical alert watches. And it's powerful. Anywhere you go — whether it's a quick trip to the grocery store, the community center, or hiking nearby trails — GPS will track your alert watch and keep you covered on-the-go. If an emergency occurs, the monitoring center can identify your exact location for a caregiver or first responders.
Nationwide Coverage
Medical alert watches combine form and function — and now far-flung adventures! OK, even if you're not up for adventures, you can still travel anywhere in the U.S. with Nationwide Coverage. This feature comes with most mobile alert smartwatch systems. So long as you choose cellular coverage, you'll have the freedom to roam as you wish.
Easy Set-Up
Let's face it, a frustrating setup process ruins all the fun. That's why medical alert watches offer Easy Setup. And by "easy," we mean plug-and-play and you're off to the races... in a matter of minutes. Companies are eliminating any chance of overwhelm. It's never been easier for a senior to purchase, activate, and begin using a smartwatch alert system.
Mobile Monitoring
Accidents and medical emergencies can happen anywhere, anytime, for anyone. So Mobile Monitoring is a must-have smartwatch alert feature — especially if you're an active senior who leaves home frequently. These alert systems are powered by Wi-Fi or cellular signal, and they are downright reliable. Get on-the-go protection with a Mobile Monitoring alert watch.