Travis Goodreau
https://www.safehome.org/security-advisors/travis-goodreau/
Best Medical Alert Systems Worn as Necklaces
A medical alert necklace is a simple, portable and stylish way to stay protected on-the-go. See which medical alert pendants made the top of our list.

Medical alert systems worn as necklaces can help you reach help in the event of an emergency. Anyone who is at risk of falling or has a chronic medical condition should consider such a device. All that you have to do is press a button on your wearable necklace to summon emergency help. Some systems let you contact a family member or friend for help first.
Many different types of medical alert systems can be worn as necklaces. There are a wide variety of features and service options available. It can be a challenge to figure out which wearable medical alert devices is best for you. Here is a look at the many choices of medical alert necklace systems available.
1. Bay Alarm Medical – Best Overall Medical Alert Pendant (Editors Choice)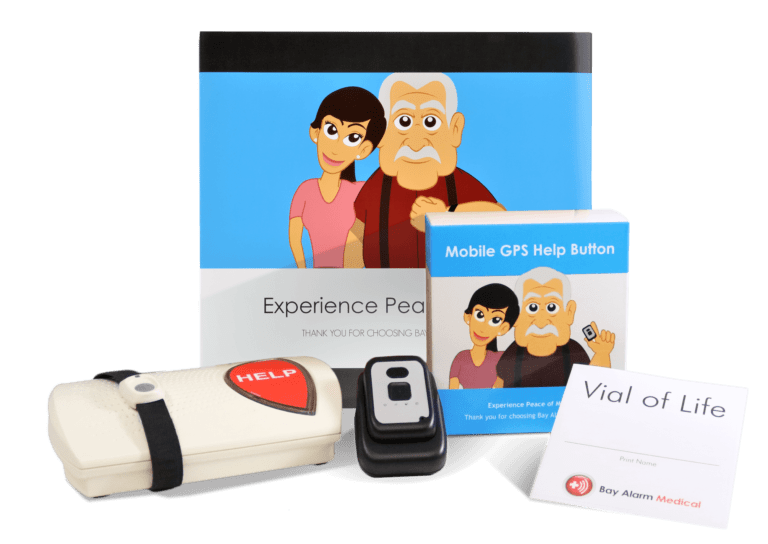 Bay Alarm Medical necklace is a moderately-priced, personal response system that is easy to install and use. The Bay Alarm alert necklace system includes one button with every system. The medical alert necklaces from Bay Alarm are ultra lightweight and easy to wear. They are 100 percent waterproof and offer up to 1,000 feet of range. Each medical alert necklace from Bay Alarm comes with a 5-year warranty.
The Bay Alarm Medical necklace system also comes with a Vial of Life kit, which allows you to list any medical information including medications for first responders. This information is kept safe and secure.
With Bay Alarm, there are no hidden fees or other costs. You can order additional medical alert necklaces for just $1.95 and Bay Alarm will monitor those necklaces for free.
Pros
Ultra durable
100 percent waterproof
30-day free trial
Lifetime warranty
1,000-foot range
Five-year battery life
Cellular and landline options available
Loud output speaker on the base station
Portable base station
Cons
Inconveniently-placed reset button
The reset button must be pressed within 15 seconds to cancel a call
A bit more expensive than similar systems
Bay Alarm Medical offers one of the most popular medical alert necklaces on the market. It is ideal for a variety of uses including in-home and on-the-go. The base station plugs into any landline, which means that you can still use your medical alert necklace when away from home without springing for GPS as long as a landline phone is available.
2. Medical Guardian- Best Battery Life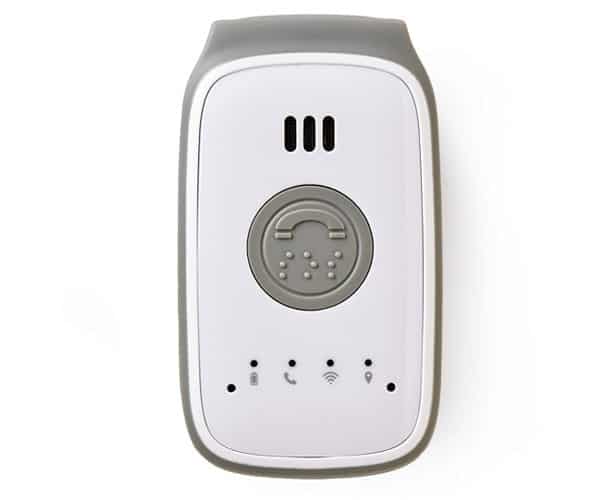 Medical Guardian portable systems are cost-efficient personal alert systems that keep you safe at an affordable price. Monitoring costs less than $1 per day. The medical alert necklace works with a base station. The necklace works up to 1,300 feet away from the base station.
Medical Guardian offers a variety of add-on equipment and services, including a GPS medical alert necklace for protection on-the-go. This lightweight necklace can be worn when you are out jogging or driving.
Pros
Cellular and landline monitoring available
Extended coverage area
30-hour backup battery life
Simple set-up and activation
100 percent US-based monitoring
Choice of in-home and on-the-go protection
Clear 2-way communication
Water resistant
Fall detection is available
Cons
Issues with battery charging
Inconsistent fall detection
If your goal is to maintain a sense of independence and want help at home or on-the-go, then the necklace from Medical Guardian might be a good choice for you. Medical Guardian has a variety of options to choose from, including wifi and GPS-enabled medical alert necklaces as well as protection when you are away from home. Medical Guardian pendants offer an extended range of 1,300 feet, which is perfect for seniors that garden or enjoy working in the yard.
Some customers have reported issues with battery charging performance and inconsistent fall detection. Medical Guardian does say on its website that fall detection does not detect 100 percent of all falls. Fall detection works best when the medical alert button is worn as a necklace.
3. GreatCall – Best GPS Necklace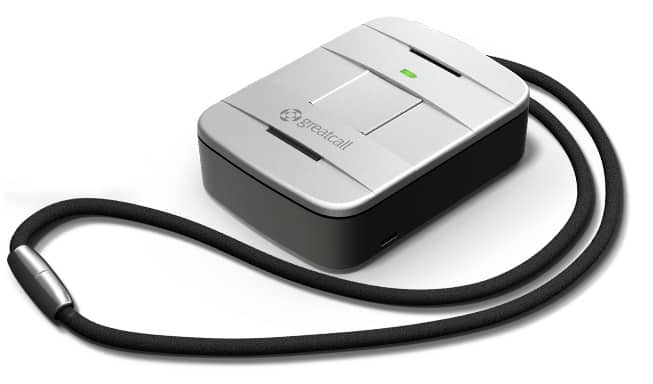 GreatCall's Lively Mobile button can be worn as a necklace. It features a magnetic lanyard. If you don't want to wear it around the neck, you can also clip it to your belt or wear it on your wrist. This portable medical alert necklace system is reasonably priced and offers a variety of optional equipment and services.
GreatCall is also great for family caregivers, as it provides a variety of apps and services to help you monitor your loved one's health and safety. You can access nurses and doctors on-call, monitor for falls and more with the GreatCall medical alert portable system.  The lightweight medical alert necklace provides quick response times when the button is pushed. It comes with GPS technology so that it can be worn both at home and on-the-go.
Pros
GreatCall Link App
Skilled and certified emergency operators
Versatile and easy to wear
Built-in GPS with every medical alert necklace
Automatic fall detection included with every necklace
100 percent waterproof
No annual contracts
No cancellation fees
Cons
Landline monitoring not available
Battery life could be longer
Requires an expensive monitoring plan
The GreatCall Lively mobile button is ideal for seniors who are active and on-the-go. It is connected to one of the most reliable cellular networks in the United States — Verizon Wireless. So, it works almost anywhere in the USA.
GreatCall offers a variety of options available for medical alert buttons devices. Since there are no contracts or cancellation fees, it is easy to change your plan and device if your needs change.  GreatCall is also a great option for family caregivers who want to gain insight on their loved one's movement and activity inside and outside of the home.
The main disadvantage of GreatCall's medical alert necklace is that landline-only service is not available. So, it may not be cost-effective for customers who are mainly home-bound and don't need the on-the-go protection.
4. LifeStation – Easiest Medical Alert Pendant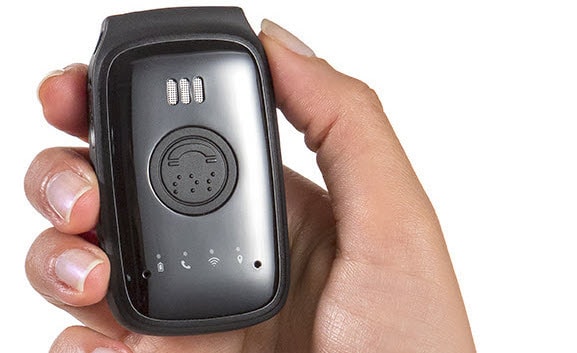 LifeStation's pendant is an affordable and versatile system that provides a choice of at-home or on-the-go-protection or both. The system features 24/7 medical monitoring. A variety of optional add-on equipment and services are available with LifeStation's medical alert necklaces including GPS tracking, fall detection, and a bathroom and hallway button. Additional medical alert necklaces are available. It costs just $3.99 per month for extra users. All LifeStation systems come with free equipment, activation, and shipping. Plus, LifeStation does not charge for shipping and there are no hidden fees.
Pros
No long-term contracts
Cellular, GPS and landline options available
In-home and mobile options
Simple 5-minute setup
Waterproof pendant
24/7 customer service and technical support
Live medical alert operators
UL-listed monitoring center
Cons
Limited outdoor range
The button is easy to accidentally set off
The LifeStation medical alert necklace is ideal for most seniors because of the versatility of this system. It is available as an on-the-go system or an in-home system only. There are no long-term contracts, equipment charges or hidden fees, which makes it easy to switch plans if your needs change. There is also a price-lock guarantee that allows you to lock in a low-price.
Features of Medical Alert Pendant Systems
If you are considering a medical alert necklace system, you might be wondering which pendant to choose. Before buying a system, you should compare the various features available. Comparing the medical alert necklaces will help you choose the right one for your particular needs.
24/7 Emergency Response
The medical alert necklaces showcased here offer 24/7 Emergency Response. However, not all services are cut from the same cloth. Look for a company that delivers premium service driven by a highly-trained and friendly staff. Do this and you're almost guaranteed stellar response, around the clock, when you need it most.
Water Resistance
Take it off. Put it on. Take it off again... and forget where you placed it! That's the reality with medical alert necklaces. This is precisely why a water resistant pendant is a must-have. Wear them in the shower, in the kitchen doing dishes, and even out in the garden. A water resistant or waterproof necklace alert is always a smart choice.
Cellular Monitoring
Active seniors, listen up. Most pendant alert systems now offer Cellular Monitoring. And the benefits of cellular necklaces are stacked sky-high. You can leave home and enjoy coverage pretty much anywhere. They don't require a landline or home phone, and they're typically more reliable than traditional landline hookups. Necklace alerts with cellular monitoring deliver the goods.
Multi-Lingual Support
150 languages and counting. Spanish, French, Italian, German, Swahili, and the list goes on — that's the value of Multi-Lingual Support. This medical alert necklace feature is tailor-made for those who don't speak English. Talk with emergency personnel in your native tongue, and go into the world with confidence. With Multilingual Support, your words will never fail you.
2-Way Voice
Several medical alert necklaces offer Two-Way Voice, an impressive feature that connects you directly to the monitoring center. That's right, if you fall or experience a medical emergency, simply press the button and talk with an emergency responder via the built-in microphone and speaker. Pendant alert systems are always evolving, and this feature is a testament to their life-saving potential.
Spouse Coverage
Here's another great feature of medical alert necklaces. Don't be too surprised if your spouse gets that flash of envy in their eye that says "I want a stylish, life-saving pendant too!" If this happens, here's your solution. Spouse Coverage makes it easy and affordable to add a loved one to your existing plan. Get this feature and make emergency monitoring a family affair.
GPS Location Services
Get on-the-go coverage with a GPS necklace alert. Many companies offer this advanced feature that tracks the pendant wherever it goes. In the event of a fall or emergency, GPS location services accurately pinpoints your exact location. This allows caregivers or emergency responders to find you with ease. GPS necklaces are perfect for active seniors and seniors who are easily disoriented.
Long Range Coverage
Wear your alert necklace away from home without thinking twice. Get mobile coverage and head to the grocery store, to book club, to the golf course, or wherever you like — and help is always a push of a button away. With a landline connection, you can most likely check the mail and do some gardening out back. Long Range Coverage is key.
Redundant Call Centers
It's rare, but call centers can succumb to power outages, natural disasters, and other events that boot them offline. Not to worry — many medical alert systems worn as necklaces are backed by redundant call centers. With monitoring centers spread across different regions, you're sure to get someone on the line and receive the help you need. Rest easy with redundancy.