Best Mobile Medical Alert Systems
Portable medical alert systems give you the flexibility you need to live your life safely and free of restrictions. Check out our top mobile medical alert devices below.
The best mobile medical alert system is one that uses a cellular signal and has a GPS tracking feature, especially if you're active. Why? Because a cellular medical alert system with a GPS feature can pinpoint your exact location regardless of whether you are at home or on the go. However, not all mobile medical alert systems are created equally.
Therefore, you need to be aware of the features and functions that make one better than another. And the only way to do that is to take a few minutes to educate yourself about the best portable medical alert systems for 2019 and beyond.
1. Bay Alarm Medical – Best Overall Mobile Devices (Editors Choice)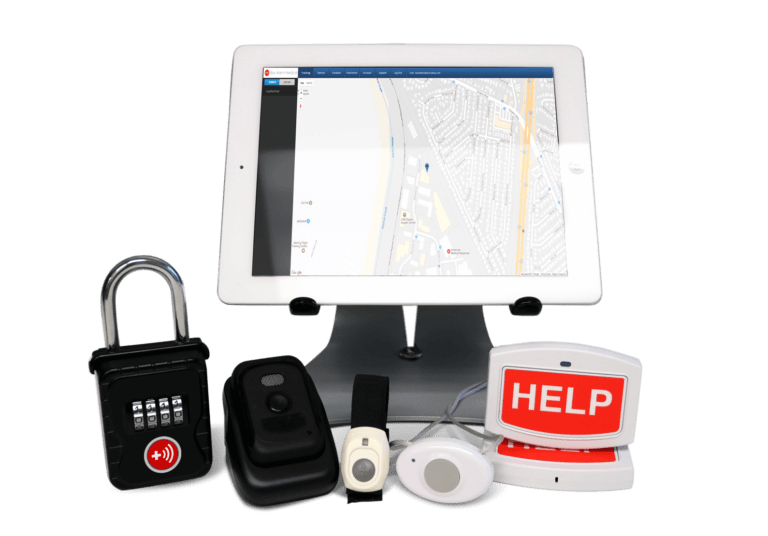 Bay Alarm Medical's alert system is powered by AT&T and provides you with 24/7 emergency response protection and 72 hours of battery life on a single charge.  They offer three different packages and four different ways to bundle their services. This allows you to save money by customizing their equipment in a way that best suits your particular needs. The Bay Alarm Medical system with GPS has been voted Editors' Choice by PCMag.com and they have a 4.7-Star Google rating from almost 1,500 customers. Additionally, they have been in business for 70 years and have an A+ rating from the Better Business Bureau as well.
Pros
30-Day Risk-Free Trial
Mobile GPS Help Button (depending on the package)
24/7 US-Based CSAA 5-Diamond Certified and UL-Listed Monitoring Centers
Three Redundant Call Centers
No Startup Costs
1-Year Warranty
No Contract
Multilingual Services
Free Spouse Coverage
Can Switch Plans at Anytime
Price-Lock Guarantee
Significant Package Savings on Top Tier Option
Discounts for Members of the American Seniors Association, AMAC, USAA, AARP and Other Senior Organizations.
Fall Detection Option Available
100% Waterproof
2-5 Year Battery Life (depending on which button you choose)
Lightweight and Compact
Optimized to Minimize False Alarms
GPS Tracking Portal for Caregivers Available ($4.95/mo.)
Cons
Automatic Fall Detection Costs Extra (except on the top tier package where it's included)
Mobile GPS Help Button with Automatic Fall Detection Only Available on the Top Tier Package
Lockbox Service Only Available on the Top Tier Package
Bay Alarm Medical offers three different service protection packages with their mobile GPS options starting at $29.95/mo. They also have a fall detection feature available for only $10/mo. And, they have a variety of free accessories which include a necklace style lanyard, a carrying case with belt clip, and a free charging pod. Bay Alarm Medical has equipment packages that include GPS options such as Mobile GPS, In-Car, and a 360° Protection medical alert feature all of which can be customized in a variety of ways. Additionally, they offer significant discounts if you bundle their plans.
2. MobileHelp – Best Cellular Signal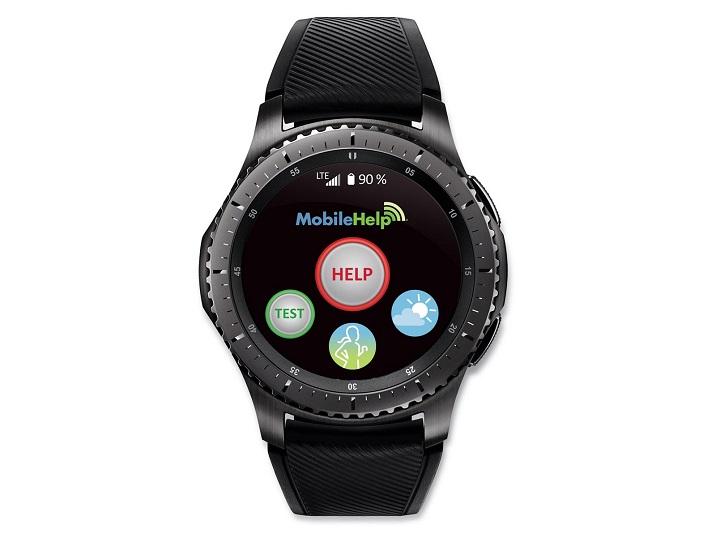 MobileHelp is an FDA-registered company that has an A+ rating with the Better Business Bureau and has been in business for 25 years. Additionally, they have an average response time of 17 seconds and all their U.S. based emergency response operators are highly educated, extensively trained, and certified by the Security Industry Association. And, MobileHelp offers an online mapping service so family members know where their loved ones are at all times.
Pros
Solo or MobileHelp Smart GPS Enabled Devices (work inside and outside the home)
Mobile Devices Include Real-Time Location Tracking
No Contracts
No Hidden Fees
Free Shipping
Discounts on Their Annual Plan
U.S. Based 24/7 Emergency Monitoring
Compatible with MobileHelp Fall Button with Automatic Fall Detection
No Cellular Contract Required
FDA Registered Company
Frequently Offer Incentives for New Customers
Health Apps, Fitness Trackers, Local Weather Reports, Heart Rate Monitor, and More Included with Smartwatch Option
Five Year Battery Life
Cons
AT&T Network Is Not Available Everywhere
Battery Charge Limited (24 hours)
Extra Devices Are Not Available (if you want an extra device, you are required to purchase another SOLO system)
MobileHelp offers two GPS enabled medical alert systems which are the MobileHelp Solo and MobileHelp Smart. The Solo System is $37.95/mo. and they offer a discount if you opt for the annual plan. The MobileHelp Smart can be purchased for $349.95, then you pay a $24.95 monthly monitoring fee.
Both options come with MobileHelp Connect, which is a suite of online tools that help customers and caregivers alike. The basic MobileHelp Connect is free of charge and you can also add premium features as well for a small monthly fee.
3. Medical Guardian – Best Smartwatch Device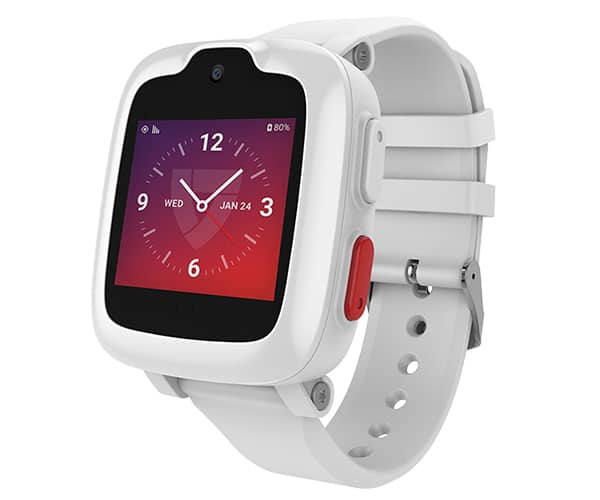 Medical Guardian has been in business for 12 years and has an A+ rating with the Better Business Bureau. Additionally, Medical Guardian uses the AT&T cellular network; however, you aren't required to get separate service for it because it comes already included with your package. Each option offers different capabilities regarding two-way voice and the all-in-one equipment; therefore, it's best to make sure you are getting the one that best suits your needs.
Pros
Free Equipment, Shipping, Activation, and Two Free Months If You Opt for an Annual Subscription
U.S. Based Monitoring Center Operators
Portable Device Has an Adjustable Volume Speaker
Waterproof Pendants and Wrist Buttons
Smartwatch Option Comes with a Wide Variety of Convenience Features Via a Mobile App
Add-Ons Available (car charger, additional buttons, etc.)
Location Tracking with GPS
Two-Way Communication (on wearable portable device)
Cons
Mobile Guardian Option Alert Buttons Won't Work Without the Portable Medical Device (they are 2-piece medical alert systems)
Two-Way Communication Only Available on the Portable Device
Medical Guardian has three different mobile GPS options. The Mobile Guardian option starts at $39.95/mo. and is a portable device and an alert button that work within 350 feet of each other. The next option is the Active Guardian and it starts at $49.95/mo. and is an all-in-one device that can be used at home or on-the-go. Additionally, this device comes with a clear, two-way communication speaker built-in.
The Medical Guardian smartwatch option is called Freedom Guardian and has the most flexibility, as well as a wide variety of convenience features available. The Freedom Guardian can be purchased for $99, which is a one-time equipment cost and a monthly monitoring fee that starts at $44.95. With this option, you get advanced tracking through GPS, text-to-speech messaging, reminders, alerts, local forecast, low battery notifications, analog watch face, and a multi-function side button. You also get an adjustable watch band, oversized icons, audible features, different color options, a day planner, and unlimited emergency button pushes as well.
4. GreatCall – Most Durable Equipment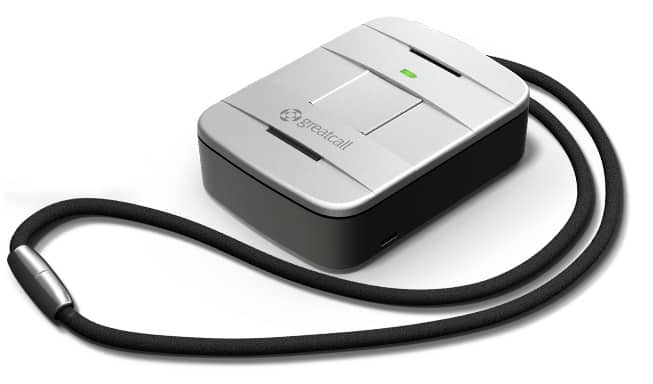 GreatCall has recently expanded their equipment lineup to include mobile medical alert devices. GreatCall is a well-known brand that has been accredited with the Better Business Bureau since 2006 and currently has an A+ rating. They have certified 5Star agents, use patented GPS technology, and have an automatic fall detection service that you can add-on to your chosen package.
Pros
Periodic Service Discounts Offered
Free Shipping
Patented GPS Technology
Fall Detection Available
Waterproof Buttons
Variety of Color Options
Easy to Wear
U.S. Based 5Star Monitoring Center Agents
All-In-One Mobile Devices
No Contracts
No Cancellation Fees
Cons
Activation Fee Required
Fall Detection Option Costs Extra
GreatCall offers two mobile medical alert devices and three different health and safety service packages. The Lively Mobile option is a wearable device that can be purchased for $37.49 plus monthly plan and activation fees. The Lively Wearable can be purchased for $49.99 plus monthly plan and activation fees. This smartwatch like option turns your smartphone into an emergency response device, thus giving you a wide variety of helpful convenience features in addition to its medical alert feature.
The Lively Wearable doesn't require any charging and a replaceable battery is included, it has fall detection, which is an extra charge unless you opt for the Ultimate Health and Safety package where it's included. Additionally, it's waterproof and comes with a fitness tracker, Bluetooth connectivity, and more.
GreatCall also offers three different health and safety packages which range from $19.99/mo. to $34.99/mo. and a variety of features that increase with the upper tier plans such as urgent care, a GreatCall link, product replacement, and fall detection.
5. ADT Health – Most Portable Options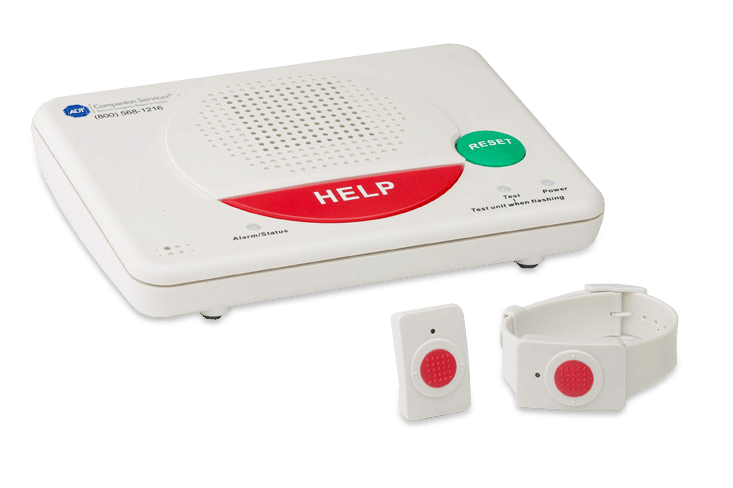 ADT specializes in home security and automation systems, but has recently added a variety of medical alert systems to their lineup; however, only one of them is a mobile system. Their medical alert systems work off the AT&T network and the equipment is very easy to use.
Pros
Internet Only Discounts Available
Waterproof Pendant
Two-Way Voice Communication
No Landline Required
Fall Detection Available
GPS Location Capabilities
No Activation Fees
24/7 U. S. Based Monitoring Centers
Next Day Delivery in Most Cases
Discounts for Upfront Annual and Quarterly Pricing Options
Price Lock Guarantee
Cons
Only One Mobile Option Available
Pendants and Wristbands Have to Be Within 100 Feet of the Mobile Unit to Operate Properly
Service Not Available Outside the AT&T Coverage Area
ADT Health only has one mobile medical alert system called On-The-Go Emergency Response System. They don't charge an activation fee and there is no cost for the equipment. You simply pay a monthly monitoring charge of $37.99. This system comes with a two-way voice communication mobile unit, as well as a waterproof pendant or wristband. Extra accessories such as additional pendants, wristbands, and a car charger are available for a one-time charge. Additionally,  ADT Health also offers a fall detection option for $10/mo. as well.
Features of Mobile Medical Alert Systems
24/7 Emergency Response
A 24/7 emergency response is a feature that comes with almost all medical alert systems. This feature will enable you to push a button and request assistance any time of the day or night. A 24/7 emergency response system means your device is being monitored at all times. Therefore, someone is always available when you push the alert button for help and will respond usually in less than a minute or so to address your needs. Additionally, many emergency response systems can automatically detect a fall and can call for help if and when you can't.
Water Resistance
A water-resistant medical alert device is one that can withstand a certain degree of water intrusion. However, there are varying degrees of water resistance that come with each different type of device. Therefore, before you make any final decisions about which medical alert system is best for you, you might want to confirm this aspect of your system based on your individual needs. Some water-resistant medical alert devices can be worn in the shower, washing dishes, gardening, etc. and some can't. If you need a medical alert device that can withstand being submerged in water for any given amount of time, it's best to look for one that is waterproof versus being water resistant.
Extended Battery Life
Battery life and battery charge are two different aspects of your medical alert system. The battery life is how long your device's battery will last before you have to replace it. The battery charge is the amount of time your battery will last before it will need to be recharged. If you are active and frequently on-the-go, having a medical alert device with a long battery charge is recommended. Most mobile medical alert devices have a battery charge of approximately 24-48 hours. However, there are a few on the market such as Medical Guardian's Active Guardian option that has a 5-day battery charge. So if you need a medical alert device with a longer charge, be sure to specifically look for that feature before you buy. As far as battery life goes, it's always best to find one that has an extended battery life because it will be a longer period of time before you have to replace it which will save you money in the long run.
Fall Detection
A fall detection feature is sometimes included in the price of a medical alert system. However, generally, a fall detection option is offered as an add-on for a small extra monthly fee. Any medical alert device with fall detection will be able to automatically detect a fall and notify the monitoring center on your behalf if you are not able to. That means if you are unconscious, or for any other reason you can't call for help, the fall detection feature on your medical alert device will do it for you.
Cellular Monitoring
Most mobile medical alert systems use cellular monitoring because a cellular signal is what gives you the freedom to use your alert button beyond a limited range of a few hundred feet from the base unit. Cellular monitoring uses a cell tower signal to bridge the signal between your medical alert device and the emergency monitoring center. A cellular signal is 100% wireless and many mobile medical alert devices also include a GPS location tracking feature which requires a cellular signal to function.
Easy Set-Up
Almost all medical alert systems come with an easy set-up process. In fact, most are what is called "plug and play." This means you simply plug the base unit into a power outlet and they are ready to go because they use a cellular signal to communicate with the monitoring center. Which means the connection aspect of it works just like a cell phone.
Nationwide Coverage
Most medical alert systems use a cellular signal that piggybacks on an existing cellphone network. This means you can use your medical alert device, regardless of where you go. However, with that being said, the service will depend on the cellphone network your medical alert device uses and the range of locations it offers. Most cellular networks are nationwide; however, that doesn't mean you will be guaranteed to receive a signal because the reception for some locations is limited or might even be non-existent.
Long Range
The range of any given medical alert system is an important feature. The range is how far you can be away from the base unit for your medical alert device to work when you push the button. Most medical alert devices have a range that's anywhere from 300 to 600 feet, sometimes a bit more. However, a mobile medical alert device that uses a cellular signal to communicate will generally have an unlimited range.
GPS Location Services
A mobile medical response system with GPS location services is one that uses a cellular signal and has a GPS tracking feature included with it. The GPS tracking feature is used to pinpoint your exact location at any time or anywhere. It comes in handy if you are ever lost or disoriented. It's also a great tool for caregivers and first responders. The GPS feature is what will help them locate you if you are lost or incapacitated and can't call for help.