Travis Goodreau
https://www.safehome.org/security-advisors/travis-goodreau/
Best Mobile Medical Alert Systems
Portable medical alert systems give you the flexibility you need to live your life safely and free of restrictions. Check out our top mobile medical alert devices below.

The best mobile medical alert system is one that uses a cellular signal and has a GPS tracking feature, especially if you're active. Why? Because a cellular medical alert system with a GPS feature can pinpoint your exact location regardless of whether you are at home or on the go. However, not all mobile medical alert systems are created equally.
Therefore, you need to be aware of the features and functions that make one better than another. And the only way to do that is to take a few minutes to educate yourself about the best portable medical alert systems for 2021 and beyond.
1. Bay Alarm Medical – Best Overall Mobile Devices (Editors Choice)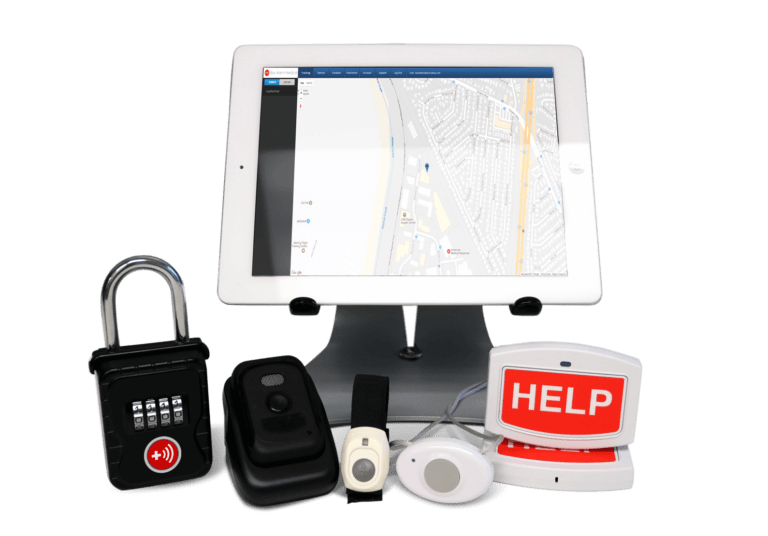 Bay Alarm Medical's alert system is powered by AT&T and provides you with 24/7 emergency response protection and 72 hours of battery life on a single charge.  They offer three different packages and four different ways to bundle their services. This allows you to save money by customizing their equipment in a way that best suits your particular needs. The Bay Alarm Medical system with GPS has been voted Editors' Choice by PCMag.com and they have a 4.7-Star Google rating from almost 1,500 customers. Additionally, they have been in business for 70 years and have an A+ rating from the Better Business Bureau as well.
Pros
30-Day Risk-Free Trial
Mobile GPS Help Button (depending on the package)
24/7 US-Based CSAA 5-Diamond Certified and UL-Listed Monitoring Centers
Three Redundant Call Centers
No Startup Costs
1-Year Warranty
No Contract
Multilingual Services
Free Spouse Coverage
Can Switch Plans at Anytime
Price-Lock Guarantee
Significant Package Savings on Top Tier Option
Discounts for Members of the American Seniors Association, AMAC, USAA, AARP and Other Senior Organizations.
Fall Detection Option Available
100% Waterproof
2-5 Year Battery Life (depending on which button you choose)
Lightweight and Compact
Optimized to Minimize False Alarms
GPS Tracking Portal for Caregivers Available ($4.95/mo.)
Cons
Automatic Fall Detection Costs Extra (except on the top tier package where it's included)
Mobile GPS Help Button with Automatic Fall Detection Only Available on the Top Tier Package
Lockbox Service Only Available on the Top Tier Package
Bay Alarm Medical offers three different service protection packages with their mobile GPS options starting at $29.95/mo. They also have a fall detection feature available for only $10/mo. And, they have a variety of free accessories which include a necklace style lanyard, a carrying case with belt clip, and a free charging pod. Bay Alarm Medical has equipment packages that include GPS options such as Mobile GPS, In-Car, and a 360° Protection medical alert feature all of which can be customized in a variety of ways. Additionally, they offer significant discounts if you bundle their plans.
2. Medical Guardian – Best Smartwatch Device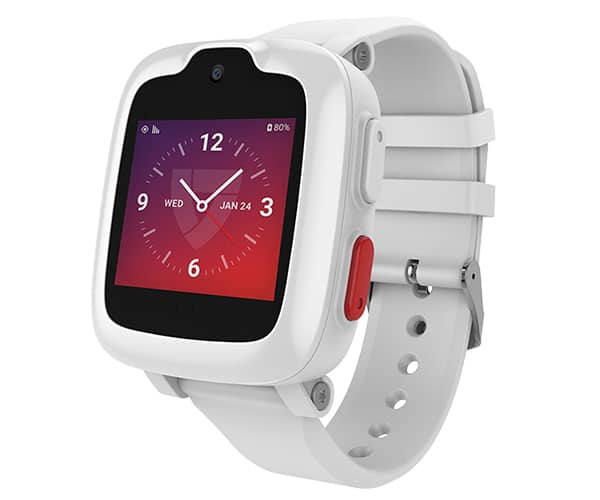 Medical Guardian has been in business for 12 years and has an A+ rating with the Better Business Bureau. Additionally, Medical Guardian uses the AT&T cellular network; however, you aren't required to get separate service for it because it comes already included with your package. Each option offers different capabilities regarding two-way voice and the all-in-one equipment; therefore, it's best to make sure you are getting the one that best suits your needs.
Pros
Free Equipment, Shipping, Activation, and Two Free Months If You Opt for an Annual Subscription
U.S. Based Monitoring Center Operators
Portable Device Has an Adjustable Volume Speaker
Waterproof Pendants and Wrist Buttons
Smartwatch Option Comes with a Wide Variety of Convenience Features Via a Mobile App
Add-Ons Available (car charger, additional buttons, etc.)
Location Tracking with GPS
Two-Way Communication (on wearable portable device)
Cons
Mobile Guardian Option Alert Buttons Won't Work Without the Portable Medical Device (they are 2-piece medical alert systems)
Two-Way Communication Only Available on the Portable Device
Medical Guardian has three different mobile GPS options. The Mobile Guardian option starts at $39.95/mo. and is a portable device and an alert button that work within 350 feet of each other. The next option is the Active Guardian and it starts at $49.95/mo. and is an all-in-one device that can be used at home or on-the-go. Additionally, this device comes with a clear, two-way communication speaker built-in.
The Medical Guardian smartwatch option is called Freedom Guardian and has the most flexibility, as well as a wide variety of convenience features available. The Freedom Guardian can be purchased for $99, which is a one-time equipment cost and a monthly monitoring fee that starts at $44.95. With this option, you get advanced tracking through GPS, text-to-speech messaging, reminders, alerts, local forecast, low battery notifications, analog watch face, and a multi-function side button. You also get an adjustable watch band, oversized icons, audible features, different color options, a day planner, and unlimited emergency button pushes as well.
3. GreatCall – Most Durable Equipment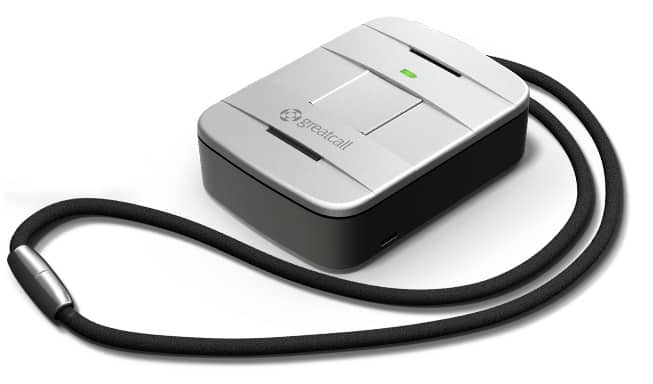 GreatCall has recently expanded their equipment lineup to include mobile medical alert devices. GreatCall is a well-known brand that has been accredited with the Better Business Bureau since 2006 and currently has an A+ rating. They have certified 5Star agents, use patented GPS technology, and have an automatic fall detection service that you can add-on to your chosen package.
Pros
Periodic Service Discounts Offered
Free Shipping
Patented GPS Technology
Fall Detection Available
Waterproof Buttons
Variety of Color Options
Easy to Wear
U.S. Based 5Star Monitoring Center Agents
All-In-One Mobile Devices
No Contracts
No Cancellation Fees
Cons
Activation Fee Required
Fall Detection Option Costs Extra
GreatCall offers two mobile medical alert devices and three different health and safety service packages. The Lively Mobile option is a wearable device that can be purchased for $37.49 plus monthly plan and activation fees. The Lively Wearable can be purchased for $49.99 plus monthly plan and activation fees. This smartwatch like option turns your smartphone into an emergency response device, thus giving you a wide variety of helpful convenience features in addition to its medical alert feature.
The Lively Wearable doesn't require any charging and a replaceable battery is included, it has fall detection, which is an extra charge unless you opt for the Ultimate Health and Safety package where it's included. Additionally, it's waterproof and comes with a fitness tracker, Bluetooth connectivity, and more.
GreatCall also offers three different health and safety packages which range from $19.99/mo. to $34.99/mo. and a variety of features that increase with the upper tier plans such as urgent care, a GreatCall link, product replacement, and fall detection.
4. ADT Health – Most Portable Options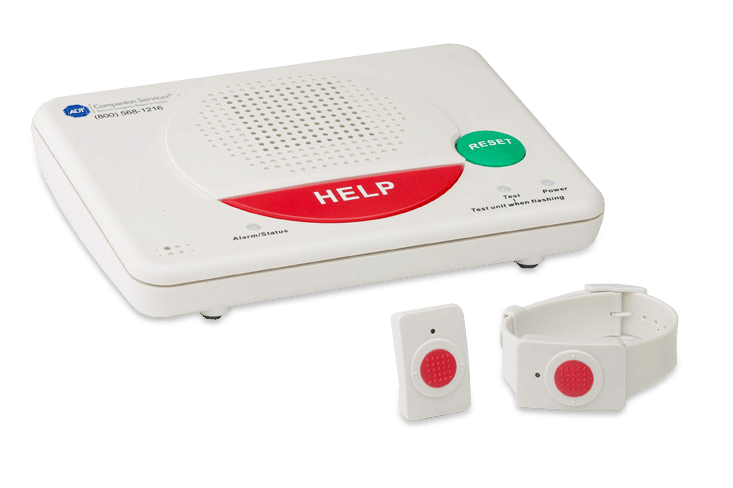 ADT specializes in home security and automation systems, but has recently added a variety of medical alert systems to their lineup; however, only one of them is a mobile system. Their medical alert systems work off the AT&T network and the equipment is very easy to use.
Pros
Internet Only Discounts Available
Waterproof Pendant
Two-Way Voice Communication
No Landline Required
Fall Detection Available
GPS Location Capabilities
No Activation Fees
24/7 U. S. Based Monitoring Centers
Next Day Delivery in Most Cases
Discounts for Upfront Annual and Quarterly Pricing Options
Price Lock Guarantee
Cons
Only One Mobile Option Available
Pendants and Wristbands Have to Be Within 100 Feet of the Mobile Unit to Operate Properly
Service Not Available Outside the AT&T Coverage Area
ADT Health only has one mobile medical alert system called On-The-Go Emergency Response System. They don't charge an activation fee and there is no cost for the equipment. You simply pay a monthly monitoring charge of $37.99. This system comes with a two-way voice communication mobile unit, as well as a waterproof pendant or wristband. Extra accessories such as additional pendants, wristbands, and a car charger are available for a one-time charge. Additionally,  ADT Health also offers a fall detection option for $10/mo. as well.
Features of Mobile Medical Alert Systems
24/7 Emergency Response
Each of the mobile alert systems on our list offer 24/7 Emergency Response. And good thing — because emergencies happen day and night. Rest assured that response centers never take a holiday or leave you helpless when you need it the most. Get the coverage you deserve with 24/7 Emergency Response, a must-have feature you cannot do without.
Water Resistance
Keep your mobile medical alert system on while you shower, bathe, wash dishes, garden — you name it. Water resistant alerts function just fine with a little water exposure. And waterproof systems take it a step further, allowing you to fully submerge your device. However, it's important to ensure you understand the water resistance specs of a specific device before you make a purchase.
Extended Battery Life
Active seniors, this one's for you. Look for Extended Battery Life, another top feature for mobile medical alert systems. This allows you to leave home and hit the grocery store, the trails, the community center, and other places — all while enjoying quality coverage without stressing about battery life. Hold that charge, as you never know when you might need it.
Fall Detection
Fall Detection technology is always evolving. Even though it's not yet 100% accurate, this feature is saving lives every day. These sophisticated devices detect a fall and automatically contact the response center for you. If you become unconscious or unable to press the help button, you're in good hands, help is on the way.
Cellular Monitoring
Gone are the days of being tethered to a base station, relying on a landline to keep you safe. Most mobile alert systems today are powered by cellular technology. With cellular monitoring, your device pings a cell tower to alert emergency responders when you need help. Step into a true wireless experience with cellular monitoring.
Easy Set-Up
Seniors typically don't like to fuss with newfangled technology. And who could blame them? Thankfully, mobile medical alert systems now offer easy, plug-and-play setup. Simply connect the base station to a power outlet, follow the intuitive instructions, and you're in business. Who knew medical alert systems could be so easy?
Nationwide Coverage
Mobile medical alert systems offer coverage in all 50 states. Nationwide Coverage is a key feature that makes mobile systems so attractive. It allows you to travel far and wide without compromising your safety. From Seattle to St. Pete, help is always close at hand. With that said, be sure you understand your network and coverage, as cell-signal range varies.
Long Range
This is perhaps the single most impressive feature of mobile medical alert systems. The devices are long range by nature — they can receive coverage pretty much anywhere in the country. Contrast this with the traditional landline-based alert systems that range 400 to 1,200 feet (from the base station in the home), and you can see why mobile is so amazing.
GPS Location Services
Mobile medical alert companies are stacking the value with GPS Location Services. The GPS tracking feature is ideal for active seniors always on-the-go. It pinpoints your exact location if you become lost, disoriented, or incapacitated in any way. This allows caregivers and/or first responders to find you and deliver the care you need. Yet another brilliant feature that could save your life.