Alert Systems & Packages
MobileHelp features six medical alert systems. Three units work with home base stations only. The other three can work at-home and on-the-go (wherever AT&T cellular service is available).
At-Home Alert Systems
The cheapest at-home system is the landline-free MobileHelp Classic. The next step up is the pricier no-landline option called MobileHelp Touch. And if you need a landline connection because you live in the boonies, you'll want to consider the Wired Home plan. These are all solid systems, but if you're looking for fast and reliable response times, we recommend checking out our Lifeline plans and pricing guide.
Did You Know: MobileHelp's max at-home range of 1,400 feet leads the industry. Range limits of 1,000 feet or shorter are common.
MobileHelp Classic
MobileHelp Classic is a cellular system, so it doesn't require a landline. It's the cheapest MobileHelp system, making this brand a little different (other brands reserve their lowest rates for landline systems).
The starting price is $19.95 per month for up to two waterproof medical alert buttons. That's quite a deal! Two people can enjoy coverage, or one person can have the convenience of a wrist button and neck pendant. Optionally, the second button could be a wall panic button, which is also waterproof.
We like that the base station communicates with MobileHelp devices up to 1,400 feet away, which is the best in-home range in the industry. Note that Trela fashion pendants ($98) are also compatible, though their range is capped at 250 feet. If you're looking for a stylish pendant, we'd recommend checking out Bay Alarm Medical's Bella Charm pendants. Whatever option you choose, your buttons can serve for years on the included batteries.
Who It's Best For: MobileHelp Classic is very customizable. But we think it's a great value for anyone seeking protection at home only.
FYI: Not sure if you want home service only? MobileHelp Classic can easily be upgraded to an on-the-go alternative called MobileHelp Duo.
MobileHelp Touch
MobileHelp Touch is a unique medical alert system with an 8" tablet base station. In contrast, base units for the other home systems are bulkier and look like answering machines from the 90's. So we definitely appreciate the 'Touch' aesthetic — it even doubles as a digital picture frame when in standby.
With MobileHelp Touch, preloaded apps support emergency alerts, brain games, medication alerts, and more. There's no charge for the equipment, but you'll have to sign a six-month monitoring contract. Pricing works out to $49.95 per month and includes two waterproof wearable buttons or one wearable plus a panic button. Our biggest gripe is that the short in-home range (350 ft. max, or 250 ft. with Trela) doesn't compare to top-rated alert systems like Medical Guardian. We like to see a minimum of a 1,000-ft. range.
Who It's Best For: MobileHelp Touch is best for subscribers who don't mind sacrificing range for the benefits of a tablet-based home alert system.
MobileHelp Wired Home
MobileHelp's sole landline-based system, Wired Home, is ideal for protection on rural properties and in areas without reliable cellular coverage. At $22.95 to $24.95 per month depending on term length, it costs slightly more than the Classic cellular system and is likewise competitively priced. We also like how Wired Homes gives standard buttons up to 1,300-ft range and is compatible with Trela pendants, too. The starting price includes your choice of one standard waterproof neck pendant or wrist button with a five-year battery.
Mobile Alert Systems
True to the MobileHelp name, three of their systems offer mobile coverage nationwide on the AT&T 4G network. Note that these systems differ in terms of base stations and other equipment, like how many help buttons are included. Otherwise, you'll get the same reliable protection as the in-home units offer.
MobileHelp Solo
Solo is MobileHelp's lowest-priced system for use at home or on-the-go. It features one base station for the home, a smaller base station for away, and one waterproof wearable button with a wrist strap or lanyard.
At around $27 per month, we think the rate is excellent for on-the-go protection, and it's comparable to other top mobile units like Lively. However, we don't love that it requires keeping a pocket-sized base station nearby for coverage while out and about.
Who It's Best For: Active seniors who want all-around emergency protection and don't mind carrying a small base unit when away from home.
Mobile Duo
Starting at $30.79 per month, you can get two buttons that work almost anywhere. From what we've seen, this MobileHelp deal gives other brands a run for their money. The system includes two waterproof buttons that work nationwide.
We like that each unit is packaged with its own portable cellular base station that offers up to 600-ft range. But, we'd really like to see this range extended to 1,000 ft. or more. Note that Mobile Duo also includes a lockbox to sweeten the deal.
Who It's Best For: Mobile Duo is a great solution for couples seeking affordable protection at home and away.
MobileHelp Duo
While Mobile Duo is for two people, MobileHelp Duo is meant for a single user (we know, the names are a bit confusing). This system includes one wearable button and two base stations: one for the home and another for on-the-go.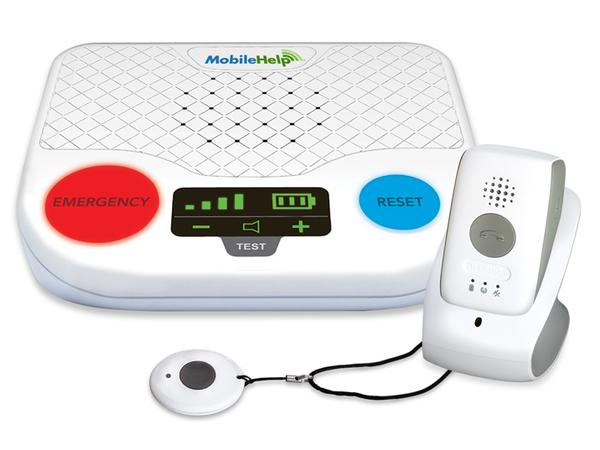 The cellular home base gives up to 1,400-ft range (very nice!), and the pocket-sized portable base offers up to 600-ft range. Monthly monitoring costs range from $30.79 to $41.95 depending on your term length (1 to 12 months). And again, a lock box is included at no extra charge.
Who It's Best For: MobileHelp Duo is great for seniors seeking protection with excellent in-home range, and pretty decent on-the-go coverage, too.