MobileHelp makes and sells a wide selection of medical alert systems. Their prices are among the lowest we've seen for protection at home or away; you can even combine home and mobile coverage for under $40 per month. But just because it's cheap doesn't mean it's low quality. In fact, MobileHelp performed well in our recent tests, and they're a leading alert provider in the industry.
With that said, we don't think MobileHelp is a good fit for every senior. But before you make a decision, it's important to consider how these systems compare with the alternatives out there, especially for mobile coverage. We're going to share all about MobileHelp's value compared with the best alert systems on the market today. So keep reading as we dig deeper into MobileHelp's plans, packages, and pricing below.
Key Features
The best features of this system
In-Home & Mobile Monitoring
Nationwide Coverage
GPS Location Tracking
No Contracts
Fall Detection
MobileHelp Packages & Pricing
Affordability is a big reason why seniors choose MobileHelp. One look at our MobileHelp pricing chart below, and you'll see that monitoring is the main cost to consider, with plenty of options in the $20-$30 per month range. You also won't pay for equipment, shipping, or activation. And going contract-free is an option with all MobileHelp plans except MobileTouch, which requires a minimum six-month commitment.
MobileHelp System
Home
Away
Equip. Cost
Activation
Monitoring Fee
MobileHelp Classic
(Cellular)
Yes
No
$0
$0
$19.95/month with or without a long-term contract
MobileHelp Touch
(Cellular)
Yes
No
$0
$0
$49.95/month with a 6-month or 12-month contract
MobileHelp Wired Home
(Landline)
Yes
No
$0
$0
$22.95/month with a 6-month or 12-month contract; $24.95/month contract-free
MobileHelp Solo
(Cellular)
Yes
Yes
$0
$0
$27.46 to $37.95 per month for 1 to 12 months
MobileHelp Duo
(Cellular)
Yes
Yes
$0
$0
$30.79 to $41.95 per month for 1 to 12 months
Mobile Duo
(Cellular)
Yes
Yes
$0
$50
$33.79 to $44.95 per month for 1 to 12 months
Pro Tip: Monthly rates may increase unless you subscribe to MobileHelp Connect Premium for $5 per month. A subscription can pay for itself, as it also insures equipment, comes with a discount on GPS tracking for caregivers, and includes other savings.
MobileHelp Add-Ons (Free and Paid)
With MobileHelp's at-home alert systems, you can choose a second MobileHelp button for free. This could be a wearable for the wrist or neck, or a waterproof panic button for a wall or nightstand. We like how this allows two people share a home base system at no extra charge. And with low starting rates for monitoring, MobileHelp makes it affordable to include fall detection and other paid add-ons. Here are different ways to customize a system.
MobileHelp Upgrade
Description
Price
Second Button
Lets two people have standard wearables and share a home base station without paying more; or can choose a waterproof wall button
Free
Trela Pendant
A jewelry-inspired neck pendant made in multiple styles; compatible with MobileHelp systems for home and away
$98 each; purchase includes credit for MobileHelp monitoring

1

Fall Detection
Available with neck pendants; can detect about 95 percent of falls
$10 per month
Beaded Lanyards
Fashionable alternatives to basic lanyards for neck pendants; have magnetic closures for safety
$19.95 each
Wall Button
A waterproof panic button that can adhere to a shower wall or other flat surface; easy tool-free setup
$2.95 per month
Lock Box
Securely stores a house key, making it available to emergency workers if they receive the code from a dispatcher
Free ($29.95 value)
Medication Reminders
Caregivers can schedule reminders to be sent via text; a MobileHelp app can show the subscriber's confirmation
$5 per month, or $2.50 with MobileHelp Connect Premium
MobileHelp Connect Premium
Adds pricelock to monitoring; insures equipment from loss or damage; gives discounts on select MobileHelp features and products
$5 per month
MobileHelp Connect
MobileHelp Connect is an app with free and paid features for caregivers. As you'd expect, it notifies the caregiver if an emergency alert is sent. It also allows for 30 GPS tracking requests per month if the alert subscriber uses an on-the-go device (you can double that to 60 GPS requests for $5 per month.) Keep in mind that location tracking can be lifesaving for seniors with dementia, and not every brand's caregiver app offers this feature.
Also for $5 per month you can use medication reminders. The caregiver sets up text reminders with medicine names and doses, and the app tracks whether or not the user confirms taking their prescriptions. We found this feature easy to use. We also noticed that the caregiver app has mostly five-star ratings at Google Play.2 So we think MobileHelp Connect is a worthwhile upgrade for any alert package and monitoring plan.
Alert Systems & Packages
MobileHelp features six medical alert systems. Three units work with home base stations only. The other three can work at-home and on-the-go (wherever AT&T cellular service is available).
At-Home Alert Systems
The cheapest at-home system is the landline-free MobileHelp Classic. The next step up is the pricier no-landline option called MobileHelp Touch. And if you need a landline connection because you live in the boonies, you'll want to consider the Wired Home plan. These are all solid systems, but if you're looking for fast and reliable response times, we recommend checking out our Lifeline plans and pricing guide.
Did You Know: MobileHelp's max at-home range of 1,400 feet leads the industry. Range limits of 1,000 feet or shorter are common.
MobileHelp Classic
MobileHelp Classic is a cellular system, so it doesn't require a landline. It's the cheapest MobileHelp system, making this brand a little different (other brands reserve their lowest rates for landline systems).
The starting price is $19.95 per month for up to two waterproof medical alert buttons. That's quite a deal! Two people can enjoy coverage, or one person can have the convenience of a wrist button and neck pendant. Optionally, the second button could be a wall panic button, which is also waterproof.
We like that the base station communicates with MobileHelp devices up to 1,400 feet away, which is the best in-home range in the industry. Note that Trela fashion pendants ($98) are also compatible, though their range is capped at 250 feet. If you're looking for a stylish pendant, we'd recommend checking out Bay Alarm Medical's Bella Charm pendants. Whatever option you choose, your buttons can serve for years on the included batteries.
Who It's Best For: MobileHelp Classic is very customizable. But we think it's a great value for anyone seeking protection at home only.
FYI: Not sure if you want home service only? MobileHelp Classic can easily be upgraded to an on-the-go alternative called MobileHelp Duo.
MobileHelp Touch
MobileHelp Touch is a unique medical alert system with an 8" tablet base station. In contrast, base units for the other home systems are bulkier and look like answering machines from the 90's. So we definitely appreciate the 'Touch' aesthetic — it even doubles as a digital picture frame when in standby.
With MobileHelp Touch, preloaded apps support emergency alerts, brain games, medication alerts, and more. There's no charge for the equipment, but you'll have to sign a six-month monitoring contract. Pricing works out to $49.95 per month and includes two waterproof wearable buttons or one wearable plus a panic button. Our biggest gripe is that the short in-home range (350 ft. max, or 250 ft. with Trela) doesn't compare to top-rated alert systems like Medical Guardian. We like to see a minimum of a 1,000-ft. range.
Who It's Best For: MobileHelp Touch is best for subscribers who don't mind sacrificing range for the benefits of a tablet-based home alert system.
MobileHelp Wired Home
MobileHelp's sole landline-based system, Wired Home, is ideal for protection on rural properties and in areas without reliable cellular coverage. At $22.95 to $24.95 per month depending on term length, it costs slightly more than the Classic cellular system and is likewise competitively priced. We also like how Wired Homes gives standard buttons up to 1,300-ft range and is compatible with Trela pendants, too. The starting price includes your choice of one standard waterproof neck pendant or wrist button with a five-year battery.
Mobile Alert Systems
True to the MobileHelp name, three of their systems offer mobile coverage nationwide on the AT&T 4G network. Note that these systems differ in terms of base stations and other equipment, like how many help buttons are included. Otherwise, you'll get the same reliable protection as the in-home units offer.
MobileHelp Solo
Solo is MobileHelp's lowest-priced system for use at home or on-the-go. It features one base station for the home, a smaller base station for away, and one waterproof wearable button with a wrist strap or lanyard.
At around $27 per month, we think the rate is excellent for on-the-go protection, and it's comparable to other top mobile units like Lively. However, we don't love that it requires keeping a pocket-sized base station nearby for coverage while out and about.
Who It's Best For: Active seniors who want all-around emergency protection and don't mind carrying a small base unit when away from home.
Mobile Duo
Starting at $30.79 per month, you can get two buttons that work almost anywhere. From what we've seen, this MobileHelp deal gives other brands a run for their money. The system includes two waterproof buttons that work nationwide.
We like that each unit is packaged with its own portable cellular base station that offers up to 600-ft range. But, we'd really like to see this range extended to 1,000 ft. or more. Note that Mobile Duo also includes a lockbox to sweeten the deal.
Who It's Best For: Mobile Duo is a great solution for couples seeking affordable protection at home and away.
MobileHelp Duo
While Mobile Duo is for two people, MobileHelp Duo is meant for a single user (we know, the names are a bit confusing). This system includes one wearable button and two base stations: one for the home and another for on-the-go.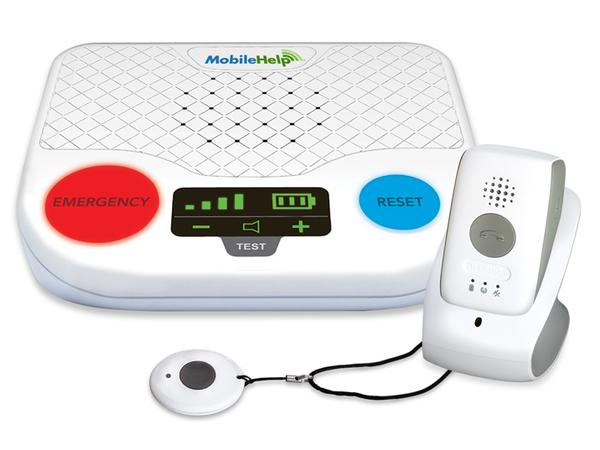 The cellular home base gives up to 1,400-ft range (very nice!), and the pocket-sized portable base offers up to 600-ft range. Monthly monitoring costs range from $30.79 to $41.95 depending on your term length (1 to 12 months). And again, a lock box is included at no extra charge.
Who It's Best For: MobileHelp Duo is great for seniors seeking protection with excellent in-home range, and pretty decent on-the-go coverage, too.
Current Deal
We've found that MobileHelp has pretty low prices to begin with. But they also offer nice perks here and there. For instance, a free button is included with the in-home systems, so you can think of MobileHelp as the brand with two-for-one specials. Home systems typically include free lock boxes, and all equipment comes with free shipping and free activation, too.
Also keep in mind that MobileHelp has generous discounts when you purchase a quarterly, semi-annual, or annual plan. And don't forget that every new customer enjoys a risk-free 30-day trial as well. Of course, we're not blown away by any of these deals, but it's nice to cut costs where you can!
Classic
Solo
Duo
$19.95

/mo

$37.95

/mo

$41.95

/mo

+ $49.95

Upfront Costs*
View Packages
View Packages
View Packages
Services

---

Services

---

Services

---

U.S. Based 24/7 Emergency Monitoring

U.S. Based 24/7 Emergency Monitoring

U.S. Based 24/7 Emergency Monitoring

MobileHelp Connect Online Tools

MobileHelp Connect Online Tools

MobileHelp Connect Online Tools

Loved One Notification

Loved One Notification

Loved One Notification

Equipment

---

Equipment

---

Equipment

---

Cellular Base Station

Mobile Device

Mobile Device

Waterproof Wrist Button or Neck Pendant

Waterproof Wrist Button or Neck Pendant

Waterproof Wrist Button or Neck Pendant

Mobile Base Charger

Mobile Base Charger

Mobile Device Pouch

Options

---

Options

---

Options

---

Automatic Fall Detection Button

Automatic Fall Detection Button

Automatic Fall Detection Button

Medication Reminders

MobileHelp Connect Premium

Medication Reminders

MobileHelp Connect Premium

Lock Box

MobileHelp Connect Premium

Lock Box

Lock Box
Overall Value of MobileHelp
Compared with other medical alert brands, MobileHelp tends to be more affordable. It's an especially good value if you're looking for two-for-one coverage (for yourself and your spouse, for instance), as two buttons are included with several low-priced systems. In fact, the cheapest in-home system, MobileHelp Classic, covers two people for $19.95 per month. And MobileHelp's on-the-go system for two, Mobile Duo, starts at just $30.79 monthly. With other brands, you might pay twice that to protect two people.
We also appreciated MobileHelp's fast response times (they averaged under 30 seconds) and how the home packages give up to 1,400-ft. range. On the other hand, MobileHelp doesn't offer voice-in-necklace. Unfortunately, you'll need a portable base unit to communicate with emergency operators. The unit is small enough for a purse or pocket, but we don't think it's as convenient as the pricier all-in-one-devices from LifeFone and other competitors. Also, we'd really like to see better options for alert systems with fall detection.
Good To Know: If you aren't happy with MobileHelp, you can cancel service even if with a long-term agreement. Refunds are based on full monthly rates.
MobileHelp Background
Founded in 2006, MobileHelp is younger than many medical alert brands we've tried. Cellular networks were already well-developed when the company launched, so naturally, MobileHelp chose to focus on cellular-based alert equipment and monitoring. We find it interesting that while other companies are cheapest if you use a landline, MobileHelp is cheapest if you don't!
In 2013 MobileHelp launched the world's first cellular alert system with fall detection.3 And we think the company is well-positioned to stay innovative. The CEO brings corporate experience from Motorola and Zoom, and he recently moved MobileHelp headquarters to Florida's premier business community for tech industries.4 You can learn more about the brand and our experience with their products in our full MobileHelp review.
MobileHelp FAQs
Can I use my mobile device while travelling?
The mobile device will work anywhere that there is AT&T coverage. MobileHelp recommends contacting customer service two to three days before leaving so that you can provide updated information to ensure that emergency services have all necessary information should they need to respond. Also, be aware that during air travel, the mobile device needs to be turned off.
Can I cancel a false alarm on the fall detection button?
Yes, if a fall is detected, you will hear a voice prompt over the mobile device directing you to press and hold the fall button to cancel. You will have 20 seconds to do so.
Is the mobile device waterproof?
The mobile device is water-resistant. It can be used in the shower but should not be submerged in water. The help button is waterproof and can be submerged.
What is MobileHelp's return policy?
Contact MobileHelp for instructions on returning the equipment. Service will be cancelled the day the equipment is received at its facility. You will be responsible for paying for the return shipping. A prorated refund will be issued for unused service that was prepaid.
Does MobileHelp offer a free trial period?
MobileHelp offers a money-back guarantee for 30 days if you wish to return your medical alert system.