Why Is Range Important in a Medical Alert System?
The importance of range in a medical alert device depends on your lifestyle and how your medical alert device will be used.
If you are one of the approximately 2 million older adults who rarely leaves home,2 you probably won't need nationwide coverage or the GPS location tracking feature. However, if you frequently spend your time in your yard or garden or have a large home, you will want to find an at-home medical alert system that has the longest range possible. You will likely see ranges as high as 1,400 feet and as low as 300 feet, and everything in between.
Did You Know? A typical city block in Chicago is 660 feet in length. This means that if you lived in Chicago and used an at-home medical alert system with the highest range possible, you could walk nearly two blocks and still be covered with emergency protection.
The on-the-go medical alert systems, also referred to as mobile medical alert systems, use a cellular signal to communicate; therefore, they have nationwide coverage often with a GPS location tracking feature. Learn more about those options in our list of the best mobile medical alert systems. This means if you have a mobile medical alert system, you can freely travel anywhere in the country, and you will have long range protection wherever your chosen brand has network coverage.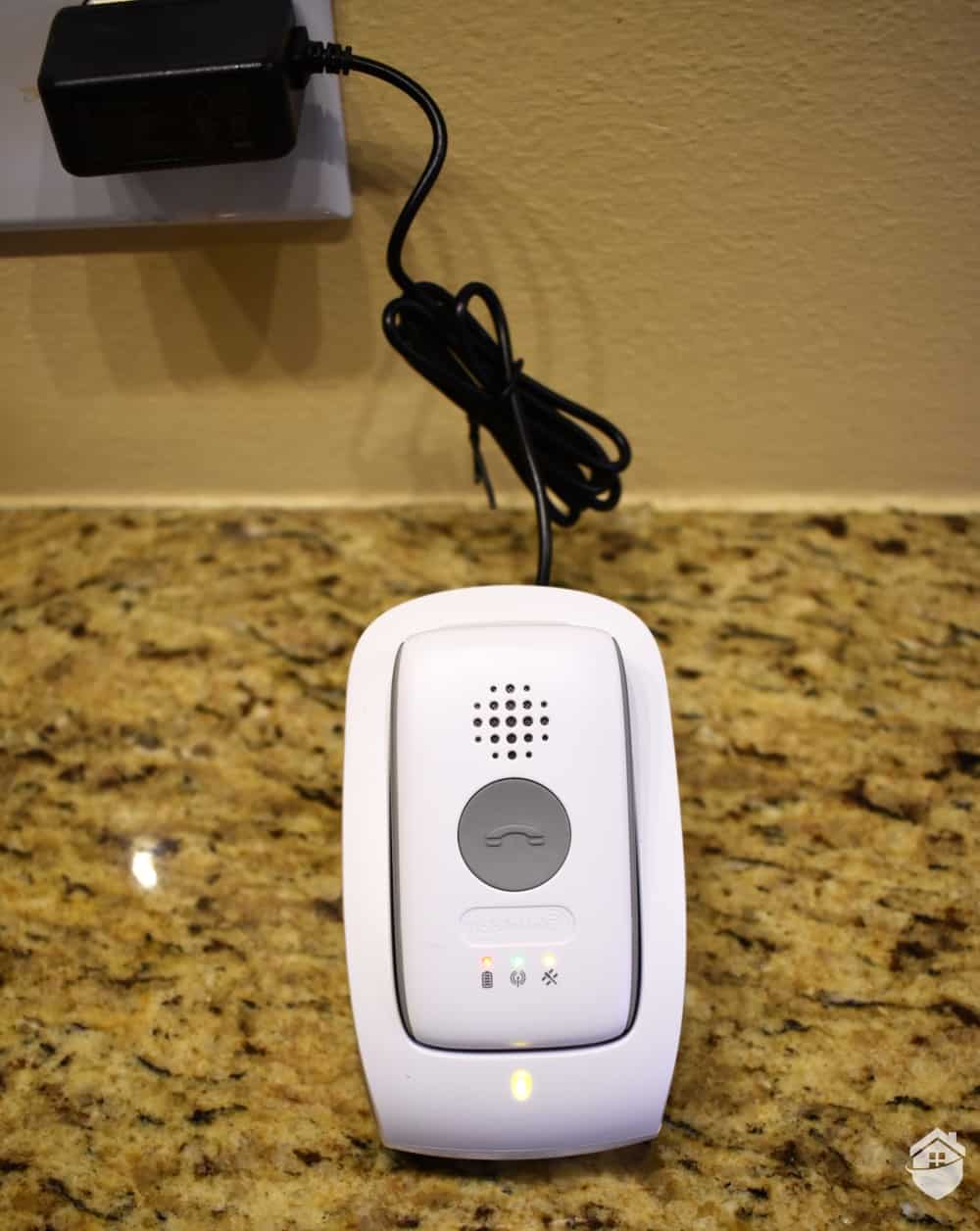 When shopping for a medical alert device, if you buy a system that doesn't include a large enough range to fit your needs or your space, you could unknowingly be left without access to medical assistance if you are outside of the coverage area. Another issue could arise if your system lacks the range that you need — you may become frustrated and tempted not to use the system at all. Be sure to do your homework before purchasing. A great place to start is with our analysis of the best medical alert systems.
What Determines the Range of a Medical Alert System?
The range of an at-home medical alert system is determined by the signal capability between the base station and the medical alert device itself. You can determine this by placing the base station in a centrally located area in your home. You can then wear the medical alert device around your neck, on your wrist, or attached to your belt. The range is the distance you can go before your medical alert device would no longer be able to communicate with the base station; this, in turn, would impact communication with the monitoring center once the help button was pushed.
If you have a mobile medical alert system, you won't need to worry about how far away you are from the base station in your home. A mobile, or on-the-go medical alert device, uses a cellular signal to communicate. So your most important concern with a mobile device is knowing where your provider has network coverage. For example, if your provider uses the AT&T cellular network, then you will have a signal anywhere AT&T has network coverage.3
One thing we are seeing with some systems is the use of two cellular networks. When traveling, this feature will ensure that you do not have interruptions in coverage, which will likely help you feel more confident. To learn the ins and outs of cellular systems, take a peek at our review of the best cellular medical alert systems.
Battery life is also something to consider with on-the-go medical alert systems. Most mobile devices have a 24-hour battery life, which means they need to be charged daily. The need to be close to an outlet could possibly hinder your movement while travelling. We have, however, seen longer battery life in some mobile devices, usually up to five days.
Still have burning questions about medical alert systems and their top features? Choose the medical alert system that's right for you by answering a few questions, or check out our in-depth buyers guide for medical alerts.
Pro Tip: The best battery life that we have seen in a mobile medical alert is a whopping 30 days! LifeFone's Voice-in-Pendant takes this honor; however, if fall detection is added, the battery life decreases to about five days (which is still better than 24 hours). Other brands with a five-day battery life include Life Station and Medical Alert.
Features of Long Range Medical Alert Systems
What other features should you expect in a medical alert system besides a decent range? We have summarized each below.