Getting to Know Frontpoint
There's no question that Frontpoint is one of the most competitive home security systems on the market today. It combines DIY home security systems with home automation and some of the highest-ranked customer service around to guard against both home intrusions and environmental damage.
Based in Virginia, Frontpoint Security Solutions was founded in 2007, and by 2011 had won the Angie's List Super Service Award. Not surprisingly, Frontpoint has an A+ rating with the Better Business Bureau.
Frontpoint security equipment sets can be ordered online or by phone for as little as $100, then installed by yourself in just 30 minutes, and the coverage is thorough. Special features include tamper-proof control panels, remote-controlled lighting, and video surveillance with night vision.
Monitoring & Packages
Often rated as one of the best home security companies for emergency monitoring with "smart home" enhancements, there's a lot to like about these systems. The systems are easy to set up without a professional. The equipment and monitoring are top-notch, and there are plenty of options to choose from. Top-ranked customer service has also been a key tenet of the company's ethos, and it shows.
Frontpoint's three monitoring plans all go beyond intrusion protection to help protect against flood and fire, while two of the plans support home automation features like remote control of lighting. Not sure what you need? Choose from 1-year and 3-year monitoring contracts and try the system out risk-free for 30 days.
On top of that, Frontpoint's equipment package choices are generous. The control panels can connect with entryway sensors, indoor motion detectors, glass break sensors, environmental monitors, panic buttons and pendants, home security cameras, thermostats, and more. The best Frontpoint wireless home alarm systems have control panels with Smash & Crash protection. These can automatically contact an emergency dispatcher if tampering is detected.
Frontpoint emergency monitoring gets top reviews, but we also like how its equipment is branded by General Electric, which means it can be monitored by another home security company if you prefer. Flexibility is always a good thing.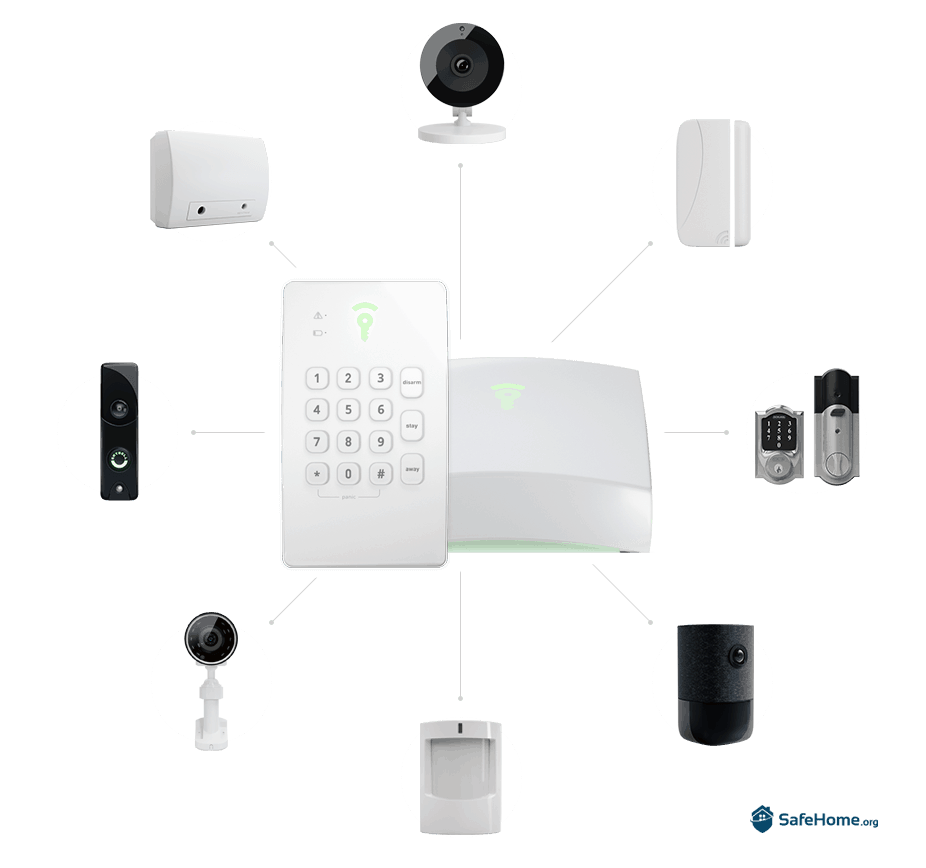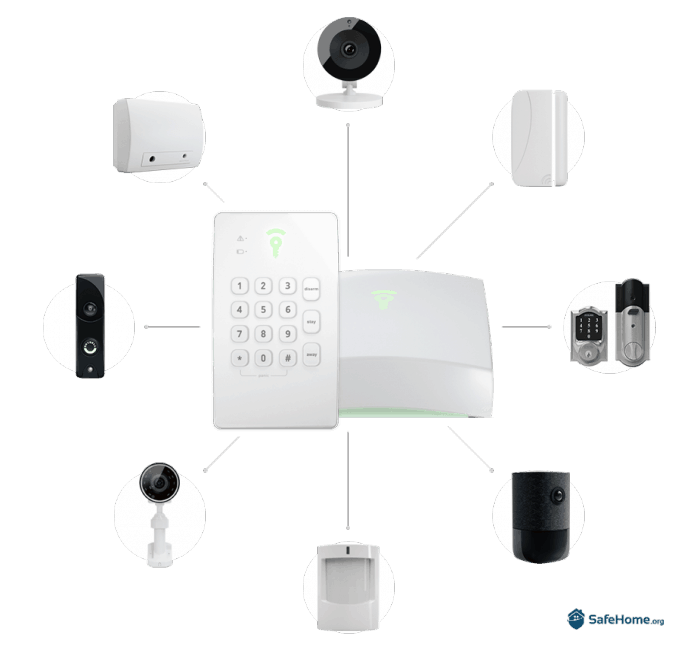 Each Frontpoint security system uses cell radio to send emergency alerts. (The systems don't use landlines, so Frontpoint monitoring isn't available in certain rural areas.) To provide 24-hour emergency dispatching, Frontpoint partners with the well-respected Rapid Response Monitoring Services. Rapid Response has state-of-the-art facilities in California and New York. Each emergency call center uses some of the world's best encryption technology, uses biometric security to control employees' access to data, and has ample backup systems in case of blackouts.
The Lineup of Features and Tech
Frontpoint security equipment has lots of selling points. Here's a sampling of some of what we love and why:
Touch Screen Control Panel – Frontpoint systems are available with standard and touchscreen control panels. The touchscreen control panel makes home security especially easy with large icons and organized options, over which you have lots of control.
Crash and Smash Protection – Frontpoint's touchscreen control panel has "Smash and Crash" protection, which essentially makes it tamper-proof. If intruders break the panel, it will automatically send an emergency alert to Rapid Response operators.
Cellular monitoring — Let's face it, outages and wire cutters can mess with landlines fast. But with cellular monitoring, you don't need a landline at all, let alone have to rely on one, and you don't even need the Internet (unless you want security cameras). And if your Internet and power both go out, a backup battery, battery-powered sensors, and cell signal keep you going.
Mobile App Compatibility – Equipment for Frontpoint's top two monitored alarm plans works with a mobile app. This turns your smartphone or tablet into a home automation controller and lets you monitor your alarm system from anywhere in the world.
Still Image Capture – Frontpoint's best motion sensors not only alert emergency operators when triggered, but also send still images. Security alerts that are accompanied by such images can get priority emergency response from local police departments.
Video Surveillance – Frontpoint sells high-resolution video cameras for indoor and outdoor security monitoring. Video can be live-streamed to a mobile device and saved to cloud storage.
Environmental Monitoring – For comprehensive home protection, Frontpoint Security offers add-on smoke and heat sensors, carbon monoxide sensors, and leak/flood sensors.
Energy-Saving Home Automation – Frontpoint Security plans can help reduce your power bills by letting you automate the use of your home lighting, heating, and air conditioning. The home automation software is user-friendly, too, with icons and prompts that make set-up a breeze.
| Frontpoint Smart Home Options | Primary Benefit | Technology Level | Type |
| --- | --- | --- | --- |
| Wireless Indoor Camera | Motion Detection | Intermediate | Camera |
| Video Doorbell | Advanced Detection | Basic | Camera |
| LED Smart Bulb | Convenience | Intermediate | Automation |
| Smart Lock | Worry-free Control | Advanced | Automation |
| Light Sensor | Convenience & Energy Saver | Intermediate | Automation |
| Frontpoint App | Convenience & Control | Basic | App |
It's worth noting here that if you want to integrate smart appliances (think thermostat, doorbell camera, garage door opener), you have to buy 3rd-party Z-wave products and connect them on your own. That's because Frontpoint's only smart equipment is its smart lock and light bulbs. The good news is that Z-Wave is the most universal protocol and is used by Nest, Philips, and more, but this is an area where companies like ADT and Vivint have an edge, as they offer their own Z-Wave products and can help build out your smart system within their product line.
Contracts
Frontpoint customers sign either 1-year or 3-year security agreements, and you have to sign on for 3 years if you want the best equipment package pricing. And that's it—if you need to back out early, unless it's within the first 30 days, you're stuck with what could be a sizeable bill. That said, customers do tend to rank their contracts with Frontpoint as both fair and free of surprises.
To take advantage of the 30-day risk-free trial, you do have to pay in advance for your monitoring services and any extra gear you want, but if you return it, you get that money back without any restocking fees. If you don't cancel and return the equipment within 30 days, you've failed to meet a pretty serious deadline, because you'll have to buy out whatever is left of your contract (which means 11 or 35 months) at 80% the contract value. There is one exception: If you move out of Frontpoint's service area. But that's big—the entire US plus parts of Canada.
Installation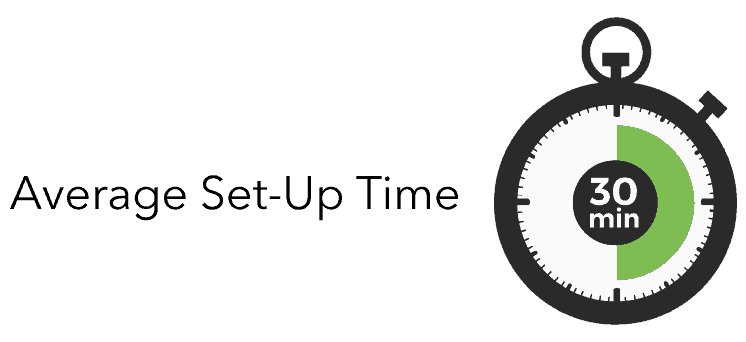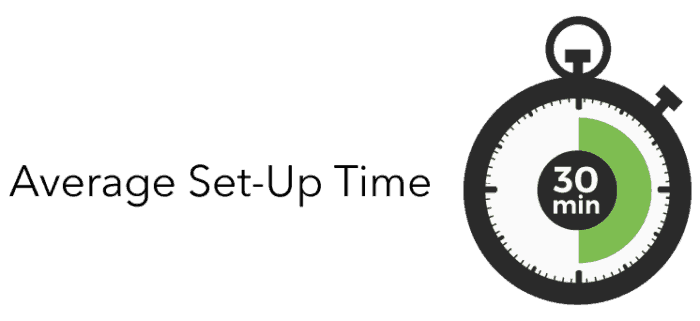 If questions arise with your installation, do-it-yourselfers can get help online and by phone. Frontpoint Security customer service makes the company an especially good choice for people seeking wireless DIY home protection.
And if you get stuck at any point during set-up, the app is programmed to pick up on any stall-outs and set up a service line for you to call, so there's no scrambling for phone numbers. Frontpoint also has a serious online troubleshooting trove if you'd rather figure out how to fix something yourself, with both written steps and video guides every step of the way.
Is it Easy to Use?
Frontpoint makes do-it-yourself home security easy. A technician programs each system before it's shipped, so there's no need to schedule an installation appointment. These home alarm systems are designed for DIY setup within 30 minutes. The wireless equipment is simple to install without nails and screws; each item is freestanding or can attach to home surfaces with removable adhesive.
Even Frontpoint's smart home automation is simple to set up and control. It works with iOS, Android, and Apple Watch, but you'll need to get most of your own smart tools yourself, like a thermostat to help conserve energy.
You can also control your Frontpoint security system using your voice. Both Amazon Alexa (including Echo and Echo Dot) and Google Home work great with Frontpoint's system for advanced control. Yes, you can arm your security system by just telling Alexa to arm it. Security measures are in place to ensure that you're the one arming and disarming your system through the use of a PIN and 2-factor authentication. Once you've securely set up your system, your own voice can control everything from your locks to your lights and thermostat. And using Alexa Skill or Google Home Skill, you can create scenes — think movie night settings with lower lights and locked doors, or wakeup scenes with brighter lights and the disarming of doors — that you simply tell Alexa to run. Just make sure you don't authenticate your kids' voices for this feature.
Frontpoint Home Security Video Review
The Customer Service Experience
Frontpoint is perhaps best known for its excellent customer service, making it a top pick in this category. Customer service is especially valuable in the home security industry because it doesn't just prevent hassles—it can actually make a difference to safety, control, and peace of mind.
Frontpoint's customer service center is in Virginia. Phones are staffed by English-speaking and Spanish-speaking agents from 8am to 11pm EST on weekdays and from 10am to 7pm on weekends. (Emergency lines are staffed 24 hours a day by a separate agency.) For extra support with equipment set-up, each set arrives with manuals, and Frontpoint provides helpful online videos.


Frontpoint Security Solutions is a member of the Better Business Bureau, where it maintains an A+ rating. Frontpoint security complaints are relatively low, and only a minimal amount of formal reviews have been filed against the company. The consumer advocate organization Angie's List first awarded Frontpoint with a "Super Service" award in 2011, just a few years after the security company launched.
Stacking the Value
Frontpoint doesn't offer the cheapest monitoring or equipment. But thanks to features like Crash and Smash Protection, serious home automation potential, and much-lauded customer service to keep things running smoothly, it's probably worth the cost if you can swing it. Plus, you save money on the front end because you're not paying for professional installation. Let's get into what you pay.
As far as equipment packages go, Frontpoint offers six different product bundles. All use wireless technology and cell networks to provide environmental protection and intrusion protection. You can also customize each package. Equipment packages start at $130.95 and range all the way up to $1032.84. Packages require a 3-year contract. To qualify for the lowest equipment prices, you must be a homeowner with a credit score of at least 600.
Monthly monitoring starts at $34.99, with either a 1-year or 3-year agreement. Frontpoint's entry level monitoring package is called the Protection Plan. This $34.99/month home security plan defends against intrusion with a self-diagnosing system and 24/7 professional monitoring. It's 100% wireless and cellular and offers environmental and fire protection. Self-managed account services are available to every user.
The Frontpoint Interactive Plan costs $44.99/month and offers everything the Protection Plan offers, plus mobile app arming/disarming, email alerts, text and push notifications, crash and smash protection, geo location services, and sensor history.
The $49.99 Ultimate Plan is Frontpoint's top-of-the-line home security (and automation) option. This plan includes everything from the Protection and Interactive Plan plus live video streaming, video and image history, motion-activated recording clips and alerts, automated door locks, and energy management and thermostat control.
| Frontpoint Monitoring Plans | Protection | Interactive | Ultimate |
| --- | --- | --- | --- |
| Activation Cost | $0 | $0 | $0 |
| Equipment Cost | Starting at $130.95 | Starting at $130.95 | Starting at $130.95 |
| Monthly Cost | $34.99 | $44.99 | $49.99 |
| Monitoring | Standard Protection & Monitoring | Advanced Protection with Mobile Features | Full Video & Home Automation |
| Contract Period | 36 Months | 36 Months | 36 Months |
| Installation | DIY | DIY | DIY |
Each of the above packages can be customized on the check-out page or over the phone. Extras like flood sensors, glass break sensors, and panic pendants are sold separately.
The Goods
Frontpoint sells a variety of wireless equipment for home security, environmental damage prevention, and home automation. As discussed above, Frontpoint equipment is bundled into packages that can be purchased to get you started with your Frontpoint security system. You can then purchase additional pieces of equipment to cater to the size of your home and the level of security you desire.
Frontpoint categorizes its main equipment into three categories: Controls, Sensors, and Cameras and Home Automation.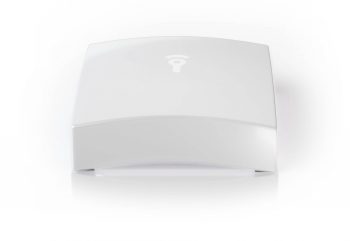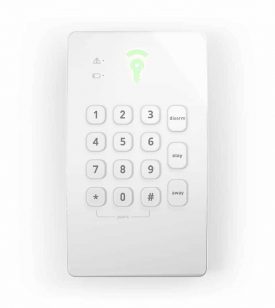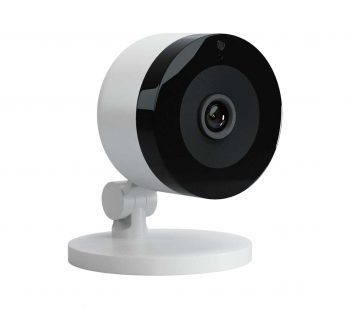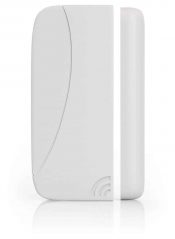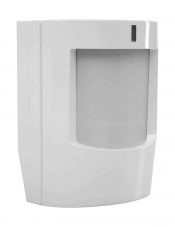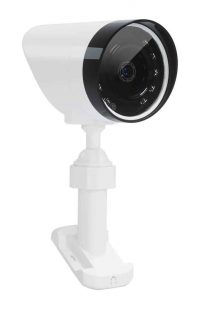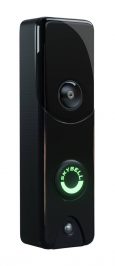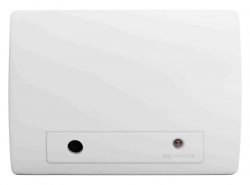 Controls
Pushbutton Control Panel
Touchscreen Control Panel
Keychain Remote Control
Panic Pendant
Sensors
Standard Door/Window Sensors
Recessed (Hidden) Door/Window Sensors
Garage Door Sensors
Glass Break Sensors
Motion Detectors
Image-Sensing Still Cameras
Carbon Monoxide Detectors
Smoke and Heat Sensors
Water Leak/Flood Sensors
Video Cameras and Home Automation
Wireless Indoor Camera
Wireless Outdoor Camera
Wireless Doorbell Camera
Keypad Door Locks
Remote Light Control
Remote Thermostat Control
A Frontpoint monthly monitoring plan is required in order for any Frontpoint security equipment to work. Before choosing a monthly monitoring plan, you will want to choose a Frontpoint equipment package. The following are the pieces of equipment that are included with each of the 3 packages offered by Frontpoint.
| Frontpoint Equipment Packages | Safe Home Starter | Safe Home Everyday | Safe Home Plus | Safe Home Select | Safe Home Preferred | Safe Home Elite |
| --- | --- | --- | --- | --- | --- | --- |
| Hub | Included (1) | Included (1) | Included (1) | Included (1) | Included (1) | Included (1) |
| Keypad Panel | Included (1) | Included (1) | Included (1) | Included (1) | Included (1) | Included (1) |
| Door/Window Sensor | Included (2) | Included (3) | Included (3) | Included (4) | Included (5) | Included (6) |
| Motion Sensor | Included (1) | Included (2) | Optional | Included (2) | Included (2) | Included (2) |
| Glass Break Sensor | Optional | Optional | Included (2) | Included (1) | Included (1) | Included (2) |
| Smoke/Heat Sensor | Optional | Optional | Optional | Included (1) | Included (1) | Included (1) |
| Wireless Indoor Camera | Optional | Optional | Optional | Optional | Included (1) | Included (1) |
| Wireless Outdoor Camera | Optional | Optional | Optional | Optional | Optional | Included (1) |
| Wi-Fi Doorbell Camera | Optional | Optional | Optional | Optional | Optional | Included (1) |
| Recessed Door Sensor | Optional | Optional | Optional | Optional | Optional | Optional |
| Garage Door Sensor | Optional | Optional | Optional | Optional | Optional | Optional |
| Carbon Monoxide Sensor | Optional | Optional | Optional | Optional | Optional | Optional |
| Flood Sensor | Optional | Optional | Optional | Optional | Optional | Optional |
| Smart Lock | Optional | Optional | Optional | Optional | Optional | Optional |
| Smart Light Bulb | Optional | Optional | Optional | Optional | Optional | Optional |
| Panic Pendant | Optional | Optional | Optional | Optional | Optional | Optional |
The Last Word
Frontpoint is one of the best security companies for people who want DIY home security products yet appreciate high-quality equipment and support. This company makes it easy and affordable to fortify your home against intruders and environmental damage, plus you can always upgrade to one of Frontpoint's wireless home automation systems for extra security and convenience. And if you're not sure it's the right fit, try it free for 30 days — just be sure you make a decision within that window.