Ring Alarm Packages
The Ring Alarm comes in kits with 5, 8, 10, or 14 pieces of equipment. The eight-piece kits are the best-sellers, but we recommend that you pick a kit based on the size of your home and your security needs. The nice thing about DIY kits like Ring, however, is that you can add new devices easily in a matter of minutes.
Ring Alarm Features
| | |
| --- | --- |
| Days Tested | 100+ |
| No. of Packages | 3+ |
| Difficulty Level | Easy |
| System Cost | $199.99+ |
| Monitoring Fees | $3.99 per month+ |
Now, let's take a look at the packages you can choose from, starting with the 5-piece kit.
Ring 5-Piece Kit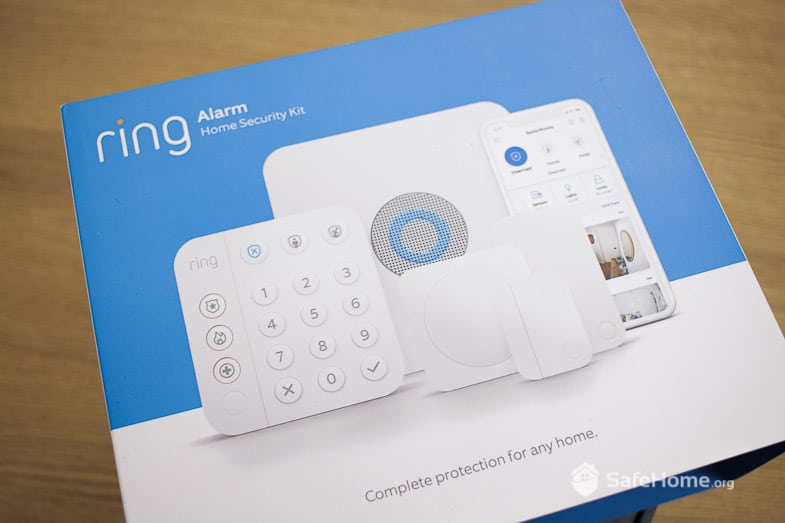 If you live in an apartment or condo, Ring's five-piece kit might be the right fit for the space. This kit costs $254.99 and comes with a door sensor, a window sensor, and a motion sensor along with a video doorbell. Now, we can't think of many apartments or homes we've been in that have that exact configuration, so you might have to purchase an additional sensor or two. Note, the kit also includes a Ring base station, a keypad, and a range extender.
The 5-piece kit performed well during our tests, but it lacked a comprehensive device selection, and it was unable to secure all our doors and windows.
Key Stats & Specs
Secures one door or one window
Adds motion detection for one room
Covers up to 1,000 sq ft (one room)
DIY installation
Ring 8-Piece Kits
The eight-piece Ring Alarm kits come in either the base package or bundles that include a video doorbell or indoor camera. All eight-piece kits include the same components — a base station and keypad, four contact sensors, a motion sensor, and a range extender. The eight-piece kit retails for $249.99, but is currently on sale for $187.49. Bundling it with an indoor cam will increase the price to $239.99, or $224.99 while the sale continues.
Bundling it with a Ring Video Doorbell (2nd generation) or Ring Indoor Cam will increase the price to $349.98 or $299.99, respectively.
Due to the number of contact sensors, the eight-piece Ring Alarm kit should be able to protect an average-sized home. That said, if you need more motion sensors since the kit only includes one, you can always buy more. The range extender is a nice addition, as it will let you expand your system easily without worrying about sensor placement.
Key Stats & Specs
Secures up to four windows or doors
Includes motion detection for one room
Includes a keypad
Works for 1-2 bedroom homes
DIY installation
Ring Alarm 10-Piece Kit
The Ring Alarm 10-piece kit further expands Ring Alarm's coverage with an additional motion sensor and contact sensor compared to the eight-piece kit. With a total of five contact sensors and two motion sensors, it can protect average-sized to large homes.
The Ring Alarm 10-piece kit retails for $279.99, $30 more than the eight-piece kit. The additional motion and contact sensors are not discounted — respectively, they cost $30 and $20 when bought a la carte style — so go with the 10-piece kit only if you absolutely need the extra sensors.
Key Stats & Specs
Secures up to five windows or doors
Includes motion detection for two rooms
Includes a keypad
Works for 1-2 bedroom homes
DIY installation
Ring Alarm 14-Piece Kit
The final Ring Alarm kit is the 14-piece kit. This kit is designed for large homes, as it includes two keypads, eight contact sensors, two motion sensors, a range extender, and of course, a base station. The kit retails for $329.99.
According to Ring, the 14-piece kit is ideal for homes with more than 3 bedrooms, and can cover approximately 2,000 square feet of space. Since it has two keypads and a range extender, it fits in comfortably with two-storey homes. You can put one keypad near the entryway and another near your room for easy access.
Key Stats & Specs
Secures up to eight windows or doors
Includes motion detection for two rooms
Includes a keypad
Works for 3+ bedroom homes
DIY installation
Ring Alarm Pro 8-Piece Kit
In 2021, Ring launched a more advanced security system called Ring Alarm Pro, and it differs from the classic Ring Alarm because of its base station. The Ring Alarm base station functions as a hub and siren for the system, while the Ring Alarm Pro base station features a built-in eero 6 router. That means that it can provide secure Wi-Fi connection to your home, in addition to physical security.
Ring Alarm Pro kits start with the eight-piece kit, which includes four door sensors, a motion sensor, and a range extender — basically, the same things included in the Ring Alarm eight-piece kit. That being said, it costs $249.99, a bit more expensive than the Ring Alarm kit because of the improved base station. If you want Ring to handle your physical and digital security, this is a good option.
Key Stats & Specs
Secures up to four windows or doors
Includes motion detection for one room
Includes a keypad
Built-in secure router
Works for 1-2 bedroom homes
DIY installation
Although Ring is one of the most affordable security systems, it's not exactly the most advanced, which is something we cover in our full Ring Alarm review. Each Ring package comes with a decent lineup of features and technology. Beyond home protection, we didn't really experience many extra benefits. For starters, Ring's home automation options are few and far between. It does work with Alexa, but that's about it.1 Also, Ring's mobile app doesn't allow for advanced customizations.2
If you're on the market for a fairly simple system that is affordable, easy to install, and easy to use, then we recommend Ring Alarm for those purposes. However, if you're looking for a home security package with more robust home security and automation features, you might want to explore options from companies such as Vivint, Frontpoint, or ADT. With that said, the Ring Alarm has garnered quite the market share because it's relatively cheap and able to get the job done.3 And our testing has confirmed this fact.
| | |
| --- | --- |
| Mobile Alerts | Ring Alarm sends mobile alerts to your smartphone whenever a door or window is open or the alarm is triggered. You can sync Ring doorbells, cameras, and the alarm to the Ring App to customize your mobile alerts and notifications. |
| Surveillance Cameras | Ring's security cameras make them one of the best options on the market for surveillance. They offer indoor and outdoor security cameras, as well as video doorbells. You can choose from both wireless and hardwired security cameras. |
| DIY Installation | Ring offers DIY installation. The setup is easy and includes all the tools needed for installation. It takes anywhere from 5 to 15 minutes to install each component. You can view helpful setup guides on the Ring website, as well. |
| Smart Home Options | Ring allows you to control the alarm system, video cameras, doorbell cameras, and smoke detectors from a smartphone or tablet. You can arm and disarm the system from anywhere and receive notifications regarding activity in your home. |
| Disaster Protection | Ring offers a Z-Wave smoke and carbon monoxide alarm. You can connect the detector to your Ring Alarm system and receive instant notifications whenever there is smoke, fire, or carbon monoxide detected in your home. Ring Alarm also features a Flood & Freeze Sensor. This device detects freezing temperatures and water in your home. |
| Remote Control | You can remotely control your Ring Alarm system from anywhere in the world using the convenient Ring app. The app is available for both Android and iOS. |
| Voice Response | Ring's video doorbells offer a two-way talk. You can see, hear, and speak to people through the camera from your smartphone, tablet, or PC. |
| Power Outage Protection | Ring offers backup battery protection on its equipment. If there is a power outage or failure, it will notify you immediately. |
| 24-7 Monitoring | Ring offers 24-7 professional monitoring with cellular backup. |
Equipment Upgrades
Once you decide on a Ring Alarm kit, you have plenty of options to upgrade and customize your system. Overall, the equipment costs are less than the industry average. For instance, most security companies sell entryway sensors for $30 to $50 apiece, while Ring offers them for only $20 a pop. Their video doorbells and environmental sensors are also more affordable than the competition. But we've found Ring's outdoor security cameras to be similarly priced compared to brands in the same category (not professional-grade).

Did You Know? If you purchase a home security system that works with Alexa, you can use voice control to arm and disarm your system, along with other commands?
Also, once you have add-on equipment installed, you're almost guaranteed to save money with Ring's $20 per month professional monitoring plan. Here is a rundown of Ring add-on costs:
| Ring Camera | Features | Equipment Cost |
| --- | --- | --- |
| Spotlight Cam Plus (Plug-In) | 1080p HD, motion alerts, motion-activated spotlight, two-way talk, siren | $199.00 |
| Spotlight Cam Plus Wired | 1080p HD, motion alerts, motion-activated spotlight, two-way talk, siren | $229.00 |
| Spotlight Cam Plus Solar | 1080p HD, motion alerts, motion-activated spotlight, two-way talk, siren | $229.00 |
| Floodlight Cam Wired Pro | 1080p HD, 3D motion detection, bird's eye view, two-way talk, siren | $269.00 |
| Floodlight Cam Wired Plus | 1080p HD, motion alerts, motion-activated spotlight, two-way talk, siren | $139.99 |
| Stick Up Cam Battery | 1080p resolution, color night vision, advanced motion detection, customizable motion zones | $99.99 |
| Stick Up Cam Plug-in | Pan and tilt, 1080p resolution, color night vision, advanced motion detection, customizable motion zones | $99.99 |
| Stick Up Cam Solar | 1080p resolution, color night vision, advanced motion detection, customizable motion zones | $139.99 |
| Indoor Cam | Two-way audio, live view, color night vision | $59.99 |
| Stick Up Cam Elite | Power over Ethernet (PoE), two way audio, advanced motion detection, color night vision, live view | $199.99 |