Our Experience With Ring Indoor
Now that we'd finished installing the camera, setting it up and updating the Ring app, we were able to appreciate all of the possibilities this pint-sized Ring camera offered us – the same things we've always loved about the Ring brand. But it wasn't always a silky smooth experience.
Now, let's cover what we loved about Ring Indoor – and what we didn't.
What We Loved
With Ring, we can always count on precise, detailed motion alerts. Further, under motion settings, we could adjust the type of motion we wanted to be alerted to, as well as what time of day to receive the alerts. And, if we wanted the camera's motion sensor to avoid certain areas, we could enable that, too, by adjusting "motion zones."
Creating motion zones has always been easy with Ring, but it's certainly not the only brand that makes this step a breeze. Reolink handles motion zones just as well, though those cams trend a bit higher cost-wise these days than Ring. We covered the full Reolink experience here, if you're interested.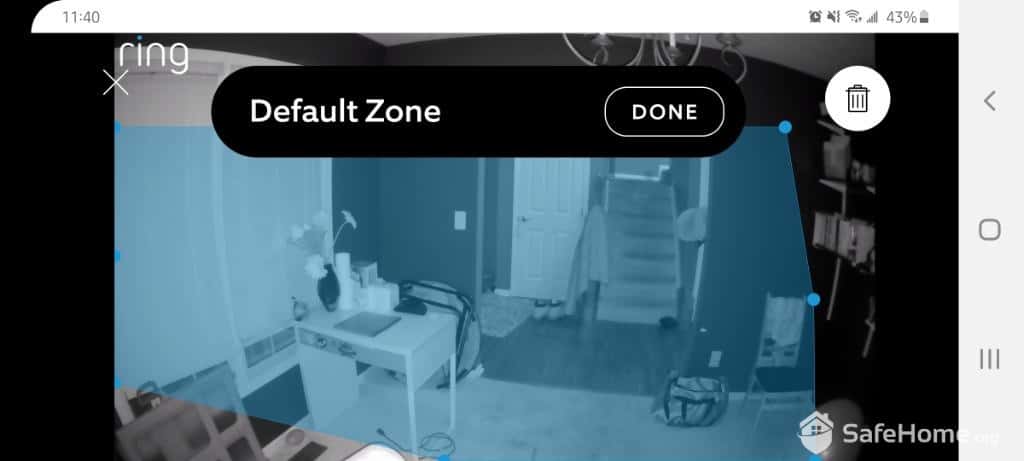 Going further, we set up motion snooze to ensure we wouldn't be awakened in the middle of the night by notifications.
Note: When Motion Snooze is on, you can still go back and view video from activity the camera picked up overnight. You just have to go into the app and look at the camera's video history to see it.
Then, we honed in on a few "areas of interest" in our home that we wanted more eyes on. One of them, inevitably, is the path our puppy takes when he gets up in the middle of the night. Was he eating? Was he trying to escape? Was he having late-night heavy metal parties with his no-good puppy friends?
In our initial tests, we placed the camera in our living room so it would record areas we knew our little bruiser would visit during those hours.
Then, we let our Indoor Cam handle the rest.
In the morning – after giving our puppy a firm talking-to about not climbing on the furniture – we moved the camera. This time, we zeroed in on a part of the house where our children regularly congregate – the office, in this case, to make sure our middle schoolers were getting their homework done.
A Note About Cameras and Kids: We used our camera to keep tabs on our preteen children while we adults left to run errands. Since they're old enough to stay home by themselves for short periods, we felt comfortable using the camera for that purpose. But please, do not use this or any security camera as a substitute for a human babysitter.
As you can see, the freedom of movement this camera and motion flexibility provides really won us over. It made the whole setup experience easy and fast, and we think you'll really like using it to keep tabs on multiple areas in our home – or even add on cameras for more 24/7 coverage if you choose.
What We Didn't Love
Of course, no camera is perfect. As we tested different scenarios and functions in the camera, the communication between the camera and its cloud service was not always airtight. We encountered occasional (but thankfully short) delays in the two-way audio that made communicating difficult, but to be fair, it's not the first time we've seen this glitch in a security camera. Almost all of the cameras we've reviewed have given us that dreaded audio lag2 at one time or another. Most of the time, we've attributed it to our home Wi-Fi speed in the past, and this could very well be the culprit now. Either way, the delay was negligible.
FYI: Ring Indoor has no weather sealing and has not been approved for outdoor use. If you're looking for a nice camera for the exterior, though, we'd suggest giving the bigger of the bunch, the Ring Stick Up Cam, a look. That one's approved for indoors or out, conveniently.
We also wished the cord was longer. Maybe it's because we're not the best planners; we kept having to climb up and climb down from tall places to find the next home for our camera, and we came a little too close to injury a few times. (Yes, we know we can use an extension cord. We did that when we chose the camera's permanent location, don't worry!)
For small devices like this, flexibility is key. And a camera with a 6.5-foot cord doesn't fully get us there. Perhaps an 8-foot cord would be a sensible upgrade in future generations. Even Wyze, a low-cost brand of cameras with super-basic functionality, comes with a longer power cord than Ring's in their $20 Wyze Cam. To learn more, check out our hands-on Wyze camera review. But we're not picky; extension cords work, too.
Our final gripe, and it's not a new one, is with night vision. This is where the limitations of security camera footage come into view. The picture was grainy, and it was hard to distinguish lighter objects from darker ones. Could we still see the dog's eyes glowing (creepy much?) from clear across the room via our indoor cam in the middle of the night? Yes, but from our experience, we think most security cameras could handle that task these days.
In all seriousness, we do wish the overall picture was a little crisper. That could be accomplished with HDR, and Ring doesn't offer that option (yet). Also, though, it's not generally as important to have good night vision in an indoor camera than an outdoor one. If you do happen to prefer color night vision, a recent Arlo camera review of Arlo's suite of cameras gave us some pretty stunning results. Just something to consider.