Travis Goodreau
https://www.safehome.org/security-advisors/travis-goodreau/
Best Battery Powered Security Cameras
Battery powered security cameras are the easiest to set up and can be installed just about anywhere. See which battery powered cameras we chose as our favorites.

Most people who are shopping for a new home security camera system end up choosing a DIY wireless battery-powered option mostly because these days, they are of high-quality and very easy to install and use. Not to mention battery-powered security cameras are more affordable than their wired counterparts and can be controlled remotely via their companion mobile apps.
Battery-powered security cameras come with a variety of options and features so there is a lot to consider before making a purchase. Here are our top five expert-recommended battery-powered security cameras for 2019.
1. Ring – Best Battery Powered Security Cameras Overall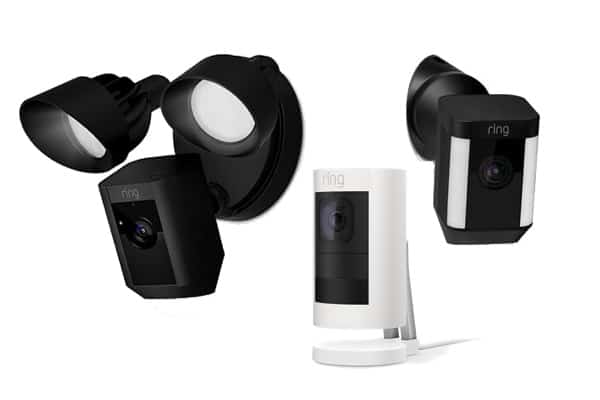 Ring has a variety of security cameras and most of them are battery-powered, but they do have wired and solar options as well. You can choose from spotlight cams, floodlights, and stick up cams. All the Ring cameras are DIY, easy to install, and come with full HD image quality and plenty of features. Let's take a look at some of the Ring pros and cons.
Pros
2-way talk
IFTTT, Alexa, Z-wave compatible
Customizable motion zones
Affordable monitoring plans
Wireless DIY installation (wired options available)
Mobile app for remote control
No long-term contracts
Neighborhood watch app
Cons
Base package options are limited
 Cloud storage not available with Basic plan
Video saving and sharing not included with Basic plan
Ring cameras have a lot to offer. With Ring, you will get motion-activated notifications, real-time videos with Live View, a two-way talk feature, and lifetime theft protection. Additionally, Ring has two very affordable monitoring plans that range from $3/mo. to $10/mo., which is lower than almost everyone else in the industry.
The Ring cameras are a bit pricey comparatively, but you get what you pay for. The battery-powered Stick Up Cams are $179/ea. The battery-powered Spotlight Cams are $199/ea. The battery-powered Floodlight Cams are $249/ea. And Ring does sell multiple security cameras in packages at a discounted price.
2. Lorex – Best Outdoor Battery Powered Cameras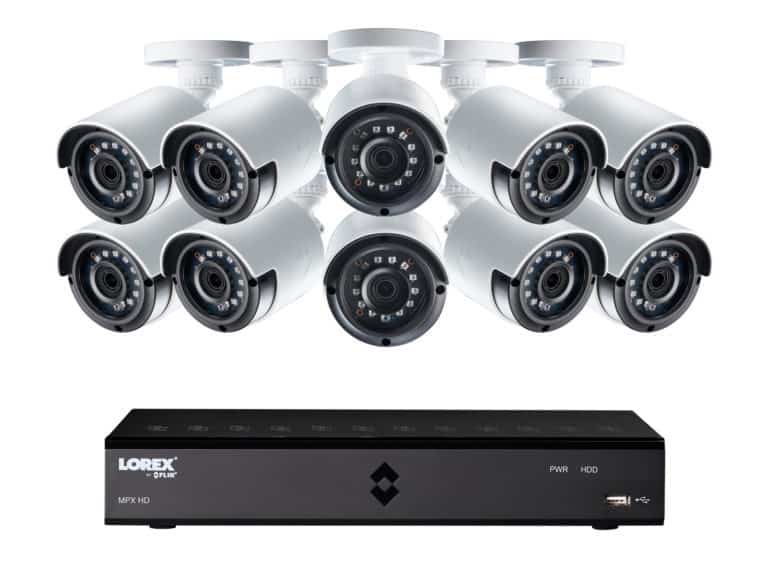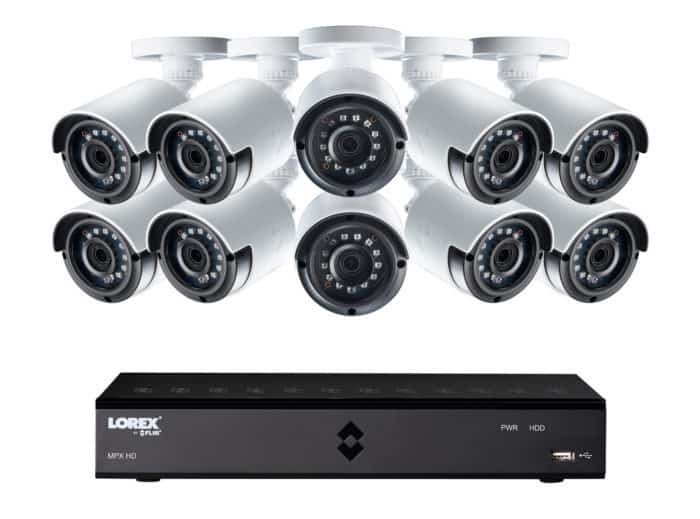 Lorex has some of the best wireless ultra HD wireless battery-operated security cameras on the market. Therefore, if you are looking for a professional-grade, high-quality security camera that is affordable, then Lorex is the one to consider. Let's take a look at some of the Lorex pros and cons.
Pros
Extremely user-friendly
Wired and wireless camera options available
Long-range cameras with color night vision
4K Ultra HD resolution
Automatic mechanical lens
8.5 megapixel CMOS sensor
Black illuminated pixel technology
High-efficiency video coding (this compresses video file sizes)
Cons
Number of add-on cameras for full coverage can get pricey
Lorex complaints have risen since the firmware update
Wired cameras might require professional installation
Lorex has been a high-quality brand of battery-powered security cameras for a while; although, there have been some complaints since the recent firmware update. But that could happen with any given product that goes through a firmware update. The Lorex outdoor battery-powered cameras can handle extreme weather situations, they are vandal resistant, and provide you with a high-quality, long-range view. Additionally, the Lorex cameras give you almost unlimited customization capabilities. Another bonus is that there are no subscription fees to worry about at all. And, if you want different recording options, Lorex offers continuous, scheduled, or motion-activated recording options as well. You can buy a single Lorex camera for just $189.99 or a packaged system for up to $2999.99. So there is pretty much something for everyone in every price range.
3. Arlo – Best DIY Battery Powered Security Cameras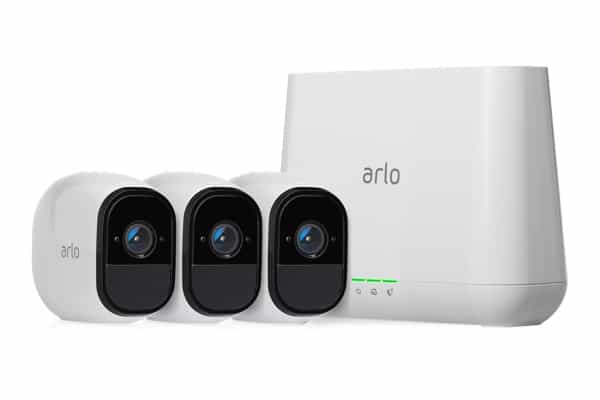 Arlo offers some of the most flexible battery-powered camera systems on the market, and they can be installed just about anywhere inside or outside of your home. Additionally, the Arlo camera batteries are rechargeable, so that alone will save you loads of money. Their cameras also have an AC power option if you choose to use that instead. Let's take a look at some of the Arlo pros and cons.
Pros
Wi-Fi enabled cameras
Optional audio recordings
Two-way talk capability
Intelligent home security camera option
Wireless, weather-resistant Arlo Go option available
Advanced all-in-one baby monitor available
Affordable subscription plans
A.I.-enabled intelligent alerts
Cons
High upfront costs (but worth it)
Motion detection recordings delayed by a few seconds
Cameras are only available in white
The Arlo camera systems provide you a lot of value for your money and their subscription plans are very affordable. You can expect quality features such as advanced A.I. detection which helps reduce false alarms, custom activity zones, lock screen notifications, up to 60-days of free cloud storage (depending on which plan you choose), support for up to 60 cameras, and free shipping on orders over $35. The Arlo battery-powered cameras also come with night vision and are compatible with Alexa. The least expensive Arlo camera is just $119.99 and the most expensive is the Arlo Ultra is $399.99 with a wide variety of options in-between. With prices this inexpensive, almost everyone can afford to have a security camera to protect their home.
4. Blink – Easiest to Use Battery Powered Cameras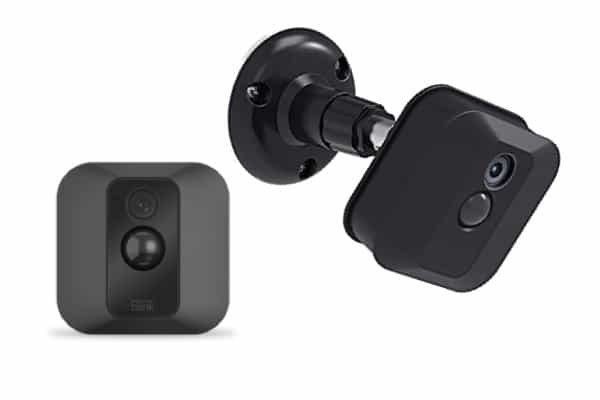 Blink offers affordable indoor and outdoor battery-powered security camera systems that are easy to set up and use. Amazon's Blink security cameras have a variety of popular features and they don't require you to sign any contracts to use their products or services. Let's take a look at some of the Blink pros and cons.
Pros
Motion alerts
Live HD video
Infrared or LED illumination night vision options
Weatherproof/weather-resistant cameras
No contracts
Free cloud storage
Lithium batteries that last up to two years
Third-party integration (Alexa, IFTTT, and more)
Cons
Basic camera system with limited advanced features
Overall costs can be pricey for larger homes
The Blink camera system allows you to access, monitor, and control up to 10 Blink cameras per system right from your smartphone and view what's happening in live HD video. However, they don't offer many accessories or advanced features at all. The nice thing about the Blink cameras is that since they are battery-powered, they use two AA lithium batteries that will last up to two years, which is exceptional. This is due to the fact that Blink uses a proprietary chip technology that can only be found in Blink cameras. You can purchase the Blink cameras for as little as $69.99 for one camera and sync module starter kit. And the Blink XT2 one camera system for $89.99. But these prices tend to fluctuate; therefore, you should check them periodically if you are still in the research stage.
5. Reolink – Most Affordable Battery Powered Security Cameras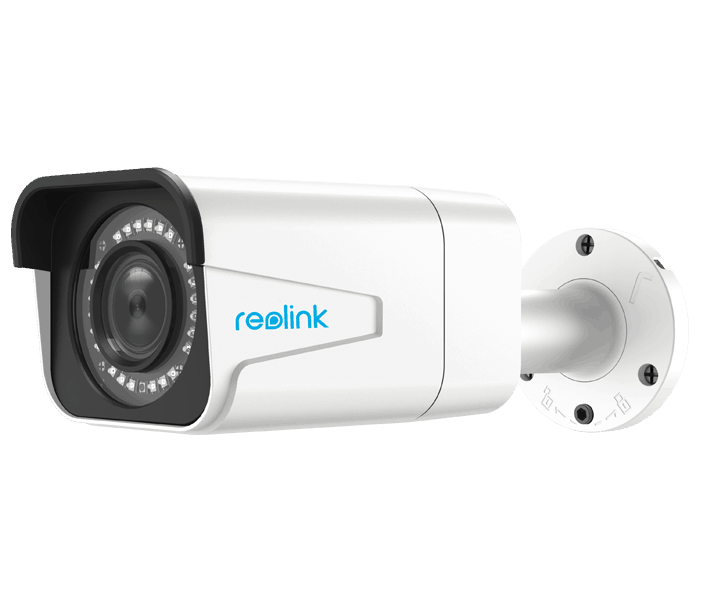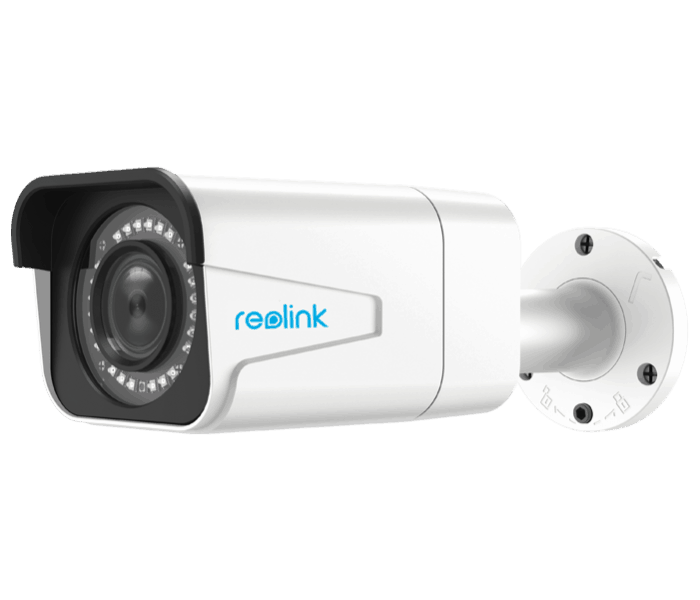 If you're looking for a basic security camera system that's affordable and user-friendly, then look no further because Reolink is it. Reolink has great cameras. They also give you the option of choosing their Argus 2 camera that has a one-step installation. Reolink also boasts exceptional customer service, no contracts, and no ongoing monthly costs. And that's just the short list of what you will get and what's possible with Reolink. Let's take a look at some of the Reolink pros and cons.
Pros
Rechargeable battery-powered and solar-powered options available
Seemingly endless lineup of products and accessories
No long-term contracts
HD resolution
Night vision
Weatherproof
5MP super HD and 4X optical zoom features
Pan and tilt cameras available
E Series and Argus Series both work with Google Assistant
Cons
Sensitive motion detection (depending on the placement)
Limited third-party smart home integration options
Some feel the siren isn't loud enough
Reolink offers several camera options, but the Argus 2 has the most features. Their cameras come with a bevy of features including wired and wireless options two-way talk, night vision, full HD with a minimum of 1080p resolution, motion detection and alerts, either a 4G or Wi-Fi connection, and they have solar-powered options available. Reolink also has one of the easiest installation processes available, and they have the Argus 2 which can be installed in just one step. To complete the install, all you have to do is place or mount your cameras then scan a QR code. That's it. And, their cameras are waterproof rated IP66 as well.
Additionally, Reolink offers a comprehensive lineup of features and options that can all be controlled remotely from one dashboard using the companion mobile app. And, Reolink now offers cloud video recording storage, which is new and comes with 7-days of cloud storage for free. They also offer three other cloud storage plans that range from $3.49/mo. to $10.49/mo., which isn't bad. And, the Reolink cameras run between $67.49 to $239.99, which again, isn't bad comparatively.
Reolink Cloud uses Amazon Web Services for its secure cloud storage. They also have extra layers of security as well by using 2048-bit RSA, 128-bit AES-GCM algorithm and TLS to encrypt all their video channel submissions.
Benefits of Battery Powered Security Cameras
Battery-powered security cameras are 100% wireless. That means there are no wires or cords that can be cut rendering your security cameras useless. That also means they are easier to install because you don't have to perform any wiring or have to hire someone to do it for you. So a battery-powered security camera is virtually hassle-free.
There are other benefits of battery-powered security cameras as well. Battery-powered security cameras are generally more affordable than hardwired cameras, not to mention you won't have to pay any installation fees. Battery-powered security cameras have come a long way and today they are actually cheaper and better than most wired security cameras—minus all the hassle.
Additionally, with battery-powered security cameras, you don't have to worry about having unsightly wires all over the place, they are more flexible because you can place them just about anywhere, they are more portable so you can move them around, and they can be easily expanded and integrated with your other home security and automation systems.
Features of Battery Powered Security Camera Systems
Motion Detection
When you're talking about a battery-powered security camera with a motion detection feature, it simply means that camera is designed to alert you when motion is detected, but only when your alarm is activated. These motion detection cameras either use a passive infrared sensor to detect changes in the area's ambient infrared radiation or a pixel-based detection method that compares the changes in pixels from one camera frame to another.
2-Way Voice
The two-way voice feature within a battery-powered security camera system will enable you to communicate with anyone who enters your property. This feature is great for greeting guests, giving instructions to package delivery drivers, or to forewarn an intruder that the police have been contacted and are on their way, which is in itself a great deterrent and helps proactively prevent a crime.
Wide Field of View
The wide field of view is how large of an area the camera can capture and see. This is often referred to as the angle of view. A wider field of view basically means there are fewer blind spots and that the camera is capable of seeing a larger area in each shot. It also means you generally will not have to purchase as many security cameras because one camera with a wide field of view can cover a larger area.
App Control
Most home security brands now come with a companion mobile app that will enable you to access, monitor, and control your battery-powered home security cameras remotely. The app control will allow you to program and schedule certain events such as arming and disarming your security system. Apps can also provide you with live streaming capabilities so you can check your home and property at any time. And, if you have pan/tilt/zoom security cameras, you can control them using the app as well. Not to mention the app will provide you with a range of controls that are all on one convenient dashboard.
High Resolution
In a battery-powered security camera, how clearly you are able to see and distinguish people and things on your video recordings is dependent on the number of pixels that camera has. A high resolution on a security camera means it has more pixels than one with a lower resolution. Most security cameras come with either a 720p or 1080p option, with the 1080p or greater cameras having images that are more crisp, clear, and easy to see. This is important because if you aren't able to make out the images on your camera feeds, then your cameras are pretty much useless.
Video Recording
Security cameras use different methods of recording their surveillance videos and video clips. The most popular are the network video recorder (NVR), digital video recorder (DVR), a MicroSD card, and a cloud storage service. The NVR and DVR options are recorded locally on the camera itself, the MicroSD card is stored on an external card as the name suggests, and the cloud storage service stores your videos to a remote server, which is referred to as the cloud, and is accessed using the internet.

There are several types of recording options being either a continuous recording or intermittent recording option. Every brand will have their own selections from which you can choose. And the same goes for how you pay for those services. Any given brand might offer one or both options as part of one of their packages or a limited amount of storage for free. And, a brand might also offer a limited amount of cloud storage for free with larger cloud storage options available for a fee. So if storing your videos is important to you, then look for a brand that has the video recording storage options that best suit your needs.
DIY Installation
Most battery-powered security cameras come as wireless DIY installations because they are, you guessed it, battery-operated, so there are no wires to have to worry about. A DIY installation is when you install the cameras yourself versus having your security cameras professionally installed. Additionally, most brands provide you with live tech support, video tutorials, and step-by-step written instructions to help you with the installation process.
Wireless Connectivity
A battery-powered security camera with wireless connectivity is one that uses a cellular signal to communicate. The cellular signal works by using radio frequencies just like your mobile phone does. The radio frequencies work with your security alarm's sensors throughout your home, and they communicate with the control panel to notify the monitoring center when activity is detected.
Smart Home Integration
Smart home integration is when you take the devices in your home and use smart home technology to integrate them so you can control and manage them all from one convenient source which could be by using a digital voice assistant and/or by using a mobile app. Smart home automation devices can include your home security system, lights, thermostat, battery-operated video surveillance cameras, and more, as long as each smart device is compatible with the other.