A Family and Caregivers Guide to Home Safety for the Disabled
Written By: SafeHome.org Team | Updated: August 15, 2023
Are you middle-aged? If so, you might be a card-carrying member of the sandwich generation. Members of this generation care for their aging parents while also raising children of their own. Both tasks are challenging and become more so if either your parent or child has disabilities. The AARP points out that 53 million U.S. adults, or more than one in every five, provide care to a child or adult with special needs. Caregivers' challenges include handling their own mental and physical health, making financial ends meet, coordinating care, and caring for multiple people with disabilities.
Like most people, you want a safe environment for your family members. It's a foundational desire. But when someone in the family needs help to perform basic tasks such as feeding themselves and bathing, you must deal with a host of new challenges.
Sound familiar? If so, you're in the right place. Our experts created this home safety guide for people with disabilities, their family members, and caregivers. Before we dig in, here's some advice from advocates in the field of caretaking.
From the Experts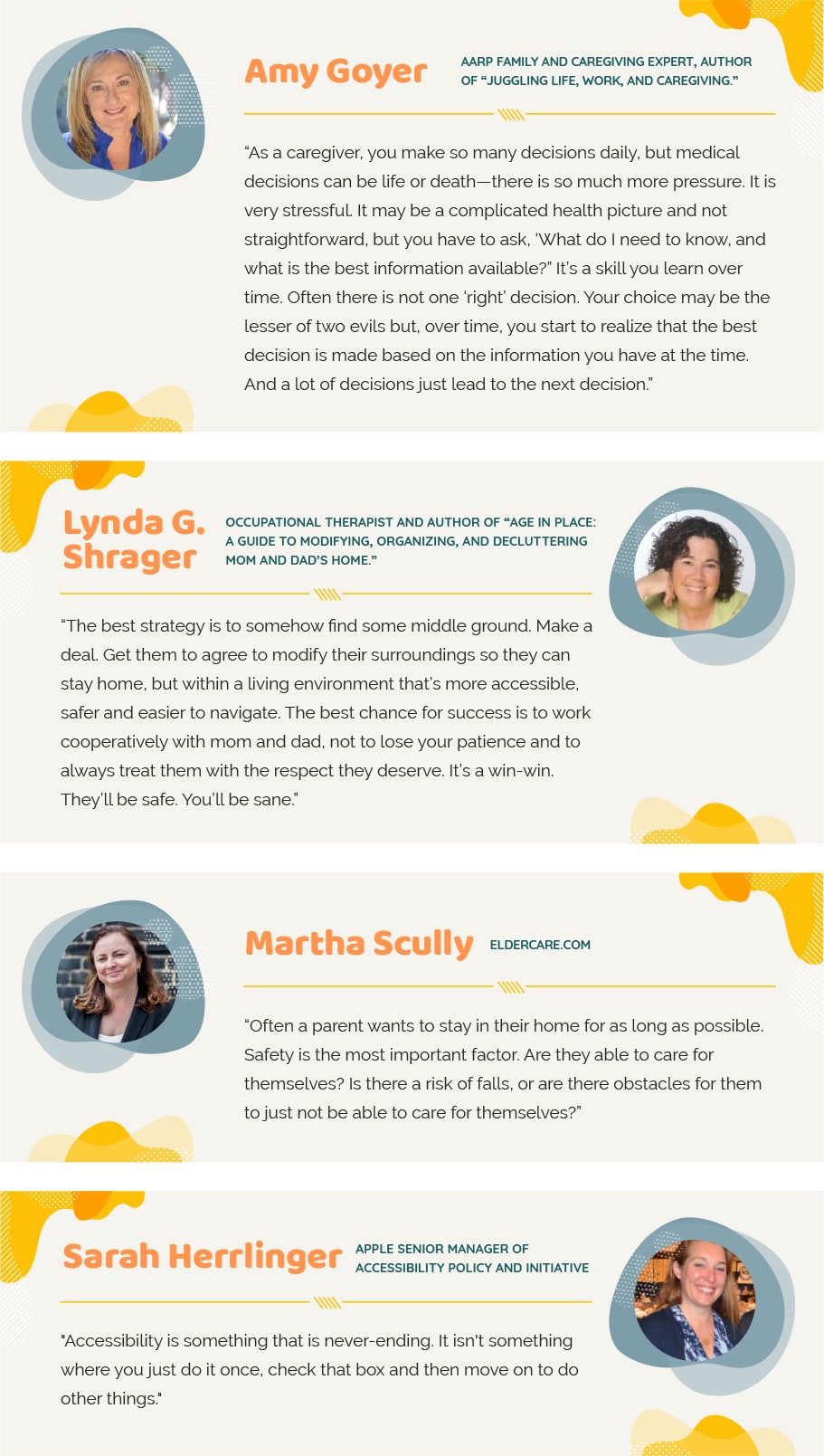 The Safest Place to Care
for Your Adult Relative
If you're caring for minor children with disabilities, then you probably live with them. Adults are a different matter, and your loved one may want to stay in their own home. It's certainly hard for parents to adjust to the role reversal that occurs as they age. Here are some questions to explore when deciding whether you should move them in with you or let them stay where they are.
Modifying Your House
to Be Accessible
Discussing a timeline with your parents allows you to make necessary upgrades to your house. Unfortunately, the AARP HomeFit Guide indicates that just about one percent of the nation's homes offer universal design elements such as one-floor living and step-free entrances.
Home safety evaluations are one way to start getting your home up to par. Usually, an occupational or physical therapist, eldercare specialist, or another professional who works with seniors comes to your home. These folks look for unsafe elements such as low toilet heights, a lack of grab bars, and dim lighting. Ask your parents' medical professional to put in a home assessment referral.
It's always useful to consult guides such as AARP's HomeFit. HomeFit includes quick fixes and a comprehensive detailing of safety issues by room. If you have the means to hire contractors, look for those with experience retrofitting houses to make them accessible. Here are some common topics that might come up.
Equipment That Keeps
Family Members Safe
Partner with technology to keep your loved one safe, comfortable, and as independent as possible. Here are a few ideas to consider investing in.
Threats to
Family Members Who Have Disabilities
What to Do After a
Relative with a Disability Goes Missing
Caretaking for relatives with disabilities is scary. Depending on how mobile they are, they could disappear in only a few seconds. It's natural to feel guilty, but you can't focus on that sense of blame. It's time to spring into action.
Once you know they aren't in the house or near the premises, call 911. Law enforcement agencies have access to resources that you don't, making it more likely your relative gets home safely. There's nothing wrong with also creating your own search party consisting of friends and relatives.
Carrying or Lifting
People with Disabilities
Times may call for you to carry or lift your family member. Lifting is more common, especially when you're transferring loved ones from, for example, the toilet to the wheelchair or from the wheelchair to the bed.
Assisting children is often easier, at least until they become 6-foot-tall teenagers who outweigh you. If you don't know how to properly lift someone's body weight, you're risking injury to yourself and loved ones. Analyze the situation carefully for solutions. Transfer boards between the bed and wheelchair could be one approach. Another could be getting a second person to assist with the lifting. Here are some more tips.
Talk to the family member and tell them what you're doing. Even if they don't understand every word, talk in a gentle tone that conveys you want to help.
Make them part of the process by saying things like, "I'm going to do X, and then I need you to do Y. Is that OK?" Simple instructions they can follow will help them feel less like a burden.
Use the strength in your legs rather than your back.
Bring in a professional when in doubt. Home health aides and nurses should have specific training on how and when to lift patients manually.
Love Matters Most
Many caregivers are honored to care for their loved ones. The feeling is especially profound if it's an adult child caring for a parent. But while physical safety for everyone is a caretaker's number one priority, emotional safety must follow right behind it.
Do what you can to make your relative feel comfortable and appreciated, even needed, regardless of their cognitive abilities. All the accessible entrances and wheelchair ramps in the world won't make a difference if you frequently sigh and act as if you'd rather be anywhere else. We all deserve to feel wanted. At the same time, don't be too hard on yourself. The job is brutal, and caregiving requires your best effort. That means emotional, mental, and physical breaks. Avoid jumping into caregiving without a plan. Incorporate other relatives, friends, and paid professionals so you get some "me" time.
Additional Resources
Caregiver Burnout: The Cleveland Clinic describes the symptoms of caregiver burnout and offers prevention tips.
Lifting Techniques for Home Caregivers: The American Academy of Orthopaedic Surgeons has an overview of various lifting techniques.
What to Do When Elderly Parent Refuses Assisted Living and Caregiving Services: Patience, teamwork, and a shift in perspective are often necessary as parents age and develop disabilities.
Understand Wandering and How to Address It: The Mayo Clinic details the causes of wandering and shares solutions for prevention and safe return.
Fire Safety Outreach Materials for People with Disabilities: These materials from the U.S. Fire Administration include suggestions for communication and exit during a fire.
Disaster Preparedness: Ready.gov is on top of safety during natural disasters for folks who have hearing, sight, mobility, speech, and sensory disabilities, among others.