Travis Goodreau
https://www.safehome.org/security-advisors/travis-goodreau/
Best IFTTT Home Security Systems
Looking to automate your home and security with IFTTT? Check out our list of the best IFTTT compatible home security systems below.

With there being so many new home security and home automation devices hitting the market every day, people are looking for ways to connect their old and new devices together. This eliminates the need to buy a whole new system as often. But how do you go about getting everything to work together if they are different brands? By using the free IFTTT service that's how. This service will allow you to connect more of your devices together, so they can communicate with each other and be controlled from a single dashboard. Here are the best IFTTT home security systems in 2019 according to our testers and researchers.
1. Abode – Best IFTTT Security System Overall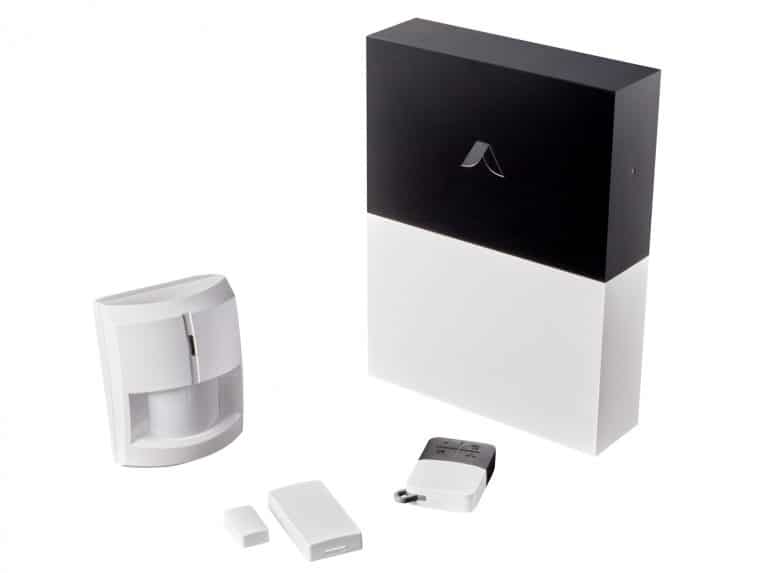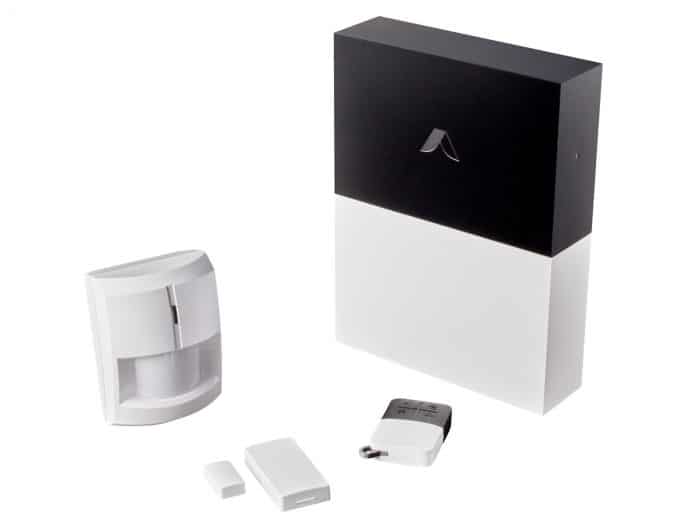 If you are looking for a professional-grade home security system that's easy to install, doesn't require you to sign a contract, and offers a variety of home automation features and options, then Abode might be just what you've been looking for. Continue reading for an Abode overview and some of the Abode pros and cons.
Pros
DIY monitoring with on-demand professional monitoring available
No long-term contracts
Wide variety of home automation options
Compatible with Z-Wave, ZigBee and IFTTT technology
30-day return policy
Compatible with Google Assistant
Cons
No outdoor cameras available but there is an outdoor siren
Several add-ons may be needed for a full coverage system
Abode is a fairly new home security company
Whether you have several different brands and devices or are thinking about buying an entire home security/automation system, you might want to look into the free IFTTT service before making any buying decisions. Using IFTTT could ultimately save you money versus having to buy proprietary equipment all from one brand.
The Abode equipment is rated by most as the top DIY security system on the market and it's affordable. The Abode system is easy to install, you can monitor it yourself, or have it professionally monitored if you so choose. Abode also allows you to customize a system to meet your needs so you never have to pay for something you won't use.
Other features you can expect with Abode is a battery backup, customizable alerts, advanced integration with third-party services, and access to a wide variety of home automation products. All that along with a system that's easy to use and access to knowledgeable customer service representatives.
2. Ring – Best DIY IFTTT Security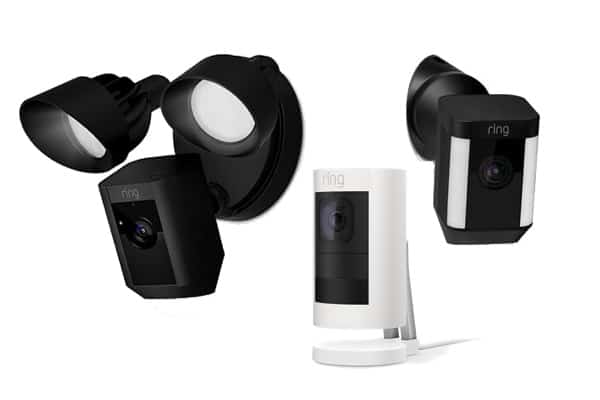 As you know, Ring was the original smart doorbell. They have since added a full line of home security products, as well as a few home automation features. If you want the convenience of connecting as many of your devices as possible, you might consider using the IFTTT service to do so. Ring offers a flexible home security system with lots of accessories and configuration options. So you can take the IFTTT technology and run with it. Continue reading for a Ring overview and some of the Ring pros and cons.
Pros
Dual-powered (wired or battery-operated)
DIY installation
No long-term contracts
No to low-cost monitoring options
Compatible with Alexa and Z-Wave components
Cons
Basic equipment, but you can add more functionality using IFTTT technology
Fewer options included with lower-tier package
Ring is a hardwired or battery-operated Wi-Fi enabled security system. And when using IFTTT technology, you can do so much more with your Ring products by building your own connections. Ring has upwards of 18 different equipment packages from which you can choose that range from $199 to about $850, which makes it a little difficult to decide on which package to buy. However, because of IFTTT, you will be able to give your system a little more functionality that provides you with more ease of use and convenience features than you would otherwise have without it. Ring's other options include video doorbells, which you've undoubtedly heard of. They also have smart lighting, indoor and outdoor stick-up cams, whole-home security systems, and a decent number of accessories as well, including some solar panels.
3. Arlo – Best Outdoor IFTTT Security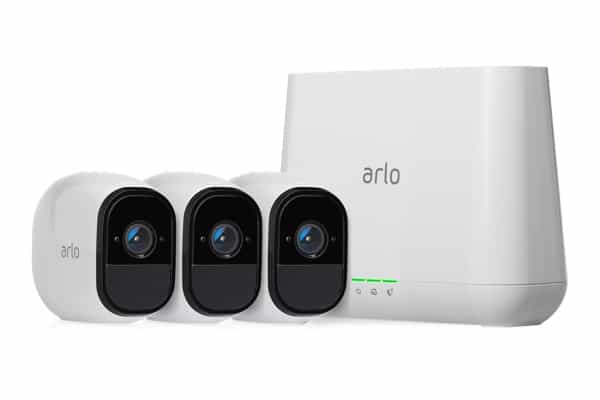 Arlo describes themselves as America's #1 internet-connected brand and that might not be too far from the truth. Arlo offers some of the best home security cameras on the market. They have wired and wireless Wi-Fi indoor and outdoor cameras, a cellular mobile camera, and even a Wi-Fi baby camera along with a multitude of accessories. Continue reading for an Arlo overview and some of the Arlo pros and cons.
Pros
Wired and wireless options
7-days of free cloud storage
Compatible with third-party equipment and IFTTT technology
No long-term contracts
Wide variety of security camera options
Easy to install and use
Cons
Complaints about the 3-5 second recording lag time
Power cable isn't weatherproof
Limited home automation options
The one thing people love about the Arlo cameras is that they can be mounted just about anywhere. However, it's a basic home security system so if you are looking for advanced features, you might want to look elsewhere. Arlo's equipment works well with the free IFTTT service. You can use your home security and automation components along with the IFTTT service to tell your Google Assistant to arm/disarm your Arlo system. You can also use IFTTT for your Arlo notifications, turn on your lights and/or call you when motion is detected, and more.
Arlo offers three subscription plans that range in price from $2.99/mo. to $14.99/mo. They also have what they used to call a Basic plan; however, it's now referred to as a "no-subscription" option which includes 7-days of free cloud storage. Arlo also has a Premium Video Recording option available for $1.99/mo. that allows you to upgrade your video recordings and storage options.
4. Scout Alarm – Best No Contract IFTTT Security System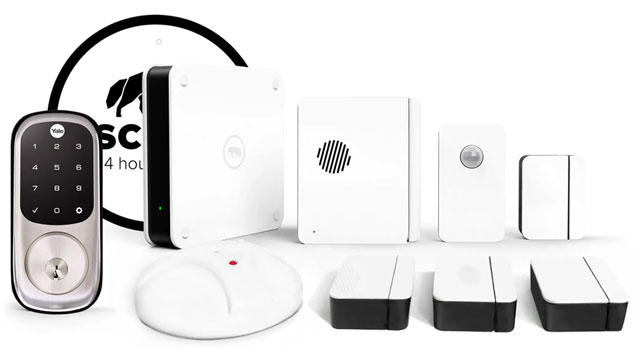 The beauty of Scout Alarm is that it's extremely basic, so if you don't like all the bells and whistles of advanced technology systems or difficult to use components, then Scout might be just what you've been looking for. Scout doesn't require you to sign a contract, and they have some extremely affordable low monthly rates. Continue reading for a Scout Home Security overview and some of the Scout Home Security pros and cons.
Pros
Award-winning monitoring (C.O.P.S.)
60-day return policy
Compatible with IFTTT service for smart home automation devices
100% wireless equipment
Easy DIY installation
0% financing available
No long-term contracts
3-year equipment warranty
Cons
Limited line of products
Up-front equipment expense
Only 12 hours of backup power
Scout manufactures the equipment it sells. That means they cut out the middleman, so they can pass on the savings to you. They use Wi-Fi systems along with a cellular backup feature. Unfortunately, you have to subscribe to a monthly monitoring package if you want to use their equipment. The Scout equipment ranges in price from $2.50 to $129 and their monthly subscription plans range from $9.99/mo. or $107/yr. to $19.99/mo. or $215/yr.
You can use your Scout Security System with IFTTT technology for a variety of functions. For example, you can arm/disarm your system, send for help when your alarm is triggered, close the garage door when the alarm is armed, and more.
What Is IFTTT?
The abbreviation IFTTT stands for "If This, Then That". IFTTT is an internet-based service that uses applets to connect chains of commands. This is a free service that anyone can use. IFTTT allows you to connect your apps to a variety of other devices, so they can all communicate with each other and perform automated actions.
It works like this. When you begin searching for something using IFTTT it begins searching for or creating an "applet," formerly called a recipe. Once the applet is created, it basically creates a chain reaction between one or more of your apps and enables them to communicate with each other or to perform any designated automated actions you want to put in place. For example, you could use IFTTT to automatically alert you of the upcoming forecast or when bad weather is predicted, etc.
IFTTT Recipes & Smart Home Automation
As we mentioned above, IFTTT applets were previously called recipes. IFTTT works with Alexa, Google Home, SmartThings and more. Additionally, IFTTT works with many smart home features, as well as many smartphones. In fact, when using IFTTT with your smartphone, you aren't required to use a virtual assistant.
What can you do when your devices all communicate using IFTTT? You can tell Alexa to lock all your Z-Wave doors at a specific time, if the equipment you have is all compatible with both Alexa and IFTTT. You can use it to have your porch light turned on when you are expecting a visitor at a certain time. You can connect your home security and home automation equipment, again, if you have compatible equipment. And really, endless other combinations for just about anything you want to do as long as all the equipment is compatible.
Here is a small sampling of the equipment that works with IFTTT.  Alexa, Google Assistant, SmartThings, Spotify, TiVo, YouTube, Vimeo, Nest thermostat, Nest cam, and Nest Protect, Ecobee, Honeywell, Arlo, Abode, Ring, iRobot, GE appliances, LG washers and dryers, and many more.
Features of IFTTT Home Security Systems
Wireless Connectivity
Wireless systems don't require any drilling, cutting into walls, wiring, or any electrical work of any kind, so they are extremely easy to install. Wireless connectivity means a home security system communicates using a Wi-Fi signal or a cellular signal. And sometimes a home security system will offer Wi-Fi communication with a cellular backup or just use a cellular signal exclusively. Many wireless devices can be connected to other home security/automation equipment using IFTTT technology.
Cellular Monitoring
Cellular monitoring is what most brands use as their form of connectivity for all their devices. Cellular monitoring is the line of communication from a cellular chip in a home's security Control Panel to a monitoring center. The system will send a wireless signal through an encrypted transmission to the monitoring center that will, in turn, respond to the alarm accordingly. Cellular monitoring is the same type of communication that's used with cellular phones.
Mobile Alerts
Mobile alerts are sent using a mobile app. When an alarm is set off or activity is detected at your home or property, you and/or the monitoring center will be sent a mobile alert or text so you can respond accordingly. This will help you proactively deal with any situation so it can be handled, in many cases, before it has the chance to become a problem.
Remote Access
Most brands these days use a mobile app to give a user remote access to their home security and home automation systems. Once the mobile app is downloaded and the systems are all set up and connected, a user can access, monitor, and control their home's functions from a single mobile app dashboard.
Light Controls
One of the most popular smart home features is light controls. If you have a home automation system the smart lighting control feature will enable you to control your lights remotely using the companion mobile app or by connecting them with your other devices using IFTTT technology. With light controls, you can turn your lights on and off or set them to turn on and off automatically on a schedule using the IFTTT service or other similar controls.
Motion Detectors
Motion detectors use infrared sensors to detect motion within their pre-designated range. That sensor will then send you an alert or send the monitoring center an alarm that activity has been detected so it can be investigated and responded to appropriately. Some motion detectors can distinguish the different heat signatures between pets and people, which helps reduce the number of false alarms. And some motion detectors even come with facial recognition technology. Your motion detectors can be networked with your other devices using IFTTT technology, as long as they are all compatible with each other.
Security Cameras
Security cameras are included with almost all home security systems and many of them are compatible with IFTTT technology, so they can be added to and controlled using an existing home security network. Security cameras come in a wide variety of styles with varying functionality. Everything from a basic video camera to a security camera that uses artificial intelligence to enable that camera to access advanced features and functions. There are indoor and outdoor cameras and cameras that are either wired or wireless. Many security cameras also come with sirens, a two-way talk feature, tamper detection, night vision, and many of them can store video recordings locally on the camera itself, or send those video recordings to a cloud storage service.
Smart Locks
Smart locks work in conjunction with a home automation system. When you have smart locks installed, you will be able to lock and unlock your doors hands-free and even remotely in many cases. And, some smart locks can be scheduled to all be locked or unlocked on a schedule. This can easily be done using compatible IFTTT technology.
Home Automation
Many home automation systems use the free IFTTT service to develop a larger network of devices of different brands that each have their own apps. IFTTT can connect any compatible devices, so they can all communicate and work together for greater controls and conveniences. Home automation features include smart lighting controls, locks, thermostats, and other smart home devices that can all be controlled using a mobile app or voice-controlled device