Travis Goodreau
https://www.safehome.org/security-advisors/travis-goodreau/
Best No Contract Home Security Systems
Long-term contracts can be a long-term pain. That's why top-ranked companies now offer no-contract home security systems with round-the-clock monitoring. See our favorite month-to-month plans below.

1. SimpliSafe – Best Overall No Contract (Editors Choice)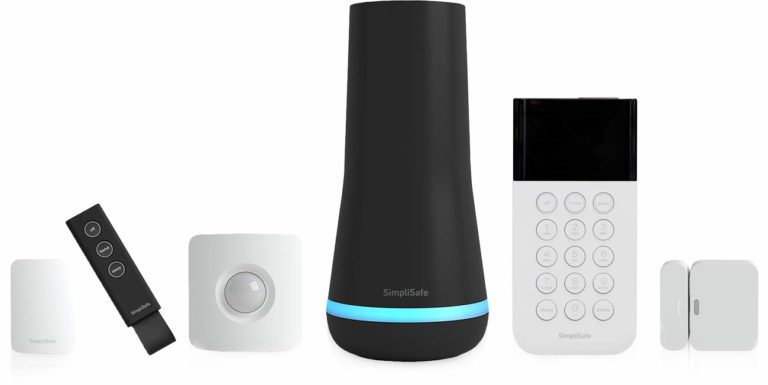 SimpliSafe is an excellent choice for those looking for a no contract home security option. The company's products are diverse and include a wide range of features. It works well for homeowners as well as renters. Because there is no contract required, you have a lot of flexibility in how to create a home security system that works for your needs specifically.
Pros
No contract requirement
Low monthly rates
Cellular alerts
Award-winning monitoring
60-day trial
Wireless options
Environmental disaster services
Cons
The equipment is proprietary with some limitations
Must pay upfront for equipment
SimpliSafe is designed not to require a contract from the consumer. While there are no contracts required here, there are some upfront expenses associated with the equipment you need. However, the company's products are designed to be highly user-friendly and are typically well worth the investment. The company is perhaps best known as a DIY home security system because all of its products are wireless, making installation rather easy.
The company has been around for over 10 years. They grew over time and are now one of the most recognizable companies available. Many people choose SimpliSafe because of the low costs initially, however it can be a highly competitive product for all needs, even those seeking some of the best home security equipment available.
One of the key differentiating factors about SimpliSafe is that it makes and sells its equipment. It does not offer the same types of integration with the other products out there. This allows for the lower cost, though. And, the equipment that is available, which ranges from motion detectors to glass break sensors – some of the most advanced products available, is quite versatile. You will also find indoor and outdoor cabinets, alarms, panic buttons, and, of course, the base stations and entry sensors most home security systems are built on.
When it comes to choosing the SimpliSafe product, there are several options to choose from including two main plans, the Standard and the Interactive. The standard plan starts at $229.96 for the upfront equipment costs. Then, there is an ongoing monthly cost of $14.99. This includes 24-hour monitoring service. You can also upgrade this so the interactive plan at the same upfront cost but with a monthly charge of $24.99. That comes with 24-hour monitoring as well as SMS, Email, and remote alerts and features.
What gets consumers the flexibility they want, though, is in the various packages you can choose from. You can choose from the basic level package, called the Foundation, for $229.96. From there, you can add on to it with other features as well as more sensors. The highest end package is $509.86. It's important to choose what works for your home.
When it comes to the best no-contract home security system, SimpliSafe is an excellent choice because it offers a low monthly price and a wide range of customization features. You really remain in control over what package is right for your needs and your budget.

Want the highest-rated no-contract system?
SimpliSafe offers simple and effective home security on month-to-month plans. Customers enjoy affordable, DIY protection with award-winning monitoring. And there are zero contracts to sign!
2. Abode – Easiest Installation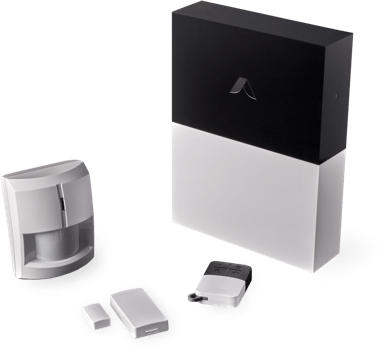 Abode is a newer company in terms of the home security systems it offers. For some people, this is the go-to option they need for their home and, it offers some nice features that make it well worth taking a closer look at if you are buying home security for your home. It is a no contract system. It is also a DIY option, which keeps installation costs out of the picture. The company also allows you to customize its features and your equipment choices.
Pros
No contract requirement
Competitive pricing
DIY installation
Flexible monitoring options
Flexible setup
Cons
It has an activation fee
Some consumers will not find features from other providers here
Abode is a bit different than other home security systems in that it is still a new company. It is a DIY system and offers some nice features related to home automation integration. It works with all of your favorite home security equipment providers and features a pretty easy to use app to control just about anything. You can get professional monitoring, but you do not have to do so if it does not fit your goals.
The company's products are available in three different tier levels. The Basic level is free and has an equipment cost of $229. It comes with a gateway, motion sensor, mini door contact, a remote key fob, and a sticker. There is no cell backup with this plan and no activation fee.
You can then upgrade to the Connect, which is $10 a month and has an equipment fee of $249. It adds a discount of up to 50 percent on an add-on keypad if you choose to install it. It also features a cell backup solution. The Connect + Secure system is $30 a month and $319 in upfront equipment purchases. This includes the professional monitoring service along with the same features as the Connect system.
The company's app is one of its good features. It has an easy-to-use style that makes managing your home security system rather easy to do. It is a system built on home automation, so you are sure to find it to be a go top option for those who want to link their Alexia, Google Home, Nest, or other items to their home security system. In fact, it uses Z-Wave technology, which means you can have far more flexibility than you thought possible. It allows for the connectivity of up to 155 smart devices including home lights, thermostats, and smart lights.
The company's costs are a bit higher than other products, but it is still one of the best options overall for those seeking a competitive product that does not have a long-term contract requirement. It does have good customer service and support to you as you setup your system. Keep in mind that Adobe home security systems are also continuously being updated and, with the ability to connect any other Z-Wave device, it is very customizable for just about any need.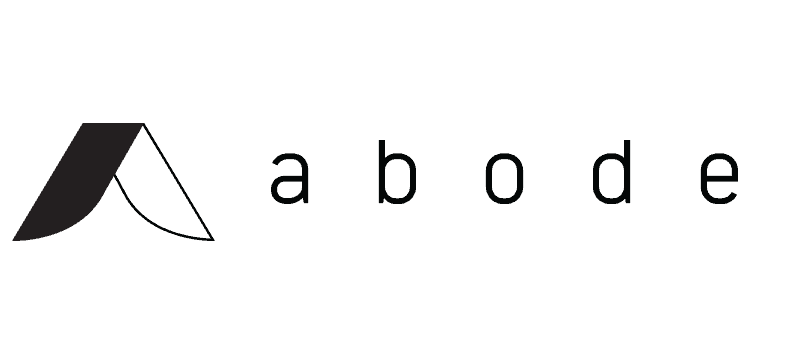 Ready for easy DIY installation?
Abode is a DIY home security and automation system, with a no-contract twist. That's right -- enjoy ultra-easy installation and loads of smart features without signing your life away!
3. Scout Alarm – Most Affordable Equipment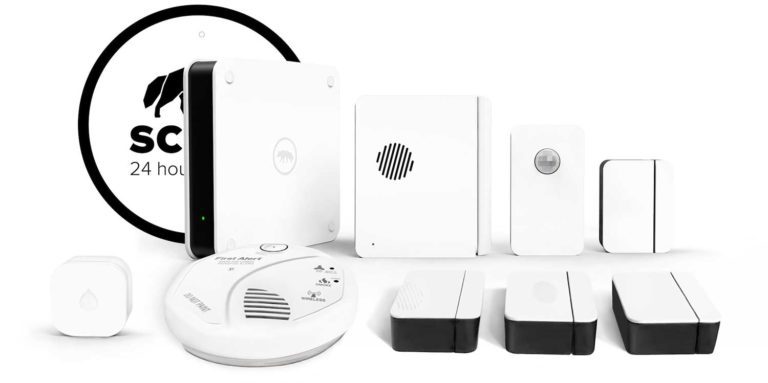 Scout Alarm has some key features that make it worth taking a closer look at for most homeowners. It is easy to set up and a reliable solution. This is a lower costing solution, and it has a 60-day return policy if you are not happy. And, as noted, it does not have a long-term contract requirement, which makes it the ideal choice for many property owners. It is a DIY option.
Pros
No monthly contract
DIY installation is possible
Mobile control
Wireless equipment provided
Numerous customization options
60-day return policy
Cons
There are upfront equipment costs
The company is newer, and some products may be harder to obtain
As a newer company, Scout Alarm is not as well-known as the other options out there. However, it is a no-contract company with a lot of features to offer to you. Founded in 2013, Scout Alarm is a modern home security system set up to be very easy to use and affordable. It also uses a household Wi-Fi with cell backup model.
The Scout Alarm system is a competitive product. Some consumers may find that this company's product line up is also very flexible, which means you can better control the costs associated with it. Users will purchase the features they want and pay for their customized package. For example, a Hub costs $129. You can add a door panel for $69, a Key Fob for $5, an Access Sensor for $29, and a Motion Sensor for $49, for example. You pick and choose what works best for your needs.
There is no long-term contract here. Rather, when you purchase the necessary equipment, you can then by a monthly plan. As long as you make your payment, the system will continue to work for you. The company offers two options. If you want to use a self-monitoring plan, then your monthly cost is $9.99. On the other hand, you can get professional monitoring service as well. This costs $19.99 per month.
You are paying out of pocket for your Scout Alarm equipment, but this does offer a few key advantages. For example, the system is very much customizable to fit your needs – choose for and pay for what is right for your goals. Second, the equipment is good quality with many consumers reporting it is an excellent choice for its ease of use and reliability.
Scout Alarm does not offer all of the products out there and does not integrate with other systems. However, it offers controls and sensors for most needs. The company is still new, and some users are reporting that the service is good. Overall, the system is not hard to set up and is highly reliable for routine use. You can count on it to be one of your go-to options if you want to be in charge of your equipment purchases and you want quality support. Scout Alarm should be on your list of no contract home security companies.
Comparing No-Contract Security Systems
Why do some companies require long-term security contracts? How can others operate contract-free? The following information can help you understand different options.
About Security Pricing
Home security ads emphasize monthly monitoring fees. Do other expenses apply? Sometimes. Home security companies earn profits in different ways. Some charge for installation and/or activation, for example. Most important though is how equipment gets paid for. When companies have long-term contracts, they can build equipment expenses into monthly monitoring fees. (These companies advertise free or cheap equipment, but in truth, the equipment costs are subsidized with the revenue from long-term monitoring.) For comparison, when companies have month-to-month monitoring plans they might charge more up-front for the use of security equipment.
No-Contract Security Benefits
The most obvious benefit of security monitoring without long-term contracts is flexibility. If you aren't pleased with your security plan, or if your needs change, you can terminate service without having financial obligations. This includes avoiding the "small print" risks of some long-term contracts, which can allow for periodic rate hikes and automatic renewals. Another big benefit is ownership of the security equipment. With long-term security companies, a customer might not own any of the equipment until their monitoring contract is up… but with certain month-to-month plans, customers keep the equipment. The alarm system can keep functioning too, albeit without professional monitoring.
Features of the Best No-Contract Home Security Systems
No-contract home security plans share many features with long-term plans.
Here are some basics to help you choose the best setup.
Wireless Equipment
We get it. Hardwired systems require drilling, wiring, and splicing circuitry. This is too much commitment for most people. That's why the best no-contract, month-to-month home security systems are 100% wireless units. Many systems with wireless equipment can be setup in mere minutes, with no tools and no fuss. Go with wireless, you won't be sorry.
DIY
Another attractive feature with no-contract security systems is easy DIY setup. The best companies pre-program the equipment before it arrives at your door. This means plug-and-play setup without having to troubleshoot the system on your own. Phew! Do-it-yourself setup is now easier than ever. You'll be up and running with home protection in no time at all.
Cellular Monitoring
No-contract home security and cellular monitoring go hand-in-hand. Wireless systems use cellular monitoring, opposed to landline or Wifi hookup, to connect to emergency operators at the monitoring station. Cellular monitoring is powered by cell towers, and it's typically more reliable and secure than other options. Just be sure you live in an area with a cellular signal, and you're as good as gold.
Remote Access
Remote Access is another popular feature. It's the 21st century after all, and people demand immediate mobile access to everything. Why should home security be any different? Remote Access allows you to open your companion app anytime, anywhere, to monitor and control your month-to-month home security system. With Remote Access, home protection is always close at hand.
Entryway Sensors
Secure the perimeter with Entryway Sensors. This feature comes standard with every no-contract security system. Simply mount these magnetic sensors to door frames and windows. When a security breach occurs, the magnets separate, and the alarm sounds and alerts are sent. These easy-install sensors can typically be put into place with removable adhesive.
Motion Detectors
Shore up your defense with Motion Detectors. This feature also comes with most no-contract home security systems. Leveraging infrared motion sensors, the devices pick up movement inside your home. Upon detection, the motion detectors trigger the alarm and alerts. While these detectors are useful anywhere in the home, they become especially helpful in monitoring rooms with high-value items like art and jewelry.
Special Features
Who doesn't love special features? Most no-contract security systems come with a control panel, entryway sensors, a base station, and a motion detector. These are 'special' in their own right. But users can add-on neat features like glass break sensors, panic buttons, smart smoke alarms, keyring remote controls, and more. Go on, upgrade your home security system to your heart's content.
Special Alert Zones
Keep a hawk-eye on certain areas of your home with Special Alert Zones. This feature comes with the best no-contract, month-to-month security plans. Keep your kids away from the liquor cabinet, thieves away from your gun locker, and keep a close eye on Mona Lisa in the foyer. Special alert zones offer increased security where it matters most.
Ownership
Another key feature to look for is outright ownership of the security equipment. Many no-contract systems give immediate ownership to the user. Of course, the units often still function just fine if and when the month-to-month monitoring plan is canceled. The best part about receiving ownership of the system is that the equipment moves with you, wherever you go.