Travis Goodreau
https://www.safehome.org/security-advisors/travis-goodreau/
Best No Contract Home Security Systems
Long-term contracts can be a long-term pain. That's why top-ranked companies now offer no-contract home security systems with round-the-clock monitoring. See our favorite month-to-month plans below.

1. SimpliSafe – Best Overall No-Contract System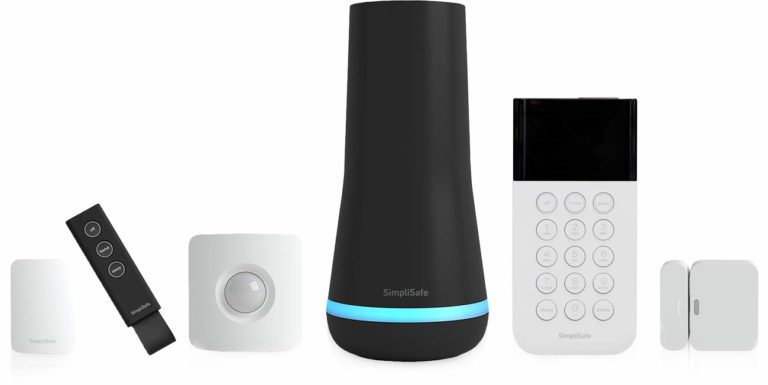 SimpliSafe isn't just our favorite no-contract home security system; it's our favorite overall home security system. Why? It's affordable, effective and … well … simple. We spent more than 100 hours testing it, and it's refreshingly easy to install and use, has all the essential features, and includes strong customer service — for a price that won't crush your budget.
Pros
No Contracts
Affordable Monthly Rates
Quick and Easy DIY
Installation
Wireless Equipment
Attractive Equipment Design
Smartphone Controls
Cellular Alerts (Wi-Fi Not Required)
60-Day Trial
Award-Winning Company
Cons
Up-front Equipment Expenses
Proprietary
Equipment
Limited Smart Home Integration
No Outdoor Cameras
SimpliSafe has a 60-day money-back guarantee. When you add that to the no-contract freedom, you've got a system that's well worth trying out. In our in-home trial, SimpliSafe had the fastest and easiest setup of all the security systems we've tested. And up-front costs for the hardware were substantially lower than comparable systems from other companies. For the SimpliSafe Essentials kit and a few extras, we paid only $301.56. Most home security companies would charge $500-$1,000 for a similar package.
The hardware itself has a cool, modern design. The base station is a sleek tabletop tower that glows a soft blue, like a sophisticated smart lamp. The software, however, isn't going to wow you with sophistication. We found the SimpliSafe keypad interface to be a lot like texting on a cell phone circa 2001. A move toward touchscreen technology would be a definite improvement in the future. SimpliSafe does, though, have the technology to integrate with Alexa and Google Home for easy voice control, which we appreciate.
SimpliSafe equipment packages range from $183-$391. Or make your own package by starting with the base station and keypad ($184.98) and adding on entry sensors ($14.99 each), motion sensors ($29.99 each), and other sensors. You can also get a panic button for $19.99 and a SimpliCam for $99. The company has been known to throw in a free SimpliCam with the purchase of any new SimpliSafe system.
SimpliSafe has two monitoring plans to choose from:
Standard for $9.99 per month: self-monitoring with recording for up to five cameras
Interactive for $24.99 per month: professional monitoring with recording for up to 10 cameras
When we tested out the system, we went with the latter, and we recommend you do, too. It's one of the more affordable monitoring plans we've seen, and it comes with 24/7 professional monitoring, priority dispatch, and a user-friendly mobile app. We found ourselves using the app to manage our system about 75% of the time, so we would not recommend going without it.
To read about our full experience with SimpliSafe, check out our hands-on SimpliSafe review.

Want the highest-rated no-contract system?
SimpliSafe offers exceptional home security at low prices. Install their wireless system yourself in minutes, with no tools or drilling. They have award-winning 24/7 monitoring and an app that makes it easy to control your system.
#2 Frontpoint — Custom Features Pick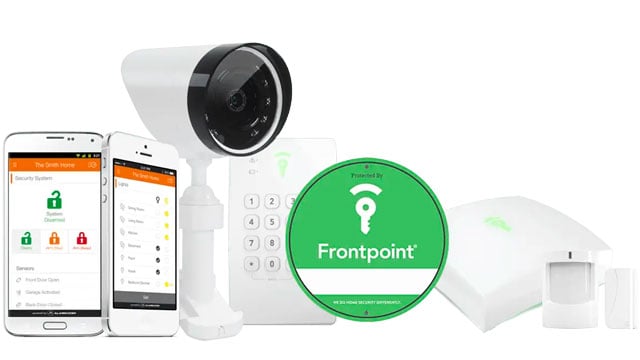 Frontpoint earns our #2 slot with its custom features, slick app, and high-quality GE equipment. After more than 70 hours testing Frontpoint in our home, we can safely say that the higher price for equipment and monitoring is worth it if you want a system that's smart home-compatible and super customizable. And don't forget that there's no long-term contract to stress about!
Pros
Quick and Easy DIY Installation
Wireless Equipment
Indoor & Outdoor Cameras
High-Quality GE Equipment
Excellent App Experience
LTE Cellular Monitoring
30-Day Money-Back Guarantee
Geo-Fencing Feature
Home Automation
Cons
Somewhat Expensive Monitoring
Outsourced Monitoring Service
Limited Keypad Functionality
Touchscreen Panel Sold Separately
Limited Service Hours
Frontpoint's hub design is sleek and modern, with an iridescent sheen. It uses a dual-path connection, which means it'll connect to your cellular service first, and if the cell service is down, it'll automatically connect to your Wi-Fi. This is the best connection type you can get.
Frontpoint equipment packages range from $319.95-$599.88. Or, create your own package by starting with a hub and keypad for $249.98 and adding on sensors and other accessories. Their door/window sensors run $19.99 each, motion sensors are $29.99, and panic pendants are $19.99.
Frontpoint has two monitoring plans to choose from:
Interactive for $44.99 per month: intrusion + environmental monitoring
Ultimate for $49.99 per month: intrusion + environmental monitoring + video + home automation
Plus, Frontpoint has some advanced features that are worth talking about. For instance, it lets you customize "scenes." There are four preset scenes built in: Home, Away, Sleep, and Wake Up. But you can also create your own customized scenes. When we tested the system in our home, we made a nighttime routine scene that armed our system silently and forced bypass of our bedroom sensor (so we could leave the window open) — with the simple tap of a button. Many other home security systems require each step to be done manually in the app, so this was a huge time saver.
Frontpoint also lets you customize the instant notifications you receive. Like other brands, Frontpoint sends its notifications via email, SMS text message, or push notification. But they won't just notify you if an alarm is triggered. They'll let you know about any event you set as a trigger. When we tried out the system at home, we were very happy to get a "Left Open" alert one morning when we'd forgotten to shut one of our doors. The alert arrived just in time to fix the problem before leaving the house for the day.
And we wouldn't be doing the Frontpoint system justice if we didn't mention its geo-fencing feature. Frontpoint uses your smartphone's GPS to put a virtual "fence" around your home. When you leave the area without arming the system, you'll receive a notification reminding you that your home isn't secure. This feature alone may bring you a lot of peace of mind. To read about our full experience using Frontpoint Security, have a look at our in-depth Frontpoint review.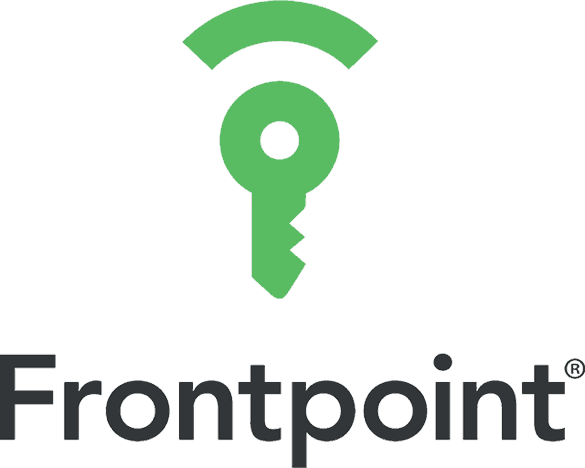 Want the Most Custom Features?
Frontpoint offers DIY home security with no contracts, lots of custom features, and advanced home automations. You'll enjoy a robust app and innovative features like geo-fencing and custom "scenes."
3. Abode – Top Innovative Hub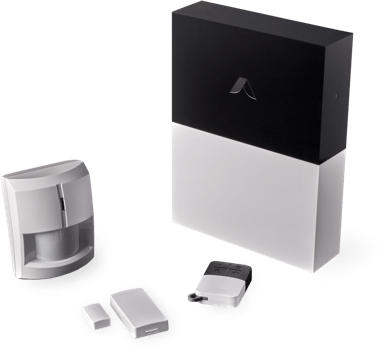 We put abode through nearly 75 hours of rigorous hands-on testing and were wowed by its innovative hub with built-in camera, its super-small sensors, and its home-automation abilities.
Pros
Easy DIY Installation
Wireless Equipment
A Hub With Built-In HD Camera
Sleek, Modern Equipment
Smartphone Controls
Custom Alerts and Notifications
CUE Home Automation Platform
Cellular Monitoring Option
Cons
Setup Isn't Very Intuitive
Limited Equipment in Starter Kit
No Touchscreen Panels
Customer Service Could Be Improved
Looking for an affordable security system with innovative equipment? abode has a sleek, modern look in classic black-and-white. It's got the smallest entry sensors we've ever seen. And the iota Gateway hub has a built-in HD camera. Most impressive, however, is abode's CUE — a native home automation platform that turns your security system into a wireless home wizard.
CUE not only integrates with Alexa and Google Assistant, like many other home security hubs, it also integrates with your smart lights, your garage door sensor, and even your Bose speakers. (Yes, you can set unique chimes, crank up the volume of your siren, and more.)
You can also use CUE to create custom automations, like arming your home 15 minutes after sunset. Not only can it set up a geo-fence like Frontpoint does, but it can automatically close your garage door when you leave the geo-fence boundary. Pretty neat. Oh, and all this with no stressful contracts to deal with!
With abode, equipment starter kits range from $229-$329, which is affordable compared to industry standards. Additional door/window sensors are $32 each, motion sensors are $55 each, and panic buttons are $35. You can also choose from lots of other optional accessories.
abode has two monitoring plans to choose from:
Standard for $6.00 per month: self-monitoring and home automation
Pro for $19.99 per month: professional monitoring, cellular backup, and more
Read our latest abode review to find out if this is the right system to protect your home.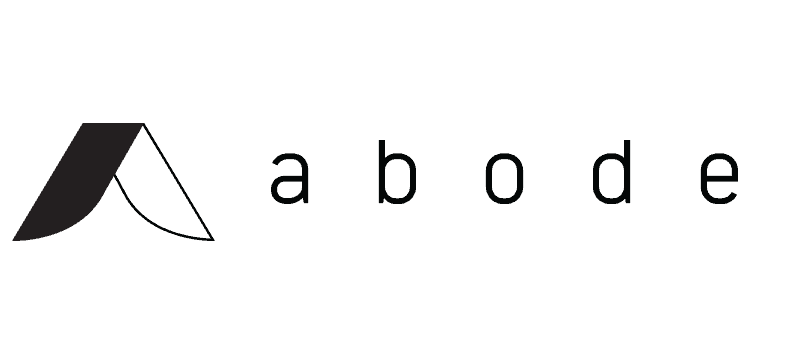 Ready for easy DIY installation?
Abode is a DIY home security and automation system, with a no-contract twist. That's right -- enjoy ultra-easy installation and loads of smart features without signing your life away!
4. Scout Alarm – Most Affordable Equipment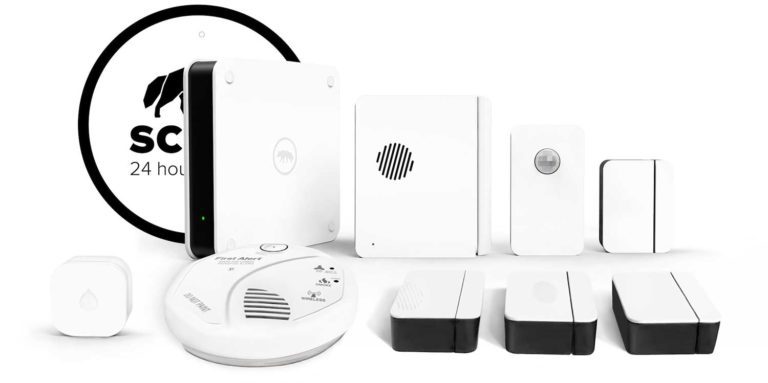 Founded in 2013, Scout is the newest company on this list, but that doesn't mean they have less to offer. Scout's goal was to create a home security system that's smart, simple, and affordable. And to that end, they've included equipment and features to rival the best.
Pros
Competitive Pricing
DIY Installation
Wireless Equipment
Sleek, Modern Equipment Design
4G Cellular and Battery Backups
Smart Home Integrations
Customizable Notifications
60-Day Return Policy and 3-Year Product Warranty
Cons
Newer Company With Fewer Reviews
Up-front Equipment Expenses
Average App Rating of 3-3.5 Stars
Scout offers a curated home security experience. You can build your own security system by selecting exactly what you need from their array of artfully designed equipment. Just add their $120 hub to your cart in your choice of white (arctic) or black (midnight). Then add on the sensors you need — door for $50, access/window for $20, or motion detection for $30. You can also include a keypad for $50, a 1080p indoor camera for $99, or a video doorbell for $99.
Scout has two monitoring plans to choose from:
Always On (aka self-monitoring) for $9.99 per month: 4G LTE cellular backup, a mobile app, and text, email, and push notifications.
Always On+ for $19.99 per month: all the same benefits as Always On, plus 24/7 professional monitoring and free cloud storage for your first camera or doorbell.
You get several smart home integrations with Scout — notably Alexa and Google Assistant. They continue to add more integrations over time.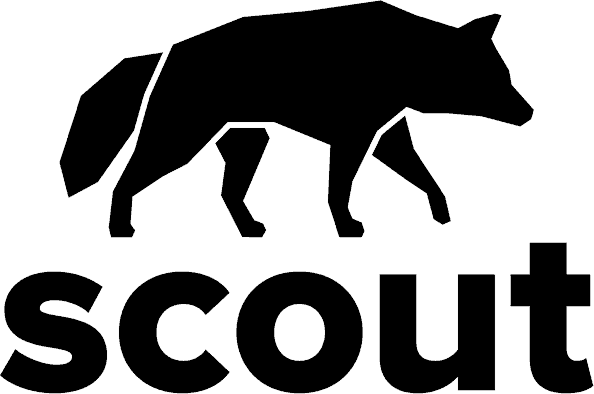 Build Your Own System
Scout's goal is to make home security smart, simple, and affordable. They offer a curated home security experience where you build your own system from their selection of stylish, affordable equipment.
Comparing No-Contract Security Systems
Why do some companies require long-term security contracts? How can others operate contract-free? We'll help you understand your different options.
About Security Pricing
Home security ads emphasize monthly monitoring fees. Do other expenses apply? Sometimes. Some charge for professional installation and/or activation. When companies have long-term contracts, they can build equipment expenses into monthly monitoring fees. (These companies advertise free or cheap equipment, but in truth, the equipment costs are subsidized with the revenue from long-term monitoring.) For comparison, when companies have month-to-month monitoring plans, they might charge more upfront for the use of security equipment.
No-Contract Security Benefits
The most obvious benefit of security monitoring without long-term contracts is flexibility. If you aren't pleased with your security plan, or if your needs change, you can terminate service without having financial obligations. This includes avoiding the "small print" risks of some long-term contracts, which can allow for periodic rate hikes and automatic renewals.
Another big benefit is ownership of the security equipment. With long-term security companies, a customer might not own any of the equipment until their monitoring contract is up … but with certain month-to-month plans, customers keep the equipment. The alarm system can keep functioning too, albeit without professional monitoring.
How to Cancel a Home Security Contract
When signing up for their service, traditional home security companies usually require you to sign at least a three-year contract. Though they're certainly not our favorite step in the home security journey, they've become a sort of necessary inconvenience for certain systems.
There are exceptions, though. We've been seeing a huge jump in demand for no-contract systems from the likes of SimpliSafe, Cove, Ring, Frontpoint, and other DIY security systems. These have become a huge pull for modern homeowners and renters alike, namely for their convenience and mobility.
With those companies, you're not going to get much haranguing about contracts beyond the monthly alarm fee. Of course, experiences are always going to vary; if you're dealing with a major alarm provider like ADT, we suggest thoroughly reading their cancellation policy before signing up for any service.
Alternately, if you signed up with a third-party contractor or independent retailer, you'll find that most installers will routinely switch out systems for users who, for one reason or another, want to change providers rather than cancel altogether.
The bottom line, in any case, is that most companies we've tested and reviewed are willing to be flexible if you want to cancel your home security contract. You just have to ask!
Features of the Best No-Contract Home Security Systems
No-contract home security plans share many features with long-term plans.
Here are some basics to help you choose the best setup.
Wireless Equipment
We get it. Hardwired systems require drilling, wiring, and splicing circuitry. This is too much commitment for most people. That's why the best no-contract, month-to-month home security systems are 100% wireless units. Many systems with wireless equipment can be set up in mere minutes, with no tools and no fuss. Go with wireless, you won't be sorry.
DIY
Another attractive feature with no-contract security systems is easy DIY setup. The best companies pre-program the equipment before it arrives at your door. This means plug-and-play setup without having to troubleshoot the system on your own. Phew! Do-it-yourself setup is now easier than ever. You'll be up and running with home protection in no time at all.
Cellular Monitoring
No-contract home security and cellular monitoring go hand-in-hand. Wireless systems use cellular monitoring, as opposed to landline or Wifi hookup, to connect to emergency operators at the monitoring station. Cellular monitoring is powered by cell towers, and it's typically more reliable and secure than other options. Just be sure you live in an area with a cellular signal, and you're as good as gold.
Remote Access
Remote Access is another popular feature. It's the 21st century after all, and people demand immediate mobile access to everything. Why should home security be any different? Remote Access allows you to open your companion app anytime, anywhere, to monitor and control your month-to-month home security system. With Remote Access, home protection is always close at hand.
Entryway Sensors
Secure the perimeter with Entryway Sensors. This feature comes standard with every no-contract security system. Simply mount these magnetic sensors to door frames and windows. When a security breach occurs, the magnets separate, and the alarm sounds and alerts are sent. These easy-install sensors can typically be put into place with removable adhesive.
Motion Detectors
Shore up your defense with Motion Detectors. This feature also comes with most no-contract home security systems. Leveraging infrared motion sensors, the devices pick up movement inside your home. Upon detection, the motion detectors trigger the alarm and alerts. While these detectors are useful anywhere in the home, they become especially helpful in monitoring rooms with high-value items like art and jewelry.
Special Features
Who doesn't love special features? Most no-contract security systems come with a control panel, entryway sensors, a base station, and a motion detector. These are 'special' in their own right. But users can add-on neat features like glass break sensors, panic buttons, smart smoke alarms, keyring remote controls, and more. Go on, upgrade your home security system to your heart's content.
Special Alert Zones
Keep a hawk-eye on certain areas of your home with Special Alert Zones. This feature comes with the best no-contract, month-to-month security plans. Keep your kids away from the liquor cabinet, thieves away from your gun locker, and keep a close eye on Mona Lisa in the foyer. Special alert zones offer increased security where it matters most.
Ownership
Another key feature to look for is outright ownership of the security equipment. Many no-contract systems give immediate ownership to the user. Of course, the units often still function just fine if and when the month-to-month monitoring plan is canceled. The best part about receiving ownership of the system is that the equipment moves with you, wherever you go.