Travis Goodreau
https://www.safehome.org/security-advisors/travis-goodreau/
Best Home Security Systems with Doorbell Cameras
It's time to chime. Doorbell cameras are a key component of any modern home security system. They act as your first line of defense and can stop an intruder in their tracks. See the best security systems that include a doorbell video camera.

Video doorbells have become more and more popular over the years and are now seen as more of a necessity than a luxury. Video doorbells are your first line of defense when it comes to protecting your family and can (in most cases) be remotely accessed, monitored, and controlled from your mobile device. It really doesn't get any better than that! So if you're looking for the best security systems with doorbell cameras in 2021, keep reading to learn more.
1. ADT

Searching for a powerful doorbell cam?
This long-standing company brings us the Pulse Doorbell Camera -- complete with HD image quality, live mobile streaming, and easy DIY installation. Stop porch pirates in their tracks with Pulse!
ADT is one of the most widely recognized home security companies in the country mainly because of their 140-year history in the industry. ADT has home security, home automation, and video doorbell cameras within their line of products. Additionally, they have call centers all over the country. So if the power goes out at one call center another call center will immediately take over so you're never without service.
ADT uses the Ring video doorbell camera (with ADT Pulse only) which provides clear HD images, two-way audio, night vision, is motion activated, and it allows you to remotely control your door locks and lights as well. They also have a Chime option so you can receive notifications in any room of your home, even if your phone isn't with you. You just plug in your Chimes to any of your home's power outlets and they will wirelessly connect to your Ring devices. Here is a quick summary of the ADT pros and cons.
Pros
Ring Video Doorbell Available (works even if you don't have an existing doorbell)
24/7 Professional Monitoring
Professional Installation
Six Redundant Monitoring Centers
Cellular Connection
6-Month Money-Back Guarantee
Medical Alert Option Available
Interactive Security System
Free Shipping, Free Returns
24-Hour Battery Backup
System Diagnostic Checks (continuous)
Home Automation
Customizable Plans
Environmental Disaster Protection
Cons
Long-Term Contract
Professional Installation Required (but it's free)
Doorbell Video Quality is Only 720p HD
ADT is a well-respected home security company that offers a wide variety of equipment including the Ring video doorbell camera. Their prices tend to be a bit higher than the industry average, but they give you more for the money so it all washes. Additionally, you can purchase a basic package and continue to add-on to it as needed.
The ADT security packages start at $27.99/mo. and you can customize a package that best suits your needs. The equipment, options, and length of contract you choose will ultimately determine your monthly price.
ADT also has plenty of home automation products that you can add to your security system if you want even more convenience and control over your home whether you're there or not.
2. Vivint

Want a high-tech doorbell video camera?
This intelligent doorbell cam looks like a normal doorbell, fooling the good guys and the bad guys! Get free professional installation and high-tech features like smart visitor detection.
Vivint has basic and advanced home security and automation equipment. They offer free professional installation on everything except for their outdoor and video doorbell cameras. Additionally, Vivint has more video doorbell features than most of their competitors. And, they have cellular monitoring and affordable monthly plans, as well as a 0% financing option. Here is a quick summary of the Vivint pros and cons.
Pros
Video Doorbell Camera Available (sleek design that looks like a regular doorbell)
100% Wireless (cellular and encrypted Wi-Fi)
24/7 Monitoring
Free Professional Installation (except for outdoor and video doorbell cameras)
Local Cloud Storage
Environmental Disaster Protection
Home Automation
Remote Access (including the video doorbell camera)
Smart Motion Detection
Two-Way Voice
Medical Alert Option Available
Flexible Equipment Financing Available
24/7 Continuous Video Recording
Cons
Professional Installation Required (no DIY option)
No Landline Option Available
High Monthly Cost (unless you buy the equipment upfront)
Small Installation Fee for the Outdoor and Video Doorbell Cameras
Vivint is a wildly popular brand with more than a million customers throughout the U.S. and Canada. Vivint has several purchase options, as well as several ways to pay. They have a 42- or 60-month Vivint Flex Pay Pricing option with 0% financing (with approved credit) so you can buy your equipment upfront). Or, you can opt for one of their monthly equipment plans that start at $53.99/mo. Additionally, Vivint has monitoring plans that start at $39.99/mo. Either way, you can choose from one of their packages or customize one of your own.
The Vivint video doorbell comes standard with 2-way talk, 1-way video, night vision, 30-second video clips on demand, custom alerts, 180-degree wide-angle lens, smart visitor detection (it recognizes people, passing cars, shadows, etc.), 24/7 continuous video for up to four cameras up to 30 days, and it has a Vivint app integration feature that allows you to unlock your front door, garage door, turn on your lights, and more.
3. Frontpoint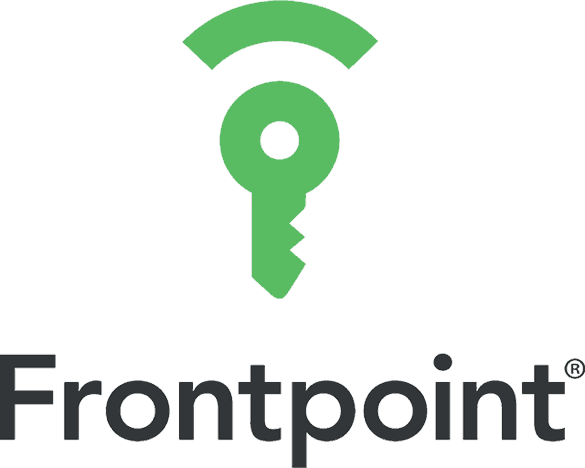 Looking for an affordable doorbell camera?
Outfit your entryway with Frontpoint's DIY doorbell camera. These wireless devices offer loads of features to safeguard your home and family. And best of all, Frontpoint is known for A+ service!
Frontpoint is a fast growing technology and service company founded in 2007 that has a wide variety of home security/automation features. Frontpoint also offers a Wi-Fi video doorbell camera that you can use to keep an eye on your home from just about anywhere, so you can monitor what's going on at all times. Their doorbell camera comes with plenty of features to help keep your home and family safe. Additionally, the Frontpoint doorbell camera is an easy installation. Here is a quick summary of the Frontpoint pros and cons.
Pros
Doorbell Camera Available
100% Wireless & Cellular
Expandable
Portable Equipment
Geo-Location Services Available
Activity Alerts
Automated System Checks
24/7 Professional Monitoring
Live Video Streaming Available
Home Automation Available
Crash and Smash Protection
DIY Installation
Three-Year Equipment Warranty
30-Day Money-Back Guarantee
Competitive Pricing
Cons
Video Doorbell Has to be Wired to Existing Doorbell Power (the connectivity function is the only thing that's wireless)
Long-Term Contract
Credit Check Could Raise Monthly Price
Frontpoint is a widely used home security and home automation brand that also offers a video doorbell as part of their lineup and they are consistently rated as one of the best in the industry. Frontpoint has an A+ Better Business Bureau rating as well. Additionally, their equipment is easy to use and can usually be installed in under 30 minutes without any special tools or skills required.
The Frontpoint contracts are either a 1-year or 3-year agreement; however, if you want the package pricing, you have to sign the 3-year agreement. Frontpoint has three equipment packages that range from  $99.95 to $399.95. And they have three service plans that range from $34.99/mo. to $49.99/mo. Additionally, they frequently run specials which sometimes include a free SkyBell doorbell camera, among other things. So always be sure to check our website for the most current specials available.
4. Brinks
Brinks is one of the top-ranked DIY home security companies in the industry. Additionally, they have an award-winning alarm response center with one of the best response times (under 30 seconds) in the industry. Brinks offers 24/7 professional monitoring and a 90-day risk-free trial. Brinks also has an HD video doorbell at $149.00 that allows you to see and hear who is at your door at all times. Here is a quick summary of the Brinks pros and cons.
Pros
Equipment Included Free (with contract)
Full 1080p HD Video Doorbell Available
DIY Installation (professional installation also available)
30-Day Risk-Free Trial
24/7 Professional Monitoring
Self Monitoring Option
Preconfigured Equipment
Remote Access Via Mobile App
Smartphone Controls
2-Year Warranty
Rate-Lock
Home Automation
Environmental Sensors
Wireless and Cellular Monitoring
Hub for Up to 119 Z-Wave Smart Sensors and Devices
Portable Equipment
Cons
Video Doorbell on Upper Tier Contract Only
36-Month Contract Required
Video Option on Upper Tier Contract Only
Brinks has a 26-year history, over one million subscribers, and one of the fastest response times in the industry. Additionally, they currently have an A+ rating with the Better Business Bureau. They also offer a 90-day risk-free trial and a two-year warranty on their equipment which is compatible with up to 119 smart home devices.
Brinks has two monitoring plans ranging from $29/mo. to $39/mo. and there's no upfront equipment cost because it's included in the monthly monitoring price. However, if you want the video doorbell, you'll have to go with the upper tier plan because that's the only one that includes the video doorbell.
The Brinks plans include tamper protection, LiveVoice Assist, smartphone controls, and home automation (depending on the plan you choose). Their plans are also flexible because you can buy the one you need now and add-on to them as your needs change.
5. Ring
Ring started out with a video doorbell camera which was the first to hit the market. However, they have since expanded their services into a full suite of home security products. Ring now offers a wide range of video doorbells, security and floodlight cams, full home security systems, and environmental protection sensors, as well as some add-on pieces. Here is a quick summary of the Ring pros and cons.
Pros
Several Types of Video Doorbells
Extremely Affordable Equipment
One Free Monthly Ring Plan Available (limited functions)
Low Monthly Fees
No Long-Term Contracts
60-Day Cloud Storage
One Low-Cost Professional Monitoring Plan Available
DIY Installation
Mobile App Controls
Spotlight Cams (battery-powered)
Environmental Disaster Protection (smoke, water, freeze, carbon monoxide)
Live Video on Demand
Digital Neighborhood Watch
Cons
No Home Automation Options
No Professional Installation Available
Requires an Existing Doorbell (for wiring)
Ring is a well-respected brand with a huge following. And in addition to their video doorbell and home security equipment, they also have a Digital Neighborhood Watch which will send you and your neighbors' real-time crime alerts for your community.
Ring has three plan options. The Free plan is free of charge; however, that plan only offers limited functions. Then they have a Protect Basic plan that's $3/mo. or $30 annually which includes the basic equipment and most, but not all, of the functionalities. The Protect Plus plan is $10/mo. or $100 annually and includes full functionality plus professional monitoring and exclusive Ring.com discounts.
Benefits of Doorbell Video Cameras
Having a doorbell video camera is your first line of defense when it comes to proactively protecting your home and family. Doorbell cameras are simple to install and very easy to use. They are also a big theft deterrent and if a criminal does commit a crime, your doorbell camera will have it saved on video which you can pass along to your neighbors and the authorities.
There are other benefits of doorbell video cameras as well. For example, you can more easily screen your visitors, monitor your kids, confirm package deliveries, and it might even lower your insurance premiums.
Features of Home Security Systems with Doorbell Cameras
The following are some common features found in home security systems that include video doorbell cameras:
Remote Access
Remote Access is a key feature of the best home security systems with doorbell cameras. And it's incredibly powerful. You can view your doorbell camera's live-feed, on your smartphone, from virtually anywhere in the world. Just login to the companion app to access, monitor, and control your home security and automation setup. Welcome to the future.
Video Recording
Here's another value-packed feature of doorbell cameras. Video Recording captures suspicious activity, break-ins and burglaries, and even environmental hazards. Some high-tech doorbell cameras offer continuous recording, while others record intermittently when triggered by activity. A security camera with video recording, combined with a cloud storage plan, is your ticket to a safe home.
Mobile Alerts
Knowledge is power. That's why Mobile Alerts are so popular. The best home security systems with doorbell cameras include Mobile Alerts in their suite of features. If and when your camera detects activity, it automatically sends you an alert so you can take action. If it's a good guy, great! But if it's a bad guy... it's time to make him pay.
Entryway Sensors
Entryway Sensors make the security system. Simply put, they secure the perimeter of your home. Without them, burglars could saunter in without warning. So protect your home with these magnetic sensors that come standard with all systems. When your system is active, the alarm will sound the moment a door or window opens. This adds to the protection offered by doorbell cameras.
Motion Detection
Now that your entryway is secure with a doorbell camera and sensors, it's time to round-out your home security system with Motion Detectors. These devices are strategically mounted throughout your home to monitor activity inside. If they detect movement, the alarm sounds and alerts are sent. Rest assured that if there's any motion or commotion, you'll be the first to know.
Home Automation
It's true that doorbell cameras are the foundation of smart home security. But look for a home security system and doorbell camera that supports home automation features. This will allow you to remotely control everything from your door locks and lights, to your thermostat, garage door, and more. Access the controls via mobile app, or setup voice control for a future-forward lifestyle.
2-Way Voice
Two-Way Voice comes with the best home security doorbell cameras. At work but have a visitor at your front door? No problem. You'll get a mobile alert, allowing you to open the app and talk with the person remotely. If it's the mailman, have him hide your package. If it's a burglar, tell him to skedaddle. If it's your mother-in-law… you're on your own.
Night Vision
Night Vision is another great feature that comes standard with many home security doorbell cameras. Some night vision cameras are black and white, while others boast full-color imaging. Both types leverage infrared technology to record crisp and clear video as if it were broad daylight. Impressive tech-forward functionality aside, Night Vision just sounds cool.
Live View
Live-View, live-stream, live-feed — whatever you call it, just be sure your doorbell camera has it. This feature lets you tap into a real-time video feed of your doorbell camera. Simply login to your home security system's companion app, open the Live-View option, and get comfortable. This feature is especially powerful when combined with two-way voice.