Travis Goodreau
https://www.safehome.org/security-advisors/travis-goodreau/
Best Wireless Home Security Systems of 2021
Wireless is the way of the future. Some leading home security companies offer professional installation, while others preconfigure your system at the factory and ship to your door for simply DIY setup. See the best wireless options below.

1. SimpliSafe – Best Wireless Security System Overall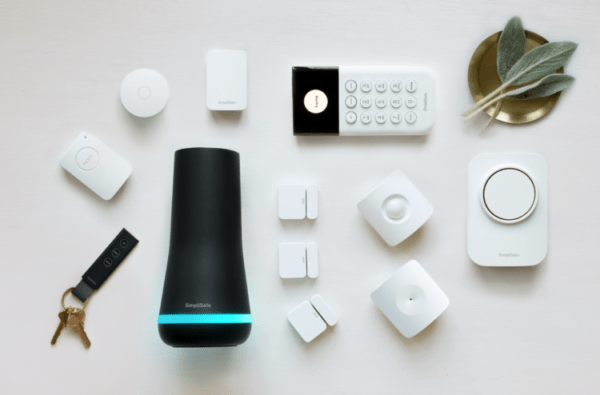 SimpliSafe offers quality, high-tech home security systems with no long-term contracts. Their team of engineers and designers create everything they sell, and many of the newer offerings are so small that they're barely visible. SimpliSafe is not your typical security company. They don't markup the price of their products, require monitoring, or make you sign any contract. They don't charge installation fees, setup fees, or activation fees. What they do offer is high-quality equipment that is easy to install and maintain by yourself. Here's a look at why SimpliSafe makes our list for the best wireless home security system:
Pros
100% Wireless System
60-Day Money-Back Guarantee
Hassel-Free DIY Installation
No Contracts
Free Shipping and Returns
Automatic Updates
Alarms Don't Require Monitoring
Optional 24/7 Professional Monitoring Available for Low Monthly Fees
Cons
Upfront Equipment Costs
No Home Automation Options
SimpliSafe's award-winning systems are wireless, easy to move, and easy to setup. All of the equipment is do-it-yourself installation, which gives you the freedom to place sensors where you want and move them at your own discretion. Setup takes less than 15 minutes. Systems come with the SimpliSafe app that allows you to access and control devices connected to your system.
You can choose from SimpliSafe's original award-winning system or their newest line of equipment. Both systems offer outstanding, reliable home security. With the newer system, you will pay more, but that higher price comes with a system that is smaller, faster, and stronger. At half the size of the original system, the tiny sensors are practically invisible. The new system works 5 times faster, and the alarm is 50% louder to scare off intruders.
Security through SimpliSafe has everything you want but at a fraction of the price. SimpliSafe does not offer home automation, but for any other feature or equipment you might want with your system, chances are good that SimpliSafe has it. You can get intruder protection, environmental protection, and video feed. Your system will still protect your home in case of a power outage that lasts for days. If an intruder smashes your control panel, the company alerts the police. All signals within your system and to the monitoring station are encrypted for an added layer of protection. The equipment receives automatic updates through the air so that you know the system is always working its best for you. You can always add professional monitoring to your system with absolutely no obligation to continue monitoring, because they have no contracts.

Searching for the best wireless system?
SimpliSafe is simple to install, easy to use, and delivers quality performance right out-of-the-box. These wireless systems require zero contracts and zero monthly fees. What more could you ask for?
2. Vivint – Best Wireless Home Security Automation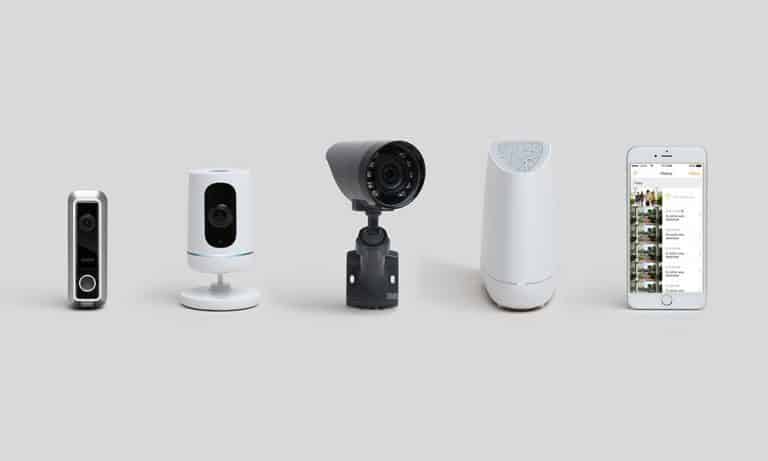 Vivint is a high-end security company that specializes in simple and affordable home automation. The company was founded in 1999 and now serve more than one million customers in the United States and Canada. They offer options for home security, energy management, local cloud storage, and high-speed internet. The systems are intelligently designed and touted as easy to use. Here's a look at why Vivint makes our list for the best wireless home security system:
Pros
100% Wireless
24/7 Professional Monitoring
Lifetime Warranty
Choice of Cellular or Landline Connection
Remote Control and Access
Home Automation Options
Indoor and Outdoor Cameras (Option)
Doorbell Camera with Two-Way Voice (Option)
Environmental Disaster Protection (Option)
24/7 Continuous Video Recording (Option)
Cons
Professional Installation Required
Above-Average Monthly Cost
Minimum 4-Year Contract
With a Vivint security package, you can get simple home security or have the smartest home around. Packages are geared toward customers with medium to large budgets for home security. The basic package is the most affordable, starting at $29.99 per month. This package includes a control panel, the Vivint app, basic home security equipment, and 24/7 professional monitoring. Home automation essentials are extra, and Vivint offers a robust line of high-quality equipment to transform where you live into a smart home. Their home automation essentials include doorbell camera, programmable thermostat, smart locks, Amazon Echo, Ping cameras, and remote garage door control. You can also add an outdoor camera, 24/7 continuous recording, and environmental sensors for smoke, flood, and carbon monoxide.
Vivant's equipment for home automation places them firmly on our list of best wireless home security systems. Most security companies provide options to automate your home. They may allow remote access and control of your system, cameras, thermostat, and even lights, but the smart-home equipment is usually piecemealed together. Vivint's automated system integrates seamlessly with the Amazon Echo to allow for easy voice control of their comprehensive system. You can easily manage your home at your control panel, through voice control, or on your app. Vivint makes it easier to have a smart home.
Ready for high-end security and automation?
Vivint delivers wireless home security with best-in-class smart home features. Choose from a lineup of devices to transform your house into the safest and smartest home for miles!
3. ADT – Best Smart Wireless Home Security System


ADT is number two on our list of best wireless home security systems, and it's no wonder. They became the first home security system network in 1874 and have grown ever since to become the largest home security provider in North America. ADT Security Services offers more services than the typical security company. Their wireless systems include free professional installation, and if you'd rather lease equipment instead of buy, ADT has options for that. They will also monitor security systems from other alarm companies for about $20 per month. ADT also offers exceptional medical alert devices. Here's a look at why ADT makes our list for the best wireless home security system:
Pros
Competitive Monthly Rate
100% Wireless System (Hardwired Also Available)
Free Professional Installation
24/7 Professional Monitoring
Choice of Cellular or Landline
Medical Alert Devices Work Anywhere
Options for Video, Home Automation, and Environmental Disaster Prevention
6-Month Money-Back Guarantee
Cons
3-Year Contract
No DIY Installation Option
Independent Dealers Vary
ADT gives you lots of options. You can lease a system from them or buy monitoring for an existing system. They can monitor equipment made by many of the leading brands. They support a full spectrum of wireless security features, including video monitoring, home automation, sensors to prevent an environmental disaster, and medical alerts. ADT's wearable panic button allows immediate access to emergency dispatchers. The panic button is waterproof and sends a GPS signal with the alert to ensure that dispatch knows where the alert was triggered. You can wear the pendant as a necklace or bracelet, or you can clip it to your clothes. Unlike medical alerts by other security companies, the ADT wearable panic button works everywhere AT&T covers, even when you're far away from home.
ADT offers both wireless and hardwired security that is installed by a technician for free. Professional installation ensures that your equipment is setup properly, but you do have to allow an ADT technician into your home. Technicians receive a high level of security training and can help educate you about your new system. You can purchase ADT products and services directly from the company or from an authorized independent dealer. Customer service and quality vary from dealer to dealer, so buy from ADT directly when you can or work with a dealer you trust. More Americans trust their home security to ADT than to any other provider.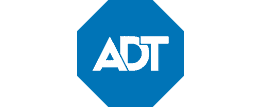 Looking for tried-and-true home security?
This giant in home security has been around for 150 years. Customers enjoy professional installation, award-winning monitoring, and loads of home automation options. Welcome to the big leagues!
4. Alder – Best DIY Wireless Security System


Alder is best known for their dizzying-fast response times. If a break-in occurs, their monitoring center will jump into action in just a few seconds. The systems provide 4G LTE cellular monitoring, and all of their equipment is wireless. Wireless installation is almost always fast and easy — but Alder makes it even easier with a free professional installation option. Trust us, that's rare in the security industry. Have a look at Alder's pros and cons:
Pros
 100% Wireless Equipment
 Easy Do-It-Yourself Setup
 Free Pro Installation Option
 Affordable Monitoring Plans
 3.4 Second Response Times
 4G LTE Cellular Monitoring
 Touchscreen Control Panel
 Smartphone Controls
 Optional Security Cameras
 Environmental Sensors
Cons
 Slightly Expensive Upper-Tier Plans
 Must Call to Purchase System
 Prices Not Listed Online
 Contracts May be Required
Alder checks all the boxes when it comes to DIY home security. If you set aside 15-20 minutes, you can self-install your Alder system without using any tools, and without breaking a sweat. Their wireless equipment is well-designed, and most of it is made in-house by Alder engineers. This proprietary approach allows for better innovation and quality control. Alder systems also include a sleek touchscreen control panel, a mobile app for remote access and control, and a few nifty home automation options (Alexa and Z-Wave compatible).
There is a contract involved, but that's par for the course when it comes to high-quality wireless systems like Alder. We think the features and tech more than justify the contract and costs. The company also makes the grade for their customer-friendly policies. That is, they offer a handful of guarantees (like a lifetime equipment guarantee) that help to instill trust in their products and services. We suppose it's all to be expected from a company with solid values. For these reasons, Alder gets our vote for best wireless home security system.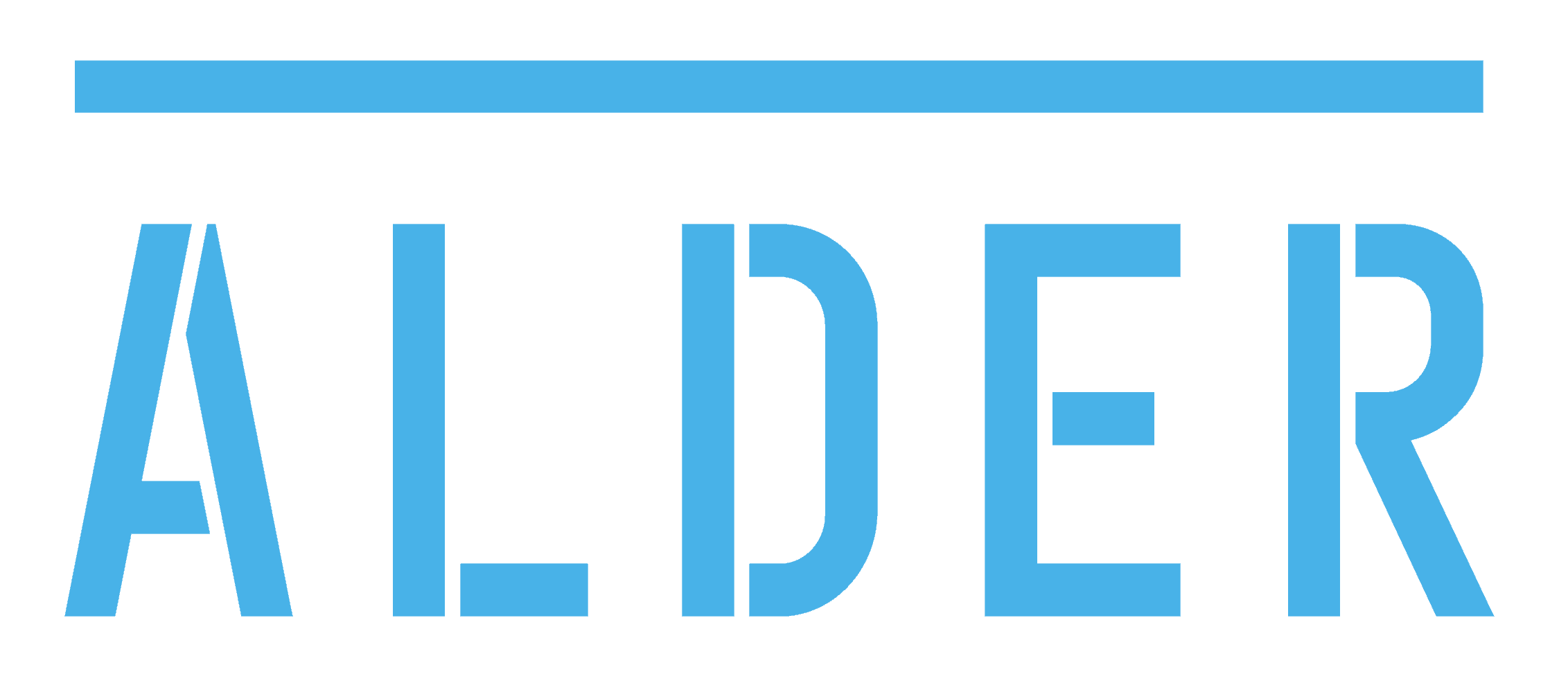 Searching for wireless home security with ultra-fast response times?
Alder is one of our go-to choices for wire-free home security. Installation is fast and easy, and the custom systems come loaded with high-tech features like touchscreen panels, smartphone controls, and home automation options.
5. Frontpoint – Best DIY Wireless Security System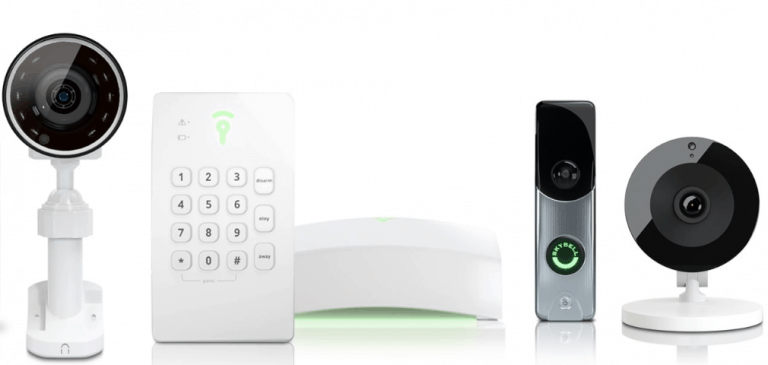 Frontpoint has far and away the best customer service of any home security company. The 24/7 help line is staffed by trained professionals who are friendly, quick, and ready to help. The wireless security system is DIY installation and protects against home intrusions and environmental damage. Each system is made to fit your specific needs and can be self-installed in about 30 minutes. Frontpoint prioritizes customers and employees, so you know you'll be taken care of. Here's a look at why Frontpoint is our choice for best wireless home security system:
Pros
Competitive Low Price
Award-Winning Customer Service
100% Wireless
DIY Installation
No Landline Required
24/7 Professional Monitoring
Hourly Self-Diagnostic Checks
30-Day Money-Back Guarantee
Easily Expand System with Indoor/Outdoor Cameras and Home Automation Options
Cons
Minimum 1-Year Contract
Prices Depend on Credit Check
No Option for Landline
Frontpoint's wireless home security systems are DIY installation and have both English- and Spanish-speaking customer service representatives to help you with everything from system installation and setup to system questions or security alerts. The system setup is quick, easy, and intuitive. The wireless design and ease of use make Frontpoint a favorite with homeowners and renters. The system is easy to move and is also easily expanded upon.
The basic pre-made security package from Frontpoint includes a control panel, 3 door or window sensors, a motion sensor, a glass break sensor, and a keychain remote. You can add individual items onto your system or create your system from scratch. Add-ons include cameras, a panic button, garage door control, and a variety of sensors, including sensors for smoke and heat, flood, carbon monoxide, doors, windows, glass break, and motion.
You can also upgrade from the most basic plan to include the Frontpoint app, which allows you to access and control your security system while you're away from home. The app can also alert you to system triggers, send you information about what's going on in your home, and give you access to saved videos. You can upgrade even further to create an automated home with options for controlling your smart home's lights, locks, thermostats, and other connected devices from wherever you are. Equipment costs for a system start at $100 and monitoring plans start at $35 per month. The systems require a one- or three-year contract.
Started in 2007, Frontpoint maintains an A+ rating from Better Business Bureau. In 2011, they won the Angie's List Super Service Award. Their customer service, quality equipment, security options, and affordability make Frontpoint our first choice for wireless home security.
6. Brinks – Best Google Home Compatibility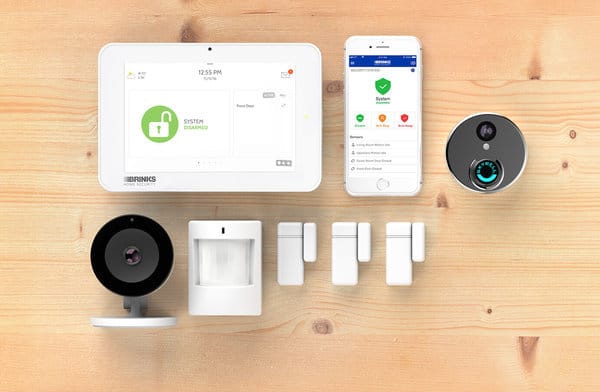 Brinks Home Security offers a wireless solution worthy of consideration. The company is one of the most well known in the industry in regards to security and safety – and the home security system it offers is also highly desirable. For those looking for a quality wireless solution, Brinks Home Security should be at the top of the list for several reasons. Here's what the company offers.
Pros
Wireless connectivity is easy to set up and manage
No upfront equipment costs to pay
Home automation solutions are available
LiveVoice Assist and Live Video help make this a top-notch product
A risk-free trial is available.
Cons
Brinks pricing is a bit higher, but with key benefits
The company's products are reliable but can be a bit harder to install
There are several key things to love about Brinks Home Security in terms of its wireless offering. First and foremost, this system is totally wireless and it is hard to notice. The wireless sensors are placed throughout the home on doors (the system comes with three wireless door sensors as well as one wireless motion sensor). These are very well designed and reliable.
The technology is exceptional. In short, it is one of the best home automation and innovative alarm systems available. A nice feature other products do not have is the ability to prevent an intruder from disengaging the alarm – making it a more reliable product overall.
In terms of the wireless technology, it is easy enough to install (though it can be more difficult than some other products). The system will link directly to an in place home voice assistant, such as Amazon's Alexa on the Echo as well as Google Home. There is a central hub for management of the system. However, there is also an app for the phone to allow for wireless connectivity and anywhere control.
The Brinks system offers real-time mobile communication when an alarm occurs. This helps to give a homeowner the ability to get help immediately with no delay.
The Brinks Home Security system comes in two package options. The Home Complete model is $29 per month. For those who wish to tap into higher-end features such as Live Video Streaming and Cloud Video Storage, the monthly charge is $39.
Overall, Brinks Home Security is a top-notch wireless home security system. It is an ideal option for those looking for an integrated smart home system.
What are Wireless Home Security Systems?
When buying a home security system, there are many different facets of the process to consider, one of which is whether to buy a wired or wireless system. So exactly how do you go about deciding which features and options are best for your particular situation? And how do you narrow down your choices to find "the one?"
Well, you have already taken the first step by coming to our review site where you will find in-depth reviews, pros and cons, and side-by-side comparisons. Which is the best way to narrow down your choices to a select few.
But now that you've narrowed down your choices to a select few, you might need a little more information before being able to choose just one.  That's why we are providing you with more information that should help lead you to your final selection when it comes to buying a wireless home security system and the one that will best suit your needs.
How Wireless Home Security Systems Work
Years ago, all alarm systems required you to have a landline phone and that landline was used to connect your security system to the monitoring center and there weren't any other options. However, today, many people don't even have a landline phone because they use their mobile phones for everything. Therefore, a wireless security system is now the most obvious choice for many people, especially those who don't have a landline and don't want to rely solely on their internet connection.
Most security systems have three main components, which are a control panel, sensors, and a monitoring center. A wireless home security system uses a radio frequency to communicate. The radio frequency allows the alarm's sensors throughout your home to communicate with the control panel. Then the wireless control panel communicates with the monitoring station through a cellular network, also known as cellular monitoring, thus eliminating the need for a landline.
The Different Types of Wireless Home Security Systems
There are several types of wireless home security systems.
Basic Systems
A basic system will generally only include the control panel, sensors, and an audible alarm. If you want any other features, you will either have to buy a more advanced package or add-on to your basic system, which, depending on the brand, could get expensive.
Mid-Range Systems
Then there are mid-range security systems that come with additional features such as offering mobile remote access with activity alert notifications. Once you have remote access via a mobile device, you are also better able to see what's going on in and around your home. This is because you can tap the app to view the recordings from your security cameras.
Higher-End Systems
There are also higher-end systems that offer additional more sophisticated camera options such as streaming live video. And, many of them are compatible with other home automation equipment as well.
In addition, there are many wireless home security brands that will allow you to customize a system to suit your particular needs. For example, you might need a control panel with 10 sensors versus the four sensors that might come with other packages. Or, you might need different types of sensors such as those that monitor environmental disasters and other household dangers like fire and carbon monoxide, etc. Or perhaps you are a senior and would like to add a medical alert button and the related equipment to your security system.
The sky's the limit with most home security systems these days. You just have to find a brand that has what you need or one that will let you customize a system to your exact specifications.
Are Wireless Security Systems Reliable?
Thanks to a host of tech advances, we're now able to connect a wireless security system to almost any home internet network, making installing home security equipment much easier and more affordable than it used to be.
In home security, we're seeing a shift away from bulky, hardwired systems that must be installed by a professional, and more toward SimpliSafe, Cove, and other fully DIY security kits that free us from heavy lifting and complex hardwiring.
But like all wireless technology, we've had questions from time to time on how reliable a setup like this would be compared to a fully integrated system, like Vivint or ADT. After all, we're basically trusting ourselves to install it, and trusting the technology to perform when it counts.
Our first priority is ensuring the equipment can properly monitor our home and notify authorities in the event of a break-in. A wide majority of security systems do this very well, with little interruption or glitching; of course, we also recommend looking at your Wi-Fi speed before embarking on any home security setup. To get the peace of mind you really deserve, you might need to upgrade your Internet to a faster, more reliable plan.
FYI: More and more wireless security systems now use an ultra-reliable 4G LTE cellular signal to stay connected, so you can pretty much bypass Wi-Fi altogether (unless you have wireless cameras, which do run on Wi-Fi).
Overall, we've found wireless systems to be more customizable and cheaper than hardwired systems. And you won't have to sacrifice reliability, either. In other words, yes, wireless security systems are extremely reliable these days.
How to Choose a Wireless Home Security System
Wireless security systems are a great way to go, particularly because they are so flexible compared to a hard-wired system. However, there are a few things you need to know before you run out and buy one.
DIY or Professional Installation
Before you buy a security system, you will need to think about the installation. Do you have the skills necessary to install the system yourself and do you have any physical restrictions that would keep you from climbing a ladder, etc. to do a wireless installation?
Most wireless home security installations are pretty easy to install and come with technical support and/or installation videos and instructions to guide you through the process. However, if there is any other reason you might not be able to do the installation yourself, then you should consider contacting a professional for assistance or looking for a wireless home security system that comes with professional installation already included with the package.
Home Automation
Do you have an existing home automation system? If so, you will need to find a wireless home security system that is compatible with your existing equipment. Some brands sell proprietary home automation/security equipment and others are designed to work with a variety of third-party brands. If you buy a wireless home security system that's not compatible with your existing home automation equipment, you will be required to use two different control systems, one for your home automation equipment and another for your wireless home security system. So if simplicity is important to you, look for a brand the is compatible with your existing equipment.
Brand Reputation
When buying a wireless home security system, you want to do enough research to find a brand that has a good industry reputation and offers top-quality equipment. This will help ensure their equipment will hold up and that their customer service and technical support team will be there for you if you need them. And that they will stand behind their products if you do happen to encounter a problem.
Another advantage of going with a brand that has a long-standing reputation in the industry is because they are more likely to be around in the future and not some fly-by-night operation. This means they will probably be around for years to come should you encounter a problem or have a warranty repair.
Comparative Costs
If you don't take the time to read reviews and look at some of the best wireless home security systems side-by-side comparisons, and their pros and cons, you could miss the opportunity to get the most for your money. So always do your homework. Then once you've narrowed down some possibilities, take the time to compare them so you can see which brand has the best packages or one that has customization options. This will ensure you are getting the best possible equipment package for your particular situation and budget.
Self-Monitoring or Professional Monitoring
Another thing you will have to think about is whether you want to self-monitor or pay for professional monitoring. Self-monitoring is fairly easy because many wireless home security systems come with a mobile app that enables you to access, monitor, and control your system using that app. However, the monitoring burden is entirely up to you. With professional monitoring, you will have a trained representative on standby 24/7 monitoring your home and can respond immediately if suspicious activity is detected. And, going with a monitored alarm could get you a larger discount on your homeowner's insurance. Additionally, the self-monitoring option is usually free of charge, whereas professional monitoring generally comes with an associated monthly fee. So it's really a personal choice as to which route you want to go.
Doorbell Cameras
If you are thinking about getting a wireless home security system, it's a good idea to get one with that offers a doorbell camera, even if you have to pay extra for it. A doorbell camera is your first line of defense when it comes to protecting your home and family. A doorbell camera can record what goes on around your door whether you're home or not. And most are equipped with activity alerts and a two-way talk feature so you can remotely communicate with whoever is at your door without having to open it.
The Pros and Cons of a Wireless Home Security System
The best way to narrow down which wireless home security system is right for you is to look at the pros and cons of each. Here are some of the pros and cons of a wireless home security system for you to consider.
Pros
Cheaper to install than a hard-wired home security system.
Easier to install than a hard-wired home security system because there are no holes to drill or wires to install.
A wireless system is great for renters or those who move a lot because they are portable.
A wireless system will usually come with a mobile app which makes them easier for you to monitor and control.
A wireless system won't be affected if the power goes out because most of them use a cellular connection.
No landline is required because a wireless home security system uses a cellular connection.
A wireless system doesn't have any wires that can be cut; therefore, in that respect, they could be safer.
Cons
Some wireless home security systems are not as reliable as a hard-wired system because a wireless signal could encounter interference, which, in turn, could result in false alarms. However, with that being said, today's wireless home security systems are becoming more and more advanced reducing the chances of interference.
Wireless home security systems require batteries. Therefore, you will have to check and change the batteries periodically, which takes more effort, time, and money.
Unfortunately, a wireless system, even though the signal is encrypted, could still be hacked.
Renters
Three big advantages of wireless security systems for renters are their impermanence, portability and expandability. Renters, unlike homeowners, generally avoid making permanent changes to their homes. Hardwired security systems therefore aren't practical; they involve drilling into walls and installing permanent electrical circuits. In contrast, wireless security uses equipment that's either freestanding or affixed to walls and entryways with removable adhesive. Wireless control panels, sensors and other components can easily be set up at different properties later on, and wireless systems are easily expanded with new components too. Wireless security plans also allow remote control of the system and general home automation. If home automation is your main appeal, check out our list of top systems with home automation features.
Homeowners
When homeowners choose between wireless and hardwired home security, wireless is generally their top option. Several reasons are that wireless security is no longer expensive, it keeps walls clean, it's low-maintenance, and it can easily be reconfigured if needs should change. For example, you can easily add a video camera to a newborn's room or rearrange motion sensors after home renovations. Another benefit is optional wireless environmental protection, which includes detectors for smoke, heat, carbon monoxide and/or moisture. Choosing wireless security also makes it easy to automate your home. Examples of home automation are controlling your lights, thermostat and door locks from your mobile phone.
Benefits of Wireless Home Security Systems
Wireless home security systems give you options. You can automate your home, or not. You can install the system yourself or turn to a professional. You can go with a company's basic package, piecemeal a system together, or start with one item and expand as you need. You can also hide wireless equipment in plain sight without worrying about wires.
Home Automation
Home automation is convenient and easy, and wireless systems help you automate your home that much easier. Smart locks, programmable thermostats, cameras, and other automated home devices are by their very nature wireless, and most home security companies offer a home automation package with an app to remotely control everything on the system. That isn't to say that you can't have wired home automation, because you can, but automated equipment that is hardwired into your system is slower and harder to encrypt. It isn't very smart. Wireless devices communicate more securely and faster to other devices on the system and to the monitoring center (if you choose monitoring).
You can easily expand many wireless systems to include home automation by incorporating smart devices one-by-one or all at once. Devices in security systems communicate to one another using a specific protocol. Protocols include Wi-Fi, Bluetooth, Z-Wave, and others. Make sure that the automation devices you want and the system you have speak the same protocol before upgrading your home security. If you think you might want to switch to home automation in the future, check that the security company and equipment you buy allow for an easy transition. Easy, secured home automation is a huge benefit of wireless security.
Installation
Wireless systems allow for a drill-free installation. There are no wires to hide and typically no tools needed to get started. Out of our top choices of wireless home security companies, three offer DIY installation. Professional installation does offer hands-on help from a trained technician, but most wireless systems are intuitive enough that no special guidance is needed. For the most part, wireless systems are plug-and-play, so the most you will need is to consult a troubleshooting guide or call customer service with questions. The wire-free, tool-free installation for wireless systems makes it the top choice for renters, because it creates no unsightly holes and you can easily re-install the system at your next home.
Flexibility
Wireless home security is flexible. If you don't like where a sensor or camera is placed, move it. There are no wires stopping you. If you want more or less devices on your system, add them or take them away easily. You can install the system yourself or hire a professional. The choice is yours. Wired systems require professional installation, and you can't easily add equipment or move it around. You're tethered by wires. Wireless systems offer a freedom that wired systems cannot.
Hidden
For the most part, wireless security equipment is only as visible as you want it to be. Window sensors are easily hid behind blinds or curtains, and door sensors are so small that they tend to blend into the doorframe. You can hide a wireless camera much easier than you can one with wires. If you want home security that blends into your decor and doesn't draw attention to itself, then wireless is the better choice.
Wireless Security System Equipment
When we say that wireless home security offers you options, we mean it. The equipment you choose makes your system what it is, so we've outlined some of your options to help you decide what type of equipment you need or want for your home system. To start, it helps to write down what you need secured. For example, in an apartment you may need one door sensor and one window sensor. In a large house, you may need two door sensors, eight window sensors, a garage door sensor, cameras, motion detectors, and more. If you know what you need going in, then you won't pay extra for features and equipment that you won't use.
Security companies offer all types of equipment. We've consolidated the most popular wireless equipment you're likely to come across when shopping for systems.
Wireless Security Cameras
Security cameras are a staple for any security system. They allow you to record video and keep an eye on your home when you're away. Many security packages or stand-alone cameras allow you to control and access your home cameras no matter where you are. Check whether remote viewing and access is available on the plan you want. Some security companies provide their app for free, but others only provide the app with higher-priced security packages.
Wireless Indoor Cameras
Most wireless security cameras on the market are for indoor use. At first glance, indoor security cameras may seem all alike, but they vary in key areas, such as when they film, video quality, video storage, and size. Cameras can film continuously, only when triggered by a build-in or connected motion detector, when you schedule, or when you remotely access the camera. They may or may not include a built-in motion sensor. Cameras vary in the resolution quality of their film, in their field of view, and in key features (built-in microphone, light, night vision, etc.). Security cameras typically offer two options for storing videos, either on a local SD card or on the cloud. Sometimes cameras offer both. For cameras that use the cloud, you may have to purchase a subscription to the cloud storage service, or the cloud may only come with monitoring. In rare cases, companies will offer stand-alone cameras like SimpliSafe's SimpliCam that offer free video streaming that you can access from your phone or computer. Indoor cameras range in size from practically invisible to a 6-inch-tall device that sits on a flat surface.
Wireless Outdoor Cameras
Outdoor cameras are exposed to the elements, so check that the camera you want to use outdoors is certified for that purpose. Outdoor cameras should be weather proof, vandal proof, and come equipped with night vision. Other features might include a built-in motion detector. It's important to buy equipment that can stand up to your local weather conditions, be that extreme heat, cold, or moisture. Cameras are also exposed to anyone who approaches your home, so you should consider how your video feed is protected from vandals smashing the camera. Vandal-proof cameras protect the camera lens from damage with a polycarbonate dome cover or metal housing. Just like indoor cameras, consider how videos are stored, when the camera will film, and the quality of the video. You will get the best outdoor protection from cameras with a wide field of vision, high resolution video, and continuous video feed that is uploaded to the cloud.
Wireless Doorbell Cameras
A wireless doorbell camera can work as a stand-alone device or in tandem with the rest of your security system. When someone rings the doorbell, it activates the doorbell camera. That video can go to your smartphone, computer, or to a screen inside your home. Doorbell cameras are part of many home automated systems and provide an extra layer of protection. These cameras often come with two-way talk, night vision, and a built-in motion sensor. As with any security camera, check out the video resolution and field of view. When wireless doorbell cameras activate, the person outside your home will have no idea whether you are on the other side of the door or on the other side of the world.
Wireless Motion Detectors
Motion detectors are often stationed at entry walls and in large rooms, and they are easy to set up. When they detect movement, the alarm is triggered and other security devices (such as a camera) may be activated. Motion detectors are one of the most important pieces of equipment for your home security, because they let you know when someone is potentially in your home. Motion sensors work when you are away from home or when you activate them. Follow all directions when placing motion detectors for the most effective and seamless security.
Wireless Door & Window Sensors
Door and window sensors are contact motion sensors that trigger an alarm when the protected door or window opens. Like stand-alone motion detectors, these can activate when you're away from home or whenever you choose. For example, you may keep the window sensors always activated but deactivate the door sensors when you're at home. These sensors can function as part of your security system or on their own, and they vary in size and design from tiny, sleek sensors to bulky and obvious. Sensors also vary in sensitivity. Some may trigger when the door or window vibrates versus actually opening.
Wireless Smoke & Fire Alarms
Smoke and fire alarms alert you if they detect a high-level of smoke or if the temperature rises too rapidly, either of which may indicate a fire. Most homes already have wireless smoke or fire alarms, but you can connect the alarm to your security system to add another layer of protection that could save your life or property. If the alarm triggers when you're away from home or out of earshot, then any alarms connected to your system will tell you and the security company monitoring your home. The monitoring company can alert you of the trigger and dispatch the fire department.
Wireless Carbon Monoxide Detectors
A carbon monoxide detector triggers when the level of carbon monoxide in your home reaches a dangerous level. Unlike other environmental dangers, you cannot see, taste, or smell carbon monoxide. These detectors can save your life and those of your pets. Carbon monoxide is released when you burn gasoline, wood, oil, charcoal, propane, and natural gas, so homes with gas appliances, chimneys, wood-burning stoves, and connected garages have a higher need for carbon monoxide detectors. Like smoke and fire alarms, these sensors can work as stand-alone alarms or connect with your security system. It's always a great idea to connect detectors to your system so that a monitoring center can notify you and emergency dispatch in case the alarm is triggered.
Wireless Flood Lights
Flood lights are often used in conjunction with motion detectors. When sensors detect movement, the lights illuminate the surrounding area, which will allow you to see who is on your property and will potentially scare off intruders. Better outdoor lighting also means a clearer video for any outside cameras you have. When choosing flood lights, consider the brightness and distance the light shines. Flood lights can deter vandals or scare them away, but as a single piece of equipment, they are more for your peace of mind than for home protection.
Wireless Keypads
You use a keypad to manually arm and disarm your home security system. Like most wireless security equipment, keypads can be installed anywhere you want. Most wireless keypads are placed by the front door, but it doesn't have to be. You may want multiple keypads if your home has multiple entrances that are often used, such as one by the front door and one in the garage, or if your home is multiple stories. The keypad allows you to enter your security code in case the alarm is triggered while you are at home. Choose an accessible placement that works for you.
The Most Frequently Asked Questions About a Wireless Home Security System
Another way to determine which home security system is right for you is to review the most frequently asked questions. This will bring to your attention issues and situations you might not have otherwise thought of. Below are some of the most frequently asked questions about buying a wireless home security system.
How does a wireless home security system work?
A wireless home security system uses a radio frequency to communicate with the control panel and sensors. The control panel then communicates with a monitoring center using a cellular signal. And, if you have a video camera, the video recordings are sent to a receiver that's connected to your local or cloud storage.
If I'm a renter, can I still install a wireless home security system?
If you're a renter, please talk to your landlord before installing a security system because there might be some privacy issues to consider. Also, be sure you get everything in writing, including permission, as well as exactly what you can and can't do (DIY vs professional installation, etc.) and exactly where you can and can't install your system. You should also confirm whether or not you will have to leave your security system in place when you move.
Will a wireless home security system qualify me for a discount on my homeowner's insurance like a wired system does?
Generally, you will receive up to a 20% discount on your homeowner's insurance for installing an alarm system regardless of whether it's a wired system or not.  And it usually doesn't matter whether you installed it yourself or had a professional install it for you. However, the monthly discount probably won't be as much if you don't have your system professionally monitored.
Can I still store my video recordings if I go with a wireless home security system?
Some wireless home security systems offer a video recording storage option and others don't. For the ones that don't, you are able to see a live video feed of your home any time you access your system; however, nothing is recorded. The systems with video storage generally include either a local storage or cloud storage option. A local storage option saves a pre-determined number of video clips on the device itself. This option is usually cost-free. A cloud storage option saves your video clips in the cloud. However, this is usually a paid service and the number of hours it will store will depend on how much cloud storage you are willing to pay for.
Is a wireless home security system reliable?
Today's wireless home security systems are more stable than they used to be. However, they are still subject to interference and they are still vulnerable to being hacked even if the signal is encrypted.
Will my pets trip the alarm if I have a wireless home security system?
Some alarm systems are equipped with infrared sensors that can detect and ignore pets under 40 pounds or so. Having a pet-friendly alarm system will help prevent false alarms. So if you have a pet (especially a large pet) you should look for a pet-friendly alarm system that uses body mass, temperature, movement, and speed to determine a potential threat.
Will my wireless home security system still work if my internet goes down or my power goes out?
Almost all wireless home security systems use a cellular connection; therefore, if your internet goes down or your power goes out, your security system will still work. However, there are still some wireless home security systems that use an internet connection as their main communication source. Most internet connected security systems come with a battery backup, which means if the power goes out your alarm will still work for a limited amount of time. But, if your internet goes down, unfortunately, you will be without an alarm system until it comes back up.
Features of Wireless Home Security Systems
Wireless security systems offer the same security benefits as hardwired systems — plus environmental protection, home automation, medical assist and more.
Here are essential features and some popular extras to consider.
Control Panel
The best wireless alarm systems offer modern touchscreen Control Panels. This device serves as the nerve center of your wireless security system, allowing you to control your system with a push of a button or a swipe of a finger. Most control panels have a built-in panic button and let you contact emergency responders directly from the panel itself.
Entry Sensors
Every wireless home security system comes with an assortment of Entry Sensors. The magnetic sensors are easily mounted on doors, windows, and other entry points. The technology is simple yet powerful. When the system is set and the magnets separate, the alarm sounds and alerts are sent. Secure the perimeter, protect your home, and keep your family safe with entry sensors.
Motion Detectors
Here's another impressive wireless security feature — the Motion Detector. These infrared devices are mounted inside your home. When they detect motion, the alarm sounds and you'll receive an alert. Rest assured, if there's any motion or commotion, you'll be the first to know. The best motion detectors can distinguish between people and pets, and some even boast facial recognition technology.
Glass Break Sensors
Criminals have no shame. They stop at nothing to gain access to their target home, including smashing and bashing windows. Safeguard against this tactic by mounting Glass Break Sensors near your windows. These sound-sensitive devices detect the frequency of glass breaking, triggering the alarm and alerts. Go with glass break sensors for an added layer of protection to deter burglars.
Remote Control
Control your wireless security system from anywhere, anytime, using Remote Control. This feature puts your system commands in your pocket or purse. Arm and disarm the alarm, press the panic button if there's a crisis, and control other functions. The keychain-sized devices are a standard feature included with most wireless home security systems. Welcome to on-the-go system control.
Panic Buttons & Pendants
Strategically mount wireless Panic Buttons around your home, or better yet, carry a panic pendant wherever you go. A potentially life-saving feature, a panic button summons immediate help in the event of a home invasion or medical emergency. As the saying goes, it's better to have it and not need it, than it is to need it and not have it.
Mobile Access
Mobile Access is another top feature included with many wireless home security systems. Look for a system with a companion app, a nifty mobile app that allows you to access, monitor, and control your system from virtually anywhere. Arm and disarm your system, view live-stream security camera video, and more. Mobile access is a must-have feature for modern, wireless home protection.
Home Automation
Remotely set mood lighting, control your thermostat, unlock your front door… from anywhere, anytime. That's the power of Home Automation. Most wireless alarm systems are compatible with home automation features. The obvious benefits are security and convenience, but home automation also helps to trim down those pesky energy bills. That's cash in the bank.
Cellular Monitoring
Gone are the days of spotty connections and hassling with landlines. Cellular Monitoring is the 21st century approach to wireless home security hookups. Alarm systems with this feature are powered by cell towers, much like a cell phone. This means you get reliable, wireless coverage, with no wires to snip. Just be sure your area receives cellular reception, and you're in business.