Our Experience With Abode Security
The Sign-Up Process
Eager to begin testing Abode, we paid a visit to their website to purchase a system (or two!). We have to say, the Abode sign-up process was one of the easiest and fastest we've ever experienced. You can either choose the kit that best suits your home or create a custom system using their Build My System tool.
At checkout, we had the option to add Abode's Secure Plan (24-7 professional monitoring) for an additional $80, so we went for it. Then we filled in some personal info, and that was it! In all, the process took 4 to 5 minutes from start to finish. It's also worth noting that every starter kit comes with a 30-day, money-back guarantee, a one-year warranty, and free shipping.

Pro Tip: Money-back guarantees are important, and something we always recommend. If you find that the system isn't right for you after trying it for a few weeks, simply send it back for a full refund. Most companies offer a guarantee of some kind.
The Abode System We Chose
Remember, Abode only offers two starter kits and a customized build-a-kit option. So there's really no way you'll get overwhelmed by too many options. Believe it or not, it's easier to stand up in a hammock than it is to find what you need from certain companies out there. But we digress.
We wanted hands-on experience with Abode's iota Security Kit, which is their "premium" package with the hub+camera combo. But we also wanted to try out the Smart Home Kit to see the capabilities of the Gateway Hub. They say you can connect up to 160 smart devices to it, and let's be honest, we're all about our smart home gizmos and gadgets.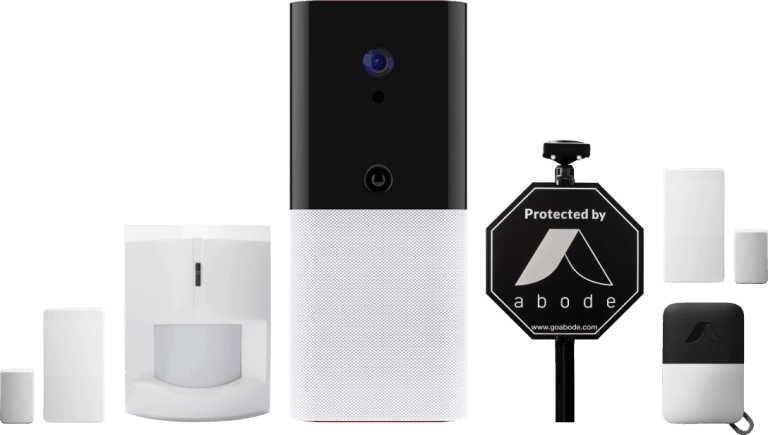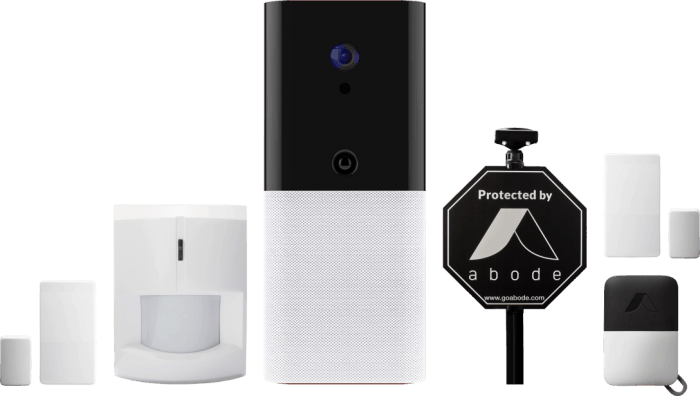 So we purchased both kits and various add-on accessories — not because we wanted to, but because the kits only come with limited devices. We bought a few extra entry sensors, along with the outdoor smart camera, a panic button, and a few environmental hazard sensors. Note, we didn't buy Abode's smart home devices (they only sell two products anyway), as we planned on integrating our compatible Z-Wave and Zigbee devices to the systems.3

FYI: It's better to have too many entryway sensors than too few. After all, what's the sense in having your whole home secure, except for your back door? Also, Abode sensors are reasonably priced.
Installation
It took several days before our Abode products arrived. Abode promises 5 to 7 day delivery times, which we think is a bit slow, especially when you want to protect your home and family. When the packages arrived, the boxes had an almost Apple-esque feel to it — definitely a very "Silicon Valley" impression at first glance. Unboxing the products, we could tell right away that the construction wasn't the highest quality, though. The devices felt a little cheap and clunky (the Gateway Hub specifically), but considering the price we paid, we certainly had tempered expectations. Thankfully, we didn't run into any problems during installation.
First, we plugged the main hub into our router. Remember, this system runs on Wi-Fi with battery and cellular backup (which we didn't love). We then installed the Abode app, which is available free for iOS and Android.4
Next, we installed the sensors and cameras around our home. It only took us about 10 minutes to install the entry sensors, using the provided removable adhesives, and another 5 to 10 minutes to mount the cameras. Finally, all that was left to do was connect the devices to the hub. Setup was simple, but not as simple as other DIY systems we've tested.
Ease of Use
Most DIY systems are easy to use right out of the box. With Abode, we were able to control our systems using our smartphone. Remote access and control are nice, but sometimes it's more convenient to arm and disarm the system using a keypad at home (personal preference, I guess!). But alas, Abode doesn't include a keypad in any of their starter kits! If you really want one, you'll have to fork out $69 to purchase one separately. Otherwise, if you're just using Abode for its basic features, it's very easy to use.

Did You Know: The Abode Keypad 2 control panel has a built-in motion sensor and stores up to 40 unique PIN codes. Unfortunately, it doesn't come with the starter kits.
Now, things get a little tricky when it comes to Abode's home automation. Their CUE platform is pretty easy to access via the mobile app. But it'll take some patience to integrate third-party devices and set up custom automation and controls. The good news is that Abode plays well with others, including Z-Wave, ZigBee, IFTTT, Nest, Apple HomeKit, Alexa, and more. Don't worry, we'll cover this in more detail below.
Customer Service
We came across a few negative reviews of Abode during our initial research. The complaints ranged from defective systems to slow turnaround on tech support tickets. Nothing too crazy. We've been doing this a long time — so we expected some hiccups along the way. However, we had a good experience with their service team. One thing we liked was the extensive online resources they offer. We didn't like that the "Contact Us" button on their website went straight to email instead of a phone number to call. Sure, Abode holds a C rating with the BBB, but we'd give them a solid B in this category.5