Exploring SimpliSafe's Doorbell Camera
Ordering from SimpliSafe
One nice thing about SimpliSafe is that their products are widely available. We purchased a Video Doorbell Pro directly from the company's website, but you can also find it online at Amazon or in big-box stores like Best Buy. You should have little hesitation purchasing the product, as it comes with a 60-day money-back guarantee. If you don't like it, simply send it back. Sure, it's a generous guarantee, but we're seeing more and more brands offer 30- to 60-day guarantees to stay competitive. No complaints here!
Installation & Setup
If you're anything like us, you don't mind rolling up your sleeves, but you always prefer fast and easy DIY installation. SimpliSafe's doorbell only took us about 5 minutes to install, but we suspect that most folks will have their device up-and-running in less than 15 minutes. Note that you will need a phillips screwdriver and a little patience.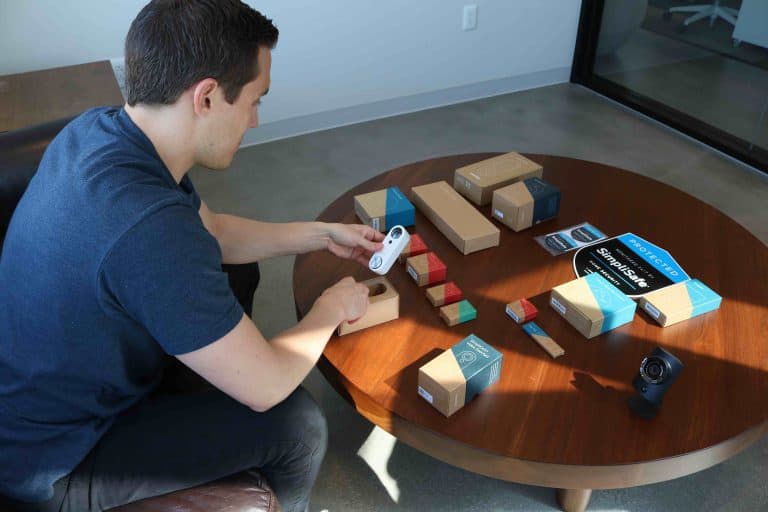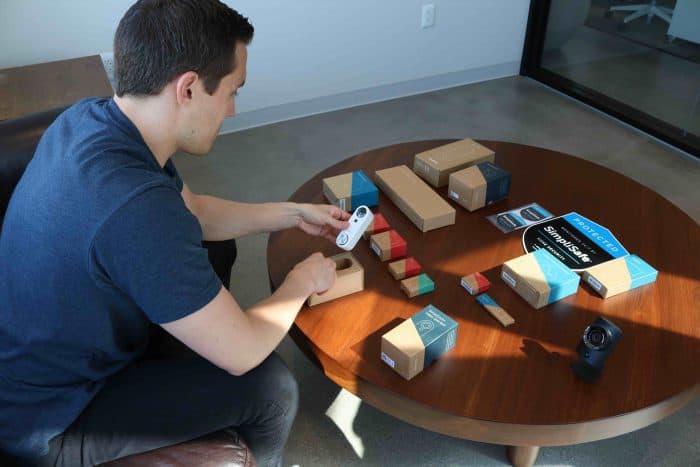 The Video Doorbell Pro wired directly into our existing doorbell wiring, so the installation was a little more involved than battery-powered setups, but it was still surprisingly simple. Also note that SimpliSafe has step-by-step tutorials on their website1 and inside their mobile app. No doubt, this is a main appeal and competitive advantage of SimpliSafe (simple is even in their name!).
Not the DIY type? If you'd rather have an expert install your doorbell cam, SimpliSafe charges $79 for a "partner" to come out and get you squared away. Not a bad price, but we're used to seeing $100 installation fees for a whole home security installation. So $79 seems a bit steep for a single camera installation, but worth it for a whole system installation. At any rate, we recommend you do it yourself. Installation couldn't be any easier.
FYI: We didn't love the design of the SimpliSafe doorbell. The big chrome button resembles an elevator button. Going up or going down? And the unit isn't as low-profile as other doorbell cams we've used. But this wasn't a deal-breaker for us.
Everyday Use
First things first, you don't need to be a Harvard grad to use the SimpliSafe doorbell camera (even though it was created by Harvard students, but we'll get to that). In fact, if you can use a smartphone, you're in good hands — as we found the in-app controls to be intuitive and… well… simple. A few screen taps is all it takes to field instant alerts, view live-stream footage, and even tell would-be package thieves to scram! using the built-in two-way talk.
We found the feature-set to be a little lacking compared to, say, Nest and Vivint. For instance, SimpliSafe doesn't have AI facial recognition like the Nest Doorbell, and there are no active deterrents (lights and sirens) like the Vivint Doorbell Camera Pro offers.
It also doesn't boast an impressive 180-degree field of view like you'd get with either Vivint or certain Arlo doorbell cameras. And… there's no smart home integrations. We could go on, but the point is that SimpliSafe only covers the basics, with a focus on keeping things easy.
That said, sometimes basic is all you need. We still enjoyed ultra-sharp 1080p HD resolution, infrared night vision, and a commendable 162-degree field of view. So we were able to keep an eye on our doorway 24/7, without feeling burdened by unnecessary features.
FYI: We've tried some brands, like Nest, that require a subscription plan to access advanced features. So just because a doorbell camera offers fancy features doesn't mean you'll get free access to them.
The way we see it, SimpliSafe Video Doorbell Pro is like the Model T car. The Model T wasn't the first automobile on the market, but Henry Ford designed it to be the first car that was affordable, easy to operate, and ideal for getting from point A to point B.2 That's SimpliSafe in a nutshell. It'll get the job done, but if you're looking for a Mercedes Benz, we suggest checking out the Ring Video Doorbell Elite.
One thing we liked about SimpliSafe was their dual-sensor trigger for motion detection. Unlike most doorbell cams we've tried, the Video Doorbell Pro senses both the heat signature of people and the human form. This resulted in more thoughtful alerts than we've seen from much of the competition. We were also able to dial-in the motion sensitivity within the app so that the camera ignored passing cars, tree branches swaying, and the like.
Did You Know: SimpliSafe claims that their secret sauce is their video compression. In their own words, their engineers have developed a "variable bitrate compression algorithm" that supposedly improves the HD video.3 We did like the video quality, but no need for all the flux capacitor talk.
SimpliSafe Customer Service
SimpliSafe's customer service is good, but, in our experience, it wasn't anything to write home about. They have a live chat feature on their website, and their customer service call center is open from 9 am – midnight (ET) 7 days a week. There's also an online community of fellow SimpliSafers. So if you run into any issues, you should be back in business pretty quickly.
Each time we phoned SimpliSafe, we were helped within a matter of minutes. The staff seemed knowledgeable and friendly, but keep in mind that we've come to expect this with the best home security companies in the industry. It's also worth noting that SimpliSafe was a recipient of the Angie's List Super Service Award.4 That's a nice feather-in-the-cap, we must say.