Features
SimpliSafe App
The SimpliSafe app is free for both Android and Apple phones, though you'll need to buy the more expensive monthly monitoring plan to access the app. You can still view your camera's data through a computer or tablet, but the app gives you more freedom to check on your security cameras even if you're on a work trip, on vacation, or just out on the town with some friends.
If you don't need the more expensive monitoring plan, you can get a keychain remote instead, though you should know it only works at close range.
Encrypted Data
SimpliSafe promises "bank-level encryption" on its SimpliCam. What does that mean? It's not a reference to bank cameras, but rather, a reference to the 256-bit encryption banks use to secure their customer accounts. You'll also be able to count on end-to-end encoding.
Stainless Steel Privacy Shutter
If you don't want the camera to record while you're at home, simply switch it to off or home mood. That will activate the stainless steel privacy shutter. You can remove the shutter when you're away from home and want the camera capturing images.
High-Definition Video
You'll get high-definition video and a compression rate that ensures you won't have to waste any time waiting for video to buffer. Instead, you get clear video without any interruptions.
Wide Field of Vision
SimpliCam provides a 120-degree field of vision so you can see precisely what's going on.
Intelligent Motion Detection Algorithm
Other cameras will activate if they sense anything bigger than a spider in the room, but the SimpliCam comes with an innovative feature designed to eliminate false alarms. The company says its algorithms are calibrated to pick up on the "unique heat signature" that only humans have. Your phone gets enough notifications as is; there's no need to get one simply because your camera got startled by the family dog chasing its own tail.
Night Vision
You'll have a stellar view regardless of if the camera is running in the daytime, nighttime, or in the middle of a total eclipse (of the sun, not the heart).
Optional Recording Plan
Do you need to record some video now so you can go back later and review it? You'll want the optional plan that allows you to start recording video with one press of a button. The 30-day storage gives you ample time to download any clips. If you need to share clips with neighbors so they know what a local prowler looks like, the plan lets you do that too.
Status Light
If the little blue light above the shutter is on, that means the camera is running.
Internal Microphone
You want to pick up more than just images, right? The SimpliCam's built-in microphone lets you hear what's happening as well.
Cost & Prices
SimpliCam costs $99, while Video Doorbell Pro costs $169. Feel free to use the Build My System option to personalize your home security plan. It starts with a base station and wireless keypad, then lets you add on extras like the SimpliCam.
If you don't want to build your own plan, SimpliSafe offers pre-built packages with names like The Foundation and The Fortress. Right now, The Beacon is the cheapest plan with a SimpliCam. A promotional price of $299 gets you 13 pieces of equipment. Aside from the SimpliCam, you'll also get a base station, wireless keypad, keychain remote, two motion sensors, six entry sensors, and an extra 105-decibel siren.
The Keep is another plan that comes with a SimpliCam. It also includes a keypad, base station, five entry sensors, one key fob, and two motion sensors. With a promotional pricing deal, you'll only pay $333.
The Video Doorbell Pro isn't currently available with Build My System or the pre-selected packages, but you can purchase it separately.
| SimpliSafe Camera | Upfront Cost | App Control | Installation Type | More Details |
| --- | --- | --- | --- | --- |
| SimpliCam | $99 | Yes | DIY | See More |
| Video Doorbell Pro | $169 | Yes | DIY | See More |
Monitoring Plans
You don't have to choose a monitoring plan at all. If you want to rely solely the equipment, that's your call. If not, there are two monthly monitoring plan options: Standard and Interactive.
The Standard monitoring plan costs $14.99 a month and comes with 24/7 monitoring through a cellular connection, plus environmental protection that alerts you if there's a fire, water leak, or even a dangerous shift in the indoor temperature.
For $24.99 a month, the Interactive monitoring plan will make the best use of your cameras. It includes the above features plus things like alerts on your phone, unlimited camera recording, and smart home integrations.
| SimpliSafe Plans | Monthly Cost | Installation Type | Monitoring | Camera Recordings | More Details |
| --- | --- | --- | --- | --- | --- |
| Standard | $14.99 | DIY | 24/7 Monitoring | None | See More |
| Interactive | $24.99 | DIY | 24/7 Monitoring + SMS/Email Alerts & Remote Arm/disarm | Unlimted | See More |
No Contracts or Fine Print
If you don't like the SimpliCam or Video Doorbell Pro, no problem. You can take advantage of the company's 60-day money back guarantee. There are no contracts to break. They don't want to get your money unless you hand it over happily; this isn't a company that's interested in tricking you into a long-term commitment.
If you keep the SimpliCam beyond 60 days, you'll find that it comes with a three-year limited warranty. It runs on AC power, so you'll need to be sure and place your camera near an electrical outlet. The built-in stand makes it ideal for placement on a table.
Equipment
SimpliCam Security Camera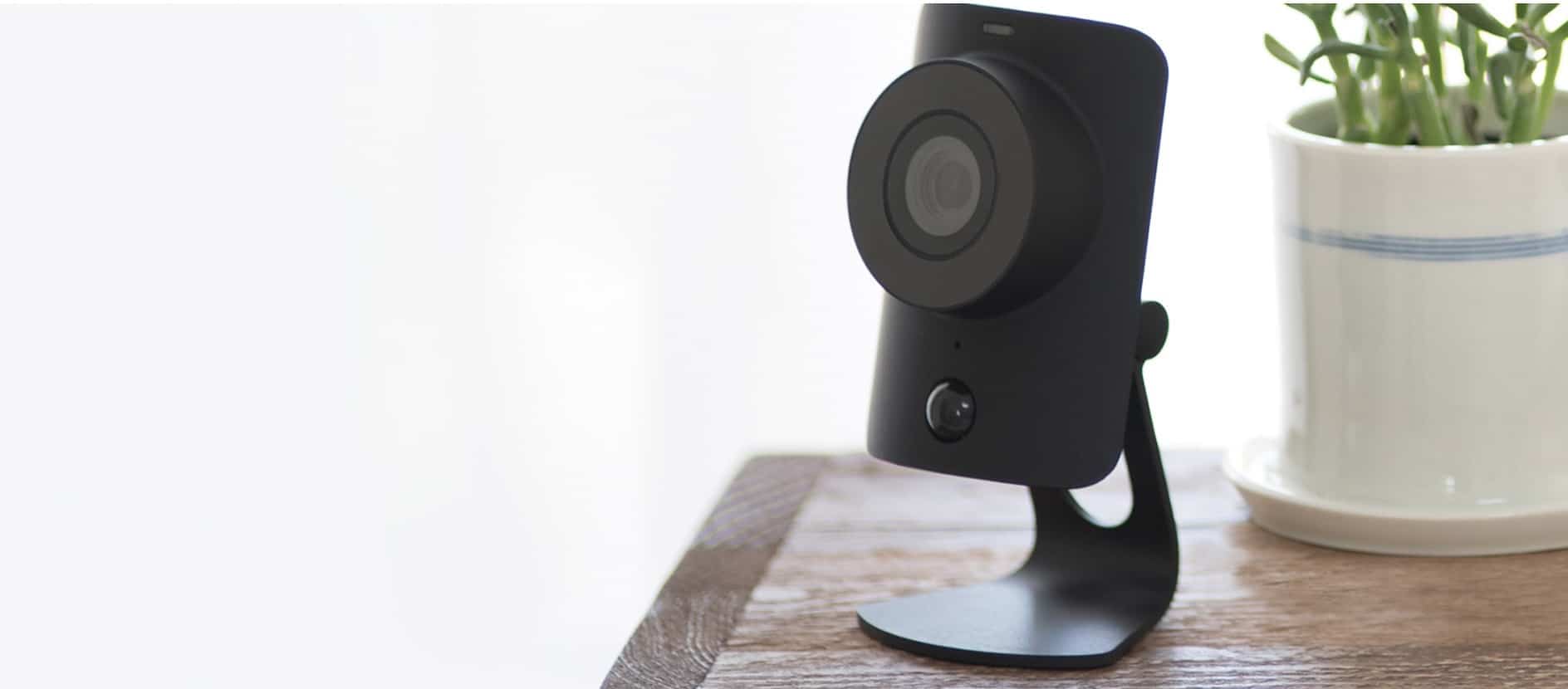 The SimpliCam is the only camera designed by SimpliSafe for indoor use, although it can function at temperatures ranging from 14 degrees to 104 degrees.
Specs
The SimpliCam is 4.56 inches long, 2.55 inches wide, and 2.08 inches high. It weighs 0.33 pounds. It's not the most lightweight camera on the market, but it's a manageable weight for most customers. The Video Doorbell Pro is obviously smaller, but no dimensions are listed for it on SimpliSafe's website.
Easy Set-Up
No professional set-up is necessary. Most people can get it done in five minutes or less. Once you open the SimpliCam box, there's only three steps left: Plug in and place the camera, download the SimpliSafe app, and connect to your home's Wi-Fi source. The company says 97 percent of customers opt to get things going on their own, but you can always contact the company if you need additional help.
SimpliSafe Video Doorbell Pro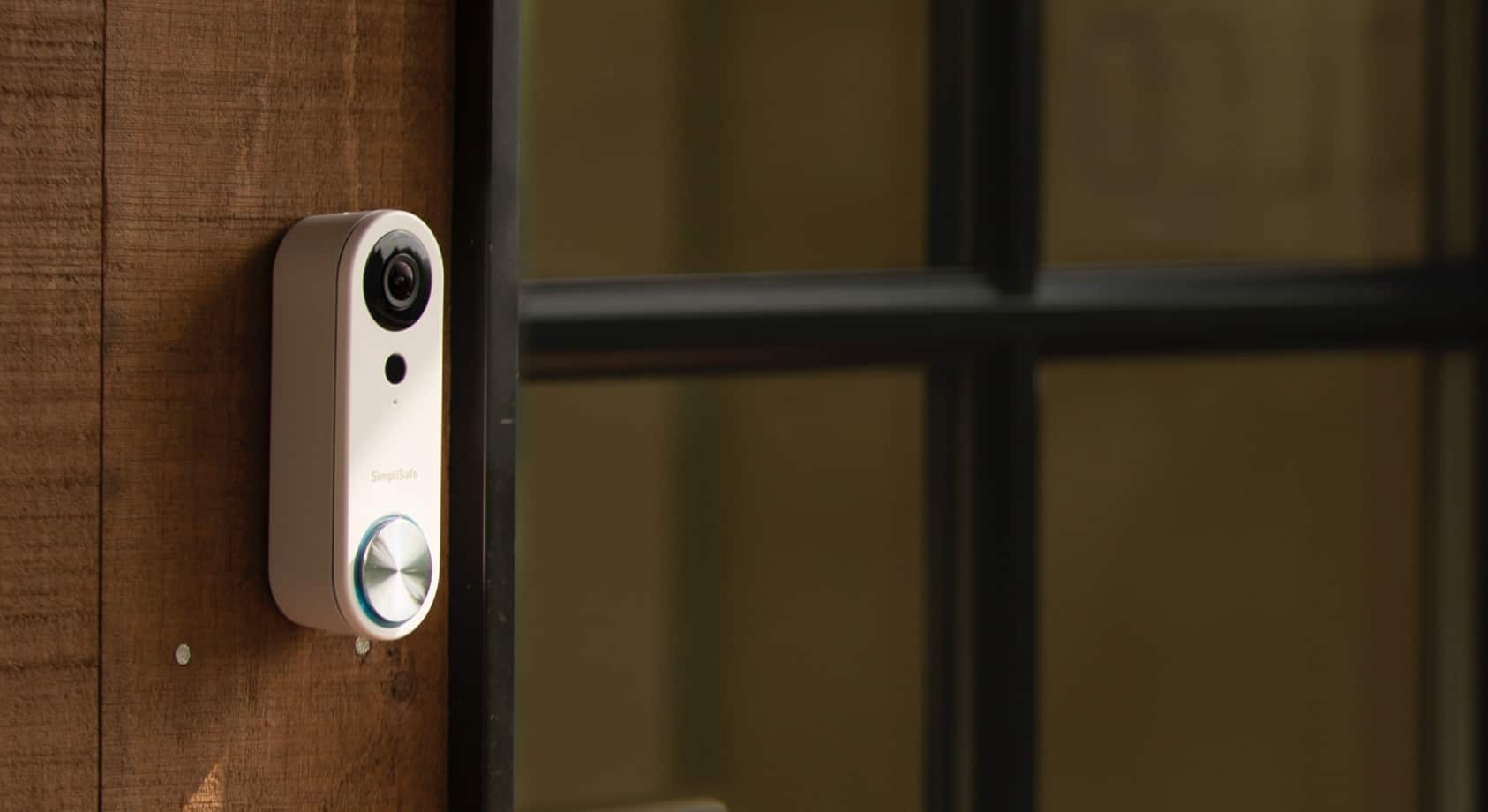 SimpliSafe recently introduced the Video Doorbell Pro that you can mount by your front or back door.
Two Unique Sensors
Most doorbell cameras have one sensor, but Video Doorbell Pro has two: One for human heat signatures, and another for the human form. So if the neighbor's dog likes to come up to your door hoping for a treat, you won't get a phone alert. That said, your neighbor's dog is a good boy, and you should go out and say hi sometimes.
Text Notifications
When someone rings the doorbell, you'll get an alert on your phone. If a person is hanging around your front porch, but not ringing the doorbell for whatever reasons, you'll also get a notification (when subscribed to a monitoring plan).
Two-Way Audio
You can talk to guests using Video Doorbell Pro's two-way audio. You can also talk to your neighbor's dog, but his vocabulary is more limited.
Pan and Zoom
Your boyfriend is on the front step with an apology, but what's that he's holding in his hand? Is it a jewelry box or something else? Use the pan and zoom feature to find out before you open the door. The video quality is 1080p high-definition, so you should be able to get a great view.
Works with Almost Every House
You should be able to connect Video Doorbell Pro to doorbell regardless of if your house is brand new or was built in 1900.
Summary
SimpliSafe started as an attempt at leveling the home security playing field for renters. It's now become a solid option for anyone who wants a secure home minus all the contracts and complicated equipment. The technology is top-notch as well, especially with unique camera sensors that make false alarms less likely. Unlike most home security companies, SimpliSafe doesn't make you buy a monitoring plan, but you'll need one to get the most out of your camera equipment.