Testing the Ring Elite Doorbell
Ring Elite Installation
Installing the Ring Video Doorbell Elite is not for the faint of heart. We opted for professional installation by a licensed electrician, and we highly recommend you do the same. If you want to do-it-yourself, the Ring website says that it "requires advanced DIY skills." So if you buy the product, we think you should save yourself the trouble and hire it out to a professional. There's no shame in that.
FYI: The Elite's installation process is much different than what we normally see. Its ethernet connectivity sets it apart from the competition, and even sets it apart from Ring's other products. For instance, the Ring Doorbell Pro comes with the Pro Power Kit, which connects directly to your doorbell wiring in a matter of minutes. And battery-powered video doorbells are even easier to install without having to fuss with any wires at all. So on the sliding scale of installation difficulty, the Ring Elite is the most involved.
We won't get too deep into the nitty-gritty of installation. But if you're so inclined to try it yourself, here is a general overview of what it entails. Note, these are not step-by-step instructions on how to install the Ring Doorbell Elite — you'll have to visit the Ring website or watch their how-to tutorial for that.2
Alright, once we unboxed the product, we noticed that the mounting bracket was quite large. But thankfully, this fit snug (recessed) into our wall to accommodate the flush-mount design. It secured to the wall using two clamps, then the doorbell itself was drilled into the plastic bracket and affixed to our wall. We also liked having four different faceplates included in the box. To match the modern look of our home, we chose the Satin Black faceplate, which simply screwed into the unit. We think you'll like the options here.
The most important thing to keep in mind is that the Ring Elite uses Power over Ethernet (PoE).3 As mentioned, the cable provided is plenty long at 50-feet and runs from your doorbell to your router. The ethernet cable provides for both the transfer of power and data, giving you an incredibly reliable and fast connection using only one wire. In our experience, ethernet beats a Wi-Fi connection any day (as you'll soon see!). But again, it's going to require an expert's touch, or at least Jedi-level DIY skills.
Everyday Use
We found the Ring Video Doorbell Elite just as easy to use as other top doorbell cams out there, like Arlo. The Ring app has long-been a favorite of ours, as it's well-designed and intuitive to use. With this in mind, we controlled the device exclusively from our smartphone — it's where we fielded alerts, viewed live-stream footage, used two-way talk to speak with visitors, played back recorded video (requires Ring Protect plan), and the like.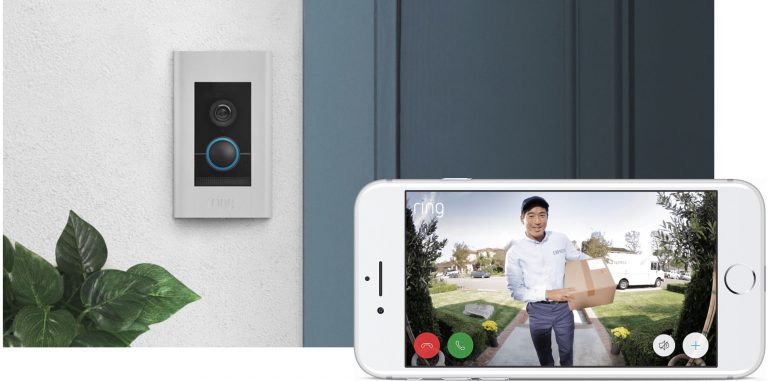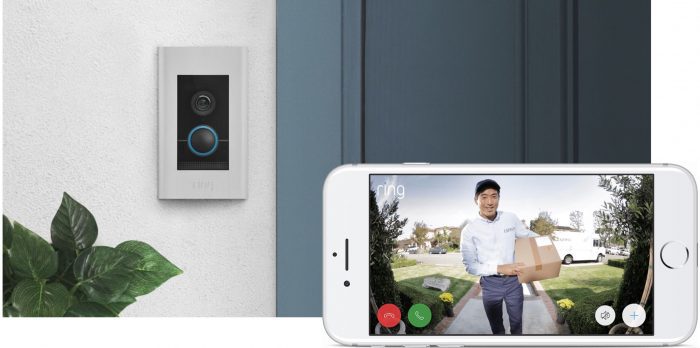 We've found that people are intimidated by the Elite doorbell (the name 'Elite' only adds to this). And while it is more technologically advanced than many of its rivals, and while the installation is more involved, you'd be surprised at how it functions just like other DIY devices. At the end of the day, it's an easy-to-use doorbell video camera that helps to protect your home. We think Ring could do a better job at communicating this on its website.
Our Favorite Features
One of our favorite things about Ring's high-end doorbell camera was the control we had over the motion detection. You'll find several settings in the Ring app to dial-in the types of motion that trigger an alert.
There's even a "Snooze" motion option, which we found helpful during a family get-together at our home. This essentially snoozed our notifications for a few hours while we had company coming in and out so that we weren't bombarded with alerts. We were also able to customize motion zones, a feature that gives the Ring Elite a huge advantage over most doorbell cameras on the market today.
Pro Tip: Party much? Activate the "Snooze" setting if you're having lots of people over. This will ensure your smartphone doesn't get flooded with motion alerts. It's the only time we recommend snoozing at your own party.
We really liked how this doorbell cam performed during everyday use. In fact, we noticed that instant alerts came through faster than any other doorbell we've tested. This is obviously due to the ethernet connection and the fact that constant power was flowing to the unit. There's no down time, or lag time, and we never had to worry about a slow Wi-Fi connection (a weakness we see in many wireless home security products). So kudos to Ring for its overall responsiveness, speed, and reliability.
And what's an entryway camera without sharp resolution? Well, the Elite makes the grade in this category, too. But with that said, we weren't blown away by the video quality. After trying it out for a few days, the resolution actually reminded us of the Ring Video Doorbell Pro model — crisp and clear. However, at 1080p HD, the video quality doesn't stack up to doorbell cams that offer 4K (like the Arlo Ultra), which we're starting to see more and more.
Note that the Elite doorbell also has night vision and two-way talk, but these are standard features and nothing to write home about.
Finally, we really appreciated the modern look of the Ring Elite at our entryway. Compared to many devices we've used, we think the Ring Elite makes a statement, which certainly won't be lost on folks who value good design and aesthetic appeal.
Pro Tip: When paired with a Ring Floodlight Cam or Spotlight Cam, the extra light can enhance the nighttime image quality of the Elite doorbell. Just be careful about how you position the lights in relation to your entryway, as it can overexpose the frame and wash out the video.