Best Identity Theft Protection Services for Military
Sometimes those who protect and serve need some protection themselves. Check out our list of the best military identity theft protection services below.

1. Identity Guard
Identity Guard is one of our favorite services, and for good reason. They've partnered with IBM to leverage the power of the company's Watson artificial intelligence platform, meaning that their protections are getting smarter every day. That's important for military personnel who may not be able to pay attention to their credit reports, financial accounts, and other early indicators of identity theft for long periods of time. Before we get into that though, let's have a look at Identity Guard's pros and cons.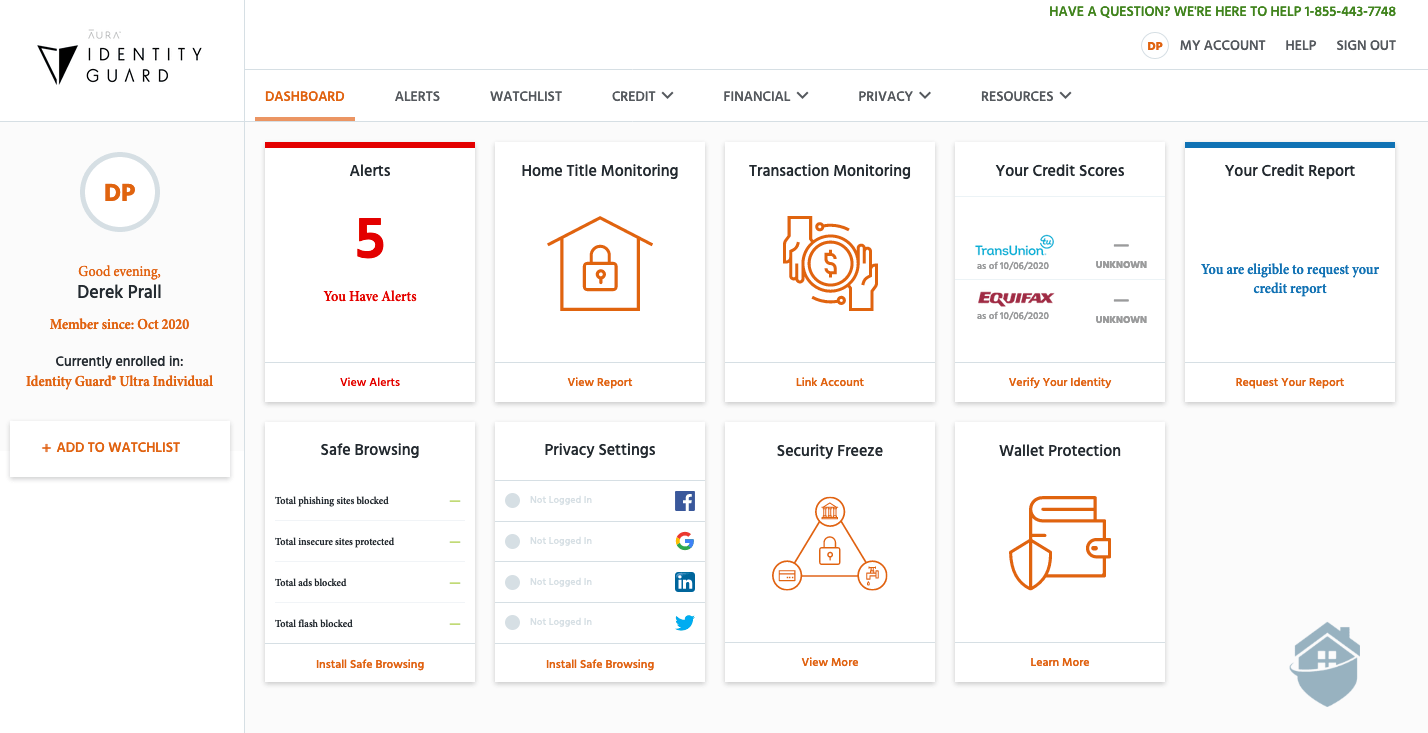 Pros
High-Tech, Dynamic Protections
Actionable Alerts
Data Breach Notifications
Risk Management Tools
Cybersecurity Protections
High-Risk Transaction Monitoring
White-Glove Restoration Services
Cons
Mobile App Could be Updated
No Credit Lock Feature
Lower Tiers of Service Lack Critical Functions
One of our favorite features we found when we reviewed Identity Guard for military personnel is their data breach alert functionality. Data breaches occur when a company you've done business with, a financial institution, a medical provider, or a government agency with your identifying information on file gets hacked. This data usually ends up in dark-web marketplaces where identity thieves often buy, sell, and trade the identities of others.
Did You Know: Data Breaches are serious business. If your information is leaked, there's a one in five chance you're going to become the victim of identity theft.
If your personal information is out there, you want to know about it — even if you're half a world away serving in the military. Identity Guard scans the records of known data breaches and will alert you if your sensitive information could potentially be showing up where it shouldn't and getting into the wrong hands. This is what we're talking about when we say they offer proactive protections — something you as a member of the military should actively seek out in your search for an identity theft protection service.
To get a better idea of what they're bringing to the table while you're shopping around, be sure to check out our guide to Identity Guard's plans and pricing.
2. NortonLifeLock
NortonLifeLock is another great option for military members looking to protect their identities and finances. They offer some of the best cybersecurity protections in the industry, and their core functionalities will keep you protected from myriad threats.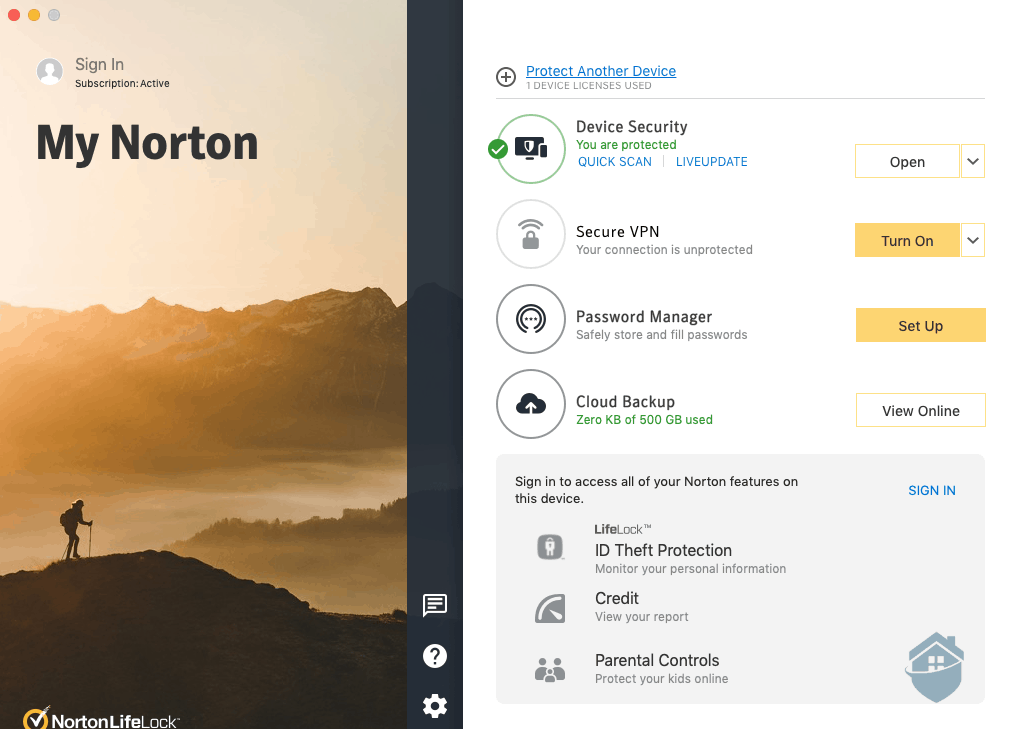 Pros
Credit Lock Function
Identity and Social Security Number Alerts
Investment and Retirement Account Protections
Multi-Bureau Reporting and Alerts
Robust Cyber Security Services
Fully-Managed Restoration
Financial Account Activity Alerts
Cons
Expensive Services
Platform can be Confusing
Costs Increase after First Year
One of our favorite functions for long-term protection we found when we reviewed NortonLifeLock is their TransUnion credit lock feature, which can be especially useful for military personnel. While managing credit locks isn't exclusive to NortonLifeLock, it's a pretty unique feature that we don't see that often. What is a credit lock, though? Glad you asked.
A credit lock prevents anyone from accessing your credit file before the lock is lifted. This effectively thwarts fraudsters from opening up unauthorized lines of credit or taking out loans in your name. Setting this up before you're deployed can prevent you from coming home to a financial mess.
Did You Know: There's also a similar function called a credit freeze. These take a little longer to set up and undo, and they offer different legal protections for different kinds of identity theft compared to standard locks. We recommend contacting the credit monitoring bureaus to discuss your situation and figure out which option might be best for you.
If you do, however, find yourself in an identity theft-related bind, NortonLifeLock offers some of the best restorative services out there. If your identity is stolen and you suffer material losses, they're going to cover you for up to $1 million dollars. They also offer an additional $1 million for any additional expenses you might rack up, and if your case is so complicated that you need the help of lawyers to unravel it — you guessed it — they've got you covered for another $1 million.
Keep in mind, though, we're talking about NortonLifeLock's top tier of coverage here, which is a little pricey. To see what plan is right for you and your budget, check out our guide to NortonLifeLock's services and pricing structures.
3. IdentityForce
Simply put — when we reviewed IdentityForce, we thought it was an absolute workhorse. They proved all around, comprehensive protections from credit monitoring and reporting, to financial account alerts, to cybersecurity protections. They're a great choice for anyone looking for a little bit of everything. Before we look at why they're a good option for military members, though, let's take a look at their pros and cons.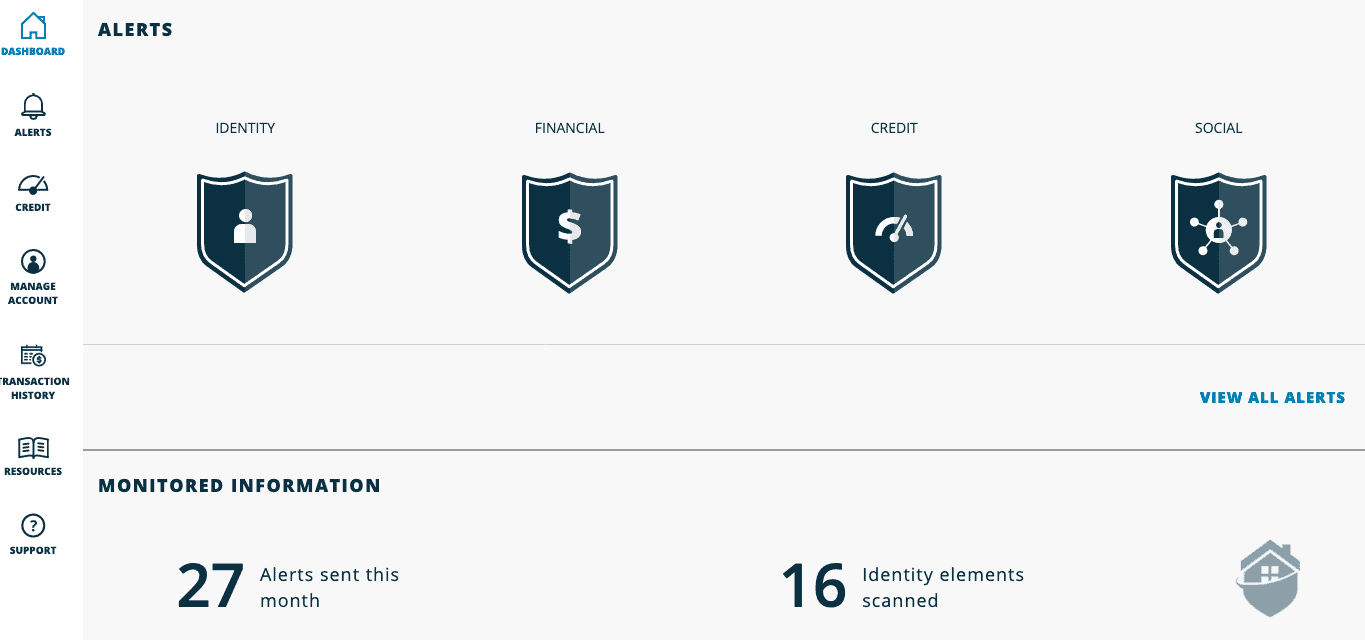 Pros
Multi-Bureau Credit Monitoring
Comprehensive Cybersecurity Functions
Investment and Retirement Account Protections
Advanced Fraud Monitoring
Social Media Monitoring
Fraud Assistance
Financial Tools
Cons
Underwhelming Mobile Experience
A Tad Pricey
Setup Can Be Confusing
Although it might be tempting to do so, it's best to avoid social media altogether when you're deployed. However, that doesn't mean that your accounts aren't vulnerable — and they're a treasure trove of information for identity thieves. The good news is that IdentityForce has some of the most powerful social media monitoring tools on the market today; they'll keep you protected from hackers and alert you if anything suspicious is going on in your absence.
Did You Know: About 22 percent of internet users say their social media accounts have been hacked at least once.
IdentityForce also offers a wealth of resources and financial planning tools to help you get on track with civilian life once you return from duty. Their credit score simulator can help you set goals to build your credit, and their resource library can give you information on everything you'll need to know about anything from applying for your first credit card to securing a mortgage. When we say they're all-encompassing — we mean it.
Like most services, they offer several different protection tiers. Take a look at our breakdown of IdentiyForce's costs and features to help figure out if they have what you're looking for.
So we've talked about the protections — but what should you do if you think you've become a victim? If you've purchased an identity theft protection plan already, you're likely in pretty good shape. If you haven't, though, there are still immediate steps you should take.
Why Are Military Members Often the Targets of Identity Theft?
As we mentioned earlier, being in the military has some disadvantages when it comes to protecting your identity. Namely that you aren't always available to monitor certain aspects of your civilian life. You're also at a much higher risk of identity theft. But why?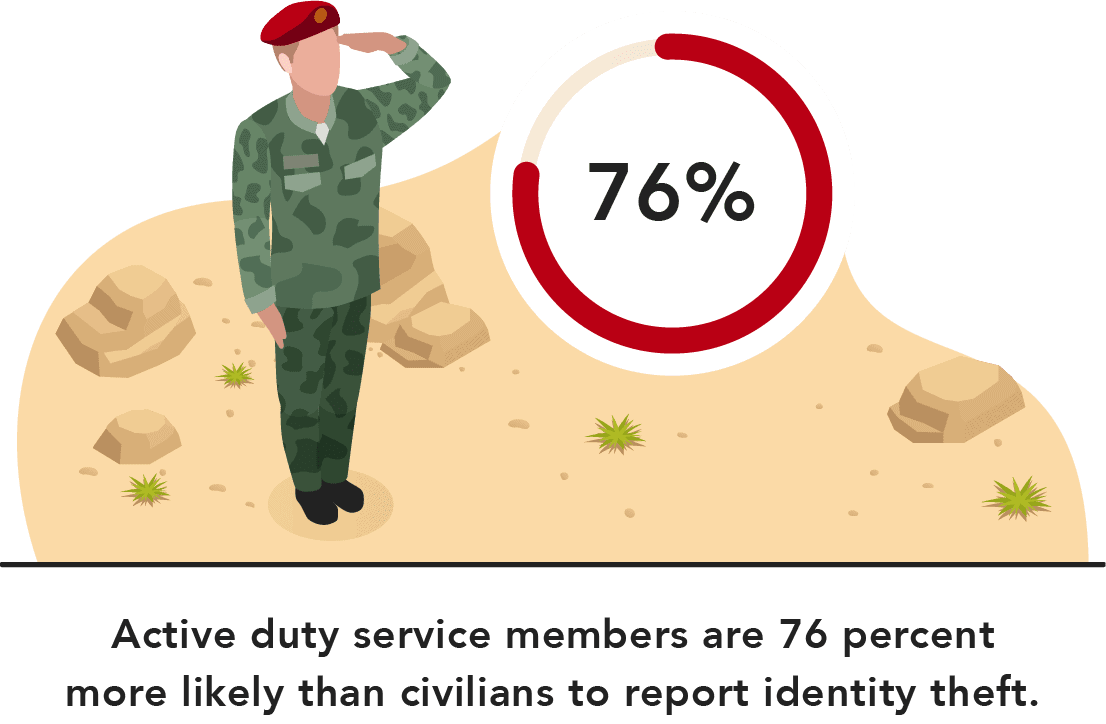 There are quite a few reasons, but one of the primary factors is that active-duty military personnel are often so far detached from their civilian life that identity thieves know their crimes are likely to go unreported. Add to that the knowledge that service members are receiving steady paychecks piling up in their accounts, and you have the perfect storm for identity theft.
It's also important to understand that the stakes are a lot higher for a member of the military as opposed to the average civilian. An identity theft incident for military personnel can have severe consequences, including the revocation of security clearances, potentially derailing entire careers. It pays to keep yourself protected.
One of the first things you should do if you're deployed is to place an "Active Duty Alert" on your credit file. This will ensure that any unusual spending while you're gone will immediately be flagged, and the credit agency will respond accordingly.
If you want to take it a step further, you could also consider having your credit files locked or frozen. This will prevent any unauthorized person from taking out a line of credit or loan in your name.
Additionally, many veterans are eligible for free credit monitoring through the U.S. Department of Veterans Affairs, as well as a program called "More Than a Number" that provides you and your beneficiaries with information on how to protect yourselves.
That said, you should absolutely have someone watching out for your best interest while you are in the field watching out for ours. That's why we recommend dedicated, professional, comprehensive identity theft protections.
What to Do If You Are Deployed and Suspect Identity Theft
If you are deployed and you suspect identity theft, you should react as quickly as possible. Before you panic, stop and analyze the situation. What type of identity theft has occurred? As you start to unpack the situation, keep meticulous notes with names, dates, and times including records of all your actions.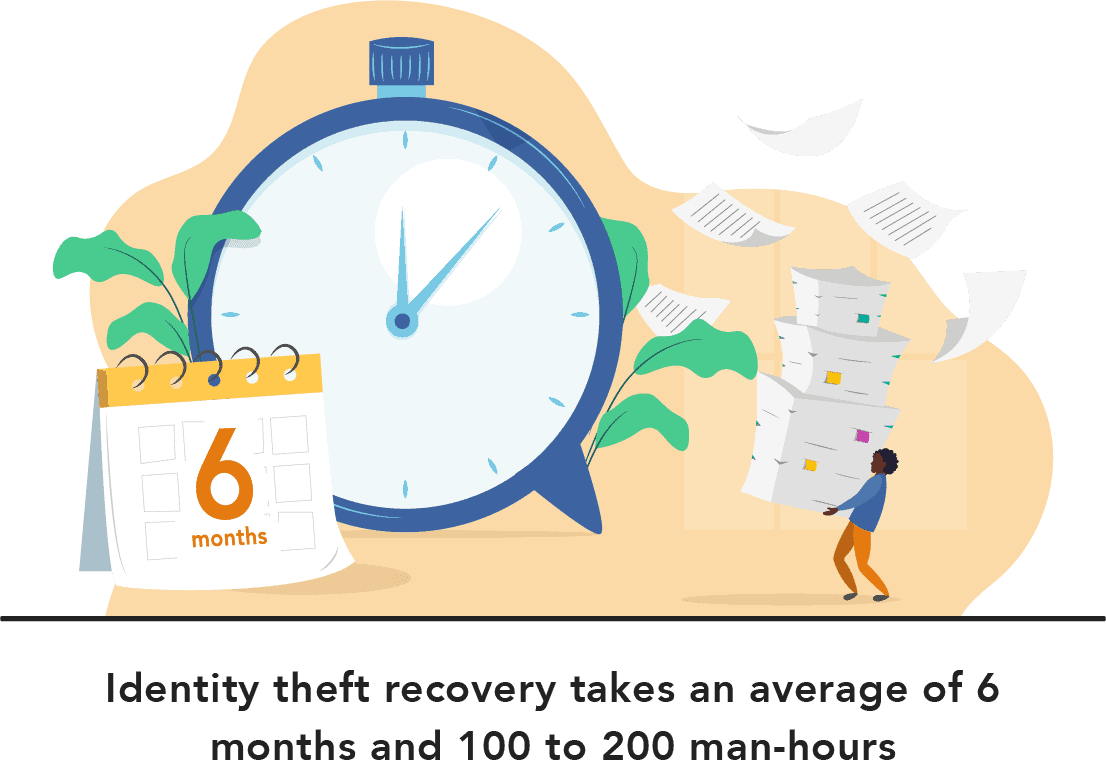 If you've invested in an identity theft protection service, contact them first, as their resolution specialists will give you direction based on your specific situation, and they'll handle a lot of the legwork for you.
That said, here are the general, rule-of-thumb steps you should take. Note, however, that every identity theft incident is different, and your specific needs might deviate from this list.
General Steps to Identity Theft Restitution
Place a fraud alert with one of the three national credit reporting agencies, Experian, TransUnion, or Equifax. Once you put a fraud alert on one credit bureau they will notify the other two, and all three will add extra layers of scrutiny to all new credit inquiries.
Check every one of your financial accounts for fraudulent activity and closely review all three of your credit reports.
File a report with the authorities, and contact any organizations where fraudulent activity occurred.
File a complaint with the Federal Trade Commission (FTC).
Check your computer and mobile devices for viruses and malware.
Fill out the Federal Trade Commission's ID Theft Affidavit to secure your proof of identity. This will be important in proving that you are who you say you are — probably for years to come.
After an identity theft incident has occurred, it could take hundreds of hours to straighten everything out, and this process could take years. The good news is, if you have an identity theft protection service working for you, they will take care of most (but not all) of this for you.
If you are in the military and are frequently on active duty, understand you're a preferred target of identity theft. You really can't afford to be without protection. Investing in an identity theft service like the ones mentioned above is your best possible option to protect your military and civilian life with as little disruption as possible.
Features of Identity Theft Services for Military Personnel
It's particularly important for military personnel to have the very best identity theft protection with all the right features, especially since they are a preferred target for identity thieves. Therefore, consider taking some time to learn and thoroughly understand all the different options available to you. Then compare those options to narrow down which service best fits your particular needs. This is the only way you will be able to make an educated decision about which service is right for you.
Here are some of the most common features of identity theft services for military personnel in 2021.
SSN Monitoring
SSN Monitoring is a value-packed feature for military personnel. After all, your incredibly important SSN is often needed to complete piles of paperwork. So it's natural you'd become a prime target for identity theft. Not to worry — SSN Monitoring searches billions of data points to ensure your SSN isn't being used fraudulently. If it is, you're alerted immediately.
Black Market Surveillance
The back-door dealings of military identities is a rising threat. Cybercriminals are buying, selling, and trading everything from addresses and SSN's, to driver's license numbers, personal passwords, and the list goes on. Don't get caught on the losing end of these dirty deals. Get Black Market Surveillance — a feature that searches black-market criminal strongholds to keep your good name safe.
Social Media Monitoring
Military personnel should be especially vigilant on social media. Thieves are constantly lurking and searching for an easy target. Once they find and scrape your personal info, they sell it via the dark web, hacker forums, and other underground trading zones. That's why Social Media Monitoring is a wise investment. The tech-forward feature goes the distance to protect you from fraud.
Dark Web Monitoring
Dark Web Monitoring is another feature to look for in ID theft services for the military. And the reason is simple — the dark web is a dangerous place where your identity could fall into the wrong hands and cause great harm. So this feature dives deep to scan underground websites, hacker forums, and other place where cybercriminals buy, sell, and trade identities.
Identity Theft Insurance Coverage
Identity Theft Insurance could save you thousands of dollars, perhaps even more. The priceless coverage puts money back in your pocket should you fall victim to costly identity theft. This coverage brings peace of mind for military personnel who are often not around to deal with the fallout. Let the insurance cover the cost and put you back on track.
Pay Day Loan Monitoring
Fast cash at your expense. That's the payday loan scam. The thief steals your social security number and other information. Then they head to the payday lender to take out a loan in your name — a loan you might have to repay. Not fair, right? That's why Payday Loan Monitoring is a feature not to be missed for military personnel.
Lost Wallet Protection
Lost Wallet Protection is offered by most ID theft protection services for military. Whether stationed in the U.S., or deploying abroad, you could misplace your wallet — a mistake that strikes fear into the heart's of men and women. Not to worry! Lost Wallet Protection steps in to cancel and replace credit cards, driver's licenses, and other sensitive information.
Address Change Verification
Address Change Verification is a powerful feature for military personnel. If you go unprotected, identity thieves can forward your mail to a different address and open accounts in your name. Often, you might be too busy serving our country to receive the address change notice. So this feature monitors for suspicious mail activity and alerts you if necessary.
Identity Restoration
Leave identity restoration to the pros. You have bigger fish to fry as a member of the U.S. Armed Forces. Identity Restoration is a full-service feature offered by many identity theft protection companies. In the event your identity is stolen — whether stateside or abroad — a team of experts will work to restore your identity to pre-fraud status. Don't go without it!