Travis Goodreau
https://www.safehome.org/security-advisors/travis-goodreau/
Best Cloud Security Cameras
Cloud security cameras allow you to store and access your video from anywhere. Check out our list of the best cloud cameras of 2021.

A home security system without video cameras is like not having a security system at all. But, having video cameras is just one part of the equation. You also need to be able to access, monitor, control, and store your video recordings as well, if you want them to be of any use to you. A security camera without recordings would mean you would have to watch your security cameras 24/7 if you wanted to see what's happening in and around your home at all times. And we're guessing you probably don't have time for that. Here are our top five picks for the best cloud security cameras in 2021.
1. Nest Cam – Best Cloud Security Camera Overall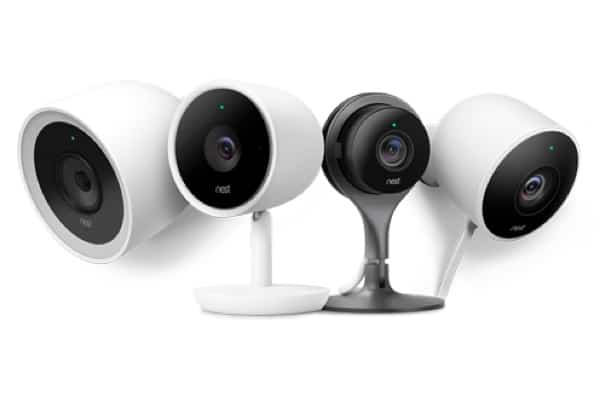 Being a Google product, the Nest Cam has some amazing features that include video recordings, not just video clips. It will also send you alerts when a person is detected on your property or in your home. And if you want advanced features, there is the Nest Cam IQ, which is a smart camera that can actually detect a familiar face versus one that's not. Here is our Nest Cam summary along with a few of the Nest Cam pros and cons.
Pros
Tons of available gadgets
Easily integrated with third-party products
No long-term contracts
Simple DIY installation (professional installation available)
Low-cost, feature-rich subscription plans
Single dashboard app controls
Can be used with or without subscription plans
Cons
Pricey upfront equipment expense
No local video storage option
Must always be connected to the internet to work
The Nest Cams are becoming more popular by the day. These cameras are available with 5-, 10-, or 30-day subscription options, and they cost $5/mo. or $50/yr., $10/mo. or $100/yr., and $30/mo. or $300/yr. respectively. These subscription plans come with a 24/7 continuous recording feature, intelligent alerts, video clips, and time-lapses, customized activity zones, and more for just pennies a day. Your subscription plan allows you to store your video recordings in the cloud for your chosen amount of time, so you can go back in time to see what happens when you're not there. You can also share your videos with the authorities or others who might benefit from seeing them.
2. Ring – Best Alexa Cloud Security Camera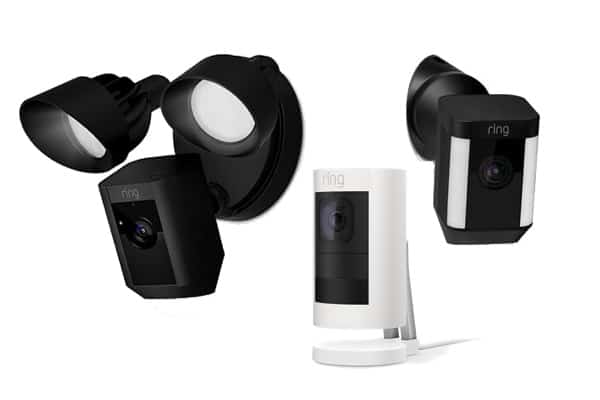 The Ring line of security products are some of the most comprehensive, affordable, DIY security devices on the market. And since they're wireless, they are perfect for everyone, especially those who live in an apartment or townhome. The Ring products are easy to install, have free to low-cost monitoring plans, and they are continually adding new features to their lineup of products. Here is our Ring summary along with a few of the Ring pros and cons.
Pros
30-second average call response time
24/7 emergency support (with select plans)
Video saving and sharing available
1-year warranty for doorbells and cams
Real-time video with Live View
Two-way talk feature
Lifetime theft protection
Motion-activated notifications
Cons
Requires an upfront equipment purchase
Basic plan requires you to purchase each additional camera separately, which gets expensive
Ring has two cloud plans from which you can choose, and they cost either $3/mo. or $30/yr. for the Basic Plan or $10/mo. or $100/yr. for the Plus Plan. Ring cameras are DIY installations which means they are portable so you can easily take them with you when you move. With Ring, you can also build your own system specifically to meet your individual needs versus buying a package of things you might not want or need. You also get real-time alerts and several backup options. And, you can opt for a recording plan to store and share your videos for as little as $3/mo.
3. Arlo – Best DIY Cloud Security Camera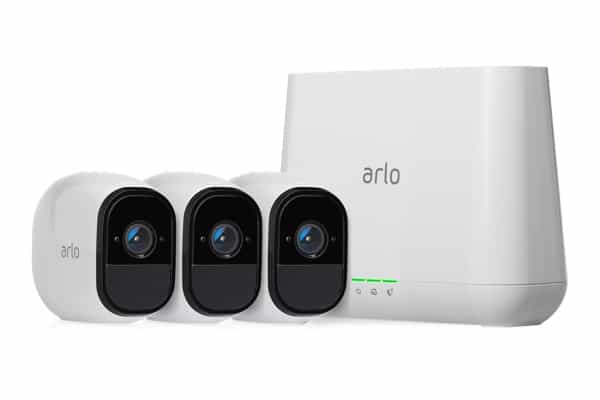 The Arlo cameras are for you if you want a home security system that is basic and extremely easy to install and even easier to use. Arlo offers indoor and outdoor camera systems that are 100% wireless and that, in part, is why they are so easy to install. However, the Arlo system does lack some of the features that other home security systems offer. Here is our Arlo summary along with a few of the Arlo pros and cons.
Pros
100% wireless DIY installation
All-in-one mobile app
No long-term contracts
Video baby monitor option
Supports up to 60 cameras (some restrictions apply)
Compatible with Alexa
High-quality night vision
Cons
No professional monitoring services available
Lacks basic features other brands offer
Home automation abilities are limited
Significant upfront equipment costs
Subscription plan required for video recording and storage
Arlo has some of the best basic, but powerful home security cameras on the market. And, Arlo has just added some new A.I. technology to their lineup as well and it's called the Arlo Smart. The Arlo Smart uses advanced technology to enable you to customize key aspects of your home security system. The Arlo Smart has a person detection feature that can distinguish between a person and other motion triggers. This A.I. and computer vision technology filter will immediately send you an alert when it detects a person while ignoring motion from other objects such as swaying tree branches, etc. This new option also has a package detection and vehicle detect feature as well. The Arlo cameras come with 7-days of rolling video with cloud storage. However, they also have additional plans if you would like more advanced features and longer cloud storage options.
The Arlo Smart option has three scalable plans. The Arlo Smart is $2.99/mo. per camera and comes with a 30-day video history. The Arlo Smart Premier is $9.99/mo. for up to 10-cameras and a 30-day video history. The Arlo Smart Elite is $14.99/mo. for up to 20-cameras and a 60-day video history. They also have a Premium Video Recording option that is $1.99/mo. per camera that allows you to upgrade your Ultra camera so it can record and store your video clips in the cloud in 4K and view them from anywhere.
4. Zmodo – Best Selection of Cloud Storage Cameras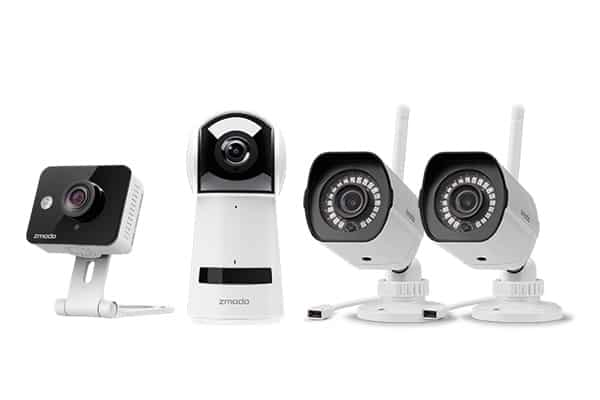 Zmodo has some great offerings. With Zmodo, you not only get great cameras, but you also get advanced features (for a fee) and basic cloud storage for free. Zmodo's camera systems also come with night vision that has a range of up to 98 feet in the dark (on selected cameras only), which is amazing compared to other brand cameras. And, Zmodo has smart home integration options available as well. Here is our Zmodo summary along with a few of the Zmodo pros and cons.
Pros
No paid plan required to use basic features
Smart home integration (compatible with Alexa and Google Assistant)
Industry-leading affordability
Free cloud storage (12 hours)
Mobile app
Two-way audio
60-day money-back guarantee
Cons
Paid plan required to use advanced features
Numerous camera options make it hard to choose
There are so many great things about the Zmodo cameras such as their ability to work well with voice assistants. They also have night vision, pan and tilt cameras, smart motion alerts with set detection fields, time-lapse videos, edit and share features, two-way audio, multiple-user support, a mobile app, and more.
Zmodo offers three plans. Their Basic plan is free and comes with 12 hours of alert clips. All their paid plans come with advanced features and varying degrees of cloud storage. The 7-Day Plan is $4.99/mo. or $49.90/yr. and comes with 7-days of intelligent continuous cloud storage and 7-days of alert clip storage. The 30-day Plan is $9.99/mo. or $99.90/yr. and comes with 30-days of intelligent continuous cloud storage and 30-days of alert clip storage. And, Zmodo offers 50% off the purchase of any additional cameras you need.
5. Wyze – Most Affordable Cloud Camera System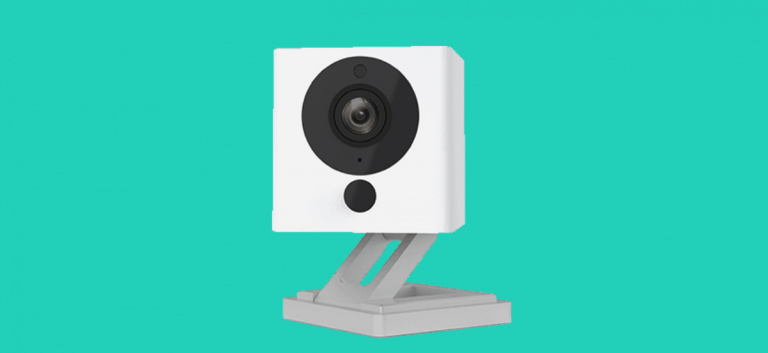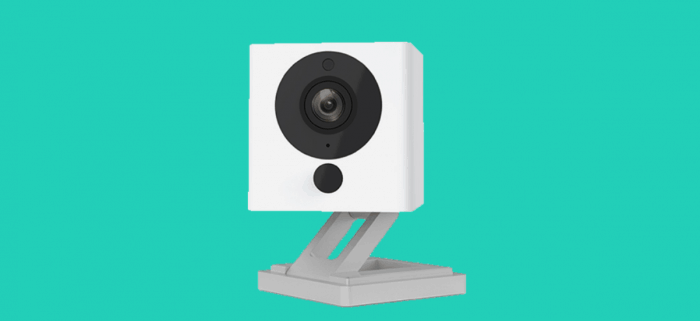 Finally, a home security company offering advanced high-quality cameras at unbelievably low prices, then adding free cloud storage to boot! The only drawback is that they only offer indoor video cameras, at least for now. Here is our Wyze summary along with a few of the Wyze pros and cons.
Pros
Advanced smart home cameras at rock-bottom prices
Compatible with Alexa
Motion tagging and advanced sound recognition
14-day rolling video free cloud storage
End-to-end encryption
1080p HD cameras with night vision
Two-way audio
Cons
No outdoor cameras offered
Cameras have to be plugged in to access power
No professional monitoring services available
Only two camera options (at least for now)
No paid cloud storage options for extended video storage times
The Wyze cameras come with some great features such as automatic motion tracking and tagging, night vision with a 30-foot range, smart sound recognition, time-lapse video, and they are very easy to use. However, the Wyze cameras don't have any battery-powered options, so they have to be plugged into a power source to use them. The good news is, though, that Wyze will give you 14-days of free video cloud storage and if you prefer local storage, they will sell you a 32GB MicroSD card for your camera as well. Unfortunately, they don't offer any paid video recording cloud storage options so you can store your videos for longer than 14 days. After the 14-day timeframe, the video recordings are deleted and can't be recovered.
Do You Need a Hard Drive for Security Cameras?
Wireless technology has completely transformed the home security industry from its hardwired, analog beginnings decades ago. In addition to a much easier installation experience, we're also getting more choices than ever in how we want to store our video history. Now, you're no longer limited to just a hard drive.
But in many cases, saving and storing video to a hard drive works quite well as a camera setup. We've found IP camera systems with network or digital video recorder boxes to be a solid solution for storage.
FYI: Lorex makes a nice 4K Ultra HD NVR system, a great outdoor package for folks who want to record and store footage around the clock.
But we mostly test Wi-Fi systems that don't sync up to hard drive recorders. Instead, we have access to a micro SD port built into the camera.
Those cameras, in our experience, end up working more like smart home devices than traditional security equipment. We simply pop in our micro SD card during installation and let the camera do (most of) the work, or, if that option is not available, we sign on to the cloud and pick a monthly subscription through the camera's mobile app. In fact, we often prefer cloud storage over local video storage for security cameras.
We're big fans of cloud storage plans. A cloud subscription will typically only set you back about $3 or $5 per month for 60-90 days of video history, image capture and video sharing, and other great features.
So the answer is no, you don't need a hard drive for security cameras.
How to Tell if a Security Camera is Recording
At random times throughout our home security journey, we run into scenarios where we need to figure out whether one of our cameras is recording. In some of our tests, the camera gives us a small red light to indicate that it's online and recording; other times, the light is blue or green.
We found that some brands handle this differently than others, but generally all in the form of light indicators. Still, it's helpful to know what our camera is going to look like when it's all up and running. Why? For one, we don't want to go through all the trouble of installing, pairing, and setting up all this equipment around our home, just to end up with cameras that don't record when we need them to.
As an example, SimpliSafe's super DIY setup process includes a great troubleshooting menu, pictured below, that explains what all those light indicators mean, so we knew as soon as we were finished with installation whether our cameras were working or not.
In other cases, you might want to know if a camera is recording before you walk into, say, a summer property you're renting. Depending on the laws in your state, recording rental property guests might be illegal. (Airbnb doesn't ban property owners from installing cameras, just FYI.)
On the flip side, however, having security cameras in your property can certainly be beneficial to the tenant, as it can help protect their belongings. These are all simple yet beneficial tips to remember as you navigate the world of security cameras.
Features of Cloud Security Cameras
Wireless
A wireless cloud security camera is one that is battery-powered and doesn't require any hardwiring or an external power source to function. A wireless security system is generally very easy to set up because there are no wires or electrical issues to deal with.
Night Vision
The night vision feature gives your camera the ability to see in low-light conditions. This feature works by using infrared light or thermal imaging to observe objects at night or other low-light conditions.
Motion Detection
Motion detection sensors use multiple technologies to detect movement. Once movement is detected, it will trigger an alarm and send you an alert so you can respond accordingly.
App Control
App control refers to a brand's mobile app. Brand mobile apps give you the ability to access, monitor, and control your home's security and automation systems, as well as receive alerts in real-time from a single dashboard.
High Resolution
High resolution is the feature on a security camera that displays your video recordings. The higher the resolution is on any given camera, the more clear the images on your video streams will be. If you have a low-resolution video, your images will be grainy and/or blurry to the point you might not be able to distinguish people and objects.
Video Recording
Most, but not all, security cameras come with a video recording feature. A video camera will record using an intermittent or continuous recording option. The intermittent option only records when activity is detected. A continuous video recording is one that records continuously 24/7 without any lapses. Video recordings are then stored locally on the camera or sent to a cloud storage service.
Cloud Storage
Security camera videos are either stored locally (on the camera and/or SD card) or on the cloud. Cloud storage is a service that stores your cameras' videos on a remote server where you can access them using the internet.
Live View
A live view is when you are able to view your video camera feeds in real-time rather than going back and looking at stored recordings from a previous time. The live view is an important feature in helping to prevent crime because, without it, you won't be able to proactively respond to a potential intrusion/crime.
Smart Home Integration
The smart home integration feature is what allows you to control all your smart home's internet-connected functions and devices. Smart home integration allows you to control many of your home's features remotely, such as your security system, lights, door locks, thermostat,  and more. Smart home integration requires the use of a base station or hub, such as Alexa, and devices that are all compatible with that hub and each other.