Wyze started out as an affordable single-camera option for folks looking to keep an eye on things without breaking the bank. Now, five years later, they offer a full suite of security products that rival some of the biggest names in the business.
Now the scrappy little startup has established quite a following by focusing on customer needs and offering high-quality, low-cost equipment. When it comes to balancing affordability with features, Wyze does pretty well. To see more of what I mean, check out my hands-on review of Wyze Cams, but suffice it to say, most of the time they're right on the money. It's easy to see why this brand is popular, but especially with renters looking for effective apartment security.
Pro Tip: Wyze recently announced its new line of products – the OGs. With this line of cameras, they're taking things back to their roots — simplicity and affordability. And I have to say, for only $19.99, these cameras look really enticing. After subjecting these cameras to our full battery of tests, I think it's time now to look deeper into Wyze the brand, and their equipment costs, plans, packages, and deals.
After subjecting these cameras to our full battery of tests, I think it's time now to look deeper into Wyze the brand, and their equipment costs, plans, packages, and deals.
To start things off, let's lay out some of my favorite Wyze features:
Easy to Install and Use
Cheap Equipment
Modern, Cube-Inspired Design
Intuitive Mobile App
Smart Home Automation with Amazon Alexa, IFTTT
Motion and Sound Detection
Infrared Night Vision
Pan and Tilt Feature
Full HD Resolution
Free Cloud Storage Available
A Look at Wyze Pricing
There isn't a one-size-fits-all security camera, and no camera alone will protect you from every threat out there – more on that in our property crime report. But for what it's worth, Wyze gets pretty close. Their flagship product, the Wyze Cam V3 Pro retails for just $49.99 and packs all the features of cameras that cost twice as much.
Come to think of it, I've seen lots of changes in the security industry2 over the years, some good, some not so good. One of the biggest changes, though, is the number of cheap cameras that have popped up. In fact, that's what led us to review the best cheap security cameras available.
Of course, you have to be careful here, as not all brands share the same dedication to quality. An example: I reviewed Swann cameras, which are considered "affordable" with prices ranging from about $70 to $200, but they didn't wow me in terms of equipment quality or features. That said, Swann sells all sorts of cameras, some of which are pretty solid, so having lots of choices within one brand is a nice touch, too.
Another example: I reviewed a YI Home Camera 3 that, like Wyze Cams, included person detection. While the camera itself handled nicely for its low $25 price tag, I did start to question the accuracy of that detection feature after it thought my 8-pound Maltese was a person.
Pro Tip: Wyze keeps their inventory relatively small, with only a few cameras to choose from. If you're partial to more selection, check out our review of Lorex cameras. We think Lorex could be a great alternative, although equipment can get pricey. Their HD indoor cam, for $49.99, has a tougher build than Wyze, too.
Now, let's dive deeper into Wyze Cam V3, the Wyze Cam V3 Pro, and Wyze Cam Pan.
Wyze Cam V3
The first- and second-generation Wyze Cams, originally priced at $19.99, are no longer available. The upgraded Wyze Cam V3 rolled out in 2021 and carried over many of my favorite aspects of the original, plus some neat extras like person and pet detection. But here's the kicker: at $35.98, V3 costs a little more than double the original.
With this camera, I got fair-to-good video quality (watch my video below), two-way audio, person and pet detection, motion zones, infrared night vision, and even a free cloud storage plan. And like the Wyze Cam Pan, which I'll cover in just a moment, Wyze Cam V3 comes with a micro-SD card slot, freeing you from monthly fees or service agreements.
Even some of Ring's cameras and packages don't offer the option of local storage like Wyze does. But trust us: in my latest Ring camera review, I saw how much the ever-popular Ring brings to the table, including features galore.
Wyze Cam V3 Pro
The beefed up cousin of the V3, the Wyze Cam V3 Pro stands head and shoulders above its predecessor. It fixes almost all the problems I found with the original version, and adds on some really interesting features like 2K resolution and color night vision. I also really appreciated the holdovers from the previous model like the smart alerts. Those require a subscription, of course, which we'll get into in just a minute.
At $49.99, it's definitely one of the more expensive Wyze cameras available, but I'd argue its features and performance justify the price tag. Although there were certainly some drawbacks – the dinky two-way audio for one — this is certainly a solid choice for folks looking to protect their family and property.
Wyze Cam Pan
The Wyze Cam Pan has a neat 360-rotation feature that panned around my room looking for potential threats. Notably, the Pan Cam has a rotation speed of 110 degrees per second, which is pretty fast – and life moves pretty fast, doesn't it?
In my tests of this camera, a feature called PanScan let me customize up to four "waypoints" for the camera to cover throughout the day. Whether I was at home helping the kids with their homework or out having dinner with friends, I liked knowing Wyze had those areas covered.
For $43.99, Wyze Cam Pan is one of the cheapest pan-tilt cameras I've come across. I'm more accustomed to seeing pan-tilt cameras hover around $100, like the Reolink E1 outdoor camera I reviewed. So a camera that covers this much ground for under $30 is pretty remarkable.
Now, let's look at exactly how much Wyze's cameras will cost you:
Snapshot of Wyze Camera Pricing
| Camera | Type | Key Features | Price |
| --- | --- | --- | --- |
| Wyze Cam v3 Pro | Indoor/Outdoor, Wired | 2K resolution, built in spotlight, integrated siren, two-way audio, AI-powered | $49.99 |
| Wyze Cam v3 | Indoor/Outdoor, Wired | Full HD, two-way talk, night vision, person detection | $35.98 |
| Wyze Cam Pan | Indoor, Wired | 1080p HD, pan/tilt, two-way audio, sound/motion detection | $43.99 |
| Wyze Cam Outdoor v2 Bundle | Outdoor, Wired | 1080p HD, IP65-rated cover and wall mount, battery | $73.99 |
| Wyze Cam Spotlight Bundle | Outdoor, Wired | Spotlight schedule, 1080p HD, enhanced night vision | $39.99 |
Wyze Home Monitoring: Equipment and Costs
In addition to cameras, Wyze released a Wyze Home Monitoring kit that includes two entry sensors, one motion sensor, a keypad, and a Wyze smart hub. In my Wyze Home Monitoring review I found lots of similarities to another favorite brand of ours, SimpliSafe, especially when it came to easy-to-install DIY equipment.
And in even better news, Wyze has entered the professional monitoring game, though in a roundabout way. With Wyze Home Monitoring, you can access Noonlight, a third-party emergency monitoring app, for $4.99 per month.
There are a couple of points to keep in mind here. First, Noonlight monitoring is only available with a Wyze Home Monitoring kit. Also, the kit doesn't come with a Wyze Cam, while SimpliSafe's packages come with a standard-definition SimpliCam that really pulls the whole system together. Those packages, by the way, start around $99, while Wyze Home Monitoring costs just $9.99 per month when you pay annually, or $29.99 if you want video monitoring included.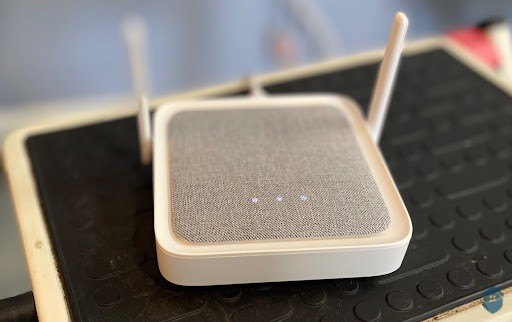 Wyze Sense Hub Closeup
Either way, you're saving money by choosing Wyze, but you'll get in-house professional monitoring by going with SimpliSafe, among other upgrades. Check out our full SimpliSafe review for more.
That said, here's what you can expect to pay for Wyze Home Monitoring:
Wyze Home Monitoring Costs
| Wyze Sense Equipment | Cost |
| --- | --- |
| Leak Sensors, 3 pack | $37.40 |
| Leak Sensor Probes, 2 pack | $8.99 |
| Climate Sensor, 3 pack | $23.99 |
| Entry Sensors, 3 pack | $23.99 |
| Motion Sensor, 1 pack | $8.99 |
| Keypad | $23.99 |
More Wyze Gadgets and Accessories
I can't do Wyze justice without mentioning all the new gadgets they've been rolling out lately.
These smart home devices in Wyze's arsenal – a smart watch, a sprinkler controller, and a bathroom scale, to name a few – represent the brand's tendency to push the boundaries of the industry for true home automation. Here is Wyze's latest accessories lineup:
Snapshot of Wyze Accessories
| Wyze Product | Price |
| --- | --- |
| Wyze Light Strip | $19.99 |
| Wyze Light Strip Pro | $22.99 |
| Wyze Cordless Vacuum | $159.99 |
| Wyze Robot Vacuum | $293.99 |
| Wyze Noise-Canceling Headphones | $59.99 |
| Wyze Earbuds Pro | $74.99 |
| Wyze Watch | $24.99 |
| Wyze Lock | $123.99 |
| Wyze Night Light | $19.99 |
| Wyze Color Bulb (2-pack) | $26.98 |
| Wyze Sprinkler Controller | $58.99 |
| Wyze Scale | $33.99 |
Wyze Video Storage Options
Each Wyze camera comes with free, 14-day cloud recording and limited motion detection features. This way, checking your cameras' video history is a tap away, and you can monitor your home, record motion-triggered clips, and get tailored motion alerts with no monthly fees.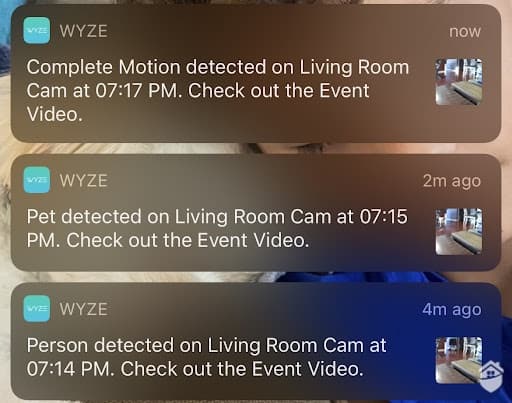 Common Wyze Alerts
As we all know well, bills add up. And paying for cloud storage on a monthly basis can sometimes feel like you're never fully free of the expense of securing your home. Sometimes, you just want to plunk down a few bucks for some nice-looking equipment and call it a day.
Thankfully, Wyze's pricing model for cloud storage is pretty simple: if you want more than the included 14 days and more features like person detection and motion tagging, consider a Cam Plus subscription, which will cost you $1.67 per month. This is lower than the industry average, as I typically see cloud storage plans range in cost between $3 and $5 (or more) per camera monthly.
FYI: Another great camera brand we've used recently is called Zmodo. With Zmodo's line of cameras and systems, equipment won't cost you much, though you'll still pay at least $5 per month for a cloud storage plan. At $1.67 per month, Wyze offers an equally generous plan in terms of storage capacity. Just something to think about as you compare brands to find the right fit.
Wyze Cam Subscription Packages
| Feature | Basic Plan | Cam Plus Lite | Cam Plus |
| --- | --- | --- | --- |
| Event Video Length | Snapshot | 12 Seconds | Unlimited |
| Delay Between Events | 5 Minutes | 5 Minutes | None |
| Motion Alerts | Yes | Yes | Yes |
| Sound Alerts | Yes | Yes | Yes |
| Smoke and CO Sound Alerts | Yes | Yes | Yes |
| Person Detection | No | Yes | Yes |
| 2x and 4x Event Fast Forwarding | No | No | Yes |
| Package Detection | No | No | Yes |
| Vehicle Detection | No | No | Yes |
| Pet Detection | No | No | Yes |
| Wyze Web View | No | No | Yes |
| Exclusive Discounts | No | No | Yes |
| Price | Free | Pay-What-You-Want | $1.67 per month |
Wyze: Standout Features and Tech
The story goes that the founders of Wyze3 met while they were employees at Amazon, hatched a brilliant startup idea, and before long we had two little Wyze Cams that cost a fraction of what the leaders in the industry cost.
And the nod to minimalist design is no accident, either. It's become somewhat trendy to declutter, and Wyze is a shoo-in for folks who don't like bulky, cumbersome gadgets taking up space in their homes. It's part of the reason Wyze is a hands-down favorite among people who live in small spaces.
Pro Tip: They may be cheap, but not everyone is a fan of Wyze's whimsical, cubic shape. If you're looking for something more robust, an outdoor bullet-style camera might be a better fit. If you go this route, check out Ezviz's CN3 camera for equipment that's intimidating enough to make the bad guys think twice. And to read about our experience with the brand, check out our full Ezviz review here.
Here's a closer look at Wyze's best features:
Wyze Cams Feature List
| | |
| --- | --- |
| 1080p HD Resolution | Wyze Cams are designed to deliver 1080p HD resolution in their videos. This is not only the industry standard for security cameras, it's also an ideal definition for Wi-Fi and wireless cameras. Our Wyze tests yielded vivid images and smooth video recordings, with some loss of definition at night. |
| Smart Home Integration | While it's not integrated into Wyze's technology, you can connect your Wyze cameras with Amazon Alexa, Google Assistant, and most other smart home ecosystems. After finding the Wyze skill in our Alexa app, we connected the cams to our Echo Show. Now, we can say "Alexa, show me the front door" or "Alexa, turn on the lights" to view our live stream anytime we want. |
| Two-Way Voice | As an active deterrent against break-ins, two-way voice is an invaluable tool. Wyze cameras have both a built-in speaker and microphone, allowing us to speak to whomever is at the other end – possibly breaking up a crime in progress. Also, the mic minimizes ambient sound to provide clear, high-quality audio. |
| DIY Installation | Installation is simple with Wyze, as their cameras require nothing more than a power cord and a Wi-Fi connection to work. We even had the option of installing Wyze cameras using a 3M double-sided adhesive, meaning no tools are needed for installation. |
| Night Vision | Detecting activity in dimly lit areas is a necessity for security cameras, especially if you plan on using them outside. Wyze Cams have infrared night vision, which helps zero in on details under unfavorable lighting conditions. |
Current Deals and Discounts on Wyze Cameras
If you're shopping around for Wyze Cams, you might notice that prices tend to change for each product within a short time frame. At the beginning of my testing period, for example, the Wyze Cam V3 was priced at $35.98 on the company website and included one free month of Cam Plus. Just two weeks later, the Wyze Cam price had dropped to $31.98. I'm not talking about huge margins, but the downward trend is significant, especially when you consider how little these cameras cost in the first place.
Beyond those price drops, we don't typically see deep discounts or offers on Wyze cameras. In this way, Wyze is like many other home security brands4 that stay tight-lipped on sales and promotions until they actually happen.
My suggestion? Check back here often for the latest Wyze Cam updates, or visit my in-depth guide to Wyze's Black Friday and Cyber Monday deals to get an inside look at holiday sales.
Final Thoughts on Wyze Cameras
For $19.99, Wyze's debut camera wasn't intended to knock anyone's socks off when it was released in 2017. It was meant to be one of the easiest and cheapest ways to add cameras to your home. All these years later, Wyze stays true to that original intention, but they've also rolled out some neat changes and upgrades to their lineup.
A brand with a dedication to improving quality without charging high prices is something we always like to see in this industry. In our experience working with inexpensive cams, we've found that the products still perform the basic functions of home security pretty well. Wyze is no different, but what stands out about Wyze is that it manages to inject a lot of features we don't see often in cameras at this price point.
So there you have it: Bargain-basement equipment prices plus economical monthly costs, all in one camera. Wyze checks those boxes simultaneously, which is pretty rare, and quite welcomed.
For more tips on building a secure home on a budget, check out our buying guide for home security cameras.
Frequently Asked Questions
Wyze Cam Outdoor comes with rechargeable batteries, making it a great wireless option. Other Wyze cameras don't include a battery, so you'll have to plug them into a wall outlet with the included power cord.
Does Wyze work with Alexa?
Yes. In terms of smart home ecosystems, Wyze integrates with Alexa, Google Assistant, and IFTTT. It does not currently integrate with Apple HomeKit.
Do Wyze Cams require a base station or hub to work?
No. All Wyze cameras, including the most recent V3 releases, work alone.
What is included in a Wyze Cam Plus subscription?
In addition to saving your video history, Wyze's Cam Plus plan lets you access AI features like person and pet detection. You can record full-length video when motion is detected. It also lets you save snapshots and video clips to the cloud, or download footage to your phone or tablet. Cam Plus costs $1.25 per month per camera.
Can I use Wyze Cams without a subscription?
Yes, in two ways. All Wyze Cams include free cloud recording with up to 12-second video clips, so you can livestream footage, receive alerts, and control your cameras remotely through the Wyze app without signing up for a Cam Plus subscription. Or, you can store your footage locally through micro-SD cards and save clips in the Playback tab of the Wyze app.