Travis Goodreau
https://www.safehome.org/security-advisors/travis-goodreau/
Best Wired Security Cameras
Want to buy the best possible security cameras available? Then opt for a wired security camera system for a stable, reliable connection that's not susceptible to interference.

If you are trying to decide between a wired or wireless home security system, it might help if you understood how a wired security camera system works. Wired security systems work by using cables for the power, for the internet connection, and for the video transmission. A cable connects the cameras to a recorder. Then the recorder connects to your internet router. The power source needed is either a separate power cord or a POE (power over the Ethernet) enabled system. A POE system provides you with both by supplying power and an internet connection to your wired security camera system. Here are our top five best wired security camera systems in 2021 based on our expert's thorough research and testing.
1. Lorex – Best Outdoor Wired Security Camera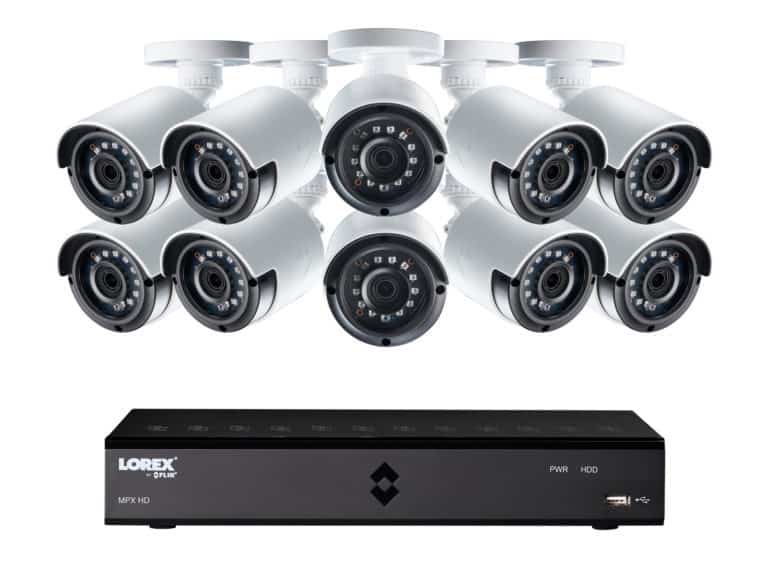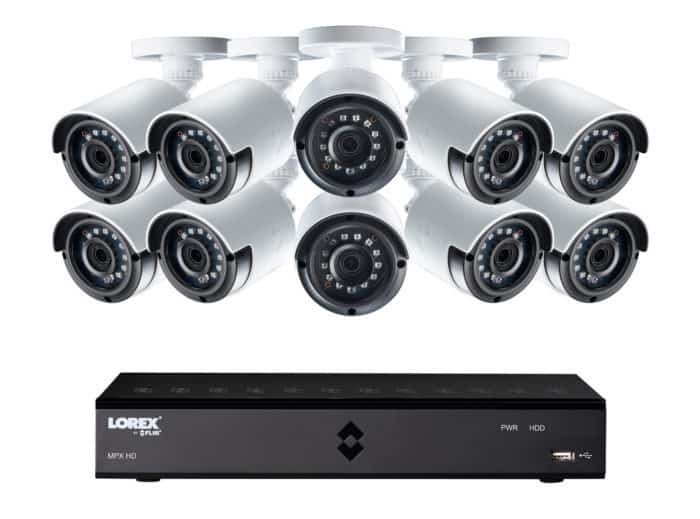 Lorex has some of the most powerful professional-grade wired and digitally advanced security cameras on the market. Lorex offers a feature-rich wired HD video camera system with up to 4K resolution, night vision, cloud connection and apps, and simultaneous recording and playback features from various streams. But, just like any other brand, when the firmware updates roll out, problems always seem to follow and Lorex has been no exception. However, Lorex still has some of the best cameras out there. Here are some of the Lorex pros and cons.
Pros
Easy connect internet setup wizard
Free Lorex DDNS for advanced remote connectivity at all times
H.264 video compression
Instant email alerts with snapshot attachment
PIP (picture in picture) full-screen mode and two other locations simultaneously
Continuous recording with motion-activated alerts
Cons
Expensive camera system
Recent firmware update problems
Overwhelming camera options make it hard to choose
Lorex offers some of the best, most advanced features available. Their night vision has a range of up to 60 ft., a digital zoom feature, and because Lorex has a continuous recording feature with motion-activated alerts, you no longer have to choose between a continuous or motion recording option. And, the Lorex cameras have a reputation of being super dependable and never going down. But don't expect to get such an advanced security camera system for cheap. The Lorex camera systems range from $284.99 for a two-camera system up to $799.99 for five dome cameras and one pan/tilt/zoom camera, as well as 130 feet of night vision and a 2TB hard drive.
Other things people like about Lorex is their exceptional customer service and that their cameras are motion-sensitive with advanced pixel detection. Additionally, Lorex offers a variety of accessories including several sized LED-backlit LCD security monitors, audio-enabled dome security cameras, AC power supply adapters, security surveillance microphones, high-performance BNC video/power cables, and more.
2. Ring – Best Alexa Compatible Wired Security Camera System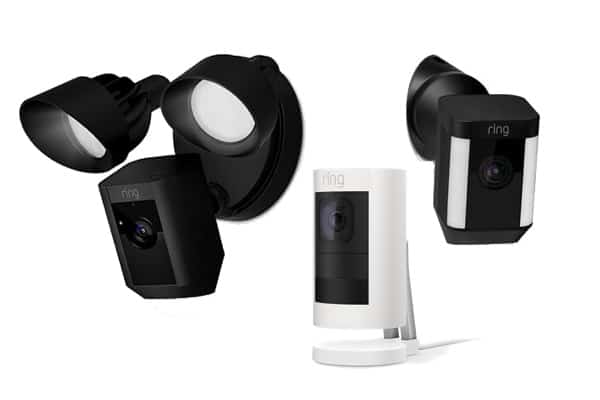 Ring is the pioneer of smart security cameras, and they are continually advancing their product line with innovative products to better protect your home and make your life easier. If you have opted for a wired security camera system, Ring has a wired Spotlight Cam and a wired Stick Up Cam from which you can choose. Here are some of the Ring pros and cons.
Pros
Easy 10-15 minute installation process
1080p HD resolution
110-240 VAC, Micro-USB, or POE power source
Two-way audio
Advanced motion and sound detection
Customizable motion zones
Night vision
Compatible with Alexa
On-demand live view (subscription required)
Cons
Subscription required to use several of the available features
Not compatible with Google Assistant (Ring is an Amazon product)
With the Ring indoor/outdoor wired cameras, you receive quite a bit of versatility and some of the best most advanced features available. The Ring wired cameras are available in white or black and have built-in speakers, a wide-angle camera lens, night vision, a siren, and exceptional clarity with their 1080p HD video. The Spotlight Cam Wired is $199 and the Stick Up Cam Wired is $179. And, Ring offers 0% financing in easy 3-, 6-, or 12-month payment options if you qualify. You can also buy camera bundles that come with multiple cameras in one pack for additional savings. So basically, the more you buy, the bigger discount you will get.
3. Nest Cam – Best Indoor Wired Security Camera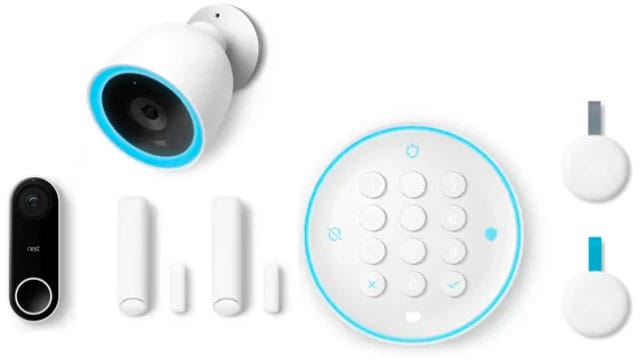 If you want more than just a basic wired home security camera system, Nest has exceptional cameras, as well as a variety of home automation equipment to go with them. The Nest cameras come in 1080p HD video with night vision and the ability to check on your home 24/7 using a mobile app and the live streaming video feature. However, there have been some complaints about Nest's customer support. So keep that in mind. Here are some of the Nest Cam pros and cons.
Pros
Exceptionally high-quality wired camera system
IQ cameras use 4K sensors for crisp, clear detail
Intelligent person detection (helps reduce false alarms)
Compatible with Z-Wave and Google Assistant
Advanced home security and home automation features
Two-way talk functionality
30-day video history (with Nest Aware subscription)
Cons
Costly investment (but worth it)
Some reports of customer service issues
Wired cameras limit installation placement (due to power requirement)
Some features require a paid subscription to use them
Just about everyone who owns a Nest camera system loves it because of its advanced technology and available integration capabilities. With Nest, you get a 24/7 live video feed, mobile alerts, 1080p HD resolution, a 3-hour snapshot history, night vision, two-way talk, and more. Nest has a variety of wired indoor and outdoor security camera options which range from the most basic Nest Cam indoor or outdoor for $199 and the more advanced version of their cams which is the Nest Cam IQ with the indoor version being $299 and the outdoor version being $399. However, if you buy a bundle, you can save yourself some money versus buying everything separately. And, if you want to expand your Nest Cam system, you can easily do so using third-party products that are Z-Wave compatible.
4. Arlo – Best DIY Wired Security Camera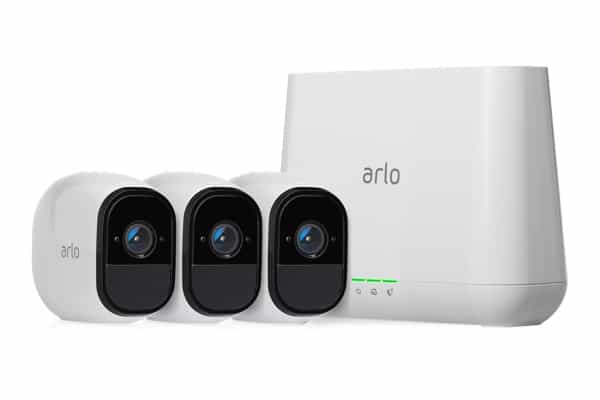 With Arlo, you have your choice of wired or wireless security camera options. The wired Arlo cameras are extremely easy to install because all you have to do is plug them in. However, the only Arlo camera options that are wired are their indoor Wi-Fi cameras and their Baby Wi-Fi camera. All their other cameras, including their outdoor cameras, only come as battery-powered security camera options.
Pros
High-quality security cameras
Easily integrates with third-party devices
Available video baby monitor
No long-term contracts
Cloud storage (7 days for free)
Night vision
Motion detection alerts
Two-way talk feature
Cons
Very few home automation features
Upfront costs can get pricey
2-4 second recording delay
Cameras only come in white
Only five cameras allowed per station (after that you have to buy additional stations)
One of the best things about the Arlo cameras is that they are portable and extremely easy to move around, which is important if you live in an apartment or similar living situation. And, the Arlo wired and wireless cameras are very easy to install because they come in a kit that provides you with everything you will need for a quick installation.
The Arlo wired cameras have some basic smart features that include remote control using the companion mobile app, they have HD quality videos, will send you smart alerts, and they work with third-party devices such as Alexa, Google Assistant, IFTTT, and Stringify; however, they are expensive. The Arlo Baby is $199.99/ea., the Arlo Q is also $199.99/ea. And the Arlo Q Plus is $249.99/ea. So if you add up the cost of each camera you need for whole-home coverage, that might price some people out of this brand. But don't worry, we have other home security brands available as well. Arlo also offers Smart Plans for your video recording storage. The Arlo video storage plans range from $2.99/mo. to $14.99/mo. depending on which plan you choose.
5. Swann – Best Resolution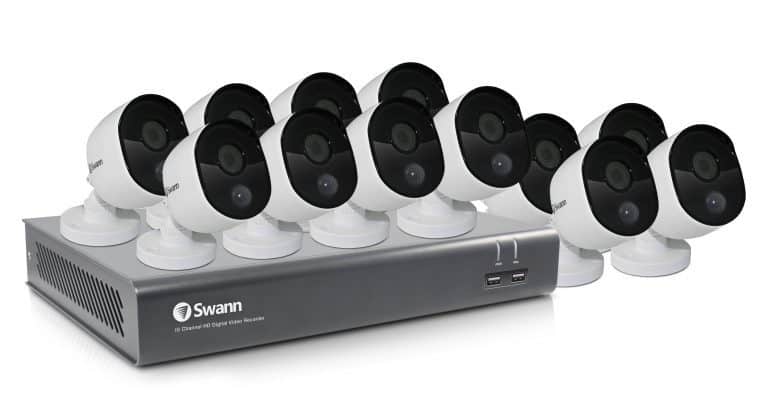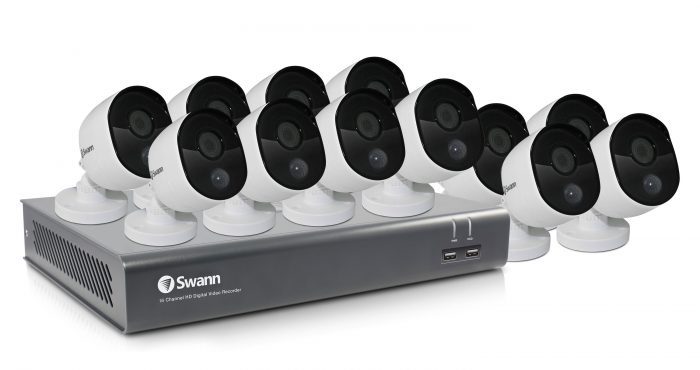 Swann is a trusted name in home security, and they have a unique lineup of security cameras from which you can choose. They have floodlight cameras, thermal sensing bullet cameras, dimmable motion lighting, color night vision with long-range capabilities, and more. Here are some of the Swann pros and cons.
Pros
29 security cameras to choose from
Audio capture and two-way audio
Color night vision
Siren
Video Analytics
POE-enabled power source
Heat and motion sensing
Super HD dome with pan/tilt/zoom features with 4x zoom
Cons
Wired cameras are less portable and harder to install
Potential for Wi-Fi interference from nearby devices
More expensive than wireless options
No professional monitoring or installation options available
Swann manufactures and sells its own security equipment so there's no middleman which means they can pass those savings along to the consumer. Additionally, all the Swann camera systems are a DIY installation. However, if you want a professional installation or monitoring options, you'll have to look elsewhere because Swann doesn't offer any professional installation or monitoring services. They do, however, have a wide variety of wired and wireless cameras available at just about every price point. The Swann cameras range from $59.99/ea. to $399.99/ea. when buying them per camera. You can also buy security camera systems that range from $179.99 for a two camera 4 channel system to $2299.99 for a 16 camera 16 channel system.
Security Cameras Wired for Power
Security cameras wired for power are simply security cameras that use an AC power adapter that is plugged into an electrical outlet for power. There are several ways to power a security camera and this is the most traditional method, which is to plug the recorder into a power outlet so the video footage can be wirelessly transmitted to the recorder. The other method of powering a security camera is using internet connectivity.
Security Cameras Wired for Internet Connectivity
Security cameras wired for internet connectivity are a little easier to use. This is because security cameras that are wired for internet connectivity only use one Ethernet cable, versus the other option which uses an AC adapter and a cable cord. Internet connectivity that is used to power a security system is called a POE or Power Over the Ethernet-enabled system. And to get power to a POE enabled device, you simply plug the Ethernet cable into your device on one end and to your internet router on the other end which will then supply your system with power and an internet connection both from one cord. So you end up only having to use one cord rather than two.
Features of Hardwired Security Camera Systems
Motion Detection
The motion detection feature in a security camera refers to that camera's ability to detect motion then capture, and, in some cases, record the events it detected. This works using a software-based monitoring algorithm that when motion is detected, it will send a signal to the companion video camera which then triggers the camera to begin recording. Then, most motion detection features are also designed to trigger an alarm and send an alert to the appropriate parties.
2-Way Voice
Almost all wired and wireless home security cameras have a 2-way voice feature built-in. This feature enables you to have a two-way conversation with anyone at your home that is within range of the camera. These two-way talk cameras work by using an intercom, microphone, and a speaker to allow for voice communication and this is what enables you to talk with a person on the other end in real-time.
Wide Field of View
The angle of camera lenses is measured in degrees so the higher the degrees, the wider field of view the camera will be able to capture. A wide field of view refers to how wide of an area any given security camera can see and capture. Security camera lenses are what determines the field of view. So a fixed camera has a permanently set field of view so you will need to select the right field of view for your needs, which would be either a wide-angle or a narrow-angle and if you need a larger field of view, consider opting for a wide-angle camera or an ultra-wide-angle camera.
App Control
Every security company these days offers a companion mobile app along with its security services. The mobile app will allow you to remotely access, monitor, and control the security and home automation features in and around your home. This includes your wired security cameras. With the corresponding app, you can, depending on the type of cameras you have, pan, tilt, and/or zoom in on an event if you receive an alert, or if you just want to check on your home or family at any time. The combination of the mobile app and your wired security cameras will provide you with live streaming capabilities so you can see everything on-demand in real-time. And, with the mobile app, you can access everything all from a single dashboard.
High Resolution
The high resolution on a wired security camera refers to the number of pixels any given camera has. The more pixels a camera has, the clearer the picture will be. Most wired home security cameras these days have either a 720p or 1080p image resolution. However, some brands are starting to offer higher resolution options such as 2K and 4K cameras. The resolution is important because that's what makes the picture clear and crisp enough that you can see specific details such as a license plate number, etc.
Video Recording
Every security brand offers different video recording options. There are local video recordings that are stored on the camera itself or to an external MicroSD card. Then there are cloud video recordings that are stored on a remote server that is accessed using the internet. Wired security camera recordings are either an intermittent recording that only records when activity is detected. Then there is a continuous video recording option that records continuously, not just when activity is detected.
Night Vision
Night vision is the feature that enables a wired security camera the ability to see images in low-light conditions. Some night vision cameras offer a black and white image and others offer color images. Most wired security cameras with night vision use infrared technology to enable the camera to see objects in any low-light situation.
Weather Resistance
When opting for a wired security camera, you have to pay particular attention to whether it's weather-resistant or not if you will be using it outdoors. This is because sometimes a security camera will say it's weather-resistant, but the power cords might not be. So make sure you look for that when purchasing a wired outdoor security camera. The weather-resistant feature is an extra measure that protects the camera's internal parts from external influences such as moisture, dust, and humidity. Additionally, the degree of weather resistance varies between manufacturers. So make sure your chosen camera is designed to withstand the elements at your particular location.
Smart Home Integration
When a wired security camera system talks about smart home integration, it's referring to that camera's ability to work with other smart home security and automation devices throughout your home. Some brands offer third-party compatible components and other brands only offer proprietary equipment. So if you already have some home automation products in place, make sure you pay attention to what's compatible with what you already have and what's not. Smart home integration is great for being able to access, monitor, and control everything from a companion mobile app that allows you to view and do everything in real-time all from a single dashboard. With smart home integrated products, you can connect your security cameras, lights, thermostat, garage door, and more and control all of them remotely using the associated mobile app, but only if they are all compatible with each other.