ADT home security can be enhanced with the investment in sensors. Sensors provide protection that's customized to your home's needs and to your goals. You can place these sensors throughout your home to give you more information about what's happening within it. Each one has a slightly different function. However, they all work in about the same way.
When the sensor is triggered, it sends a message to your ADT app or through a text message, email, or a phone call, depending on the type of system you have and the alerts you set up. This allows you to take immediate action. Some sensors are also linked to your 24-hour professional monitoring service from ADT. That can mean faster help if someone is trying to break into your home.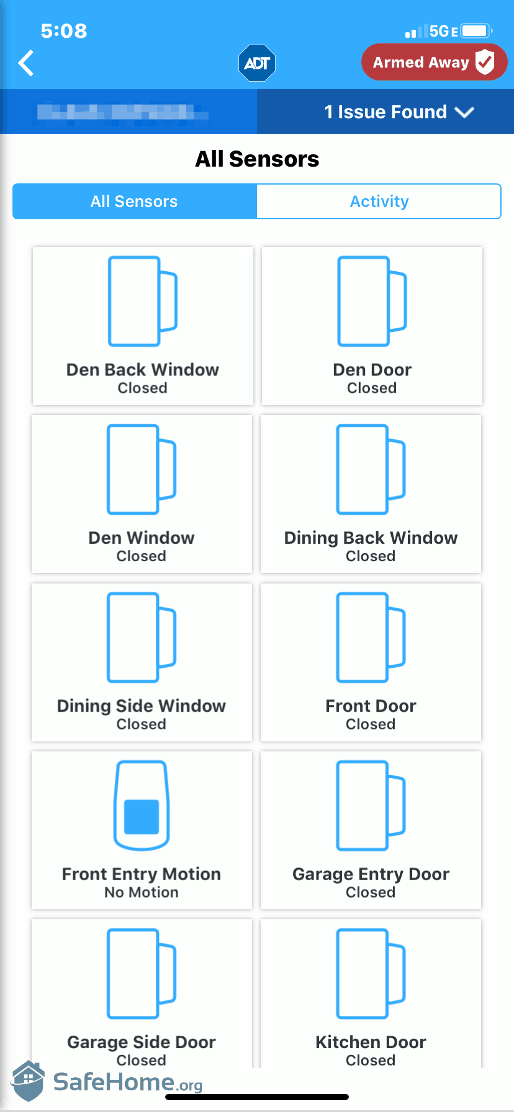 It's important to customize the sensors that fit your goals. Most homes will benefit from sensors such as the following.
ADT Window Sensors
The ADT Window Sensors are designed to be very easy to use. It's best to have them professionally installed to ensure it is done properly. However, there are both wired sensors and wireless sensors available. The battery-operated versions can be excellent for those who want to install a window sensor in a hard-to-reach area or just want to get one in place right away. They are all designed to be recessed and hard-to-see, so they do not look intrusive in your home. Some of the ADT window sensors are designed to be slim-line, making them hard to detect unless you know they are there. The sensors are connected directly to your monitoring center to ensure that, as soon as a sensor is triggered, it is possible to see who did it and why.
ADT Door Sensors
Entry detection sensors are some of the most important types. The ADT door sensors are fitted to each of the doors leading out of the home. They allow you to receive an alert anytime someone opens the door. You can set up automatic alerts any time this sensor is triggered, including when you want to know when the kids get home or when the dog walker has arrived. You can also link your door sensors to your smart home system. When the sensor is triggered, your cameras can activate to determine who is there. And, you can view this from any location with your mobile app. With ADT, professional installation is always recommended. Because the company offers a wide range of styles and options, a professional can help you to choose the right door sensor for your home's needs.
ADT Glass Break Sensors
Broken glass has a very specific sound to it. That sound can be distinguished by the ADT glass break sensors. These sensors are designed to pick up on that very specific sound and alert you to it. Glass breaking can be innocent enough. It may be due to something breaking in the kitchen or a baseball coming through a window. However, it can also signal someone trying to enter the home. That's a key risk you want to avoid. The Glass Break Sensor from ADT offers 24/7 monitoring for the sounds of glass breaking. It provides up to 25 feet in coverage with just one sensor. Once the sensor detects something, it will send a notification to you of the sound. You can link it to your home automation and security to ensure you have proper visuals around your home.
ADT Motion Sensors
Detecting motion is always important when you want to amplify the security at your home. ADT Motion Sensors and Detectors work very well to do this. These detectors pick up on a small amount of motion and send you an alert right away for it. One of the nice features about the ADT models of motion detection sensors is that they can be set to avoid certain things. For example, you can minimize the sensitivity of them so that they do not pick up your pets on them. This is done by controlling the size of the objects it picks up. You do not have to worry about the raccoons being detected in the middle of the night – unless you want to be alerted to them. You can set up custom alerts based on where you want them to pick up. Once there is a triggered event, the device will send an alert to you as well as a video clip of what it picks up if that's what you desire. You can use a single motion sensor for a large area of your home thanks to the wide range of coverage. It offers coverage for an area as large as 35' by 40'.
ADT Garage Door Sensors
The garage door is one of the largest entrance points to your home. It warrants having ample protection in place to ensure your home and family stay safe. The ADT Garage Door Sensors can help you with this. These garage door security sensors work to provide you with control over what is happening at your garage door. First, they can be designed to work with just about all major makes and models of garage door openers. Unless your door opener is very old, it's likely to work with this system. With it, you get a remote control, which means you can open and close your garage door. The difference here is that you can do it from any location thanks to the automation of smart devices. And, if you leave your garage door open, the system will send you an alert.
ADT Water Sensors
Water detection is a valuable tool, and one ADT can help you with. The company offers a Flood Detector sensor. It will send you an alert if it detects a leak, allowing you to take the proper steps to fix it. It also is wireless, which makes it easy for you to install it anyway. You can place these sensors just about anywhere there is a risk, such as by your washing machine, hot water heater, or dishwasher. If you cannot get home, you can even use the system to disarm your home's security system so that repair technicians can get into the home faster. Use your linked indoor cameras to look at the damage to make key decisions, too.