Overview
ADT Security has more than a century of experience in the security market. One way that it's excelled for so long is by adapting to a changing technology landscape. ADT Pulse is a perfect example of how this home security company's flexibility. ADT Pulse is available in the Control and Video packages. These plans go beyond basic home security features and add in a variety of ways to incorporate home automation devices.
ADT supports a wide range of home automation devices and ADT Pulse makes it easy to control everything from a centralized app that gives you any time, anywhere access. Combine that with ADT's well-reviewed home security service and their experienced support staff, and you have a home system that will serve your long-term needs.
Features & Technology
Remote Arm and Disarm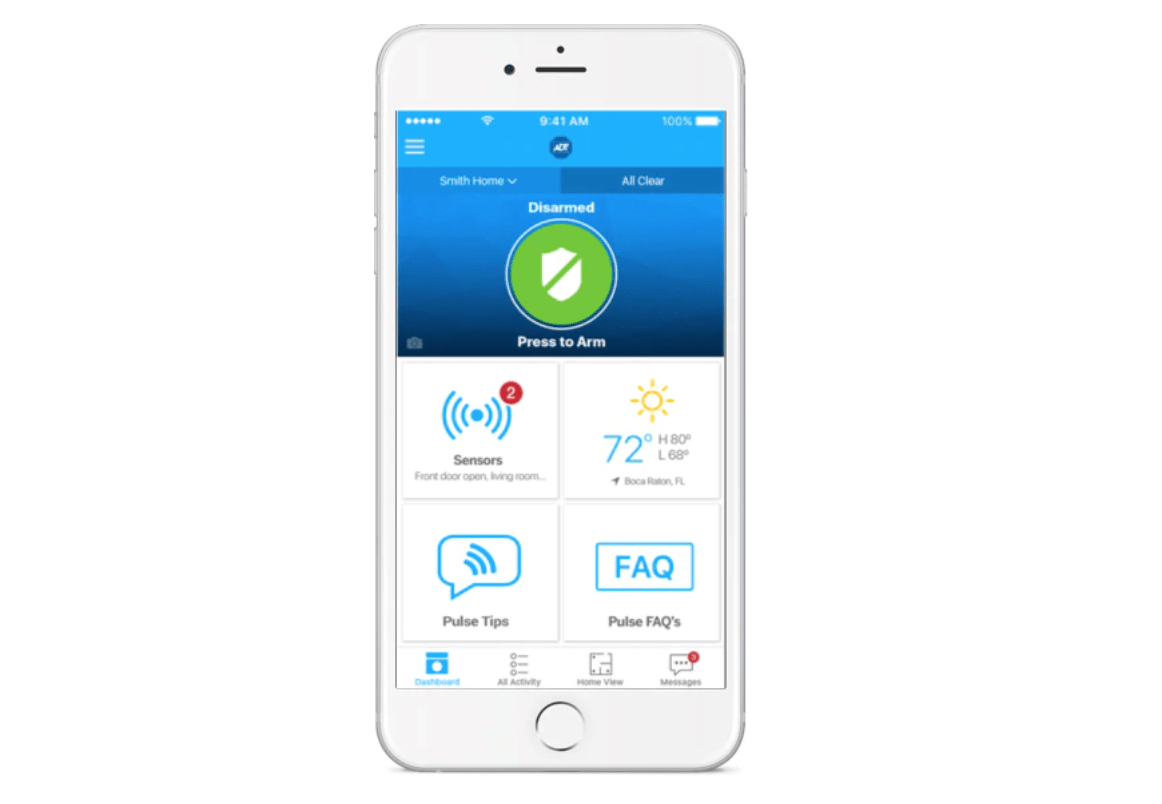 ADT Pulse gives you full control over the ADT home security system. You can arm and disarm it through the app and check on the system status. Mobile alerts let you know when sensors detect something concerning.
Remote Video Surveillance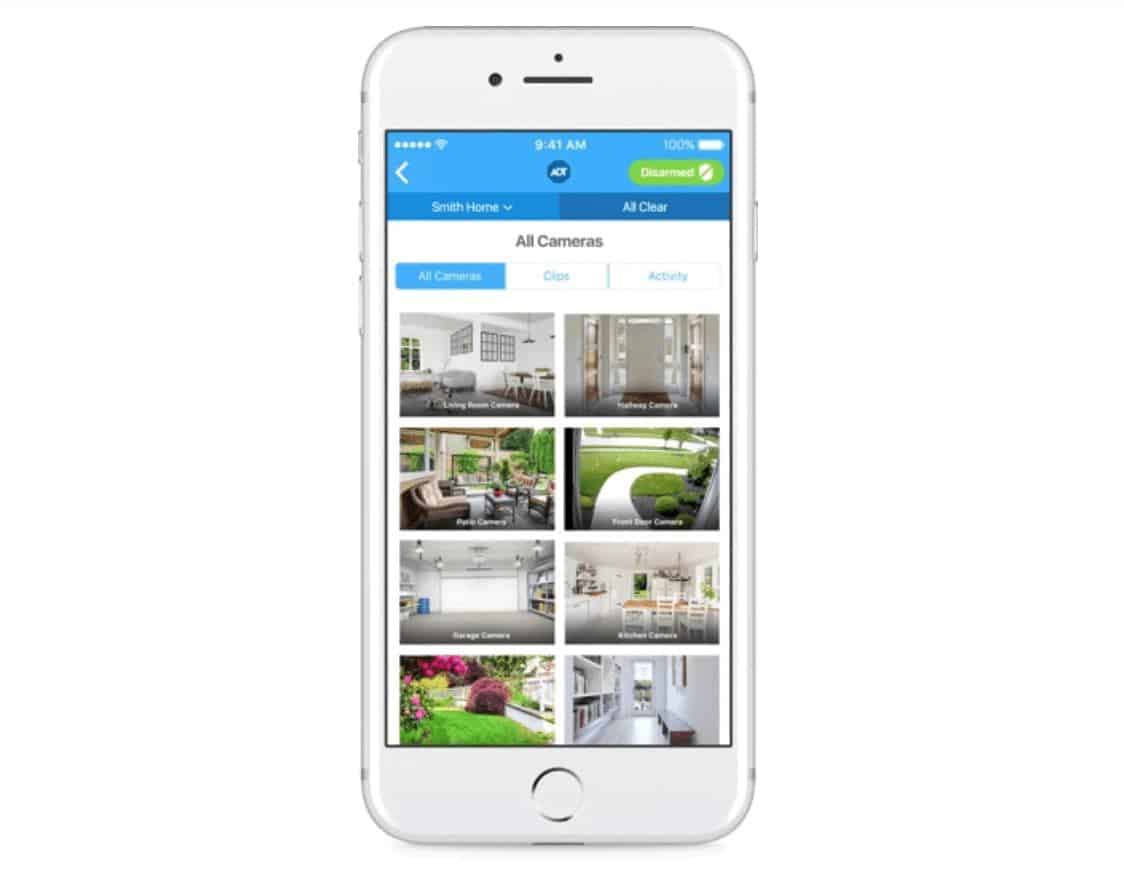 Take a look at the live stream of your indoor, outdoor and video doorbell cameras through the app. You can see exactly what's going on, as well as review an event history to see if you missed anything important.
Smart Door Locks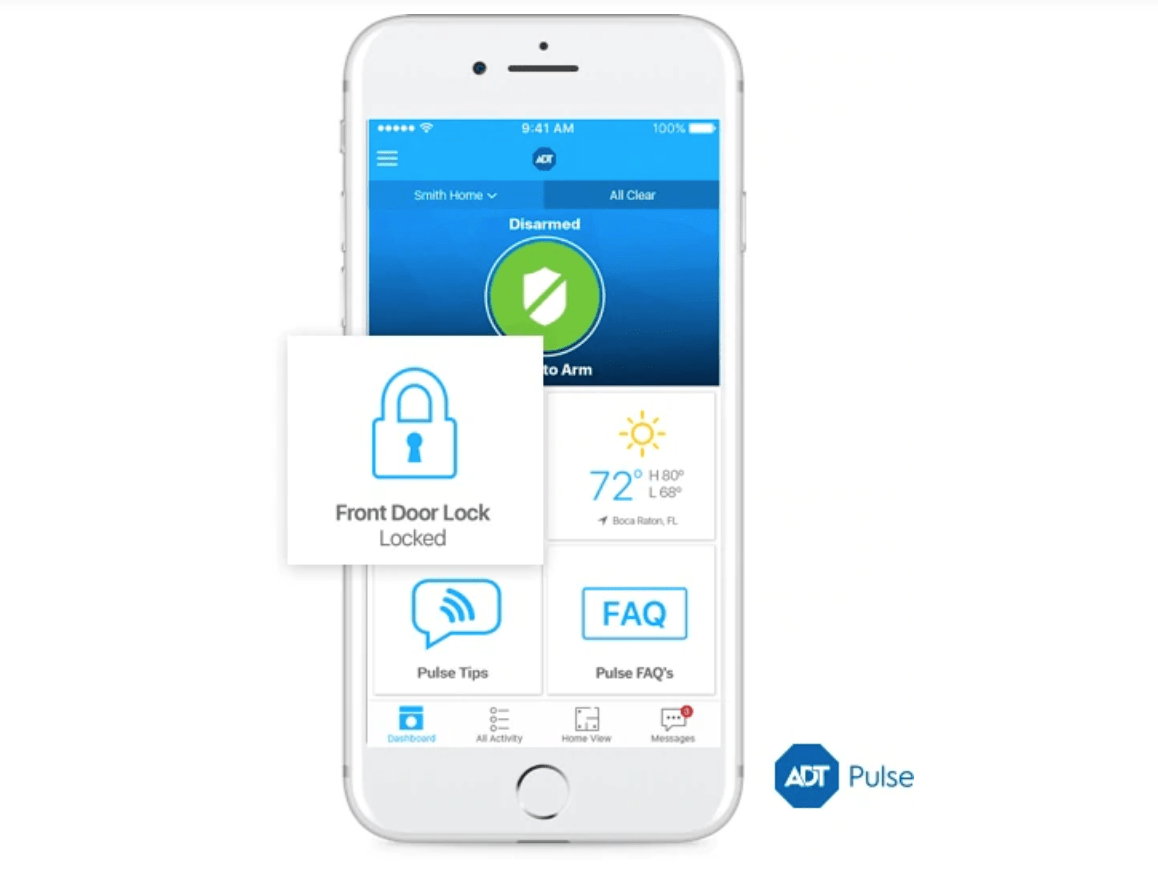 Set codes for each family member, lock and unlock the door remotely and get alerts whenever someone enters your home. It also lights up at night so you can easily put in your door code.
Remotely Control Your Garage Door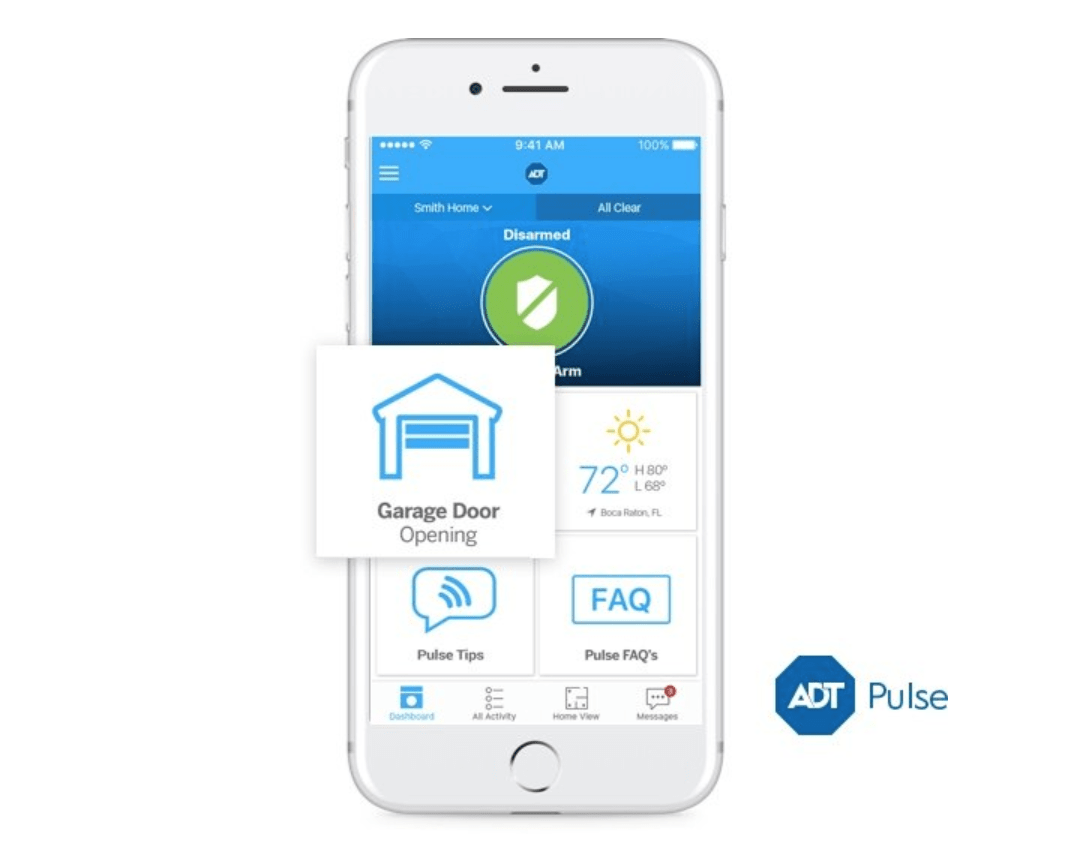 You can open and close your garage door and check on its status through the ADT Pulse app. This is perfect if you have a habit of rushing out the door for work and you have a hard time finding the garage door opener.
Smart Thermostat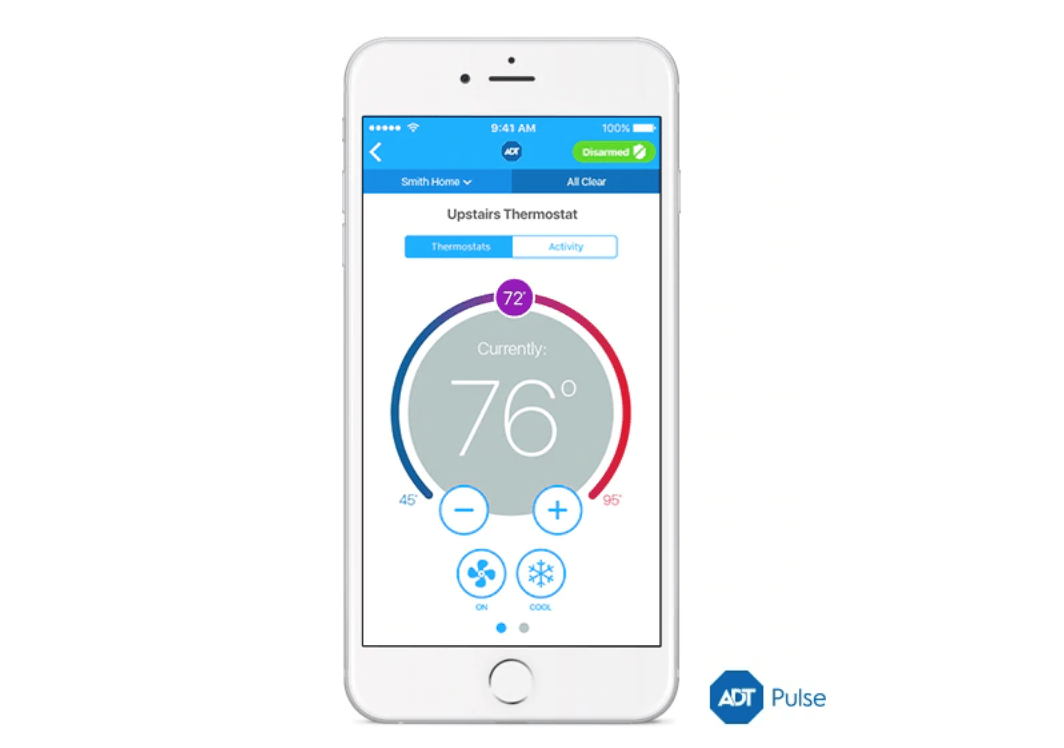 The smart thermostat adjusts to your schedule and it can be controlled remotely. You don't need to get up to make changes to the temperature, and you can create schedules for every day of the week.
Smart Lights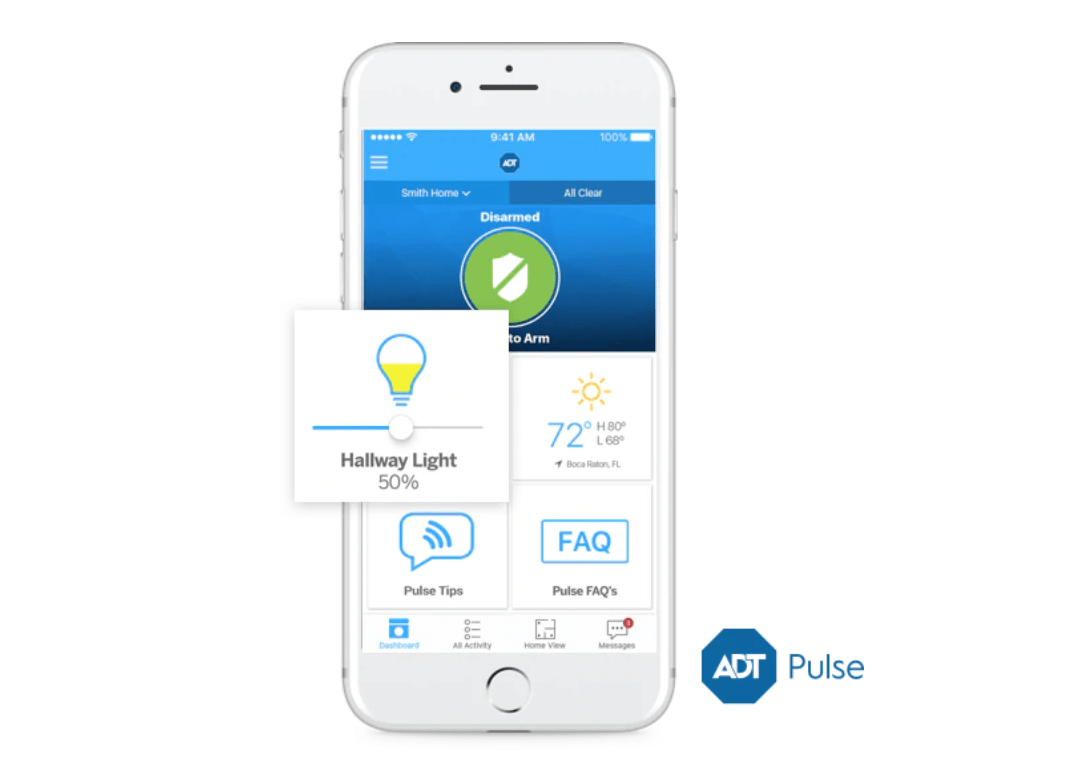 Remote controlled lights are great for many purposes, such as making your house appear like someone's home when you're on vacation, and turning everything off if someone forgets to do so before going to bed. You can have the lights turn on right before you get home from work, and snap off at your usual bedtime.
Alexa Compatibility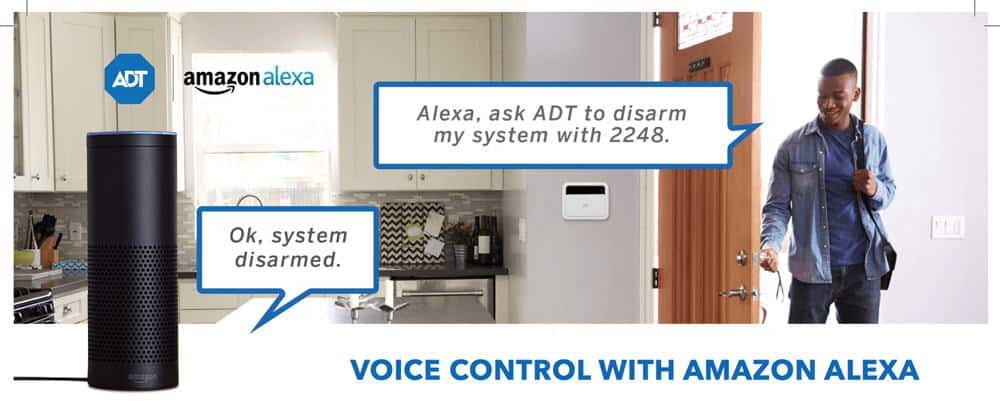 ADT Pulse is compatible with Alexa devices. Use Alexa to arm and disarm your system. You can also use Alexa to control various devices around your home such as your garage door, lights, door locks and more! Get the ADT Pulse voice control functionality using Alexa by downloading the skill here.
Ease of Use
The ADT Pulse mobile app puts full control of your home at your fingertips. You can easily navigate around to the device that you want to work with, as well as checking in on the security system and video streams. Pulse is available on iOS and Android.
Customer Service
ADT is filled with employees who are completely dedicated to home security and the related technology that they offer. When you talk to anyone at the company, you're going to reach someone who knows their products inside and out. 24/7 support options ensure that you don't have long to wait before you can reach someone capable of helping you.
You have several customer service options available. Phone, live chat and email are available, and same-day or next-day technician service ensures that your problems are resolved as soon as possible. The typical ADT technician averages 11 years with the company. ADT also has an extensive self-service support section for basic questions, which you can use to get more information about your products and services.
One of the first interactions you'll have with ADT is the in-home consultation. The home security professional will discuss your home security and automation needs and look over your property to determine the equipment that best serves your needs. Each equipment package is customized and you can add-on other devices as your lifestyle changes.
Value
ADT Pulse home automation is only available with the Control and Video packages offered by the company. The monthly pricing varies based on the promotions available at the time, but typically you see starting costs of $55.99 which includes a 36-month contract.
The equipment pricing is based on the devices that you want to include in your home security and automation package. Since everything is customized based on the initial consultation with ADT, you'll know in advance how much everything is going to cost. Installation fees depend on the complexity of the system you're getting installed.
While ADT Pulse is among the more expensive options available through ADT, the flexibility, convenience and quality of life that you get to enjoy because of it is well worth it. Your home automation devices make everything easier and give you full control over your home, even if you're not there. Combine that with industry-leading professional monitoring and a robust home security system, and you also get excellent peace of mind.
Equipment
ADT has a powerful range of home security and home automation equipment, with a mixture of first-party and third-party hardware. Since they're compatible with many types of home automation devices, you're not constrained with the equipment that you want to add to your home. Here is an overview of what they have available.
The base level of equipment that ADT starts you out with includes a basic control panel, a keychain remote, an infrared motion sensor, three entry sensors, a loud siren, backup battery and signs to place on your property. You expand this during the initial consultation and can include additional equipment. Please note that video surveillance equipment is only available if you have the Video service tier. Here is the additional equipment available.
Pushbutton Control Panel – Put another control panel in place near the back door or another entry way for convenience.
Touchscreen Control Panel – Upgrade your control panel with this touchscreen model.
Glass Break Sensors – Get notification if someone breaks a window or glass in a door.
Carbon Monoxide Detectors – Protect your home against gas leaks with this sensor.
Smoke and Heat Sensors – Environmental dangers can cause major problems with your home. Respond quickly to fires or sudden temperature changes.
Water Leak/Flood Sensors – Water damage creates long-lasting issues with mold and mildew in the home, along with other issues. Find out about potential water leaks or floods before it gets to that point.
Indoor Cameras – Keep a close eye on your home with this video surveillance equipment.
Outdoor Cameras – These weatherproofed cameras are perfect for monitoring your front and backyards.
Keypad Door Locks – Smart door locks give you fine-tuned control over who can get into your home.
Smart Lights – Remotely control and schedule your lights throughout your home.
Remote Control Thermostat – Stay comfortable and save on your energy costs with programmable and remote controllable thermostats.
Nest – Nest offers one of the leading smart thermostats on the market and ADT is fully compatible with it.
Z-Wave – Any smart home device that uses Z-Wave technology can integrate with ADT and is controllable via ADT Pulse.
Ring Video Doorbell – Video doorbells let you answer your door even when you're on the other side of the country, and give you a close look at the people visiting your property. ADT Pulse works with Ring's video doorbell seamlessly.
Smart Outlets – Sometimes your favorite home hardware doesn't have a smart version for home automation. Smart outlets give you the capability to remotely turn them off and on.
Smart Garage Door – Forget to close the garage door? That's no problem with this home automation hardware.
Summary
ADT Pulse adds home automation control to your ADT home security system. You experience a quality of life boost that comes from having your home scheduled to your precise needs, as well as the ability to control almost anything from your mobile phone.