Best Night Vision Security Cameras
Being able to see in the dark is one of the most important features of a security camera. See which night vision cameras we have picked as our favorites of 2020.

If you are installing security cameras, make sure you get a brand that, first of all, has night vision (most of them do) and a brand that has exceptional night vision qualities. Not all security cameras with night vision are the same. Some are of better quality and clarity than others. So it would be helpful to know the differences so you can purchase the best night vision camera for your money. Here are our picks for the best night vision security cameras for 2020.
1. Nest Cam – Best Night Vision Camera Overall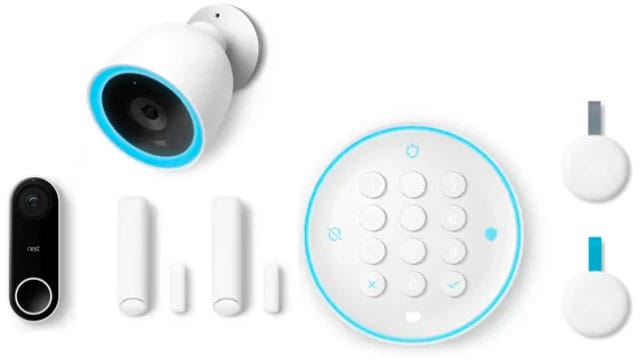 Nest has four types of security cameras, and they all come with night vision. The only difference is that some of them have higher-end options with more intelligent features included. Here is our Nest Cam overview and some of the Nest Cam pros and cons.
Pros
24/7 live streaming video
High-quality 1080p HD video
Intelligent smart camera option available
Activity alerts
Made with premium materials
No contract requirement
Easy installation process
Cameras have digital zoom and pan features
Cons
Upfront equipment cost
Per camera price on the Nest Aware can get pricey
Subscription plan required to use advanced Nest Aware features
Nest cameras can't be moved remotely using the app, their positions have to be moved by hand
The Nest Cams have a wide variety of exceptional qualities. During the day, the Nest Cams can see about as far as you can. They also have wide-angle lens views of 130° on all their cameras except the doorbell camera which has a 160° wide-angle lens view.
All Nest Cams have a wide-angle view that can be reviewed and zoomed in and out using the app. They can also be told to stay zoomed-in on any given spot continuously. The Nest Cams all have up to an 8x digital zoom except the Nest Cam IQ and the Nest Cam Outdoor IQ which have up to a 12x digital zoom.
The Nest Cams will automatically come on at dusk and turn off at dawn. They are also able to detect if someone is trying to blind the camera with a flashlight and are designed to stay on when that type of activity occurs. Then there is the Nest Cam IQ, which is an intelligent camera that works with popular smart home equipment such as Alexa.
2. Ring – Best Indoor Night Vision Security Camera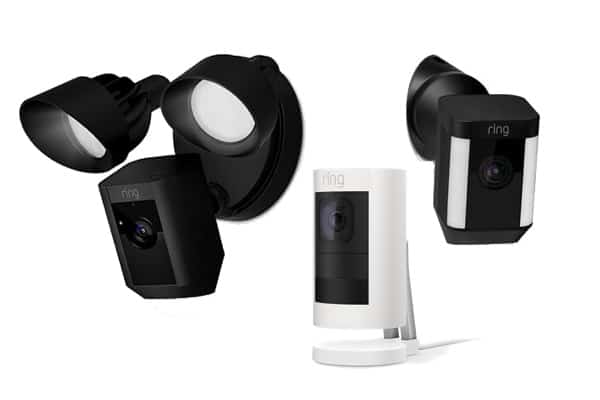 Just about all security cameras these days include a night vision feature. However, not all security cameras with night vision are created equally. And while they might all have the same features, the capabilities of those features will vary. Therefore, it's best to buy the highest quality security cameras you can afford. Here is a Ring security camera overview along with some of the Ring security camera pros and cons.
Pros
No contract required
Easily customize your own equipment package
Motion-activated alerts
Lifetime theft protection feature
30-day free trial
Ring videos stored in the cloud for 60-days in most cases
Cons
Basic plan only covers one camera or a Ring doorbell
Upfront equipment cost
No equipment packages offered all products are sold separately
The Ring cameras come in wired or wireless options that now offer color night vision. This feature can be enabled in the Ring app under settings. They also offer a variety of camera options that include floodlight cams, spotlight cams, and, of course, the Ring Video Doorbell Pro. And they all have night vision, two-way talk, and a siren. The Ring cameras are a high-quality camera, so they are a bit more expensive than more cheaply made options. However, they are still very affordable for what you get.
3. Arlo – Best Wireless Night Vision Camera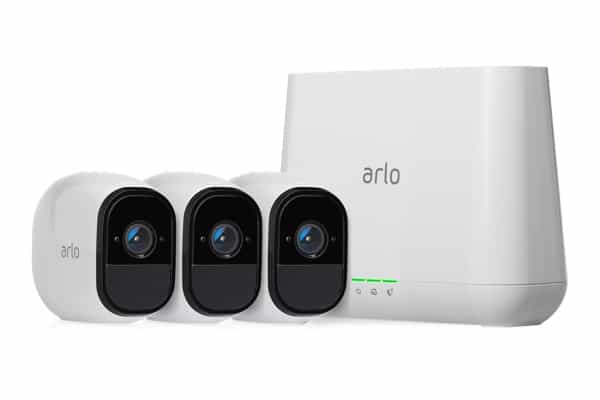 Arlo has a popular line of wireless home security cameras with night vision and both have free and paid monitoring options. The Arlo cameras are also compatible with a wide variety of third-party products such as Alexa, Google Assistant, IFTTT, and more. So you have more flexibility when choosing this camera system. Here is an Arlo overview along with some of the Arlo pros and cons.
Pros
Easy DIY installation in less than 10 minutes
Free basic plan
No long-term contracts
Easily integrates with many third-party products
1080p night vision cameras
Night vision option can be turned on and off
Budget-friendly
Wired and wireless camera options available
Cons
Lowest tier package doesn't come with two-way audio
Short battery life
Very few options
No professional monitoring option available
Arlo offers three security camera options, and they all come with night vision up to 25 feet. However, they all have a different resolution and field of view distances. The field of view options are 110° to 180° depending on which camera you choose. And the resolution options range from 720p, which is considered low, to 2160p, which is exceptionally high and about as good as it gets. Most brands offer either a 720p or a 1080p resolution. The higher the resolution, the clearer your videos will be.
If you're looking for the best possible Arlo camera, opt for the Arlo Ultra because it has the highest resolution with 2160p in full color, a 180° field of view, motion and audio alerts, two-way audio and more. Additionally, all but the lowest tier camera comes with a solar panel power option. And they all come with a battery-powered option, with some of them having a wall plug feature as well.
4. Blink – Most Affordable Night Vision Security Camera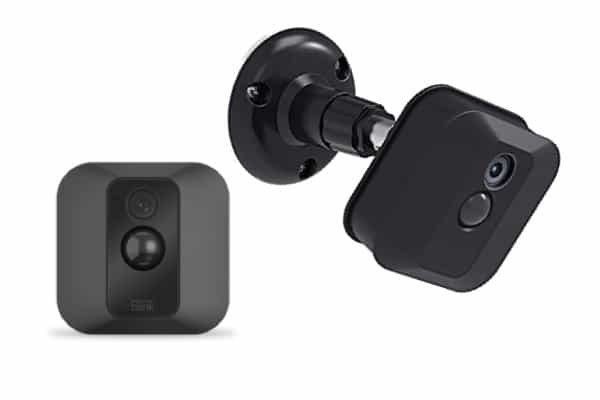 If you're looking for a versatile yet affordable network of home security cameras, then the Blink cameras are for you. The Blink cameras are all wireless and come with a feature that helps protect them from being hacked. Here is a Blink camera overview along with some of the Blink camera pros and cons.
Pros
Indoor and outdoor cameras with night vision
No long-term contracts
Compatible with Alexa and other IFTTT technology
Easy DIY installation
No monthly fees
Two-year battery life (with XT2)
Customizable motion zones (with XT2)
No data storage charges
Cons
Short recording times
Limited advanced security features
Add-on hardware options can get pricey
If you're looking for a great home security camera, consider going with the Blink XT2. This system offers indoor and outdoor cameras with two-way audio, infrared night vision, extended battery life of up to two years, customizable motion zones, HD video, free cloud storage, live view video, a temperature sensor, and more.
The XT2 captures 1080p video, it has a 110° field of vision, it's wireless, and can be used with a Wi-Fi connection. It's also weather-resistant, unless the USB cover is open.
5. Lorex – Best Outdoor Night Vision Camera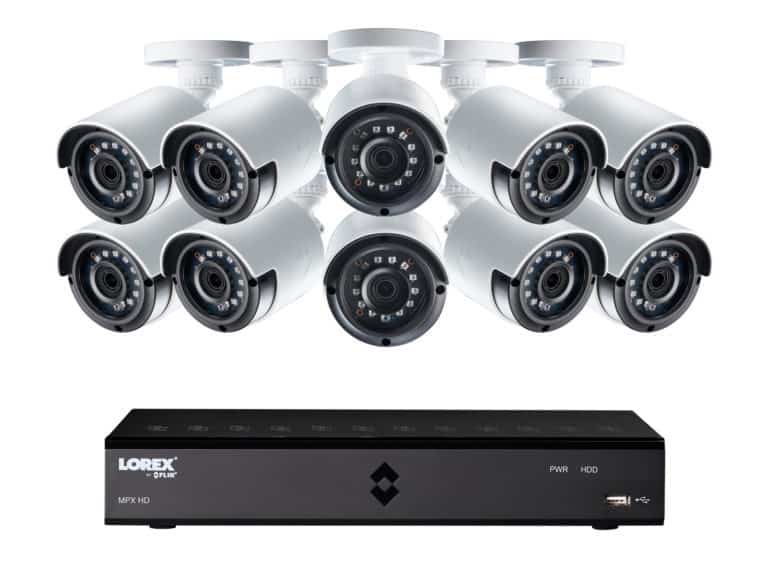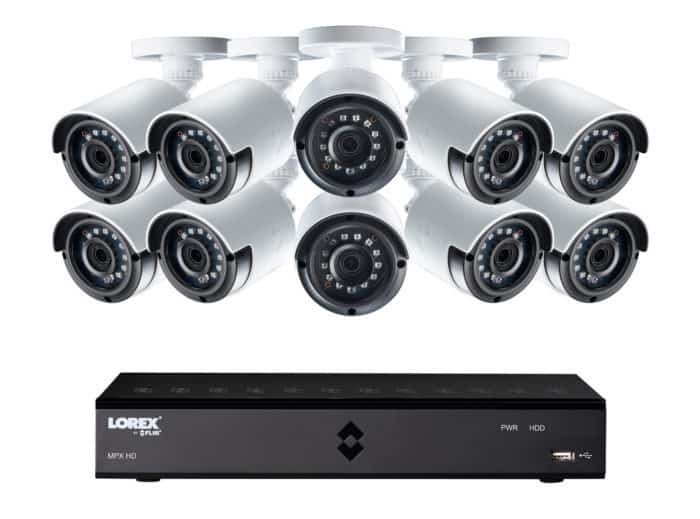 Lorex offers wired and wireless security cameras with two-way audio, real-time alerts, and exceptional customer services. Lorex offers high-quality dome and bullet cameras. Their wireless cameras are user-friendly and very easy to install. However, if you opt for one of their hardwired systems, they are a little more complex and will probably require a professional to install them for you. Here is a Lorex overview and some of the Lorex pros and cons.
Pros
Long-range night vision feature (130-250 foot range)
Wide variety of equipment options
Two-way talk
Free 60-day returns and free shipping
2-year warranty
Much higher quality than most security cameras
Cons
Overwhelming options make it difficult to decipher and choose
8MP IP cameras are required to use the 4K recording feature
Very pricey, but you get what you pay for
Lorex offers a feature-rich camera system with some of the best night vision features on the market. Their cameras come with either full-color night vision or IR infrared, and they offer better detail and contrast than most. Their cameras also have much longer night vision ranges than their competitors ranging from 130-250 feet.
The Lorex cameras offer continuous, scheduled, or motion-activated recordings with either cloud or a local storage option, two-way audio, and there is no subscription fee required to use any of their systems. These cameras come in either a bullet or dome configuration. The bullet-style cameras have a limited range in any one direction, and the dome cameras offer complete 360° views of the entire surrounding area. The Lorex cameras are commercial-quality cameras that are now available to the public and are a purchase that won't disappoint.
Features of Night Vision Camera Systems
Motion Detection
The motion detection feature in a security camera with night vision works by detecting movement within its field of view. The camera will then send you and/or the monitoring center an alert. This will allow you and/or the monitoring center to view in real-time what might have triggered the alert so you can respond accordingly.
2-Way Voice
The two-way voice feature will enable you to talk with whoever is at your door. Additionally, the Ring cameras two-way voice function has a noise-cancelling feature so you can clearly hear what's going on. And since it has two-way communication, you can talk with your guest or ask an intruder to leave. And if they don't, these cameras come with a very loud siren that's sure to change their mind.
Wide Field of View
The field of view on the Ring cameras ranges from 115° to 150° depending on which camera you choose. A wide field of view is important because this is how wide of an area your camera can capture. So, obviously, the wider the range, the more effective your camera will be versus one that only has a narrow range and can only view and record what is directly in front of it.
App Control
All security cameras these days come with a companion mobile app. The mobile app allows you to monitor, access, and control your security systems and cameras, as well as change their settings and more. App control provides you with everything you need to control your system from a single dashboard.
High Resolution
The resolution is extremely important when talking about a security camera with night vision. The higher the resolution is, the clearer the camera's picture will be. This is because the more pixels a camera has, the higher the resolution will be. For an HD quality security camera, look for one that has 1080p or higher, which is referring to the high number of pixels it has.
Video Recording
Almost all home security cameras with night vision use video recording features. The video recordings are either a continuously streamed recording which records 24/7, or an intermittent recording that only records when activity is detected. Those recordings are then stored either locally or using a cloud storage service.
Cloud Storage
A cloud storage service is used to store security camera recordings that are not stored locally on the camera or an SD card. A cloud storage service uses remote servers to store and manage your cameras' videos and will store them for a predetermined amount of time which varies between brands. Some brands offer a short amount of free cloud storage and other brands will charge you for this service. What you will usually be charged depends on how long you want your videos to be stored.
Live View
The live view feature is the streaming video you will see in real-time when you access your video feed. This is different from the recorded video clips from previous time periods or events. 
Smart Home Integration
A smart home is one that uses home automation equipment to control many of the functions of a home such as temperature and lighting controls, home security controls, etc. To be able to control all these systems remotely or hands-free, they have to be integrated with smart home equipment, so they can all be controlled from a single source whether that be a mobile app or a digital voice assistant.