Brinks Home Security is one of the most trusted names in the industry,1 and they've gone through some of the biggest changes.
Brinks has been around in some form or fashion since the 1800s, but it wasn't really until the 90s that they became a big name in this space. Then, without much explanation, they dropped off the map only to quietly reinvent themselves with new branding, new services, and a new approach.
What do we mean by that? Brinks recently struck a deal with Moni, LiveWatch, and Protect America, and now they provide some of the best monitoring in the industry.1 Today, they offer affordable DIY home security systems, straightforward packages and pricing.
But as they say, not all that glitters is gold. We've been researching and testing Brinks Home Security products for years. During our latest deep-dive into Brinks, we put their equipment packages and monitoring plans under a microscope.
As would be expected, we found some great things, and we found some not-so-great things — namely their extremely long-term contract requirements. So, we're going to share our discoveries with you today. We'll highlight which packages and plans are worth the money, as well as which ones to avoid. We're also sharing exactly what it costs to get set up with Brinks Home Security. Everything you need to know is right here.
Key Features
Wireless and Cellular Monitoring
DIY Installation
Intrusion Protection
Remote Control
Home Automation
Brinks' New Approach
Before we get going, we need to establish some context. At the time of this writing, Brinks focused on providing security packages to their customers. That has changed. Now, Brinks is really leaning into customizability, allowing customers to work with professionals to create customized security systems that best suit their needs. Great news if you want a bespoke security solution, not so great news if you're looking to do some quick napkin math to see how much all this will cost.
So keep that in mind while you're reading this article. We've kept the prices of the security kits Brinks once offered up to give you an idea of what you might pay, but your bottom line is going to rely completely on what devices you select and where you're located.
With that in mind, let's talk equipment.
Brinks Equipment Costs & Monitoring Fees
One thing we really like about Brinks is its simple and straightforward pricing. They offer three equipment packages that cost $199, $349, and $1,099. After getting hands-on experience with the Brinks equipment selection, we recommend the Brinks Smart Security Complete package for $349, as it provides users with the most value. If you want to pay fewer upfront costs, you can finance the upper-tier packages interest-free for 36 months through GreenSky. This option reduces the equipment cost to about $15 or $30 per month, depending on which bundle you choose. Don't worry, we'll dig into each of these packages in just a bit.
Tip: Sometimes, it's wise to buy a basic home security package and add devices to suit your specific needs. Just be sure to choose the system that supports the features you want, such as video or home automation.
Next, you'll pay $39 per month for Brinks professional monitoring, which is a touch pricey compared to other providers. We've tested other home security brands, like Ring Alarm and SimpliSafe, that charge less than $30 a month. And we really didn't see enough difference to warrant Brinks being more expensive than these brands. Also, we'd like to see a more diverse lineup of options. As it stands, Brinks only offers one monitoring plan, whereas most brands offer three or more options at different prices.
Brinks Package
(No Financing)
Monthly Plan Cost
Activation Fee
Equipment Cost
Smart Security Essential
$39
$0
$199
Smart Security Complete
$39
$0
$349
Smart Security Ultimate
$39
$0
$1,099
Brinks Package
(GreenSky Financing)
Monthly Plan Cost
Monthly Equipment Cost
Total Monthly Cost
(36-Months)
Smart Security Essential
N/A
N/A
N/A
Smart Security Complete
$39
$13.86
$52.86
Smart Security Ultimate
$39
$30.53
$69.53
Brinks does offer some helpful features with their monitoring plan, including 24-7 professional monitoring, smartphone control via the Brinks Home Security app, home automation options, LiveVoice Assist, live video streaming, and cloud storage of video recordings.3 That's everything you need for complete home security and smart home automation. But remember, you'll have to purchase additional devices to access more advanced features.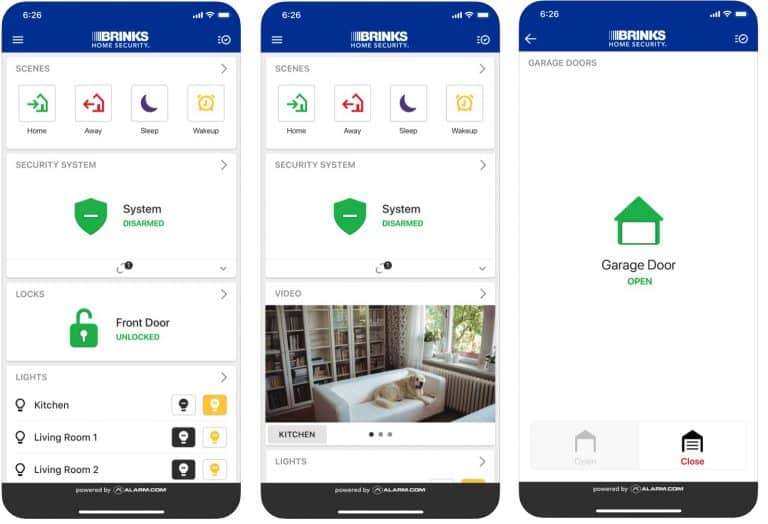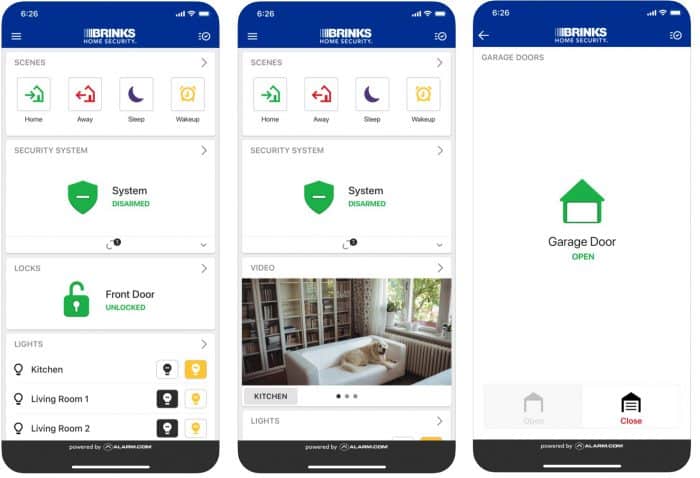 When the dust settles, after factoring in equipment costs and monitoring, Brinks prices are just about average compared to other home security systems out there. While you'll pay less for equipment, you'll have to pay a bit more for monitoring. So, it evens out in the end. For more information, check out our full review of Brinks here.
Did You Know: LiveVoice Assist from Brinks Home Security allows you to speak with monitoring agents in real-time using your touchscreen control panel. This feature can save lives during an emergency.
Equipment Packages
Keep in mind, Brinks is now focused more on custom-made security solutions than they are equipment packages, but these previously available kits can give you a good idea of how much you might pay.
That said, one nice thing about Brinks Home Security is that you can choose between DIY installation and professional installation. We found the systems incredibly easy to install ourselves, but some users will certainly benefit from the professional installation option. Brinks also offers free shipping and a 30-day, money-back guarantee.4 The three equipment packages include:
Smart Security Essential
Smart Security Complete
Smart Security Ultimate
Smart Security Essential – $199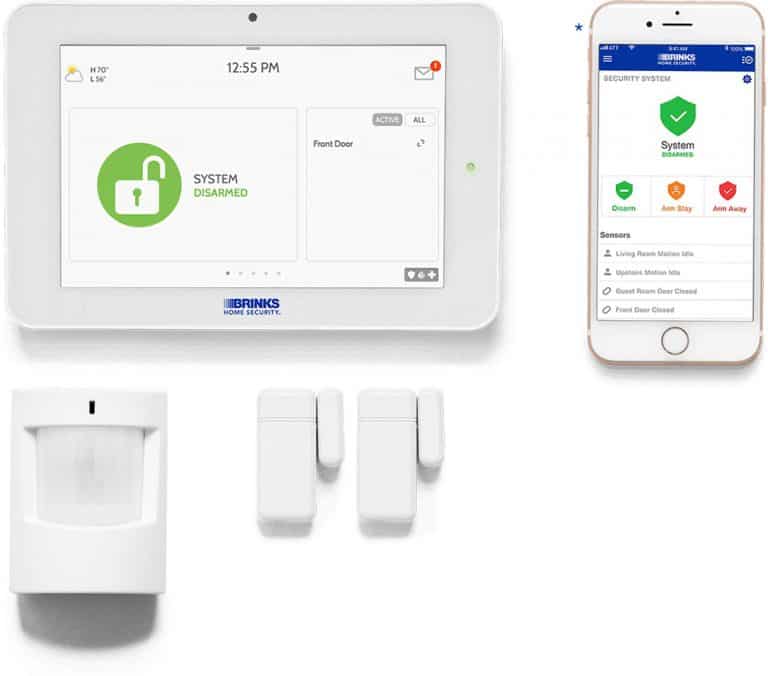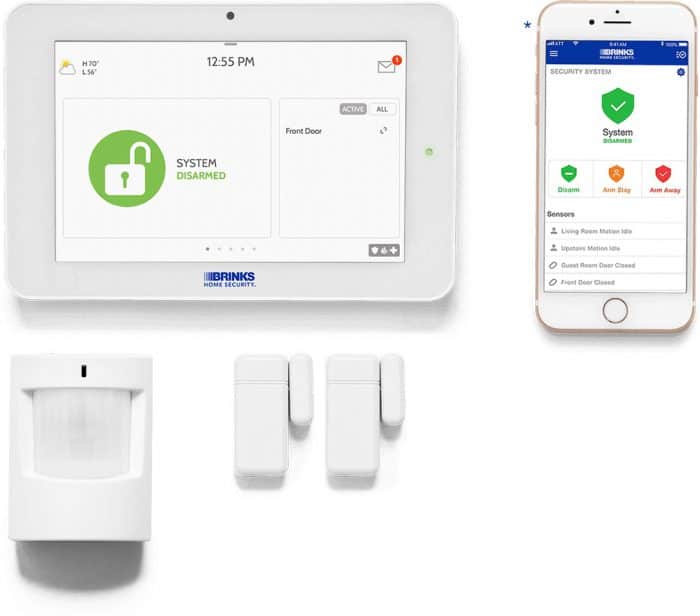 The Brinks Smart Security Essential package is your basic DIY home security kit, with just enough features for the non-techies out there. This package includes a Brinks Home Hub touchscreen control panel, a wireless motion sensor, two wireless door sensors, and a yard sign. Smart Security Essential is $199, and the monitoring service costs $39 per month. Overall, we found this bundle to be a great system for the money, especially considering the sleek and modern touchscreen controls of the panel.
Smart Security Complete – $349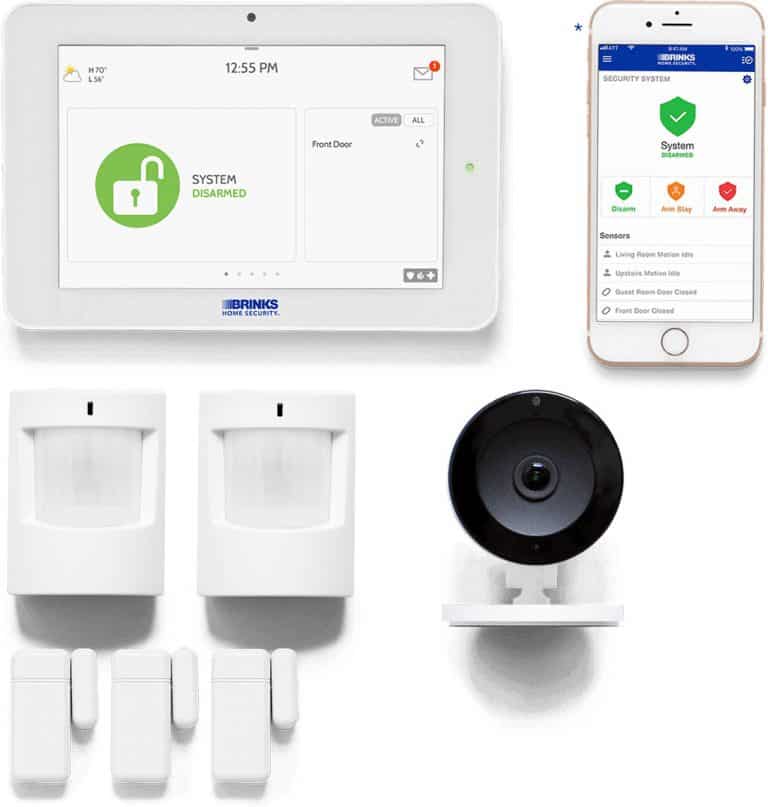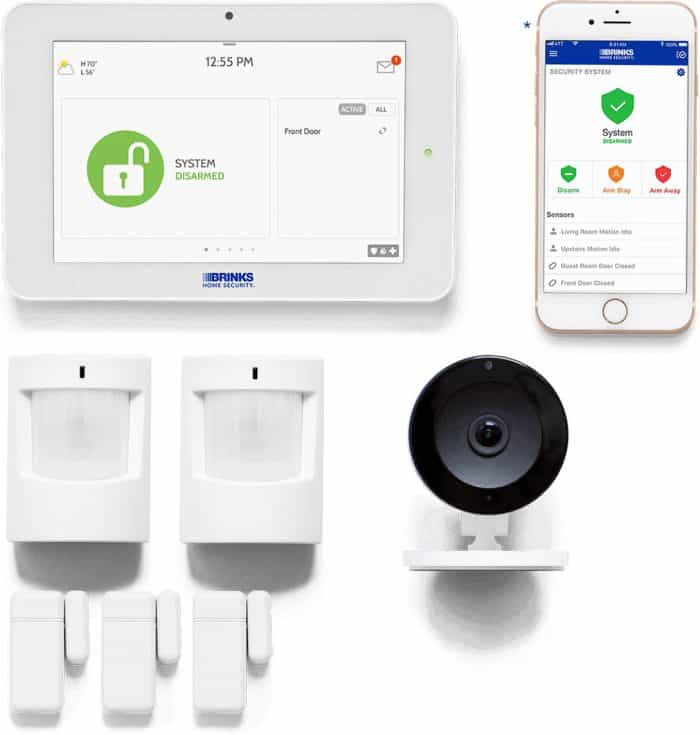 The Brinks Smart Security Complete package includes everything in the Smart Security Essential bundle, plus an indoor camera with night vision, as well as an extra entryway sensor and a motion detector. As with the Smart Security Essential system, this package offers on-the-go access through the mobile app. If you purchase the package upfront, it only costs $349. We found this package to be a great deal considering the extra equipment included. With GreenSky financing, you can save even more money by financing the equipment over 36 months. Monitoring will cost you an additional $39 per month.
Smart Security Ultimate – $1,099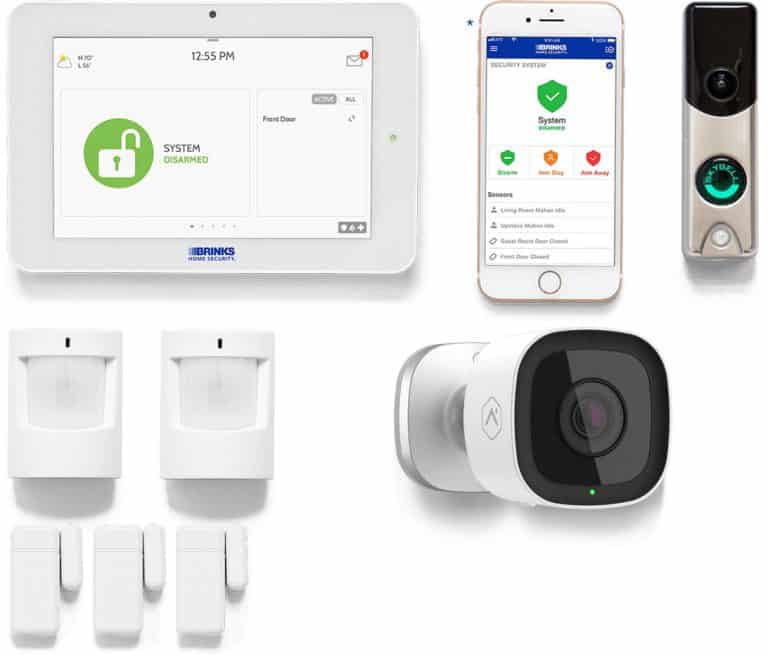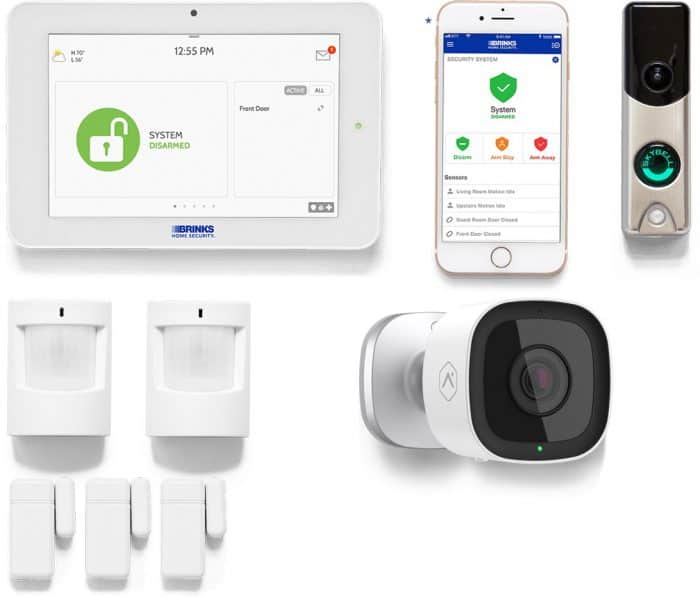 Finally, the Brinks Smart Security Ultimate package includes everything in the lower-tier options, except for the indoor camera. Instead, this package contains a SkyBell video doorbell camera ($199 value), an outdoor camera ($249 value), and free professional installation. We did the math, and although you're getting an additional $250 to $350 worth of equipment compared to the Complete package, you're actually paying more than $500 for it! So, if you do choose Brinks Home Security, we recommend purchasing the Essential or Complete package with add-ons for the best value.
Pro Tip: If your budget allows, we recommend purchasing your equipment upfront so that you own it outright. This initial investment will make your monthly payments much more affordable.
Brinks Add-On Equipment Costs
Another attractive aspect of Brinks Home Security is that their packages are completely customizable with add-ons from high-quality brands like GE and Qolsys. The add-ons and upgrades we tested include their indoor and outdoor cameras with 1080p HD video, the IQ smoke detector, wireless garage door tilt sensor, flood detector, and a FireFighter device for fire monitoring, to name a few.
Brinks equipment costs are actually quite reasonable, especially for the SkyBell Slim Line Video Doorbell ($199) and the wireless door and window sensors ($29). Here are the Brinks equipment offerings with a price breakdown:
| Brinks Equipment | Equipment Type | Price |
| --- | --- | --- |
| Door and Window Sensors | Sensor | $29 |
| Wireless Motion Sensors | Sensor | $59 |
| Wireless Glass Break Detector | Sensor | $79 |
| Garage Door Tilt Sensor | Sensor | $39 |
| IQ Wireless Temp Sensor | Sensor | $49 |
| IQ Wireless Flood Detector | Sensor | $49 |
| IQ Smoke Detector | Sensor | $89 |
| FireFighter Fire Alarm | Sensor | $99 |
| Keychain Remote | Fob | $29 |
| Skybell Doorbell Camera | Camera | $199 |
| Indoor Camera | Camera | $199 |
| Outdoor Camera | Camera | $249 |
Brinks also offers several home automation devices. You can connect these smart products to any of the Brinks Home Security packages. Overall, the products performed well during testing, and everything was simple to set up. Our only complaint is that they fall on the pricey side compared to other devices we've tried. However, that's to be expected with GE products.
| Smart Equipment | Equipment Type | Price |
| --- | --- | --- |
| Fluorescent Light & Appliance Module | Lighting & Appliance Control | $79 |
| Z-Wave In-Wall Dimmer | Smart Lighting | $59 |
| Smart Switch | Switch | $79 |
| Z-Wave Outdoor Module | Lighting & Appliance Control | $59 |
| Kwikset SmartCode Wireless Keypad Deadbolt | Smart Lock | $249 |
| Kwikset SmartCode Wireless Keypad Leverlock | Smart Lock | $299 |
| IQ Thermostat | Smart Thermostat | $179 |
Brinks Home Security Features
We've spent countless hours testing hundreds of security systems, so we've pretty much seen it all. But every now and again something comes along that surprises us. And the Brinks Home Hub (formally called the IQ 2.0 Control Panel) did just that. This exceptionally designed LCD touchscreen platform gave us way more control and flexibility than a standard keypad, and we were able to manage all of our connected devices from one place while barely lifting — or swiping — a finger.
The Home Hub can integrate with smart platforms like Amazon's Alexa and any product using Z-Wave In fact, the system can support up to 119 smart home devices at once. And you can manage everything using voice controls through Google Home, Alexa, Apple TV, and others.
Pro Tip: Home automation devices can add up in cost. So be intentional when purchasing smart devices and only buy equipment that you intend on using.
Brinks Home Security also uses the ASAPer system, which enables live messaging with a customized list of contacts if your system is triggered. This network helps to avoid one of the most frustrating aspects of home security: false alarms. So we think users will find ASAPer to be a useful feature. Otherwise, Brinks doesn't really bring anything ultra innovative to the table like, say, Vivint. Brinks cameras are decent, but nothing special. Their sensors are fairly basic. And their GE devices are quality, but nothing to write home about.
| | |
| --- | --- |
| MOBILE ALERTS | The Brinks Home Security app lets you know as soon as it detects anything from your home security equipment. You'll know if someone sets off a motion detector or if a contact sensor has been disturbed. |
| 24-7 MONITORING | Some Brinks Home Security plans include 24-7 monitoring. Home security professionals keep a close eye on your system status and can alert authorities if you're unable to react to a notification. |
| SURVEILLANCE CAMERAS | The Brinks Smart Security Complete plan includes surveillance cameras that give you a live streaming view of the immediate area. You can record clips and review the stream through the Brinks Home Security app. |
| PROFESSIONAL INSTALLATION | Professional installation of your Brinks home security system is available with a premium option. You can pay upfront with a flat fee or in installments with an added monthly fee. |
| REMOTE CONTROL | You have complete control over arming and disarming the system and checking the notifications through the application. |
Current Deals
Brinks Home Security has been known to roll out deals and discounts throughout the year. These offers are constantly changing, but our experts and editorial team are always researching the latest deals. We've seen percentage-off discounts on their equipment packages and two-day shipping offers. You might even find discounts on their monthly monitoring plans. Stay in the loop by checking out Brinks Home Security deals here.
Overall Value of Brinks Home Security
While Brinks isn't the cheapest option out there, they do make efforts to remain affordable. From what we've seen, you can get a full, comprehensive home security system for around $350.
That said, our team was also somewhat disappointed with the one-dimensional monitoring plan and pricing from Brinks. Of course, their professional monitoring is incredibly reliable, and it offers rapid response times. But at around $49 per month, it's too expensive unless your system is fully outfitted with home automation and video surveillance. For basic home security monitoring, people shouldn't have to pay a $40 fee each month when they can get a similar service for $10 to $29 from several other companies. Even still, Brinks Home Security is a safe bet for people looking for DIY home security with plenty of great features.