Equipment Packages
Keep in mind, Brinks is now focused more on custom-made security solutions than they are equipment packages, but these previously available kits can give you a good idea of how much you might pay.
That said, one nice thing about Brinks Home Security is that you can choose between DIY installation and professional installation. We found the systems incredibly easy to install ourselves, but some users will certainly benefit from the professional installation option. Brinks also offers free shipping and a 30-day, money-back guarantee.4 The three equipment packages include:
Smart Security Essential
Smart Security Complete
Smart Security Ultimate
Smart Security Essential – $199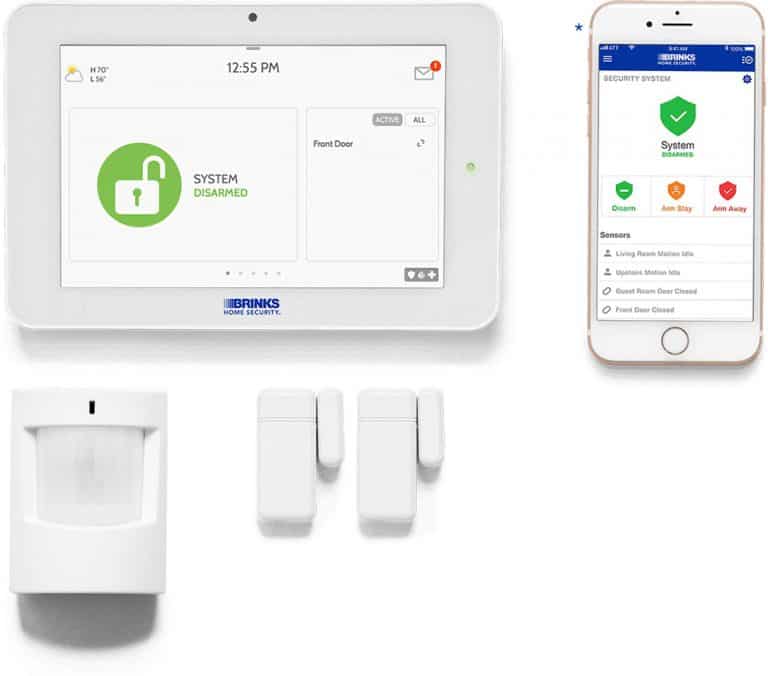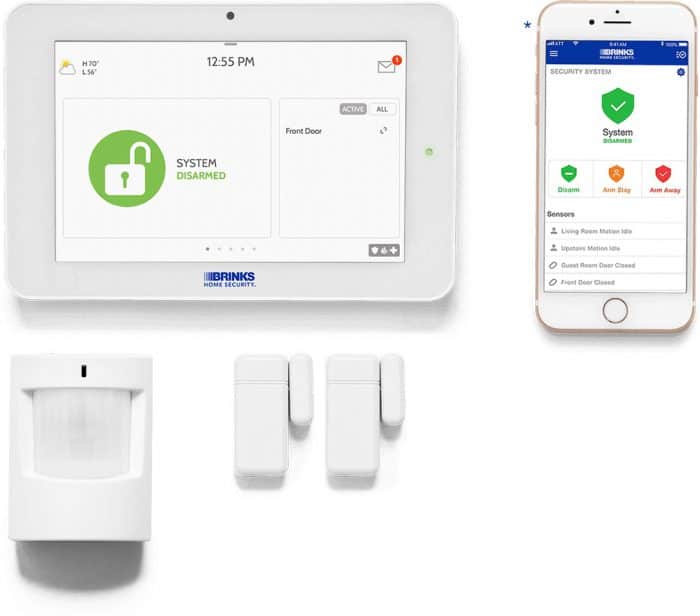 The Brinks Smart Security Essential package is your basic DIY home security kit, with just enough features for the non-techies out there. This package includes a Brinks Home Hub touchscreen control panel, a wireless motion sensor, two wireless door sensors, and a yard sign. Smart Security Essential is $199, and the monitoring service costs $39 per month. Overall, we found this bundle to be a great system for the money, especially considering the sleek and modern touchscreen controls of the panel.
Smart Security Complete – $349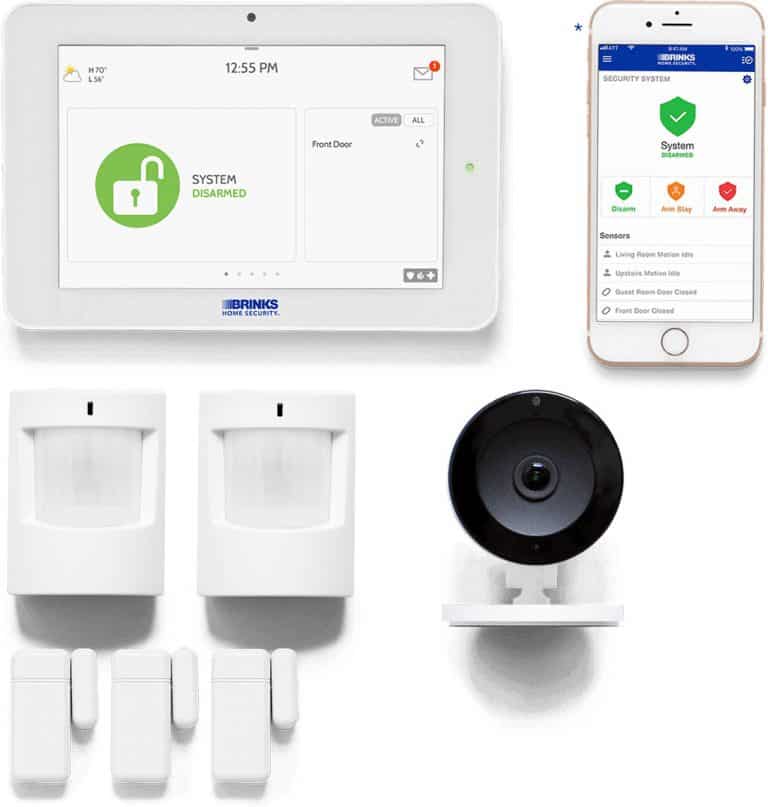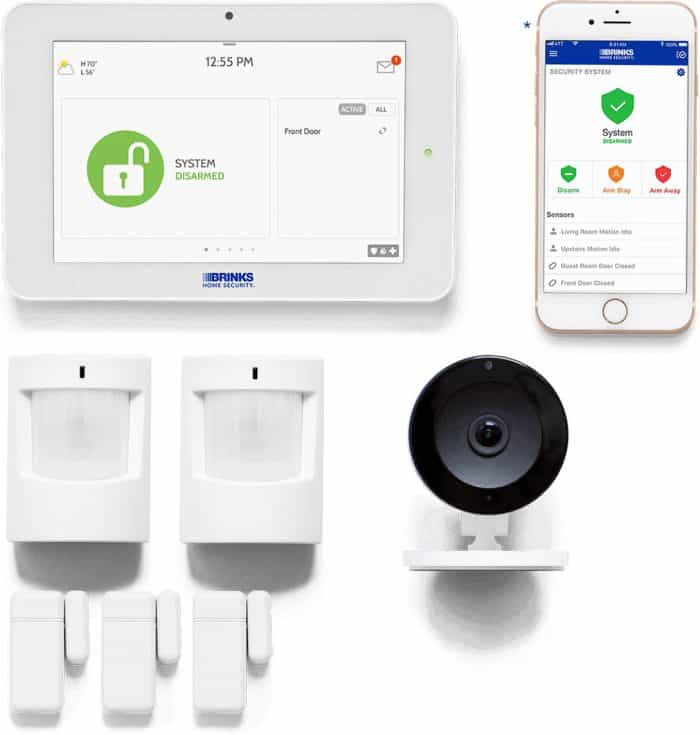 The Brinks Smart Security Complete package includes everything in the Smart Security Essential bundle, plus an indoor camera with night vision, as well as an extra entryway sensor and a motion detector. As with the Smart Security Essential system, this package offers on-the-go access through the mobile app. If you purchase the package upfront, it only costs $349. We found this package to be a great deal considering the extra equipment included. With GreenSky financing, you can save even more money by financing the equipment over 36 months. Monitoring will cost you an additional $39 per month.
Smart Security Ultimate – $1,099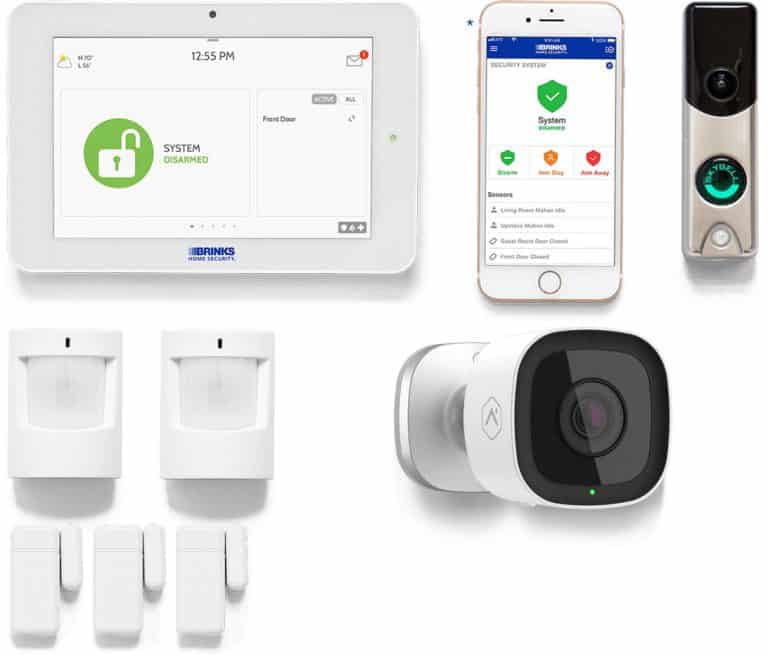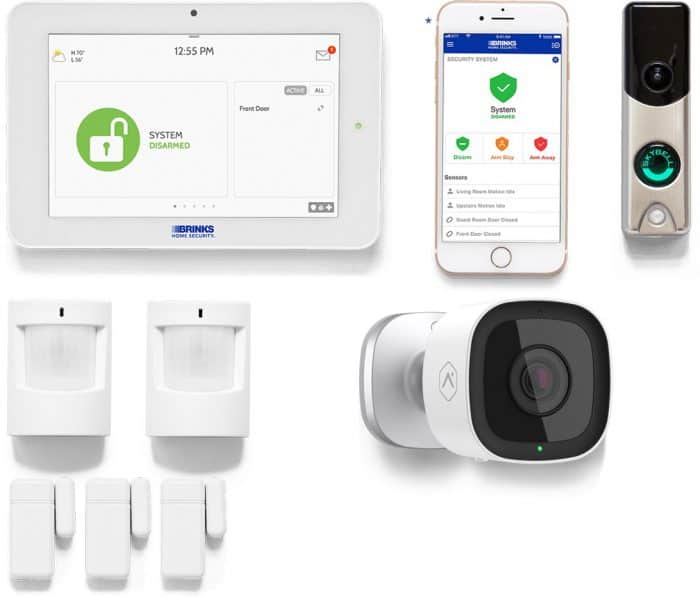 Finally, the Brinks Smart Security Ultimate package includes everything in the lower-tier options, except for the indoor camera. Instead, this package contains a SkyBell video doorbell camera ($199 value), an outdoor camera ($249 value), and free professional installation. We did the math, and although you're getting an additional $250 to $350 worth of equipment compared to the Complete package, you're actually paying more than $500 for it! So, if you do choose Brinks Home Security, we recommend purchasing the Essential or Complete package with add-ons for the best value.
Pro Tip: If your budget allows, we recommend purchasing your equipment upfront so that you own it outright. This initial investment will make your monthly payments much more affordable.