Getting to Know Brinks
Brinks Home brings the powerful talents of Brinks, LiveWatch and Moni together for a home protection dream team. You can choose between the Brinks Home Complete systems, which provide whole house protection and the option for video surveillance, or Nest Secure monitoring by Brinks, if you already have a Nest Secure alarm system.
You can get started with a plan for as low as $29 per month. Some plans include the equipment or offer promotions that reduce or eliminate the equipment cost, but require a three-year contract with Brinks.
The range of high-tech features is designed to fit into your lifestyle. Having a home security system shouldn't be a hindrance to you getting into and out of your home easily. Brinks has a number of quality of life improvements that make this part of the process seamless.
The Lineup of Features and Tech
Having a home security system shouldn't hinder your ability to get into and out of your home easily, and Brinks has a number of quality-of-life improvements that make this part of the process seamless.
Here are some of Brinks' standout tech features today:
24/7 Monitoring
Professional monitoring helps keep an eye on your home, alerting emergency personnel if the situation warrants it. This feature is particularly useful if you're unable to check alerts on your phone to react quickly. When an alarm goes off, the ASAPer service pushes the alert to SMS, voice, or email based on your configuration. You can address the alarm without professional intervention if needed and report a false alarm. You can also chat with the monitoring professionals for emergency help. If no one receives a response from you, they will dispatch the police.
Smartphone Control
The Brinks security app lets you arm, disarm, and check on video streams through your phone.
Cloud Video Storage
If you have a plan that includes video devices, you can store your recorded clips in the cloud.
Contracts
Some complain that Brinks is too inflexible with its 3-year contracts. But if you're willing to sign on, you get a lot—including the flexibility to purchase 24/7 system monitoring for your Nest Secure system for $29 a month. This level of flexibility is somewhat unusual among home security system companies. Brinks also offers discounts when you buy the Nest Secure through them.
Beyond that, Brinks offers a pretty generous 30-day money-back guarantee, so you should have ample time to install and test the system. If you don't like it or have any uncertainties about the 3-year commitment, send it back in time and you'll get all your money back, including any upfront costs.
Installation
The Brinks Home Complete system is designed to be simple and straightforward. Brinks preconfigures your home security system before they ship it. Then all you need to do is take it out of the box, attach the devices to the appropriate locations, plug everything in, and activate your comprehensive home security system.
Because it's 100% wireless, you don't have to do any drilling to install—but if you'd rather go the pro route, you still have the option to use Brinks Pro Install services, and that will extend your warranty from 2 years to lifetime coverage. You do have to pay for this service, but you have the option to either pay $10/month and avoid any upfront costs or pay a one-time $199 installation fee. (You can also install yourself but extend your warranty to lifetime coverage for $49.)
Is it Easy to Use?
Beyond simple installation, the Brinks smartphone app gives you centralized, remote control over the whole system with a user-friendly interface. Even when you're in an emergency, you can access the controls you need to keep your home and family safe.
The Brinks Home Security hub supports 119 devices on the home security system, so you can choose the exact equipment you need for your home security and automation needs.
The Customer Service Experience
The home security expertise of Brinks and its partnering companies comes through any time you need to reach out to customer service. They can contact you through your home security devices in the event of an emergency, and you also have traditional customer support channels staffed by security experts.
Phone support gets you in touch with a dedicated customer care team, and you can even text them your questions. If you prefer to contact them through the website, a ticketing system is available. Extensive self-service support resources give you answers to most of the basic problems that you may encounter.
Brinks also has a community set-up so you can connect with other users of these home security systems to ask questions, share solutions, etc.
All this and it's no surprise that Brinks Home Security has great reviews, earning them an A+ rating with the BBB. Also, J.D. Power ranked Brinks Home Security #1 in Customer Satisfaction with Home Security Systems in 2018.
Stacking the Value
Brinks offers two main plans, plus the option to add more equipment to your plan as needed. You're not going to get any equipment for free, but its pricing is competitive.
Brinks Home Complete
Brinks Home Complete starts at $29/month and $399 equipment cost.
You get a comprehensive home security system that includes the equipment you need to stay safe. This falls under a 36-month rate locked agreement, and if you don't feel like you're getting value out of the system in the first 30 days, you can return it. This plan includes home automation features, 24/7 monitoring and smartphone control.
| Brinks Security System | Monthly Cost | One-Time Activation Fee | Equipment Cost |
| --- | --- | --- | --- |
| Brinks Home Complete (No Financing) | $29 | $0 | $399 |
| Brinks Home Complete (GreenSky Financing) | $40.08 | $0 | $0 |
Brinks Home Complete with Video
Brinks Home Complete with Video starts at $39/month and a $499 equipment cost.
This plan includes all of the features of the base-level package and adds video cameras into the mix. You get a live video streaming view whenever you need to see what's going on, as well as cloud video storage for these files. In addition to the equipment already included in the base package, you also get an indoor camera and a doorbell camera.
| Brinks Security System | Monthly Cost | One-Time Activation Fee | Equipment Cost |
| --- | --- | --- | --- |
| Brinks Home Complete with Video (No Financing) | $39 | $0 | $499 |
| Brinks Home Complete with Video (GreenSky Financing) | $52.86 | $0 | $0 |
The Goods
Brings offers 2 main packages, plus add-on equipment, all detailed below:
Brinks Home Complete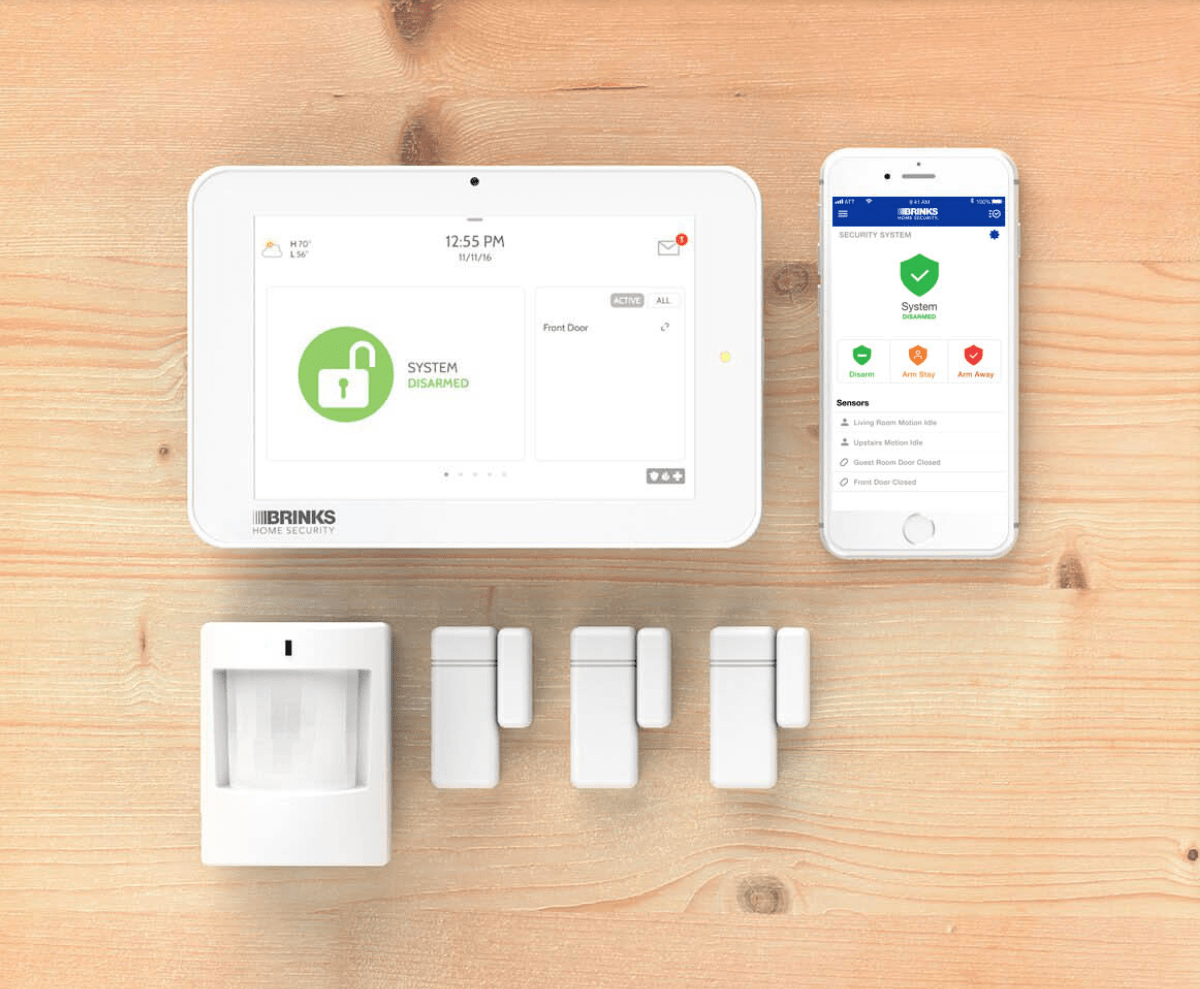 Brinks Home Touch Security Panel – This panel allows you to arm and disarm the security system, sound an alarm and see the devices connected to it.
3 Door/Window Contact Sensors – Discover whether someone is trying to open up doors or windows during a break-in.
1 Motion Detector – The security system will register unusual movements with this sensor and sound the alarm or alert you, depending on your configuration.
Brinks Home Complete With Video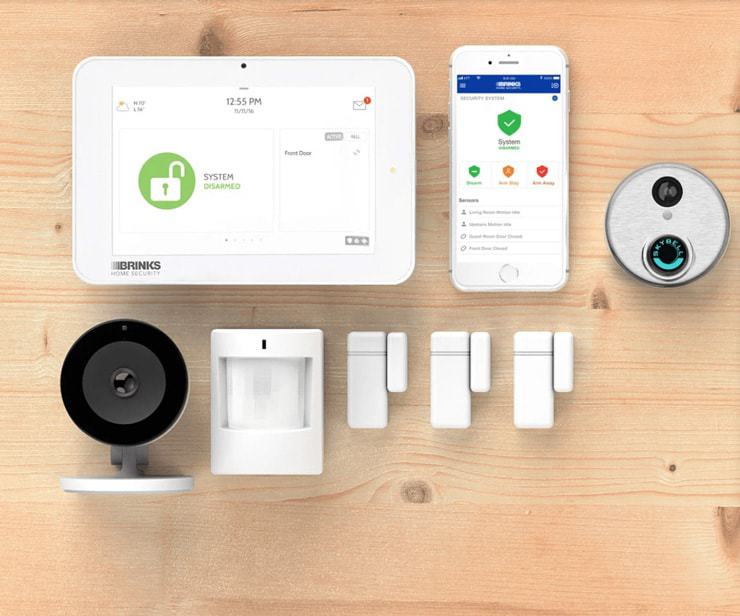 Includes all Equipment from Brinks Home Complete
1 Indoor Camera – For a live stream and recordable view of your home during the day and night.
1 Doorbell Camera – For an excellent view of the people coming up to your doors.
| Brinks Equipment | Brinks Home Complete | Brinks Home Complete with Video |
| --- | --- | --- |
| Brinks Home Touch | 1 | 1 |
| Wireless Door Sensors | 3 | 3 |
| Wireless Motion Sensor | 1 | 1 |
| Yard Sign and Stickers | 1 | 1 |
| HD Video Doorbell | Not Included | 1 |
| Indoor Camera with Night Vision | Not Included | 1 |
Add-on Equipment
Smoke Detector – You can add a smoke detector to protect your home from fires.
Door/Window Sensor – Add additional sensors to your home security package.
Motion Detector – Cover more rooms and entryways with add-on motion detectors.
HD Indoor Camera – You can add more cameras to your Brinks Home Security Complete with Video package.
Up to 119 Smart Home Devices – Brinks Home equipment can act as the hub for 119 different smart home and security devices which integrate with Google Home, Amazon Alexa, Apple TV, and more.
The Last Word
Brinks' long history in the home protection industry, coupled with the quality partners that it's working with for additional services and hardware, leads to solid performance and a reliable security system reflected in high customer service ratings. If you're looking for a risk-free contract and month-to-month plans without sacrificing top-notch technology and coverage, Brinks Home is about as good a bet as you're going to get anywhere.